A collection of 15 easy Singapore dessert recipes: as Singapore is a tropical country, these dishes also make perfect summer desserts!
Jump to:
Singapore is famous for its cheap and good food but the focus is usually more on savoury dishes, such as laksa, roti prata, mee siam and chicken rice.
However, Singaporean desserts also deserve some attention which is why I've written this post! Scroll down for recipes of some of the best Singaporean sweet treats.
Under 30 minutes
Jellies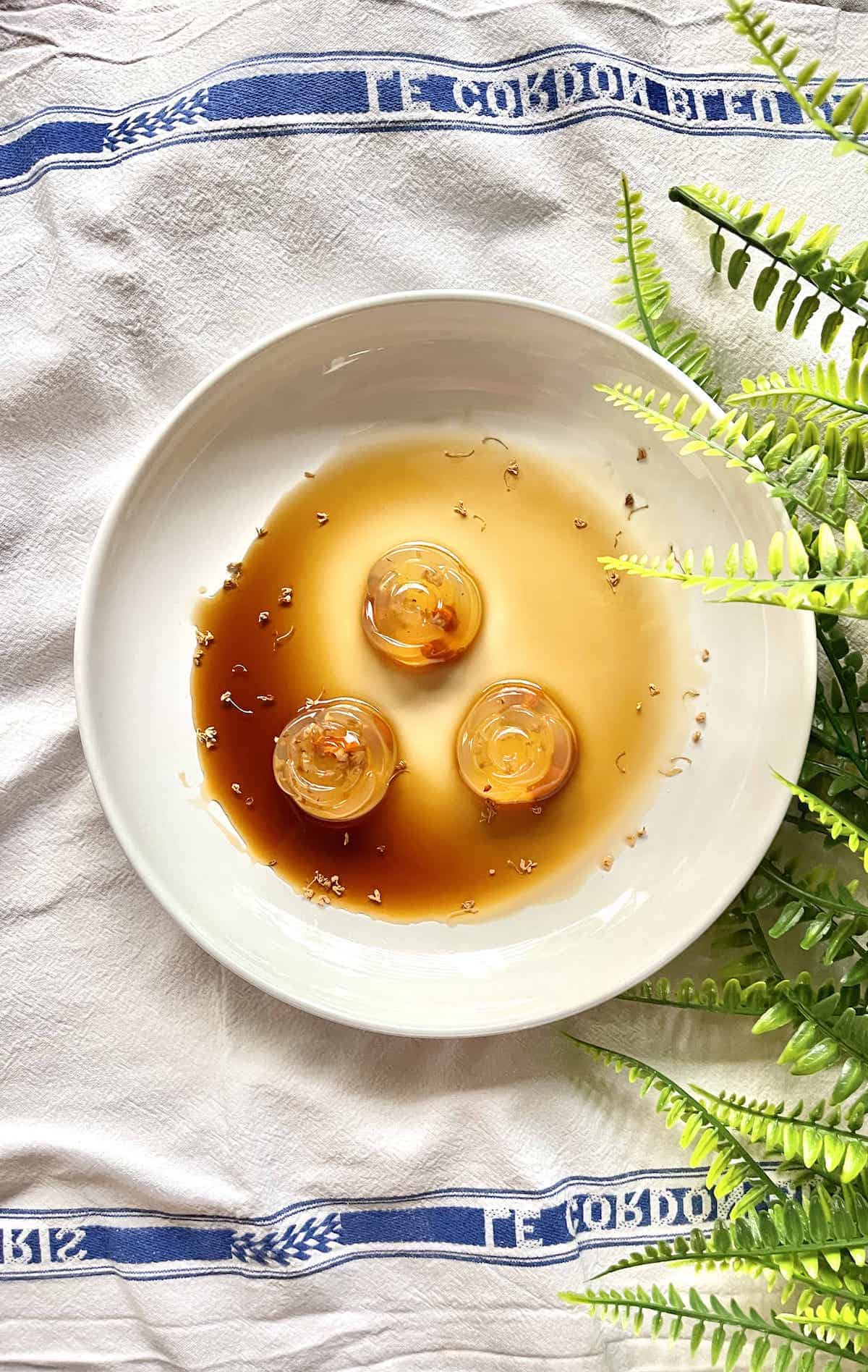 Maybe because of the hot weather, we're pretty fond of cold desserts such as jellies, which are the ultimate quick and easy to make dessert!
Osmanthus jelly recipe
This osmanthus jelly recipe (Gui Hua Gao) is a refreshing, delicious, quick and easy Chinese dessert made from edible sweet osmanthus flowers. Its shimmering gold color and floral fragrance have kept it popular through the years- you can even find it at Michelin-star Chinese restaurants today!
Click here for the Gui Hua Gao dessert.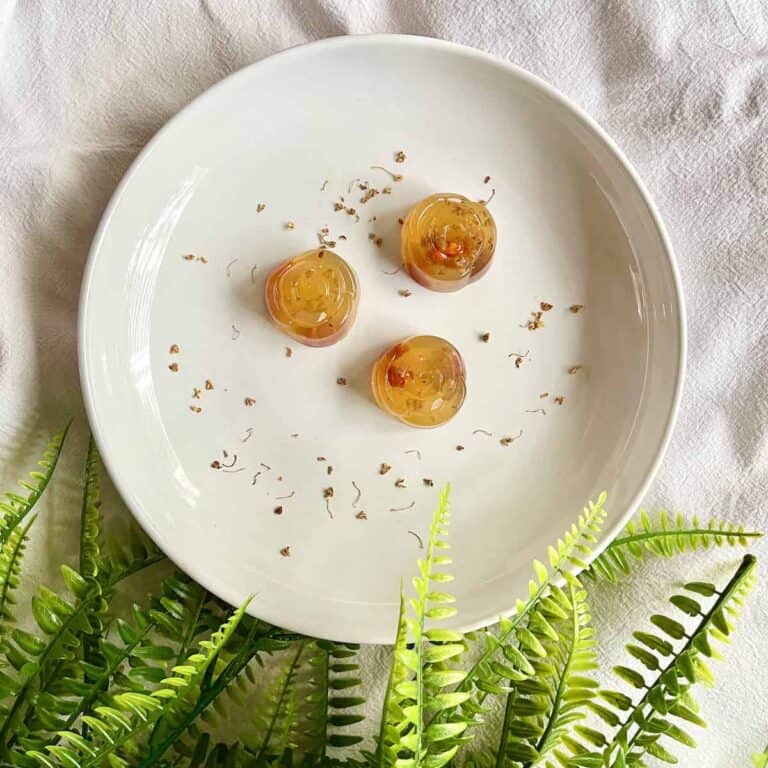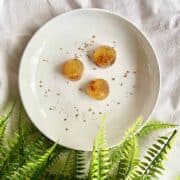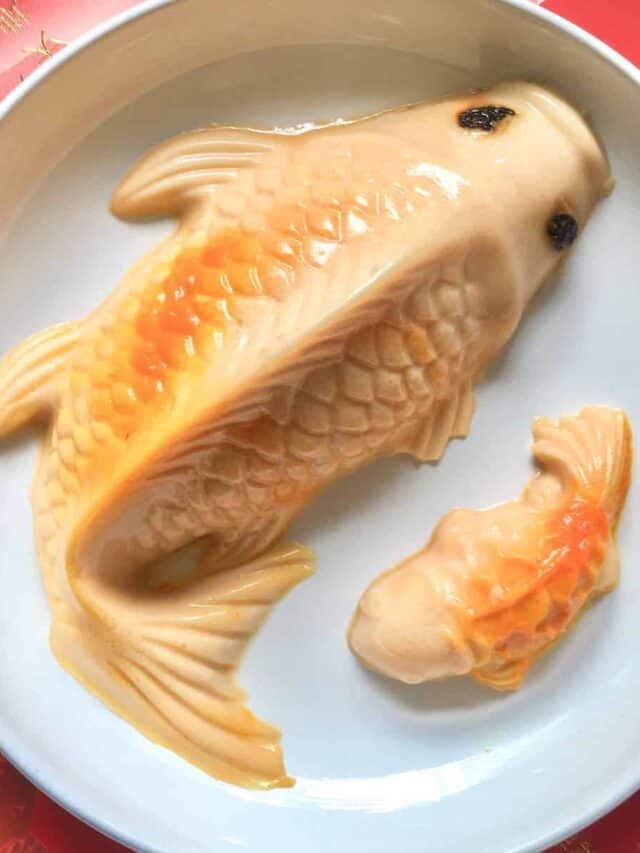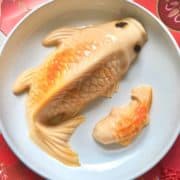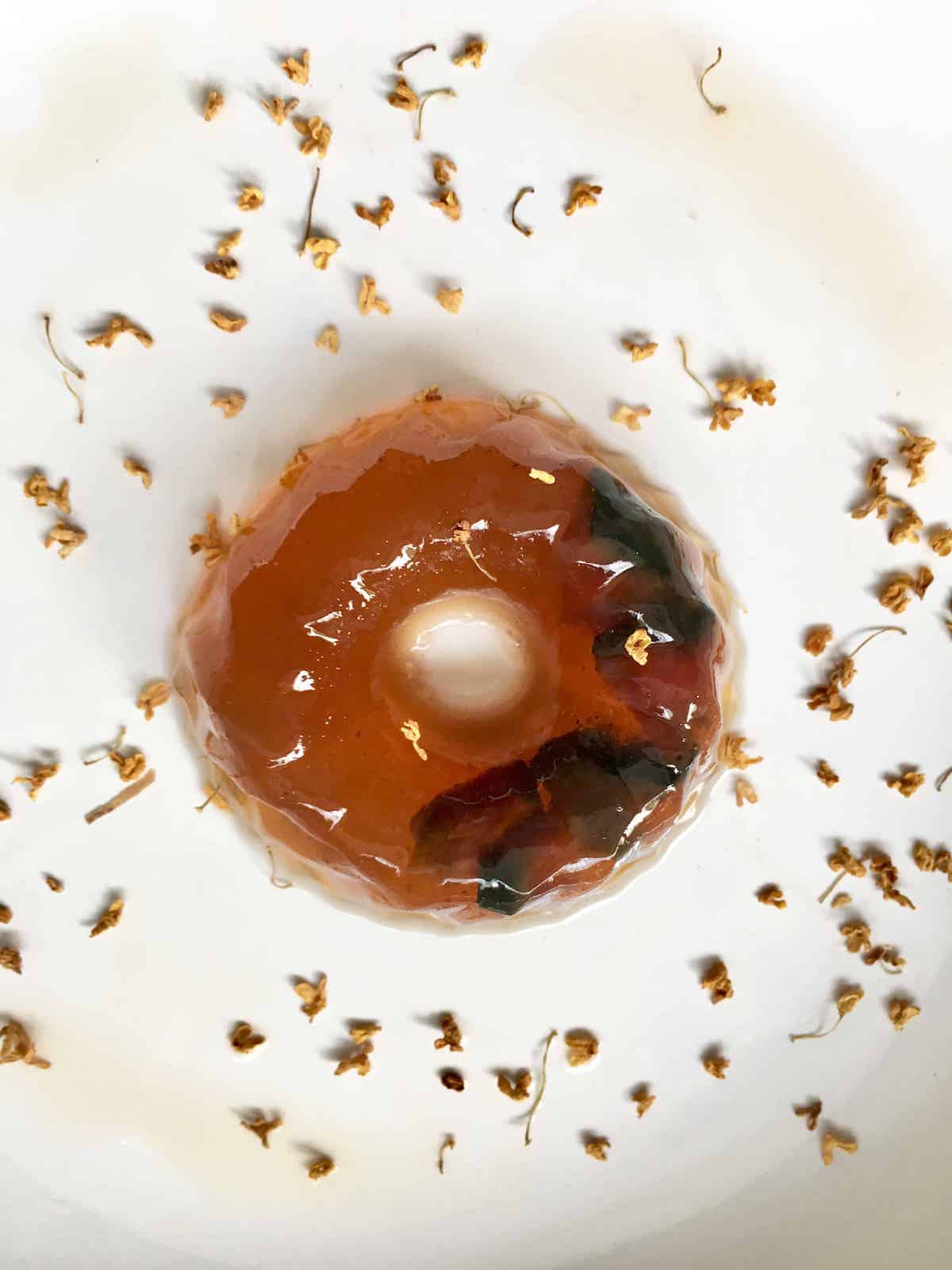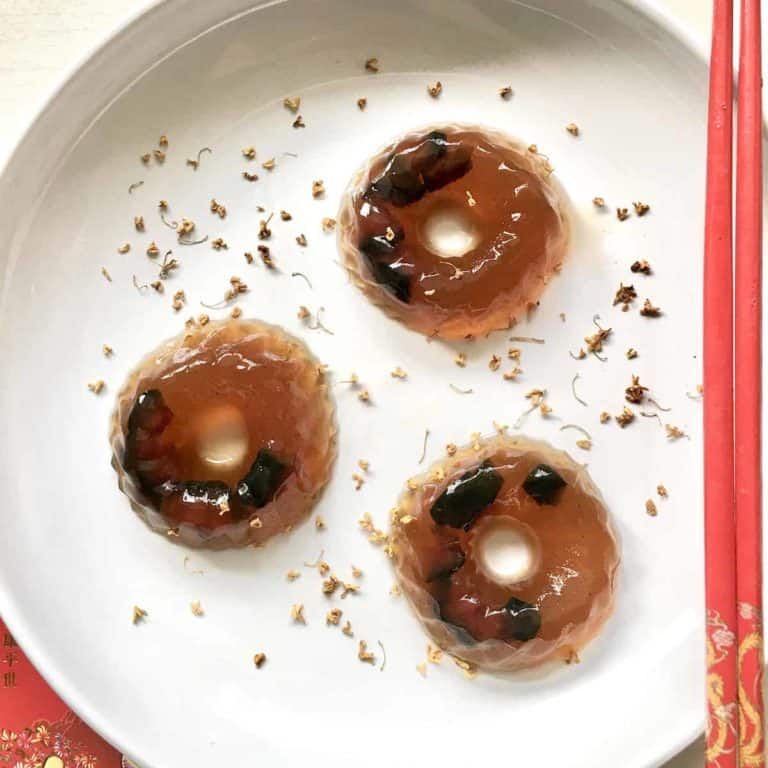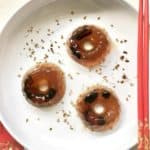 For more 30-minute Asian recipes, click through this link!
Sea coconut tong sui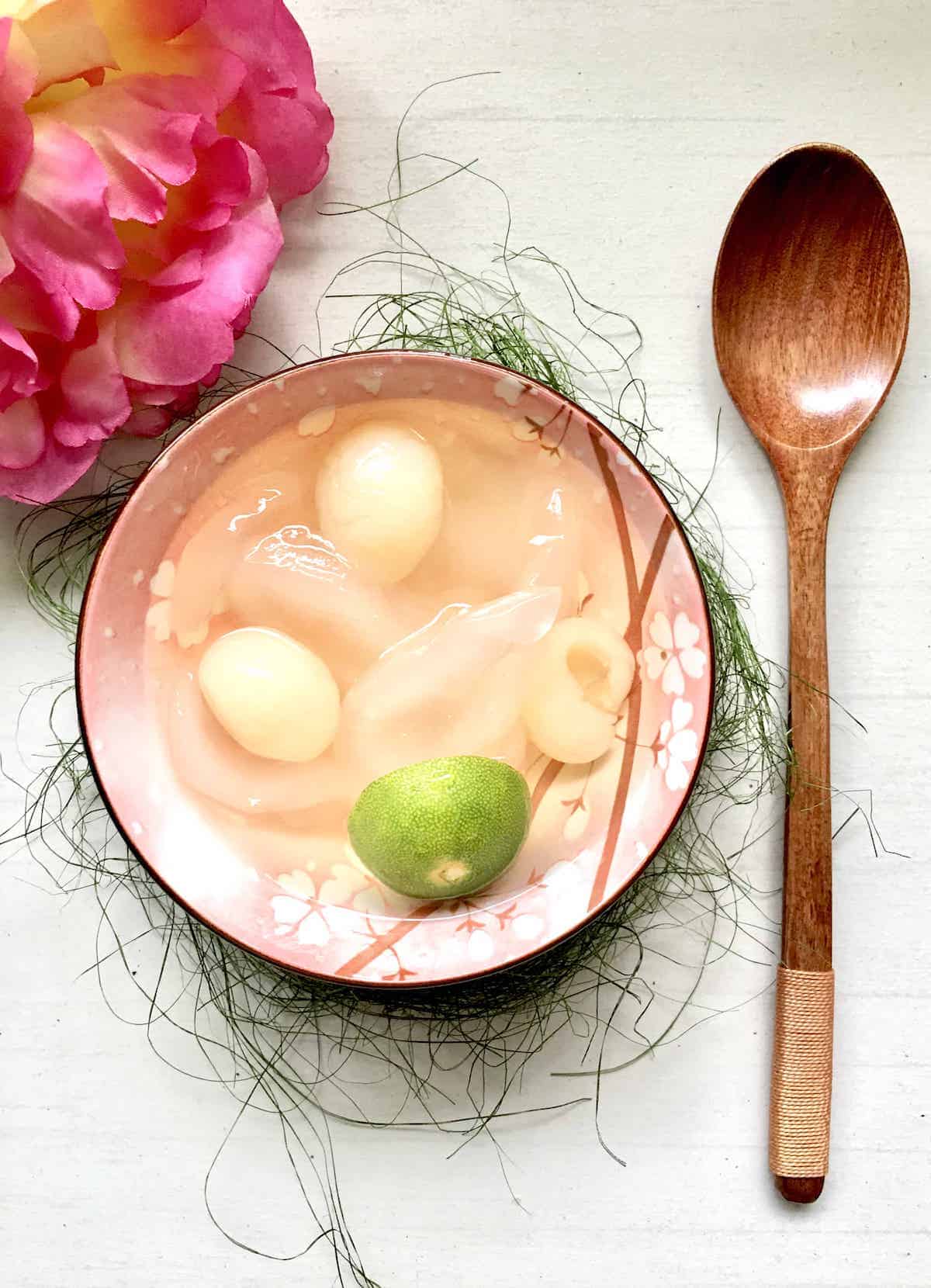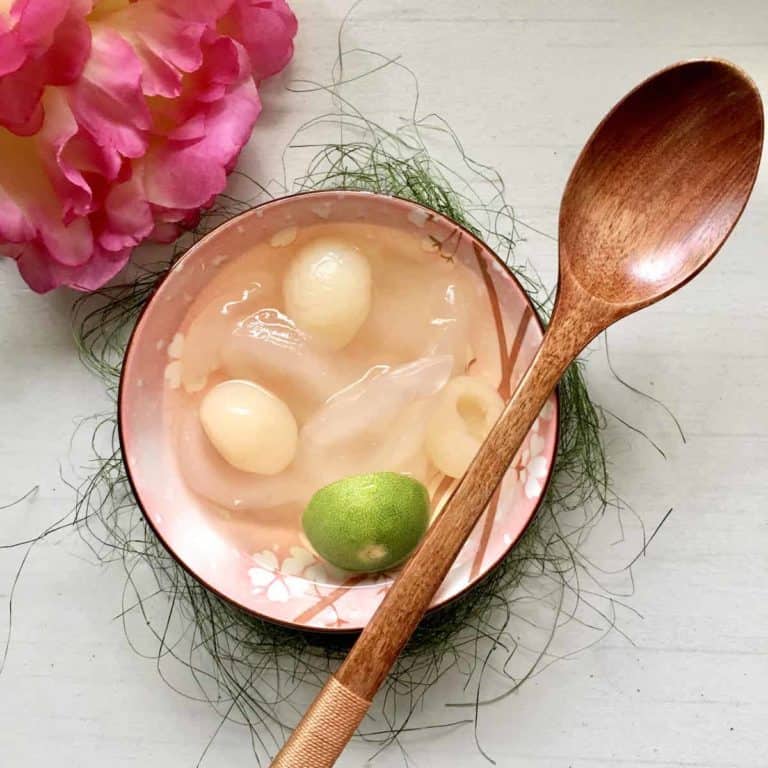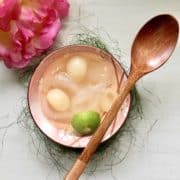 Ice cream bread sandwich
A staple Singaporean street snack, these are really easy to make at home. (But please still buy them when you see the Ice Cream Uncles (what we call the street vendors) selling them on the street, as it's not expensive and it's hard for them to make a living!
Ice cream sandwiches are such an iconic Singaporean dessert that it inspired a Michelin-starred chef, Andre Chiang, to serve an ice-cream sandwich at his restaurant (Restaurant Andre.)
Ice kachang
Ice kachang is similar to the Filipino Halo Halo or the Korean Bingsu.
To make your own ice kachang, you will need:
jellies such as cin cau (grass jelly)
palm seeds (attap seeds)
(cooked) red beans
shaved ice
condensed milk and/ or evaporated milk
food colouring (usually red and green)
food flavouring to go with the colours (usually rose bandung (for red) and pandan (for green))
Place the jellies, palm seeds and red beans in a bowl then cover with heaps of shaved ice. Drizzle the food flavouring and food colouring over the ice, then finish with the condensed and/or evaporated milks!
Expert tip: you and add mango or durian puree for extra flavour.
Mango pudding
Mango is a tropical fruit so it's no surprise that mango pudding is 1 of the most popular Cantonese dim sum desserts in Singapore.
Expert tip: this creamy dessert is traditionally made with gelatine powder. (Click here for an easy mango pudding recipe.) If you're looking for a vegan alternative, you can use agar agar powder but preferably not konnyaku powder. (The latter creates a firm and bouncy texture, not the soft and wobbly one associated with mango pudding!)
Pandan flavoured
Pandan is a super popular flavour in Singapore and, we have a lot of other pandan flavoured foods such as kueh dadar, ondeh ondeh and chendol. For more sweet and savoury pandan recipes, such as pandan mantou bao buns, click here.
Kueh dadar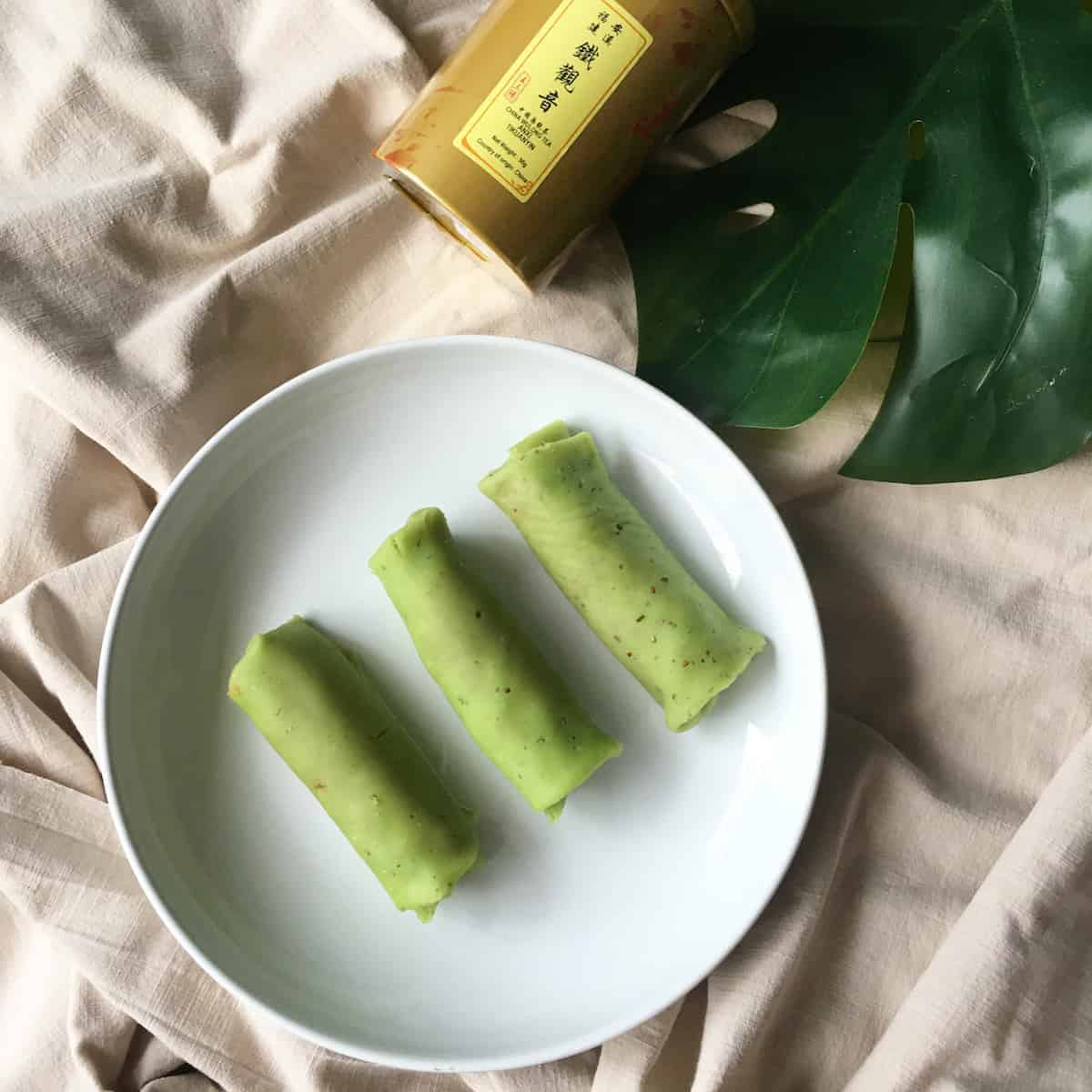 Singapore kueh dadar pandan coconut pancake recipe (Vegan)
An easy kueh dadar recipe which doesn't require you to hunt down freshly grated coconut! Also my recipe for this Perankaan kueh has no eggs so perfect for vegans!
Click here for this sweet pandan and coconut recipe.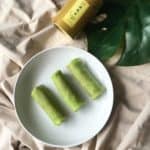 Pandan chiffon cake
Pandan chiffon cake is a fluffy and light cake- it should feel somewhat like eating a Pandan-flavoured cloud! Pandan cake is so popular that some call it the "National Cake of Singapore!" Try the pandan chiffon cake recipe by Whattocooktoday here.
Fun fact: It's also a popular food souvenir- most people buy it from Bengawan Solo at Changi Airport!
Expert tip: use natural pandan juice as a food flavouring and colouring (see the photo of kueh dadar in the section above.) The artificial one will make your cake looks scarily fluorescent, as shown below!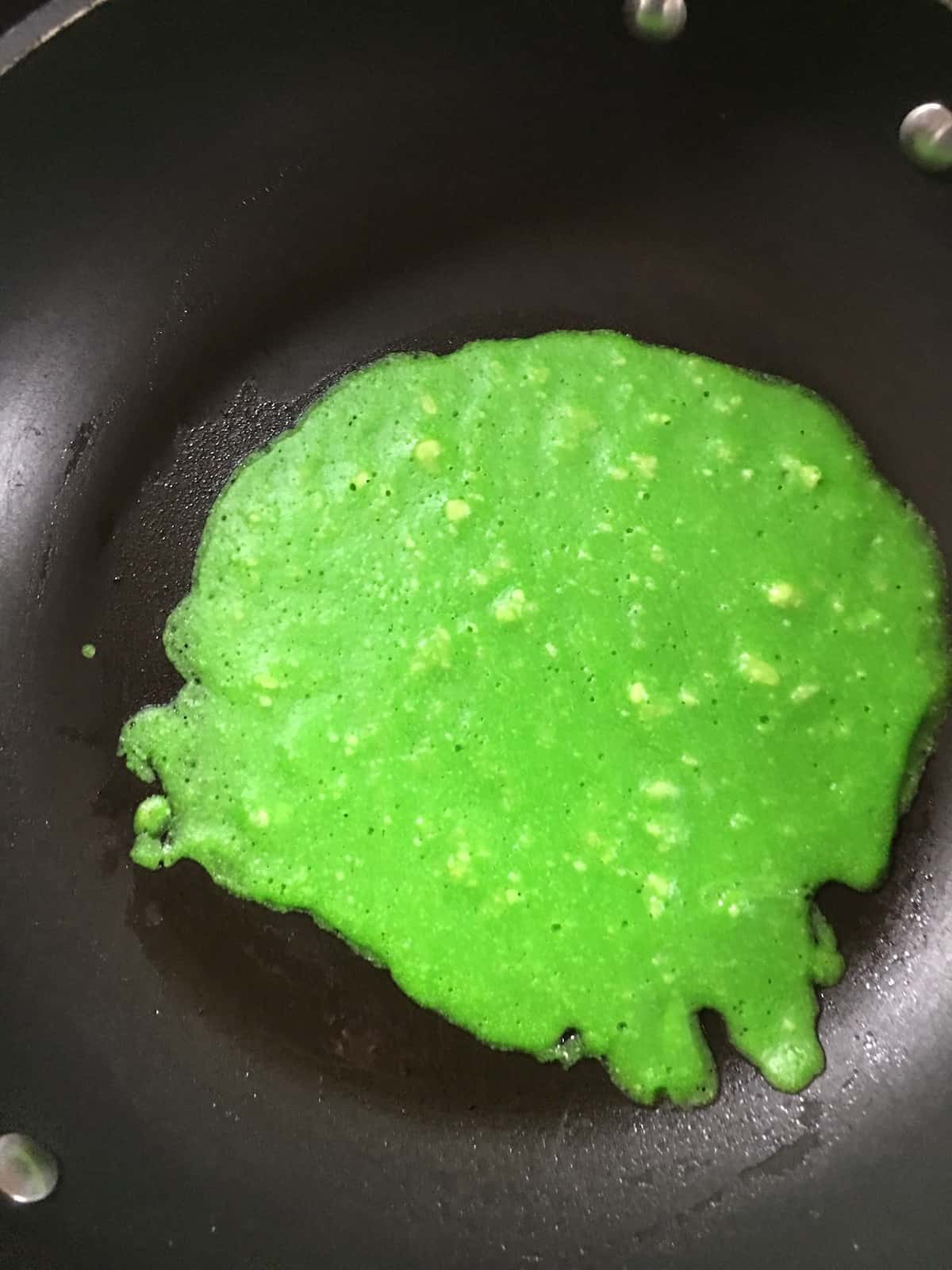 Glutinous rice based
Asians love the chewy texture of glutinous rice, which is sometimes called sweet rice. If you don't know what I'm talking about, think of the mouth-feel of mochi balls!
P.S. You can find more glutinous rice flour dishes here or ideas on what to use instead of glutinous rice flour here.
Ahballing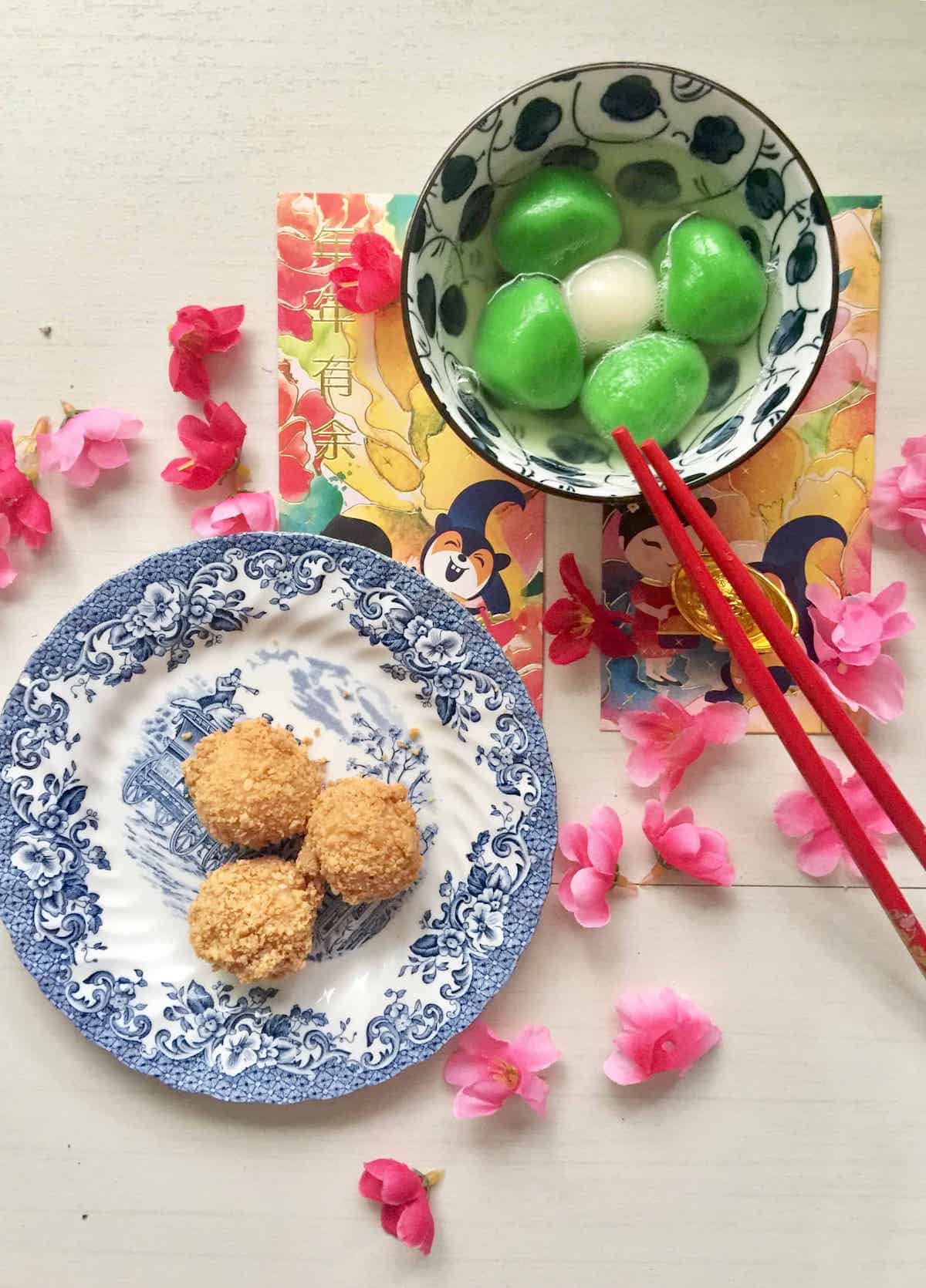 Affectionately known as "Ahballing", glutinous rice balls actually originated in China. Made from glutinous rice flour, a popular ingredient in Asian desserts, they're also known as tang yuan.
The local name, ahballing, derives from the Teochew word for Mother duck's eggs- "ya mu ling"- in a reference to how the tang yuan look like eggs bobbing around in the soup!
Tang Yuan (With Filling and Plain)
Tang yuan, or Chinese glutinous rice balls, are a 2 to 3-ingredient chewy snack that can be served in soup (sweet or savoury) or fried. Served at Chinese family gatherings, especially the Winter Solstice, they also come plain or with filling inside so, as you can see, this is a very versatile and easy dish! 
Click here for the Ahballing recipe.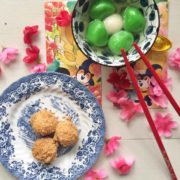 Expert tip: you can serve these glutinous rice balls in a ginger soup, sweetened soy milk or a sweet peanut sauce. The circular shape signifies reunion, so they're great desserts for family gatherings!
Muah chee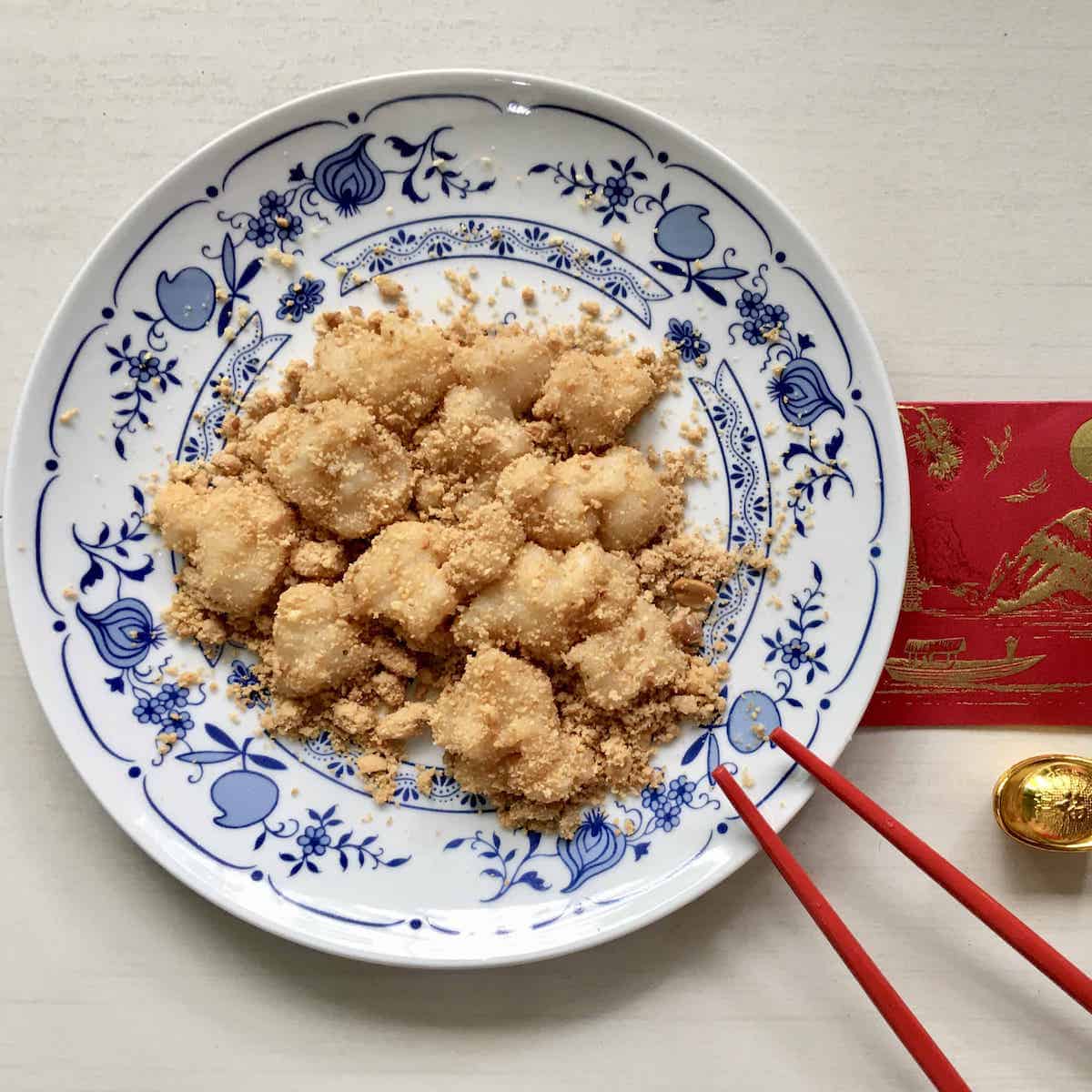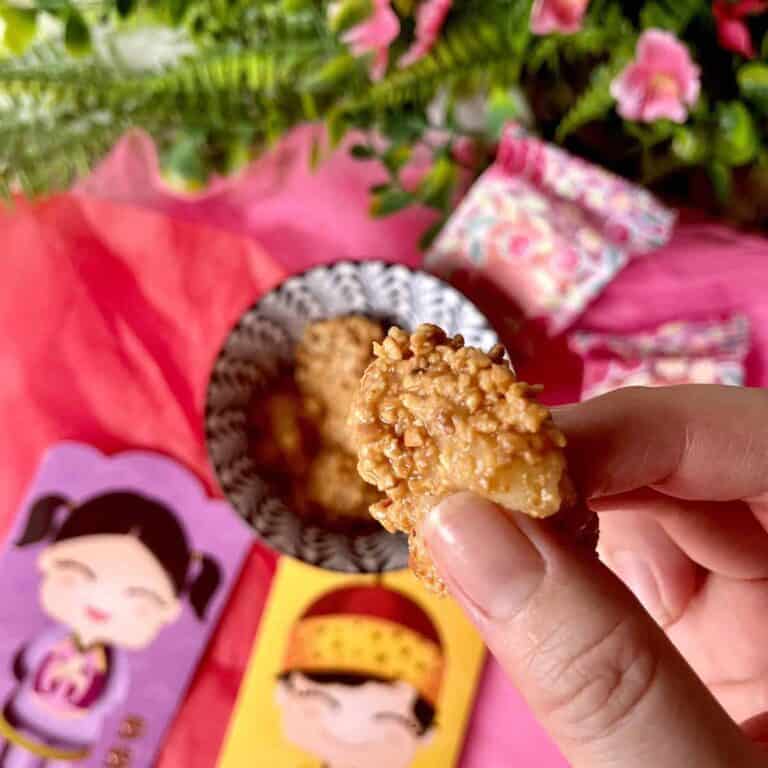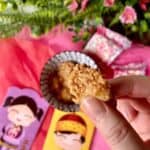 Expert tip: use lard if you want the authentic traditional flavour of muah chee.
Pulut Hitam
Unlike muah chee and tang yuan, Pulut Hitam is a Peranakan dessert made with actual glutinous rice, and not glutinous rice flour. "Hitam" actually means black in Baba Malay, and refers to the color of the glutinous rice used.
If you're looking for a reason to make pulut hitam, not only is it delicious, this super easy dessert also only requires 4-ingredients to make!
Note: For more Asian recipes with under 5 ingredients, click here.
Others
Cheng Tng
Literally translated into "clear soup", this Chinese dessert is especially popular on the ultra hot days. Traditionally, a bowl of Cheng Tng (清汤) would include nutritious ingredients such as Pang Da Hai, dried longans and red dates but street stalls are starting to skip on them to lower costs, sadly.
Luckily, it's easy to make Cheng Tng at home with this recipe now!
Tau Huey
Tau Huey is basically a silky soybean pudding that's both a traditional Chinese breakfast as well as a dessert in Singapore.
For breakfast, we dip deep-fried dough fritters (you tiao) into the soybean, but probably not for dessert! If you want to try this creamy soy bean dish that's supposed to be good for your skin, try this recipe.
Durian
Last but not least, we have the king of fruits, durian!
It's a hate-it-or-love-it fruit in Singapore. You can eat it alone, or with other sweets such as Durian Pengat, Durian puffs, or even a topping for chendol.
Expert tip: It's an old saying that you shouldn't drink alcohol when you eat durian. However, according to Raffles Medical Group, there's no conclusive scientific proof that mixing durians and alcohol can kill. Personally, I prefer to be safe instead of sorry!
Milo Dinosaur
Last but not least, we have Milo Dinosaur! Sure, it's a drink, but it's so creamy and sweet, it can serve as a dessert too!
Milo Dinosaur
Milo Dinosaur is an over-the-top delicious drink that is really popular in Singapore. A hawker centre staple, this is not a drink for people on a diet, as it's extra sweet, extra creamy and extra comforting!
Click here for the Milo Drink recipe.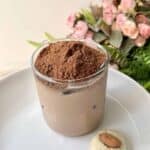 What's your favourite Singapore dessert recipe? Let me know if I've missed it out in this list! (I confess to leaving some common ones, such as bubur cha cha and orh nee, our as I'm not a huge fan of them!)