This CNY koi fish jelly is a popular and easy Chinese New Year Dessert- of course, you can make it anytime of the year!- because fish is a Chinese homonym for abundance and excess, and who doesn't want the New Year to bring them more good things than they need?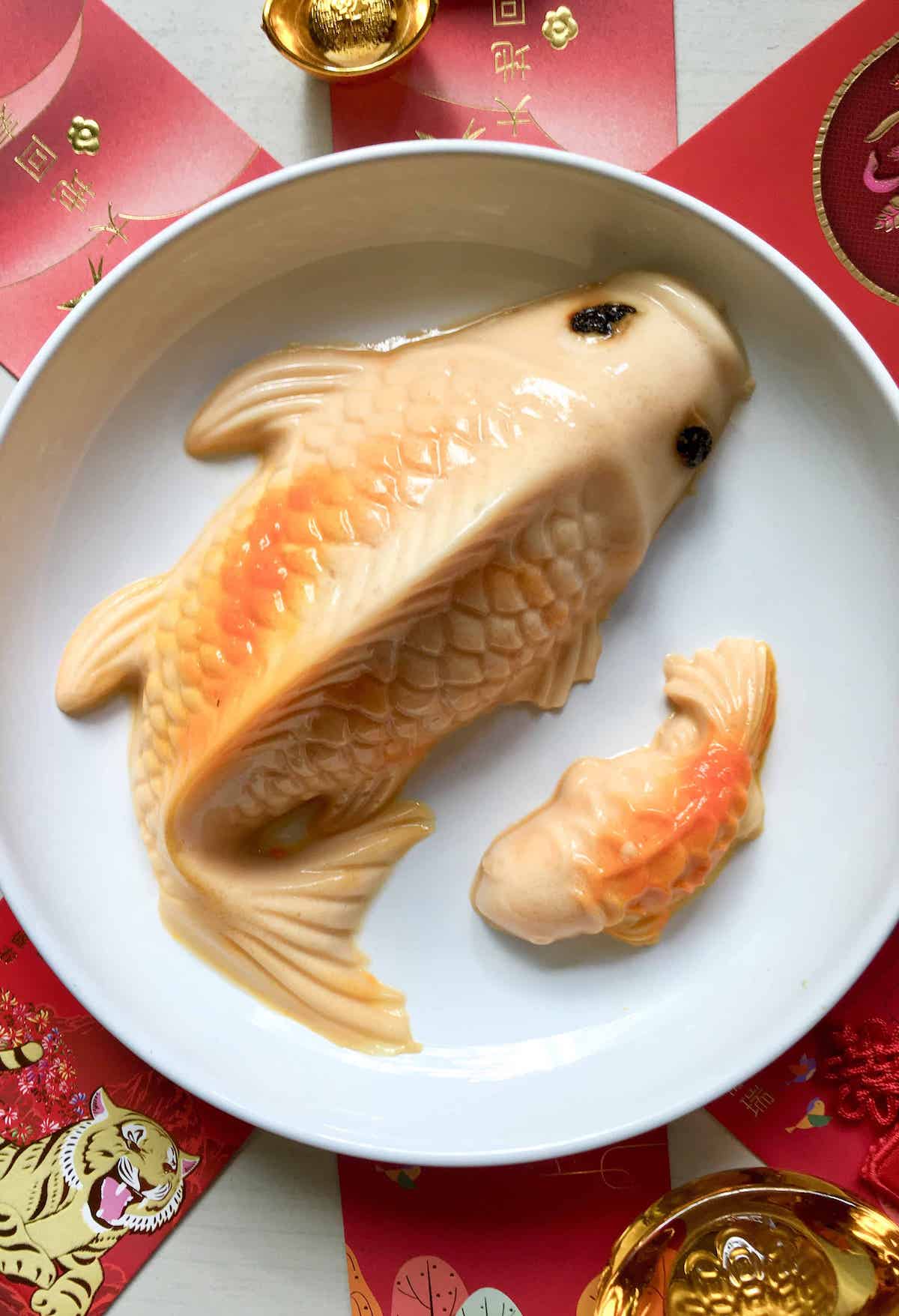 Jump to:
Koi fish jelly is often seen during Chinese New Year and like most CNY foods, the prices can be rather high. 5 medium-sized fish jellies cost S$100 from Robinsons, a mid-tier department store in Singapore, or $49.20 if you buy 1 piece from Regent Hotel (a 5-star hotel).
However, it's super easy to cook at home, and fun too! Painting the colours onto the fish is like creating a work of art!
So why not make this lucky delicious dessert for yourself at a fraction of the price? For other lucky Chinese New Year recipes, check out these 8 longevity noodles and these 15 golden foods.
Ingredients & Substitutes
Gelling agent

Vegan options: Agar Agar (Kanten) or Konnyaku (Konjac)
My agar agar powder was pre-sweetened so I didn't have to add sugar. If yours isn't add white granulated or caster sugar. (If you use brown sugars like coconut sugar, palm sugar or regular brown sugar, your CNY koi fish jelly will become a rather murky brown.)
Personally my fave is konjac jelly thanks to its bouncy, elastic texture but I recommend using agar agar if you're feeding the very young or elderly, as konnyaku has been involved in choking cases previously
Agar agar comes in powder, flakes and strands- I'm using the powder in this recipe but click here for more information on agar agar
I've also shared about using konnyaku in my yuzu jelly post, so do click the link if you want more information

Note: Another possible substitute is gelatine (which is animal-derived so not vegan) but I've never tested it personally. Jello made from gelatin tends to be more wobbly, so may not hold the koi fish shape as well. Also, it needs to be refrigerated for it to set, so some of the steps will differ from my recipe (For example, you will need to chill the koi fish mold after painting the stripes, so that they set and don't merge into the rest of the fish later.)

Evaporated milk and water

Substitutes: milk or plant-based milk
I used a ratio of 2 (evaporated milk): 3 (water) e.g. 200 ml of evaporated milk with 300 ml of water
If you use condensed milk, make sure your gelling agent doesn't already contain sugar as too much sugar can result in your jelly liquifying (after setting)

Per fish: 2 raisins

This is for the eyes of the CNY koi fish jelly
Any small dark fruit would do. Alternative are blackcurrants, sultanas etc

Yellow and orange (or red) food colouring

I would suggest using yellow and red/ orange for more contrast. I used red and orange in mine, and you can see the shades are quite similar so I didn't get as much contrast
Note: if you don't mind more work, you could skip a colouring agent, and make 2-3 different jellies: 1-2 yellow, orange or red jelly and another white jelly (the original recipe below)
e.g. a combination of orange, pineapple, mango or peach jellies for the yellow/ gold parts

Optional: for an extra fancy Chinese New Year dessert, brush the koi fish jelly with some edible gold powder
Note: I've left my jelly as a simple milk flavoured one, but you can easily add other flavours e.g. boil with pandan leaves etc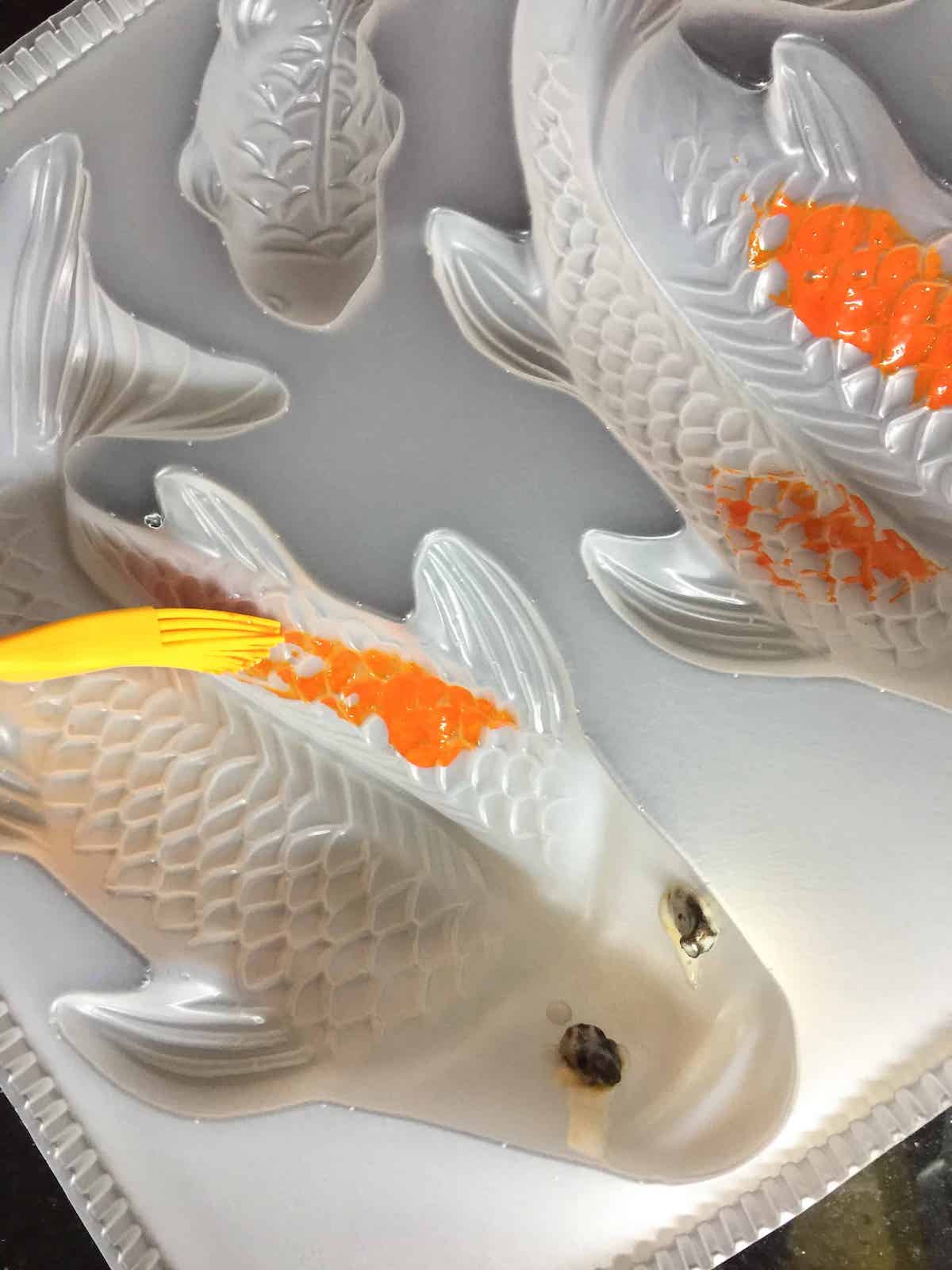 Note: I sometimes make this easy CNY dessert using osmanthus jelly- the gold colour of the osmanthus tea, and the red of the goji berries, mimic the koi fish colouring.
Balancing the mold
The fish jelly molds are quite flimsy- and due to the shape of the fish, which has a curved back (sort of like a hump)- they can be tricky to balance. It's common for them to tip to one side whilst you're pouring the jelly in and upset your jelly, disrupting the koi fish shape.
There are 2 ways to get around that:
1. 100% level mold but may spill on way to fridge
For the 1st method, use 4 same-sized bowls to balance each corner of the mold.
As the bowls are the same height, this ensures that the mold is now totally level so that the jelly can fill the fish completely, instead of unequally. However, the jelly may still spill out when you're moving the mold to the fridge to set.
You can fix this by leaving the koi fish jelly in place to set for 1-2 hours then moving it into the fridge when it's more solid.
Unfortunately, only agar agar and konjac jellies can set at room temperature- if you're using gelatine, it'll need to go right into the fridge. If you're not certain you won't spill it, either don't fill the mold to the brim or use the 2nd method (below).
Note: the jelly liquid is super hot so make sure the mold is stable before adding the jelly. Also be careful when pouring it in and always make sure the koi fish mold is stable on the 4 bowls before pouring it in.
It'd be great if you could grab a helping hand in the kitchen to hold the mold steady whilst you fill it. If not, use one hand to hold the mold, and another to scoop the jelly in slowly.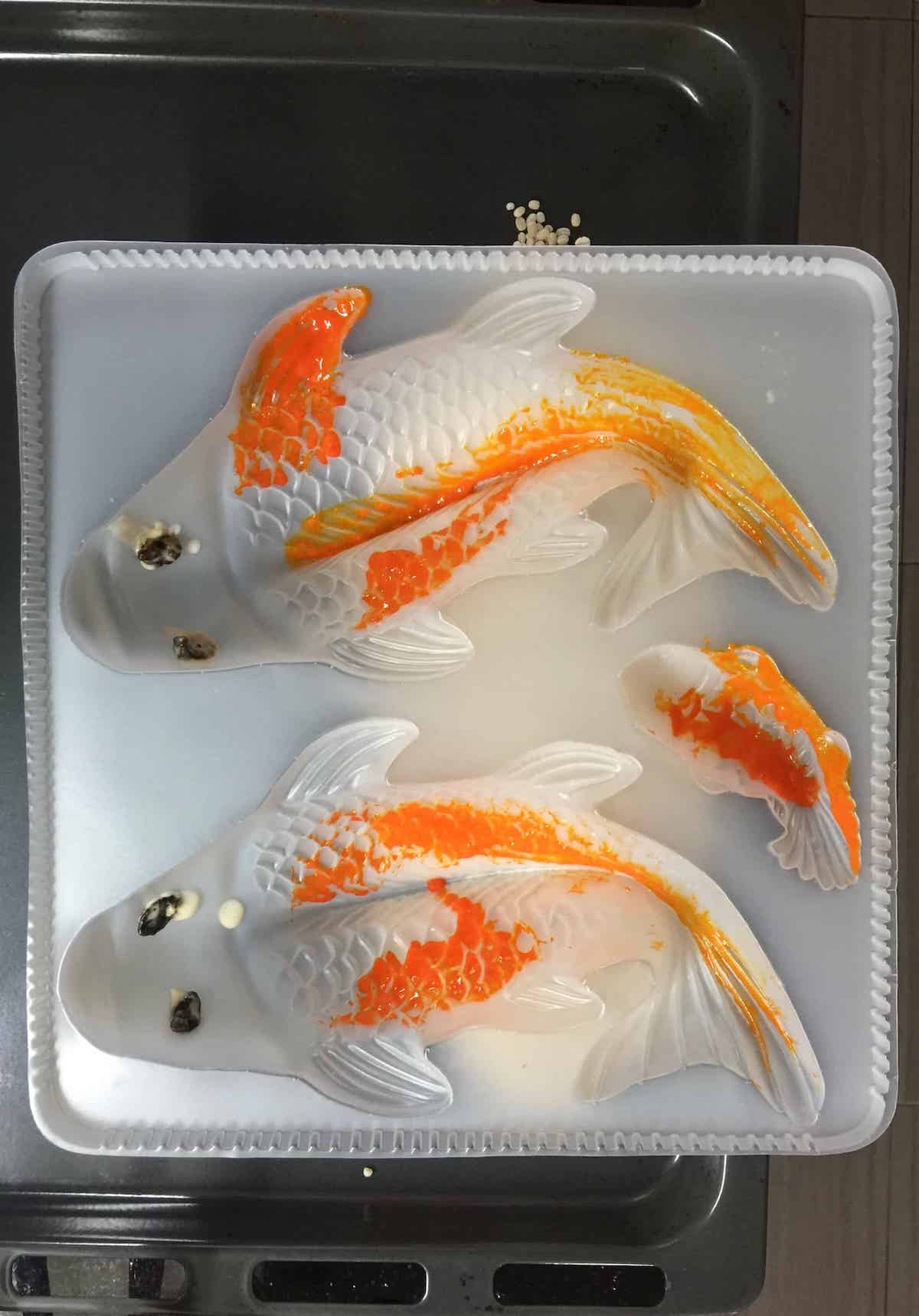 2. Use uncooked beans or rice
In the 2nd method- which is the one I used- you pour a lot of uncooked beans or rice onto ½ of a high-rimmed baking tray or large platter then push the mold into the beans/ rice to balance the hump of the fish- the beans/ rice will help to hold the koi fish mold steady.
However, it's hard to gauge how much adjustment you need to make for the fish to be 100% flat, so your liquid jelly may spill a little. You can always cut out the excess jelly later, but the jelly outline won't be as clean and beautiful.
Just make sure the baking tray/ platter can fit in the fridge- when I'm desperate, I just let the jelly solidify at room temperature.
As mentioned above, this only works for agar agar (kanten) and konjac jelly but not gelatine.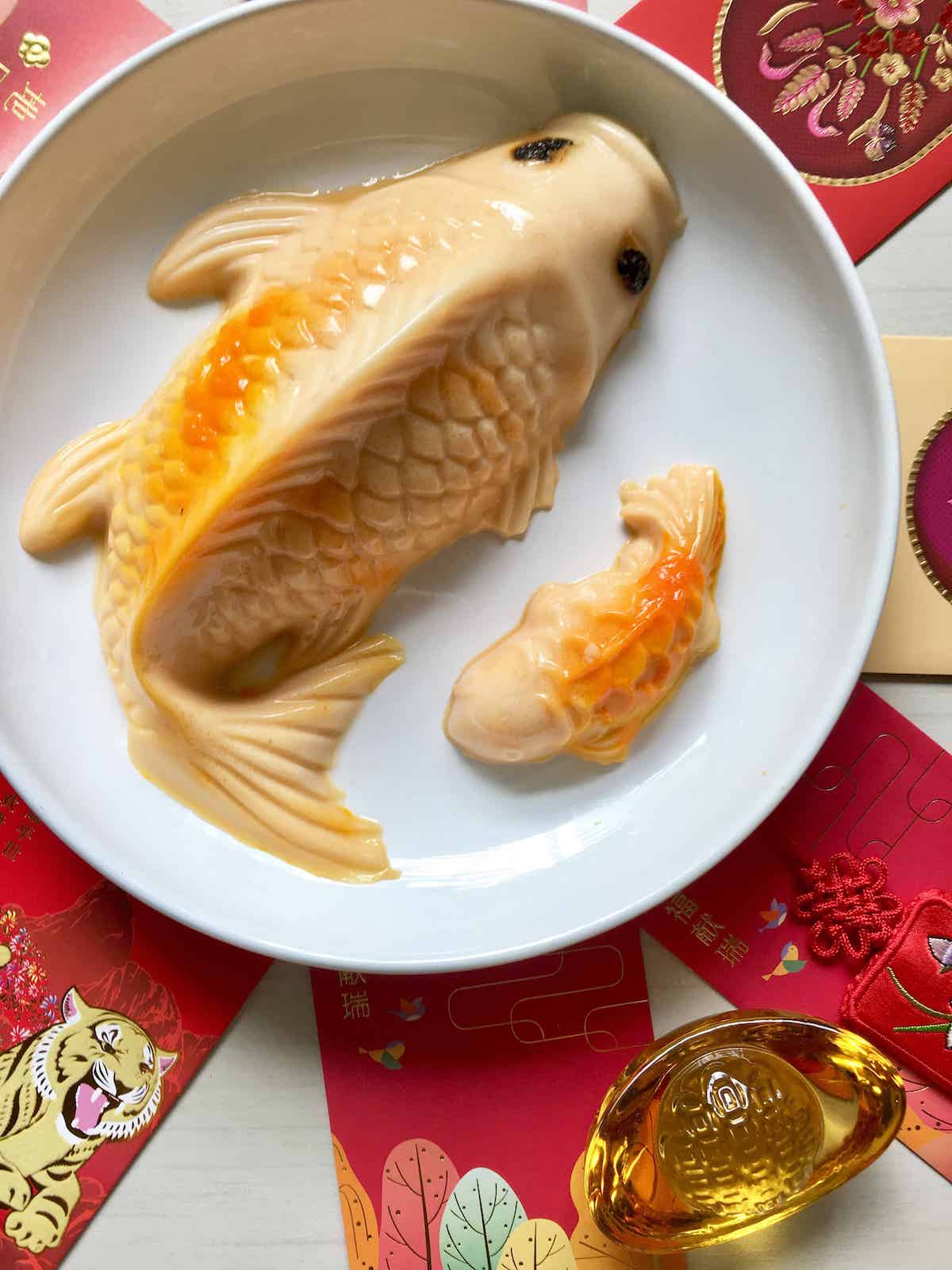 Expert Tips
Dip the raisins/ black currants/ sultanas in the jelly before applying it to the mold and pressing down firmly. Let them dry before adding the rest of the jelly. This helps to make sure they stick firmly to the mold, instead of disappearing into the dessert, leaving you with a blind fish!
Remove the jelly from the mold by bending the mold or, if firmly in place, use a knife to gently wiggle it out, paying extra care to the thin fins.
Chill the koi fish jelly before serving for the best taste!
Other flavour suggestions which complement the colours of the koi fish include:
Other CNY recipes
CNY Koi Fish Jelly (Easy Chinese New Year Dessert)
A popular CNY dessert that is easy to make yet stunning and delicious!
Equipment
Pot

Heat proof whisk

Glazing brush

Alternatively, use the back of a spoon

Koi fish mold

4 equal sized bowls or cups

Alternatively, use a baking tray/ high rimmed platter and uncooked beans/ rice to balance the mold
Ingredients
1

packet

Pre-sweetened agar agar powder

Check the back of your agar agar packet to make sure they don't have different instructions on their agar agar: water ratio- if they do, follow what's on the packet. If your agar agar doesn't contain a sweetener, add some white granulated or white caster sugar to give it some taste.) Substitute: Konjac powder or gelatine if not vegan

11.7

oz

evaporated milk (333g)

Substitute: regular milk or plant-based milk.

23.5

oz

water (667g)

Yellow, orange and/or red food colouring

You only need a few drops

2

dried raisins/ blackcurrants/ sultanas per fish

1 litre of jelly could be used to make 3 koi fishes, based on my mold, but different molds have different sized fish so yours may be different.

edible gold paint or glitter

Optional
Instructions
Add the evaporated milk and water to the pot, whisk whilst adding the agar agar powder- note the fire is NOT on at this point in time and the liquid should be cold/ room temperature.

Once you've stirred the agar agar in, switch on the fire and bring the pot to the boil. Keep stirring till the powder is all dissolved, then reduce the heat to keep the agar agar warm (so that it won't set).

Use your tweezers or chopsticks to dip the raisin into the agar agar then press it firmly to the mold, where the eye of the fish is, and hold it there till it's stuck to the mold. Repeat till all the eyes have been filled out.

Scoop 2-3 tablespoons of agar agar liquid into 2 bowls, then add a few drops of food coloring to the bowls. (1 colour per bowl. If you're using 3 colours, you will need 3 bowls.) Mix the coloring and the liquid jelly well- use different spoons for each bowl and don't cross contaminate the colours!

Using a pastry glazing brush or the back of the spoon, thickly paint on some yellow/ orange/ red patterns onto the fish mold to mimic the strips of a koi fish (See the post for a photo)- start with the lighter colour then move on to the darker colour.

Give the coloured stripes some time to set on the mold- you don't want it to melt into the hot jelly when you fill up the rest of the fish!

Now either balance the mold on 4 same-sized bowls (1 bowl per corner) OR pour a lot of uncooked rice/ beans onto a baking tray and push the mold into them so that they hold it level (See post for the pros and cons of each method.) In this post, I used the 2nd baking tray method.

After the mold is as level as u can make it, use 1 hand to hold the mold, and the other hand to stir the jelly to make sure it's still liquid, then slowly scoop the hot jelly into the molds. Make sure you don't burn yourself!

Scoop till all the fish molds are filled then leave to set at room temperature for 1 hour till it's a little more solid then transfer to the fridge for another 2-3 hours. (I let it set before moving it to the fridge so that I can minimise spillage.)

After 2-3 hours, the jelly has set, and you can remove it from the mold and plate it. You can either pop the mold to get the jelly out or if it's stuck, gently run a knife along the edges to help it out. Be very careful of the fins as they tend to be thin and break easily. Optional: brush some edible gold dust on the back of the fish!

Best enjoyed eaten chilled. Happy Chinese New Year everyone!
Notes
Note: not recommended to serve konjac jelly to the very young or old due to choking concerns.
Before you go, here are other jelly recipes that may be of interest- you can always use one of these flavours (e.g. champagne and lychee) but make them in this koi shape!