This easy Pandan Milk recipe is a sweet milk drink that can be made in minutes! You can also stir in some jelly to make it more substantial and to amp up the green color.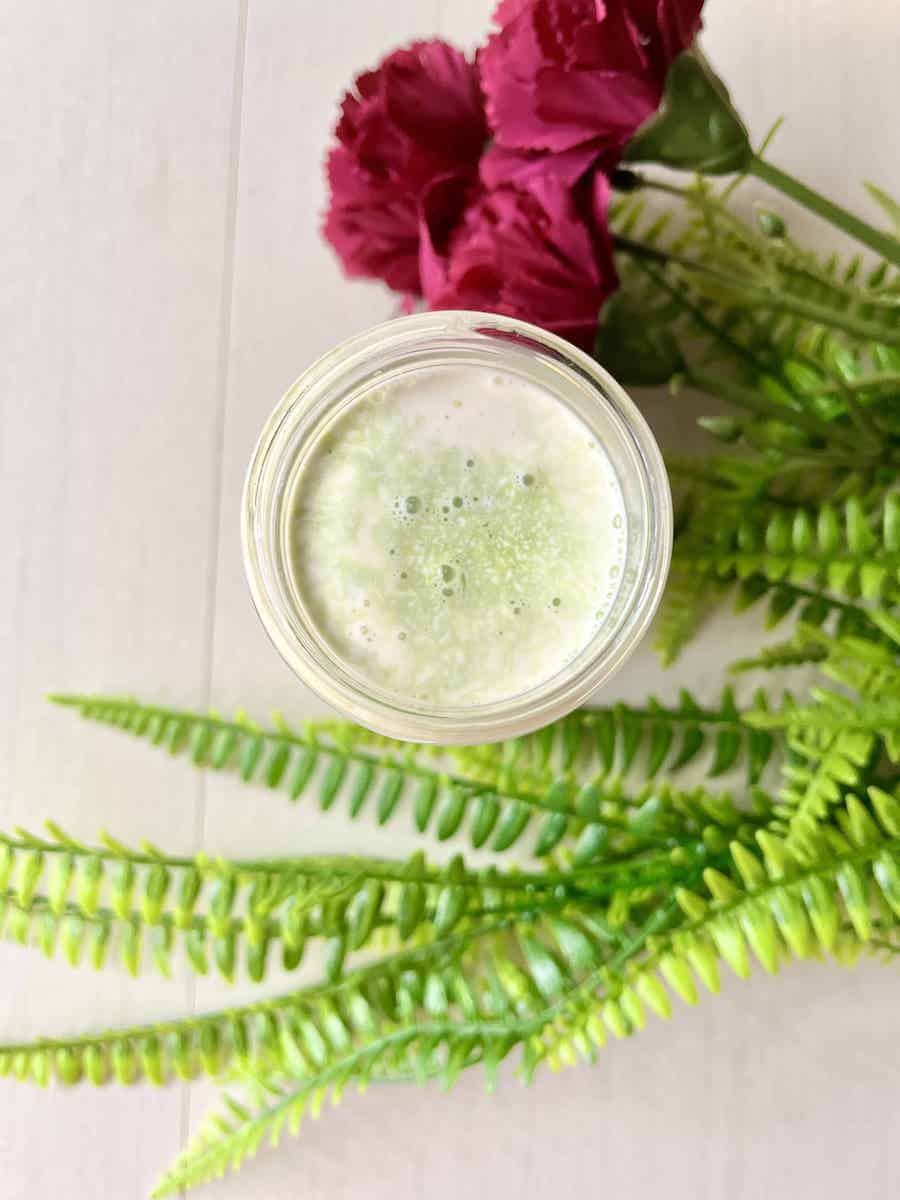 Jump to:
Why Make This
This Pandan Milk Recipe is easily varied: Pandan Soy Milk is a popular drink in Southeast Asia. Outside of Asia, it's hard to get fresh Soy Milk, packaged ones can taste ickily sweet and making it from scratch is a pain. Hence, my pandan milk recipe is made with cream but can easily accommodate other plant-based milks.
It's flavorful but not overpowering: Pandan is a delicate favor that is complex, fragrant and appetising. If you're looking for a light drink with caffeine, try this Jasmine Boba Tea.
Super easy and done in a few minutes: you only need 3 simple ingredients and the milk is ready in 1 step!
Ingredients
You will need:
Cream: I'll be adding pandan juice so, to prevent the Pandan Milk from being too dilute, I use cream. Alternatively, you can use a plant-based milk of your choice such as soy milk and add pandan extract instead of juice. (I do not recommend using oat milk as it just doesn't taste as good with pandan.) Note that pandan extract can be a bit astringent compared to pandan juice, so you may need to increase the amount of sweetener added.
Pandan Juice: This is made by blending pandan leaves and water. (Click the link for more details.) If your pandan leaf juice has split into darker and lighter green layers, simply stir it before using. Frozen pandan leaves can be found in many Asian grocery stores (but use fresh leaves if you can get them!)
Pandan syrup: you can substitute with other sweeteners such as simple syrup or sugar. Pandan goes particularly well with brown sugar and gula melaka sugar. If watching your calories, feel free to omit as many milks, such as almond milk, are quite sweet already.
Note: if you just add simple pandan syrup to milk, you'll end up with either a very light, almost indiscernible flavor or an overly-sweet milk. I do not recommend!
Variations
Pandan Coffee: Froth the milk and add strong coffee or espresso to transform it into a Pandan Latte!
Step-by-step Instructions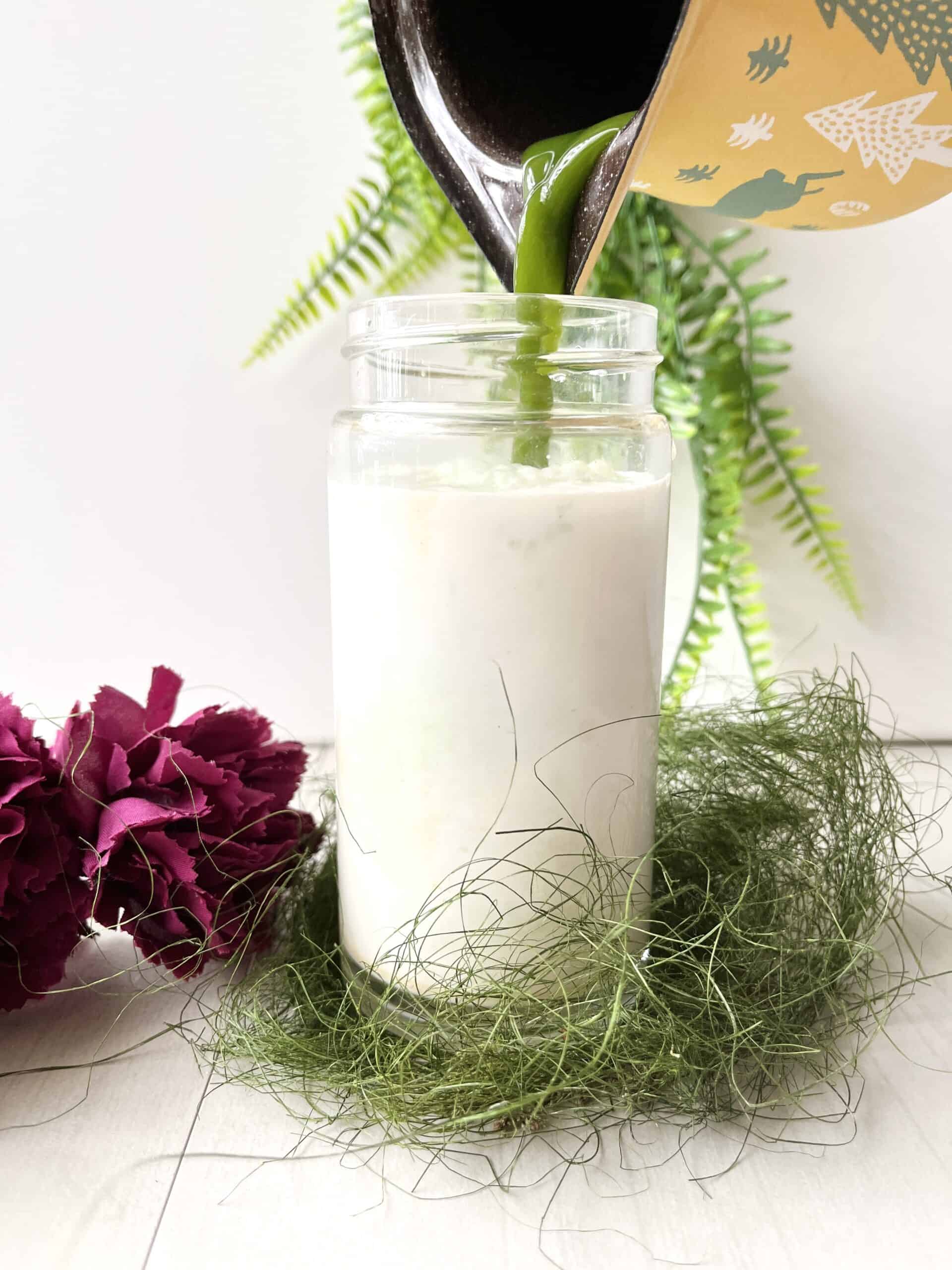 Pour the ½ Cup of Pandan Juice into the ½ Cup of Milk. Stir and sweeten to taste!
Optional: add pandan jelly or grass jelly to make an extra refreshing drink! You can use gelatine or agar agar and konnyaku if vegan (but note that konnyaku is a choking hazard.) (Click through for more information on the various types of jellies.)
Optional: To get a green foamy top that doesn't disappear straightaway, like in my recipe card photo below, you want to add ½ teaspoon of pandan paste (if not the color won't be obvious), heat to 155-165C then whisk furiously (about 100 whisks.)
Expert Tips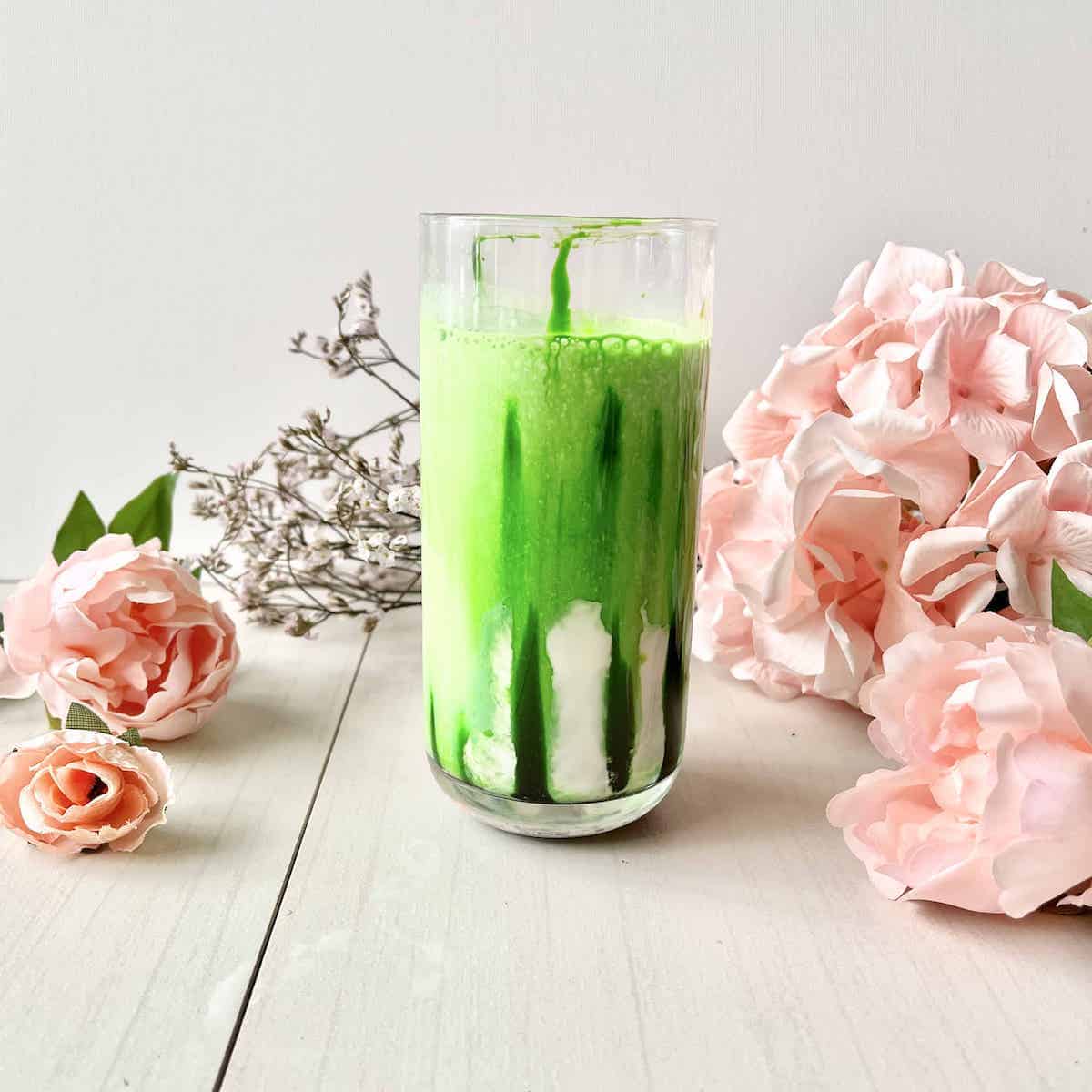 Tip #1: The color of homemade pandan juice and extract is quite light, so it won't really show up well against the milk. If you want to create a dramatic contrast in colors, stir a pinch of artificial pandan paste into the pandan juice before pouring it into the cream, as shown above.
Tip #2: If you're lazy to make pandan sugar, you can create a pandan flavored sweetener by adding some dried pandan leaves to a container of sugar. Seal well and leave in a dark cupboard for 1 month. The pandan aroma will infuse into the sugar! You can infuse sugar with many different flavors in this way, such as osmanthus.
Recipe FAQs
What is Pandan?
Pandan, also known as screw pine leaves, is a tropical plant whose long blade-like leaves are often used in South East Asian cooking, particularly the food of Singapore, Malaysia, Indonesia, Vietnam and even Sri Lanka! It is very fragrant with grassy, nutty, warm undertones and is often compared to vanilla.
Does Pandan have caffeine?
On its own, no. However, it is sometimes mixed into Coffee to make Pandan Coffee or Pandan Latte.
Can I eat the Pandan leaves?
I don't recommend it. We usually fish the leaves out of our food after cooking with it as they are very tough and fibrous and don't taste great!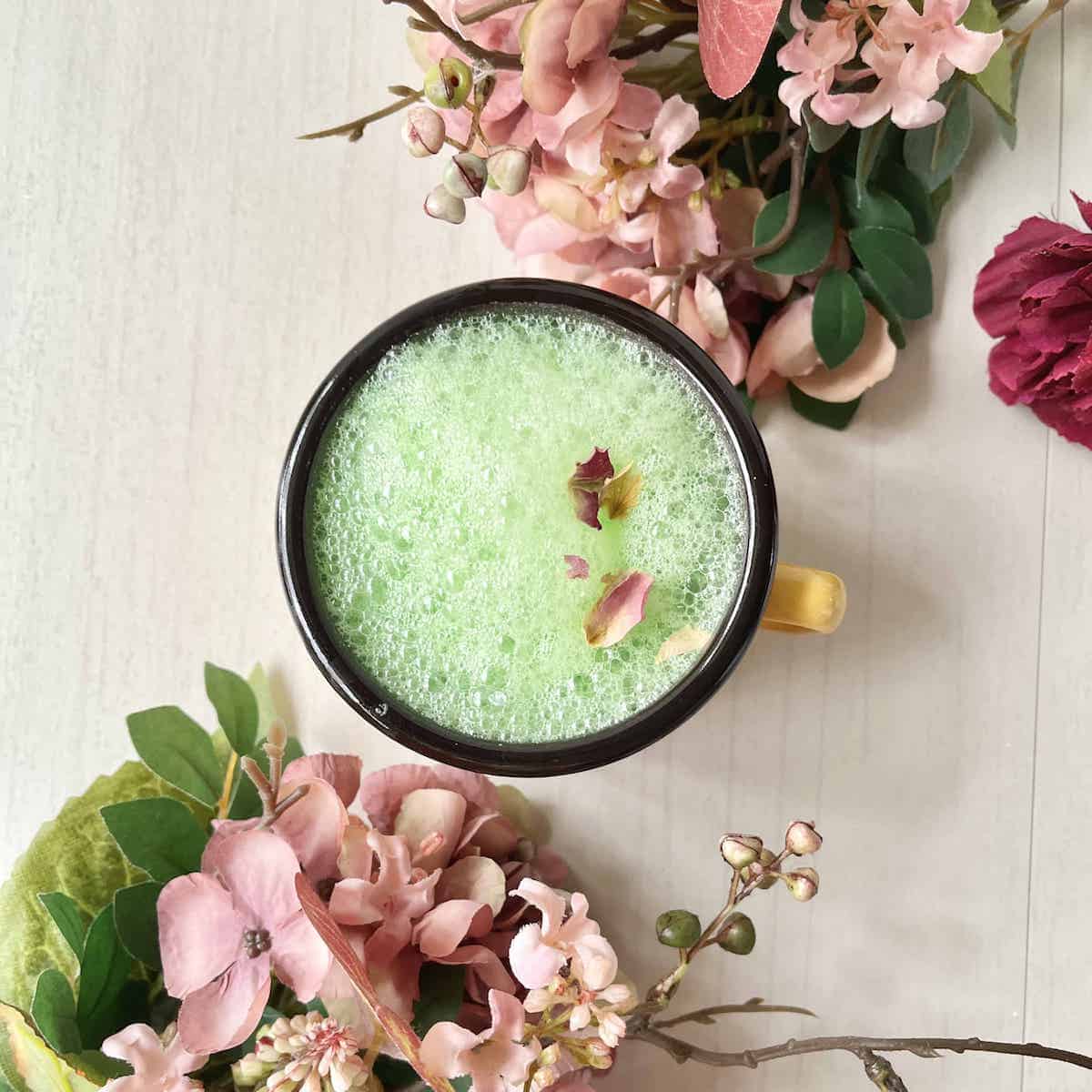 Other Pandan Recipes
Enjoyed this Homemade Pandan Milk Recipe? Please leave a 5-star 🌟🌟🌟🌟🌟rating in the recipe card below & if you REALLY found it useful, a comment would make my week! Thank you and have a great day!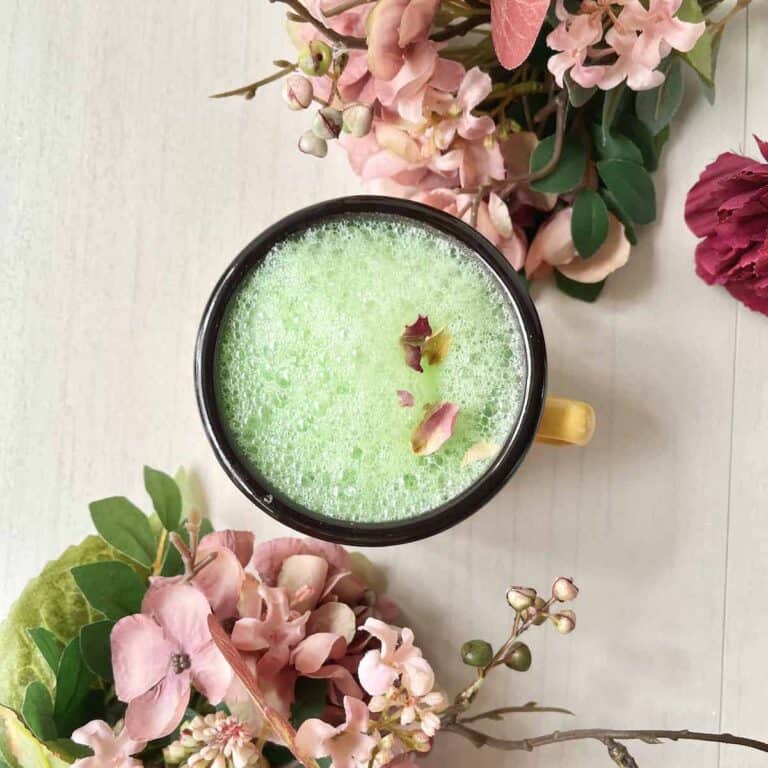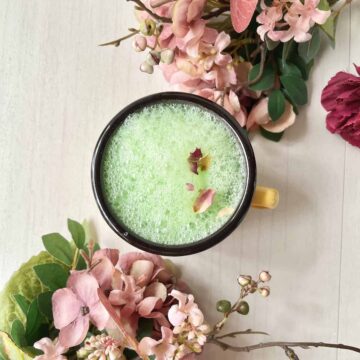 Easy Pandan Milk
This Easy Pandan Milk recipe is a sweet milk drink that can be made in minutes! You can also stir in some jelly to make it more substantial and to amp up the green color.
Ingredients
½

Cup

cream

Substitute: soy milk or a vegan milk of choice.

½

Cup

pandan juice

Stir before using to make sure the flavor hasn't all settled at the bottom.

½

Tablespoon

Pandan simple syrup or to taste. Substitute: white sugar, gula melaka, homemade brown sugar, honey or 1 of these refined sugar substitutes etc.

Pandan jelly or Grass Jelly

Optional, to make the drink more substantial (Pandan Jelly will also make the drink greener and more attractive.) See Notes on how to make.
Instructions
Pour the stirred pandan juice into the cream.

Sweeten to taste and serve. (If adding jelly, add the jelly first then sweeten to taste, as the jelly is already sweet.)
Notes
Pandan Jelly
You can make pandan jelly by adding pandan syrup or pandan extract + sugar to this coconut agar jelly. (Konnyaku is chewier but I don't recommend konnyaku in drinks as people have choked to death on them. (It does not dissolve in the mouth.))
Make the jelly beforehand as it takes time to set. You'll end up making much more than you need for drinks and the rest can be eaten as a jelly dessert or mixed into jelly fruit salad. It can be kept in the fridge for 5 days.
Note: the nutritional information is an estimate automatically calculated using the WPRM recipe maker and I am not responsible for its veracity.
Nutrition
Calories:
432
kcal
Carbohydrates:
11
g
Protein:
3
g
Fat:
43
g
Saturated Fat:
27
g
Polyunsaturated Fat:
2
g
Monounsaturated Fat:
11
g
Cholesterol:
134
mg
Sodium:
38
mg
Potassium:
119
mg
Sugar:
11
g
Vitamin A:
1749
IU
Vitamin C:
1
mg
Calcium:
80
mg
Iron:
0.5
mg
Enjoyed this easy Pandan Milk recipe? Tag me in your social media (@greedygirlgourmet)!