I seem to be on a konnuyaku jelly craze after my osmanthus knonnyaku jelly with wolfberries experiments. Yuzu is one of my favourite citrus fruits (along with calamansi) but the fresh thing can be hard to find, even in an Asian country such as Singapore, so I opted to make my yuzu marmalade konnyaku jelly recipe with yuzucha (Japanese)/ yujacha (Korean), otherwise known as yuzu tea marmalade, instead.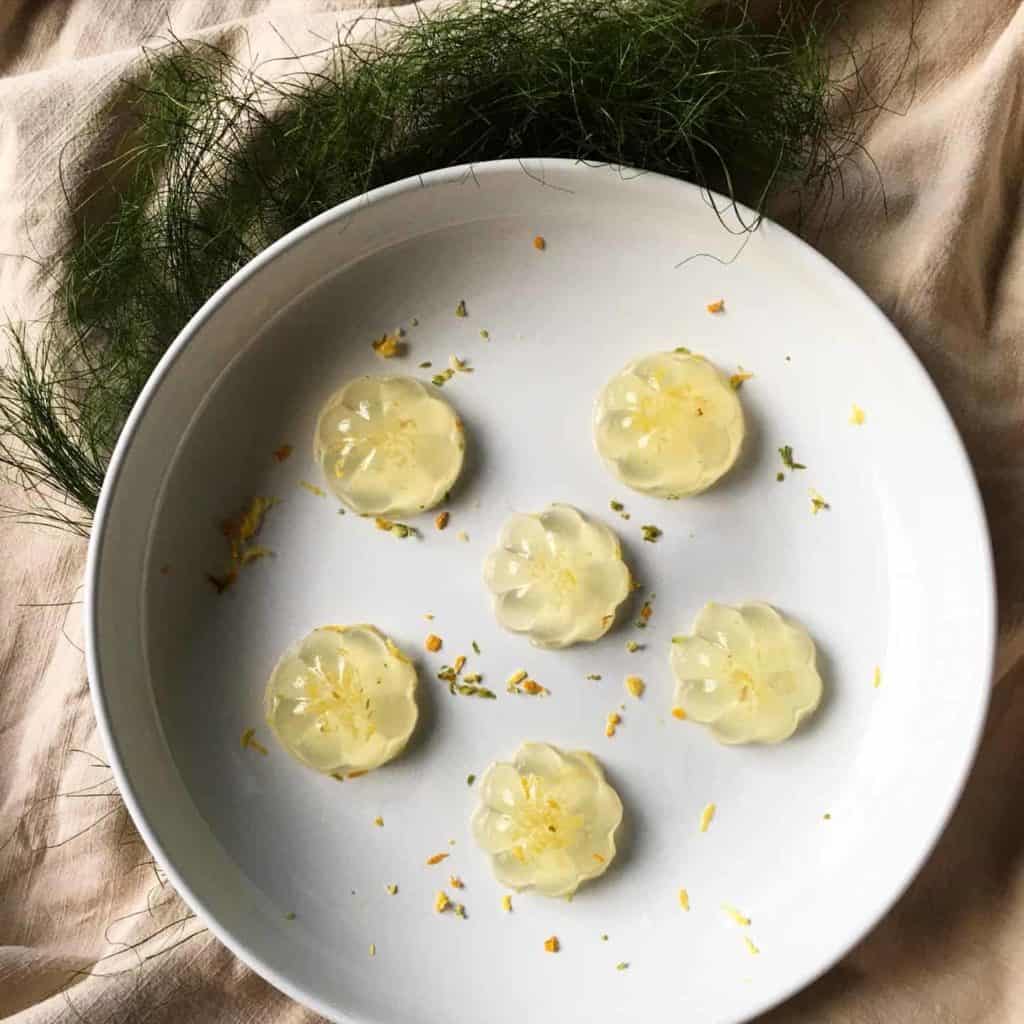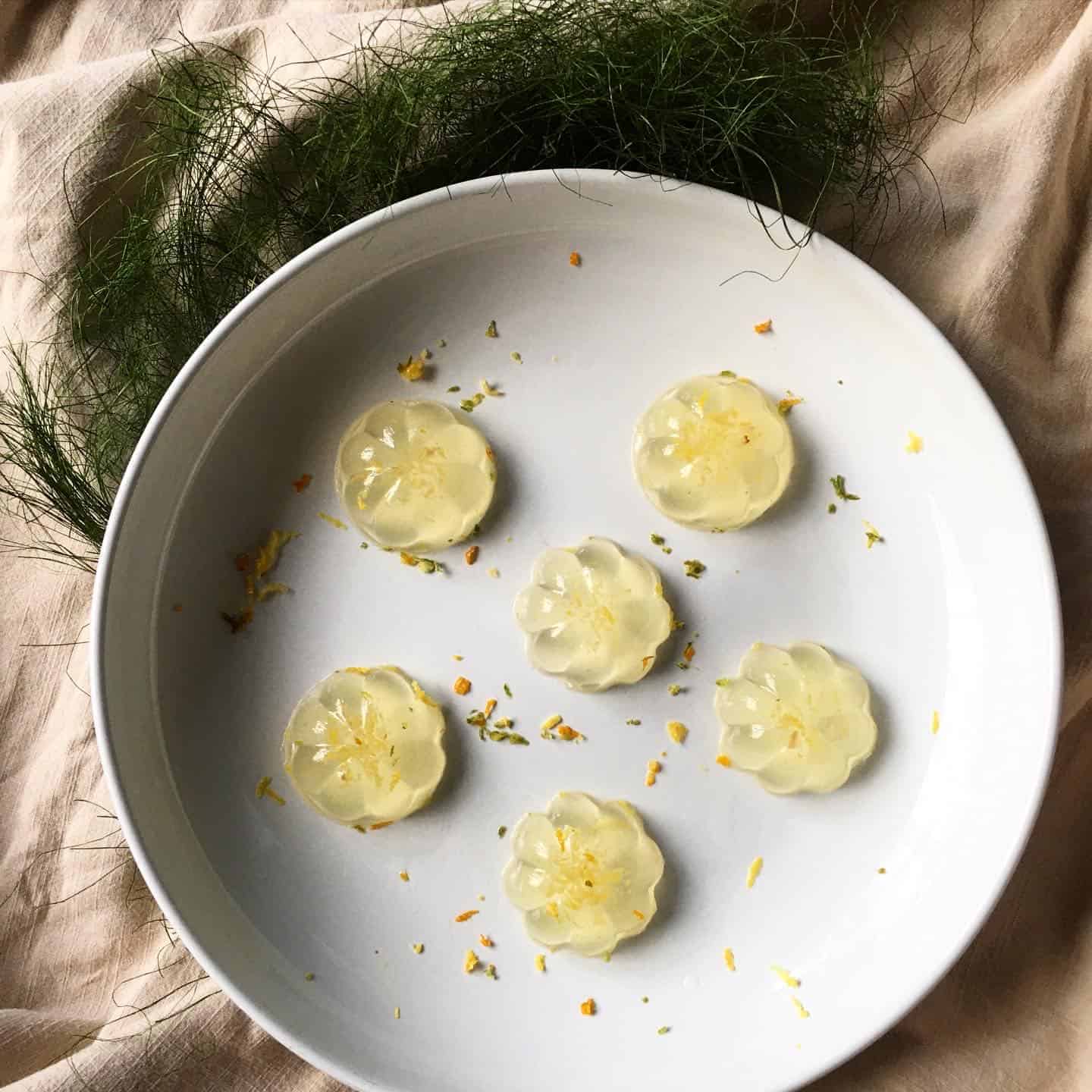 Light and refreshing, this yuzu tea marmalade konnyaku jelly recipe is not just good as a dessert, but also as a palate cleanser in-between courses (if you want to go all fancy during dining!). (I would probably up the citrus factor/ acidity if using it a a palate cleanser.) These jellies also make great gifts- perfect for a Christmas food hamper! (Konnyaku is from mountain yam, so yuzu konnyaku jelly can be made for vegans.) What sort of food gifts do you make for friends? I once participated in a Food52 food gift exchange programme for Christmas, where we sent strangers food items from where we lived and food gifs that we had made for Christmas. I thought it was a lovely initiative- the only drawback was I never received my parcel lol! But, nonetheless, I think it's an amazing idea! 🙂
Anyway, less about Christmas gifts and more about yuzu tea marmalade jelly making-
How much yuzu?
I started with 4 tablespoons of yuzu marmalade to 1 litre (33.8 oz) of water. The result was a slightly overly sweet jelly, reminiscent of those jelly pops we used to eat as children. Not unpleasant, but nothing to write home about.
To emphasize the citrus notes, I decided to reduce this to 3 tablespoons of yuzu mamalade but add in 1 tablespoon of lemon juice.
Konnyaku jelly 101
Konnyaku jelly is really easy to make, but just in case it's your first time using it, I thought I'd have a short konnyaku jelly FAQ/ what to look out for section.
Once you add the powder to the water, start stirring straightaway
If not, your jelly will be lumpy- both in terms of looks and taste! The jelly may also not set as well as the konnyaku powder setting agent is trapped inside the lumps and there isn't enough to set the rest of the water.
Some people add the powder to room temperature water and others to hot water. I prefer adding it to hot water, as konnyaku sets almost immediately upon contact with cold water. Whichever you choose, remember to stir, stir, stir!
Note: if your konnyaku jelly powder is non-sweetened, mix the konnyaku powder with sugar before adding to the water.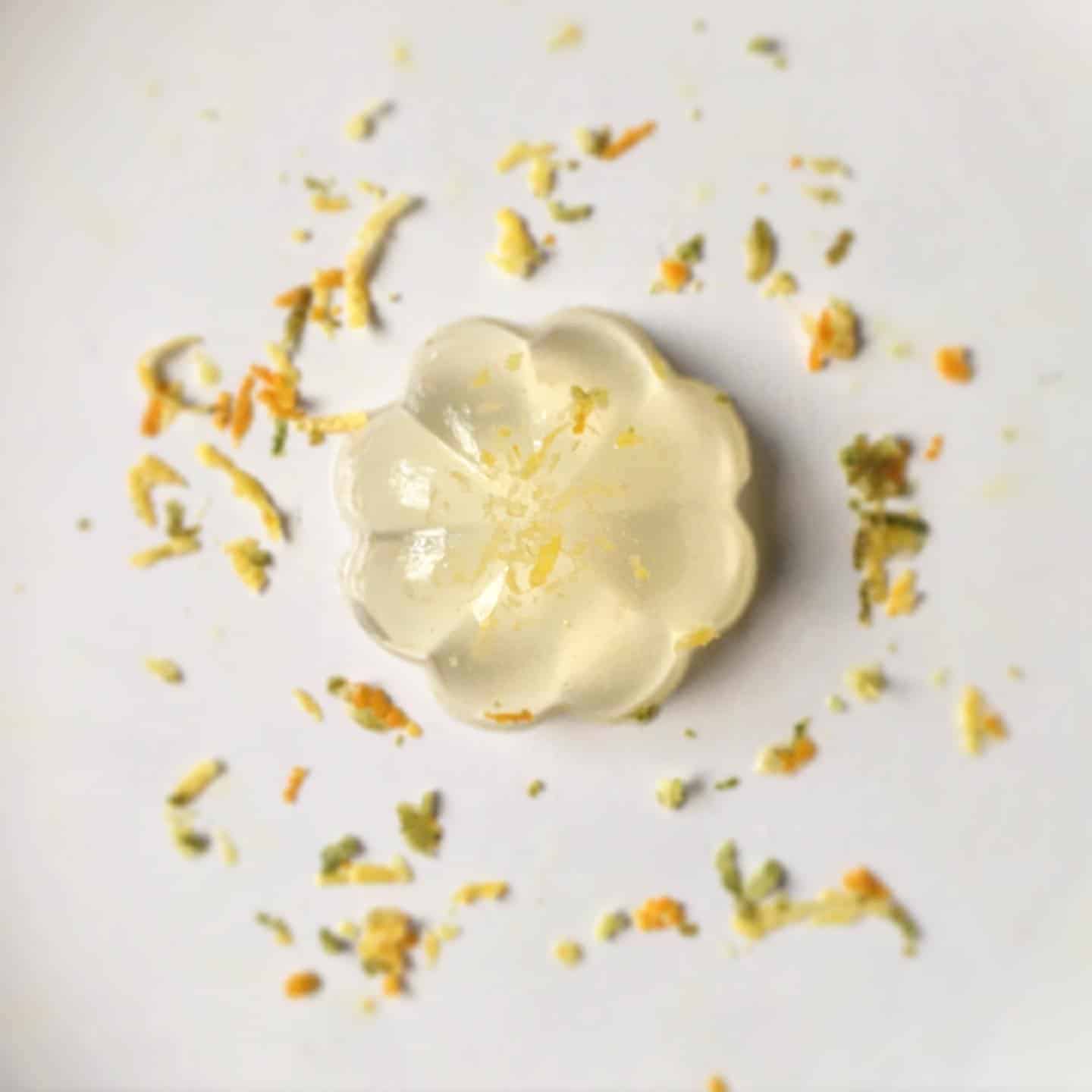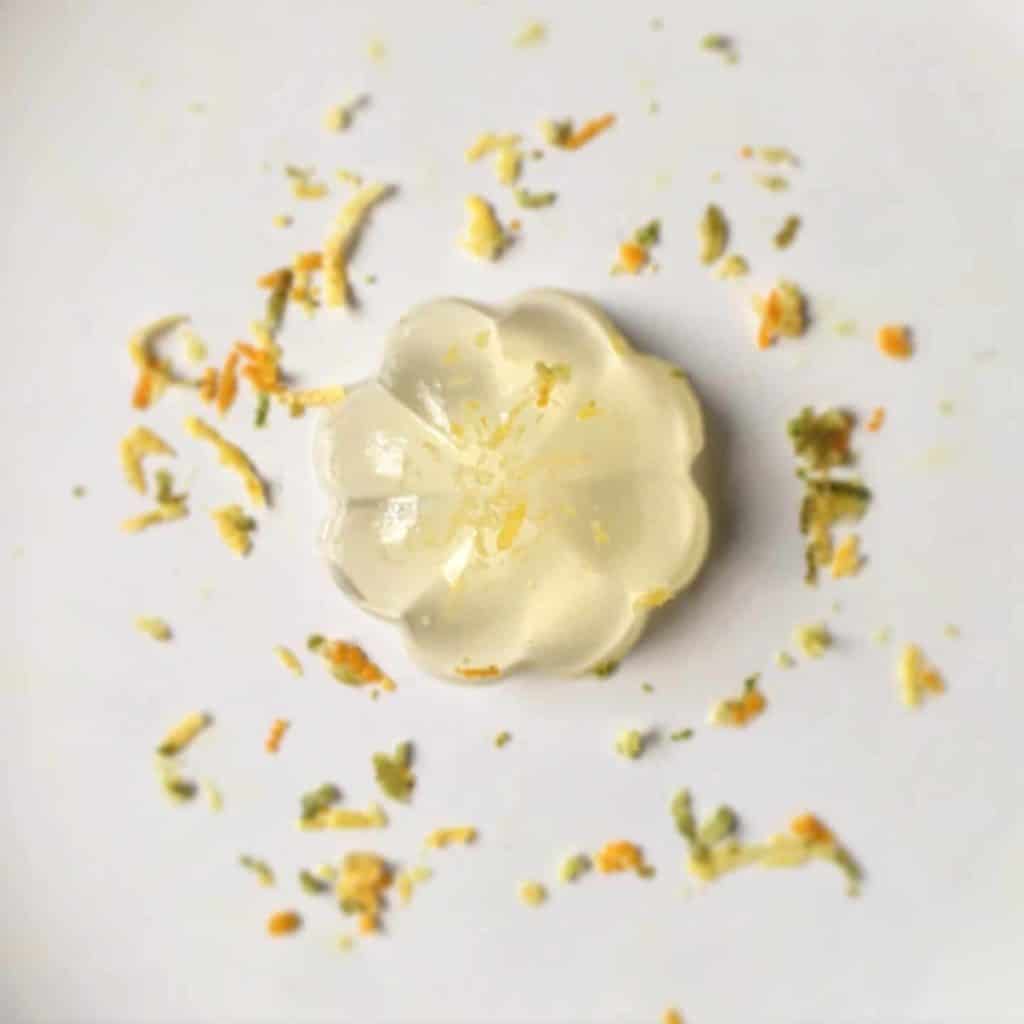 Let it set for at least 3 hours
Leave the jelly in the fridge (after cooling) for at least 3 hours (or more!) so that it can set completely. If you take it out too early, it will be wobbly. Some people may like the wobble but the whole point of konnyaku jelly is the QQ (firm and chewy) texture! (Unlike most other gelatine products, konnyaku jellies don't dissolve in the mouth, and kids in some countries have actually choked on konnyaku jelly pops, leading to their being banned in those countries. So if you have small kids or elderly people in the home, be careful!)
What happens if I added the wrong amount of water (vs what was stated on my konnyaku jelly packet)?
No need to panic! I once added 20% less water and the jelly still formed- it was a bit harder than normal but not everyone could tell. Of course, if you add waaaaaay too much water, then the jelly may not set. Take out a new packet of konnyaku jelly powder and start again (Or, if it's not too late (ie your jelly has not set yet), add more of the powder to your current project and keep stirring!)
Can I add anything else to my jelly?
One of the amazing things about konnyaku jelly is how versatile it is. If you don't have yuzu marmalade, you can make yuzu jelly using yuzu juice (in place of water) instead. You can also add fruits, kiwi seeds, aloe vera, food colouring etc to your jellies.
I like to add things to my jellies to create a contrast in textures, so for this yuzu konnyaku jelly, I often add Nata de Coco. If you've never heard of Nata de coco, you're missing out- it's a gel made from fermenting coconut water which is absolutely delicious!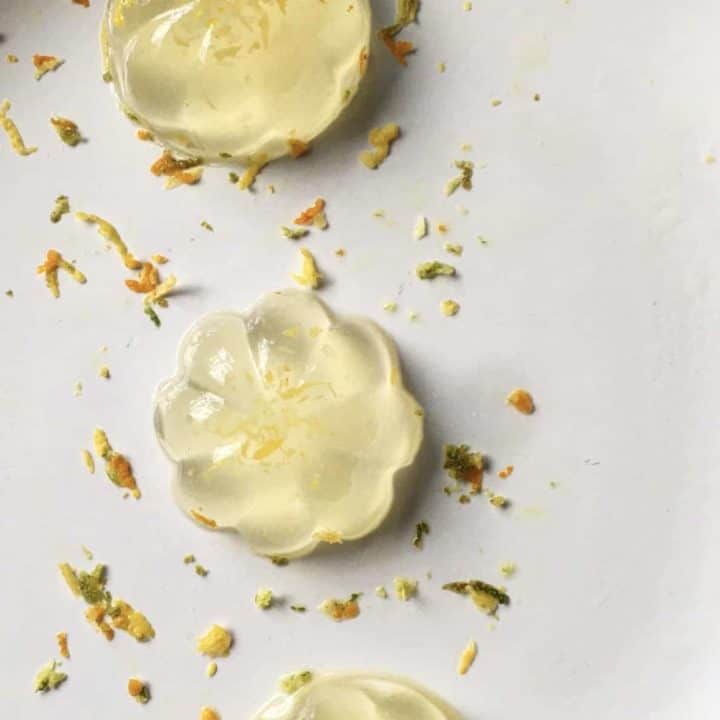 Easy delicious konnyaku jelly recipe
Ingredients
3

Tablespoons

Yuzu marmalade

This is the quantity for 1 litres (33.8oz of water) Please check your konnyaku powder to see how much water it requires and adjust accordingly. For example, if it requires 400g (16.9oz) of water, only 1.5 tablespoons of yuzu and 0.5 tablespoons of lemon zest should be used.

1

Tablespoon

lemon zest

1

Packet

Konnyaku jelly powder
Instructions
Heat up the 1 litre of water. Once it comes to the boil, turn down the heat.

Add the yuzu marmalade, lemon zest and konnyaku jelly powder. Start stirring immediately

Keep stirring for 5 minutes then pour into moulds and let the jelly mixture cool.

Once cooled sufficiently, allow it to set in the fridge for at least 3 hours.
Notes
If your konnyaku powder is non-sweetened, mix the sugar (if using) with the konnyaku powder before adding to the liquid.
Konnyaku is full of fibre and zero calorie, so it's pretty healthy and a good diet food if you skip the sugar. Not quite as tasty though!
Who will you be making this yuzu marmalade konnyaku jelly recipe for this Christmas? 🙂 (Another good gift jelly idea are these lychee champagne konnyaku jellies- no one I know has ever said no to champagne!)