Delicious, low-calorie and high in fiber, traditional Japanese konjac jelly with fruits is almost the perfect gluten-free, vegan dessert for those on a diet. It's extra refreshing in the summer!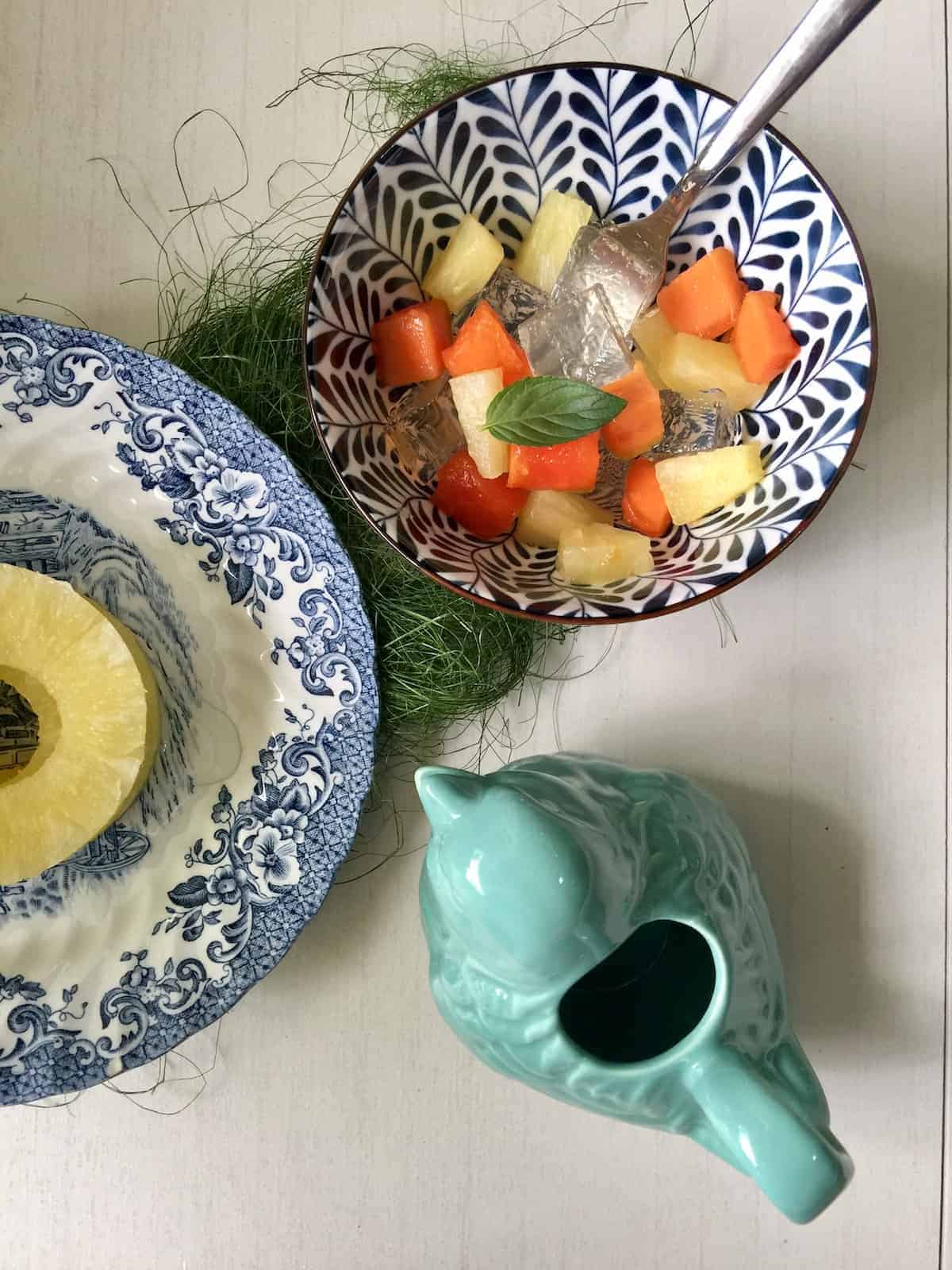 Jump to Recipe
Jump to:
Konjac jelly is 1 of my favourite desserts because it's delicious, cooling and also quite good for one's diet (with the right ingredients!). As a result, I have quite a few konjac recipes on Greedygirlgourmet such as Chinese sour plum jellies, yuzu konnyaku jelly, osmanthus konnyaku jelly with goji berries and even a champange lychee jelly (the most popular amongst my friends whilst the yuzu is the most popular on this blog!)
When feeling particularly virtuous though, this is my preferred way to serve the jelly as it's sweet despite not adding any sugar or honey! For variety, you can switch up the fruits- you can even use your leftover Japanese plums from making ume-shu!
It's a great dessert to serve with sashimi and sushi!
What is Konjac Jelly
Also known as konnyaku jelly, konjac jelly is a Japanese jelly that has been part of the cuisine for many years. Because it is high-fibre, low-calorie (about 7 calories per 100g assuming no other ingredients are added besides water) and vegan, it's traditionally incorporated into the diet when someone is trying to lose weight.
In fact, it can even be used to replace fat in meat and dairy products! When introduced to SouthEast Asia in the 80s and 90s, this sweet dessert was an instant hit and there were many cooking classes devoted to making this jelly snack!
Fun fact: it is made from the konjac bulb but not all konjac bulbs can solidify into jelly! Other names include Amorphophallus, konnyaku konjaku, devil's tongue (Nice!), snake palm, elephant yam and voodoo lily.
Health Benefits
Konjac jelly is good for your health in various ways:
Improves the immune system
Promotes weight loss and effective against obesity
Reduces blood cholesterol
Note the above info is from ScienceDirect and not meant as nutritional, dietary or health advice. MedicalNewsToday has an even longer list of konjac's health properties so click the link if you're interested. Note that some people have reported intestinal blockages so remember to check with your doctor if you have concerns!
According to Japan External Trade Organization, this jelly is also good for the skin!
Culinary uses
On its own, konjac is pretty tasteless (neutral flavour) so it's very suitable for savoury and sweet applications:
Osechi: the konjac is braided and added to nishime (simmered with vegetables and maybe chicken or pork)
Oden: round konjac balls are put in hot pot
"Sashimi konjac": seasoned with yuzu-miso, wasabi-soy or vinegar-soy
Stir-fried with miso and/or other ingredients
Pasta substitute: shaped into long thin strips and added to soup, stir-fries or sukiyaki (it absorbs the sauce wonderfully)
For dieting and weight-loss: Konjac is shaped as grains and cooked with rice
Besides culinary applications, it is also used in other industries such as pharma drugs and even massage equipment!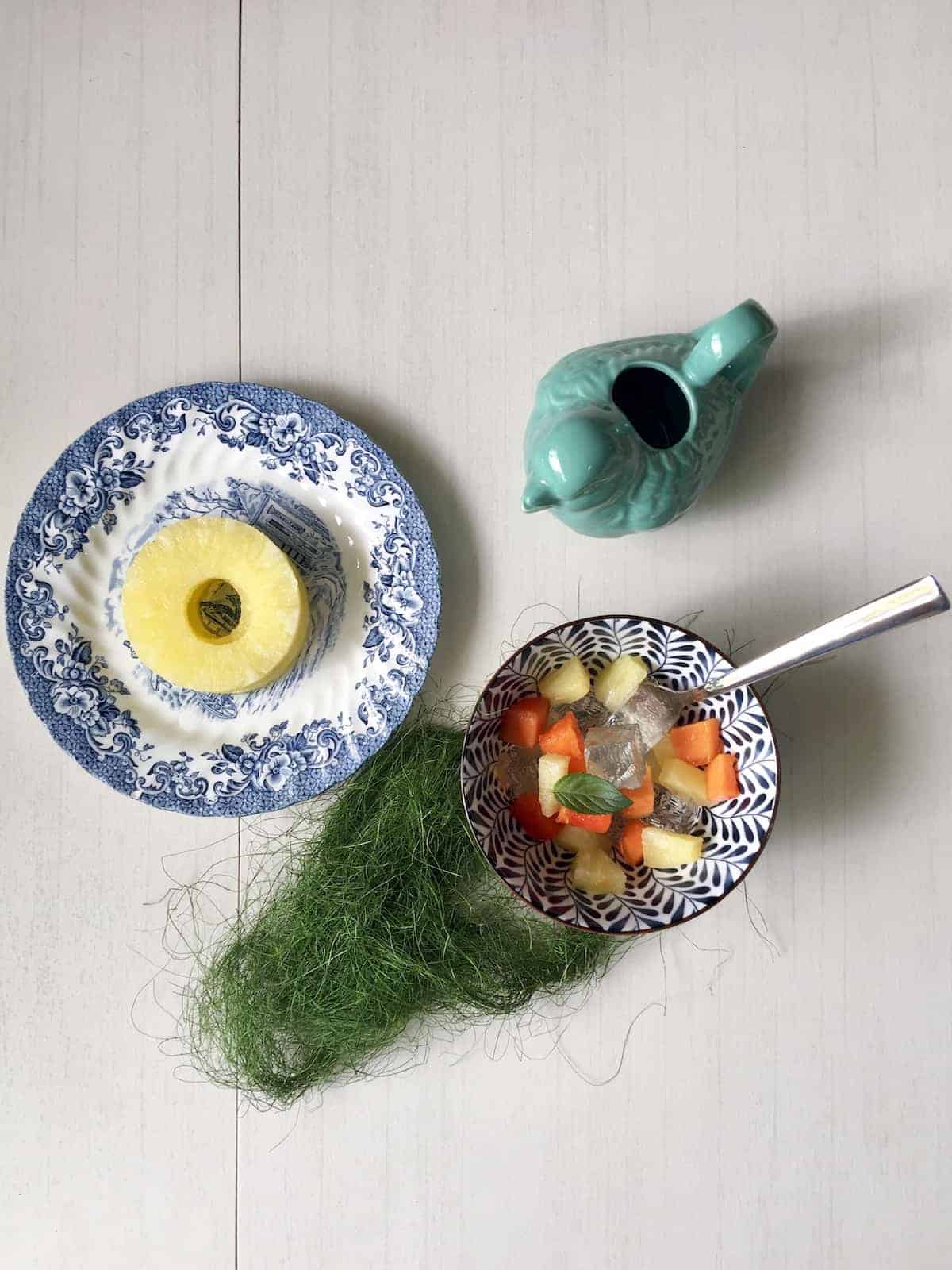 Substitutes
The texture of konnyaku jelly is much firmer than gelatine- it does not wobble! Moreover, as this Japanese jelly is 100% plant based, it can be used as a vegan alternative to gelatine. Compared to agar agar (made from seaweed so also vegan), konjac jelly is springier and more difficult to cut through. (For more info on agar agar, click this link and this one to see what can be used instead of agar agar.)
Another thing to note is that agar agar and konjac can set at room temperature in the tropics (where it's like 30C/ 86F), although it's best to leave them in the fridge to set! This makes it very handy when you want to create fun jellies such as this easy koi fish dessert.
Konjac jelly is very chewy so it doesn't dissolve in the mouth- it can absorb up to 200x its weight in water! Because of this, konnyaku jelly is a choking hazard and has been banned in countries such as Australia because kids have choked to death on it before. So be very careful when eating konjac jelly- chew a lot and don't serve it to the young and old!
Where to buy
You can buy this Japanese jelly in 2 forms:
ready to eat

sweetened and pre-made, usually packaged in small bite-sized servings
unsweetened and pretty much tasteless: for savoury dishes such as miso dengaku (I have to be honest and say that such dishes may be a bit of an acquired taste if you're not used to Japanese food)

powder form: you need to add this to boiling water to turn into a palatable dessert yourself.

some packets have sugar included and others don't. I am using konjac powder with no sugar added for this recipe. (If you decide you want to add sugar, add the sugar to the powder and mix well BEFORE adding it to the water as konjac is known to clump like crazy after getting wet.)
Whilst the ready to eat Japanese jellies make delicious desserts and snacks, they're often made with artificial chemicals/ preservatives and a TON of sugar, so I recommend buying the konjac powder and making homemade traditional Japanese Konjac Jelly with Fruits instead. It's easy, cheap and super flexible- I highly recommend having it when summer is in full swing!
Why make this at home
It's a healthy dessert snack- because of the fruits, we don't need to add sugar. If you really, really want more sweetness, add coconut water to the powder instead which is naturally sweet.
It's flexible- some people are on a diet and keen to cut their sugar intake whilst others don't care. The latter have the option of adding syrup/ honey/ fruit juice to the dessert whilst the former can have it as it is!
There's variety and keeps for longer- many jelly recipes call for adding the fruits to the jelly itself. By making this a plain/ clear jelly, you can have it with different fruits at different meals- if the fruits are set inside, you pretty much have no choice and it doesn't last as long.
Storage
The konjac powder should be kept at room temperature in a cool, dark place. Once made into jellies, do not freeze as the texture will change! Store in the fridge for 3-5 days.
Troubleshooting
The common issues people have with the powder include:
clumping (lumps form very quickly on contact with water so it's best to add the powder slowly and to whisk furiously at the same time)
liquifying (click here for reasons why konjac jelly liquifies)
reading the packet wrongly and adding too much/ little water/sugar (click here for troubleshooting help)
Note: if you bought too much papaya when making this recipe, why not use the extra to make Taiwanese papaya milk?
Other jelly recipes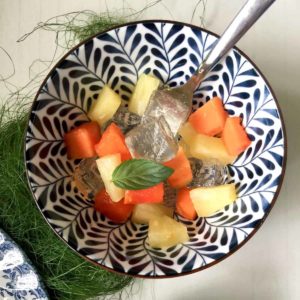 Traditional Japanese Konjac Jelly with Fruits Recipe (Vegan) (Low cal)
Delicious, refreshing and easy to make, this dessert is a good way of having desserts but not adding extra sugar or honey! Perfect eaten chilled on a hot summer's day
Ingredients
Fruits of choice, cut into ½ inch/1.25cm cubes- I suggest using as much fruit as jelly (so if your packet of konjac powder calls for 1 litre of water, use 2.2 lb/ 1 kg of fruits)

A mix of citrus fruits is great- oranges, pineapple, mango and kiwi- but I usually just use whatever I have on hand!

Konjac jelly powder

Preferably choose ones with no sugar added. The recipe works even if the packet has sugar added, but it's not so good for weight loss in that case!

Water, amount depends on the packet of konnyaku powder you're using- check the instructions for the required quantity but it's usually 1litre

If you really need some sweetness, use coconut water which is naturally sweet- the instructions are exactly the same whichever you use.

Mint leaves, optional for garnish
Instructions
Cut the fruits into ½ inch/ 1cm cubes and put in the fridge to chill.

Make the konjac jelly according to the instructions on the back of the packet. If you need more tips, check out these osmanthus jelly and yuzu konnyaku jelly links. Key things to note are to keep stirring continuously- if not you'll get a very lumpy, uneven jelly, let the mixture of powder and water boil for about 5 minutes (or till the bubbles disappear) then cool. (Keep stirring as long as the pot is boiling.)

After that, pour the jelly into a large heat-proof container. We don't want the liquid to be more than ½ inch/ 1.25 cm high (as we'll be cutting the jelly into ½ inch/1.25 cm cubes), so if your container isn't large enough, pour the extra liquid into another heat-proof container to set.

Let the jelly cool for about 3h, preferably in the fridge. When mine is too full, I just leave it outside and it still sets (room temperature: 30c/86f) The dessert tastes nicer cold though.

Once firmed up, cut the jelly into ½ inch/ 1.25cm cubes.

Mix approximately an equal number of jellies and fruit cubes per bowl, (optional) garnish with a mint leaf and serve. If you have guest who have really sweet teeth, you can offer them some syrup or honey to pour onto the jelly whilst you have your tasty, healthy, low-calories, no sugar added dessert!
Notes
Chew carefully and don't serve to the very young or old as konjac jelly is a choking hazard!
Tastes best served chilled: you can even add shaved ice in the summer!
Other Asian dessert recipes you may be interested in include: