15 ideas as to what to do with leftover sushi rice, spanning from Japanese appetisers and Italian main dishes to British desserts!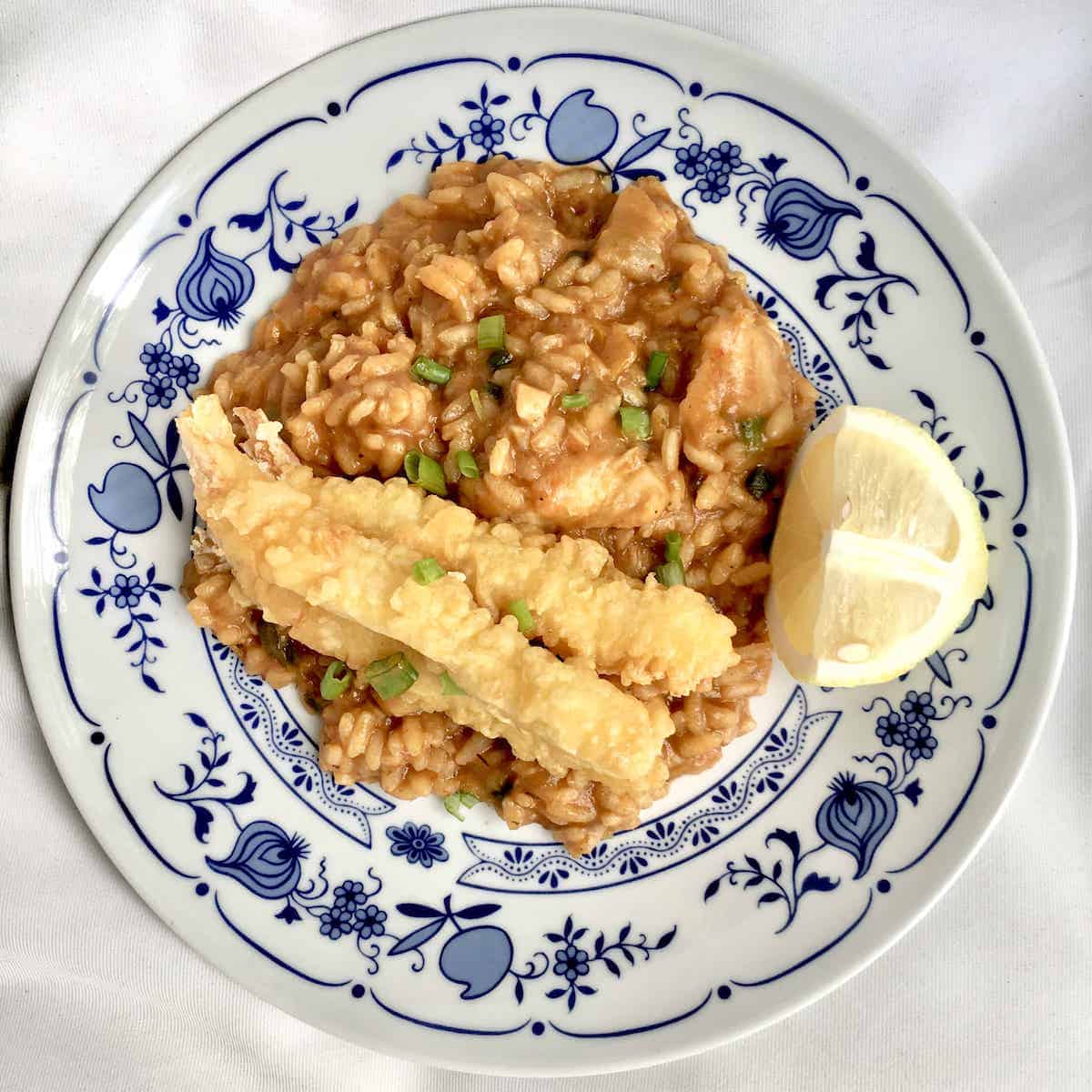 Jump to:
What is Sushi Rice?
Sushi rice refers to a specific way of preparing Japanese short-grain rice rather than 1 type of rice.
The vinegared rice has more starch than other varieties, such as Jasmine rice, and tends to be a bit sticky. Personally I can't eat fresh sushi often enough- my favorite sushi roll is spicy tuna sushi o r sea urchin (uni) sushi!
Sushi is quite a filling meal in itself, but if you want to serve it with other foods, here is a list of good Japanese side dishes for sushi, such as miso soup.
Food safety
Rice can cause very bad food poisoning so it should not be left out at room temperature- always store it in an airtight container in the fridge. Also, remember not to keep sushi till the next day!
For more information on the food safety of raw fish, click here.
Tips
Japanese soy sauce is slightly different from Chinese soy sauce so do buy a Japanese brand for your sushi- I use Kikkoman myself.
FAQs
How to make sushi rice without a rice cooker?
If you don't have a rice cooker, you can also boil the rice on the stove, but you'll need to watch it to make sure it doesn't burn. Boil the water and rice on high heat, but after it comes to a boil, reduce to low heat for about 12 minutes. After switching off the fire, leave the rice for about 10 more minutes to steam before uncovering the pot. Do NOT uncover the pot during this cooking process! (Use a glass cover so you can see when the water comes to a boil.)
Does sushi rice have sugar?
Both vinegar and sushi are usually added to make seasoned rice for sushi but you can always leave out the sugar if you prefer. (Note that the sugar is added to counteract the acidity of the vinegar, so you may want to reduce the amount of vinegar added.)
Other Japanese Recipes
Sushi rice recipes
It can be hard to gauge how much rice you need for your homemade sushi, so if you end up with too much, don't fret- there are lots of things you can do with the extra sushi rice!
Note: If, like me, you hate food waste, here are some ideas as to how to use up other food leftovers.
Temaki
The easiest way to use up leftover sushi rice is to have a temaki party, where your friends and you roll your own handrolls. Besides the rice, you will need:
seaweed or nori to wrap the temaki
fillings which can range from soft shell crab to Japanese fried egg roll and small pieces of raw fish
In fact, making temaki is a great introduction to making your own sushi- it helps you get used to handling the sticky rice- and you won't need any special equipment such as the bamboo rolling mat!
Onigiri
Although translated as Japanese rice balls, onigiri (お握り or 御握り are usually triangular in shape though sometimes cylindrical.
Any extra sushi rice you have can be molded into these onigiri balls (also known as omusubi (お結び) and nigirimeshi (握り飯)) then wrapped with a piece of seaweed (nori). Unlike sushi, the sticky rice is not mixed with sushi vinegar when making onigiri, but left plain or just lightly salted.
They can be eaten cold or warm and thus make great snacks for bento boxes or picnics. Onigiri come plain or with fillings- popular onigiri fillings include:
pickled ume plums (the same plums used to make plum wine)
tuna mayonnaise- why not use sambal mayonnaise for a SouthEast Asian twist?
salted cod roe (tarako)
furikake rice seasoning
Click here for an easy onigiri recipe.
Tip: when handling sticky sushi rice, it's helpful to have a bowl of water on the side, as wet hands will help prevent the rice grains from sticking to your hands.
Tempura rice balls
This may sound like it's a Japanese version of aranacini (deep fried sushi rice balls) but it's actually a type of musubi or a ball of sushi rice, which has tempura in the middle and seaweed wrapped around it.
Rice burgers/ Rice cakes
Leftover sushi rice can be made into burger buns (but made of rice not bread) a la Mos Burger (a Japanese fast food chain.) Like onigiri, you need to compress the grains so that they stick together in the shape of a burger bun.
Tip: You can grill each side of the rice buns so that the grains become nice, toasted and crispy!
Rice bowls (Donburi)
Chirashi
Chirashi is a deconstructed form of sushi- it literally means "scattered" sushi and is actually 1 of my favourite Japanese dishes!
It's a great way to use up leftover sushi pieces- you will need to take them apart to make this Japanese rice bowl, then place all the rice at the bottom, and the leftover sushi ingredients (fish, egg etc) on top.
If you leave the fish from the nigiri sushi as big slices, you're making chirashi, but if you cut them into smaller pieces, it's bara-chirashi.
Serve with some wasabi and pickled ginger.
Tip: Make your chirashi healthier by scattering some boiled edamame beans amongst the fish! Top with some ikura salmon eggs (or tobiko if on a budget), uni sashimi and thin strips of seaweed.
Poke
Since Poke is a Hawaiian dish, it's not really Donburi but it is a rice bowl! Although very similar to chirashi, poke is different as:
poke tends to have 1-2 types of fish (tuna and salmon) whilst chirashi can have many
the fish in poke is marinated in several sauces whilst chirashi doesn't have a sauce
it is common to use short-grain brown rice in poke bowls as well
Fried rice
The type of rice used to make sushi is actually the same rice that Japanese people use to make white rice or Japanese fried rice, but seasoned differently.
A popular, old-school manga suggested frying up the entire leftover sushi- raw fish and all! According to a fan who tried the recipe, it tasted great! You can click here to see how this fan turned leftover sushi into fried rice.
If you only have rice leftover and no toppings, you could make garlic fried rice, a very popular Japanese dish.
Tip: I recommend using sesame oil for your sushi fried rice! You can also add vegetables, such as corn and carrots, to bulk up the dish.
For more fried rice ideas, click here.
Bibimbap
Like Japanese rice, Korean rice is a sticky short-grain variety, so leftover sushi rice could be easily made into bibimbap. Although the sushi rice has been seasoned with vinegar and sushi, the taste of the gochujang/ bibimbap dressing is quite strong so it's not a problem.
Tip: Don't forget to sprinkle some lightly toasted sesame seeds on your bibimbap mixed rice!
Risotto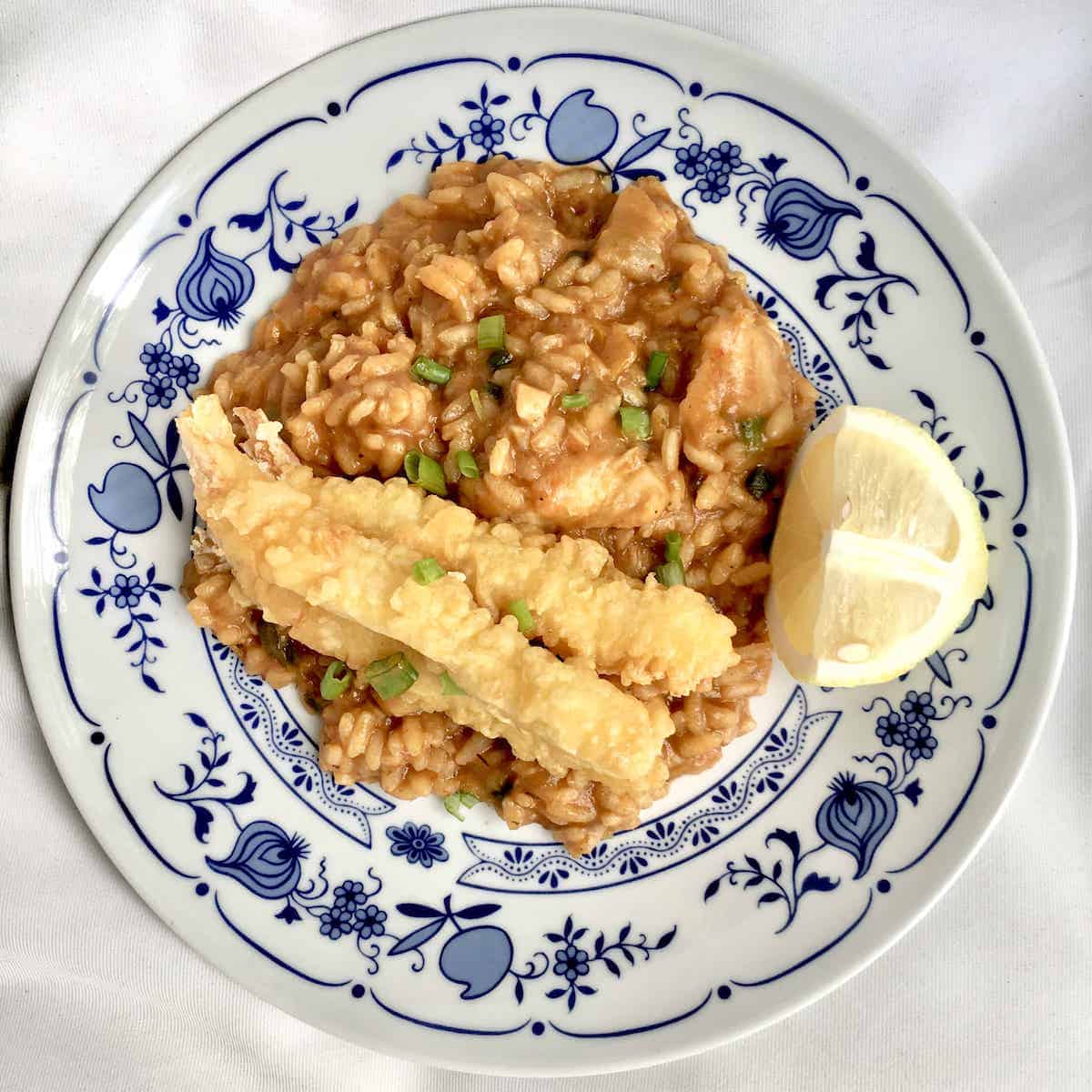 If you have leftover uncooked sushi rice, and are tired of the usual Japanese dishes, you can use it to make risotto. (In fact, risotto rice can also be used as an alternative to sushi rice!)
Of course, you can do the same with cooked sushi rice, but the texture of the final product may suffer and become rather mushy so you may need to cut down on the cooking down by adding less liquid/ stock.
Suppli
Or make fried risotto balls, also known as suppli, instead.
These crispy Roman snacks are stuffed with gooey mozzarella cheese. They're made by mixing egg (beaten) with the deconstructed sushi, then rolled into ovals with a piece of cheese in the centre. 
Once the oval balls are formed, they're coated with breadcrumbs (using egg as a binder) then fried till golden. You can use tempura batter if you want your risotto balls to be extra light and crispy.
Tip: Serve with a light wine such as Pino Gris and aioli or tomato sauce!
Arancini
Similar to Suppli, Arancini are Sicilian snacks but usually have more than just mozarella in the filling (beef, peas, ham etc.) They also tend to be larger in size!
Crispy rice Latkes
Latkes are traditionally made from potatoes, but you can mix in your excess rice too, as well as other ingredients such as veggies and cheese. (Everything is bound together by an egg.) Ideally, you want them crisp on the outside but light inside.
Porridge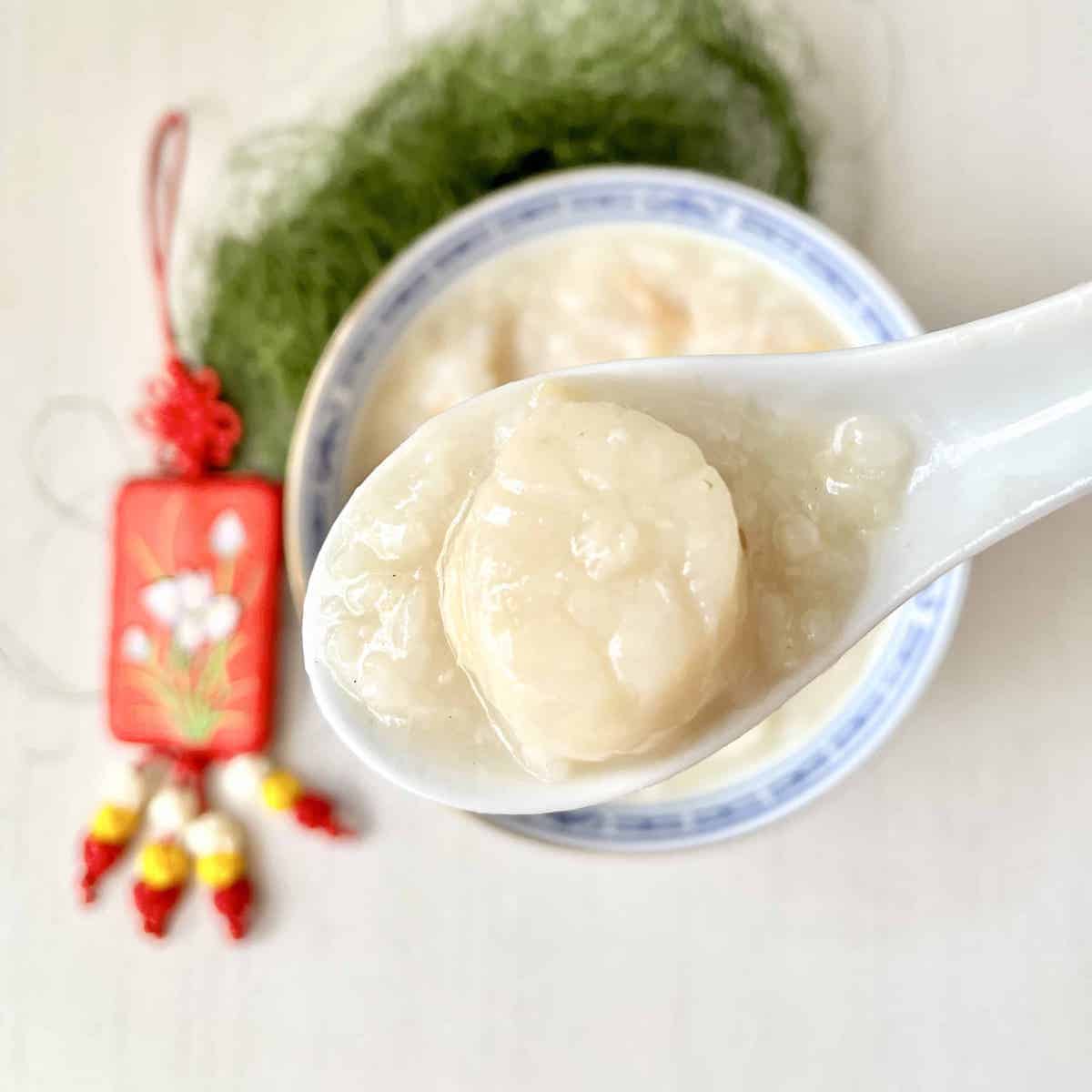 You can even use your leftover sushi to make congee- the starchiness of the grains helps to create the silky texture that congee is known for! Simply cook the rice in broth till it breaks down then add any extra raw fish towards the end of cooking (you don't want it to overcook!)
I suggest garnishing with ginger and green onions and maybe some sesame oil.
Tip: you can also add leftover roast chicken to bulk up your porridge!
Stuffing
Leftover rice also makes for a great stuffing- use it in roast chicken, roast turkey or even capsicums and zucchini boats!
Rice pudding
Are you surprised to hear the leftover Japanese rice can even be made into desserts? The stickiness of the rice makes it a good replacement for pudding rice.
Note: Some people suggest pounding the leftover short grain rice to make mochi balls, but I've not tried this, so I can't comment on whether it's a good idea!
What's your favourite way to use leftover sushi rice? I'd love to hear in the comments! I'd be super grateful if you share this post on social media, such as Facebook and Pinterest, if you've found it useful!