A spicy sambal mayo sauce that is great as a dipping sauce for french fries, wedges, fried shrimp, chicken nuggets or slathered on grilled corn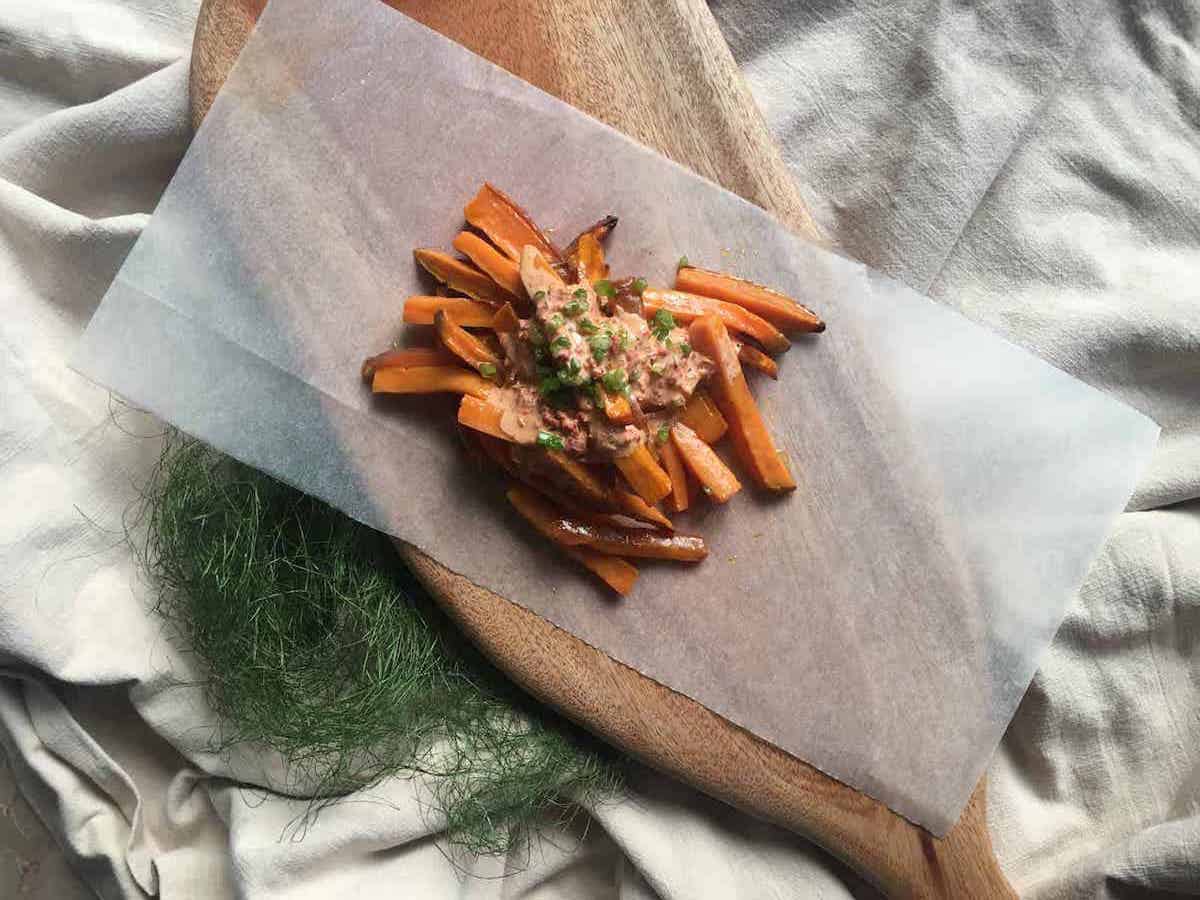 Jump to Recipe
Jump to:
The creaminess of the mayonnaise, the tang of the vinegar or lime juice and the heat of the sambal are a match made in heaven. It only takes a few seconds and 3-ingredients to make this easy and delicious sambal mayo sauce, which can go with a lot of different foods!

Ingredients & Substitutions
The main ingredients for sambal mayo are:
Japanese Kewpie mayonnaise

If you don't have Japanese mayonnaise, regular mayo (or homemade) + a tinge of chicken stock powder is great too- but Kewpie really does taste better than normal mayonnaise so do try it if you've never had it before.
I also like to use it in my easy garlic cream cheese dip.
Also note that if you use homemade mayo for this sambal mayo sauce, the shelf life will be shorter. (I recommend using it up within 2-3 days instead of the usual 5.)

Store bought or homemade Sambal chilli

You can use sambal oelek if you don't have a jar of sambal belacan tumis. Alternatively, substitute with sriracha sauce to make sriracha mayo.

Rice vinegar

Substitute: White wine vinegar, Lime or lemon juice. (I chose to use vinegar as it is a pantry staple so you don't have to worry about grocery shopping)

Optional: Salt to taste (usually not necessary if the sambal is from the store) and spring onions or coriander leaves as garnish
How to scale
I like to simplify my recipes down to ratios (for example. these 12345 pork ribs are my favourite Chinese spare ribs recipe and SO easy to make) as this makes them easy to remember as well as simple to scale up or down depending on how many people one is cooking for.
For this easy sambal mayo sauce, the ratio is 1:2:4 - 1 part vinegar/ fresh lime juice to 2 parts sambal belacan to 4 parts Kewpie mayonnaise. In other words, if you use 1T of vinegar, you would mix it with 2T of sambal and 4T of mayonnaise.
If you need more recipes to use up your jar of sambal, try these yummy Vietnamese baked chicken wings in fish sauce.
How to serve
This is a great recipe for Super Bowl Sunday- sambal mayo makes an awesome dip for fries or vegetable crudites. (If you're looking for Game Day recipes, here are some others that you may enjoy.) You can also pair it with:
hard boiled eggs
canned tuna
grilled corn
onion rings
etc
How to store
This spicy sauce keeps in an air-tight container in the fridge for up to 5 days (2-3 days only if the mayo is homemade), making sambal mayo a perfect prep ahead recipe. (Always keep it in the chiller when not eating it!)
Other Dips Recipes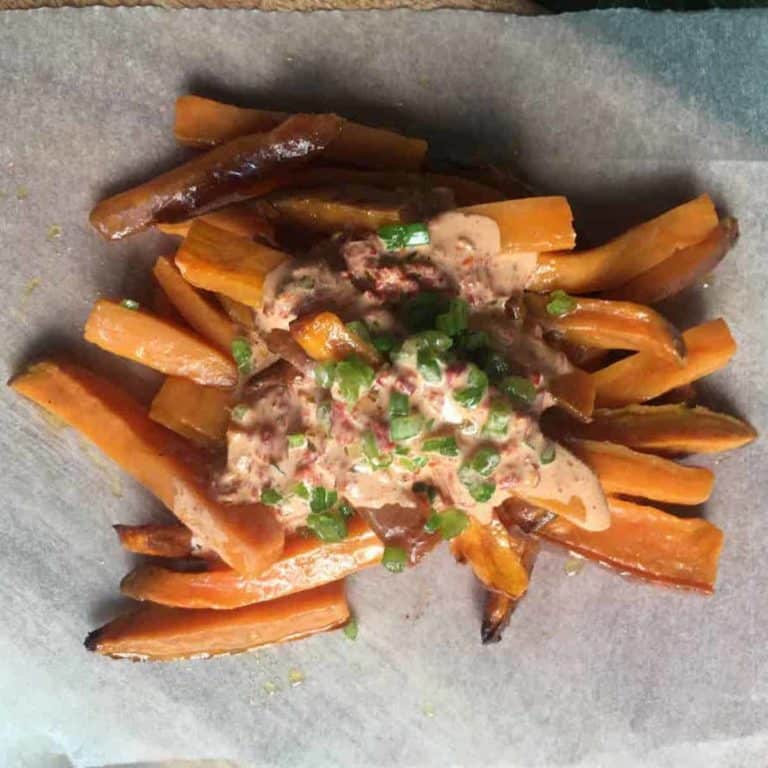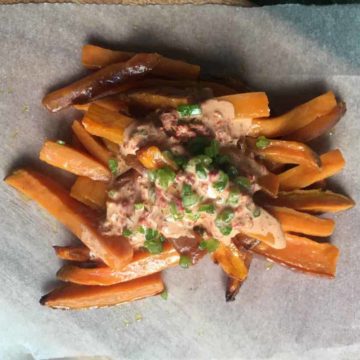 Easy Sambal mayonnaise sauce recipe (3-ingredients)
This spicy, tangy sauce goes well with french fries, grilled corn, hard boiled eggs, chicken salad and a whole host of other things.
Ingredients
2

Tablespoon

Kewpie (Japanese) mayo

Substitute: regular or homemade mayonnaise

1

Tablespoon

Sambal belacan

I use sambal belacan tumis (not fresh), which is the kind of sambal you find bottled in the supermarkets. An alternative is sambal oelek or sriracha.

½

Tablespoon

Rice Vinegar

Substitute: white wine vinegar, lime juice or lemon juice

Salt, to taste (Optional)

Taste before adding as store bought sambal is usually salted

Spring Onion (Slice finely)

Optional garnish
Instructions
Mix the vinegar, sambal and mayo together. Taste to see if it needs a pinch of salt then top with spring onions, if using.

See Notes for serving suggestions

Store for up to 5 days in the fridge in an air-tight container. If using homemade mayonnaise, I recommend using the sambal mayonnaise sauce within 2-3 days.
Notes
This spicy, tangy sauce goes well with (cut-up) hard boiled eggs, canned tuna, grilled corn, chicken salad and many other things.
If you want to eat it with sweet potato fries:
Cut the sweet potatoes into thick 1cm strips. Toss them in the olive oil and salt, making sure the salt is spread evenly. Place them on a baking tin lined with parchment paper, ensuring that there are gaps between the sweet potato chunks so that the sweet potatoes roast and not steam. Roast 30 minutes, turn after 15 minutes (and rotate your pan as your oven may have hot spots) at , 425F/218C
(You may need more than 1 baking tray to fit the sweet potatoes (and ensure that there is enough space between them.)
Let me know what you think of this easy, spicy, 3-ingredients sambal mayo sauce! What is your favourite food to eat it with? Personally, I love mixing it with canned tuna and hard boiled eggs to make a cold salad.
Before you go, you may also be interested in these Asian recipes: