A healthy version of the famous Pok Pok wings, this spicy, sticky Vietnamese fish sauce chicken wings (CÁNH GÀ CHIÊN NƯỚC MẮM) has big punchy flavors. Unlike the original recipe, it is baked but still super tangy and delicious!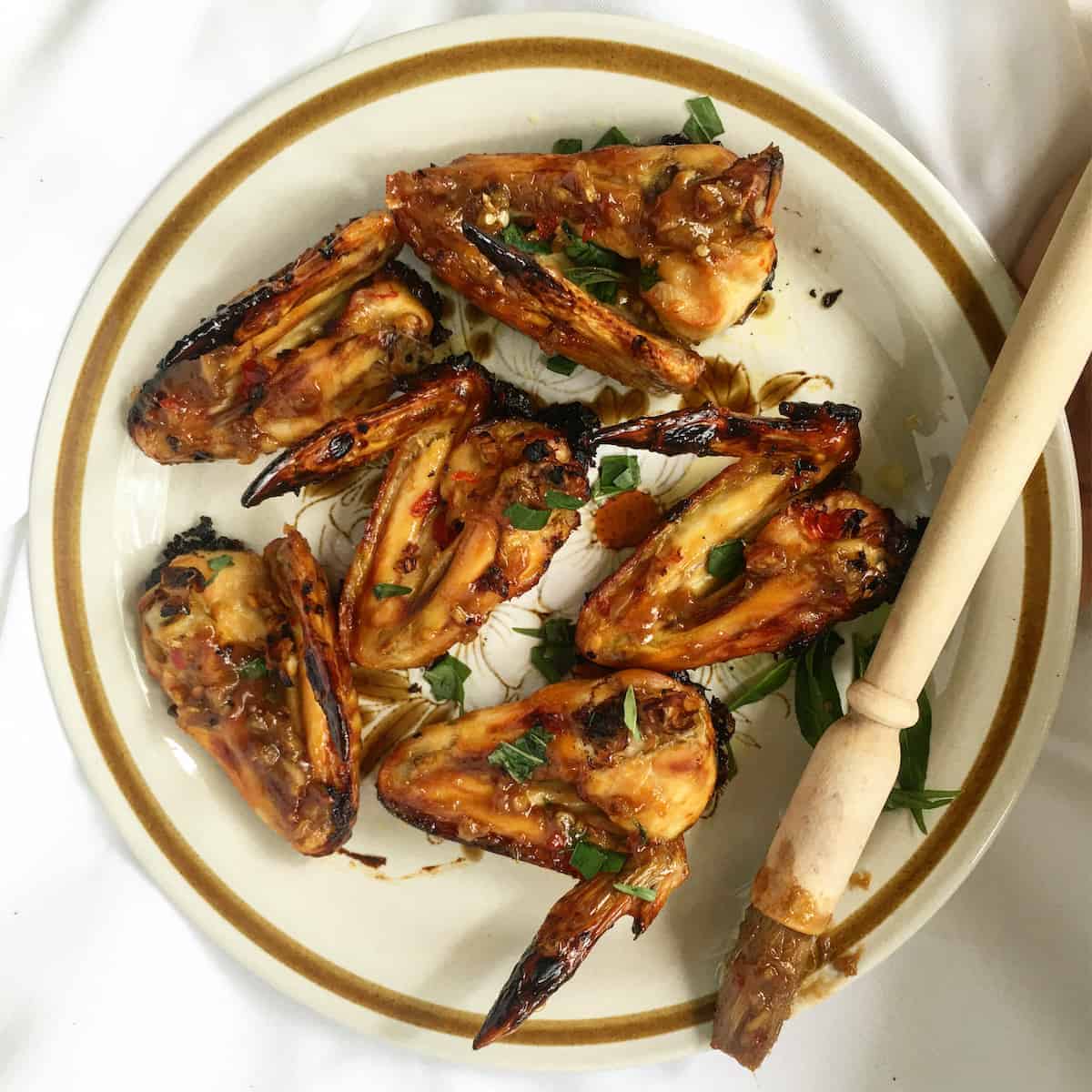 Jump to Recipe
Jump to:
I first tried sticky Vietnamese fish sauce chicken wings in a tiny hole-in-the-wall restaurant in Peckham, London, after going to a Vintage Kilo clothing sale (at that time, I was selling vintage on Etsy). The vintage fair was a bit of a dud but the fried chicken wings made the trek over worth it- they were the best wings I'd ever had! Similar to Andy Ricker's Pok Pok wings, the Vietnamese fish sauce chicken wings were so crispy, sticky and mouthwatering, I wanted to make them at home!
instead of frying, I decided to make baked fish sauce wings because deep frying can be a real hassle (and not great for one's heatlh.) Baked chicken wings obviously don't taste exactly the same as a deep fried chicken wing recipe, but these spicy fish sauce chicken wings, adapted from a Serious Eats recipe, are still very, very good!
If you're craving chicken but not in the mood for baking today, how about this one-pot soy sauce chicken or this braised Chinese chicken that is as good as takeout? Or if fish sauce is not your thing, here are 10 more easy Asian chicken wings recipes.
Ingredients & substitutes
You will need:
For the fish sauce marinade:
fish sauce

It's the star of the show, so I like to use the best bottle of fish sauce I can buy (Red Boat Fish Sauce)

light soya sauce

do not substitute with dark soy as they are not the same thing

Sugar

ideally palm sugar, if not white or light brown sugar works too (Grating gula melaka/ palm sugar can be so tedious after all- it comes in cylindrical blocks. If you buy gula melaka for these spicy fish sauce chicken wings and have some left over, you may want to use it in this kueh dadar pandan snack or this vegan coconut caramel sauce.)
Depending on how much you want to impress the people you are cooking for and your budget, the choices are palm sugar, light brown sugar or white sugar. (Sugars stated from most expensive, most troublesome and most delicious to least expensive, least delicious but still very yummy- i've tried all 3 options.)

ginger
garlic

Substitute: garlic powder

2 limes

I prefer the subtle flavour of lime juice but have been known to use lemon juice or even rice vinegar for acidity, in these baked vietnamese chicken wings.

sambal chilli

if out, use sriracha or red chilli padi, deseeded and finely sliced- quantity depends on your heat tolerance- i usually use 6 red chillies. (If you don't remove the seeds, your tongue will burn)

Optional: coriander or spring onions to garnish
Ideally, marinate the wings a few hours before cooking, but I sometimes bake them straightaway - just make more of the glaze to compensate for the slight reduction of flavour. (See tips below)
Can I fry the wings?
If you want to fry these wings, that works too: you would need some potato starch rice flour and/or corn starch for the batter so that you get crispy chicken wings.
For crispy skin without the calories, pop these chicken wings into the air fryer. (It will take about 22-25 minutes at 400F/ 184C (fan oven) but make sure to check the meat is cooked before taking them out.)
Tips
These fish sauce marinated wings are great for Super Bowl Game Day! They go well with fresh salad on the side.
Don't throw the marinade away- boil a cup of the fish sauce mixture on medium to high heat for 10-15 minutes (to kill the bacteria) and you will get a thick, sticky glaze which you can use to brush the golden brown wings once they are out of the oven. If you accidentally toss out the marinade mixture but want the wings to have a little bit of shine, lightly brush a bit of neutral vegetable oil over them.
Place the wings in a single layer and spread out on the baking tray so that they do not steam!
Take the raw chicken out of the fridge 20 minutes or so before you want to bake, so that it can come up to room temperature- this will help keep the meat as tender as possible.
FAQ
Can you use other parts of the chicken for Vietnamese fish sauce wings?
Yes, you can use the same marinade but be sure to bake the meat for the appropriate amount of time. (For example, if you use a whole chicken, it will need more time in the oven.)

Other Asian meat recipes
Sticky vietnamese fish sauce chicken wings (baked) recipe
Ingredients
3.3- 4.4

lb

chicken wings (1.5-2 kg)

For the vietnamese marinade

½

Cup

fish sauce

½

Cup

light soya sauce

½

Cup

Sugar

ideally palm sugar, if not white or light brown works too

2

thumbs

ginger

peeled and minced

7

cloves

garlic

peeled and minced

2

citrus fruits, juice and zest

preferably lime or, if not, lemon or rice vinegar

1

tablespoon

sambal chilli

if out, use sriracha or chilli padi, deseeded and finely sliced- quantity depends on your heat tolerance- i used 6!

coriander or spring onions to garnish
Instructions
Mix all the marinade ingredients together and pour over the chicken. If you're organised enough to marinade beforehand, place chicken and marinade in a ziplock bag (and refrigerate!) as it makes it easier for the sauce to coat the chicken evenly (as compared to using a bowl or container). Marinating in advance always helps the flavour to permeate the meat better, but the sauce is boldly flavoured enough that mixing everything just before baking works too, in a pinch.

Note: don't marinade for more than 5 hours or the chicken will be salty!

15 minutes before baking, take the chicken wings out of the fridge, give them a toss and place them on a baking tray left on the counter as you wait for your oven to preheat (bringing the meat to room temperature helps the meat cook more evenly) Make sure the chicken wings aren't too close together.

Once the oven reaches temperature, pop the tray in. I bake my wings at 400F/ 200C for 30 minutes. To check if the wings are done, the juices should run clear and the cooked chicken wing should be at a temperature of 165F/ 74C at the thickest part.

Hard working folks can use the marinate to baste the wings a few times while baking. (Basting helps build up the flavour as well as prevents the wings from drying out.) In my kitchen, I think of baking as a hands off process (ie time for me to netflix and chill :P) so I prefer to boil the marinade down to a sticky glaze which I brush over the chicken wings when they come out of the oven. (Remember that the raw chicken has been sitting in the marinade so the marinade needs to be properly cooked to kill all that bacteria!)

Garnish with fresh herbs: ideally, coriander; if not spring onions)
Notes
These asian fish sauce wings can also be fried- you will need some kind of starch for the better to get the crisp skin (e.g. corn starch, potato starch, tapioca flour, or a mix of the 3)
If you try these baked asian fish sauce chicken wings, please do let me know what you think in the comments or post a photo on instagram, tagging @greedygirlgourmet 🙂 You may also be interested in these Asian desserts: