11 delicious Asian chicken wing recipes, inspired by Japanese, Korean, Vietnamese, Thai and Indian cuisines, make the perfect party food !
Jump to:
Chicken wings are great for parties in general and Super Bowl Sunday in general!
For more Super Bowl recipes:
Vietnamese baked fish sauce wings
First up in this collection of Asian chicken wing recipes for is my personal favourite (also 1 of the 1st recipes I published on my blog :P): Baked Vietnamese Fish sauce Chicken wings! To be honest, these taste best fried then coated with sauce, but in light of staying healthy, the recipe is for baked wings, which comes a close second.
Note: you don't have to marinade the wings in advance so they're great for last minute events!
Tip 1: Don't skip the baking sheet as all that sugar can create a mess on the baking tray.
Tip 2: Although the recipe asks for gula melaka, I usually substitute with brown sugar, as gula melaka is a pain to chop up so I save it for very special occasions! If you have some to use up, you can try this delicious Peranakan pandan kueh dadar recipe.
Another easy-to-make, non-fried poultry recipe is Cantonese soy sauce chicken- note that the recipe takes 2.5 hours (mostly passive cooking) so if you're in a rush, try this quick and easy braised soy sauce chicken that is done in ⅓ the time instead.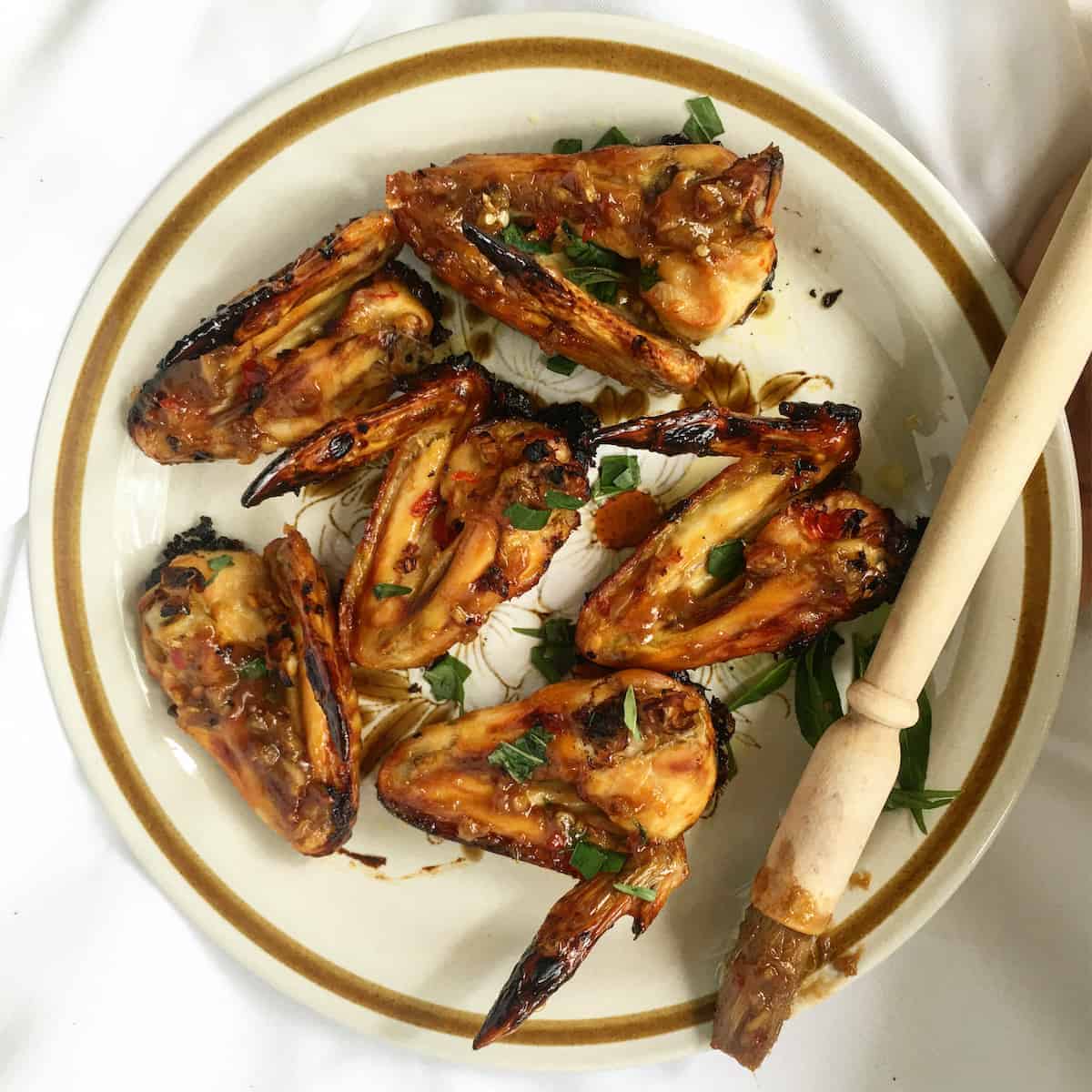 Korean inspired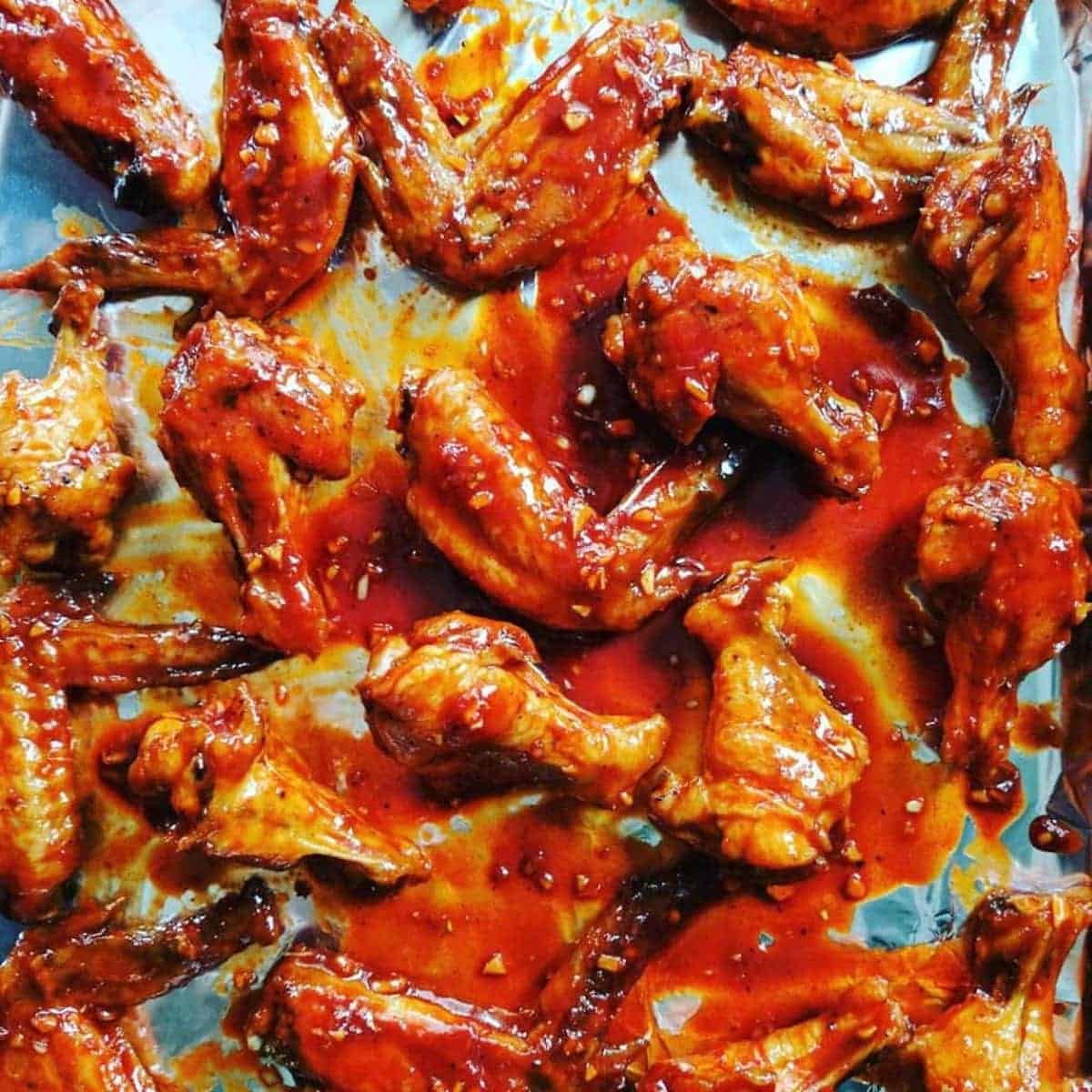 Korean inspired wings in maple and gochujang sauce
Maple gives gochujang that hint of sweetness, creating a delicious sticky asian chicken wing.
Click here for Korean wings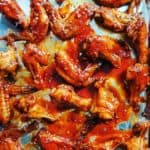 Air Fried Teriyaki
Air Fryer Teriyaki Wings
Air Frying is a great way to cook with less oil. Everytime I deep fry something, I think to myself that I'll never eat fried foods again (I forget that resolution the moment I bite into the fried item!) We all tend to overeat during parties or Game Day, so do your health a favour and include some air-fried wing recipes to the menu!
Click here for healthier, air-fried wings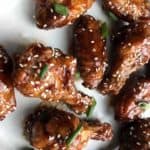 Korean Fried Chicken (KFC)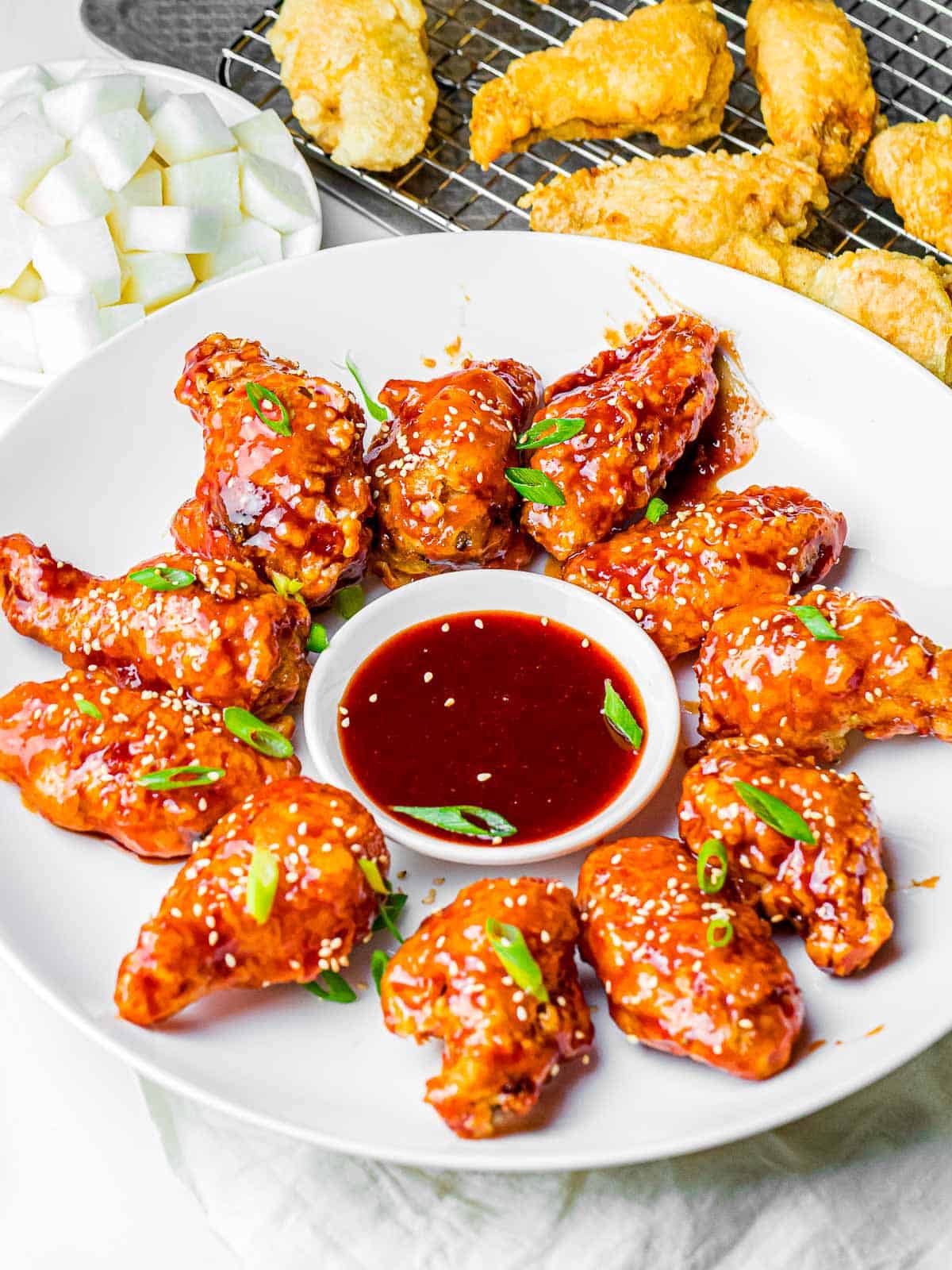 Ultimate KFC wings
By which we mean Korean Fried Chicken, not Kentucky Fried Chicken! If you wanna be healthy, sub out the chicken with cauliflower. Note, this is a 134 5-star reviews recipe, so don't miss these crispy asian chicken wings- especially if you are a fan of sticky chicken wings!
Click here for KFC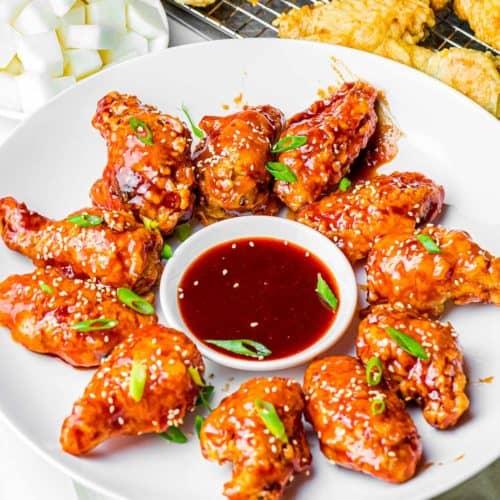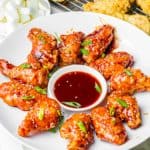 Citrusy Ginger wings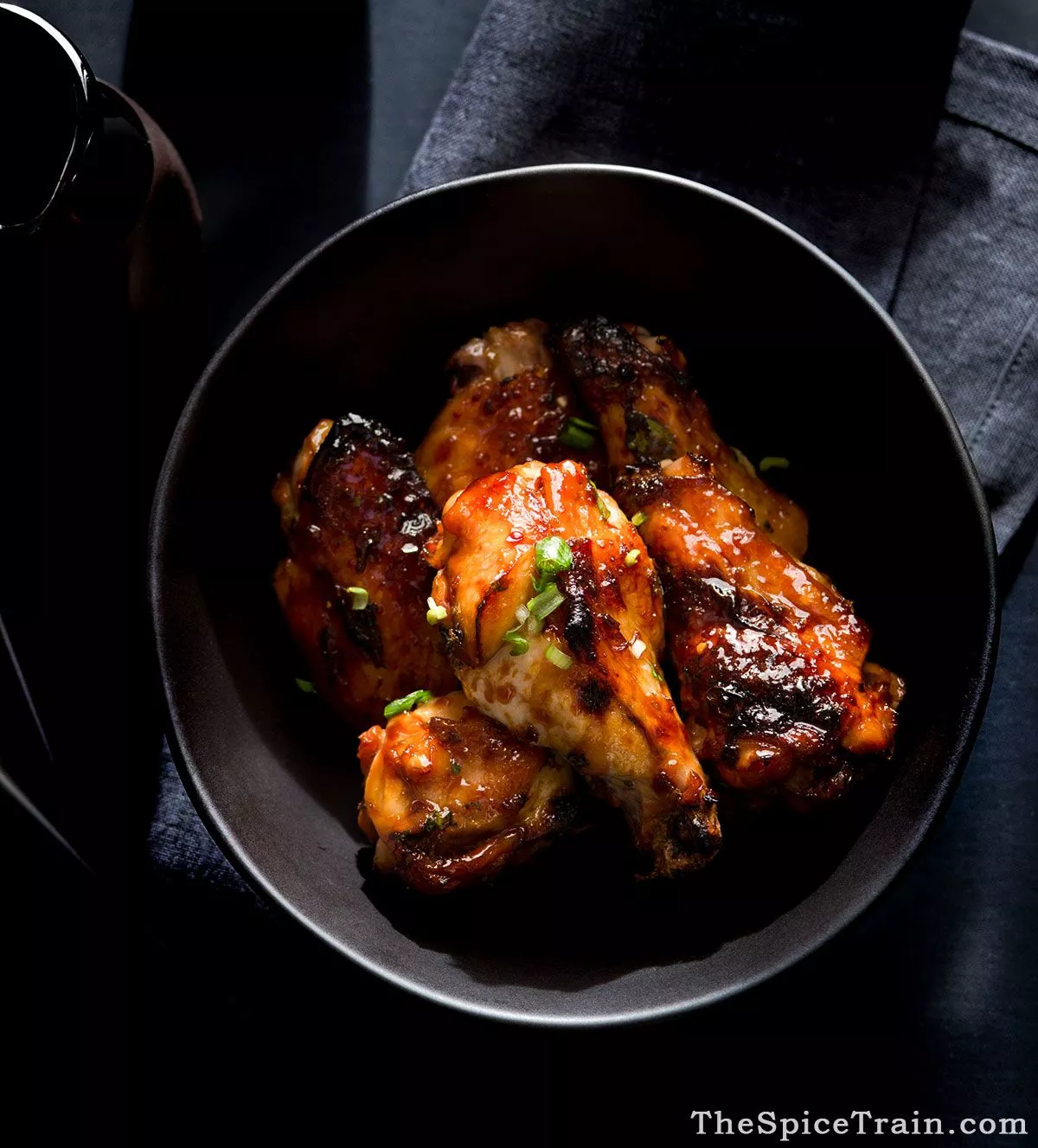 Ginger, lime and cilantro chicken wings
Ginger, citrus and chicken are a match made in heaven- it's a common combination in South East Asian & Chinese chicken recipes- so do be sure to try these Chinese chicken wings (or, Chinese style?) out! The recipe uses sesame oil and you can sprinkle some sesame seeds on top to garnish.
Click here for the chinese chicken wings recipe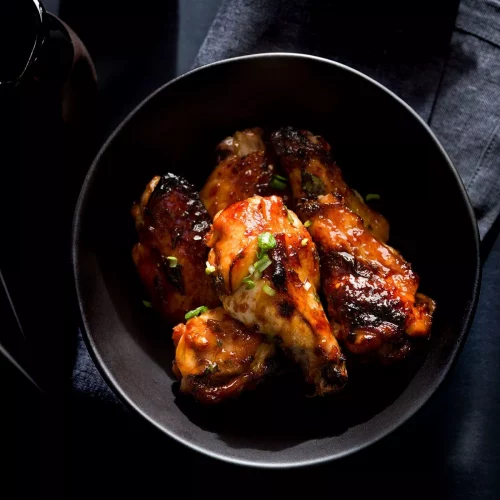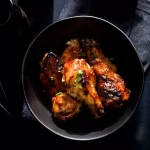 Honey Sriracha(Paleo)
Chicken wings in a honey and sriracha sauce
If you think chicken wings are always unhealthy, try this Paleo Honey & Sriracha Chicken Wing recipe! Includes instructions for baking in the oven, grill or air fryer! (For those not familiar with Sriracha, it's an Asian chili garlic sauce that is delicious)
Click here for asian sticky wings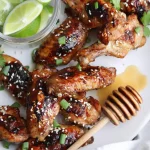 Curry Sriracha with molasses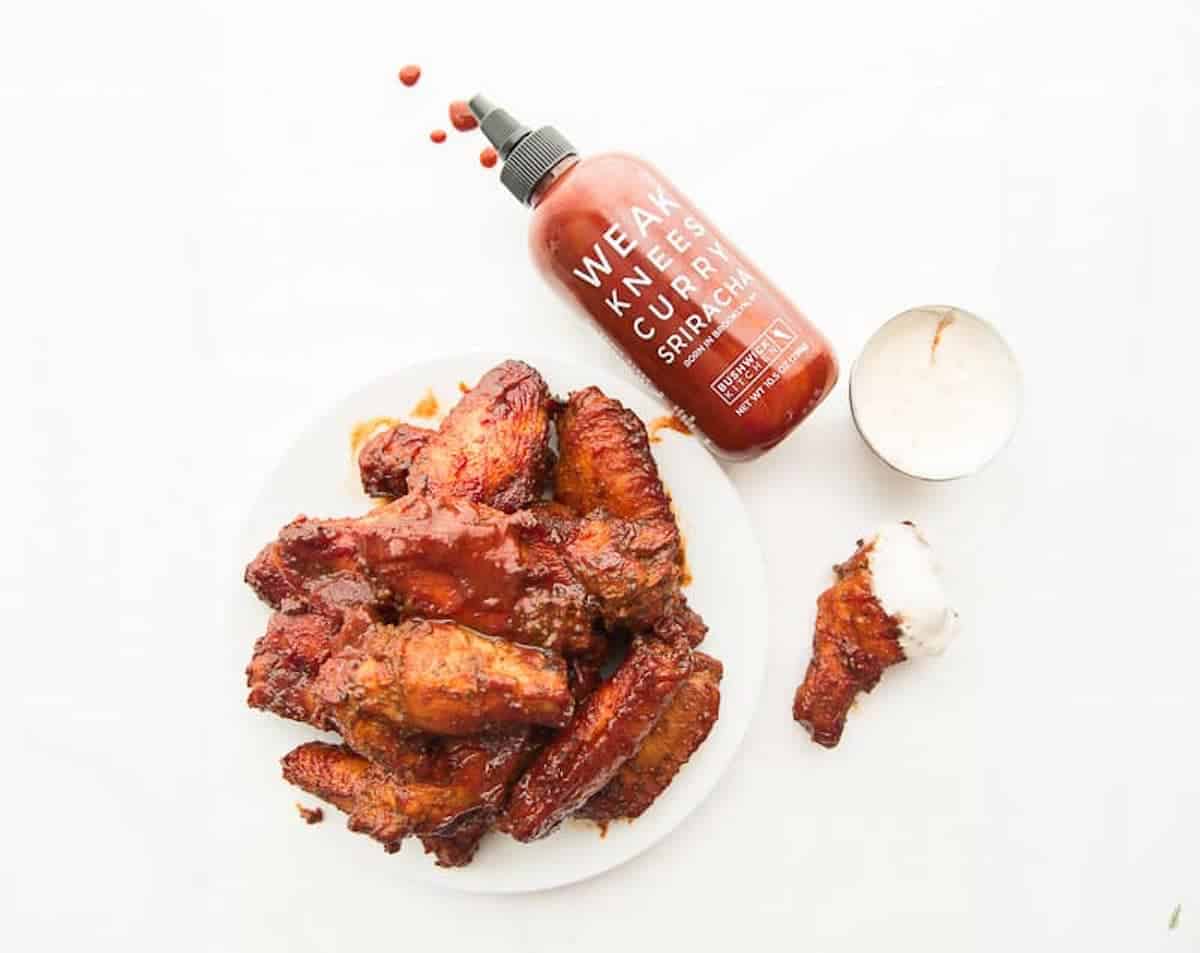 Curry Sriracha Wings
Yes, I just shared a sriracha wing recipe above, but adding the curry powder and molasses as seen in this recipe gives the wings such a different flavour profile that I couldn't miss out this delicious recipe!
Click here for sriracha chicken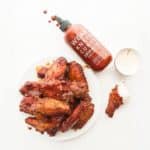 Maple Miso
Chicken Drumelets in Maple Miso Sauce
This 4.7-star recipe is sweet, savoury and full of umami!
Fun fact: did you know that around the end of 2021, we were so low on maple syrup that Canada had to dig into their emergency reserves?!
Click here for Umamilicious wings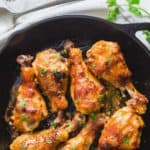 Sweet & Spicy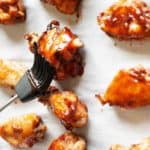 Sticky Thai wings
Chicken wings in a sticky Thai sauce
My Father spent 20 years living in Thailand, so I've been to the country many times and Thai food is 1 of my favourite cuisines. The flavours are super tangy and delicious, so do give these Thai-inspired/ Thai chili wings a go!
Click here for a sticky wing recipe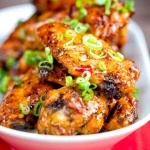 Tandoori Chicken Made in an Oven
Tandoori Roast Chicken
Learn how to make tandoori roast chicken sans tandoori- you only need an oven! The recipe uses chicken legs, but if you prefer Chicken wings for Game Day, bake till the inside is 165F (approximately 35-50 minutes at 400F)
Click here for an Indian chicken recipe
FAQ
How do I bake frozen wings?
If not defrosted, you can still bake them the same way you do regular wings- just pop the frozen wings into the oven for a longer amount of time (at least 50% according to the USDA). Note that if your chicken wings have been frozen as a huge block, it will take much longer to melt them enough that they can be separated on the baking sheet.
Alternatively, if you are able to, leave them in the fridge overnight to defrost first and at room temperature for 20-30minutes before baking (so that the meat is not cold when it enters the oven- this helps to keep it tender and juicy.)
Do you need to marinate chicken wings before cooking?
Marinating usually adds extra flavour to the wings, but they're not a must. I usually don't when I make the Vietnamese baked fish sauce wings in this collection of Asian wing recipes!
Other Asian meat recipes
You may also like these dishes:
What is your favourite on this list of Asian chicken wing recipes?
Other party recipes you may like include: