11 delicious, easy Asian Chicken Wing Recipes that are the perfect finger foods. Inspired by Japanese, Korean, Chinese, Vietnamese, Thai and Indian cuisines, they're the perfect easy appetizer for a summer party!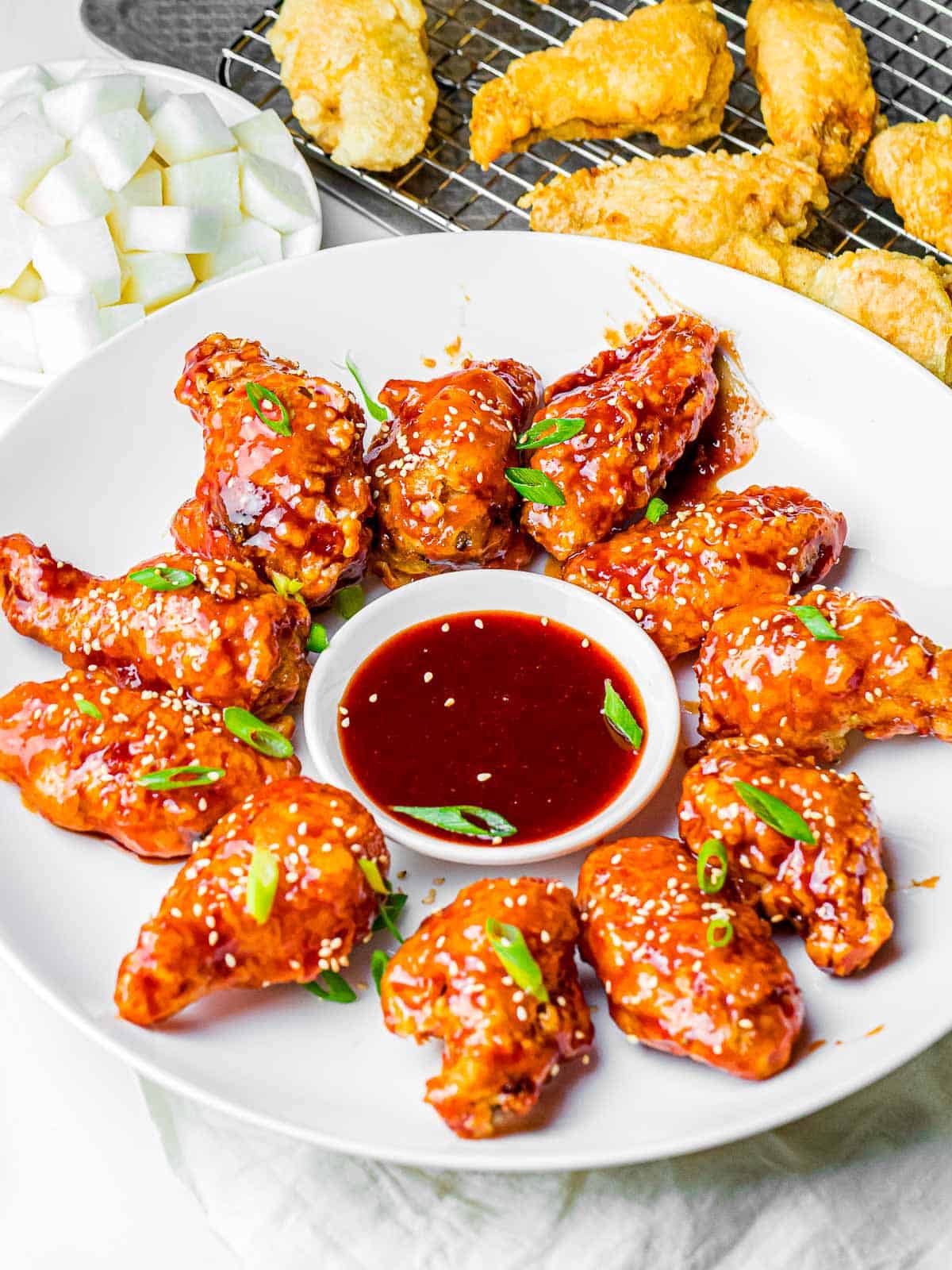 Jump to:
Chicken wings are great appetisers for parties such as Super Bowl Sunday!
Not only are they so much juicier and tastier than chicken breasts- which can run dry- they have the highest skin:meat ratio of any mainstream cut of chicken. (I'm ignoring stuff like chicken feet or neck, which are an acquired taste!)
This makes chicken wings especially well-suited to frying and baking, as crispy chicken skin is super delicious!
Drums vs flats
The wing can be divided into 2 parts: Drums/ drumettes (that look like mini chicken legs) and Flats (wingettes.) The 1st has more meat but the 2nd has more skin, so becomes crispier after roasting!
Fun fact: People think chicken wings are dark meat but they're actually white meat. Either way, they're full of gelatine, making them a great substitute for chicken feet when making Chinese soups! (There's not much meat in the wingtip, so I recommend cutting those off to make chicken stock.)
Expert tips for the best baked wings
I love fried Asian chicken wing recipes but fried foods aren't the healthiest, so I make baked wings quite often. To get the crispiest skin without frying, here are some of my secret tips:
mix the chicken wings with flour, salt, pepper and a touch of baking powder (not baking soda!) The baking powder helps to draw the moisture out of the skin. Ideally use aluminium-free baking powder, to avoid a metallic aftertaste.
refrigerate the wings uncovered for a minimum of 30 minutes (ideally overnight)
gently rub the wings with paper towels to make them as dry as possible before baking
leave the wings on the counter for 15 minutes before baking so they won't be stone-cold going into the hot oven.
bake in a single layer (if they're touching, they will steam and not crisp up)
use a wire rack over a tray- this allows more air around the wings, and the skin becomes crispier
start the chicken wings at a low temperature to render out the fat, before increasing the heat to broil it
Once you know how to bake crispy wings, you can make the best Asian chicken wing recipes even if you only have simple ingredients such as hoisin sauce or oyster sauce.
FAQs
How much does a chicken wing weigh?
Depending on the size, it can be anything from 1-3.5 oz.
How long to deep fry frozen chicken wings?
Be very careful of oil splatter when deep frying frozen wings, especially if there are ice crystals on the chicken. (Oil burns are no fun! I really recommend thawing the chicken first. Alternatively, bake or air fry them instead if you're not experienced with deep frying.) It usually takes 10-12 minutes to cook the wing through, but this will change depending on the size of the wing. Always make sure it reaches an internal temperature of 165F/ 73.9C at the thickest part.
How do I bake frozen wings?
You can bake frozen chicken wings the same way you do regular wings- just pop them into the oven for a longer amount of time (at least 50% longer, according to the USDA). Note that if your chicken wings have been frozen as a huge block, it will take much longer to melt them so that they can be separated on the baking sheet.
Alternatively, if possible, leave the wings in the fridge overnight to defrost first and at room temperature for 20-30minutes before baking (so that the meat is not cold when it enters the oven. This helps to keep it tender and juicy.)
Vietnamese-inspired
Baked fish sauce wings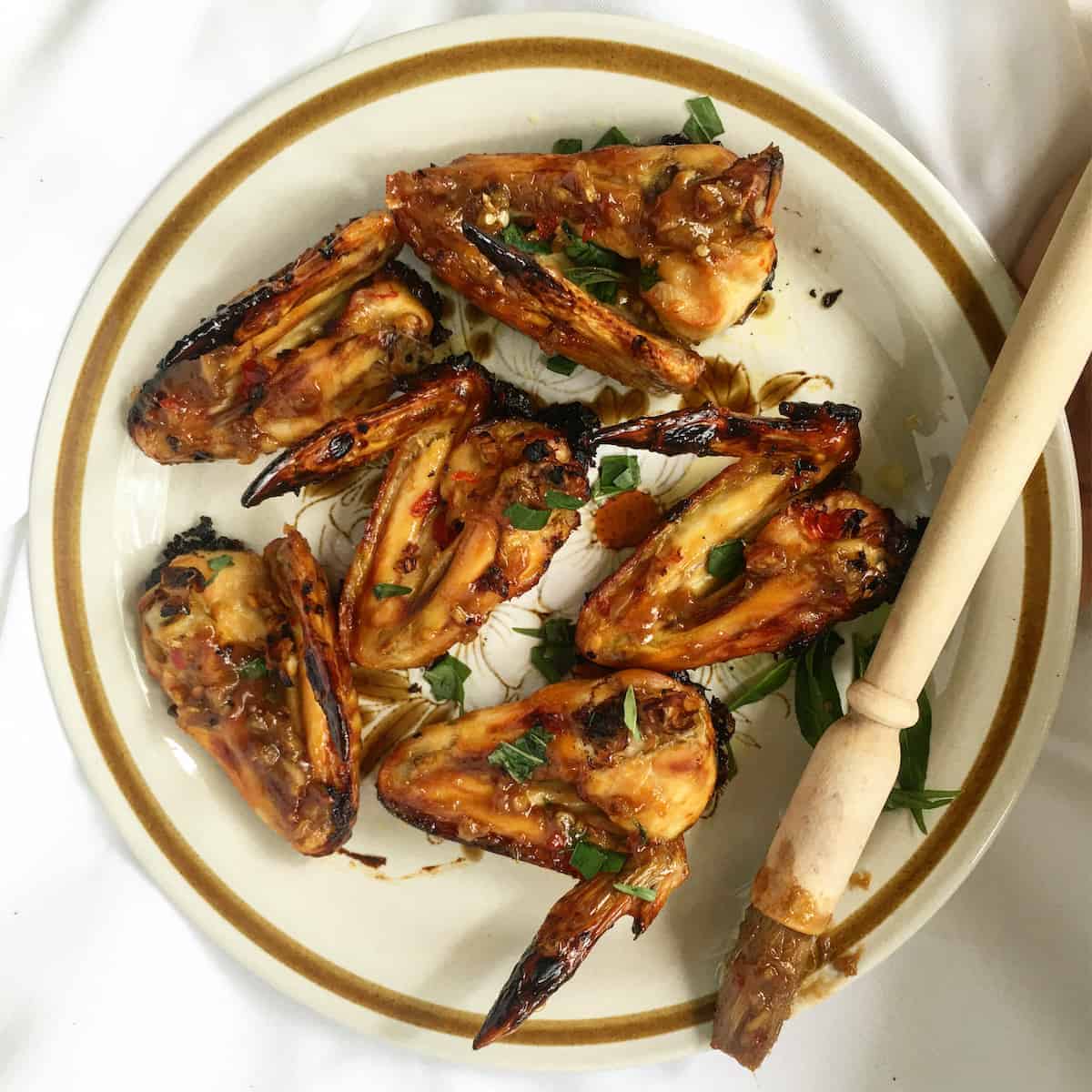 I love these Asian wings because they're delicious and require minimal clean-up! Although the recipe asks for gula melaka, I usually substitute with brown sugar. (Gula melaka is a pain to chop up so I save it for very special occasions.)
Squeeze some lime juice over the wings before serving for extra flavor!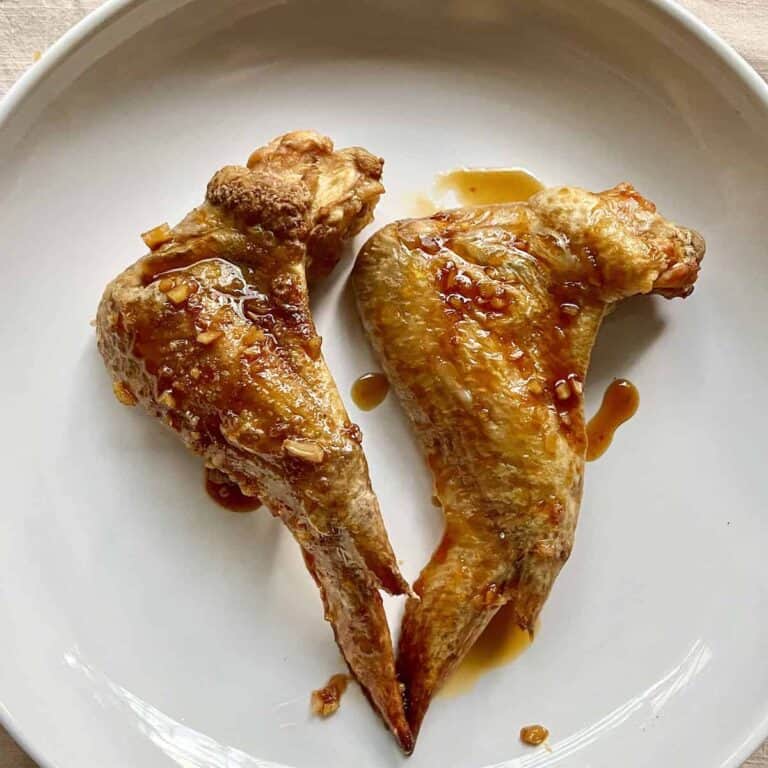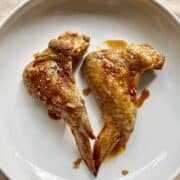 Korean-inspired
To get the full Korean experience, pair crispy chicken wings with cold beer- in Korea, they call it chimaek!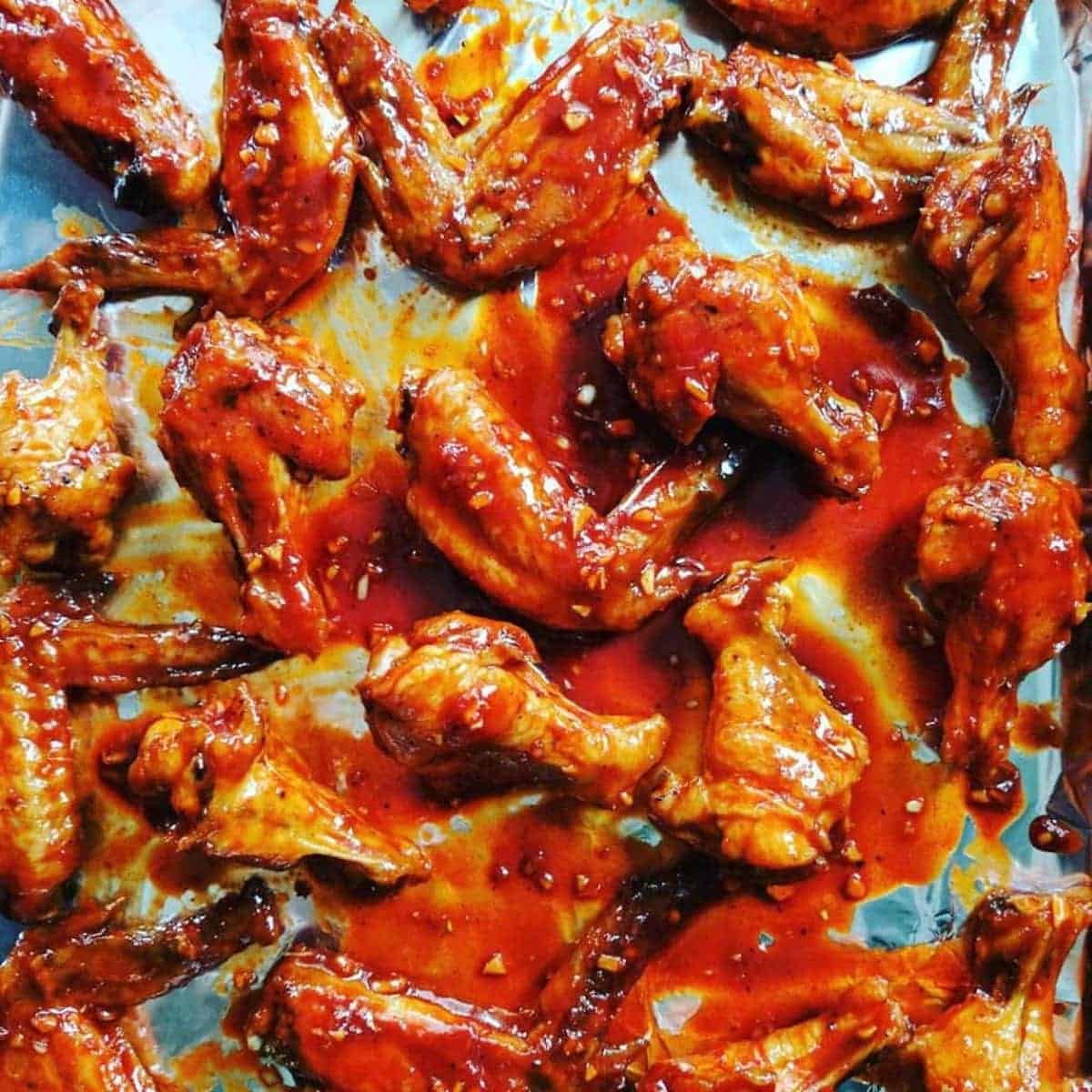 Tip: Any extra spicy gochujang sauce you have can be used for these butternut squash French Fries!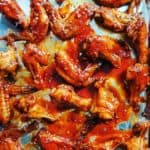 Korean Fried Chicken (KFC)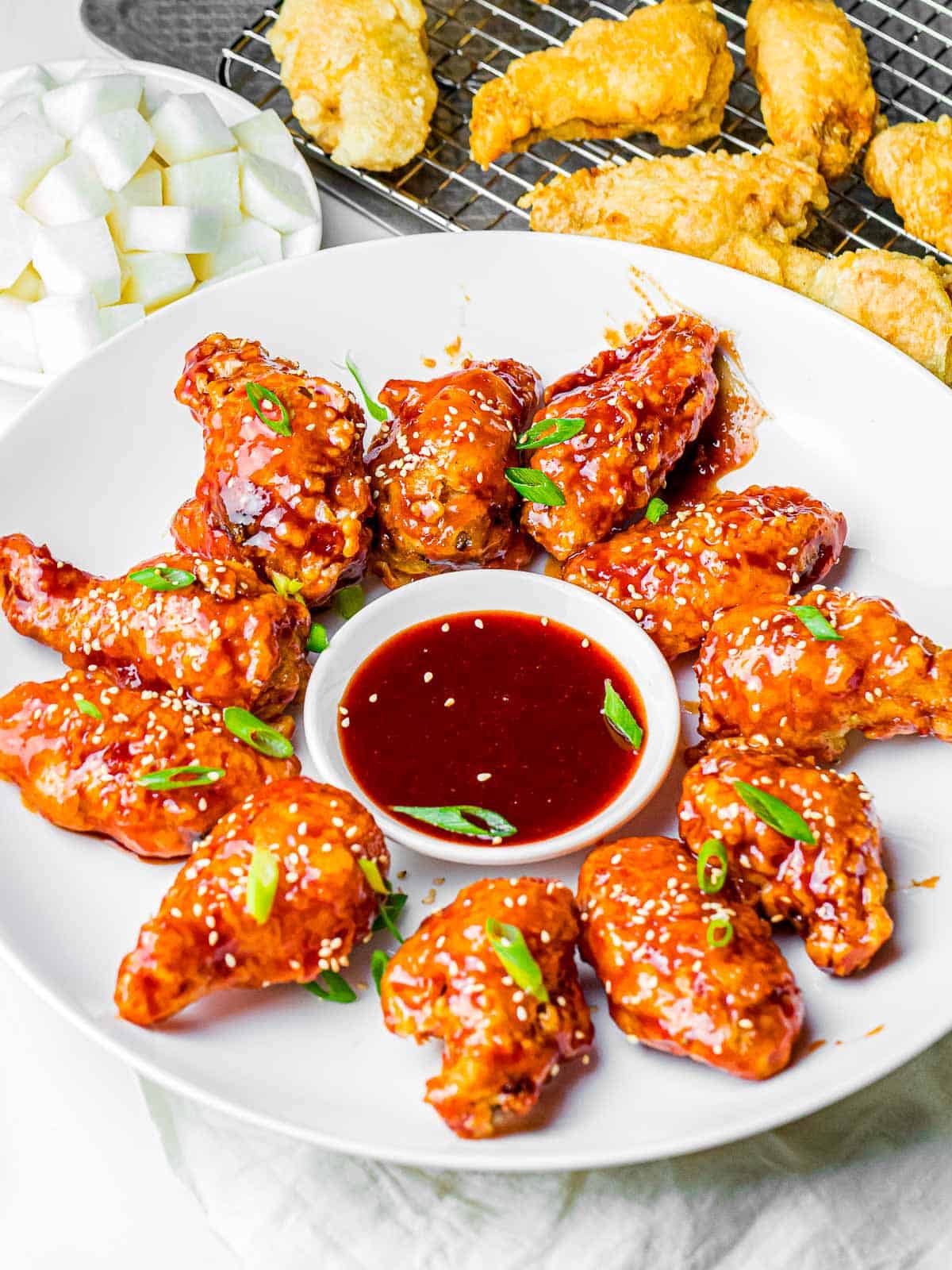 Ultimate KFC wings
By which we mean Korean Fried Chicken, not Kentucky Fried Chicken! If you wanna be healthy, sub out the chicken with cauliflower. Note, this is a recipe from Drive Me Hungry with 134 5-star reviews, so don't miss these crispy asian chicken wings that are dripping with spicy sauce- especially if you are a fan of sticky chicken wings!
Click here for the Korean Fried Chicken recipe.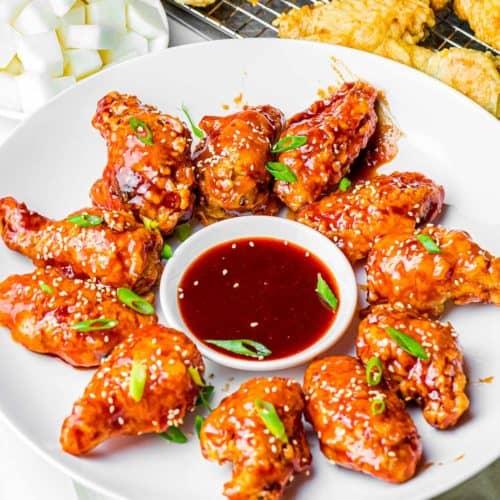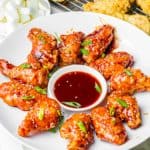 Japanese-inspired
Maple & Miso
Chicken Drumelets in Maple Miso Sauce
This 4.7-star recipe from Runningtothekitchen is sweet, savoury and full of umami!
Fun fact: did you know that around the end of 2021, we were so low on maple syrup that Canada had to dig into their emergency reserves?!
Click here for a maple miso wings recipe.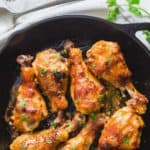 Air Fried Teriyaki Wings
If you want to make it a full meal, here are some side dishes that go really well with teriyaki.
Air Fryer Teriyaki Wings
Air Frying is a great way to cook with less oil. Everytime I deep fry something, I think to myself that I'll never eat fried foods again (But I promptly forget that resolution the next time I bite into fried food!) We all tend to overeat during parties or Game Day, so do your health a favour and include some air-fried wing recipes to the menu!
Click here for healthier, air-fried wings from Foodmamma.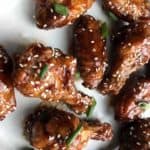 Chinese-inspired
Tip: Chinese recipes are all about the green onions, fresh ginger and fresh garlic- the Holy Trinity of Chinese cooking. If you're a fan of Chinese recipes, don't forget to stock these 3 aromatics in your kitchen.
Citrusy Ginger wings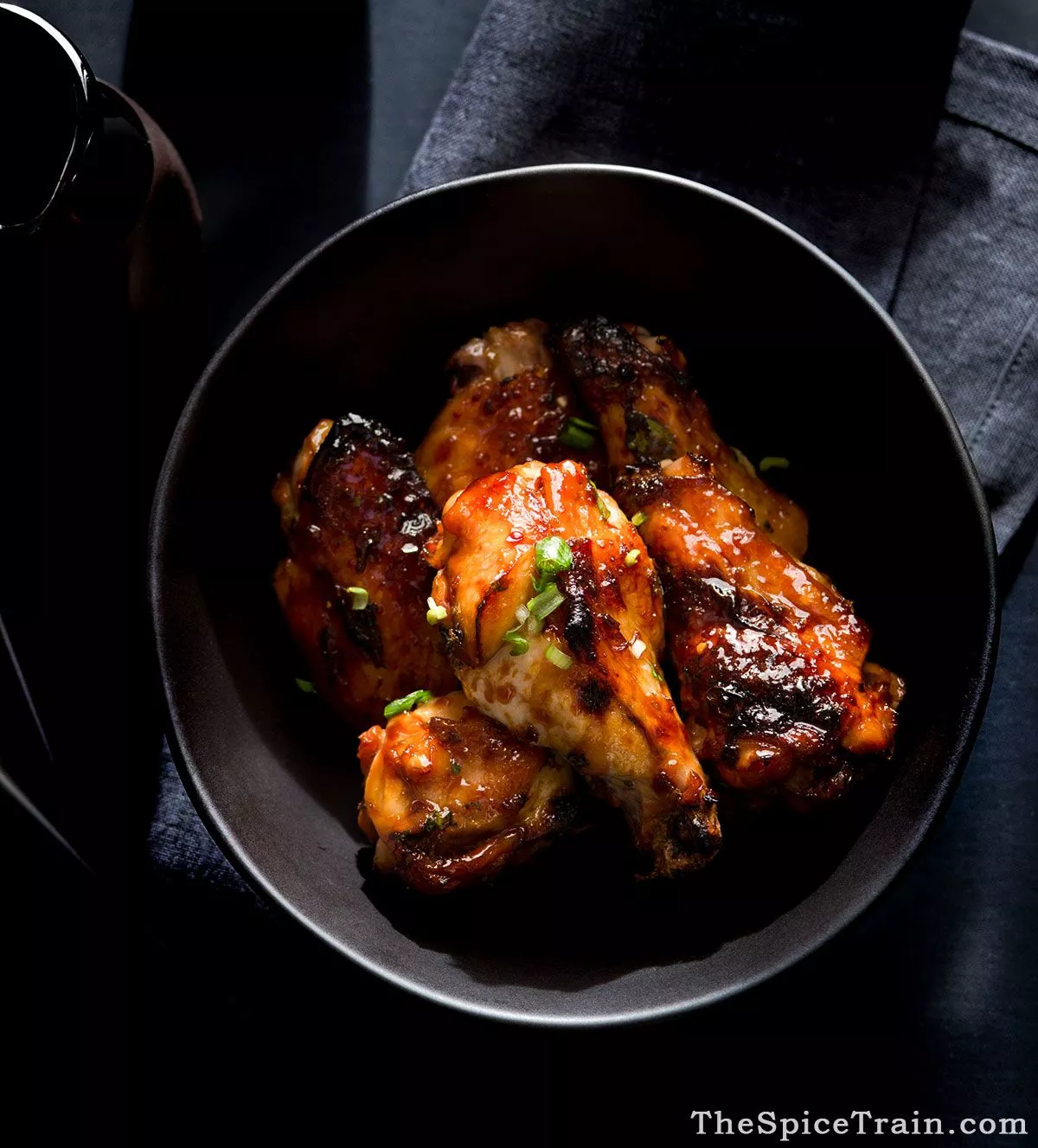 Ginger, lime and cilantro chicken wings
Ginger, citrus and chicken are a match made in heaven. It's a common combination in South East Asian & Chinese chicken recipes, so be sure to try these sticky Chinese chicken wings! The recipe from The Spice Train uses sesame oil and you can sprinkle some lightly toasted sesame seeds on top to garnish.
Click here for the Chinese-inspired chicken wings recipe.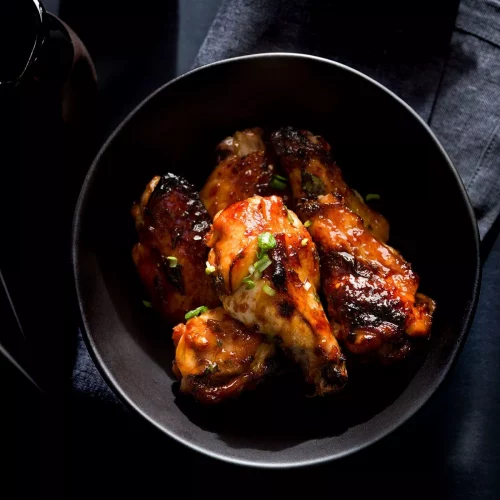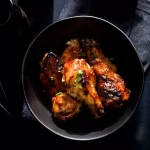 Sweet & Spicy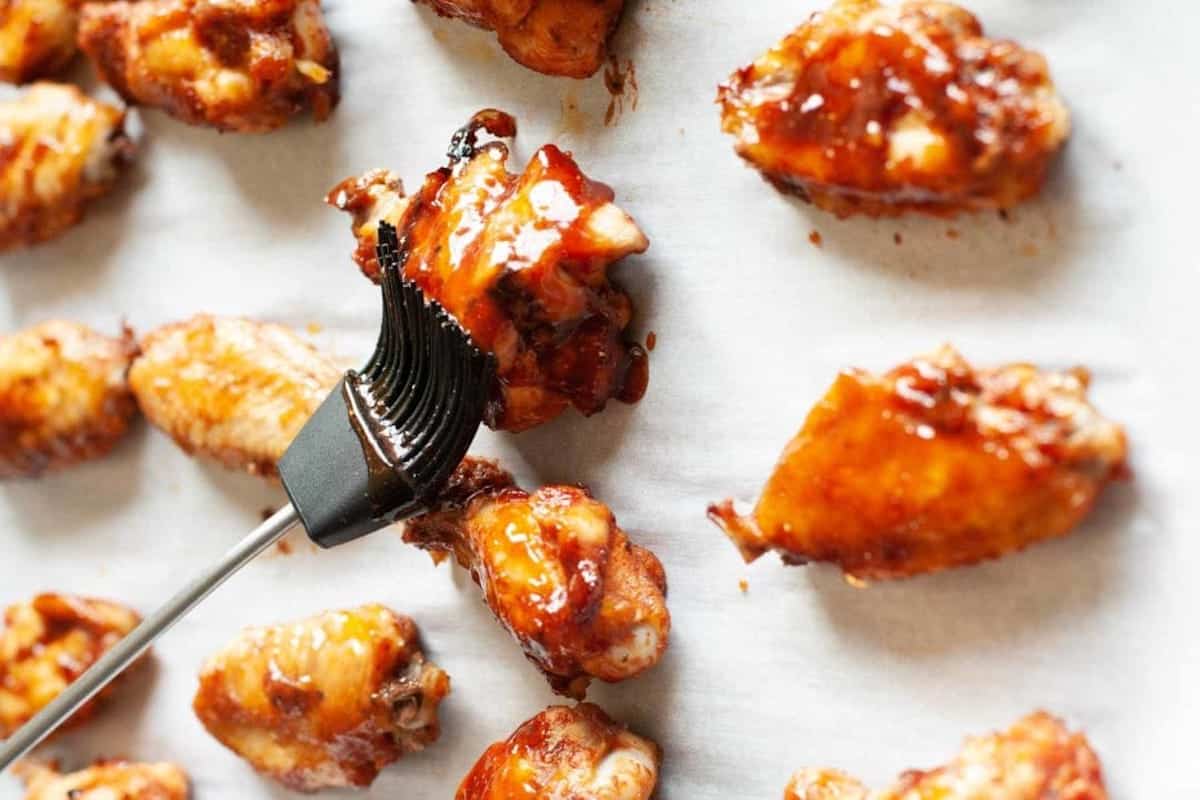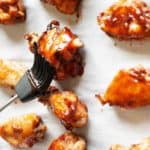 Thai
Honey Sriracha (Paleo)
Not-so-fun fact: Did you know that sriracha is such a popular sauce, there was a shortage of Sriracha in the States in 2022?! (Well, the chili crop failure also played a part!)
Chicken wings in a honey and sriracha sauce
If you think chicken wings are always unhealthy, try this Paleo Honey & Sriracha Chicken Wing recipe from CookathomeMom. It includes instructions for baking in the oven, grill or air fryer! (For those not familiar with Sriracha, it's an Asian chili garlic sauce that is deliciously garlicky.)
Click here for sticky asian style wings.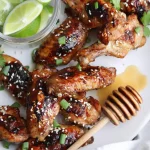 Curry Sriracha with molasses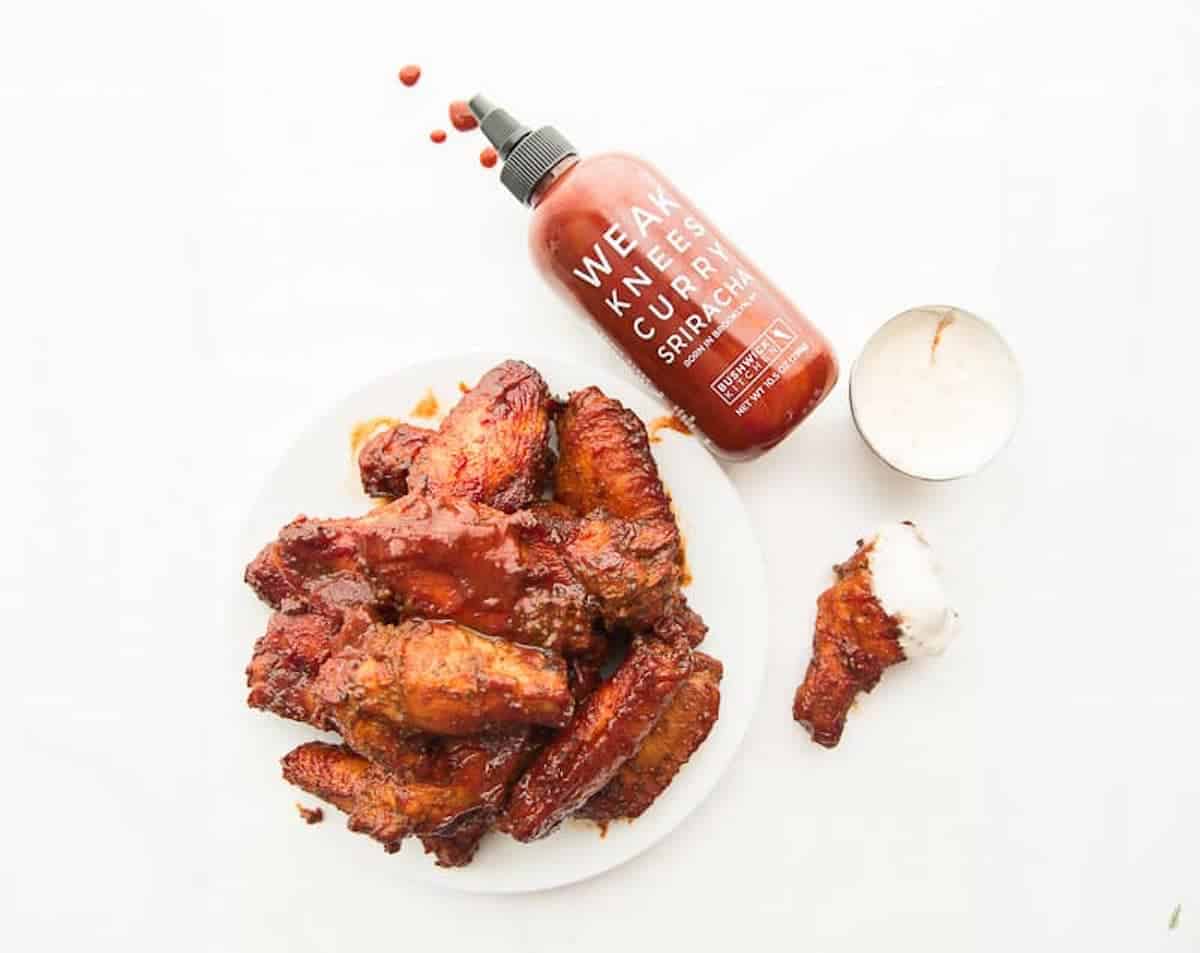 Curry Sriracha Wings
Yes, I just shared a sriracha wing recipe above, but adding the curry powder and molasses as seen in this recipe from Senseandedibility gives the wings such a different flavour profile that I couldn't miss out this delicious recipe!
Click here for sriracha chicken wings.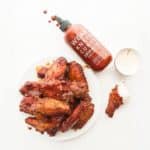 Sticky Thai wings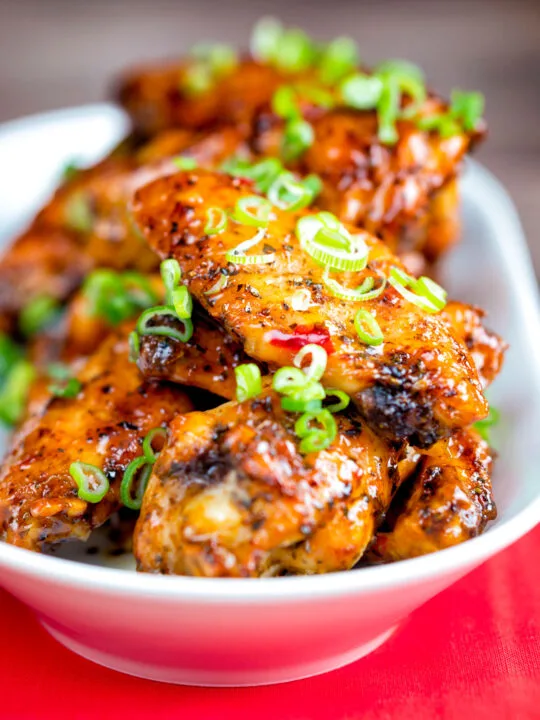 Chicken wings in a sticky Thai sauce
My Father spent 20 years living in Thailand, so I've been to the country many times and Thai food is 1 of my favourite cuisines. The flavours of this Krumpli recipe are super tangy and delicious, so do give these Thai-inspired chili wings a go!
Click here for a sticky wing recipe.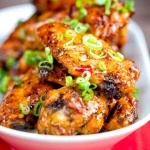 Indian-inspired
Tandoori Chicken
Tandoori Roast Chicken
Learn how to make tandoori roast chicken sans tandoori from Go Healthy Ever After- you only need an oven! The recipe uses chicken legs, but you can substitute Chicken wings for Game Day. Just bake till the internal temperature reaches 165F (approximately 35-50 minutes at 400F)
Click here for an Indian-inspired chicken recipe.
Other Asian chicken recipes
Another easy poultry recipe is Cantonese soy sauce chicken. Note that it takes 2.5 hours (mostly passive cooking) so if you're in a rush, try this quick and easy braised soy sauce chicken that is done in ⅓ the time instead.
Other chicken recipes you may want to try include:
What is your favourite on this list of Asian chicken wing recipes?