Easy and delicious Asian whole chicken recipes for Chinese New Year, or Sunday lunch! Spanning various Asian cuisines from Chinese, Korean and Singaporean to Pakistani, these Asian recipes will please the whole family, picky eaters included.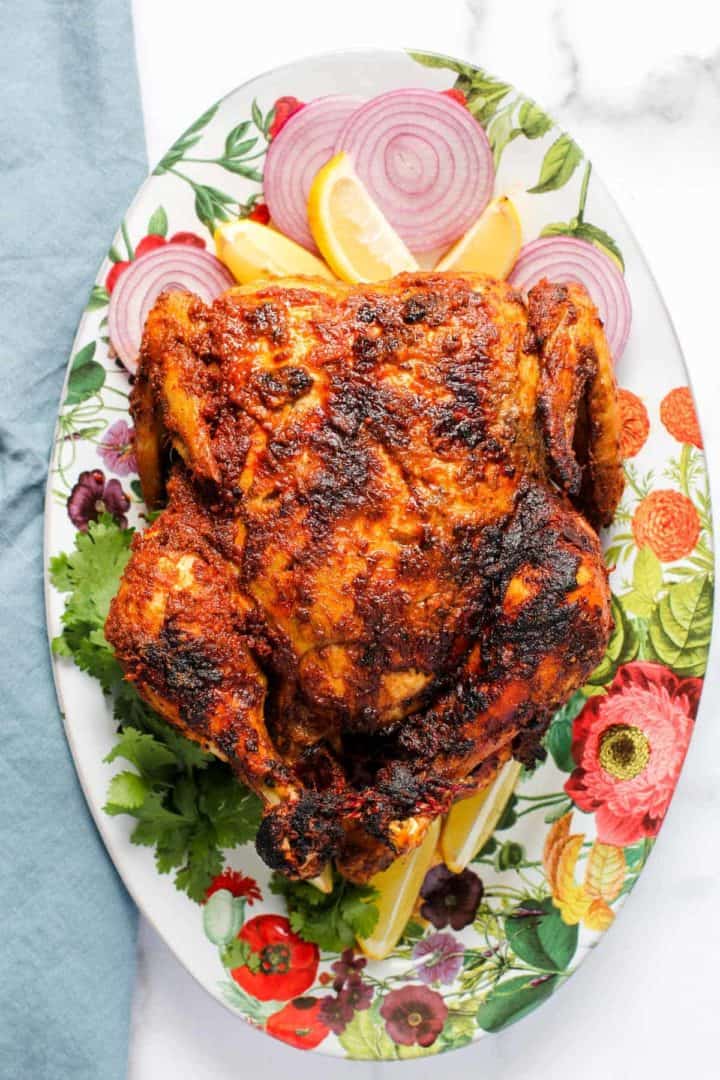 Jump to:
💭 Why Buy Whole Chicken
Budget-friendly: You can save a lot of money if you buy whole chicken, instead of chicken cut into pieces! (It's generally cheaper per pound than chicken parts, although a bit more expensive than the offal.)
You don't need to learn to butcher them yourself: whilst it's not difficult to learn to cut them up, these Asian chicken recipes save you the hassle as the chicken is cooked whole. They're also so delicious, you'll never have to head to the Chinese restaurant again. (And easy- unlike other chicken recipes, you don't have to fiddle about with corn starch slurry, which can backfire in an icky and gooey way!)
Very versatile: Asian food is all about the mantra, waste not, want not. The next time you buy the entire chicken, save the neck and feet to make chicken soup. They're full of collagen and great for creating mouthwatering broths!
👩🏻‍🍳 Expert Tips
Tip #1: One of my favorite things about serving whole chicken is that you can carve the meat then save the bones to make chicken broth! Boiled with fresh ginger, there is a lot of flavor! Add some bean sprouts and rice noodles, and you have a full meal.
Tip #2: It can be tricky cooking whole chicken. You want to make sure all the meat is cooked but not leave it so long the white meat in the breast becomes dry! (I waaaay prefer dark meat.) Stick a meat thermometer into the thickest part (the breast) and make sure the internal temperature is 180F/ 82C. FYI, for chicken cuts, it's 165°F (74°C.) (If you don't have a food thermometer, pierce the breast and check that the juices run clear, not pink!)
Chinese
Ginseng Soup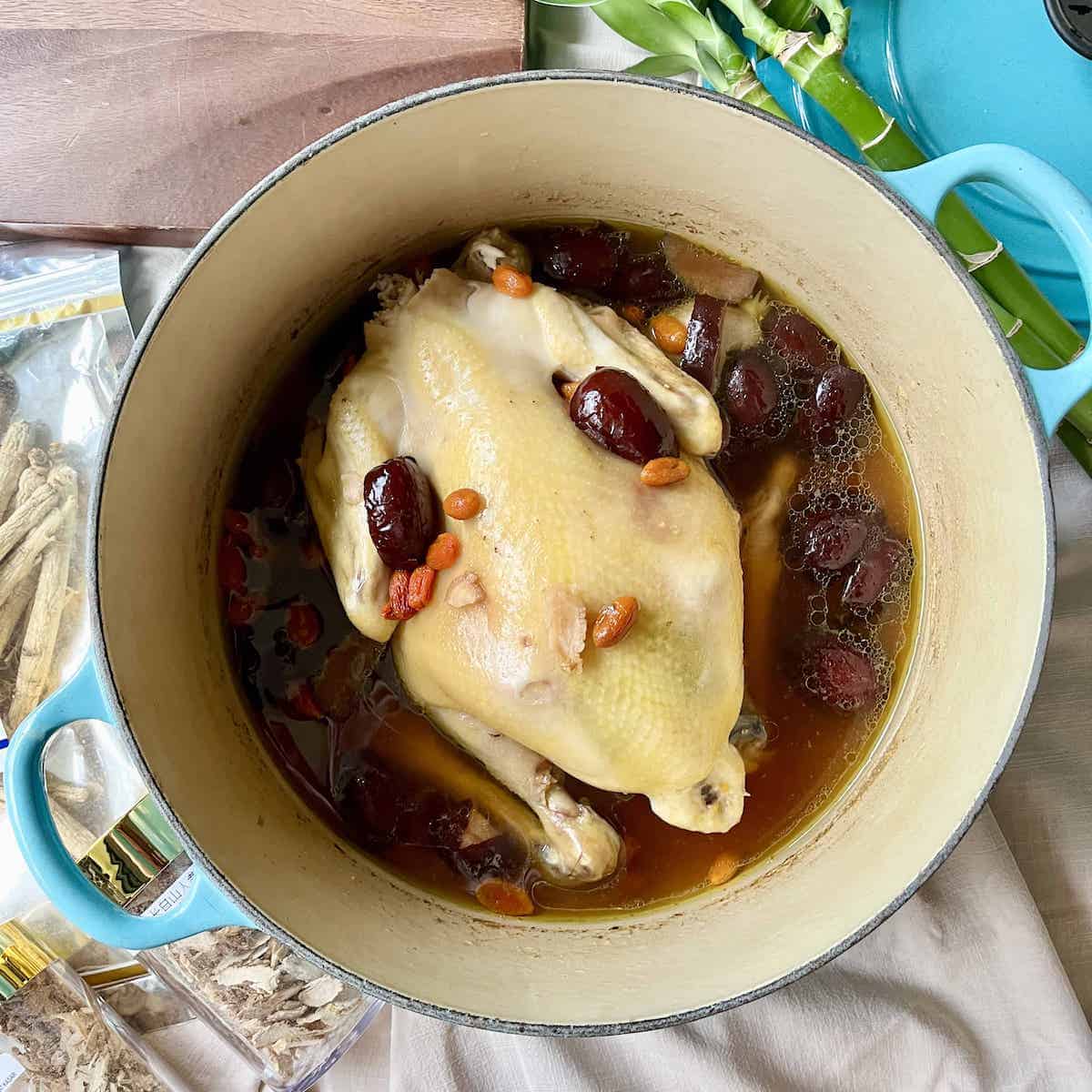 Chinese Ginseng Chicken Soup (4-ingredients)
This Chinese Ginseng Chicken Soup is really easy to make but so delicious that you can't tell it only uses 4 ingredients! Plus, it's made in 1 pot and mostly passive cooking.
Click here for the herbal chicken soup recipe.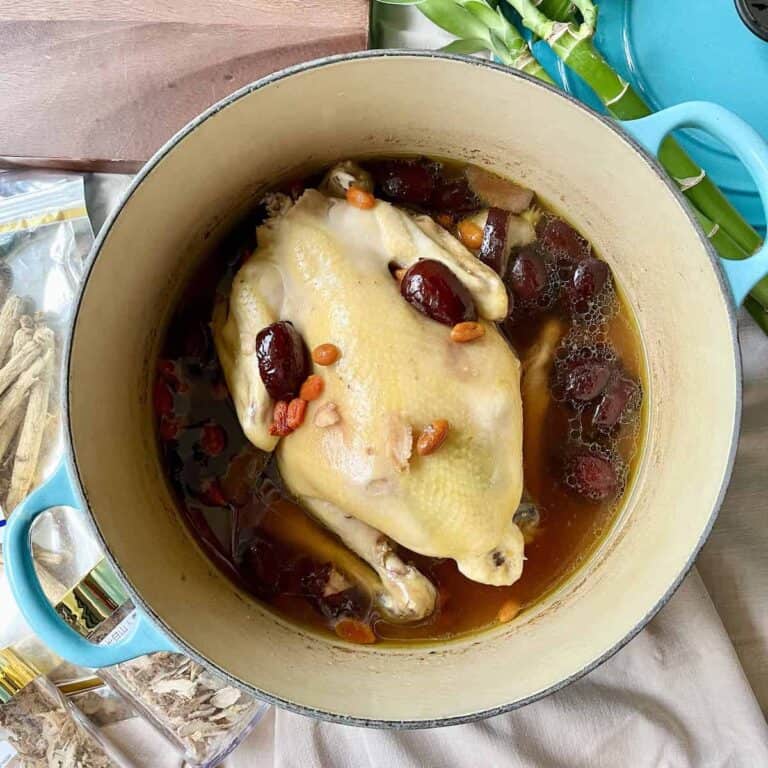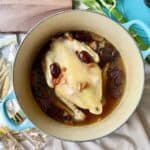 Soy Sauce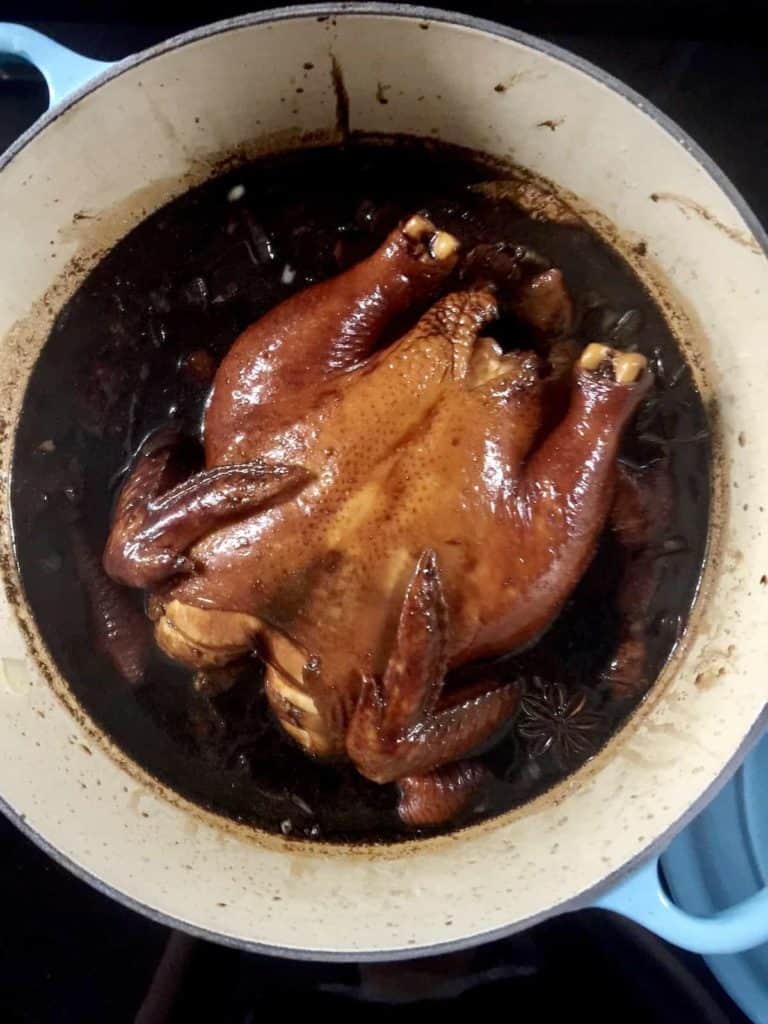 This Soy Sauce Chinese Chicken recipe became the most popular post on my blog in just 1 day, and has consistently received rave reviews!
Even better, you don't need to brine this Chinese takeout classic but it's still a super juicy chicken AND it's mostly passive cooking, so you have time to prepare other dishes for your Chinese New Year table!
Note: if you find it too much work, here is an easy Cantonese chicken thighs recipe for you. Paired with a bowl of jasmine rice and some blanched bok choy, it's a filling meal!
Leftover meat can be turned into chicken lettuce wraps! The savory sauce can also be strained, frozen and reused to braise eggs, tofu, salmon or more!
Best Poached One Pot Chinatown Soy Sauce Chicken Recipe
This Cantonese classic chicken is an easy-to-recreate-restaurant dish that can be made in 1 pot! It's also the gift that keeps giving as the leftover poaching liquid can be used for so many things (see post above). (Inspired by 4 recipes: Woks Of Life, SCMP, Burning Kitchen and Red House Spice)
Try this Chinese Soy Sauce Chicken recipe now!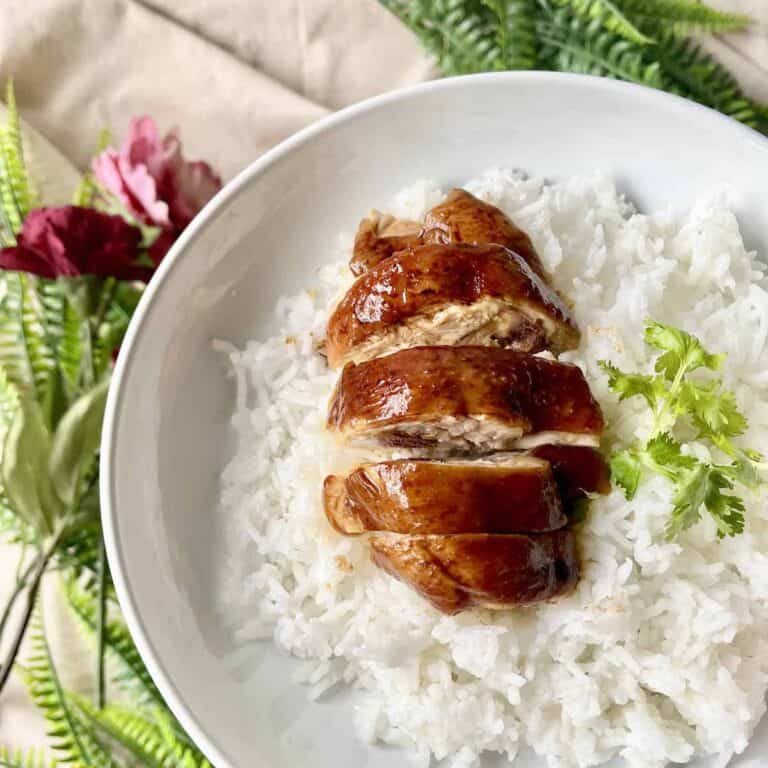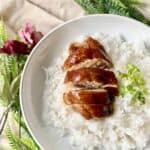 Hainanese Chicken Rice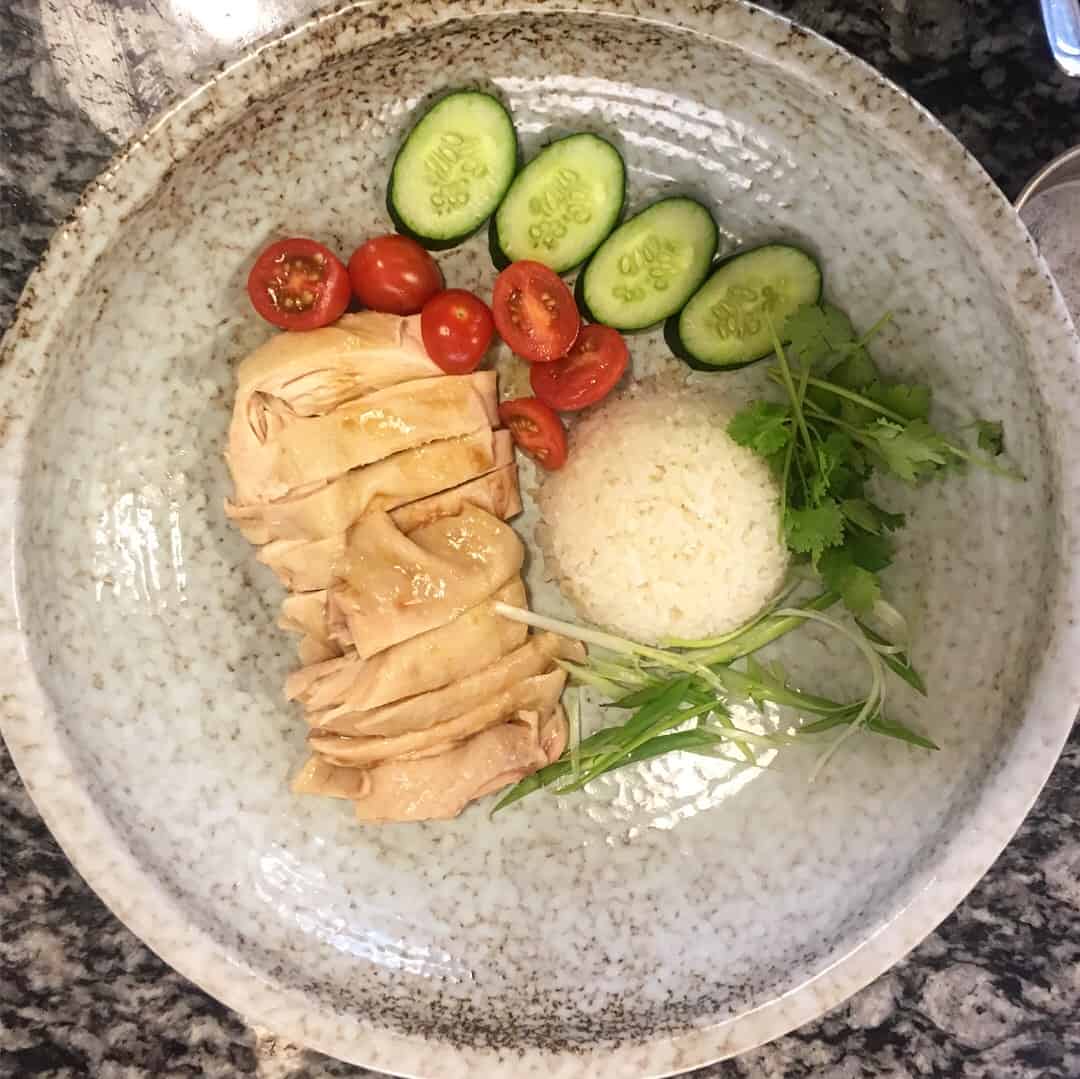 This is a popular Singaporean and Malaysian dish that was adapted by Hainanese immigrants.
Lathered with sesame oil and served with scrumptious white rice cooked in chicken fat, this is a must-eat dish if you are ever in South East Asia! If not, you can make it at home using this Hainanese Chicken Rice recipe. (I also have a porridge version of the recipe here.)
The chili garlic sauce can be batch made in advance to save you some stress! (Mix in the lime juice just before serving. Don't substitute with rice vinegar- it won't taste the same!)
Note: If you're serving this Asian chicken recipe for Chinese New Year (CNY)- a whole chicken, complete with feet, neck and heat, represents wholeness and prosperity, you may also be interested in:
Chinese Roast
Chinese roast crispy chicken goes well with chow mein or 1 of these longevity noodle recipes on the side.
Note: Any roast chicken leftovers can be used in this rotisserie chicken porridge of 1 of these roast chicken leftover recipes!
Indian-style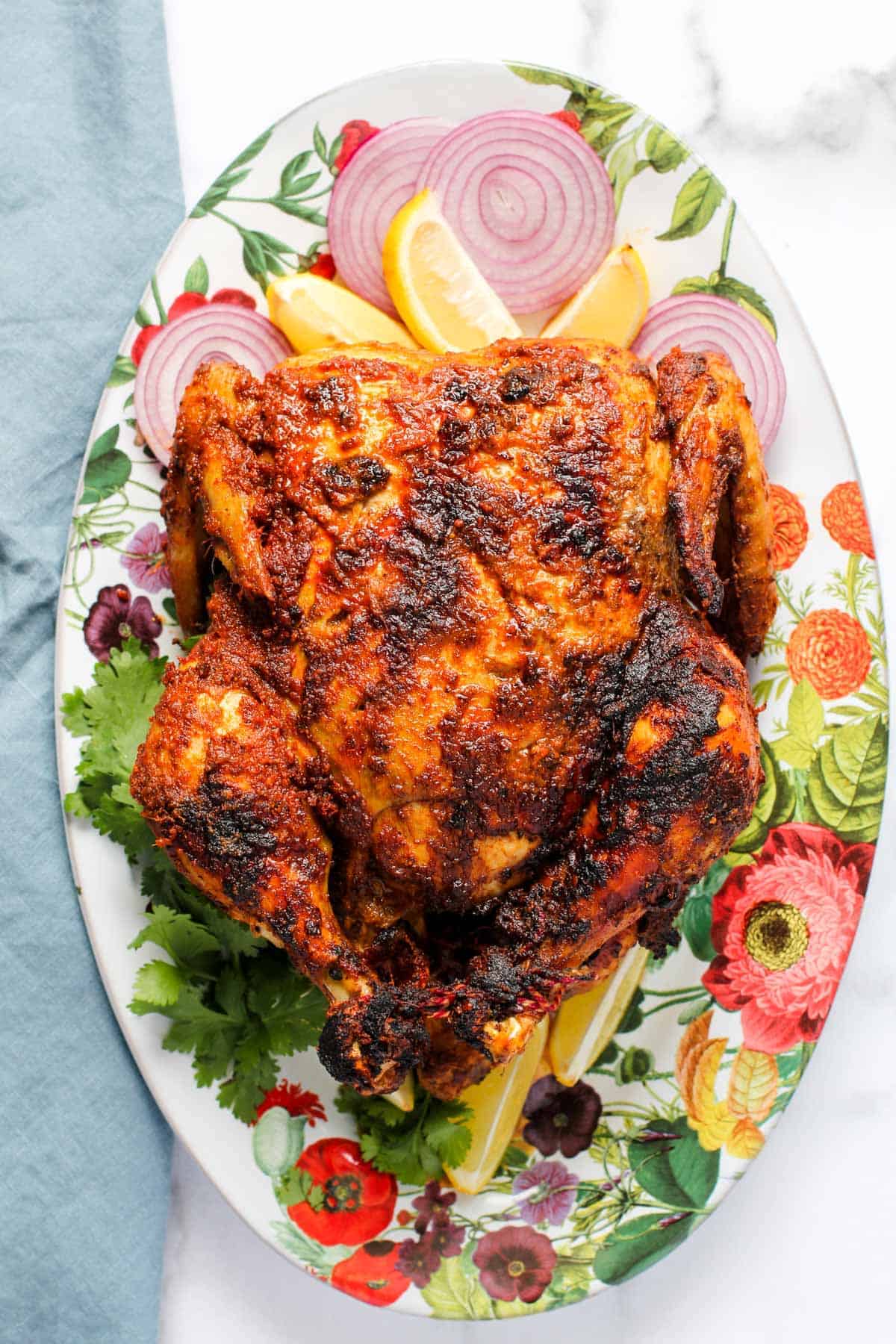 Roast Tandoori whole chicken made in an air fryer
Before I saw this Ministry of Curry recipe, I didn't even know we could roast chicken in an air fryer! And it comes out looking and tasting so good too!
Click here for the Air Fryer Roast Chicken.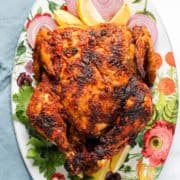 Korean-style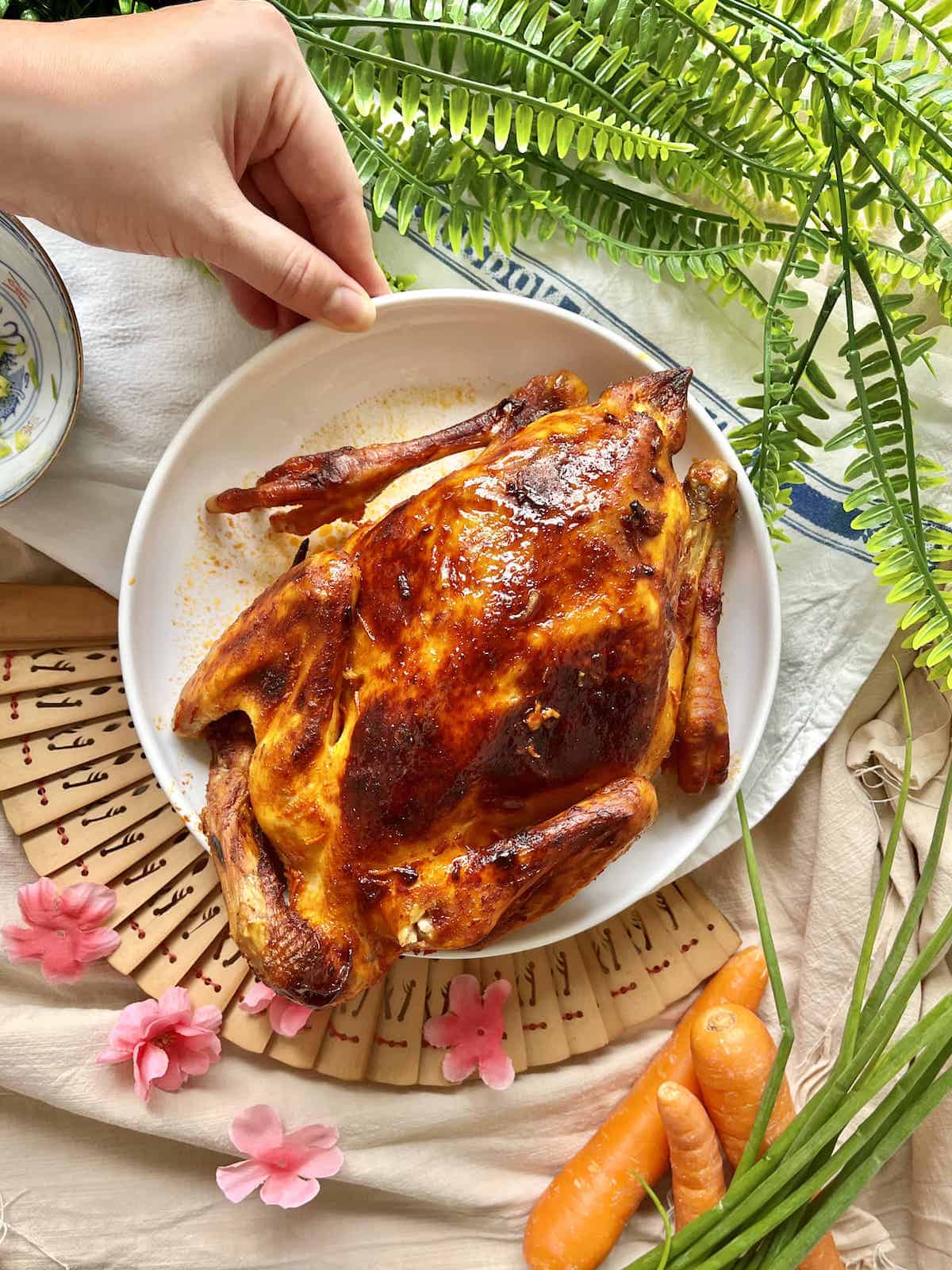 Tip: if you can't get gochujang or sesame oil, you can always try these substitutes!
Korean Gochujang Chicken
Spice up your weekday dinner routine with this scrumptious Korean Gochujang Chicken recipe! An easy-to-make dish, the tender, juicy chicken is coated in a mouth-watering blend of Korean red chili paste, soy sauce, and more. Whether you're a fan of Korean food or just looking for new chicken recipes, this recipe is sure to impress!
Click here for the korean roast chicken recipe.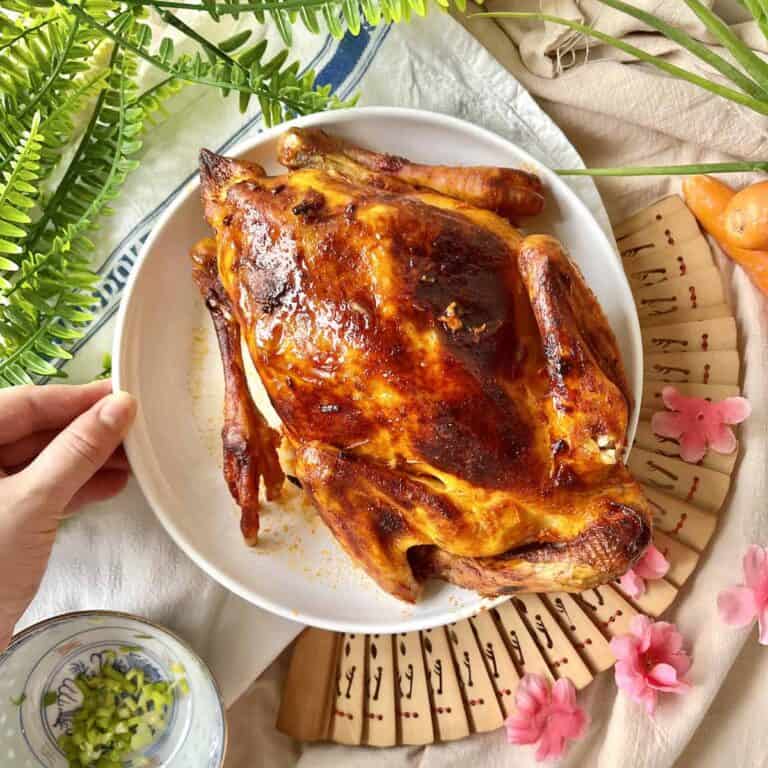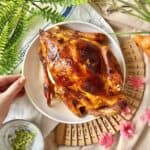 Pakistani-Style
Chicken Chargha (Lahori Chargha)
This Pakistani recipe by Recipe 52 is very innovative- you first steam the chicken then fry it for tender, tasty meat. What with the delicious, aromatic spices, it's sure to impress your guests!
Click here for the Pakistani Chicken recipe.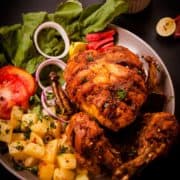 Thai-Inspired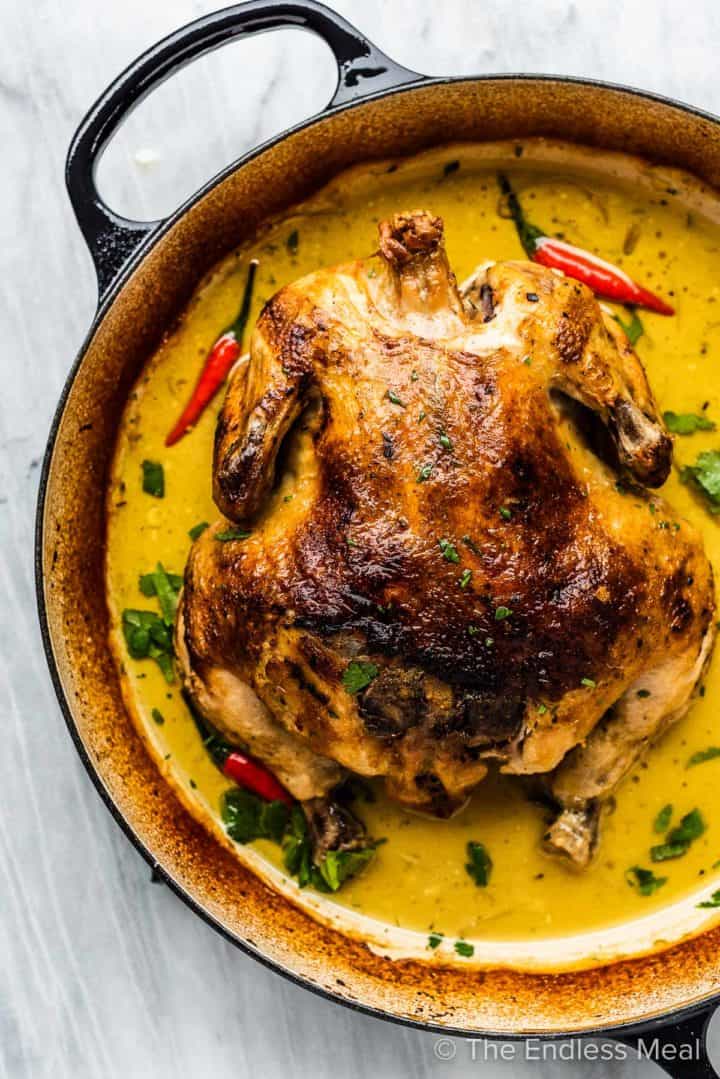 Doesn't this Asian chicken recipe look simply mouthwatering? With the lemongrass, ginger, garlic and coconut, it's simply brimming with Asian flavors.
Pair it with 1 of these pumpkin recipes and brown rice (or cauliflower rice to be even healthier!) for an Asian meal perfect for fall!
Coconut Milk Braised Whole Chicken
We all know about milk braised pork, but did you know that braising chicken in coconut milk makes for a delicious and tender bird too? Try this 5-star recipe by The Endless Meal if you're not convinced!
Click here for a simply scrumptious chicken recipe.
🍲 Soup
Korean Ginseng Chicken Soup
Samgyetang is 1 of the most famous Korean dishes, in which a whole chicken is stuffed with rice, jujubes and, of course, ginseng. (You'll need green onions too.)
Try this chicken dish recipe which has an average 5-star review from OVER 50,000 reviewers!!! (I'm envious :P) Maybe serve with 1 of these Korean banchan, a nice cup of Jujube tea or, the typical Korean summer drink, roasted barley tea on the side?
Fun fact: Although it's a hot steaming bowl of chicken soup, Koreans usually eat this in the hot summer, to give them more energy!
Traditional Chinese Soup
Chinese food is all about the soups! Growing up, I had soup at every meal as we believe that it helps keep you looking young.
Try this traditional Asian chicken recipe which is super warming and nutritious!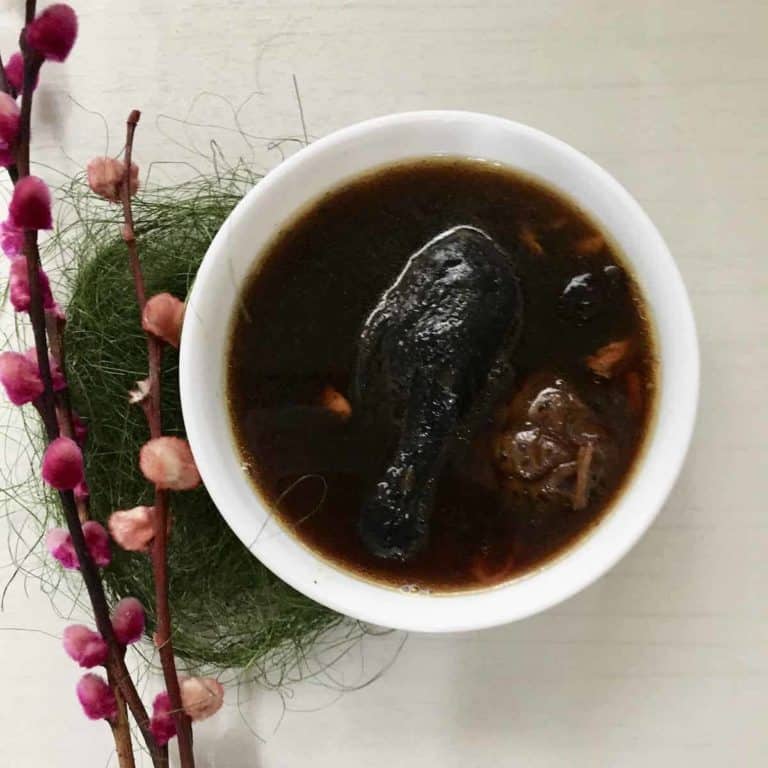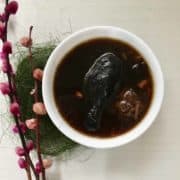 Chicken Shiitake Soup
Chinese Chicken Mushroom soup
Chinese people love their soups- it's common for Chinese families to have it at every meal! If you've never made Chinese soup before, it may seem intimidating, but this easy, 4-5 ingredient only recipe by Oh Snap Lets Eat, will show you how simple it is!
Click here for the traditional Chinese Soup recipe.
If any of these delicious Asian whole chicken recipes for Chinese New Year make it to your dinner table, don't forget to tag me on social media (@greedygirlgourmet)- I love seeing what everyone makes!
Also, you can sign up here for my newsletter to receive more such recipes!