Spring onions, along with garlic and ginger, are a staple in Chinese and many other Asian dishes. Here are 10 best spring onion substitutes.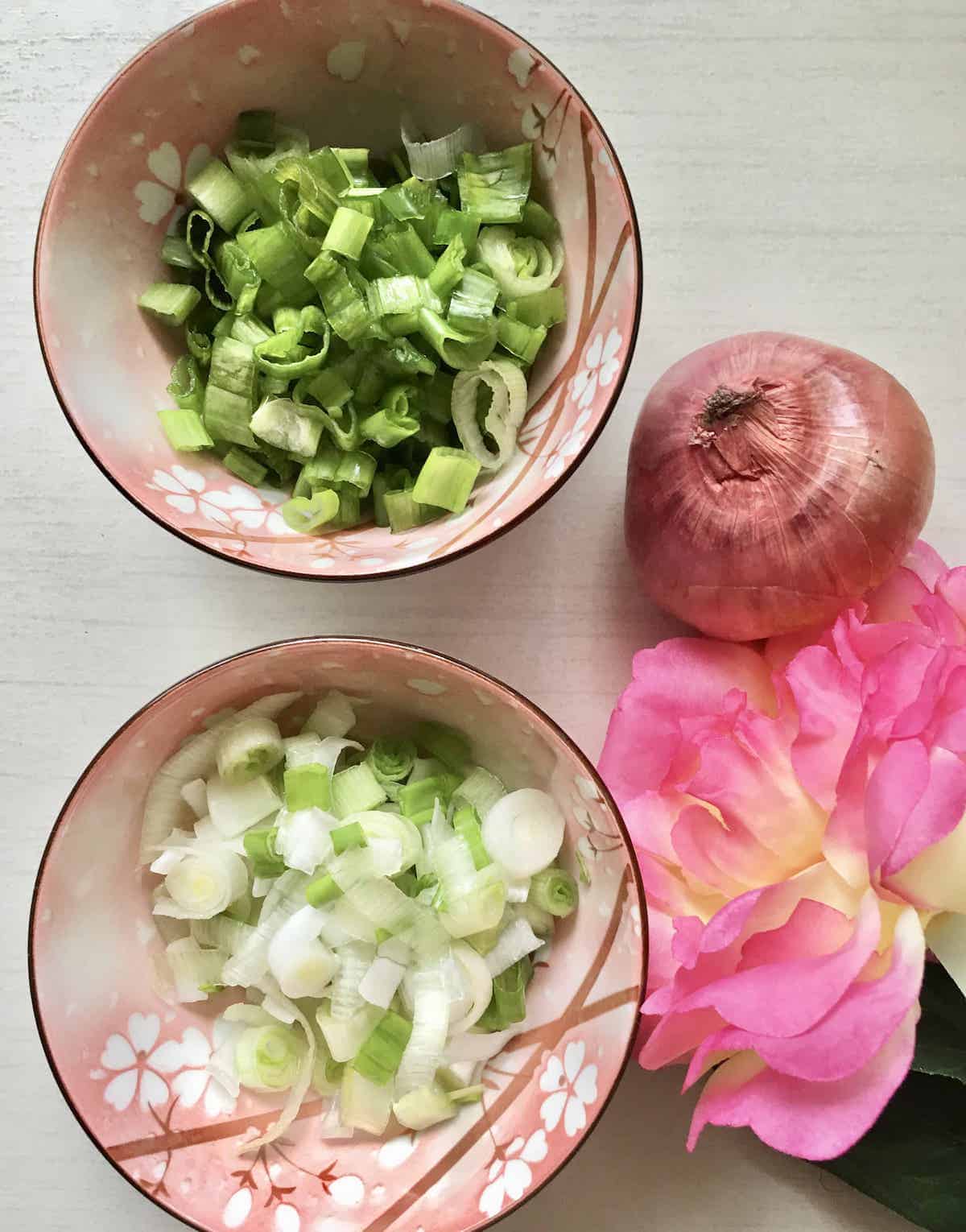 Jump to:
What are spring onions?
Part of the Allium family, springs onions are immature onions that have been harvested before growing to full size. They're so young that the small bulbs haven't had time to grow nor the flavour to develop. Edible both raw and cooked, spring onions taste like a milder, slightly sweeter onion.
Some have a white outer layer over the small bulb at the root end, whilst others have a reddish skin (red spring onions): both types taste the same and can be used interchangeably for flavour. If you give spring onions time, the white bulbs will eventually produce the regular yellow onions (or white onions) that we are all familiar with.
Together with ginger and garlic, spring onions are the "holy trinity" of Chinese cooking. In fact, we love spring onions so much, we have snacks that pretty much just dough and spring onions (scallion pancakes!) Other common Chinese ingredients include dark soy sauce and dried shrimp- click thes link if you need substitutes for those condiments too!
Note: garlic, shallot, chive, Chinese onion and leek are all related to spring onions.
vs Green onions/ scallions
Green onions and scallions are the same thing. However, according to BBC Good Food, green onions/ scallions are the same as spring onions, whilst Masterclass seems to differentiate between the 2.
What I have inferred is that the difference is really the age and size of the bulb: spring onions are slightly more mature than green onions/ scallions, and thus the white bulb has grown a little bigger and rounder (about 1 inch in diameter).
White vs Green part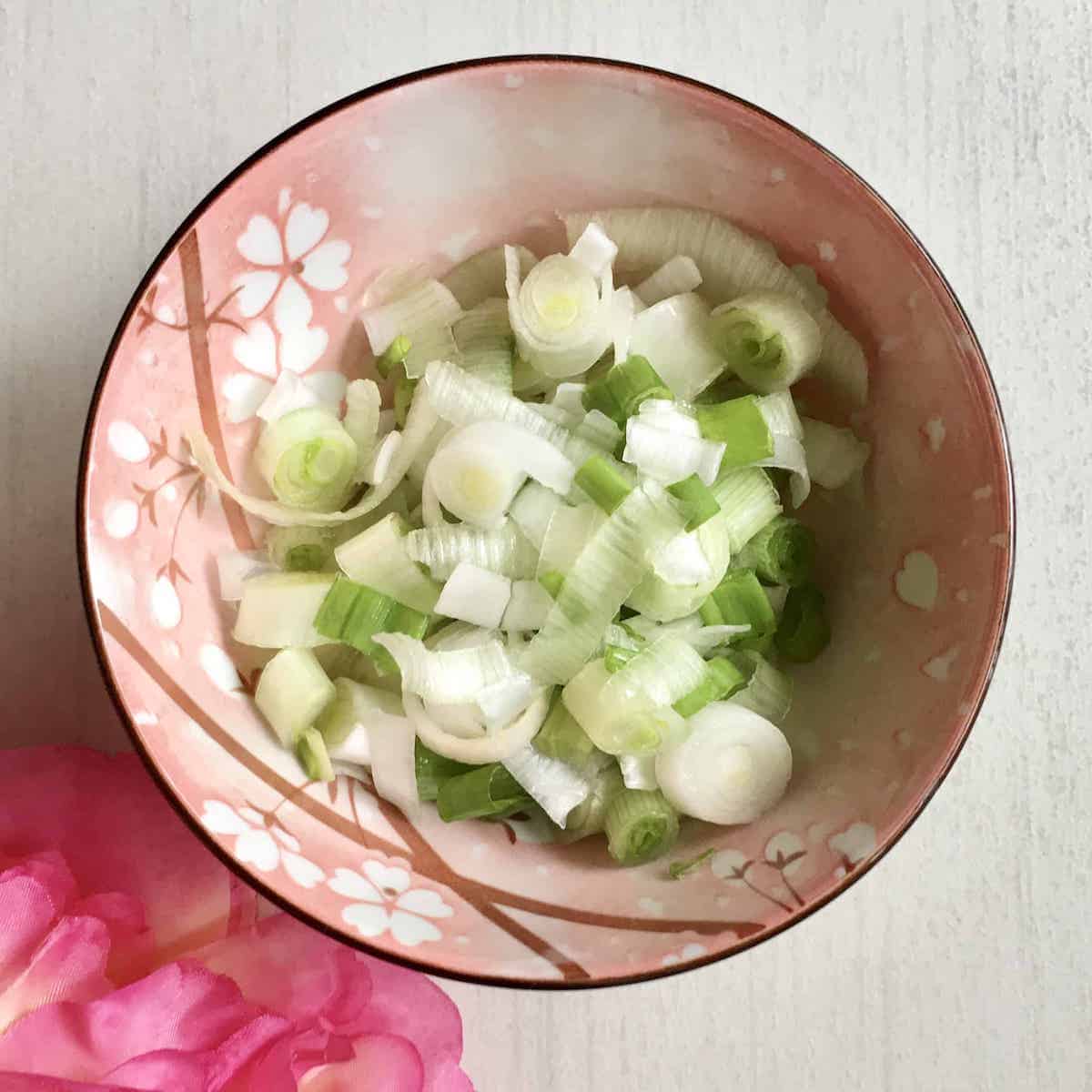 Both the white and green parts of spring onions are edible. Typically the white part of green onions are used for cooking (they have a stronger onion flavour) whilst the dark green bit at the top is used more as a topping for food.
Health benefits
They're full of fibre, which helps you feel full (i.e. prevent overeating)- 1 Cup of cut raw green onions has 10% of your daily fibre needs.
The same cup of scallions provides:

2x the recommended daily value of Vitamin K for adults (helps with blood clotting and building strong bones)
¼ the vitamin C you need a day (antioxidant that protects your cells)
approximately 16% of your daily required folate (a vitamin you require to make DNA, and which is vital for pregnant women)

Good for your immune system and cancer-fighting: A scientific study published in 2014 shows that including the common scallion in one's diet may help to lower the risk of colon cancer.
However, spring onions are not without their risks- their high Vitamin K content makes them clash with blood thinning medication such as warfarin so do check with your doctor! Moreover they can sometimes be contaminated, so it's important to wash them properly before eating.
Note: this is meant for information only and not meant as dietary, medical or health advice. Please consult a medical professional for more information.
Why are they used?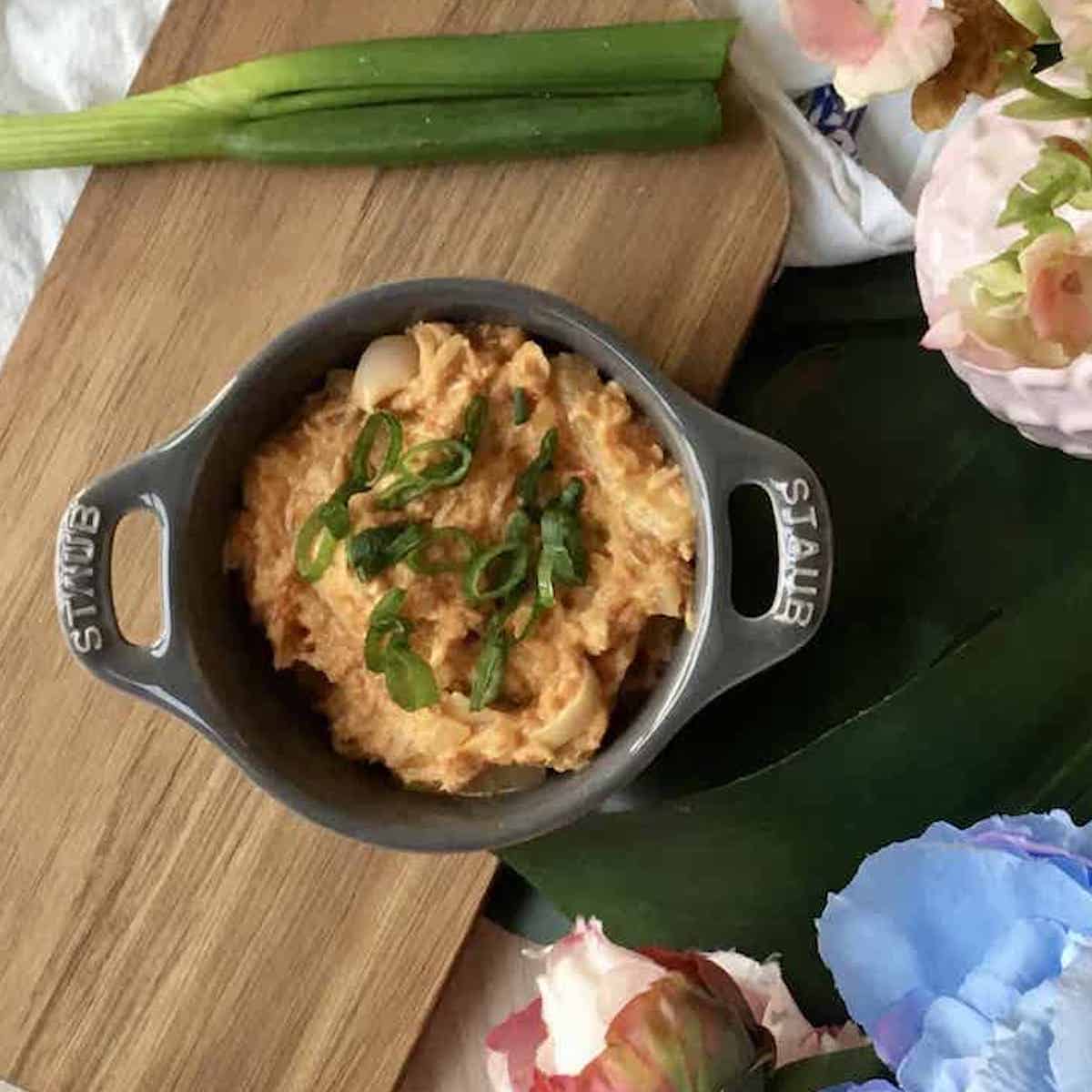 If you don't have spring onions, coriander would make a good topping here too.
How to grow
Spring onions are in season all year round and are very easy to grow, either from seed, or from cuttings. If you put the root end into some water, after cutting off the green stalks, it will usually produce a few more shoots for you.
How to store
The downside is that spring onions don't last as long as raw onion, even in the fridge. Keep for no more than 4-5 days in a bag with holes in the fridge: the spring onions will go slimy when they're too old! (To be honest, the ones in my photo weren't the freshest and I had to throw out the very top which had gone limp and icky.)
Why substitute them?
Spring onions are widely available in grocery stores so it shouldn't be an accessibility issue. However, some people are allergic to them, whilst others are on special diets. For example, there are some Buddhist vegetarians that don't eat spring onions, garlics, chives etc
Note: if the dietary restriction is allergy related, some of the spring onions substitutes below may not be suitable- you will need to know exactly which compound the person has a reaction to.
Flavour substitutes
Green onions/ scallions

As mentioned above, there's some debate about whether green onions and scallions are the same as spring onions, since the only difference is the age. If you don't think they are equivalent, then green onions or scallions would make the best replacement, whether used for flavour or for garnishing.

Shallots

A milder version of onions, shallots are a good alternative to spring onions when the appearance is not an issue (i.e. don't use these to garnish instead of spring onions). They're best used as replacements in sauces, stews or braises (such as in the Hong Kong Soy Sauce Chicken recipe) where you're looking for something to approximate the flavour.

Chives

Fresh chives have a similar delicate flavor and appearance (the 2 are related plants), so they are a good choice to replace spring onions, whether it be for flavour or garnishing.
Substitute in a 1:1 ratio.
P.S. these are flowering herbs and the flowers can be used as pretty edible garnishes.

Leeks

There is often soil hiding in the layers, so give these a good wash before using. When cooking the green part of the leeks, be aware that it will thicken your dish slightly.

Onions

Since spring onions are just younger onions, you can obviously use onions to replace them, but note onions have a stronger flavor so use a small amount only! Red onions tend to be sweet onions and less overpowering, so use those if you can. If not, white, yellow or brown onions will work too.

Onion powder

A dried version of onions, they're milder in taste, making them a good substitute. Add a bit of sugar as most onion powders have lost the original sweetness.

Ramps

Ramps are typically foraged, and have a short season. (If you're not familiar with ramps, click here.) They look like scallions but are more garlicky in flavour, so don't use too much.
I have seen lists which suggest carrots as cucumbers as substitutes and will leave it to you to decide whether or not these make acceptable replacements for spring onions! As for myself, I'll leave them off this list 🙂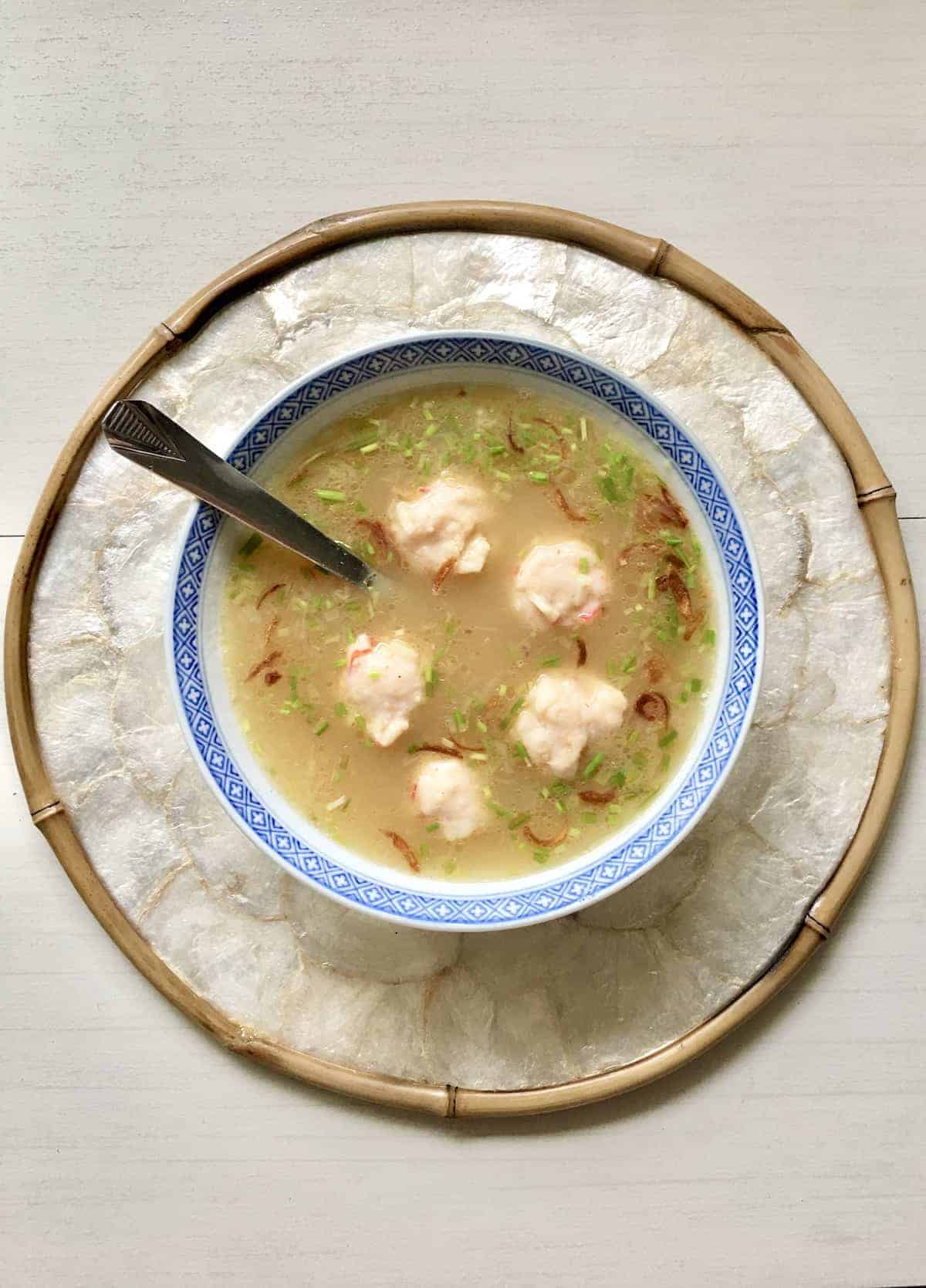 Though spring onion is the usual choice, chives also work well when sprinkled on Chinese soups, such as this vegan wonton one.
Replacement garnishes
These spring onion substitutes are listed from best to worst:
Chives
Leeks
Chinese chives

Not to be confused with regular chives, Chinese chives have a stronger and more garlicky flavour, so I wouldn't recommend them if you're looking for something to replicate the taste of spring onions. However, where spring onions are used as a garnish, Chinese chives would bring a similar, pleasing green to the dish, whilst simultaneously complementing the flavour.

Coriander

Whilst coriander has a different shape (and taste- some people abhor it, finding it "soapy") to spring onions, if you're just looking for something to add a burst of colour to your food without the flavours clashing, coriander works nicely for many Chinese and Asian dishes.

Sawtooth coriander

It is difficult to grow coriander in the tropics, so sawtooth coriander is a great replacement although the 2 look nothing alike. If anything, sawtooth coriander looks more like scallions. It tastes similar to regular coriander- much stronger actually- but is easier to plant. Just watch out for the serrated leaves as their name is no lie- my fingers have bled after getting poked before!
For herbs that are easy to grow in the tropics (and recipes for them), click here
Note: some people like to use green bell peppers in place of green onions- I guess it could provide a similar burst of green in dishes if chopped finely- but it's not a great substitute in my opinion.
What are some of your favorite recipes that call for spring onions?
What are some of your favorite recipes that call for spring onions?
Before you go, you may be interested in these Asian recipes, which would taste and look great garnished with spring onions: