An easy & healthy Turmeric Ginger Cinnamon Lemon Honey Tea that only requires 5 ingredients. It is not only delicious, it's a treat for the eyes with its beautiful, naturally golden color!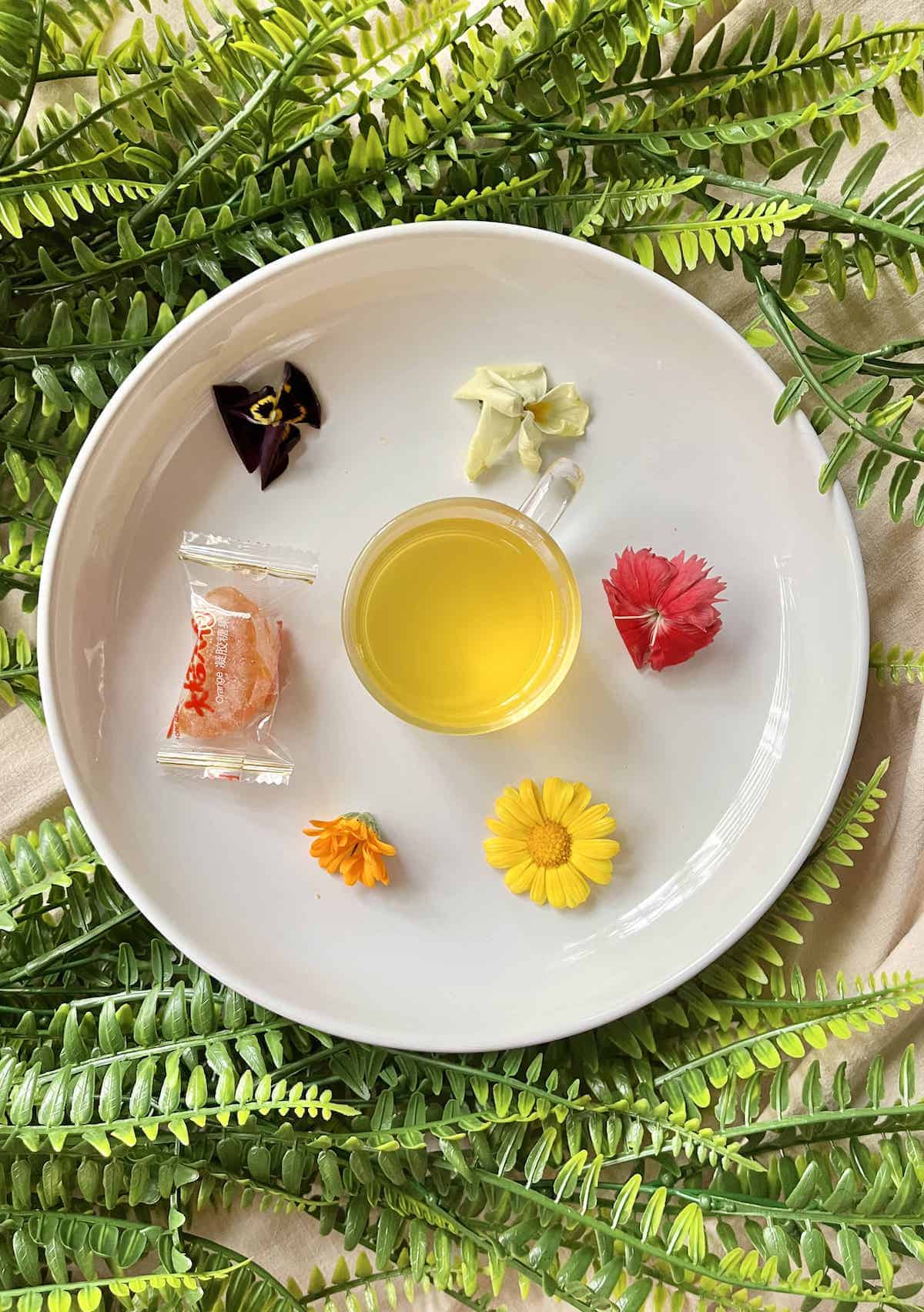 Jump to:
Why Make This
It's good for you- the perfect drink for boosting your immunity during flu season!
It's so pretty: that vibrant golden hue is all natural! For more golden coloured foods, click here.
It's super easy to make.
Note: For more turmeric recipes, such as turmeric with roast potatoes, click here, or here for turmeric substitutes.
Health Benefits
A warm cup of lemon ginger turmeric tea is the perfect anti-inflammatory drink in winter. (All of the ingredients in this turmeric ginger cinnamon tea have been chosen for their positive impact on the immune system.)
Note: For more healthy recipes, try this flu-busting foods vegan wonton soup packed with ginger and garlic or this refreshing lemongrass tea.
Side effects: These spices may react negatively with certain medications, such as warfarin, so always consult a medical doctor first.
Some people have also suffered from diarrhoea, heartburn etc after taking too much of this herbal tea, so everything in moderation!
Turmeric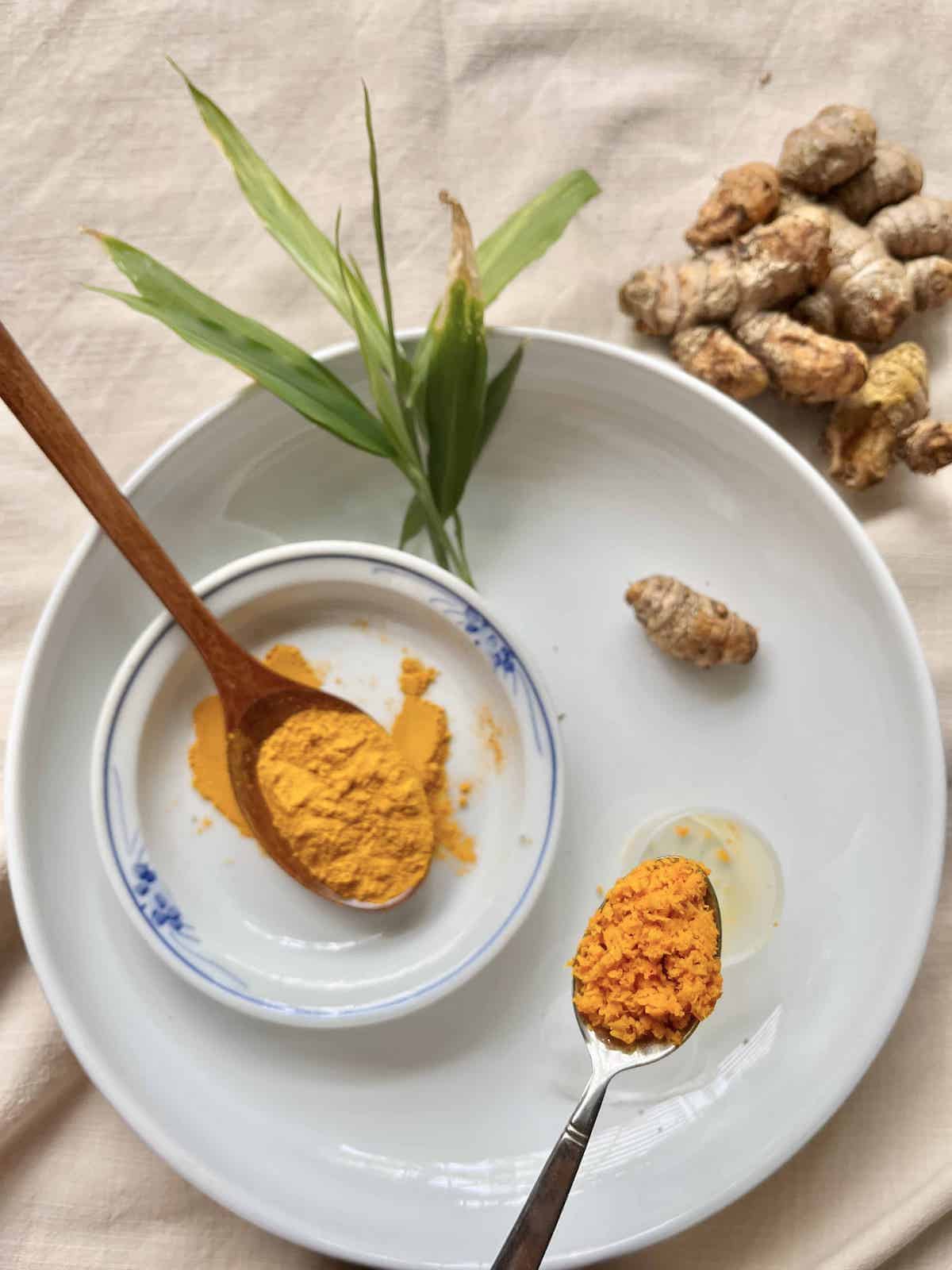 Turmeric is a rhizome containing curcumin and thus is often extolled for its health benefits- it is used in Ayurvedic & Traditional Chinese Medicine and is a very common ingredient in Asian & Indian kitchens. In India, turmeric was a medicinal herb used for joint, respiratory, digestive and skin problems.
Curcumin has good anti-inflammatory properties and is a potential treatment for osteoporosis & other illnesses.
However, not much concrete evidence of the benefits of turmeric is available as its curcumin content is very unstable. (1 study claims that taking turmeric 3x a day is comparable to a daily 1200 mg dose of ibuprofen, but more research is necessary to confirm this.)
Ginger
Ginger (Zingiber officinale), which has a bold, almost spicy flavour, has a lot of powerful anti-oxidant plant compounds. Its many bioactive compounds include lot of anti-inflammatory gingerols. Ginger is used in many cold, nausea and arthritis treatments.
A study of people with rheumatoid arthritis found that daily ginger powder over a period of 12 weeks helped to improve inflammation. Another 2019 Supportive Care in Cancer study found that taking ginger every day improved gastro-intestinal symptoms of advanced cancer patients.
Fun fact: ginger in animal studies has even been shown to boost testosterone!
Cinnamon
Cinnamon has been used since 2800BC, and is a traditional remedy for respiratory and digestive illnesses. There are 4 types of cinnamon:
True cinnamon or Ceylon cinnamon (also known as Mexican cinnamon) (Cinnamomum zeylanicum)
Indonesian cinnamon (Cinnamomum burmanni)
Vietnamese cinnamon (Cinnamomum loureiroi)
Cassia cinnamon (also known as Chinese cinnamon) (Cinnamomum aromaticum)
Ceylon cinnamon is expensive but should be used whenever possible due to its low coumarin. Be careful of using too much Cassia cinnamon, which contains high amounts of coumarin, a carcinogenic substance that can harm your liver and is toxic in large doses.
Cinnamon contains phytochemicals which help brains better utilize glucose. It also has anti-microbial elements and can limit the growth of Listeria, Escherichia coli & other bacteria in food. There are also many other cinnamon studies, researching its effect on:
regulating glucose levels
anti-inflammatory properties
anti-oxidant effects
heart diseases
lipids
cancer
blood pressure
etc
Note: all this information is FYI only and not meant as medical or health advice. Please consult a qualified health or medical professional for advice.
Fresh lemon juice
A squeeze of lemon juice not just makes the tea taste better, it also boosts the vitamin C content: 1 lemon has 31 mg of Vitamin C, an anti-oxidant that protects your cells from free radical damage, which is why warm lemon water is so good for you when you have a sore throat.
You could also try it with calamansi, another citrus fruit that has a delicious floral taste.
Tip: Serve each mug of tea with a slice of lemon on the side for visual effect.
Honey
A touch of honey helps to counter the sourness of the lemon juice. Manuka honey is 1 of the healthiest types of honey after which come dark unfiltered honeys. Stay away from clear filtered honeys- some have had unhealthy high-fructose corn syrup added to them!
Manuka Honey
Made in New Zealand and Australia by bees that pollinate the Manuka bush, according to nutritionist David Friedman:
"Manuka honey has antiviral, antifungal, antibacterial, anti-inflammatory and antioxidant benefits. It's an effective treatment for stomach ulcers... It's also been found to be effective against chronic diarrhea and C. difficile, a bacterium that can cause life-threatening inflammation of the colon... it destroys "harmful oral bacteria associated with plaque formation and tooth decay."
Tip: Raw honey is preferred for its health benefits but, if vegan, you can use bone char free brown sugar or a sweetener of your choice.
Ingredients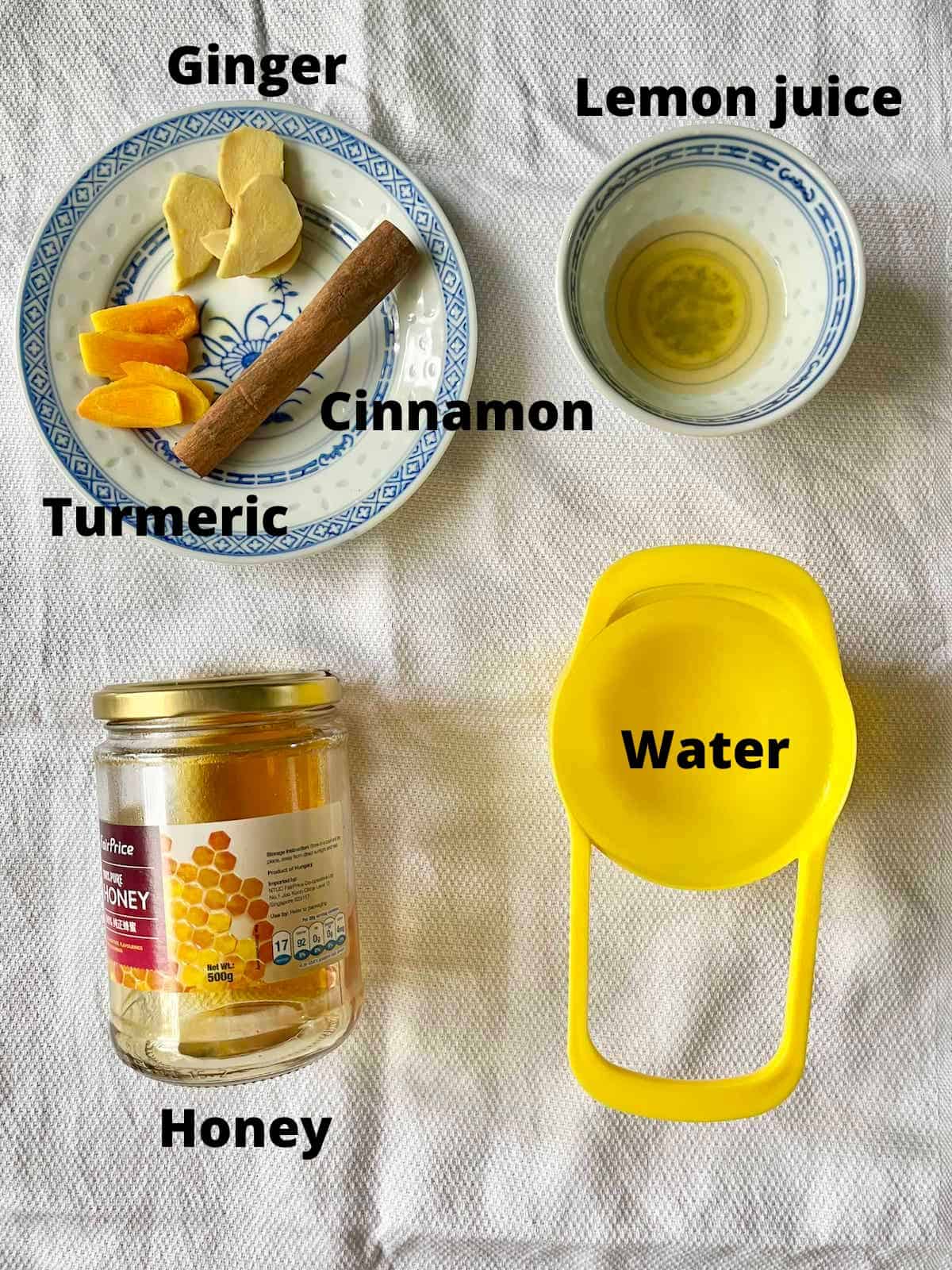 To make this turmeric cinnamon ginger lemon honey tea, you will need:
turmeric: ginger and turmeric can be easily grown in a tropical garden- for more edible Asian garden recipes, click here. The leaves are also used in some Singaporean recipes, such as Nasi Ulam.
fresh ginger: If you like a really spicy taste, use more ginger or grate it to make it stronger. For a smooth tea, if you're using grated ginger, you will need to strain out the pulp with a fine-mesh strainer after simmering the tea. (That's why I prefer using ginger slices- much less work!)
cinnamon: make sure you're using Ceylon cinnamon and not cassia. You can add a stick in each cup if you want to make it look more interesting.
For a full list of ingredients, please check out the recipe card.
Where to Buy
Cinnamon, ginger, lemon and honey are all readily available in most super markets.
For fresh turmeric, you will probably need to go to a shop like Whole Foods- alternatively, you can make do with ground turmeric, which can be found in most grocery stores.
Click here to get Manuka Honey on Amazon (affiliate link at no cost to you.)
Note: always check the cinnamon is Ceylon cinnamon- even the McCormicks ground cinnamon on your spice rack is Cassia, not Ceylon!
Variations
This turmeric ginger tea recipe can be enjoyed both hot, on a cold day, or called as an iced tea in the summer
Turn it into Golden milk: this turmeric ginger and cinnamon tea also tastes great with milk, coconut milk or almond milk (start by using a 1:1 ratio of the turmeric tea to milk then adjusting to suit your taste, if necessary.)
If you enjoy spice, you can add a pinch of black pepper, cayenne pepper, clove or nutmeg to this soothing tea.
Step-By-Step Instructions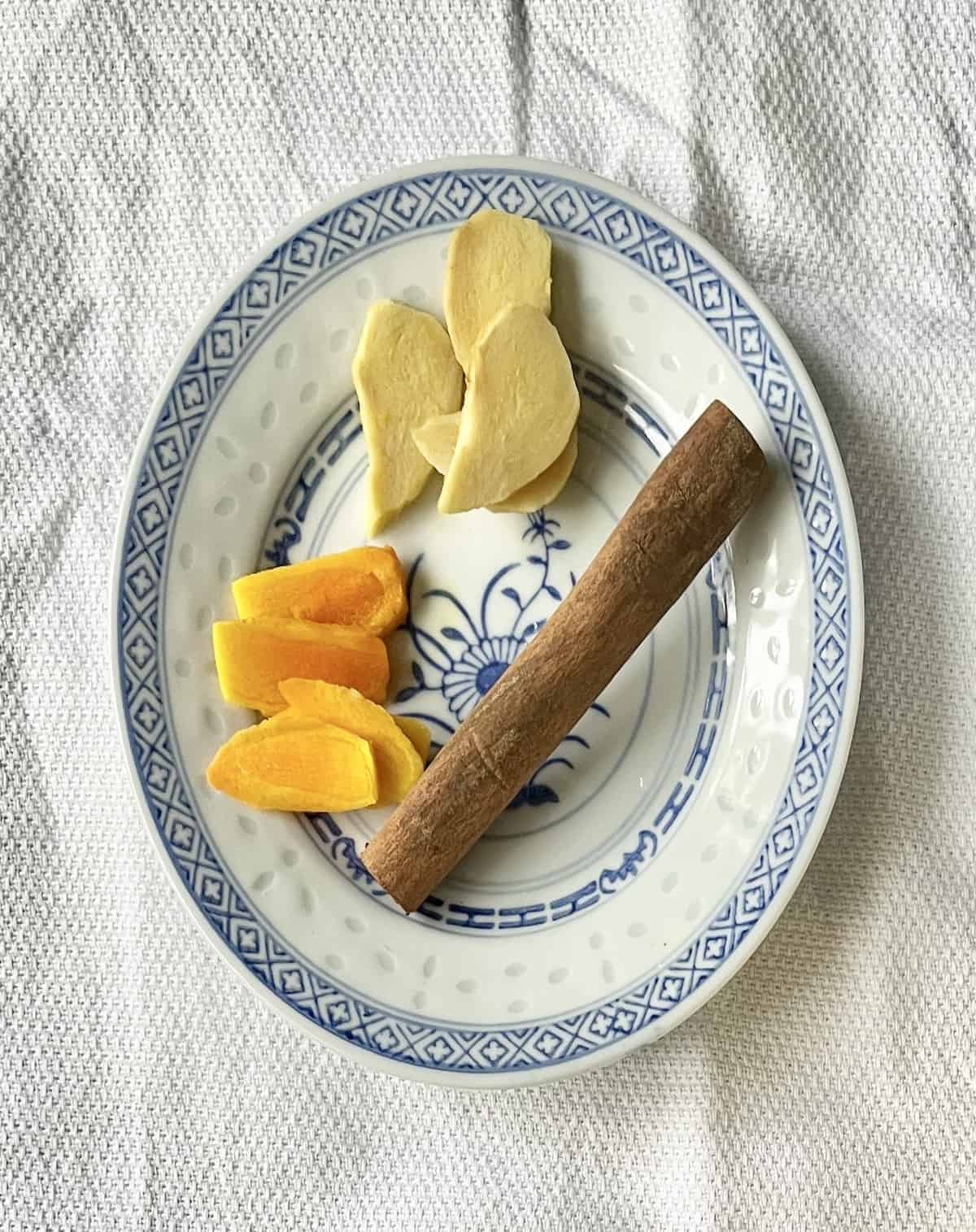 Slice your ginger and turmeric. No need to stress about peeling!
Wash the cinnamon stick well- dirt is sometimes trapped in the folds.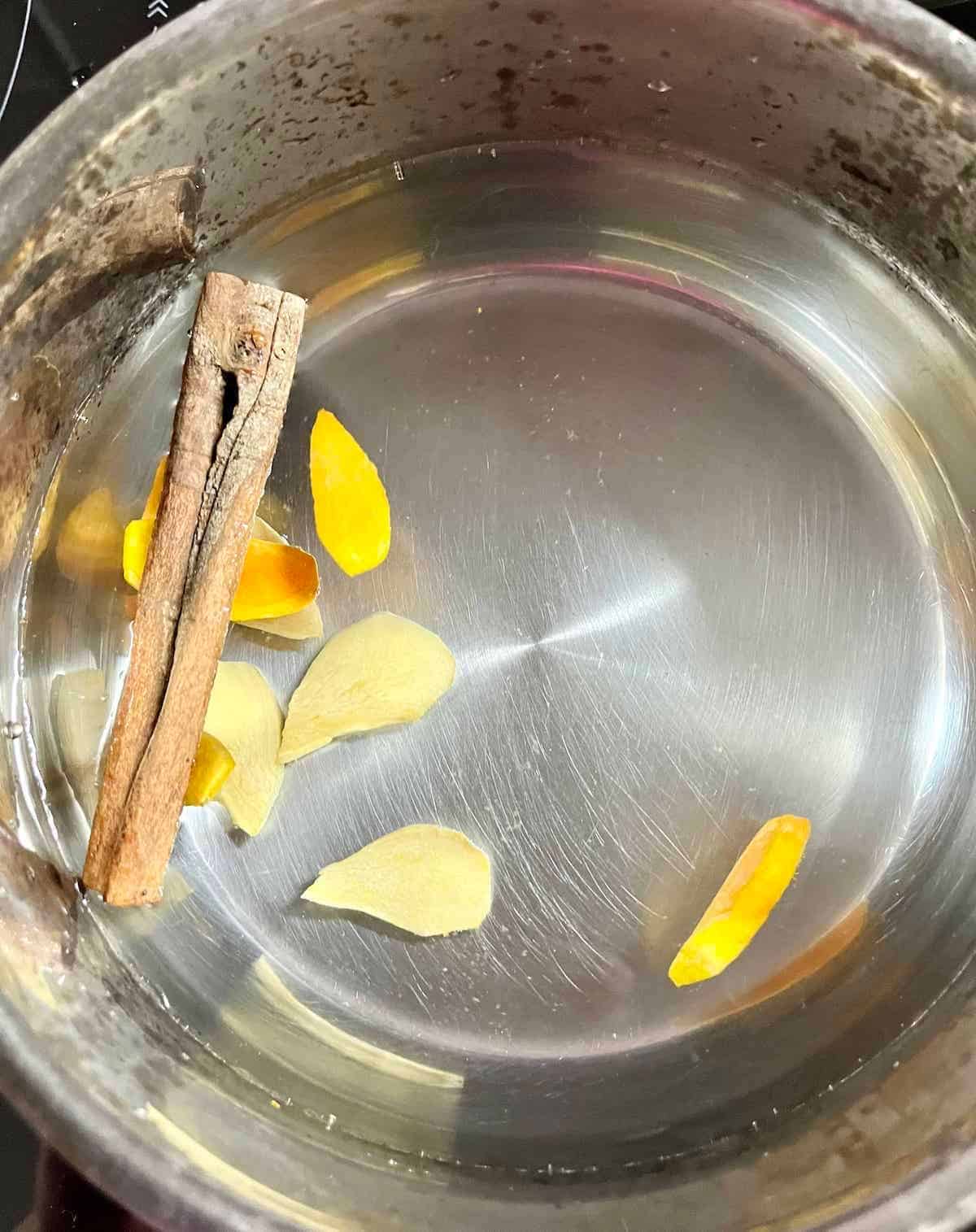 3. Add the ginger, cinnamon, turmeric and water to a pot. Bring to a boil then reduce to a simmer for 10 minutes, or to taste.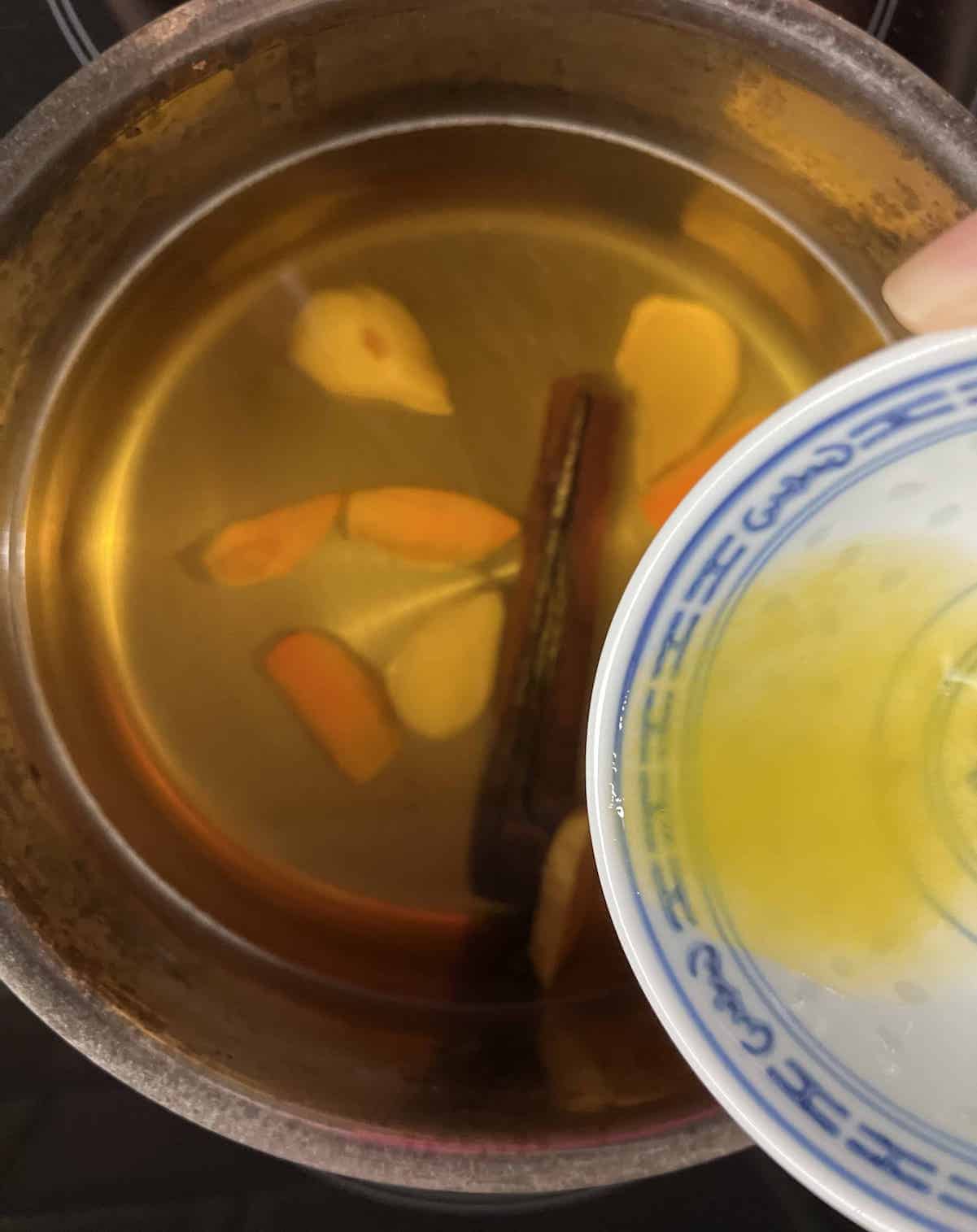 4. Once the flavor is strong enough, switch off the fire and stir in the lemon juice.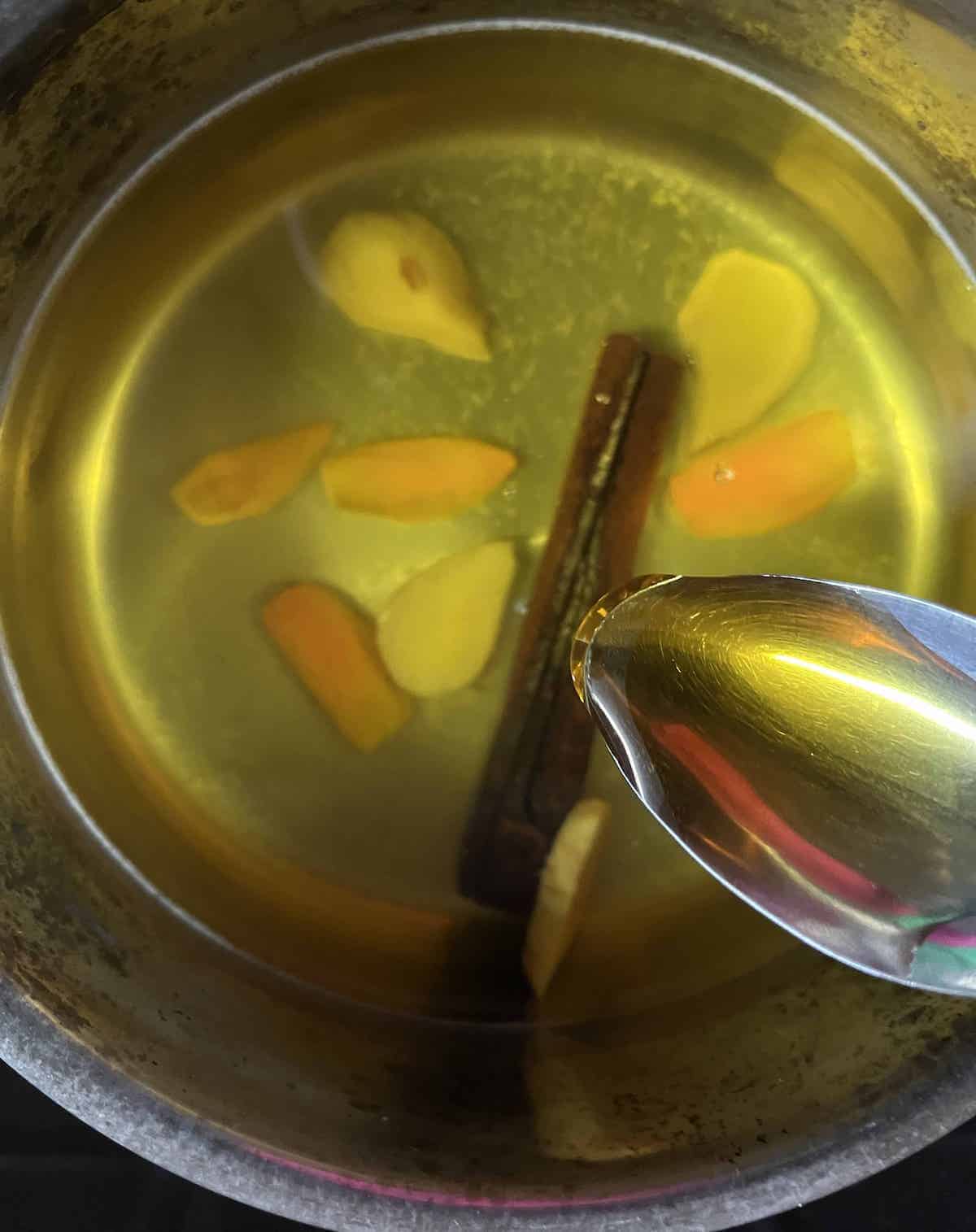 5. Then stir in the honey, to taste. Preferably use Manuka honey for the most health benefits, if your budget allows.
Pour into cups and serve.
Expert Tips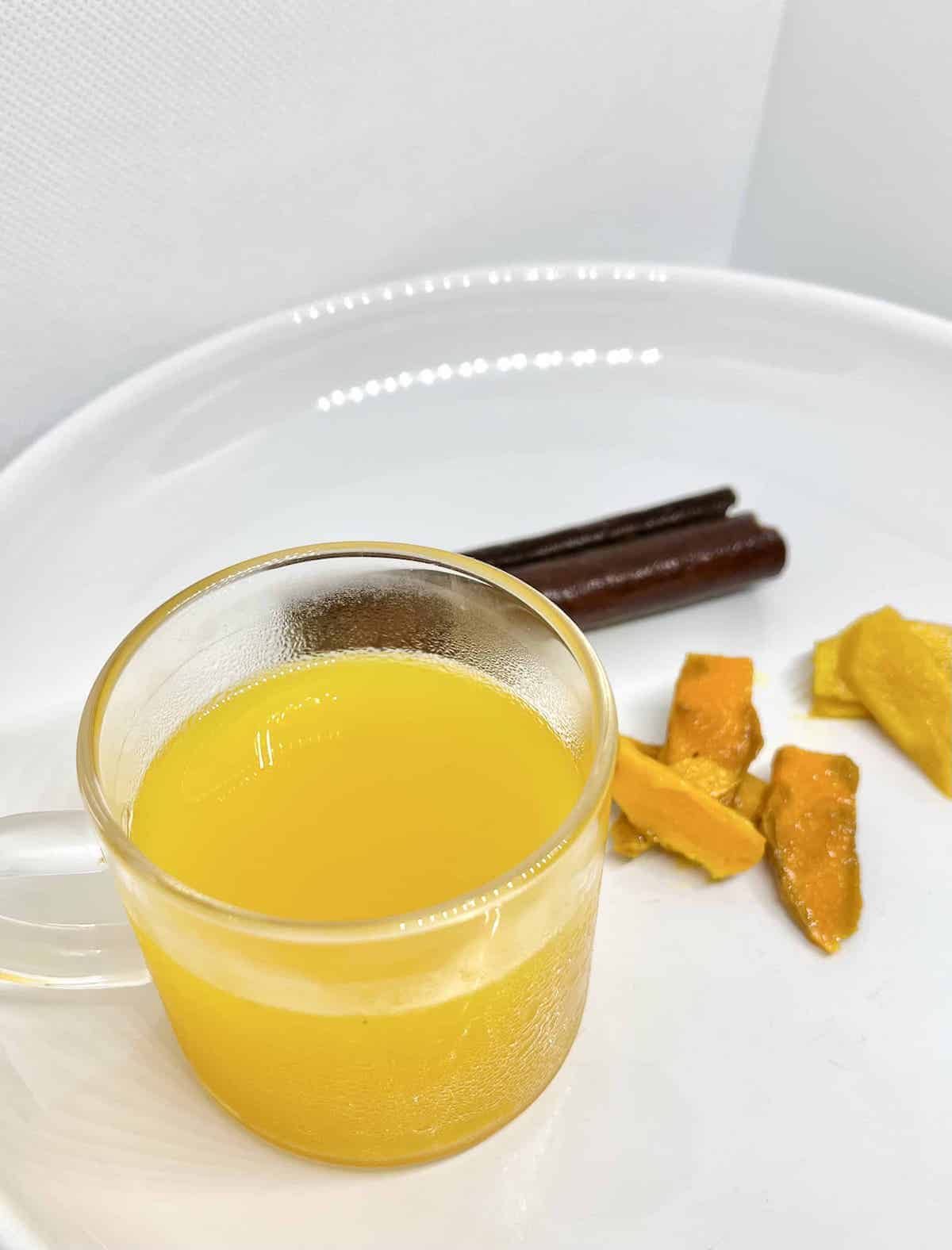 Tip #1: I used fresh turmeric ginger in my recipe but if you live outside of Asia, fresh turmeric may not be easy to get so feel free to use powdered ginger and turmeric if necessary.
Tip #2: If you enjoy giving homemade food gift to friends, you can pack dried turmeric powder, dried ginger powder and ground cinnamon into a tea bag as presents for friends. (If you enjoy giving DIY food gifts, here are 21 more homemade food gift ideas for you.)
Tip #3: Turmeric stains everything super easily. Don't cut fresh turmeric root on a white counter top, and don't wear your favourite clothes when working with turmeric!
How to Store
Keep in an airtight container in the fridge for up to 2 days.
This turmeric ginger cinnamon lemon honey tea can be drunk straight out of the chiller, or you can re-heat it if you prefer a hot cup of turmeric ginger and cinnamon tea.
Recipe FAQs
How to distinguish Ceylon cinnamon and Cassia Cinnamon?
Ceylon cinnamon is a tan brown colour whilst Cassia can be a reddish dark brown. The quill of Ceylon cinnamon also tends to be thinner than Cassia, with multiple layers vs Cassia which is thick with fewer layers. Lastly, Ceylon cinnamon is more delicate than Cassia which is hard to break.
Are cinnamon sticks edible?
Yes but they're very hard so you will need to grind them into a fine powder first, as is done in this 5-spice powder recipe. Alternatively, you can simmer the whole sticks to infuse the flavor into your dish or use the stick to stir your drinks.
Can ginger help acid reflux?
Ginger has a lot of antioxidants and small amounts may help gastrointestinal irritation. It can reduce the likelihood of food flowing back up the oesophagus and thus acid reflux. However, everyone has different reflux triggers, so do consult a medical professional and take note of your reaction after eating ginger to be sure.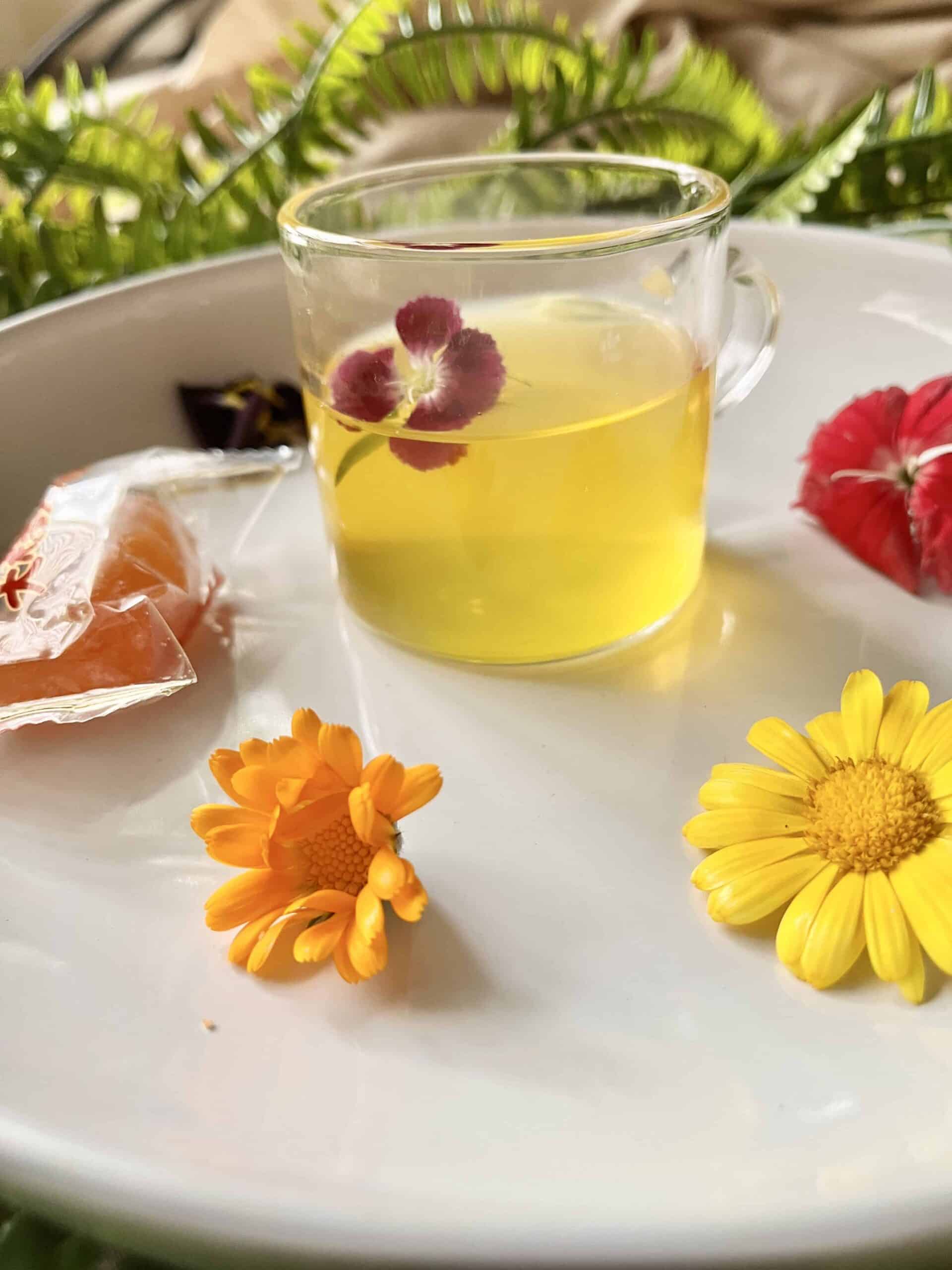 Other Asian Teas
Enjoyed this turmeric tea recipe? Please leave a 5-star 🌟🌟🌟🌟🌟rating in the recipe card below & if you REALLY liked this healthy drink, a comment would make my week! Thank you and have a great day!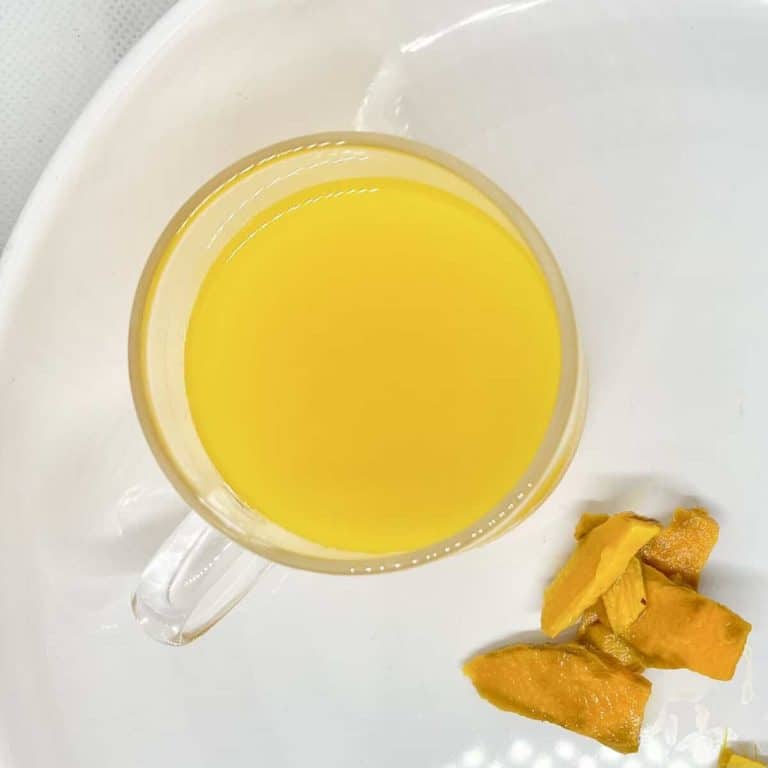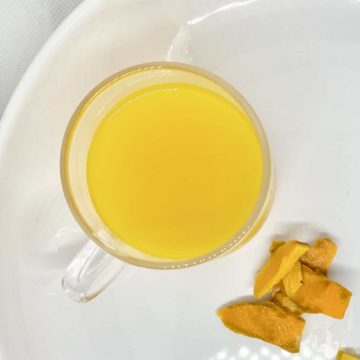 Turmeric ginger cinnamon lemon honey tea
Easy, healthy, naturally golden and only requires 5 ingredients.
Equipment
Knife and cutting board

Spoon

Pot
Ingredients
10

slices

Turmeric

peeled and sliced. Substitute: turmeric powder

6-10

slices

Ginger

peeled and sliced. Substitute: dried ginger powder

1

Cinnamon

Substitute: cinnamon powder

1

Lemon, squeeze

Substitute: lime juice

6

Cups

Water

Honey, to taste

Ideally Manuka honey for the health benefits. Substitute: white or brown sugar
Instructions
Add all the ingredients to a pot, except the honey and lemon juice. Bring to the boil then reduce to a simmer.

After 10 minutes, taste and see if it's strong enough for you. If not, keep simmering. (I usually simmer for anything between 10-30 minutes depending on how much time I have!)

Once the flavor and color are to your liking, switch off the fire then pour in the lemon juice.

Add the honey to sweeten to taste.
Notes
The easiest way to peel turmeric and ginger that wastes the least is using the back of a spoon. For more ideas on how to use turmeric, click here. For a stronger ginger tea, use grated ginger.
Chinese cinnamon, or cassia, is sometimes labelled as cinnamon. Make sure you've got the real cinnamon to get the full health benefits of this tea!
Variations
This turmeric ginger tea recipe can be enjoyed both hot, on a cold day, or called as an iced tea in the summer
Turn it into Golden milk: this turmeric ginger and cinnamon tea also tastes great with milk, coconut milk or almond milk (start by using a 1:1 ratio of the turmeric tea to milk then adjusting to suit your taste, if necessary.)
If you enjoy spice, you can add a pinch of black pepper, cayenne pepper, clove or nutmeg to this soothing tea.
Note: the nutritional information is an estimate automatically calculated using the WPRM recipe maker and I am not responsible for its veracity.
Nutrition
Calories:
34
kcal
Carbohydrates:
8
g
Protein:
1
g
Fat:
1
g
Saturated Fat:
1
g
Polyunsaturated Fat:
0.1
g
Monounsaturated Fat:
0.02
g
Sodium:
38
mg
Potassium:
107
mg
Fiber:
3
g
Sugar:
2
g
Vitamin A:
17
IU
Vitamin C:
29
mg
Calcium:
54
mg
Iron:
1
mg
Let me know if you've made this turmeric ginger tea by tagging me on social media (@greedygirlgourmet)! Alternatively, sign up for my newsletter here for more easy Asian recipes!