Easy Starbucks copycat recipe: An easy 5-ingredient matcha chai latte recipe that takes 5 minutes to make and is delicious both hot on a cold day or chilled with ice in summer. (Vegan-friendly option too using simple ingredients)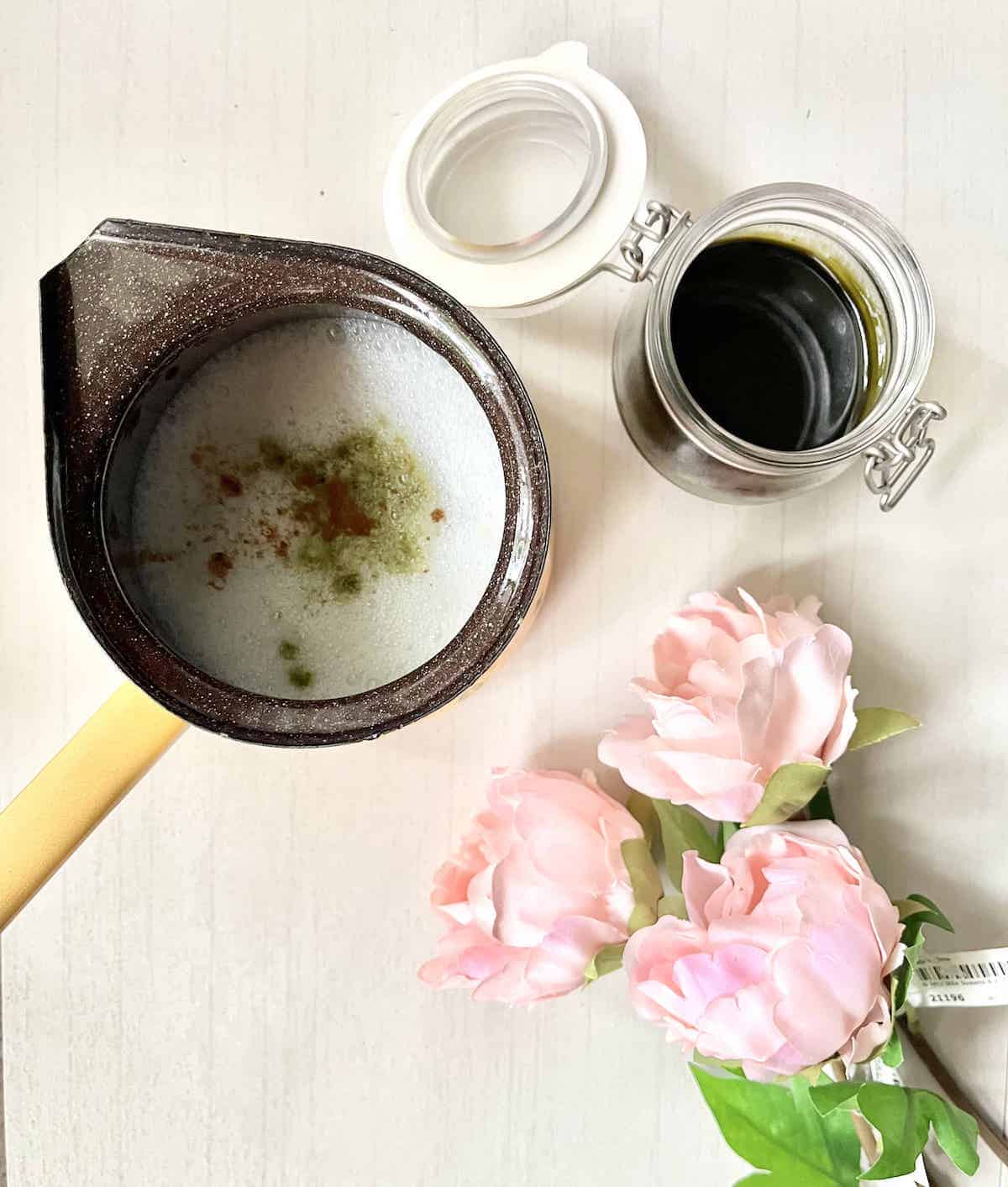 Jump to Recipe
Jump to:
What is matcha?
Matcha is a minimally processed for of green tea, in which the Camellia Sinesis green tea plant is grown under shade for 4-6 weeks. This helps to boost the caffeine and theanine in it.
As the green tea leaves have to be ground slowly to avoid being heated and thus changing the aroma, making matcha is a slow process and good matcha powder is not cheap.

The flavour is very popular in Asia, not just in drinks but also in baking and other sweet treats.
What is chai?
Chai is actually the Hindi word for tea but now also refers to a flavour of tea, sometimes called Masala Chai. It is the most popular tea in India and consists of a mix of spices, such as nutmeg, cinnamon and black peppercorns. The exact spices and proportion used differs from region to region in India.
A version of chai has existed in Ayurvedic medicine for over 5000 years but initially did not contain any tea leaves. (The various spices are though to have different health benefits: for example, cardamom was added to boost one's mood.)
Matcha chai tea latte is thus a latte drink that is a combination of these 2 popular Asian flavours: matcha and chai.
Ingredients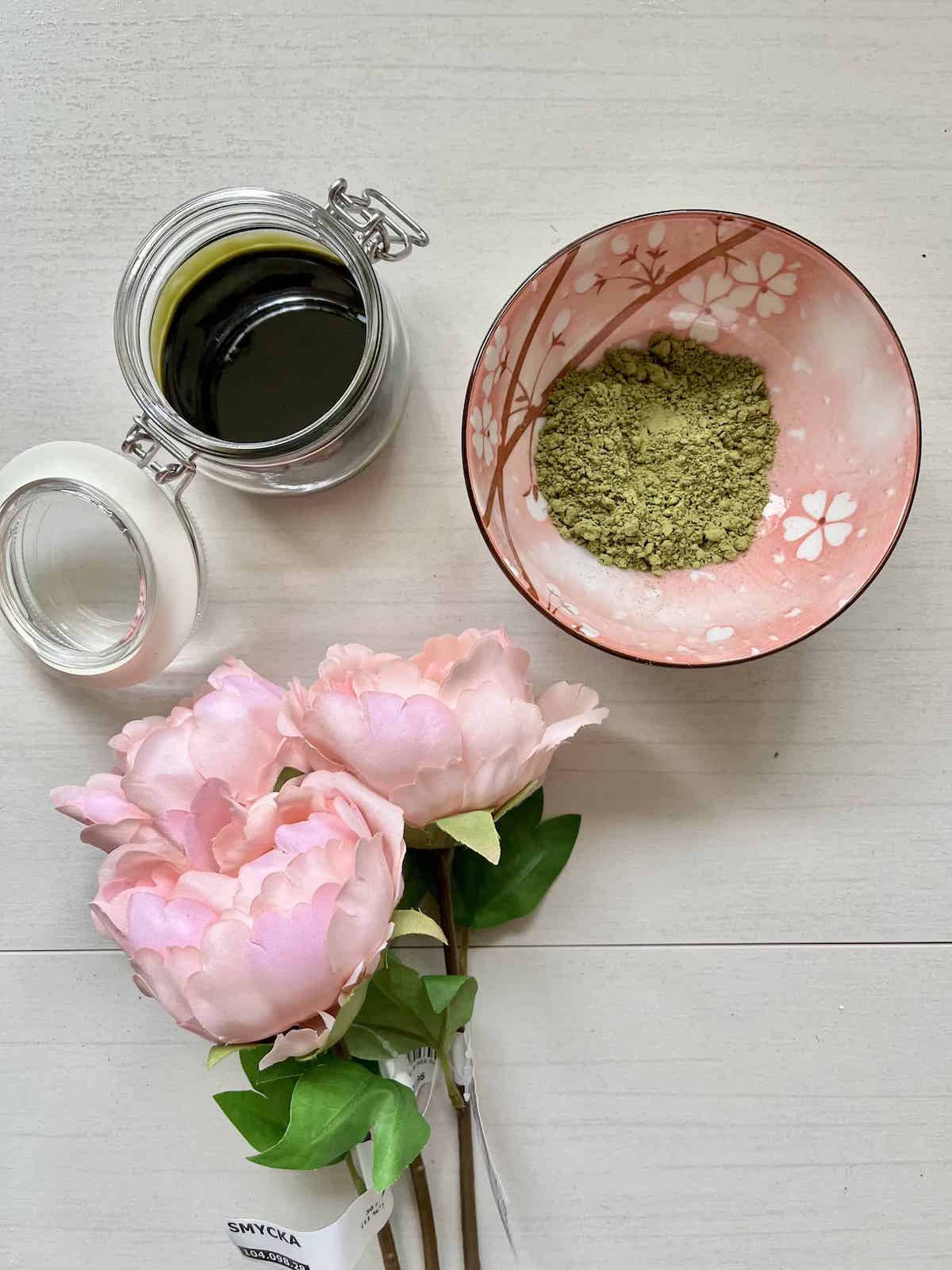 Matcha green tea powder

Substitute: matcha green tea syrup
Make sure you use a good brand as green tea can have a high lead content.
You can use more matcha powder if you prefer a stronger green tea taste, but if you're replicating the Starbucks matcha chai latte, the chai flavor should be stronger than the matcha.

Chai tea bag

Alternatively, you can make your own chai blend using a cinnamon stick, cloves, allspice, fresh ginger (or ginger powder), nutmeg and cardamom.

Toast the whole spices on a dry pan over low-heat.
Allow to cool then process in a spice grinder or coffee grinder.
Store the ground spices in an airtight container.
Note: some chai blends have black peppercorns or star anise, but I find them too strong to go with matcha tea

Substitute: 1-2 Tablespoons of chai syrup

Milk

Cow's milk

As matcha is a little bitter, I find a creamy milk tastes better and recommend using whole milk here.
Starbucks uses 2% milk in their latte so if you want yours to taste exactly the same, remember to use milk with the same fat content.

If vegan: oat milk, almond milk, cashew milk or soy milk all work well for this recipe.
Coconut milk is also possible but it has a strong flavour (the above options are more neutral in taste so the chai and matcha flavours are more prominent.)

Honey or maple syrup

Both matcha and chai can be a little bitter, so you'll need some sweetness
I recommend a liquid sweetener such as honey or maple syrup as it's easier to mix with the matcha chai tea. However, sugar can also be used- you'll just need to stir for a bit longer to dissolve the crystals.

If using chai syrup or matcha syrup, taste before adding extra sweetener as the matcha syrup is already sweet.

Hot water

Do not substitute with room temperature water, even if you don't want to drink a hot matcha latte, as the water needs to be hot to dissolve the matcha powder.

Optional topping: cinnamon powder or matcha powder
Where to buy
Matcha and chai have been popular in the West for many years now and you should be able to find them in mainstream grocery stores. If not, go online or visit your closest Asian market.
Variations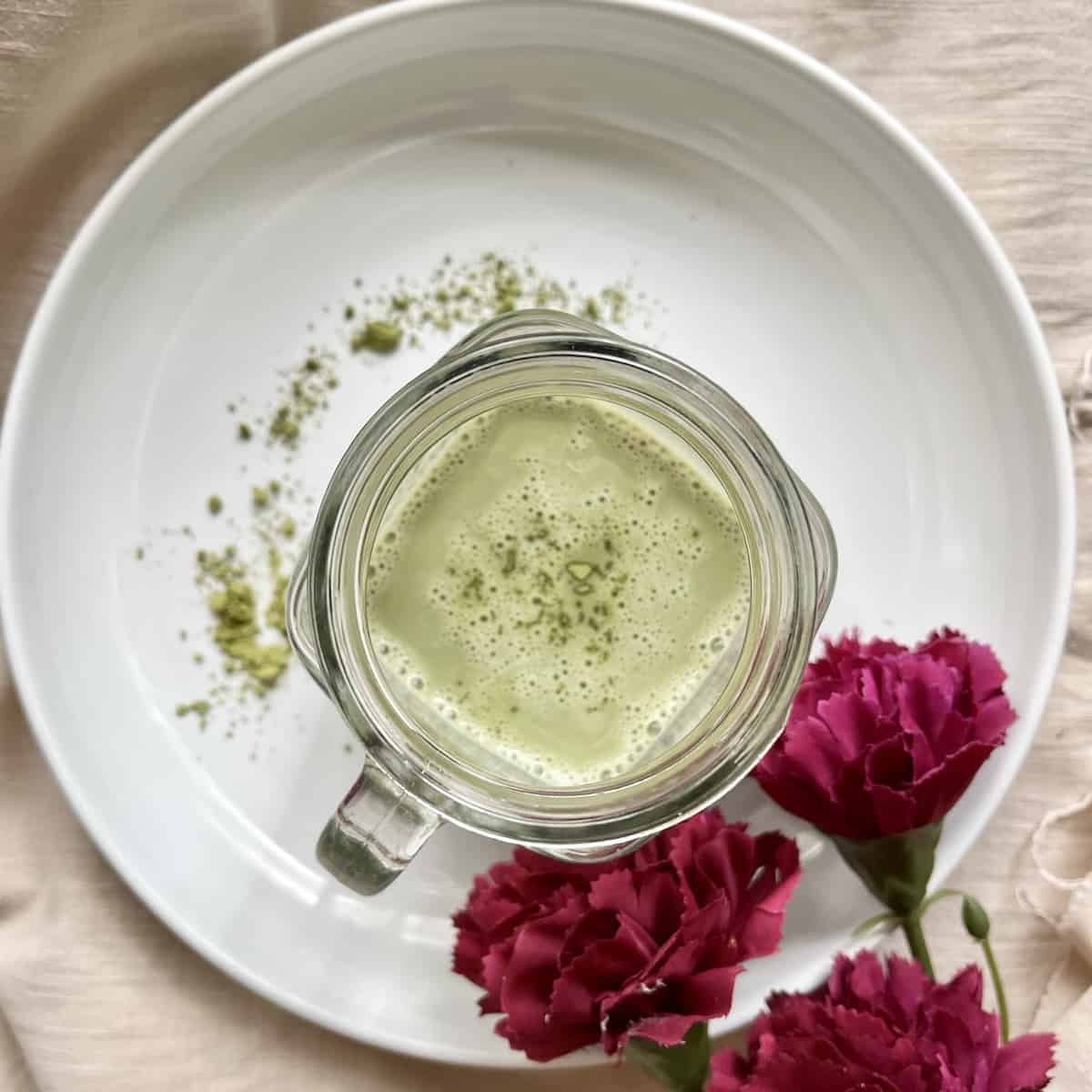 Chai vanilla matcha latte: add some vanilla extract, or use vanilla syrup
Skip the chai and make regular Starbucks green tea latte
Matcha soda: add club soda to the matcha syrup and mix well
How to store
If you make too much, you can keep the extra latte in an air tight container in the fridge for up to 24 hours. It may need whisking before serving to get the frothy top again.
Tips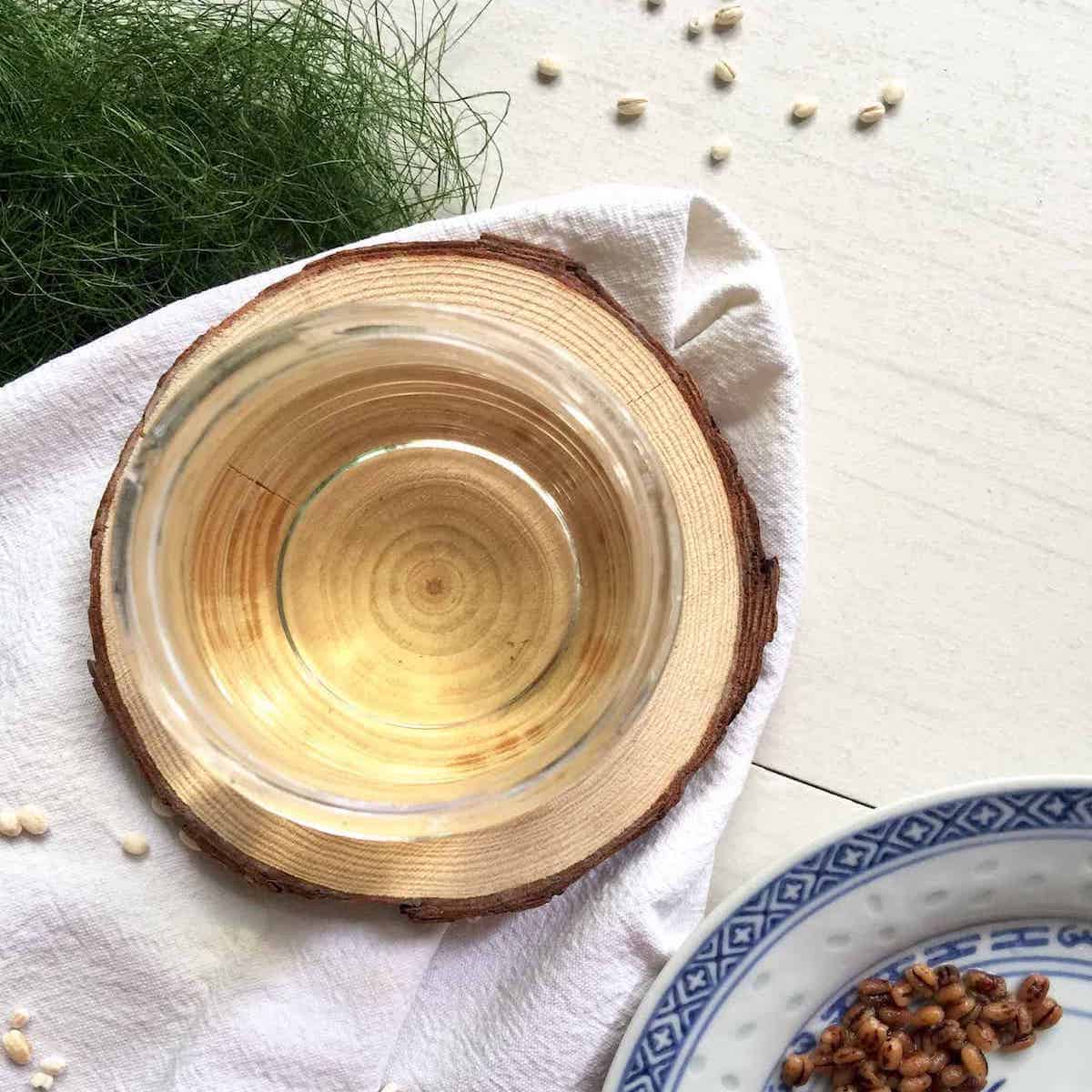 1. If you want a frothy, cafe-style green tea latte, make the drink in a mason jar, seal it tightly then shake till the foam forms. (Or you can use a milk frother.)
2. Matcha has caffeine. If you're looking for a non-caffeinated tea, try barley tea (people say it promotes sleep!), osmanthus tea, sour plum tea, goji berry tea, jujube tea or longan tea instead.
There is less caffeine in matcha than coffee, so it's a good way to get a caffeine boost whilst trying to cut down your coffee intake.
3. Some matcha brands contain a lot of lead, which isn't good for you, so make sure you get a good brand.
4. Matcha powder clumps easily- if your chai matcha latte has lumps, use a whisk to dissolve the powder.You don't need the traditional matcha whisk- I just used a regular metal whisk.
5. Serve with a soft date on the side!

FAQ
Is matcha acidic?
Matcha generally has a pH between 7-10, usually 9 i.e. it's alkaline. This may vary from brand to brand though it is less acidic than coffee.
Matcha tea: culinary vs ceremonial?
Culinary matcha powder is cheaper than ceremonial matcha as it's of a slightly lower grade. Ceremonial matcha is a more vibrant, deeper shade of green as it uses younger tea leaves with more chlorophyll. You can use either for this matcha latte or when making matcha rich syrup. (I usually use culinary matcha.)
Other green tea recipes
Matcha chai latte recipe
Recreate your Starbucks experience at home with this easy matcha chai latte that only requires 5 ingredients.
Equipment
Matcha whisk Substitute: regular whisk or milk frother
Ingredients
1

chai tea bag

¼

Cup

hot water

Honey or maple syrup, to taste

Substitute: sugar or stevia. Note: you may not need this if using matcha syrup which is pre-sweetened.

1

teaspoon

matcha powder

Substitute: matcha syrup. If using matcha syrup, you don't need the extra 2 Tablespoons of hot water. If you want a stronger matcha taste, use 2 teaspoons of matcha powder, but note that the more powder you use, the more you'll have to whisk to get it to dissolve.

1

Cup

milk

For a vegan matcha chai latte, use almond milk, soy milk or coconut milk.

Optional: pinch of cinnamon powder

Optional: pinch of matcha powder

Optional: ice
Instructions
A. Making the chai tea
Steep the chai tea bag in ¼ cup of hot water for 3-5 minutes. (If you're using chai syrup instead of a tea bag, mix the syrup with hot water till completely dissolved. See notes on making chai tea from a homemade blend of spices)

Remove the tea bag then stir in the honey or maple syrup.
B. Mixing in the matcha
Add the matcha to the chai tea from Step A and whisk well (if you don't have a whisk, use the milk frother to mix the matcha and water.)

See Notes on substituting matcha powder with matcha syrup.
C. Frothing the milk
If you want a hot matcha chai latte, heat up the milk gently in a pan or in a microwave for 1-2 minutes. If not, skip this step.

Use the milk frother or whisk to make the milky frothy. Alternatively, pour the milk into a mason jar, seal it well, then shake till the milk foams.

Slowly pour the matcha and chai mixture into the cup of milk. This will give you a cup of matcha chai latte with a white top- if you want the entire drink to look green, whisk again once the matcha and chai have been added to the milk.

Optional: sprinkle some green matcha powder or brown cinnamon powder on top to create some latte art.

Optional: This latte tastes good both hot and cold. If you want to drink chilled matcha chai latte, add some ice cubes to your cup.
Notes
Homemade chai spice blend: ⅛ ginger powder, ⅛ nutmeg powder, ⅛ cardamom powder,  ⅛ cinnamon powder, pinch of allspice powder. (You can also toast the whole spices then grind them down.)
If you have
matcha syrup
on hand- it's easy to make at home (click the link for the recipe- you can use it instead of the matcha powder and hot water mixture above. Start with 1 tablespoon of matcha syrup then taste- if the flavor isn't strong enough, add more. Also, remember not to add any sweetener in Step A as the green tea syrup is already sweet. (Taste after mixing the milk, matcha syrup and chai and sweeten again then if not to your taste.)