This easy copycat recipe makes a delicious spiced Starbucks Matcha Chai Latte recipe using only 4 ingredients and 5 minutes! It's delicious both hot on a cold day or iced in summer.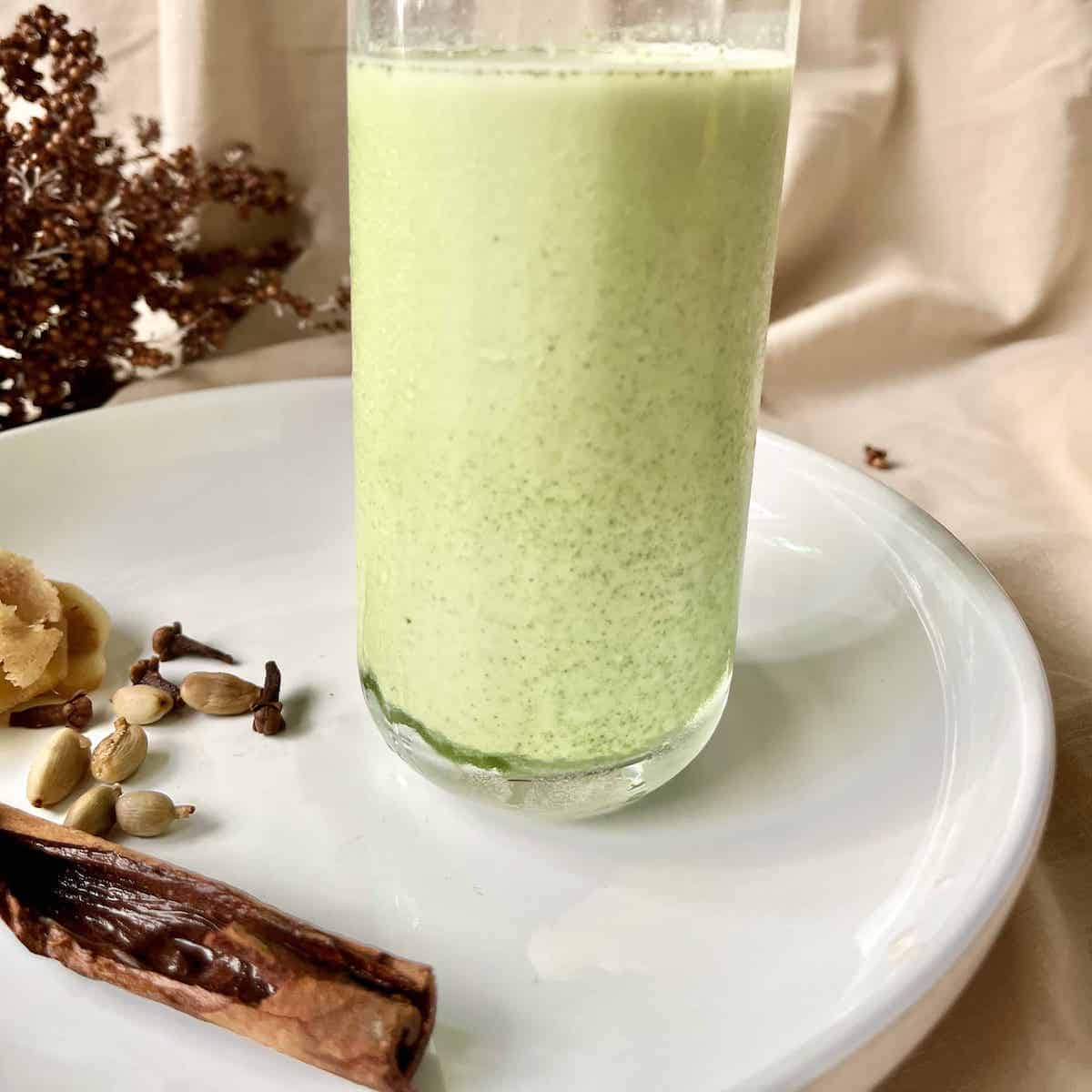 Jump to:
Why Make This
Easy peasy recipe: A popular Starbucks beverage, Matcha Chai Latte is super quick and simple to make at home. You only need 4 ingredients (excluding water) and a couple of minutes! If you don't have matcha powder, you can make this Green Tea Masala Chai instead.
Super flexible to customize: It's vegan if you just substitute 1 ingredient (the milk!) and you can add different flavors to switch it up.
Budget friendly: Homemade Matcha Chai Latte is cheaper than heading to the coffee shop AND you don't need any special equipment!
Matcha vs Chai
Matcha Chai Tea Latte is a latte drink that is a combination of 2 popular Asian flavours: matcha and Masala Chai. The 2 may sound incongruous, but actually go really well together.
Other "weird" matcha combinations that work are pineapple and matcha in this Starbucks tropical matcha drink and blueberry and matcha in this blueberry matcha recipe.
Matcha
Matcha is a minimally processed form of green tea, in which the Camellia Sinesis green tea plant is grown under shade for 4-6 weeks. This helps to boost the caffeine and theanine in it, making it "healthier" than regular green tea.
As the green tea leaves have to be ground slowly to avoid being heated and thus changing the aroma, making matcha is a slow process. Good matcha powder is not cheap! For bakes, I go with the cheaper Culinary Matcha but for drink recipes with few-ingredients such as this Matcha Chai Latte, I recommend using the higher-grade Ceremonial Matcha.
The flavour is very popular in Asia, not just in drinks but also in baking and other sweet treats!
Chai
Chai is actually the Hindi word for tea but now usually refers to a particular type of tea, Masala Chai, which is made with tea and spices.
It is the most popular type of tea in India. The exact spices and proportion used differs from region to region in India. Commonly used spices are cloves, nutmeg, star anise, cinnamon and black peppercorns.
The quantities and spices I provide below are just a guide. Feel free to experiment! (Personally, I find that cloves are essential for a good cup of Masala Tea.)
A version of chai has existed in Ayurvedic medicine for over 5000 years but initially did not contain any tea leaves. Although black tea is most commonly used now, there is also Green Tea Chai.
Note: The various spices are thought to have different health benefits: for example, cardamom was added to boost one's mood and turmeric for its anti-inflammatory effects.
Ingredients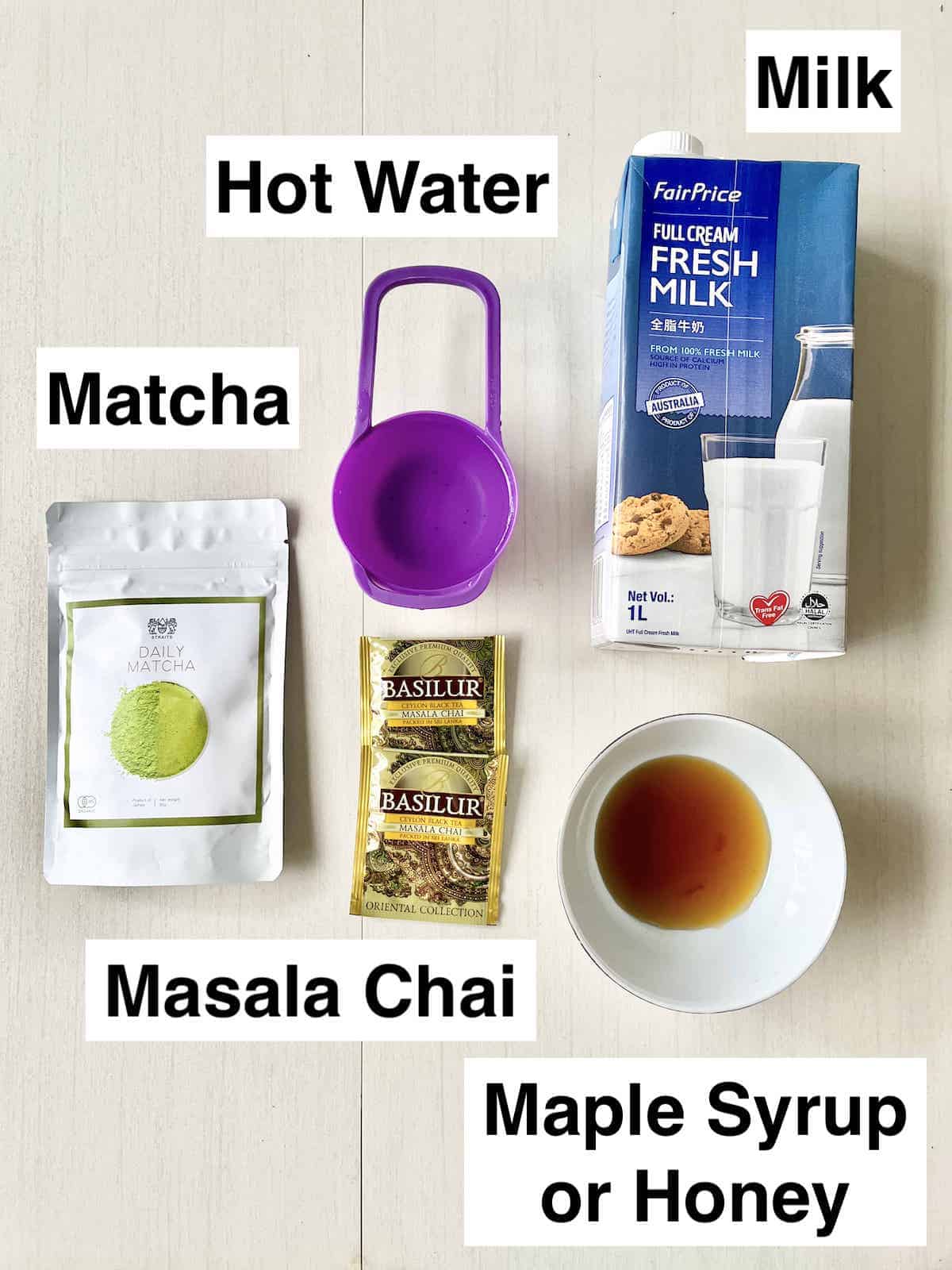 Where to Buy
Matcha and Masala Chai have been popular in the West for many years now and you should be able to find them in mainstream grocery stores.
If not, you can go online (I've included affiliate links above) or visit your closest Asian market.
Variations
Chai vanilla matcha latte: add some vanilla extract or vanilla syrup
Skip the chai and make regular Starbucks green tea latte
Matcha soda: add club soda to the matcha syrup and mix well
If you enjoy spiced drinks but don't want the caffeine, try this turmeric cinnamon ginger tea!
Step-by-step Instructions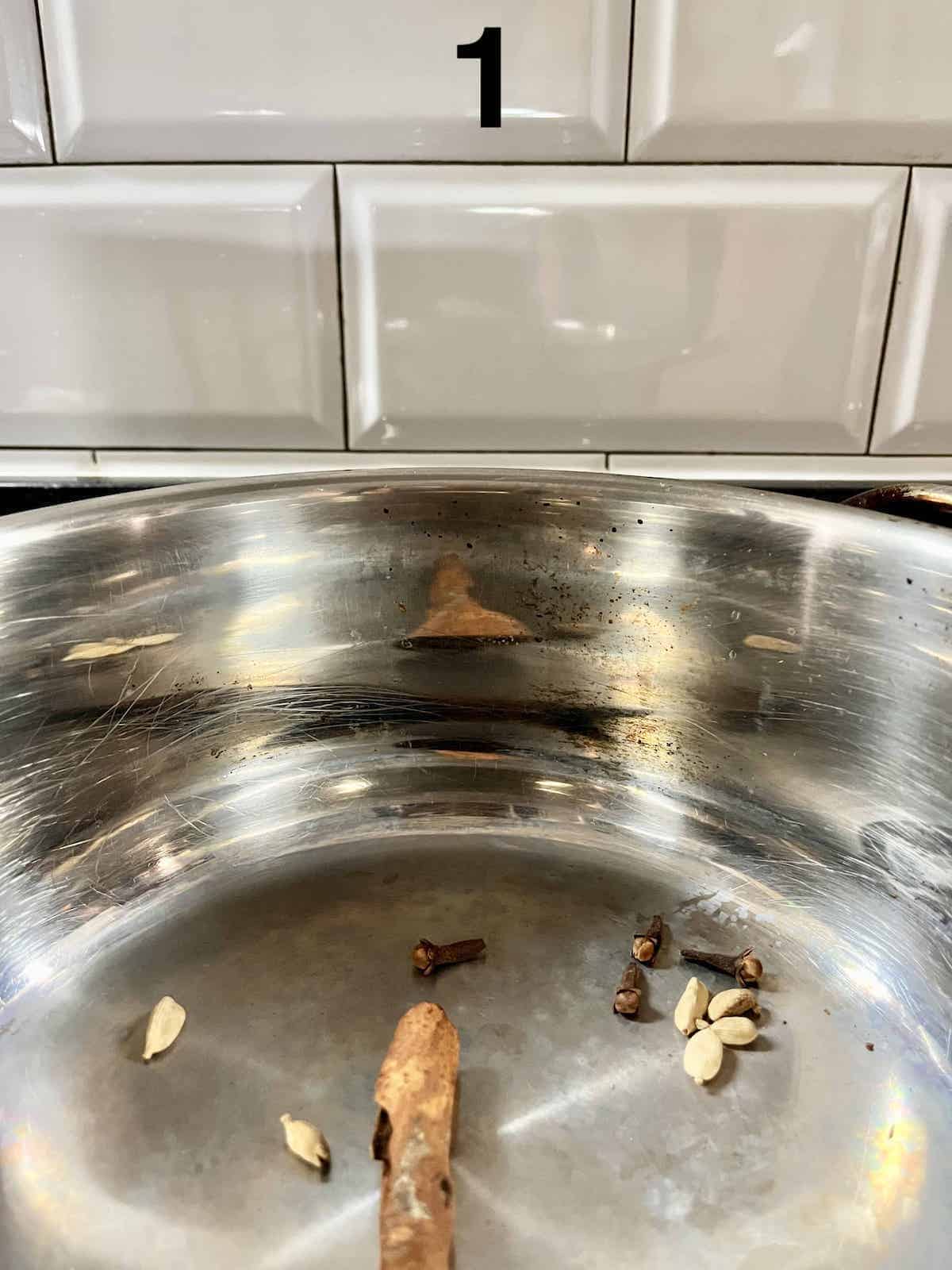 Dry toast the cardamom, cinnamon and cloves over medium heat till fragrant.
Note: if using a Chai tea bag or Chai syrup, you can skip steps 1 and 2. Simply steep the bag in boiling water for 3-5 minutes instead then move on to Step 3. (If using syrup, just mix it into the water.)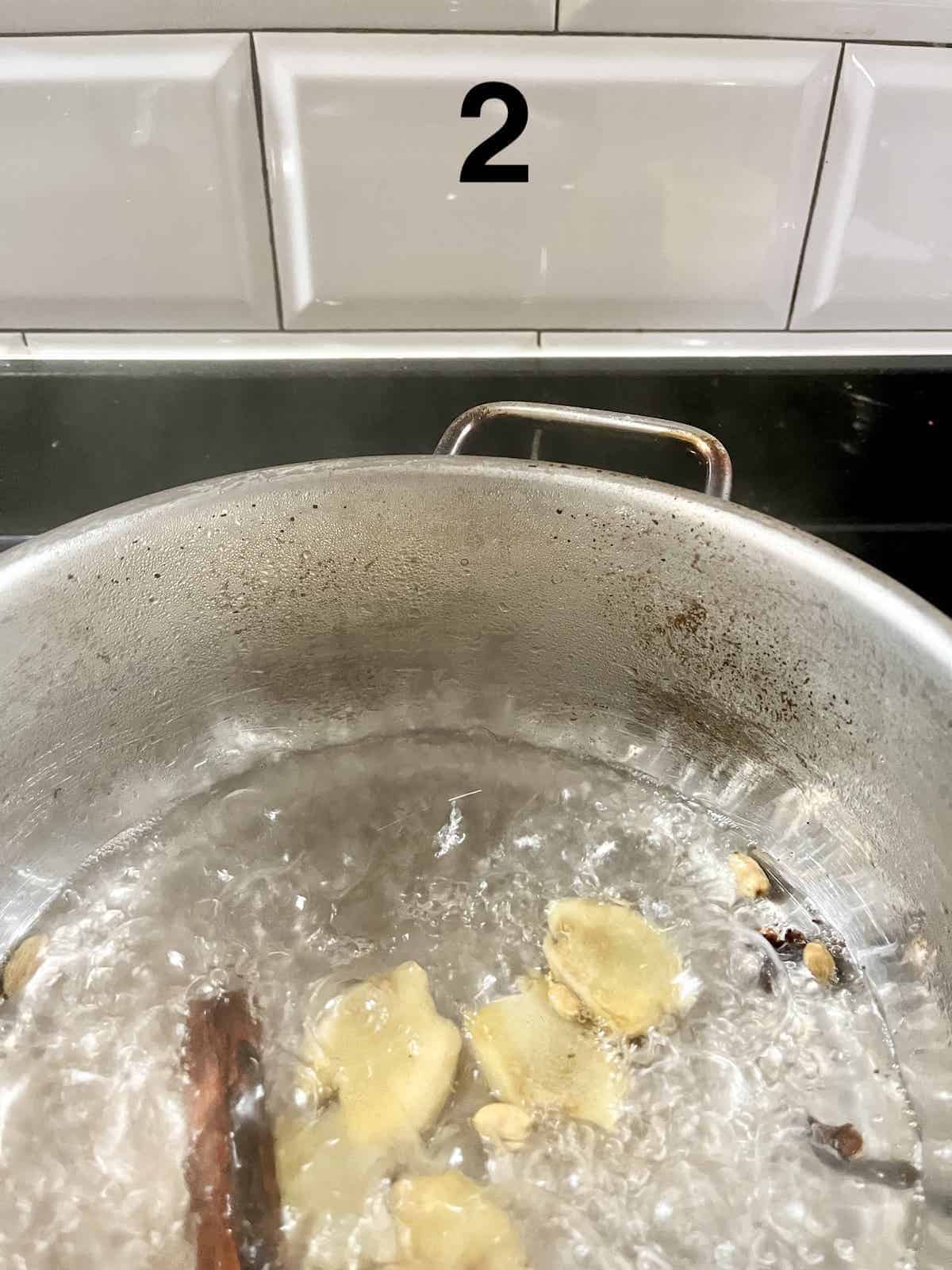 2. Add the ginger and water to the pot and boil for 3-5 minutes. (If you don't boil the ginger, it will curdle the milk later!)
Tip: Sieve out the spices and keep them for a 2nd batch of tea!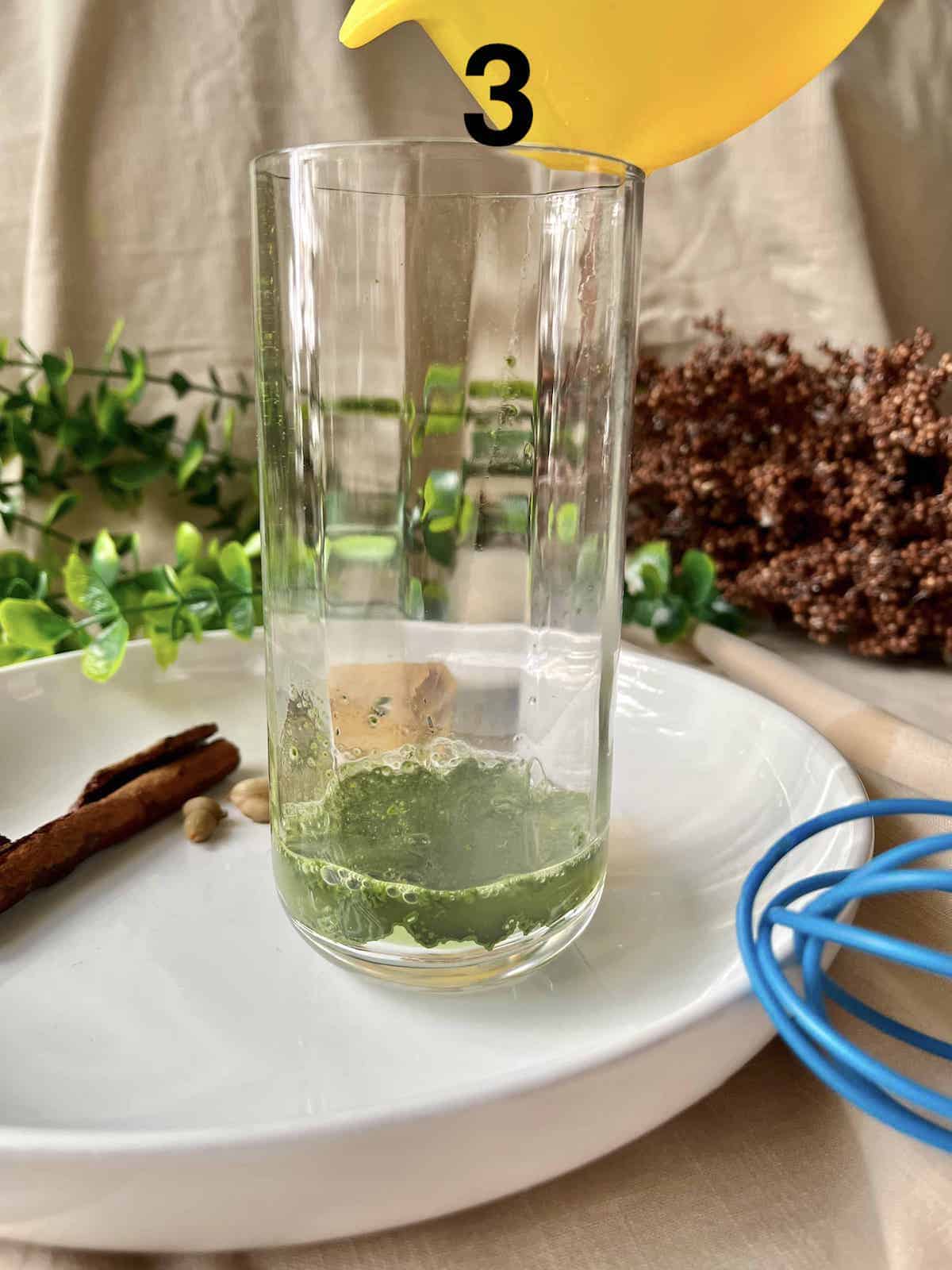 3. Allow the masala chai liquid from the previous steps to cool to about 80C/ 176F (about 5-10 minutes, but may vary depending on the temperature where you live.) Whisk the matcha powder into the masala chai till no clumps remain.
Note: If you mix matcha into water hotter than 80C/ 176F, it may become bitter.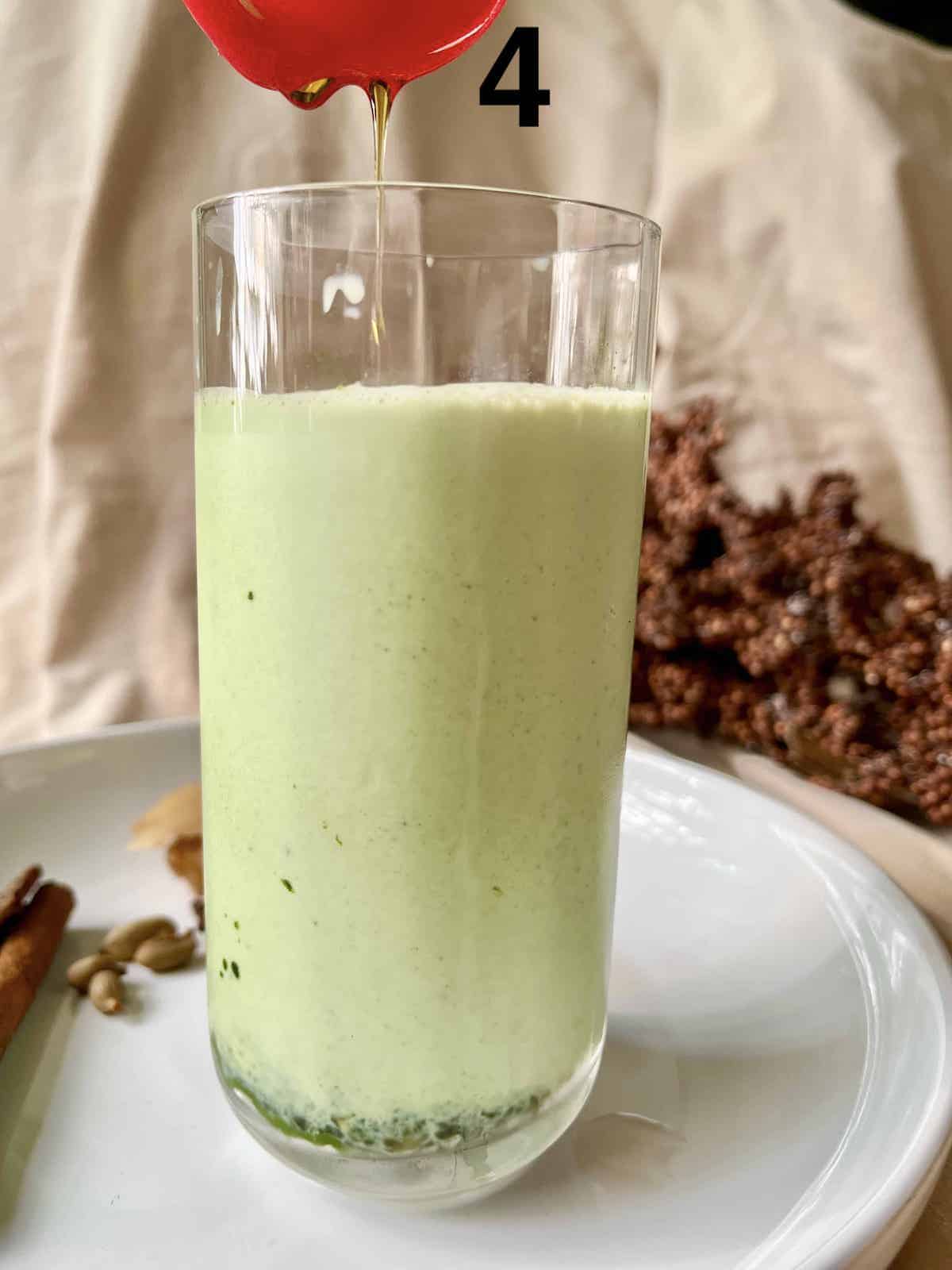 4. Pour the milk into the masala chai matcha from Step 3. Whisk again if the matcha powder isn't well-mixed.
Sweeten to taste, then serve and enjoy!
Note: If you want it to look cafe-style, see below on how to froth.
How to Froth
If you want a frothy, cafe-style green tea latte, you can:
Make the drink in a mason jar, seal it tightly then shake till the foam forms. This creates a very long-lasting foam. I timed it and it was still frothy after 8 minutes!
Use a milk frother, whisk or fork.
Go the traditional route and pull your tea by pouring it from 1 container to another. This is done from a height of about 2 feet- it will take some practice not to spill!
Tip: Heating the milk creates a more stable latte foam. 130-150F is ideal (54.4- 65.5C)
P.S. Matcha Masala Chai Latte goes well with a soft date on the side! You can also sprinkle some cinnamon or matcha powder on top of the foam if you want to make your own latte art!
How to Store
If you make too much, you can keep the extra Matcha Chai in an air tight container in the fridge for up to 24 hours.
Reheating
To reheat, heat gently in the microwave or over low heat on the stove. Do not heat it above 80C/ 176F or your tea will become bitter.
The drink will need whisking before serving to get the frothy top again.
Expert Tips
Tip #1: The spices are still very aromatic after making this Matcha Chai Tea. You can boil them with another 1-1.5 litres of water for 10 minutes and get a very flavorful drink!
Tip #2: Matcha powder clumps easily- if your Matcha Chai Latte has lumps, use a whisk to dissolve the powder before adding the chai tea. (You don't need the traditional matcha whisk- I just used a regular metal whisk.)
Tip #3: For a homemade Chai tea pre-mix, toast the whole spices on a dry pan on low-heat, cool then process in a spice grinder or coffee grinder. Mix with ginger powder then store the ground spices in an airtight container.
Recipe FAQs
Is Matcha acidic?
Matcha generally has a pH between 7-10, usually 9 i.e. it's alkaline. This may vary from brand to brand though it is less acidic than coffee.
Matcha tea: culinary vs ceremonial?
Culinary matcha powder is cheaper than ceremonial matcha as it's of a slightly lower grade. Ceremonial matcha is a more vibrant, deeper shade of green as it uses younger tea leaves with more chlorophyll. You can use either for this matcha latte or when making matcha rich syrup. (I usually use culinary matcha.)
Does Matcha Chai have caffeine?
Yes, as Matcha has caffeine. However, Matcha has much less caffeine than coffee, so it's a good way to get a caffeine boost whilst trying to cut down your coffee intake. (For something with even less caffeine than matcha, try Hojicha.) If you're looking for a non-caffeinated tea, try barley tea (people say it promotes sleep!), osmanthus tea, sour plum tea, goji berry tea, jujube tea or longan tea instead.
Suggested Accompanying Recipes
Enjoyed this creamy Starbucks Matcha Chai Latte Recipe? Please leave a 5-star 🌟🌟🌟🌟🌟rating in the recipe card below & if you REALLY liked this Coffee House Drink, a comment would make my week! Thank you and have a great day!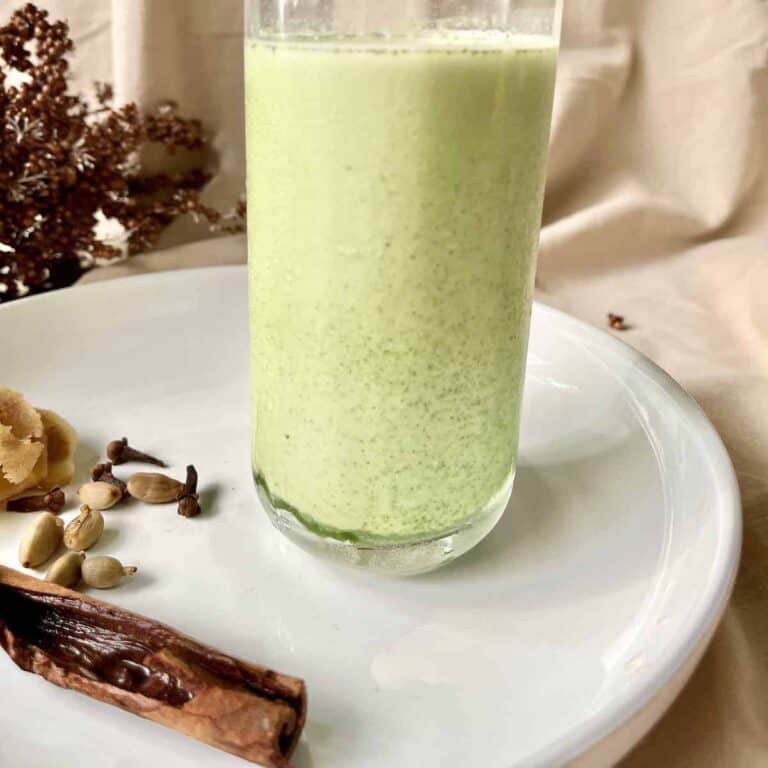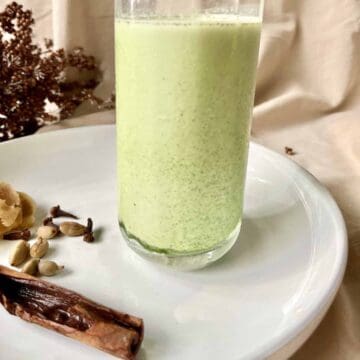 Starbucks Matcha Chai Latte
This easy copycat recipe makes a delicious spiced Starbucks Matcha Chai Latte recipe using only 4 ingredients and 5 minutes! It's delicious both hot on a cold day or iced in summer and allows you to easily recreate your coffee house experience at home!
Ingredients
2

chai tea bags

Substitute 1: 1 inch cinnamon stick, 5 slices of ginger, 4 cloves and 6 green cardamoms. Substitute 2: chai syrup

¾

Cup

hot water

2

teaspoon

ceremonial matcha powder Substitute: matcha syrup. If you want a stronger matcha taste, use 3-4 teaspoons of matcha powder, but note that the more powder you use, the more you'll have to whisk to get it to dissolve.

2

Cups

Whole Milk

For a vegan matcha chai latte, use almond milk, soy milk or coconut milk.

Honey/ maple syrup (if you prefer to introduce a caramel note to emphasise the spice). to taste

I usually use ½-1 Tablespoon per mug. Note: you may not need this if using matcha syrup or chai syrup which are pre-sweetened. If you want to use white sugar or stevia, I recommend making Hot Matcha Chai. If not, dissolving the sugar will be tedious!

Optional: ice for iced Matcha Chai Latte
Instructions
A. Making the chai tea
Using a tea bag: Steep the chai tea bag in the hot water for 3-5 minutes. Remove the tea bag. (If you're using chai syrup instead of a tea bag, mix the syrup with hot water till completely dissolved.)

Using whole spices: dry toast the cardamom, cinnamon and cloves on medium fire till fragrant. Add the ginger and water then boil for 3-5 minutes. (If you don't boil the ginger, it may curdle the milk.) Sieve out the spices (which can be kept to make a 2nd batch of tea! Simply boil for 10 minutes with 1- 1.5 litres of water.)

Using Chai Syrup: stir the chai syrup into the hot water.

Tip on sweetening: If you are using sugar/ stevia and already know exactly how much you want to add, add it now whilst the Masala Chai is hot (it's easier to dissolve.) If you're making this for the 1st time, wait till the matcha and milk have dissolved then sweeten to taste with a liquid sweetener like Maple Syrup. If using Chai Syrup, you may not need extra sugar.
B. Mixing in the matcha
Allow the chai tea from Step A to cool to 80C/ 176F (about 10 minutes but will vary depending on the temperature where you live! If the liquid is too hot, your drink may be bitter.)

Next, whisk in the matcha powder (if you don't have a whisk, use the milk frother to mix the matcha and water.)

See Notes on substituting matcha powder with matcha syrup.
C. Assembling the drink
Slowly pour the Matcha and Chai mixture from Step B into the milk. This will give you a cup of matcha chai latte with a white top- if you want the entire drink to look green, pour the milk into the Matcha Chai mixture.

For Hot Matcha Chai: If you want a hot matcha chai latte, heat up the milk gently in a pan or in a microwave for 1-2 minutes before adding. (This will also make it easier to dissolve any sugar.) If not, skip this step.

For Cold Matcha Chai: Add some ice cubes to the cup after the tea has cooled (if not the ice will dissolve and dilute your drink.)

See Notes if you want your Matcha Chai Latte to look like coffee-house art!
Notes
Substituting matcha powder with matcha syrup
If you have
matcha syrup
on hand- it's easy to make at home (click the link for the recipe- you can use it instead of the matcha powder and hot water mixture above. Start with 1 tablespoon of matcha syrup then taste- if the flavor isn't strong enough, add more. Also, remember not to add any sweetener in Step A as the green tea syrup is already sweet. (Taste after mixing the milk, matcha syrup and chai and sweeten again then if not to your taste.)
Homemade chai spice blend
Mix ⅛ ginger powder, ⅛ nutmeg powder, ⅛ cardamom powder,  ⅛ cinnamon powder, pinch of allspice powder. (I've added nutmeg powder and allspice as ginger powder isn't as flavorful as fresh ginger!)
Optional Cafe-style presentation
To make frothy
: Use the milk frother or whisk to make the milky frothy. Alternatively, pour the milk into a mason jar, seal it well, then shake till the milk foams.
You can also sprinkle some green matcha powder or brown cinnamon powder on top to create some latte art.
Note: the nutritional information is an estimate automatically calculated using the WPRM recipe maker and I am not responsible for its veracity.
Nutrition
Calories:
158
kcal
Carbohydrates:
11
g
Protein:
10
g
Fat:
8
g
Saturated Fat:
5
g
Polyunsaturated Fat:
0.3
g
Monounsaturated Fat:
2
g
Cholesterol:
29
mg
Sodium:
97
mg
Potassium:
366
mg
Sugar:
12
g
Vitamin A:
595
IU
Calcium:
303
mg
Iron:
1
mg
If you've found this Matcha Masala Chai Latte recipe useful, I'd love to know on social media! 🙂