An easy Starbucks hot matcha green tea latte copycat recipe that you can easily make at home- creamy, pretty and delicious but also healthier and cheaper!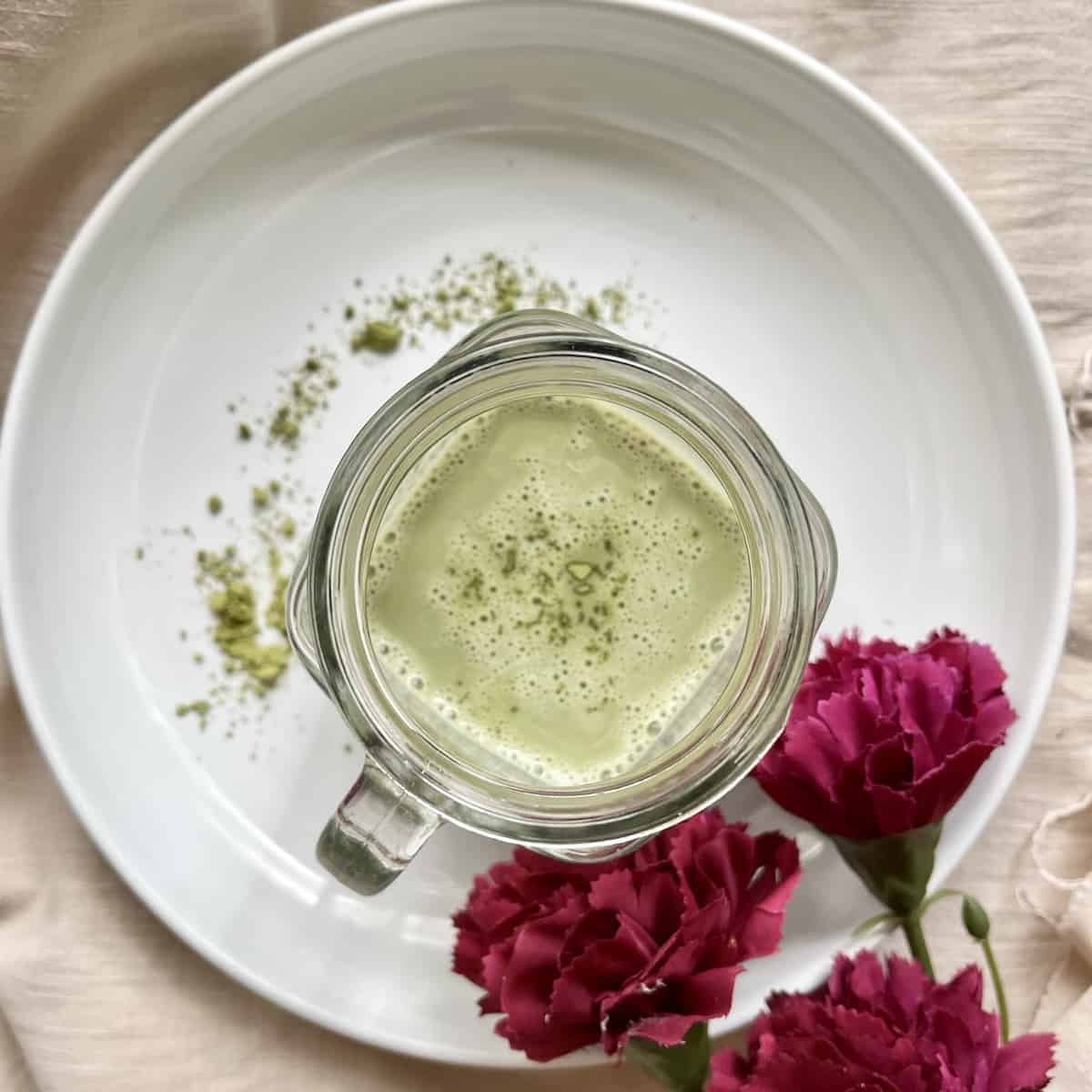 Jump to:
Why make this
You save money- Starbucks isn't cheap!
This latte recipe is healthier!

The Starbucks matcha latte is packed with sugar- even the matcha powder they use is actually a blend of sugar and matcha. With homemade matcha lattes, you can use a healthier sweetener of choice. See my "How to make the latte healthier" section for more nutrition tips.

Matcha has about ½ the amount of coffee as caffeine, so you can have a pick-me-up but cut down on your coffee & caffeine intake.
What is matcha?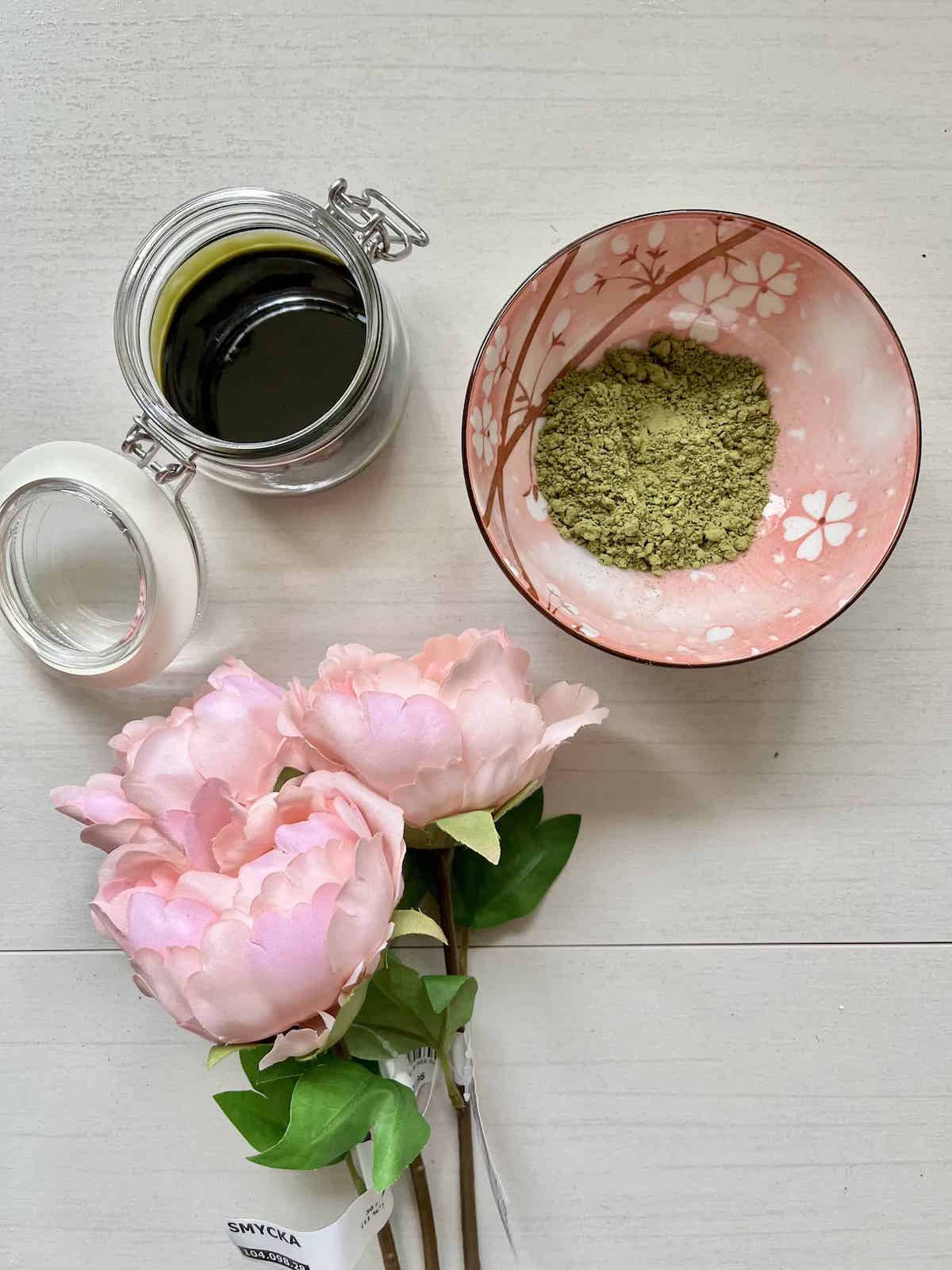 Matcha (抹茶) is a very popular flavor in Asia, not just in drinks but also in baking and other sweet treats as its slight bitterness goes very well with the creaminess of whole milk. It is actually a type of green tea that has been minimally processed into a fine powder. The Camellia Sinesis plant is grown for 4-6 weeks, under shade, to boost the caffeine and theanine content.
Utmost care has to be taken when processing the green tea leaves into matcha powder, compared to the production of regular green tea: grinding too quickly will result in the leaves heating up and the aroma changing. Thus, the production of matcha is slow and laborious, so good matcha powder is not cheap.
Ceremonial vs culinary
There are 2 grades of matcha- ceremonial (the highest grade) vs culinary. I usually use culinary as it's cheaper and the taste difference is minimal. However, if you find your green tea powder too bitter, you may want to upgrade to the more premium ceremonial matcha.
Note: to make matcha tea, you have to dissolve the fine powder in hot water, and not steep it like you do with regular tea leaves.
Where to buy
Matcha is quite a mainstream product these days, even in the United States and Europe, so you should be able to find it in most large grocery stores. If you can't, head to the closest Japanese supermarket, Asian market, or go online.
How to make healthier
Don't use cow's milk. In the Starbucks green tea latte, 2% creamy milk is used, although there are also vegan options such as almond milk and oat milk available. There've been studies that found that adding dairy milk to tea reduces its health benefits, specifically its vascular protective effects (protection against cardiovascular diseases.)

To ensure your matcha latte is healthier, you can use a different kind of milk, such as

almond milk
oat milk
coconut milk
cashew milk
soy milk

Instead of using cane sugar, use a healthier sweetener such as a neutral honey, maple syrup etc. And in moderation! (If you totally omit the sweetener, it will taste nothing like the Starbucks latte, as matcha by itself has a slightly earthy flavor.)
How to store
You can increase the serving size of this latte recipe and store the extra in an airtight container in the fridge for 2 days. (You may need to whisk the latte again before serving.)
Variations
You can make this chilled, as an iced matcha latte, or use warm milk to make hot matcha latte.
If you like a slightly spicy taste, you can use a chai tea bag to turn this into a cup of matcha chai tea latte.
Add some vanilla extract to make vanilla matcha lattes.
If you're vegan, make this oat milk and matcha latte instead!
Tips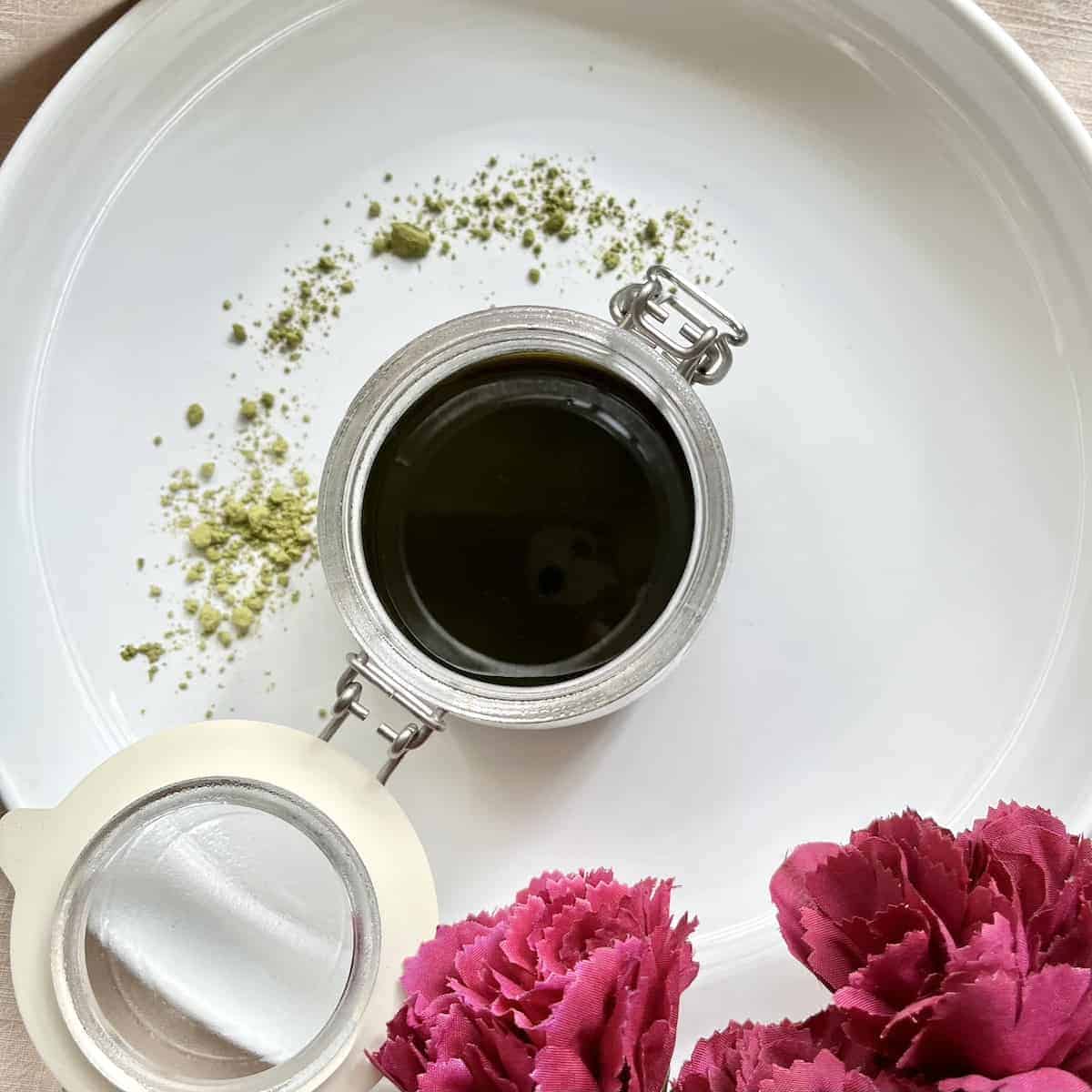 Matcha powder clumps super easily, which is why people use a traditional matcha whisk when making matcha tea, to get rid of any lumps.
Use hot water instead of cold water, to help the matcha dissolve more quickly but note that using cold water actually produces a less bitter brew. (Definitely don't use boiling water, as that will increase the matcha's bitter- around 176F/ 80C is a good temperature to go for to balance efficiency and taste. I usually just use the water from my Airpot, as the water is kept hot but not boiling.)
Use an electric milk frother to create the bubbly top (and to help the matcha "dissolve" more quickly- if you don't have one, like me, just use a metal whisk to whisk the latte drink several times, or pour the drink into a mason jar and shake vigorously.
You can also use matcha syrup to make this Starbucks green tea latte- simply use it in place of the matcha powder and the sweetener.
FAQ
Is Matcha Latte good for weight loss?
Shop-made lattes, such as as the Starbucks green tea latte, contain a lot of sugar and thus aren't ideal for weight loss. Moreover, using cow's milk with tea decreases its health benefits. For tips on making a healthier version of the Starbucks matcha green tea latte, check out my recipe below.
Other matcha recipes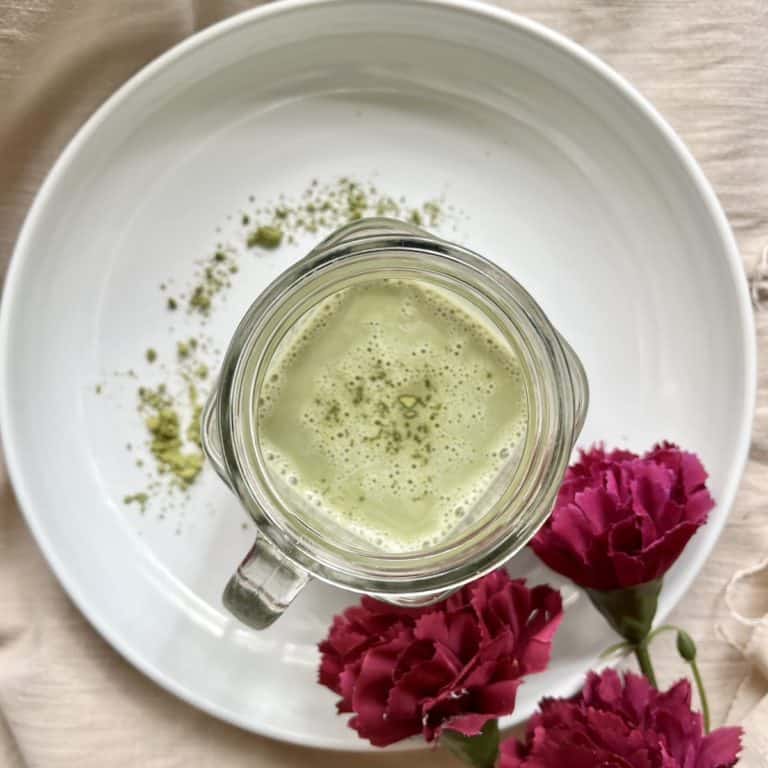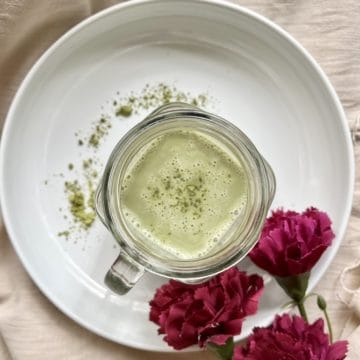 Starbucks hot matcha green tea latte recipe
An easy Starbucks hot matcha green tea latte copycat recipe that you can easily make at home- creamy, pretty and delicious but also healthier and cheaper!
Equipment
Optional: electric milk frother

Substitute: whisk or airtight container

Small pot
Ingredients
Hot Matcha Green Tea latte
2

teaspoons

Matcha powder

Substitute: matcha syrup. (You can skip the sweetener too if you use matcha syrup.) See Notes for a homemade matcha syrup recipe. If you decide to use sugar instead of honey, mix the sugar with the matcha powder.

6

Tablespoons

Warm water

176F/ 80C is the best temperature- this helps the green tea powder dissolve more easily but note that it also increases the bitterness.

2

Cup

Almond milk or soy milk.

Substitutes: vegan milks such as coconut milk, oat milk, cashew milk. If you don't mind reducing the benefits of matcha, you can use 2% dairy milk, like they do at Starbucks.

2-3

teaspoons

Neutral honey

Substitute: maple syrup or matcha syrup (or sugar if you want the flavor to be as similar to Starbucks as possible.)

Whipped cream and matcha powder

Optional garnish
Cold Matcha latte- all as above but use cold milk (Ice cubes optional)
Instructions
For the hot matcha green tea latte
Whisk the matcha powder and warm water till it forms a thick green paste with no lumps. (You can use the electric frother for this if you have 1.)

Pour in the milk and honey, whisking well till frothy.

Top with the whipped cream and matcha powder if using- you may need to sieve the powder to make sure it doesn't clump.
For cold green tea latte
Repeat all the above steps but use cold milk and add ice cubes if you wish.
Notes
It's very easy to make your own matcha syrup- click on the link for directions.
Using hot water makes the matcha powder "dissolve" more quickly, but increases the bitterness- boiling water is a definite no no for matcha. If you want to use cold water or milk to make this latte, you can speed things up by adding the match and cold liquid to an airtight container then shake like mad.