One of the most popular non-caffeinated Chinese teas, Pure Golden Osmanthus tea (桂花茶 Gui Hua flower tea) was part of the Chinese imperial palace's diet dating back to the Tang dynasty thanks to its health-giving and skin-nourishing properties. And fragrant floral taste, of course! I've included 3 different versions of this tea below.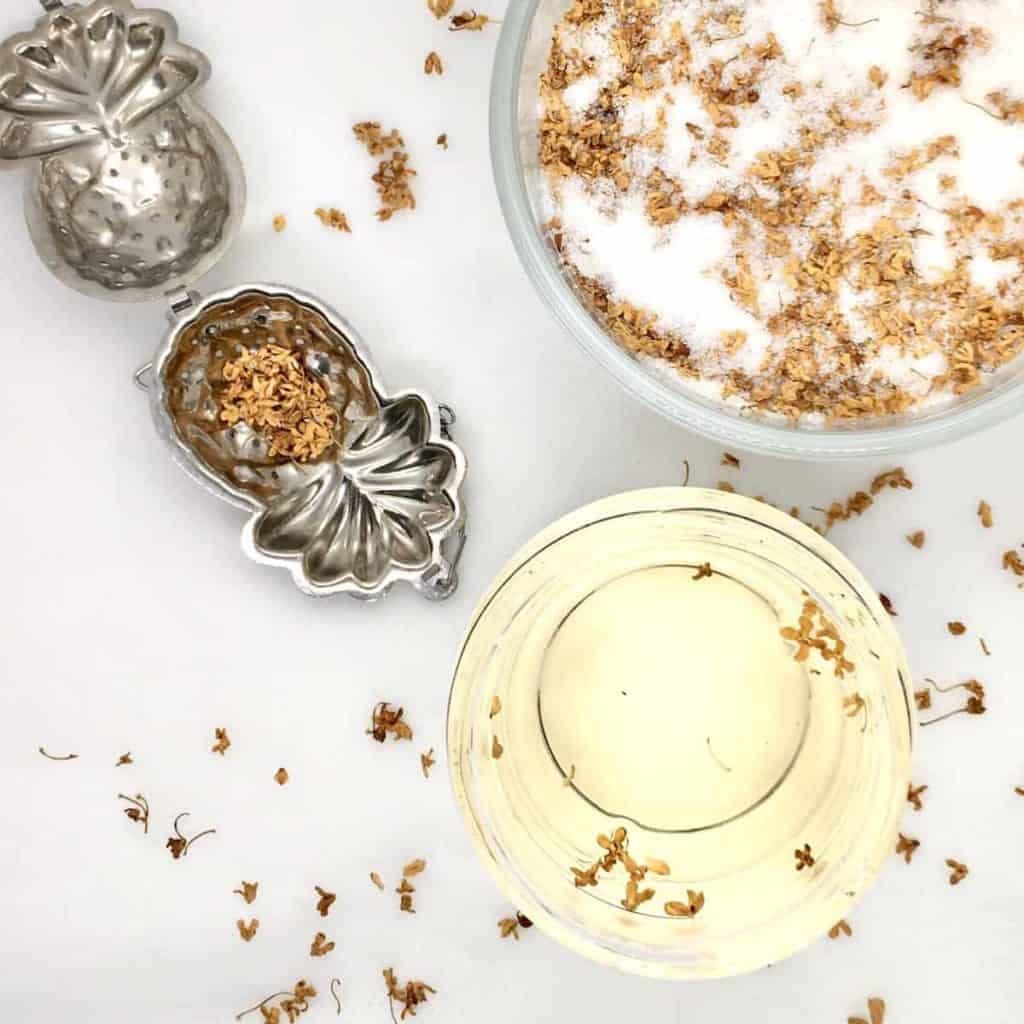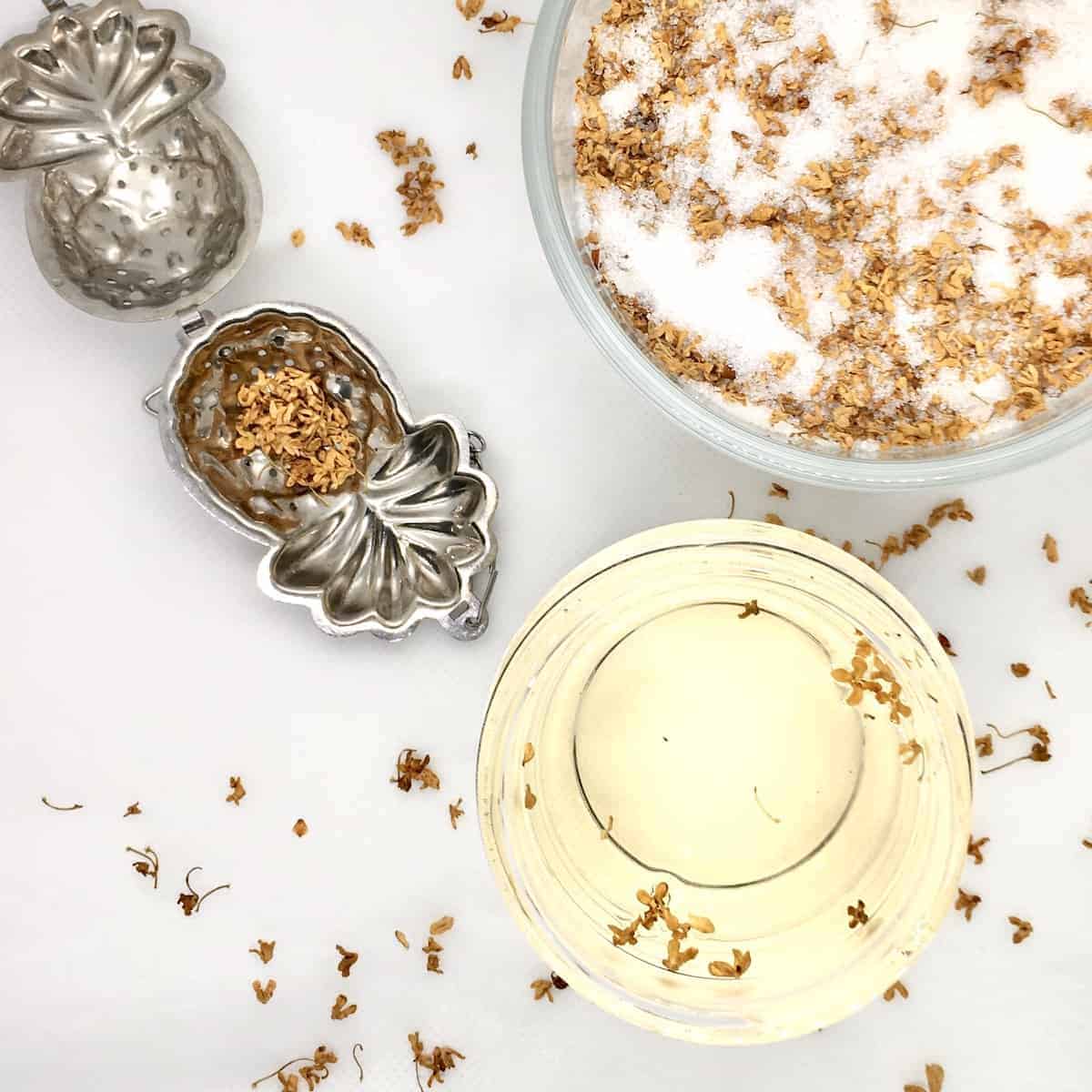 Jump to Recipe
Jump to:
What is Osmanthus?
It is a flower known by a few different names. In Chinese, it is called 桂花. Slightly reminiscent of elderflower in looks and fragrance, osmanthus is actually related to olives, and also known as sweet osmanthus, osmanthus fragrans, sweet olive, tea olive and fragrant olive. Originally from China, Indochina and South Japan, the flower is a classic Chinese fragrance dating back to the Tang Dynasty, used in drinks and desserts such as osmanthus flower tea konnyaku jelly You can even use it to make a flavoured osmanthus sugar to sweeten your tea and intensify the floral bouquet of your food!
What does it taste like?
The dried golden flowers have a very strong fragrance, that is similar to a very ripe peach or apricot. The flavour when ingested, in contrast, is quite delicate and floral. It obviously tastes good to Chinese people, having been part of the cuisine for some long, but may be an acquired taste for those not used to floral flavours/ the more delicate Asian dessert tastes.

In Chinese culture
Osmanthus blooms from late summer to autumn, and thus has strong associations with the Chinese Harvest Festival: Mid-Autumn Festival, which falls on the 15th day of the 8th month in the lunar calendar. The flower is so entrenched in Chinese culture that it is even part of a Chinese idiom 吳剛伐桂 (wu gang dai gui), which symbolises endless toil as it references the Chinese myth in which a man, Wu Gang, is made to chop down a regenerating osmanthus tree on the Moon. Sort of like a Chinese Sisyphus. There are a few versions of the story, so I won't bore you but if you're interested, you can check out wikipedia.
And of course, we have Mid-Autumn recipes which feature Osmanthus as well, such as tang yuan!
Why drink it? Is there caffeine?
Osmanthus tea and cake were popular even with the Chinese royalty, as the flower is believed to be very good for you (according to Traditional Chinese Medicine (TCM).) Some parts of TCM can be a bit controversial so I only include it in my posts when I can refer to authoritative sources, in this case, the local Singaporean Newspaper) Some of the benefits of pure golden osmanthus flower tea include:
Note: this is just for your information and is not meant as medical, dietary or health advice, which I'm not qualified to give! Please check with the appropriate professionals if you have any questions or concerns about the benefits of osmanthus.
How do you drink it?
You can drink osmanthus tea in several ways:
on its own (i.e. pure, with only water + dried osmanthus flowers. If you like it sweet, maybe add a little honey as the floral tea can be a bit bitter when concentrated)
mixed with other tea leaves, such as:

osmanthus oolong tea
osmanthus chrysanthemum tea (caffeine-free)
osmanthus rose tea (caffeine-free)
osmanthus sencha/ osmanthus green tea
osmanthus pu-erh tea
osmanthus dragon well tea
There are even milk tea and bubble tea versions out there now!
Check the recipe card below to see the suggested ratio of tea leaves to water.
Note: A shortcut to making a sweetened version is to add hot water to osmanthus syrup (which is basically the dried flowers + honey)
Where to buy
In countries like Singapore, Malaysia, Hong Kong, Taiwan and China, they are stocked in many supermarkets, Chinese pharmacies, wet markets etc (and online, of course). However, even in a country with as large a Chinese population as Singapore, it is still considered a bit of a speciality product, so it may be out of stock in the more generic stores, like grocers. Chinese medicine stores are your best bet as they usually keep ready stock as well as bring in better quality osmanthus flowers. (These will have fewer impurities such as branches amongst the Dried Golden Osmanthus Blossoms) If not, you can always find them online!
Note: You may think that they're all the same, but they're not! When my friend made osmanthus jelly using dried flowers she'd bought from a neighbourhood shop, she said they didn't taste as good as mine, which was made with osmanthus made from a TCM shop, even though we used the same super easy osmanthus jelly recipe!
Storage
These golden flowers get moist easily so make sure to keep them in an air-tight container. Maybe toss in 1 of the dehumidifying food-grade packs if you can. It's generally recommended to use any osmanthus tea you have within 1 year but I confess I don't always do that. (Best before dates are guides not hard and fast rules, after all.) Do toss it out if you notice it's moist or if you see any mold!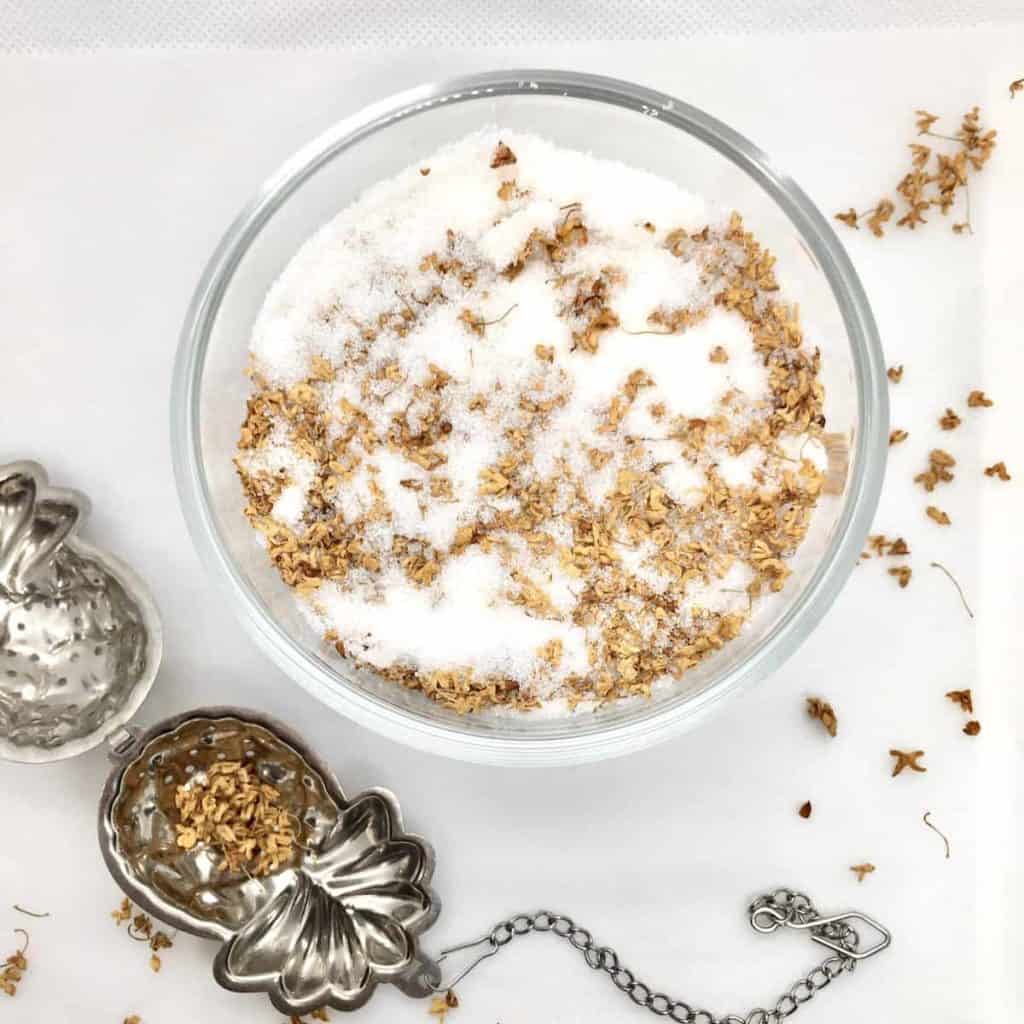 How to make tea without a tea bag
Traditionally, osmanthus comes loose as dried golden flowers, and not in a tea bag. Some upmarket tea companies are starting to sell it in tea bag form but I avoid those as they're not only more expensive, it's also bad for the environment.
The golden blossoms are so pretty floating in the water that if I'm making pure osmanthus tea, I usually just add hot water directly to the dried flowers. However, if the flowers are mixed with green or black tea leaves, you can use a tea strainer (shown above) to sift out the thick leaves, then add a couple of golden flowers back to the cup for visual effect!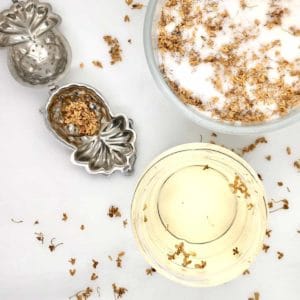 Golden Osmanthus Tea/ Gui Hua Cha Recipe
4 easy ways to make this beautifying, classic and popular Chinese tea
Ingredients
Pure Osmanthus Tea (Plain)
1

teaspoon

dried osmanthus flowers

1

Cup

water at 185F/ 85C

Chinese people don't believe in making tea with boiling water. If you're not fanatical about tea making, you don't have to use a thermometer- just leave the boiling water to cool slightly before using it to make tea!
Pure Osmanthus Tea (Sweetened)
1

teaspoon

dried osmanthus flowers

1

Cup

water at 185F/ 85C

As above

Either honey or rock sugar, to taste
Osmanthus Oolong Tea
1

teaspoon

dried osmanthus flowers

2

teaspoon

dried oolong tea leaves

1

Cup

water at 185F/ 85C

As above
Osmanthus Green Tea
1

teaspoon

dried osmanthus flowers

2.5

teaspoon

dried green tea leaves

1

Cup

water at 185F/ 85C

As above
Instructions
Pure Osmanthus Tea (Plain)
Bring water to the boil and let it cool. If you like to be exact, use a thermometer to make sure the water is 85C/ 185F before making tea

Place the dried flowers in a tea strainer and run through with hot water (i.e. you're washing the tea "leaves" to get rid of any dirt any dust on it)

Add 1C of 85/ 185F water to the dried flowers and leave to steep, to taste. (I usually leave it about 2-3 minutes) The longer you steep the flowers, the stronger the flavour and the more golden the colour.

If you're a visual person, add a few osmanthus blossoms to the cup!
Pure Osmanthus tea (Sweetened)
Repeat the above steps, but add some sweetener to taste, such as rock sugar or honey. You can also use natural sweeteners such as dried longans, wolfberries and red dates. Note that they're all warming, according to TCM, so taking too much is not advisable as it would put the body out of balance. (Too much heaty foods can lead to sore throats and acne.)
Osmanthus Oolong Tea
Repeat the steps for Osmanthus Tea (Pure) but add the oolong tea leaves to the osmanthus flowers in the strainer.
Osmanthus Green Tea
Repeat the steps for Osmanthus Tea (Pure) but add the green tea leaves to the osmanthus flowers in the strainer.
Notes
Note that overly concentrated osmanthus- either by using too much dried flowers to water, or by steeping for too long- can lead to a bitter flavour. Don't toss it out if you've made this rookie mistake- simply add a bit of sweetener!
What are some of your favourite tea flavours? Don't forget to tag me on social media (@greedygirlgourmet) if you try this recipe. Let me know if you prefer the Pure Golden Osmanthus tea/ Gui Hua flower tea, the sweet tea with honey, or the Oolong/ green tea loose leaf blends!