An introduction to the most popular types of Milk Tea (Boba) as well as a guide to ordering or making Taiwanese bubble tea at home!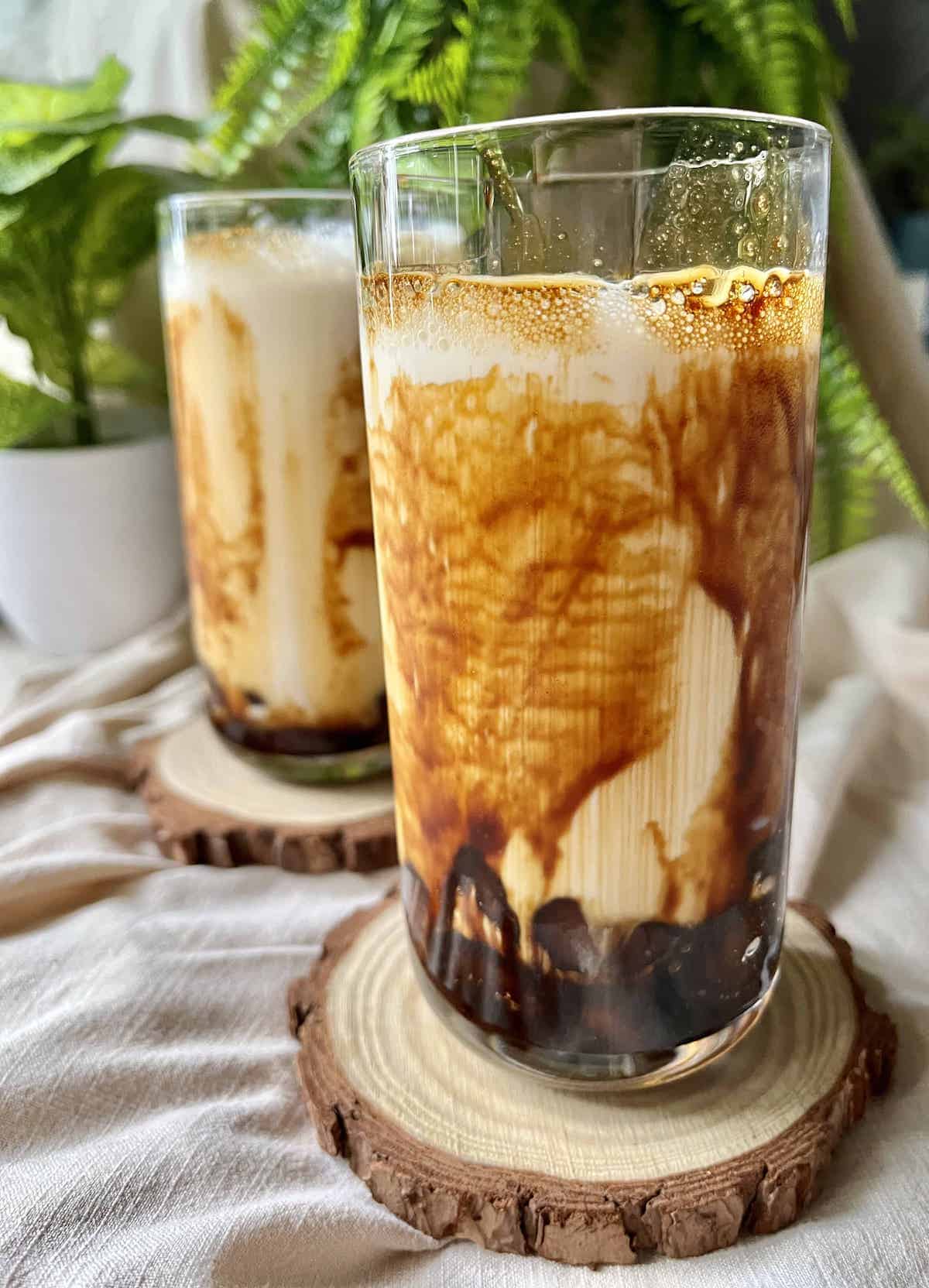 Jump to:
At its most basic, milk tea is simply tea drunk with milk, often with a sweetener. Every country has its own version of milk tea- even China, which has long been thought of as a no-milk-in-tea kind of country!
These milk teas usually differ based on the type of milk and sweetener used. However, these days, most people refer to the uber popular Taiwanese bubble tea, also known as Zhen Zhu Nai Cai (珍珠奶茶), pearl tea and boba tea, when they say milk tea!
What is Taiwanese Boba Tea?
Taiwanese Bubble Tea, also known as Milk Tea or Boba Tea, started in Tai Chung in the 1980s as freshly brewed teas mixed and shaken with milk, flavoring, sugar, ice and chewy tapioca pearls. It's sweet, milky, caffeinated and bouncy! (If you're a fan of QQ, soft, elastic foods, you'll love these green tea mochi muffins- vegan mufins recipe here.)
Now there are all sorts of fun additions, ranging from the staple tapioca pearls to pudding and jellies.
Note: If you want to make your own bubble teas as home, it's easy, but don't forget to invest in some big fat straws for the pearls!
The flavoring is usually from syrups, and it's soooo easy to buy or make your own. Here are some easy simple syrup recipes that'll save you a fortune: lemongrass syrup, matcha tea syrup, tangerine syrup, caramel brown sugar syrup...
Unfortunately, Pearl Milk Tea isn't the healthiest drink thanks to all that sugar- to see how the sweetness of boba compares to other drinks, click here.
If you want to try The Original Bubble Tea, visit Chun Shui Tang (春水堂人文茶館) in Tai Chung.
How to Order
Decide on the base tea you want

black/ green/ white/ oolong tea etc

Decide on which fillings to add

see below
you'll have to pay extra for more fillings!

Decide on your preferred sweetness level

The standard is 100% but some bubble tea shops allow you to choose 25%, 50% etc

Decide on the size of your drink!
Flavors
One reason Bubble Tea never loses popularity is because it has a dizzying range of different flavors. It seems like every season there is a new bubble tea flavor and filling out!
Original Flavor
The original is Black Milk Tea. It's the most basic version of bubble tea. You can easily vary this class milk tea by using different tea blends such as Assam, Ceylon, English Breakfast, Irish Breakfast (which both contain Assam & Ceylon), Vietnamese Golden Tips etc. Even Lipton Tea would work!
Tip: Make sure you brew a strong tea base so that the flavor isn't overpowered by all the sugar and milk!
Note: Somewhat confusingly, black tea used is actually called red tea in Taiwan, Hong Kong and China.
Popular Flavors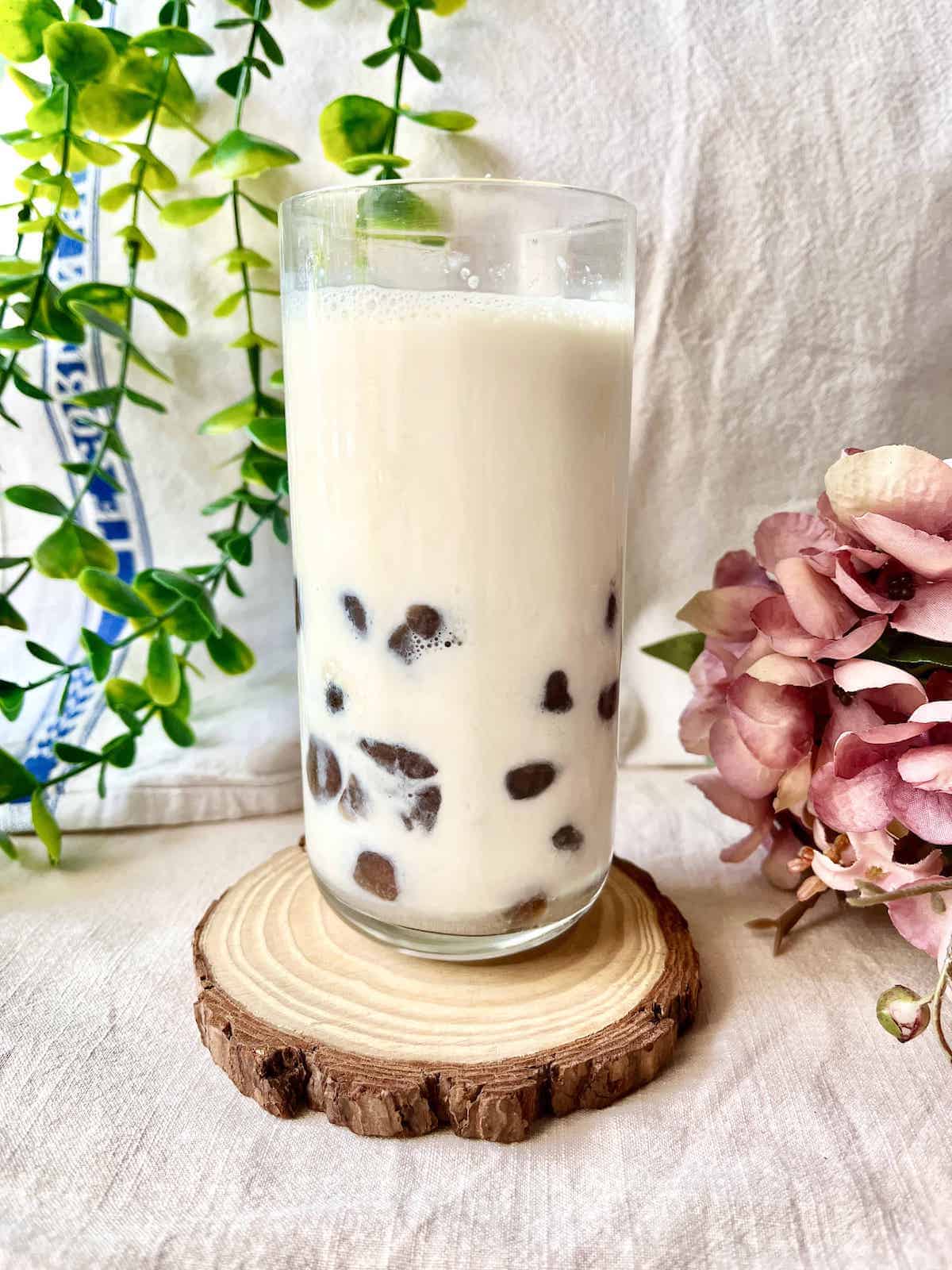 Some popular bubble tea flavors include:
Tiger Milk Tea: Not all milk teas contain tea! The original version of this brown sugar milk tea was just brown sugar syrup, pearls and milk, although there are caffeinated versions now. It was a worldwide hit thanks to the pretty "tiger stripes" formed on the walls of the cup and rich butterscotch flavor!
Jasmine Milk Tea: jasmine tea mixed with fresh milk and tapioca starch bubbles
Taro Milk Tea: A weird sounding combination that is actually super popular! Maybe because of the attractive purple color and how refreshing it is? You will need taro powder or taro puree to make it.
Matcha Milk Tea: you'll need matcha tea powder for this drink, which has a more complex flavor than regular green tea milk tea.
Fruit Milk Teas: These are usually non-caffeinated and range from Strawberry Milk Tea to Passion Fruit and Honeydew milk tea (super refreshing.) My favorite is Mango bubble tea! Made from fruit powders, syrups and fruit purees but nothing beats using fresh fruit! (Some fruit bubble teas are only sold without milk, as the acid in the fruit juice curdles the milk!)
Dairy-free: Almond Milk Tea, Soy Milk or Coconut Milk is readily available. (Many Asians are lactose-intolerant so non-cow's milk is common.)
Happy Hour: Some even contain a shot of alcohol!
Fillings
Tapioca pearls- Made from cassava root, this traditional filling has a QQ, or chewy texture, which Asians LOVE. It's also known as Boba Pearls. Alone, they're tasteless, but mixed with the bubble tea syrups, they now come in so many colors and flavors such as fruit flavors and brown sugar! (You see these in Asian desserts as well as bubble tea!)
Popping boba- These tapioca balls burst in your mouth with a rush of flavor
Other pearls- these are made from taro, sweet potato etc
Jellies- lychee, aloe vera, coconut, herbal grass jelly, aiyu jelly etc
Pudding- Chocolate pudding is by far my favorite Boba Tea filling!
Red Bean
Cheese Foam
Ice Cream
Cookie Crumbs
Etc!
Non-Taiwanese Milk Teas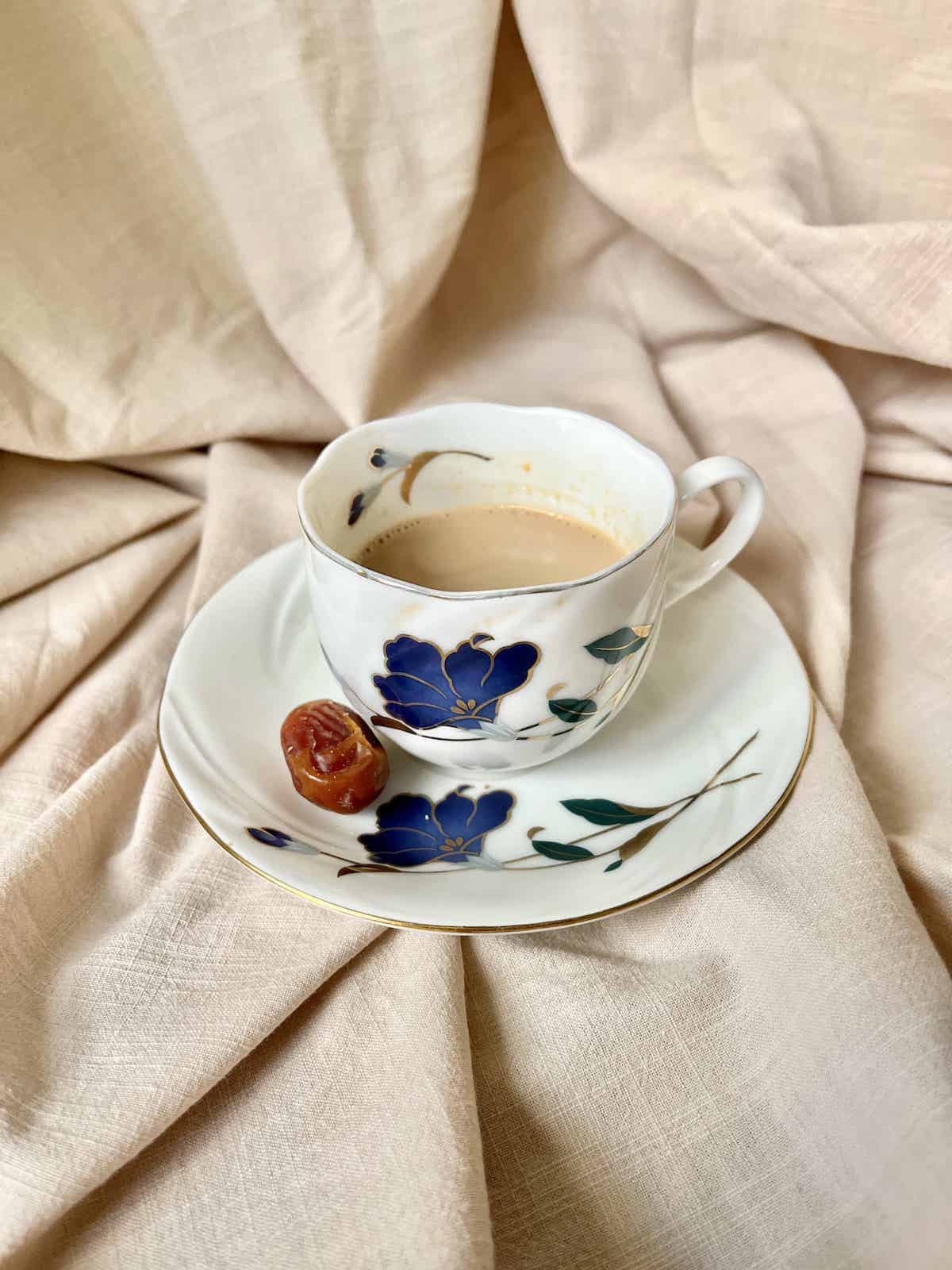 If you're looking for regular millk tea (and not boba), here are some different variations of this ubiquitous drink:
UK: British Milk Tea is usually Black Tea, served with milk and sugar cubes on the side.
Hong Kong: a very rich tea that uses evaporated or condensed milk, there is also a coffee-mix version known as Yuan Yang Coffee Milk Tea. Hong Kong Milk Tea is such a serious business that there is even an official formula for the recipe, which you can read more about in my Hong Kong Coffee Milk Tea post.
Japan: Royal Milk Tea is the most popular but there is also Okinawa milk tea and Hokkaido milk tea (which use ingredients from those parts of Japan.) You also have tea lattes (tea with frothy milk on top) such as Hojicha latte and Matcha green tea latte.
India: To make Masala Chai (Chai is just the Indian word for tea), black tea leaves or tea dust is usually simmered in a saucepan with spices such as cardamom, ginger, cloves, cinnamon and sometimes even black pepper. After that, lots of milk and sugar are added. Surprisingly, chai goes really well with matcha, which is why we have this Starbucks-inspired matcha chai tea latte!
Singapore & Malaysia: The local tea is known as Teh Tarik (or "pulled tea") and Teh halia (Teh Tarik with Ginger). Creamy, rich and sweet, they're altogether delicious though not the best for one's waistline!
Vietnamese Tea: Like the other South East Asian teas, this is another strong, sweet and milky drink.
Thai Tea: A sweet and creamy tea that is often mixed with spices which gives it a deeper flavor. You can get Thai Milk Tea as a pre-mix or DIY your own by mixing black tea with vanilla, tamarind, cinnamon and star anise. It can be served iced or hot but, either way, is super creamy from the sweetened condensed milk added.
FAQs
Is Milk Oolong a Milk Tea?
Nope, it's a type of tea- the name describes its flavor and it does not contain any milk in it, as is!
Is Bubble Tea healthy?
Unfortunately, no. I wouldn't recommend drinking it every day due to the copious amounts of sugar! (Eating too much sugar in the long run is linked to obesity and other health problems.)
Is Milk Tea good for diabetes?
If you're referring to Taiwanese Milk Tea, also known as Boba and Bubble Tea, these traditionally come super sweet, which isn't good for diabetics. For ways to sweeten tea without refined sugar, click here.
Other Asian Teas
What are your favorite types of Boba milk tea?