An easy, 3-ingredient recipe that only requires a few minutes, lemongrass simple syrup can be used in anything from cocktails, tea and bakes to jellies. My recipe also shows you how to preserve the delicate lemongrass flavour, which is easily destroyed by heating.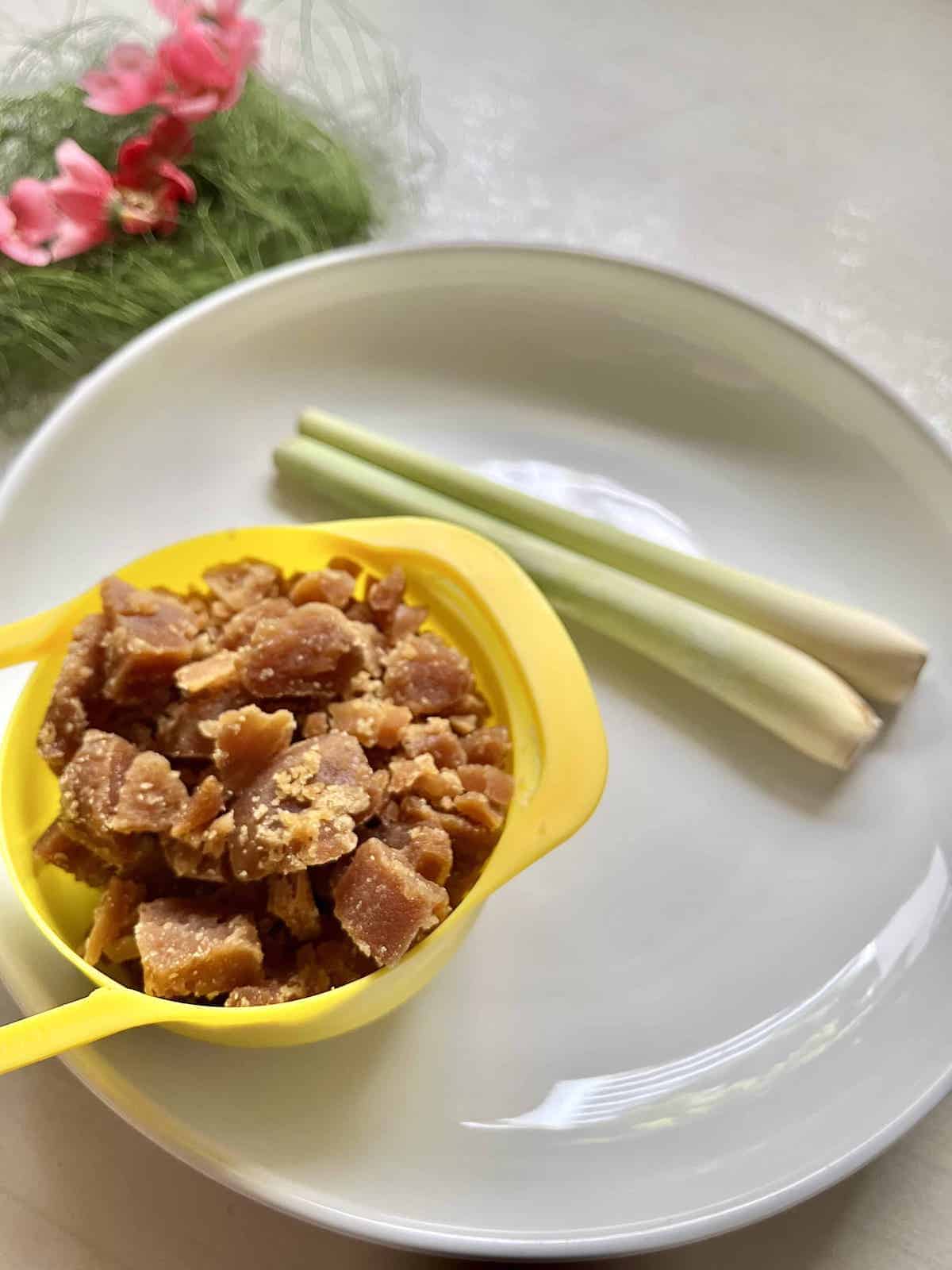 Jump to Recipe
Jump to:
What is lemongrass simple syrup?
Simple syrup is a key ingredient used in cocktails and many other beverages as it mixes readily with water. It is sold in supermarkets, but isn't cheap, so luckily it can be easily made at home!
Traditionally, simple syrup has a 1:1 water to sugar ratio. Lemongrass simple syrup, then, is simply a simple syrup infused with lemongrass flavor. (If you want something with more body- it works better in cocktails- and that can last for longer, try rich simple syrup instead, which uses a 2:1 sugar to water ratio (i.e. twice the amount go sugar to water.))
You can also use other herbs and spices to make different flavoured simple syrups, such as this matcha green tea syrup which is great for lattes and desserts.
Note: if you have too much lemongrass, why not try infusing it in this ginger coconut chicken broth or 1 of these delicious Asian lemongrass recipes?
What does it taste like?
It has a slightly herbal yet citrusy and bright flavour. To keep the bright notes, the lemongrass is gently simmered in water before adding the sugar. (In classic simple syrup, the sugar and water are heated before adding the flavouring ingredient, but that dilutes the lemongrass flavour.)
Note: This is similar to how some herbs and spices are added in the last 30 minutes of making broth, so that the flavours aren't dulled.
Tip: heating the water before adding the sugar also reduces the time taken for the sugar to dissolve!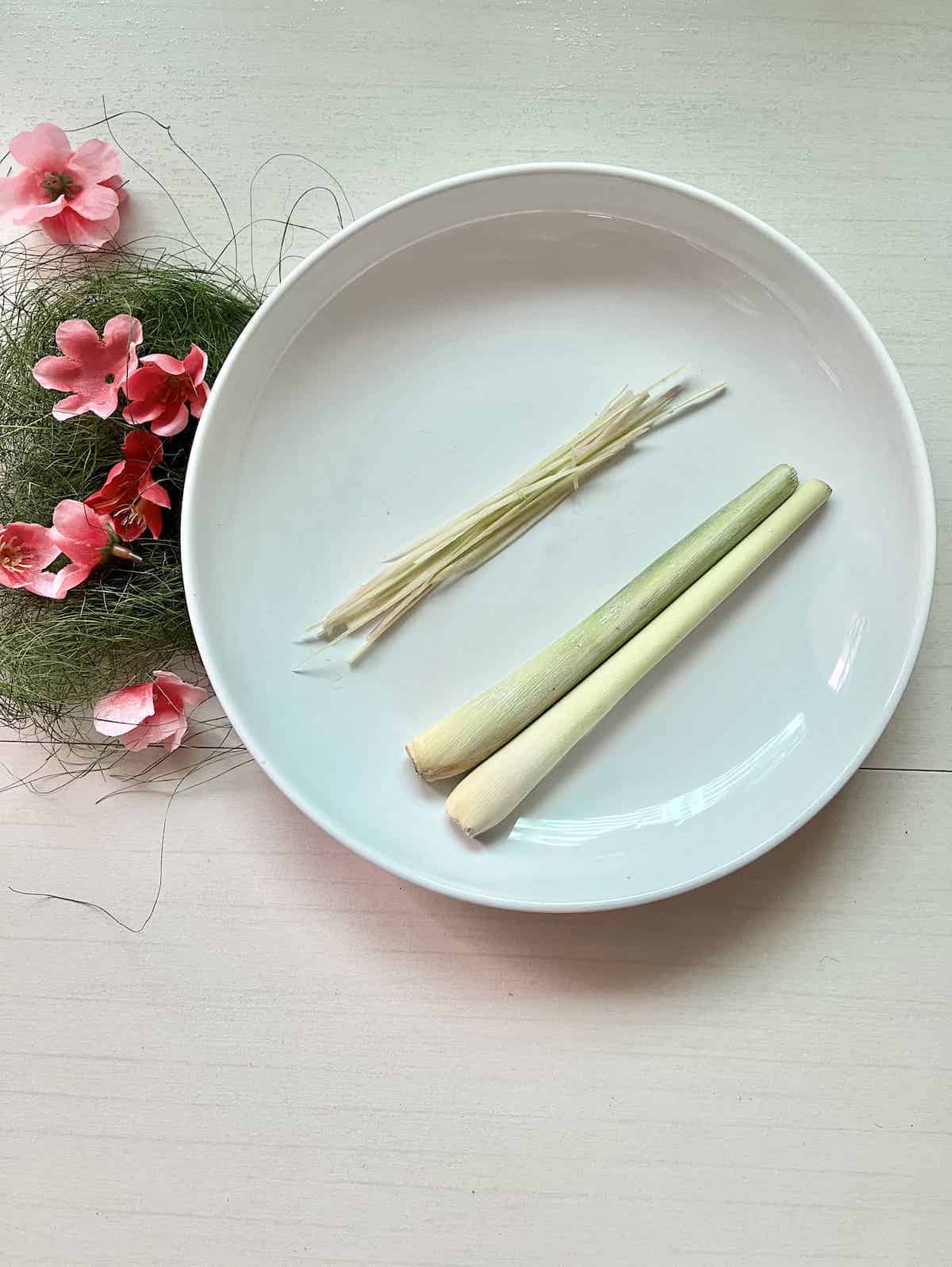 Ingredients:
Lemongrass

Replacement: If you don't have any in stock (although they're easy to grow from cuttings), you can substitute with a lemongrass tea bag- of course, the real deal is always best, but this is just a hack for those who desperately need lemongrass simple syrup.
Obviously, the more tea bags you use, the stronger the lemongrass flavour, but I recommend starting with 3 tea bags and adjusting the next time you make it , if necessary.

Sugar

Simple syrup is typically made with white granulated sugar, but I'm influenced by the flavours of my native Southeast Asian cooking, and have used Gula Melaka or palm sugar instead. In South East Asian Recipes, Gula Melaka and lemongrass are often used together to great effect!

If you've left over Gula Melaka, why not try this vegan Gula Melaka caramel sauce? It uses pandan, coconut and Gula Melaka, which is an incredible combination.
Substitute: you can use other sugars such as brown sugar, white sugar, rock sugar etc

Water

Although I said that simple syrup has a 1:1 water to sugar ratio, we're actually going to start with 2:1 (water:sugar) as we'll be simmering the lemongrass in the water for a good 15-20 minutes first, to infuse the flavour, and simultaneously reduce the water by about half.

Optional: pinch of salt

This is non-traditional, but a little salt does help to intensify flavour, so I add it from time to time. (Think salted chocolate chip cookies.)
How to use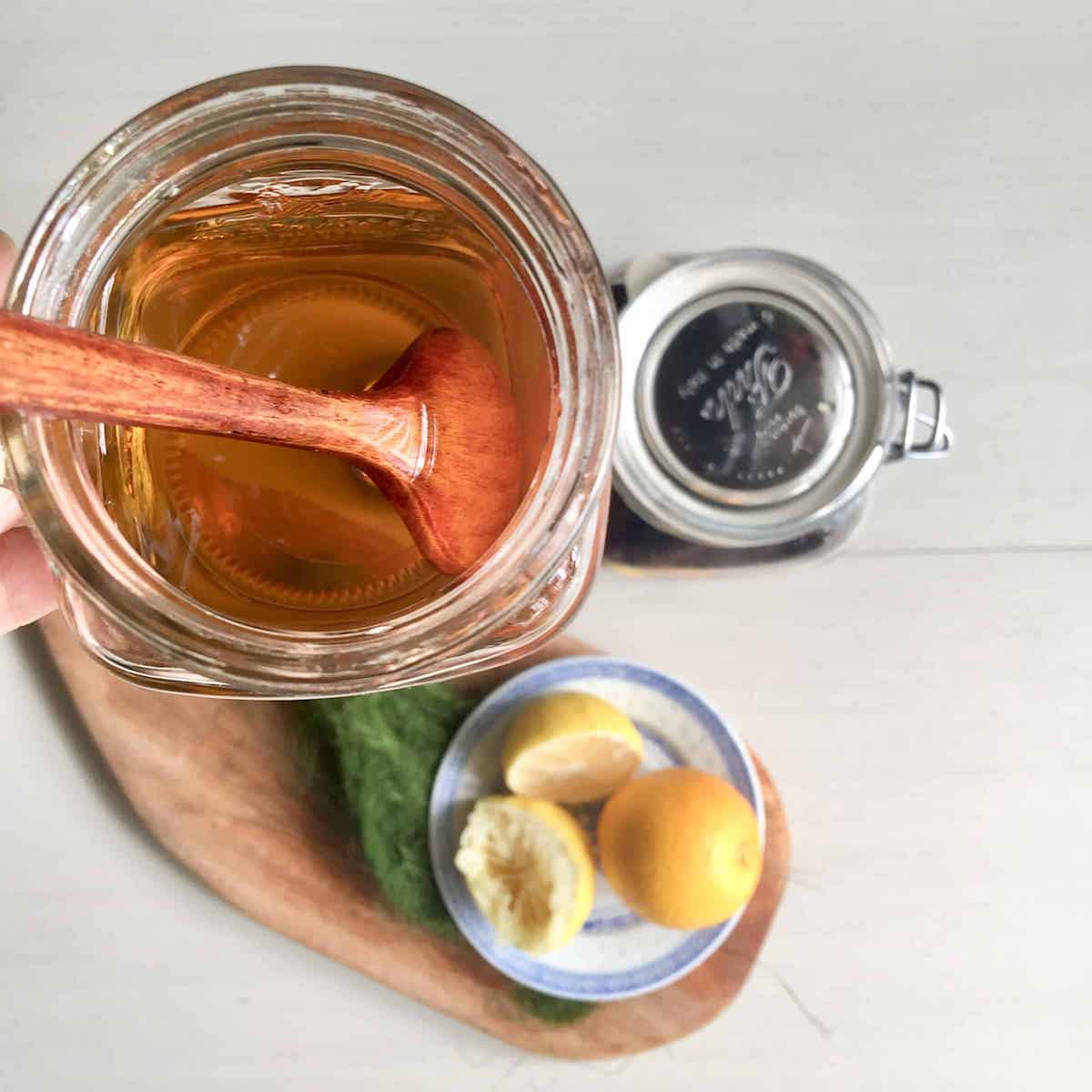 Dilute the simple syrup with some chilled tonic water or soda water for a non-alcoholic drink
Use it to replace the lemongrass infused vodka (i.e. just use regular vodka) in this Lemongrass Sour
I sometimes add the syrup- sparingly- to recipes in place of lemongrass and sugar. It's great with stir fried shrimp.
It can also be added to teas- it goes particularly well with ginger tea!
Or drizzled on cupcakes, pancakes and cakes! (I think this would go very well with a lemon pound cake.)
And added to jellies- you can use it to replace the yuzu marmalade in this yuzu konnyaku jelly, for example.
How to store
Lemongrass simple syrup can keep for 1 week in the fridge. (Some people keep it for 2 but I prefer to err on the safer side.) If you want it to store for longer, add more sugar and make a lemongrass rich simple syrup instead. (Sugar is a natural preservative.) If the syrup has gone cloudy, that's a sign of bacteria growing so toss it out!

Note: Always use a clean spoon when scooping the syrup out of the jar!
Tips
1. If using fresh lemongrass, bruise the stems by hitting it with the blunt edge of your knife (or your pestle) which allows the citrus flavour to be released more readily.
2. You can vary the flavour by adding other herbs and spices such as ginger, Thai basil, chilli and kaffir lime leaf when infusing the lemongrass.


FAQ
Do you need to cook simple syrup?
Traditionally, the sugar and water are heated to make simple syrup. However, it's not entirely necessary- you can make a cold-infused simple syrup as sugar melts in water even at room temperature. It will take longer than the old-fashioned cooking method, but it better preserves delicate flavours such as the lemongrass in my recipe. Do note that heating the syrup helps to kill some of the bacteria, so if you use the room temperature method, your simple syrup will go bad much more quickly.
Related recipes
Here are more recipes for other Asian herbs: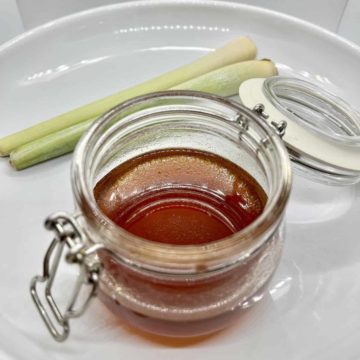 Easy lemongrass simple syrup
A 3-ingredient recipe, lemongrass simple syrup only requires a few minutes to make and can be used in cocktails, tea and other drinks, bakes and so much more!
Ingredients
2

stalks

Lemongrass, washed, bashed, root cut off, and the white part sliced thinly

You can keep the top green part to infuse in soups, curries and even make tea

2

Cups

Water

1

Cup

Gula melaka (usually comes in blocks so you may have to break it down into smaller pieces by grating or pounding in a mortar and pestle)

Substitute: coconut sugar, brown sugar, white granulated sugar etc

Optional: pinch of salt

This works as a flavour intensifier
Instructions
Add the water and lemongrass to a pot and bring to a boil.

Reduce the fire and allow the mixture to simmer (Ie. small bubbles only) till the water is reduced by about half. This will take about 15 minutes, depending on the strength of your fire.

Once the water is halved, add the Gula Melaka, switch off the fire and stir till dissolved. Make sure the bigger lumps are completely dissolved.

Allow to cool then strain into a glass jar and store in the fridge.

Use within 1 week. Do not use if cloudy (time to bin)
Notes
Note: keep in the fridge in an air tight container for up to 1 week. Toss if it turns cloudy.
The consistency of simple syrup is quite watery so don't expect something like maple syrup. If you want it thicker, you can cook it for a longer period of time (or make lemongrass rich simple syrup, which calls for twice the amount of sugar as water, instead.)
See post for ideas on how to use your homemade lemongrass syrup!