An introduction to kaffir lime leaf (also known as makrut lime leaf or limau purut in Singapore), an essential herb in SouthEast Asian cooking, along with tips on how to choose, store, grow and cook with it.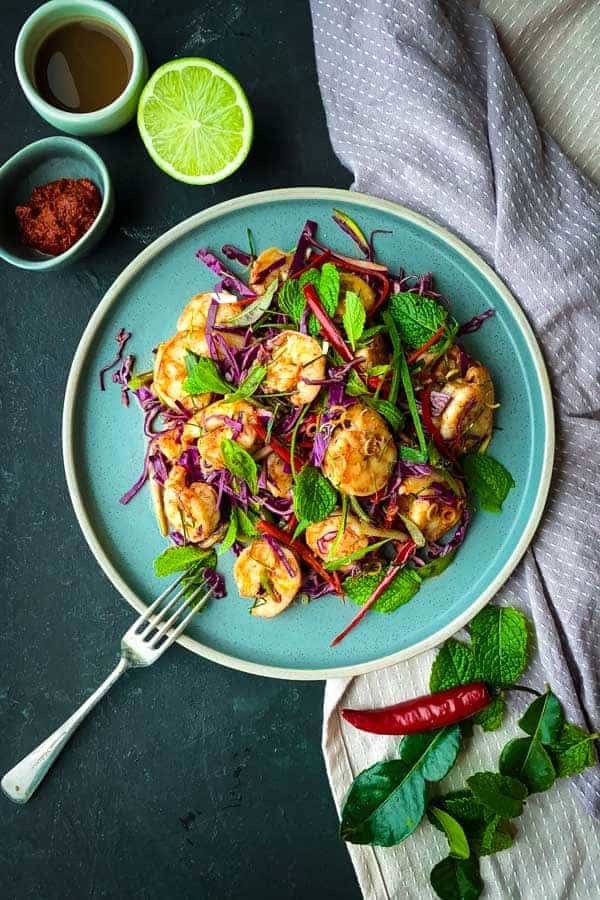 Introduction to kaffir lime leaves: what are they?
Kaffir leaf is a herb that is commonly used in many parts of South East Asia- it is a pretty vital component of Thai cooking, for one, and is also used in Peranakan/ Nyonya cuisine. It has hourglass shaped leaves which are an attractive glossy dark green full of aromatic oils. The flavour is bright, like other citrus plants, but with more complex notes compared to the typical lime or lemon.
Besides culinary purposes, some countries also believe kaffir lime has health benefits and use it in medicine (or to kill head lice!) The leaf oils are also incorporated into some perfumes.
Which part of the kaffir lime plant is edible?
Kaffir lime is grown primarily for its leaves, but its fruit can be used in cooking too! (Be warned, they are very, very sour- I've actually never seen a Singaporean recipe that calls for the use of the kaffir lime themselves although I believe some Thai recipes do utilise them sparingly to provide acidity.) In fact, if you want to cook with the kaffir lime fruit, it's worth growing the plant at home, as the fruits are not readily available in the supermarkets. They don't have much juice, but their rind/ zest is a nice addition to curries and such. Avoid the pith (white bit) as, like with most citrus fruits, it's horribly bitter. (The kaffir/makrut lime leaf recipes here all use only the makrut lime leaf and not the fruit.)
Kaffir leaves are used in some of our favourite Thai dishes such as Tom Yum Soup , Tod Mun (fish cake) and Tom Kha Gai as well as in Indonesian and Cambodian food. (I have not included recipes to these dishes, however, as they're such classics that you probably already have a good recipe on hand!)
Kaffir lime vs makrut lime
Growing up in Singapore, we've always called this plant Kaffir Lime or Limau Purut. It wasn't till this year that I realised the word "kaffir" is offensive in some countries, and so they use the name makrut lime instead. Apologies to anyone who is offended by the word "kaffir" but if I leave it out of this post, very few people in South East Asia will know which plant I am referring to!
How to grow kaffir lime leaf?

The kaffir lime leaf plant can grow to a few metres tall but adapts well to the potted life, if the pot is of adequate size. (Mine has a diameter of about 30 cm.) In addition, Kaffir Lime requires:
lots of sunlight
moist but well-draining soil
If you don't live in the tropics, keep the plant indoors when it's cold out, near a sunny window and mist regularly as the plant likes humidity (but not wet feet as the roots will rot!) Without a lot of sun, the plant won't die, but it will remain in a state of stasis where it doesn't grow new leaves- mine did for ages till I invested in a grow light (which could only coax 3 new leaves out of it. In contrast, whenever we get a period of very sunny weather in Singapore, my kaffir lime plant condescends to sprout a spring with at least 5 new leaves!)
Pluck the leaves every few weeks to encourage growth. You can also propogate a new Kaffir Lime leaf plant by poking a stem cutting in soil- the stem should be at least 4 inches long, with all the leaves removed except for the top ones. (So they say- I've not achieved any success with this yet, but will update the post appropriately as I attempt more kaffir lime cuttings.)
How to preserve kaffir/ makrut lime leaves?
Kaffir Lime leaves can be used fresh, frozen or dried. (Fresh is always best- when I lived in London, I had no choice but to buy the dried version and it wasn't quite the same.) It's best to use the young leaves as they are more tender, so if you have a glut of leaves, pluck them and plonk them in your freezer for future use. (Alternatively, you can wash them, bruise them and immerse them in water to form a drink, much like lemongrass tea and lemon-infused water.) If stored in the fridge, toss them when they start developing dark spots. (They're usually good for about 2 weeks in the fridge, if you don't let the moisture accumulate.)
How to cook with kaffir lime leaf?
You can use kaffir leaves like bay leaves, to infuse flavour into your cooking- just bruise the leaves beforehand to release the natural oils. Remove before serving as they're tough, unless you're using as a garnish.
Alternatively, they can be shredded thinly and then added to your food: roll the leaf up and use a sharp knife to cut very thinly, as shown in the photo above. (This is how kaffir lime leaves are used in Thai fish cakes.) In this case, you no longer need to remove the leaves before eating and they make a very pretty garnish.
As you can probably tell from the cuisines that use Kaffir Lime leaf, it goes very well with other herbs and aromatics such as:
ginger
galangal
chilli
shallots
What can be used as a substitute for kaffir lime leaves?
Kaffir lime leaf shares flavour notes with lemongrass and citrus fruits, so a combination of lemongrass and lime/lemon juice and zest can be used as a substitute. However, if you're using the substitutes in classic dishes such as Tom Yum Soup, it'll taste a little flat to people who're familiar with the foods, as the flavour isn't quite as complex.
One-pot turmeric, kaffir leaf and chicken baked rice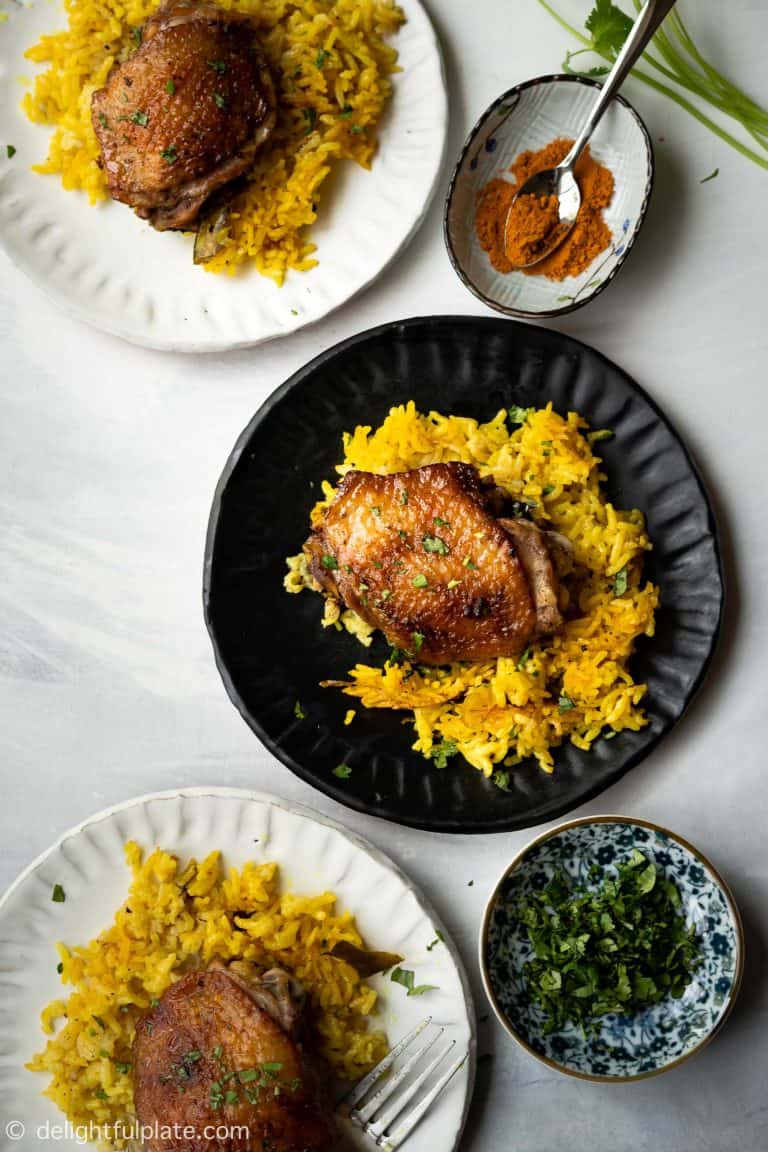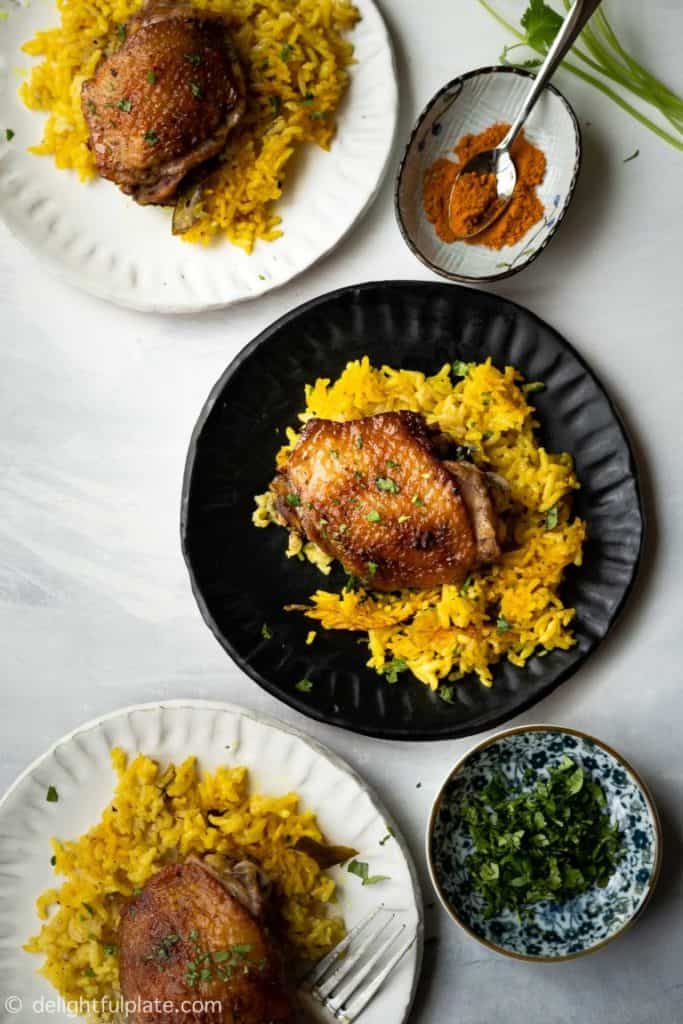 One pot chicken, turmeric and kaffir leaf rice
I love one pot meals and I love oven made meals, as they are both such efficient ways to cook. This delicious 1-pan chicken, kaffir leaf and turmeric rice is both 1-pan AND made in the oven, how amazing is that! In addition, it's packed with bucketloads of flavour!
Check out this recipe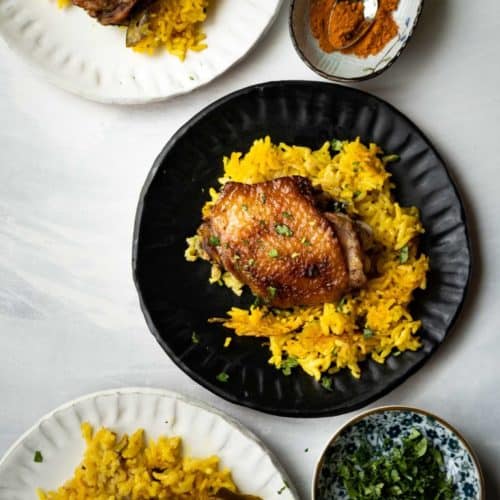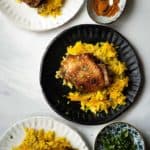 Cambodian chicken curry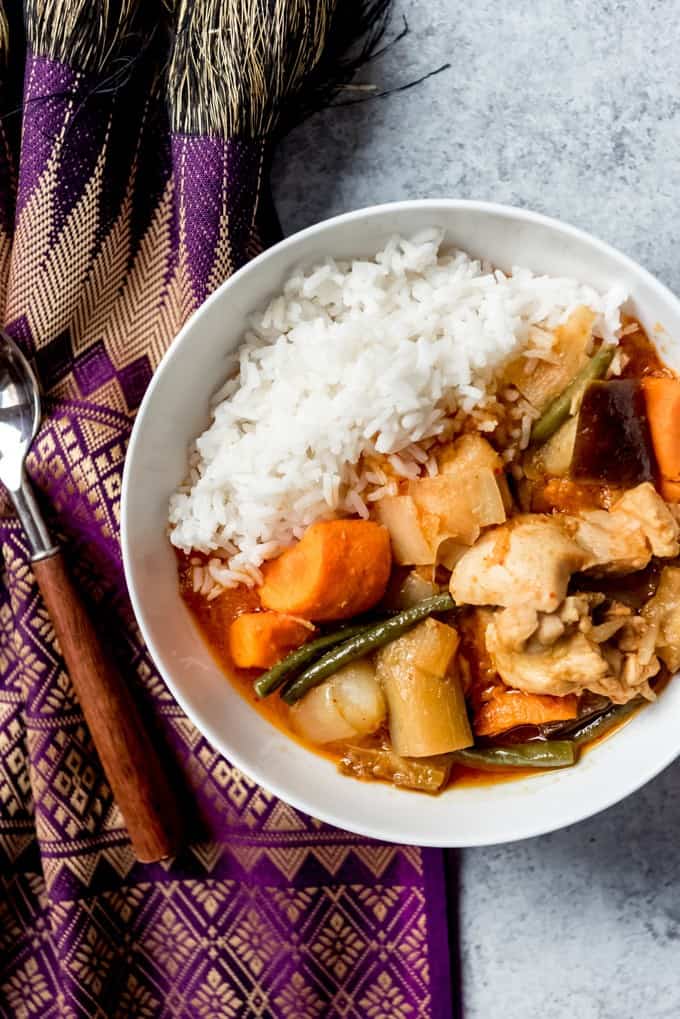 Cambodian chicken curry using kaffir lime leaves
Singaporeans love their chicken curry. Growing up, we ate chicken curry almost weekly! Each South East Asian country seems to have their own version of chicken curry, with subtle differences, and Cambodia is no exception. I should do a post showing all the different chicken curries of the region one day!
Check out this recipe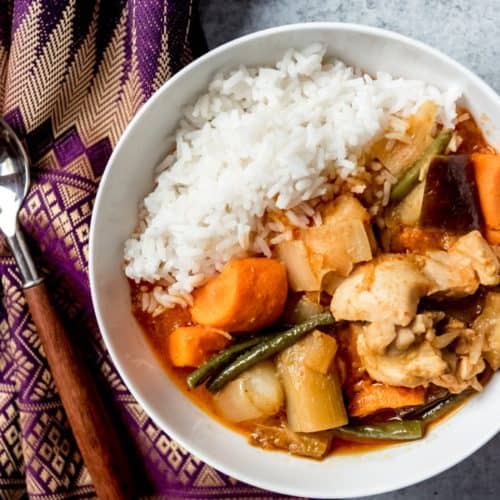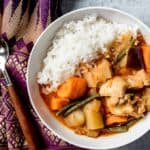 Nasi kuning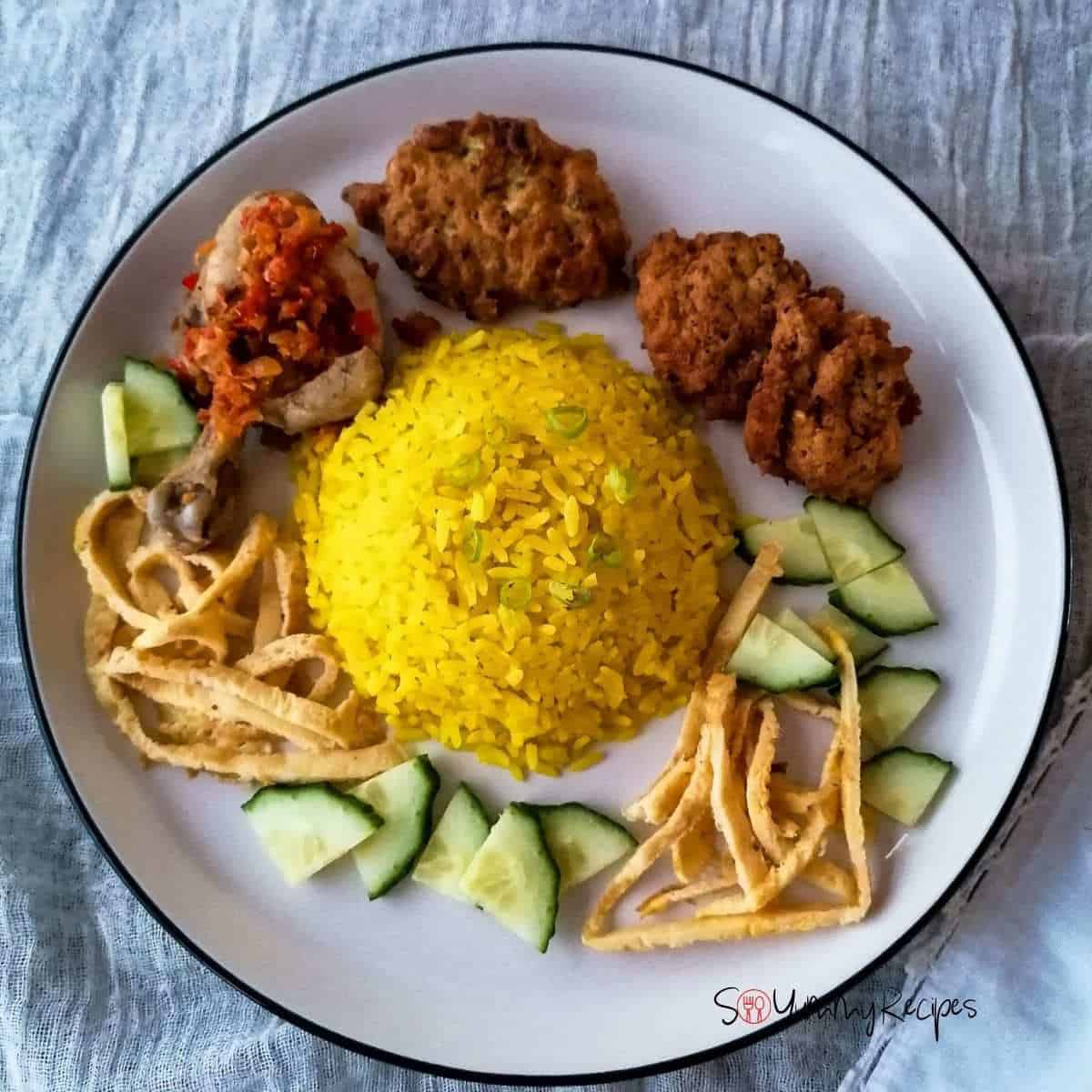 Nasi kuning recipe
Nasi kuning isn't as well known as nasi lemak, which is a shame as it's not only delicious, it looks beautiful thanks to the golden hue. This very authentic recipe uses Salam leaf - Salam leaf is commonly used in Indonesian food and is how you know you've got a good recipe! It also kindly provides a substitute for Salam leaf as Salam leaf may not be widely available in some countries.
Check out this recipe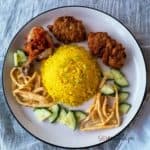 Snake bean, coconut and makrut lime leaf salad
Asian salad with snake beans, coconut and kaffir lime leaves
A dressing with the classic Thai combination of lime juice, fish sauce and sugar? Delicious!
Check out this recipe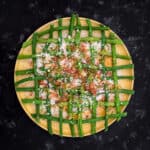 Thai inspired prawn salad
Thai inspired prawn salad with a spicy kaffir lime leaf and tamarind dressing
Asian food isn't synonymous with salads, but Thai and Vietnamese food does include some amazing salads- the dressings are so packed with flavour! Love how this delicious recipe gives you an overview of the Thai approach to food.
Check out this recipe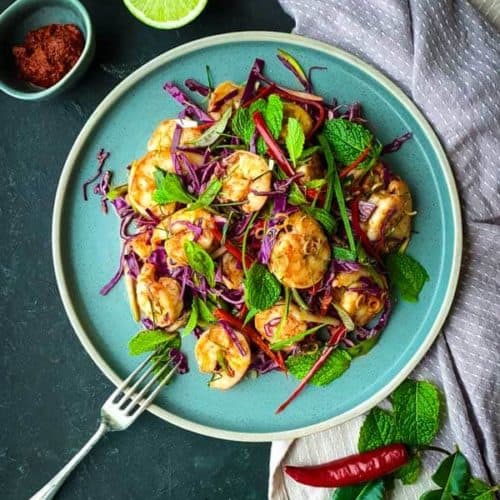 Kaffir lime leaf in desserts and drinks
A very interesting recipe is this kaffir lime leaf syrup. The recipe says it's for cocktails but I'm sure it would work well in desserts too. Stay tuned to see what I end up making with it!
Kaffir (Makrut) Lime Leaf Frozen custard
Kaffir lime leaf in a dessert isn't something you see everyday, so I had to include this 5-star kaffir lime leaf ice cream recipe!
Check out this recipe
Have you tried any desserts with kaffir lime leaf in them?