Spicy and tangy, these authentic Singapore Dry Mee Siam Goreng Noodles pack a punch and are perfect for those who like bold flavours!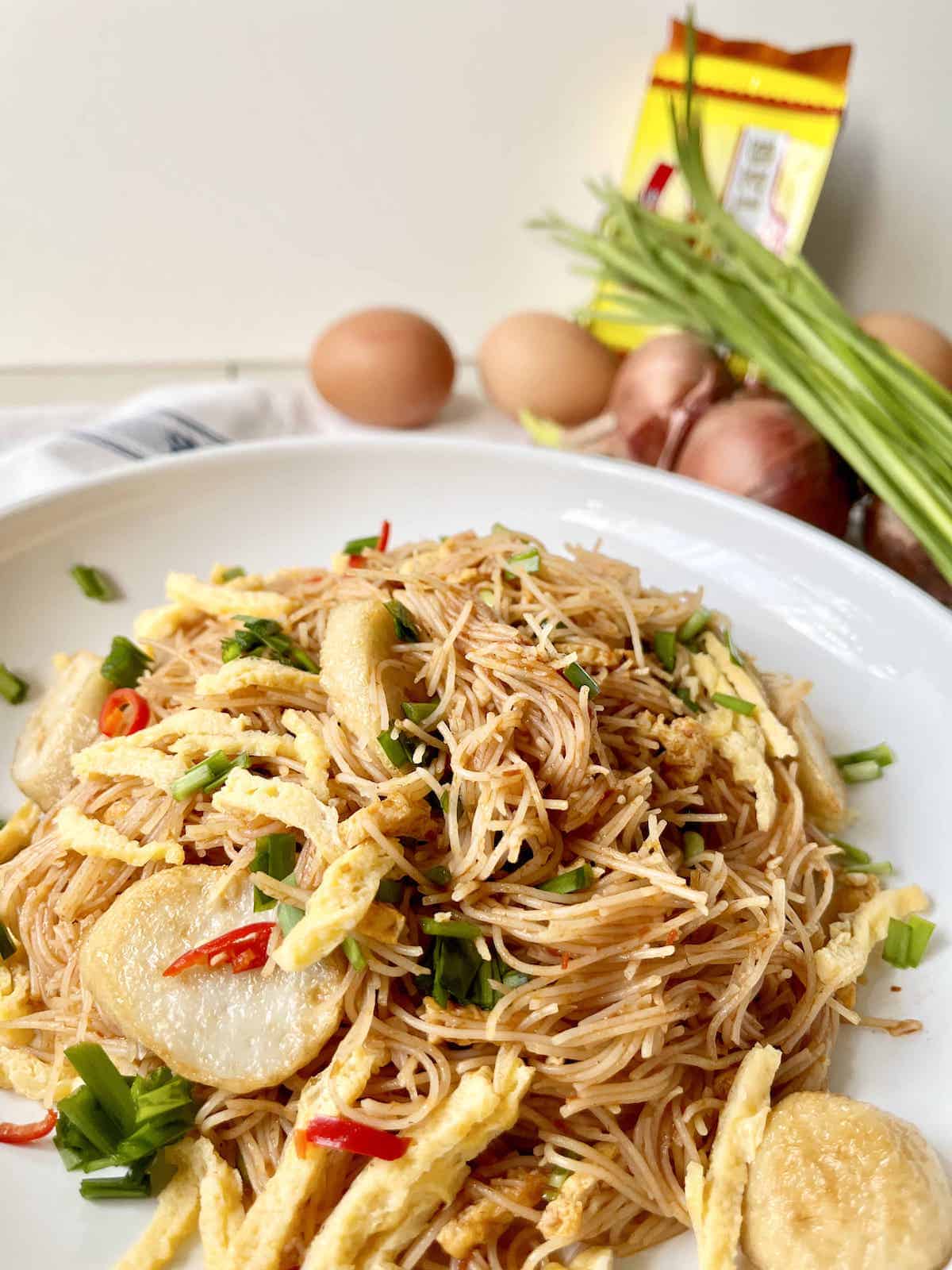 Jump to:
⭐Why Try This Recipe
Singapore Mee Siam Goreng is delicious: Traditionally, mee siam is served with a spicy gravy and my wet mee siam (also known as mee hoon siam, mee siam kuah, or mee siam with sweet and sour gravy) recipe is 1 of the most popular carb recipes on this blog. Personally, I prefer to eat the dry version as the flavours are so much more intense. If you like strong flavours, you'll love this stir fried noodle recipe!
It's authentic: my family has lived in Singapore and Malaysia for generations so I grew up eating this dish! (Some say this dry version is more common in Malaysia than Singapore!)
It's simple (essentially 2 steps though it may feel more complicated): You blend and stir-fry the rempah (spice paste). Then, add the noodle and other ingredients, toss for a bit- voila, you have your authentic Singapore Nyonya Fried Dry Mee Siam Goreng!
Note: For noodle fans like myself, you may like these longevity noodle mee recipes, this fried mee hoon goreng or this quick vegan wonton noodle soup (done in 20 minutes and does NOT use store-bought stock/ stock cube/ powder etc!)
🍜 What is Mee Siam?
Despite the word "siam", this is a popular Singaporean and Malaysian noodle dish, not a Thai dish!
The name could be due to the similar taste to Thai food (sweet, salty, sour and spicy) or the dish could have originated from Thailand, but we're not sure either way!
Variations
There is Nyonya Mee Siam, Malay Mee Siam, Indian Mee Siam (a version with coconut milk) etc
Some versions of the dry fried/ goreng version also add ketchup. You can certainly add a bit to this recipe to try- but I feel that the tamarind adds enough tang so I skip it.
Fun fact: this popular noodle dish is often eaten at hawker centres as a breakfast dish in Singpaore and Malaysia!
🥘 Ingredients & Substitutes
These are some of the ingredients you will need to make the basic recipe:
Noodles: Mee siam is traditionally a fried rice vermicelli dish (using bee hoon or thin rice vermicelli noodles), but I prefer it with mung bean noodles (tang hoon). The latter absorb water so they take on the flavours superbly. Also, they're much easier to cook than bee hoon as they're good to go after soaking in hot or warm water! Other Chinese vermicelli substitutes can be found through this link.
Chillies

: Don't touch your eyes after touching chilies! (See Tips for more info.) Instead of pounding your own dried chillies, you can also use pre-made unsweetened chili paste. Alternatively, you could use sambal belacan sauce, which can be easily made at home in advance or bought from an Asian supermarket.

Ideally, you will also add some fresh red chilies although I've skipped the later when my plant wasn't feeling fertile.
Shallots: Alternatives are red onions (preferred) or yellow onions (acceptable)
Belacan: Please

do not substitute with fresh prawns alone

as you won't get the same depth of flavour! (Belacan is an umami powerhouse.) Whilst you can make a plate of fried noodles without belacan shrimp paste (such as this delicious bihun goreng), you won't get the authentic taste. If you really have a craving but can't get belacan, try using some fish sauce and more of the dried prawns (hei bi).
Dried shrimp (small dried prawns or hae bee): You can also fry a few extra of these and sprinkle on top of the finished fried vermicelli. If you are out of this, here is a list of suggested dried shrimp substitutes (Alternatively, you can salt and dehydrate your own but it's a laborious process!)
Taucheo (Yellow soy beans paste): You can substitute with other types of yellow bean paste such as miso or doenjang
Candlenuts: Also known as kemiri, this is for thickening the spice paste. If you can't find it, here is a list of the best candlenut alternatives, such as ground peanuts but I also have options for people with nut allergies. I also often just leave it out entirely and no one has complained!
Tamarind juice or paste: Tamarind paste, also known as assam paste, is used in a lot of Asian recipes and is essential for the wet version (mee siam kuah) but some dry mee siam recipes skip it. If you decide not to add tamarind, simply use the same amount of prawn stock or water instead. Also, do not skip the calamansi at the end- give it a generous squeeze!- as mee siam isn't the same without the acid notes!
Toppings
On top of that, you can bling up your vermicelli noodles with various toppings such as:
Eggs: either Asian omelette (cut into thin strips) or hard boiled eggs (if you want to eat more healthily)
Shrimp: You can use other proteins such as chicken, slices of canned abalone, fish cakes and tau pok (tofu puffs/ a type of bean curd that is indispensable in Mee Siam Kuah (as fried tofu puff absorb the soup beautifully) but can be skipped with dry mee siam.) Personally, I love prawns though! You could also throw in chicken leftovers, from roast chicken to Chinese soy sauce chicken.
Koo Chye, Chinese chives or garlic chives: other commonly added veggies include bean sprouts (for crunch.) If you can't get this, at least sprinkle some spring onions on top!
Calamansi lime wedges: A squeeze of lime juice really makes the flavor pop! Calamansi has a fruitiness that other citrus fruits don't so always use it if you can get it. It's used in many Asian desserts and Filipino Siomai sauce. If you can't find it, here are some acceptable calamansi substitutes.
🔪 Step-by-Step Instructions
Making the Rempah
Prepare the toppings: e.g. pan-fry the sliced fishcake, cook the omelette, Asian style, and slice thinly, poach the prawns etc
De-seed the chillies then boil till soft.
Drain and cut the soft chillies into smaller pieces.
Next, blend them with the shallots, belacan, candlenuts and fresh chilies into a fine paste.
Note: to be a model Perankan, you can pound with a mortar and pestle 🙂 I personally find dried chilies a pain to pound so I pound the dried shrimp but blitz this into a fine paste.
4. Soak the tang hoon (or, if using, thin rice noodles) in hot water till soft and pliable.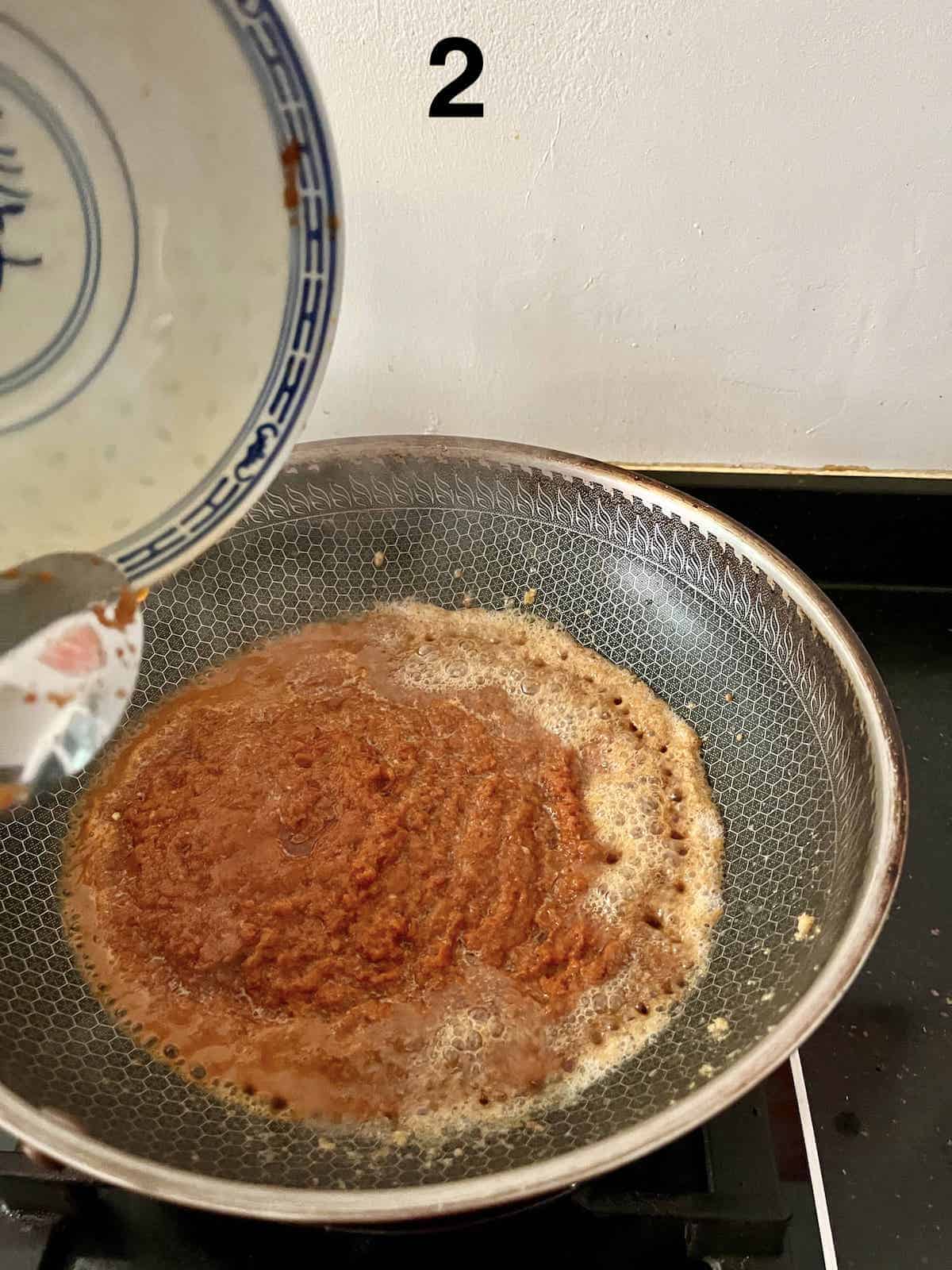 5. Separately, pound or blend the dried prawns into a fine floss.
6. Add oil to the wok. Heat on medium-low till shimmering then stir-fry the pounded dried prawns for 1-2 minutes, till the smell is released.
Note: Foaming is normal so don't worry.
7. Add the rempah spice paste from the previous step. Fry till fragrant and the oil has been released.
Note: This may take a while- you'll know it's done when the paste darkens in color. I didn't include a photo so as not to overload the post but let me know if you feel 1 would be useful!)
7. Add the taucheo and stir till well-mixed.
Frying the Noodles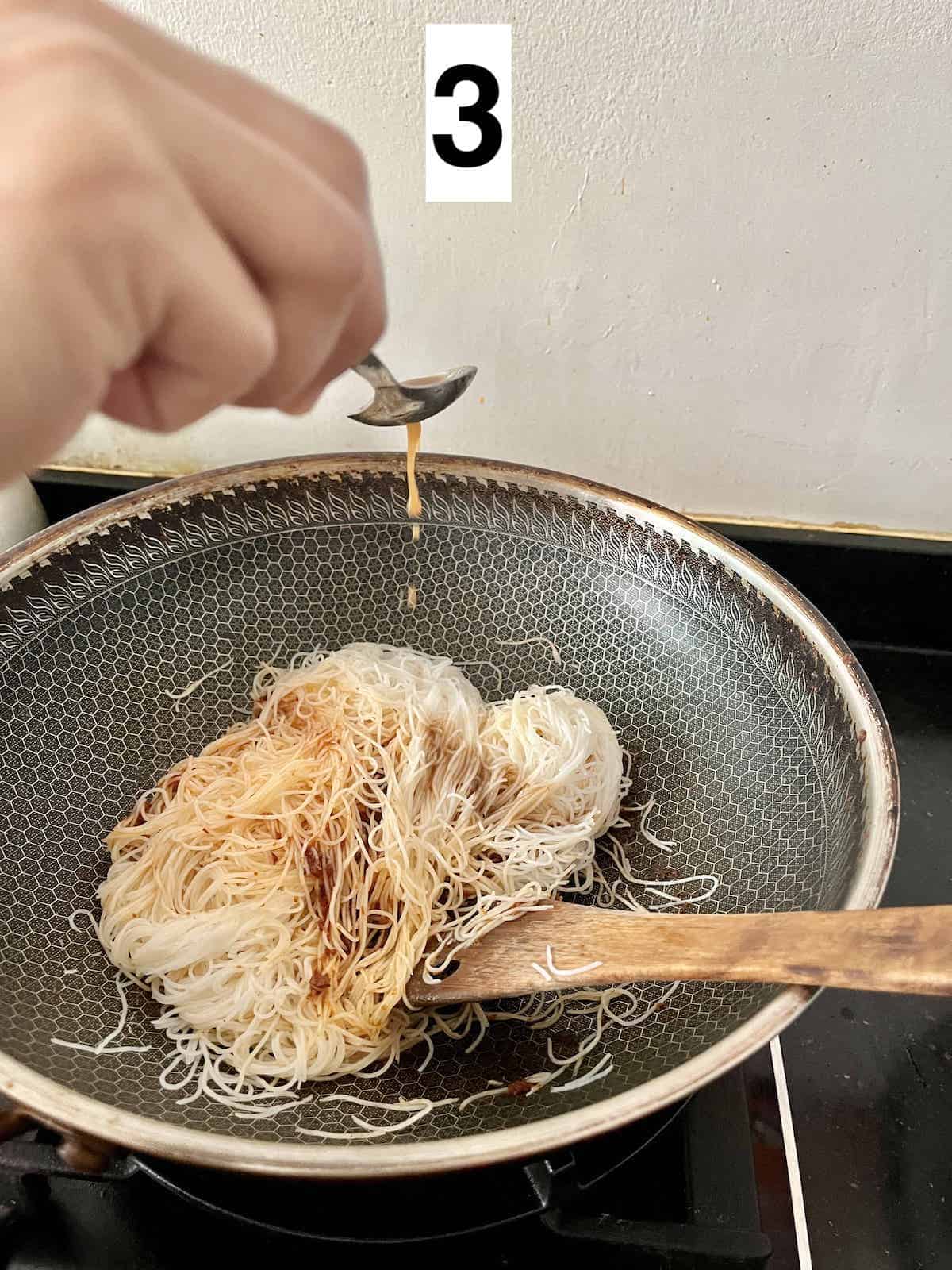 Note: if batch making a big portion of the paste, stop here, let cool and freeze. If making nonya mee siam to eat now, continue on!
8. Add ¾ of the tamarind water to the same pan and stir-fry for a few minutes.
9. Season with white sugar and salt, to taste.
10. Drain the noodles, then add it to the wok. Stir fry over high heat till they've absorbed all the tamarind water and are fluffy.
Note: If too dry, add more of the tamarind juice or prawn stock/ chicken broth if you've run out of tamarind!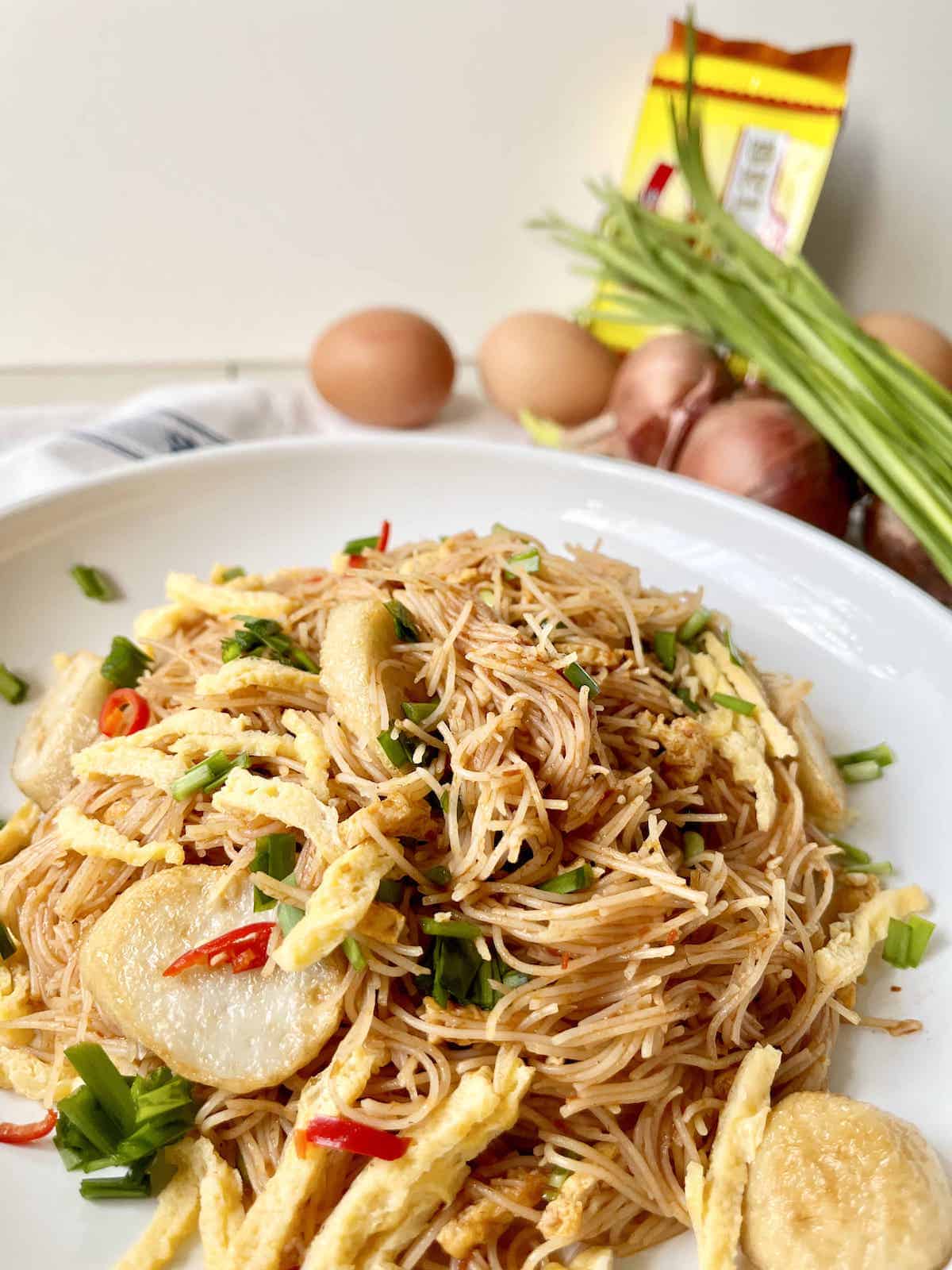 11. Taste and add more salt or/and sugar if necessary.
12. Add the blanched prawns, garlic chives, omelette strips, pan-fried fishcakes (and whatever ingredients you're using), give everything a mix and the noodles are good to go
Optional but highly recommended: squeeze calamansi juice over the noodles and maybe a side of sambal belacan if you like your spice!
🍽 Meal Prep
Pounding the remaph is the most laborious part of cooking Malay and Peranakan food.
Traditionally, it would be done in a mortar and pestle but a lot of people opt for the blender these days. It's not the same as the blades don't bring out as much flavour as crushing does, but it'll do in a pinch! (If you have a food processor- use that instead of a blender as some blenders aren't powerful enough to process the rempah.)
To meal prep, blend or pound a huge batch of the rempah ingredients for dry mee siam paste, then portion it out and freeze. (Ice cube containers are super useful here.)
This way, you can easily whip this noodle dish up in 10 minutes at a later date!
👩🏻‍🍳 Expert Tips
Tip #1: Remember to handle chilies with gloves and not to touch your eyes! Also, soak then cut the chillies and remove the seeds or the spice level will literally burn your tongue. Different brands of dried chillies differ in heat (also dependent on the age of the dried chillies.) Some can be really powerful- I once had a burning sensation on my arm for DAYS just because of the fumes from stir frying dried chilli paste so be careful!
💭 Recipe FAQs
How can I make Fried Mee Siam in 10 minutes?
Cheat! You can either meal-prep (see section above) and freeze a big batch of the Paste or buy pre-made Mee Siam Spice Paste. (A popular brand is Prima, which I personally find tasty but a bit sweet.)
How can I make this vegetarian or vegan?
The key to an authentic mee siam recipe is the belacan and dried prawns (hei bi/ hae bee) so traditionally this is not a plant-based or vegetarian dish, even if you don't add any animal products later. In South East Asia, we do have vegetarian belacan so you could use that and just add vegetables for vegetarian noodles.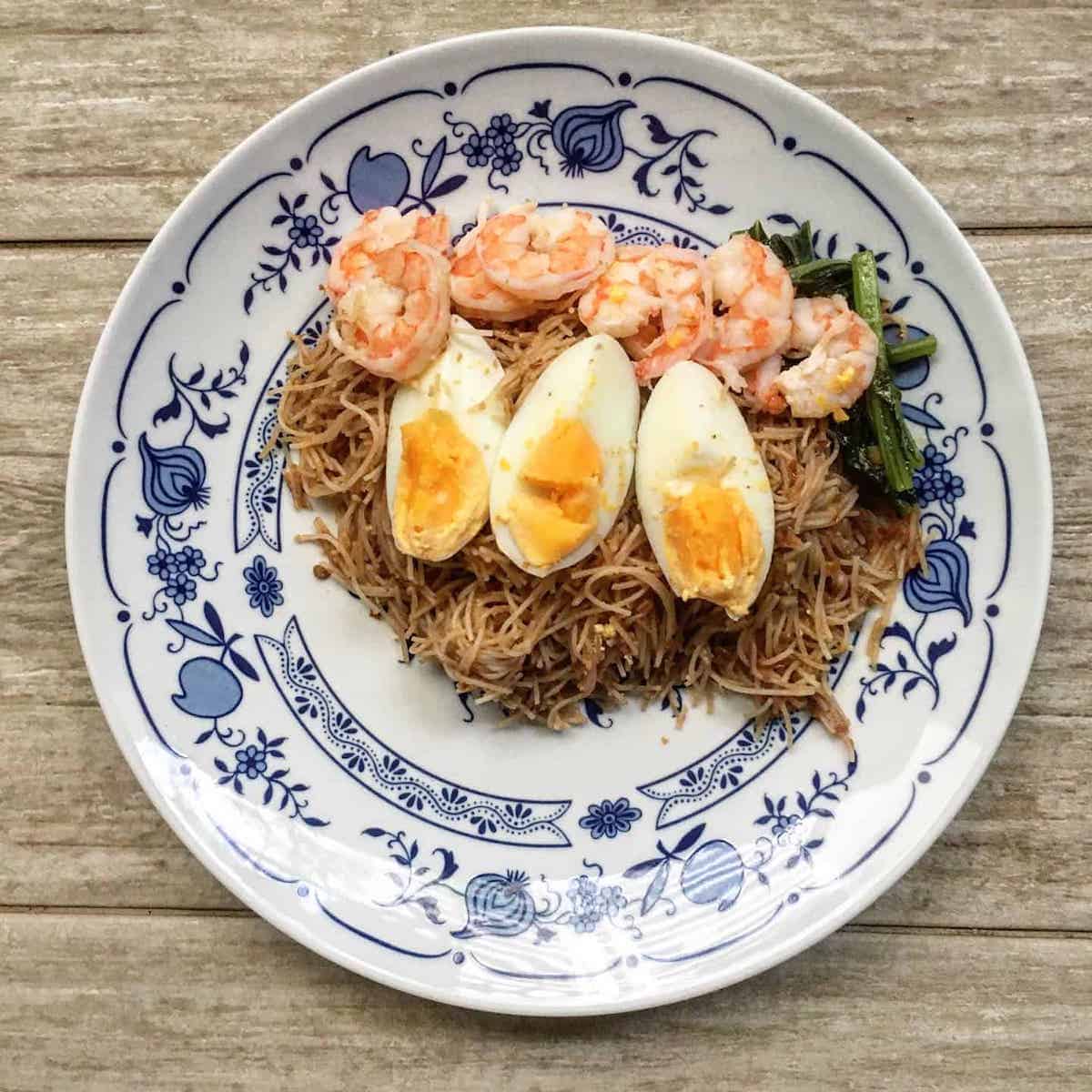 🍧 Suggested Desserts
Enjoyed this Dry Fried Mee Siam Goreng Recipe? Please leave a 5-star 🌟🌟🌟🌟🌟rating in the recipe card below! If you REALLY liked these stir-fried noodles, please consider supporting it by buying me a coffee! 🙂 (No obligation though!) Thank you and have a great day!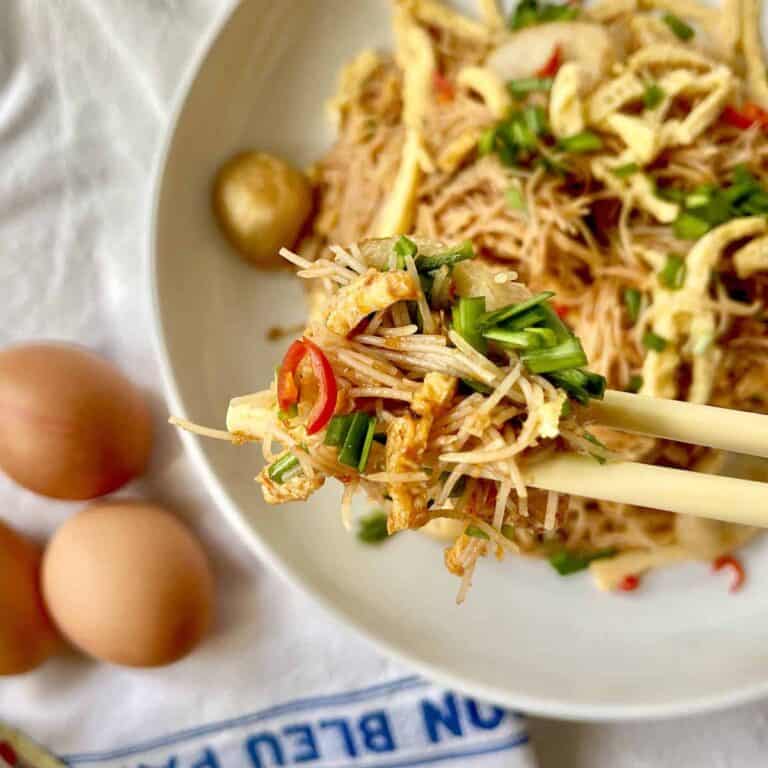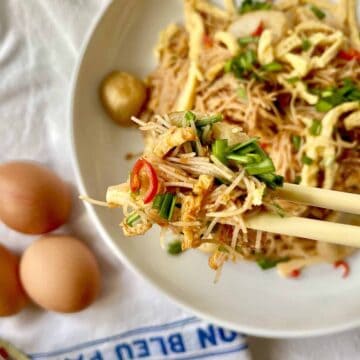 Authentic Singapore Dry Mee Siam Goreng
A popular breakfast in Singapore, dry mee siam goreng is sweet, spicy, salty, a little sour and altogether delicious! A feast for the senses but simple to make!
Equipment
Blender

Substitute: mortar and pestle

Wok and heat-proof spatula
Ingredients
For the rempah (dry mee goreng paste)
2

Tablespoons

dried prawns

(heibi), pound till powdery. Click here for dried shrimp substitutes.

20

dried chillies, cut and deseeded

Note that various brands of dried chillies have different spice levels. we've removed the seeds to make sure it's not too spicy but if you're not sure about the spice level, maybe use a bit less for your first try. You can also substitute this with chilli paste (unseasoned) if you want to cut down on the blending time- if so, blend the shallots, fresh chillies and candlenuts first, then add in the chilli paste before stir-frying)

5

oz

shallots

cut into small ½-1 inch pieces for easy blending/ pounding (approx 140g.) I use red onions (or yellow) when I don't have shallots

0.5

oz

belacan

(14g) do not substitute with fresh prawns if you can't get taste or you'll be making a totally different dish

0.7

oz

candlenuts

(20g) Use macademia, 1 of these candlenut subs or leave out if you can't get this. Note uncooked candlenuts are a little toxic so don't eat them raw!

0-4

fresh red chillies

The amount depends on how fertile my plant feels.
Noodles
5.6

oz

dried bee hoon

(160g) Alternative option: glass noodles. Note the weight of dried vs rehydrated noodles is totally different! 5-10 minutes before you're going to start stir-frying the noodles, soak the bee hoon (rice vermicelli) or tang hoon (glass noodles) in hot water. Make sure that they're not left too long- you want them al dente because they're going to be cooked some more. (Also the mee becomes fragile if it soaks for too long- if using glass noodles, they won't break even if soaked longer.) If you use room temperature/ cold water, it may need around 40 minutes of soaking.

1

Tablespoon

tamarind

Also known as assam jawa. Substitute: ½ Cup tamarind juice.

½

Cup

Water

Mix with the tamarind above then strain- keep the tamarind water.

2

Tablespoons

taucheo

Can be substituted with miso or doenjang

3

teaspoons

white sugar

or to taste

1

teaspoon

salt

or to taste Substitute: soy sauce or fish sauce.
Ingredients (Optional- you can skip these for plain stir fried noodles or pick what you like from the list. However, note that If you add more or less ingredients, you may find that there is too little/ too much spice paste!)
6

eggs

beaten till foamy, seasoned with salt or fish sauce, then fried into an omelette and cut into strips

9

Prawns

deveined and deshelled then blanched. Substitute: sliced canned abalone, scallops etc

1

oz

garlic chives

cut into 3 inch strips

8

slices

fish cake

pan fried
Garnish (Optional)
2

Calamansi Limes

halved.To squeeze on the noodles if u want more tang- but taste first! Click here for alternatives to calamansi.
Instructions
Making the dry mee siam paste- this part can be batch made in advance and frozen
Put ⅓ of the rempah ingredients in the blender/ food processor or mortar and pestle. Blend/ process/ pound. If necessary, add a bit of oil to the blender/ processor to help the blending.

Once the ingredients are broken down, scrape with a spatula, then add another ⅓. Repeat the process until all the ingredients have been blended.

Note: don't use a spatula that you use for baking as the belacan smell is quite noxious.

Add 1.5-2T of oil to a wok and heat it on medium-high. When hot, add the mee siam paste. (Add oil to a cold pan if you're using non-stick cookware. If you're using stainless steel, heat then pan then add the oil.) (Don't skimp on the oil as the rempah needs it, but if you've added oil when blending the rempah, use a bit less.)

Saute the spice paste till fragrant (about 5-10 minutes).

Once aromatic, add the taucheo/ miso/ doenjang and stir till well-mixed.

Note: If you're planning to freeze the spice paste, stop at this step. Let it cool, portion and freeze accordingly. (You can also freeze the rempah after blending and before saute-ing, but stir-frying the rempah now saves time later!)
Frying the noodles
If you're eating the mee siam today, add ¾ of the tamarind water to the rempah in the pan, stir, then season with sugar and salt to taste. If too dry, add more tamarind juice.

Add the noodles and stir till they've absorbed the rest of the water and become fluffy.. Taste and add more salt or/and sugar if necessary

Add the prawns, garlic chives, omelette strips and whatever (cooked) ingredients you're using, give everything a mix and the noodles are good to go

Optional: give it a squeeze of calamansi juice and maybe a side of sambal if you like your spice!
Notes
WARNING
Remember to handle chilies with gloves and not to touch your eyes! Also, soak then cut the chillies and remove the seeds or the spice level will literally burn your tongue. Different brands of dried chillies differ in heat (also dependent on the age of the dried chillies.)
Note: the nutritional information is an estimate automatically calculated using the WPRM recipe maker and I am not responsible for its veracity.
Nutrition
Calories:
397
kcal
Carbohydrates:
53
g
Protein:
23
g
Fat:
11
g
Saturated Fat:
2
g
Polyunsaturated Fat:
2
g
Monounsaturated Fat:
3
g
Trans Fat:
0.03
g
Cholesterol:
353
mg
Sodium:
1642
mg
Potassium:
469
mg
Fiber:
4
g
Sugar:
7
g
Vitamin A:
1448
IU
Vitamin C:
18
mg
Calcium:
134
mg
Iron:
3
mg
If you enjoyed this Singaporean noodle recipe, maybe you'd like to sign up for my newsletter in which I send you more authentic Asian recipes?