Dried shrimp, also known in Malaysia, Singapore & Indonesia as "udang kering", is a key ingredient in many South East Asian, East Asian and South Asian recipes. Thanks to its umami notes, it adds a ton of flavour to food, and thus is a very common ingredient in Asian cuisine. Sadly, it is not readily available outside of Asia so I will provide a list of the best alternatives below.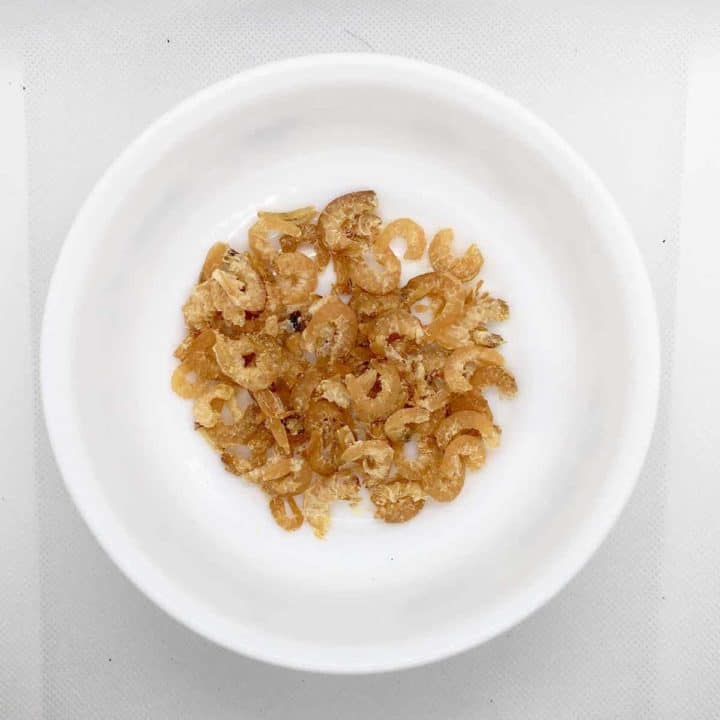 Jump to:
What is dried shrimp?
Known as xia mi (虾米) or hai mi (海米) in Chinese (literally prawn rice/ grain and sea grain), hae bee (in Hokkien), udang kering (Malay- literally prawn dry), tom kho (Vietnamese), kung haeng (กุ้งแห้ง in Thai- literally prawn dry), dried shrimp is shrimp (prawn) that has been dried, usually under the sun, till all the water is gone and it has shrunk to a small size.
The drying helps to preserve the shrimp, and they can be kept for quite a long time after processing. Different grades of dried shrimp come in different sizes and varying shades of colour as well. Generally, the larger and pinker prawns are more expensive.
Some dried shrimp have their shells on and others have been peeled- Chinese and South East Asian recipes typically use the peeled ones.
What does it taste like?
It's a little salty, a little sweet and full of umami flavor (very savoury). A bit goes a long way as dried shrimps are packed with flavour, so a packet should be able to last you for a while. (Well unless you are making something like pulut panggang, a Malay snack which calls for a lot of this condiment!)
It has a chewy texture- the shorter a time the shrimp has been cooked/ soaked, the harder and chewier it will be. Although it's hard to 100% replicate the sweet, fishy flavor, I'll provide a list of the best substitutes below as dried shrimp is a very common ingredient in South East Asia & you need it for most of the recipes.
How to use
Dried prawns are usually rehydrated by soaking in hot water (usually for around 20-30 minutes), before adding to food to bring sweetness and savouriness to the dish. They can be:
left whole and stir-fried for e.g. in the Korean banchan (side dish) mareunsaeu bokkeum (마른새우볶음)
tossed whole into soups and stews to add umami
fried (and perhaps cut) then used to add crunch to food e.g. in Thai pomelo salad, turkey berry curry or a topping for congee or noodles such as Pad Thai

This is common in Vietnamese cooking

pounded into a paste (with other ingredients) which is stir-fried till fragrant for e.g. in Mee Siam noodles and some curry paste

In this case, we get the flavour of the dried shrimp but not much texture.

pounded or blitzed into smaller pieces and cooked with other ingredients for e.g. in hae bee hiam or XO chilli

here, the dried prawns are used for both their taste as well as the texture when broken into smaller bits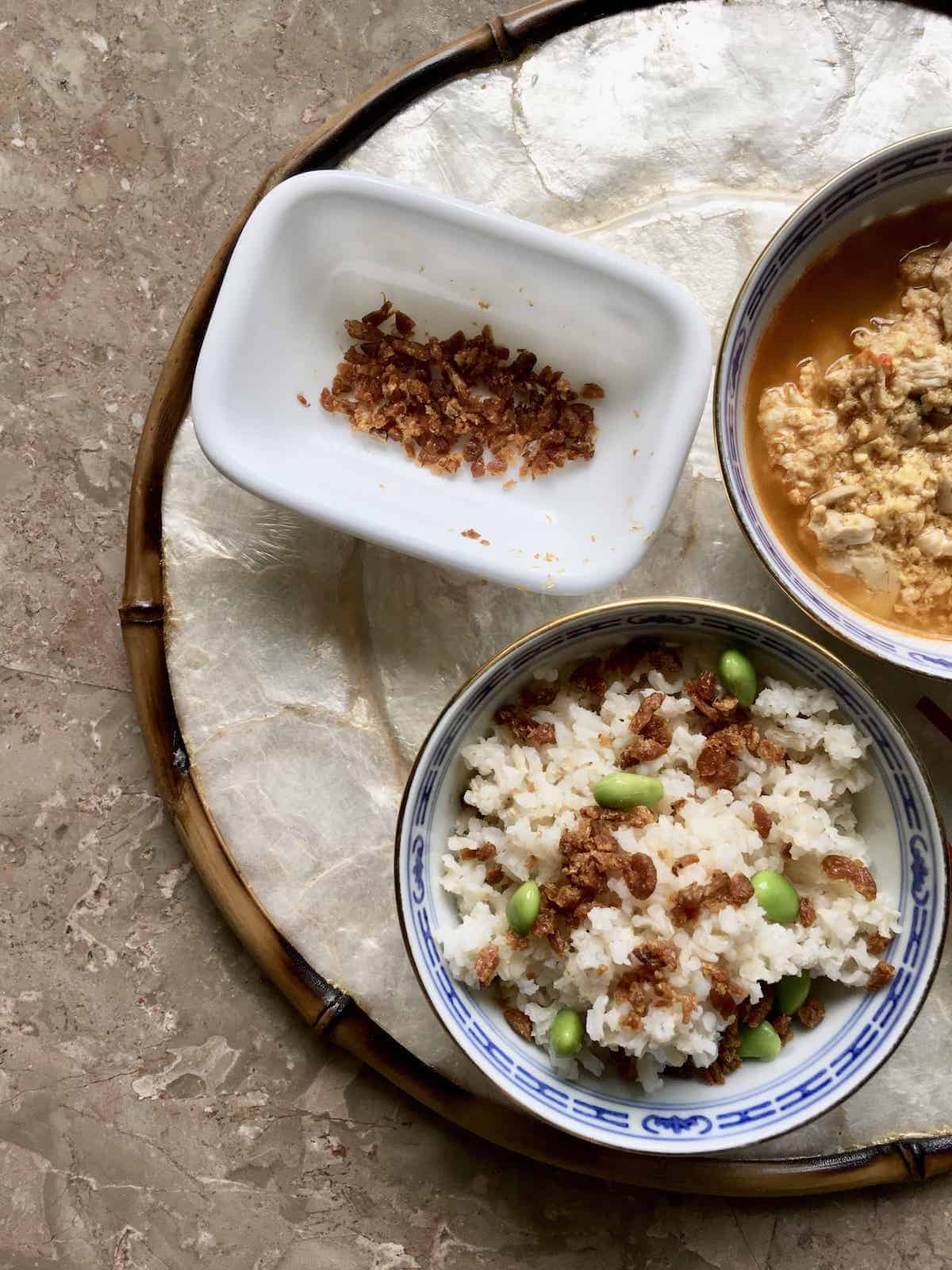 Where to buy
In Asia, you can get dried shrimps in any regular supermarket but in US and Europe, you will need to go to the Asian grocery store or order online. Choose the ones that are brighter orange in color (they brown as they age), and avoid any with white specks on them as it is a sign that the shrimps are past their prime or may not have been 100% dry before packing.
How to store
It is best to keep dried shrimps in the fridge (if you will be using them within the next 1-2 months) or freezer (if u need them to last longer than 2 months- they will start losing their flavor after about 6 months FYI). Note that though the tiny shrimp have a good shelf life, they do sometimes go moldy (even in the fridge) so always check before using.
Tips
Don't throw away the soaking water- it can be added to sauces and stock to give them more depth of flavor.
FAQ
Can dried shrimp be eaten uncooked?
I have a Thai friend who eats the dried shrimp "raw" as a snack, but have never done so myself. In general, I don't recommend it as they have usually been letting lying exposed in the market and so aren't extremely clean. If you want to munch on them, lightly toast them in some oil and they become a delicious finger food!
Substitutes
Obviously, a good alternative to dried shrimp would depend on what the dried shrimp is originally used for. Many websites say that shrimp paste (belacan) is a good substitute, and whilst the 2 do share common flavour notes, belacan won't be a great topping for rice porridge, for example!
For toasted dried shrimp
In dishes which require both the umami + sweet flavour of the dried shrimp as well as its texture (e.g. XO chilli) go for dried seafood as a substitute. For example:
dried anchovies (ikan bills)
dried squid
dried scallops (much more expensive)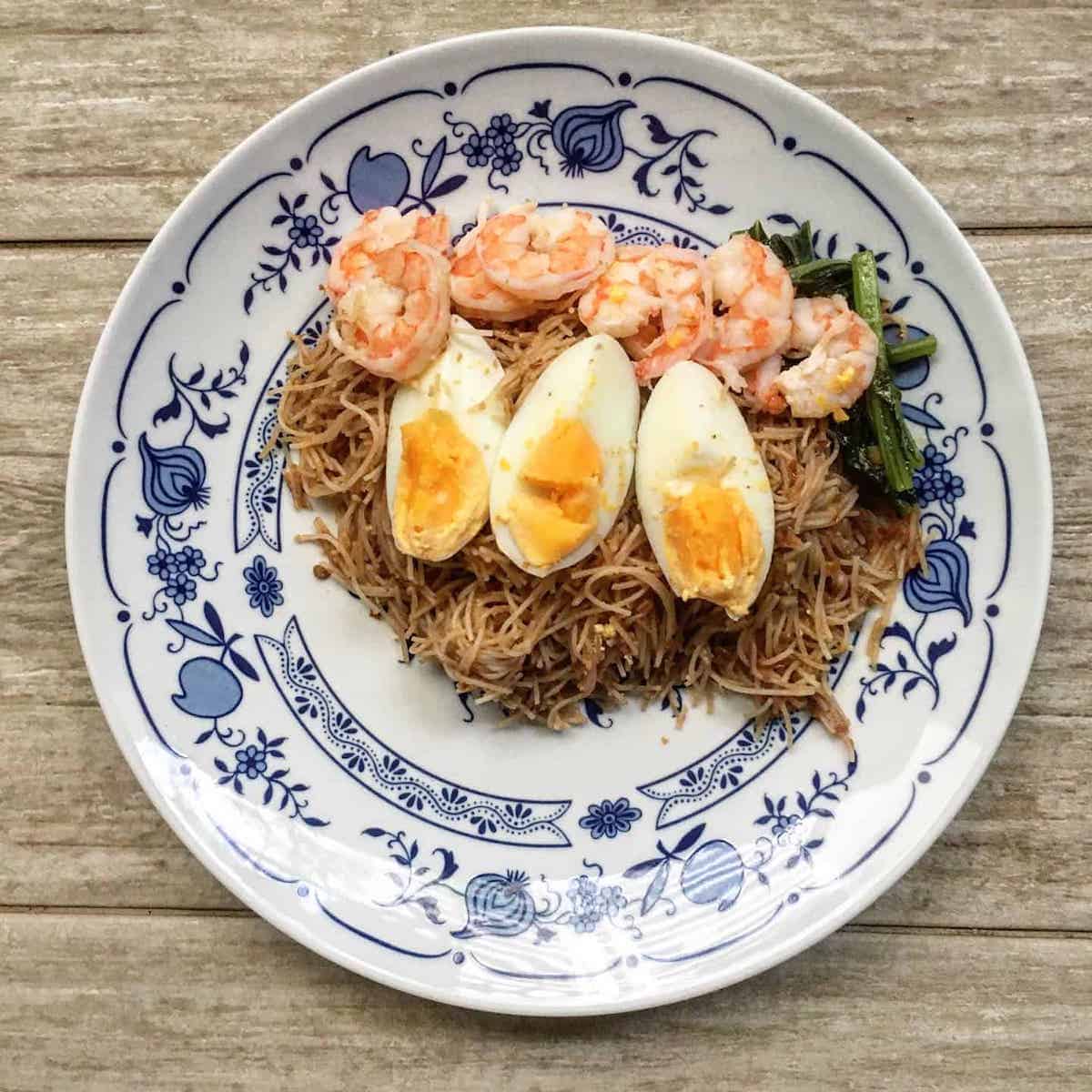 Where the dried shrimp is used as a topping for crunch (e.g. in salad dressings or on porridge & noodles), alternatives include:
small pieces of fried garlic
sliced fried shallots
chopped toasted peanuts
fresh prawns cooked till a little stringy and dryer
Note: you may also want to add a bit of fish sauce to replicate the umami-ness of dried shrimp (The dried version is sweeter and more savoury than fresh shrimp because the flavor is concentrated thanks to the lack of water. If you use pure fresh prawns as a substitute for dried shrimps, a South East Asian will always be the taste the difference!)
For pounded/ blended dried shrimp
When the dried shrimp is made into a paste and used like a sauce (for e.g. in Mee Siam), 1 or more of the following would be a good alternative. The best substitute for dried shrimp in this case would probably be a combination of a few of the following condiments:
Shrimp paste
Known as belacan, terasi and Kapi (in Singapore/ Malaysia, Indonesia and Thailand respectively), shrimp paste is actually fermented prawns. It is made by mixing prawns with salt, then leaving them to ferment for a few weeks. (Belacan is actually available in larger supermarkets in the UK but you still need to go to the Asian market for dried shrimp.)
As a result, whilst belacan has similar flavours to dried shrimps, it is much saltier and more concentrated- belacan has a VERY strong flavor which isn't to everyone's taste- so use sparingly. It also isn't as sweet so, when using it as a substitute for dried shrimps, I would suggest halving the quantity of belacan and adding a pinch of sugar.
2. Fish sauce (Nam pla)
This will make it much more salty so maybe mix a few tablespoons of fish sauce with some blended fresh shrimp and a pinch of sugar when using in the place of dried shrimps.
3. Anchovy fillet
Anchovies have a similar brininess to dried shrimp. You can mash them into a paste and mix with a teaspoon of fish sauce and some sugar when out of dried shrimps.
4. Saeu-jeot
This is a salted and fermented small Korean shrimp- unlike dried shrimps, it is usually stored in liquid (so not dried) and has the shell on.
5. Kelp & Katsuboshi (bonito flakes)
A kelp and katsuboshi stock is high in glutamates, so it can help mimic the umami of dried shrimp. However, it is very thin compared to the dried shrimp paste so would be best mixed with some anchovy paste, sugar and prawn oil if you have any on hand.
Note: I do not recommend soy sauce alone as substitute for dried shrimps- though soy sauce has umami notes, it doesn't have the briny flavor of the sea.
6. Oyster sauce
Vegan alternative
Shiitake mushrooms
Some sites say dried shiitake mushrooms but I strongly disagree- whilst dried shiitake is also high in glutamates (i.e. umami), it also has a very strong, very distinct smell and flavour that is nothing like dried shrimps!
If looking for a plant-based or vegetarian substitute, I would recommend either using fresh shiitake mushrooms or mixing some kelp stock and soy sauce instead (both are also rich in natural glutamates, and don't contribute the mushroom-y flavor.)
2. Fermented bean paste (fu ru)/ miso/ doenjjang/ taucheo
Mix it with a bit of soy sauce, kelp stock and crushed peanuts (for texture). (Remember to use dark miso paste and not white.)
Note: you need kelp stock to help create the flavor of the sea (the "fishy" flavor) in the vegan substitute for dried shrimp.
3. Vegetarian oyster sauce
These are usually made from mushrooms and, like the fermented bean curd above, is readily available at Asian grocers.
4. Vegan fish sauce
If you do use any of the above when you run out of dried shrimps, I'd love to hear about your experience in the comments below! Before you go, you may also be interested in: