The best Asian Shrimp recipes for Chinese New Year 2023. From Chinese to Thai, Vietnamese and Korean, these smiling seafood dishes will usher in a happy Year of the Rabbit!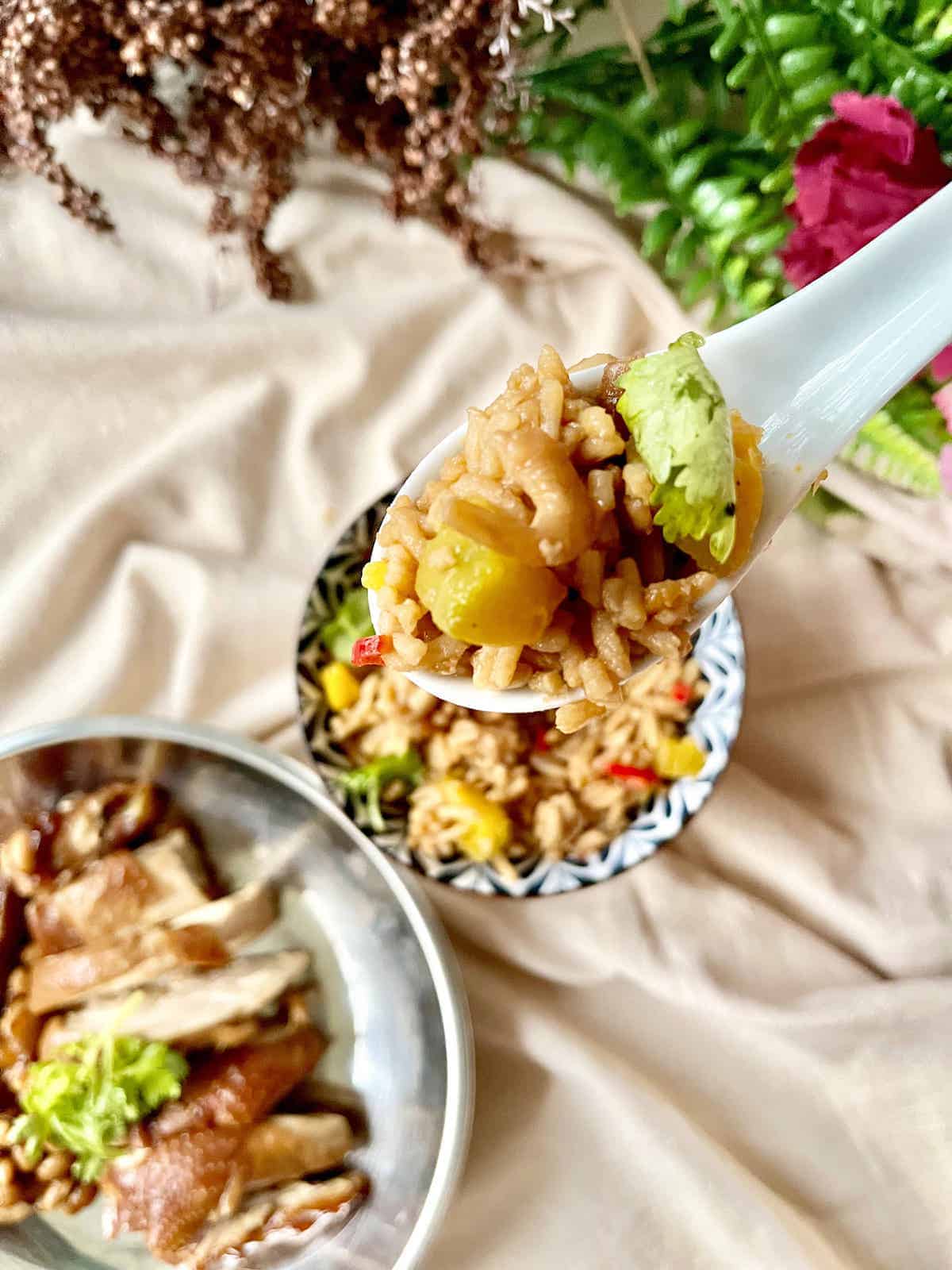 Jump to:
Why Cook Shrimp
Shrimp cooks really fast: it's a great ingredient for a quick weeknight dinner meal!
Healthy: it's high in protein and low in fat. It's also easy to turn it into a complete meal by throwing in some snow peas, red peppers, bok Choy or broccoli!
Versatile: as the flavor is quite mild, shrimp goes well with anything from chili garlic sauce to coconut milk or Korean Gochujang! For example, this Thai glass noodle salad uses abalone, but you can add or substitute with prawns instead!
Note: Shrimp (Xia in Chinese) is a symbol for laughter (Xiao) in Chinese culture as the 2 sound similar so you often see a shrimp stir fry recipe on the Lunar New Year table, along with abalone (for prosperity) and whole chicken (for togetherness) recipes.
After all that savoury food, here are some easy Chinese New Year desserts and cookies to end everything on a sweet note and get your year off to the right start!
Chinese
These easy recipes are made with simple ingredients yet better than anything you can get from Chinese restaurants. From congee (comfort food) to Dim Sum and a rice cooker recipe, I have you covered!
Mei Fun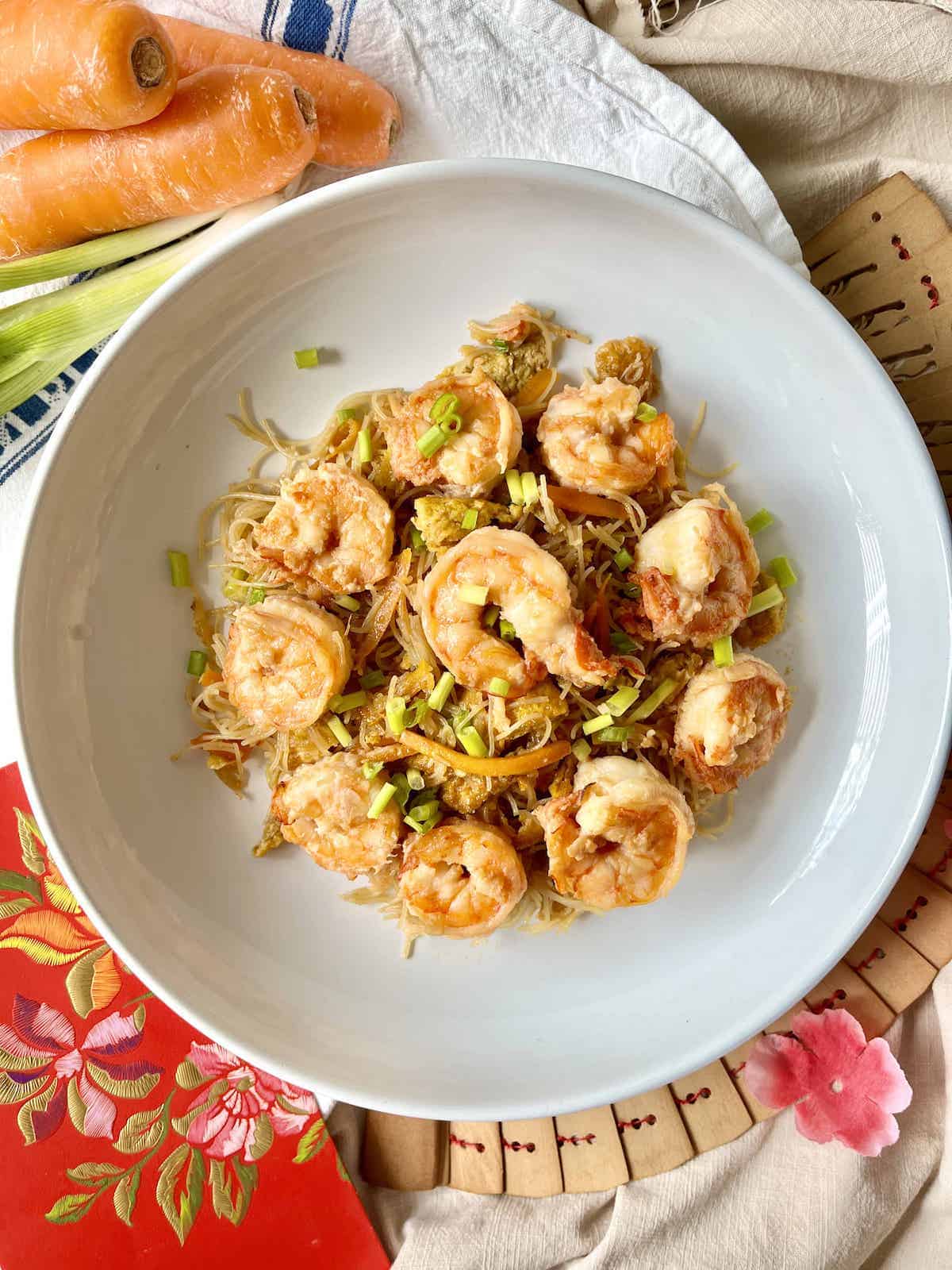 Shrimp Mei Fun (Fried Rice Noodles)
Shrimp Mei Fun is an easy Stir Fried Thin Rice Noodles Dish. Packed with shrimp and vegetables, it's a complete meal with fibre and protein that cam be made in under 30 minutes!
Click here for the Singapore Noodles recipe.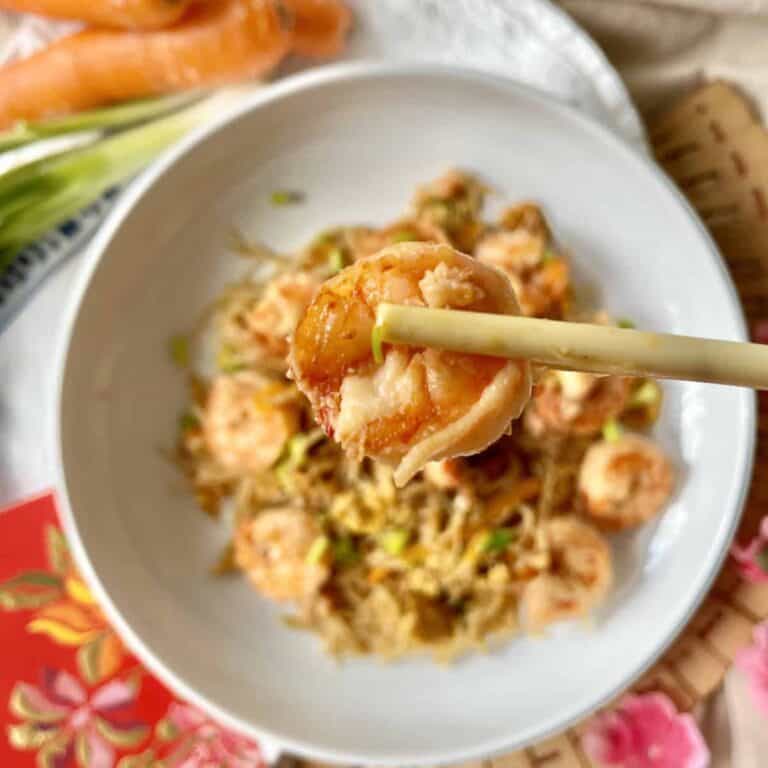 Porridge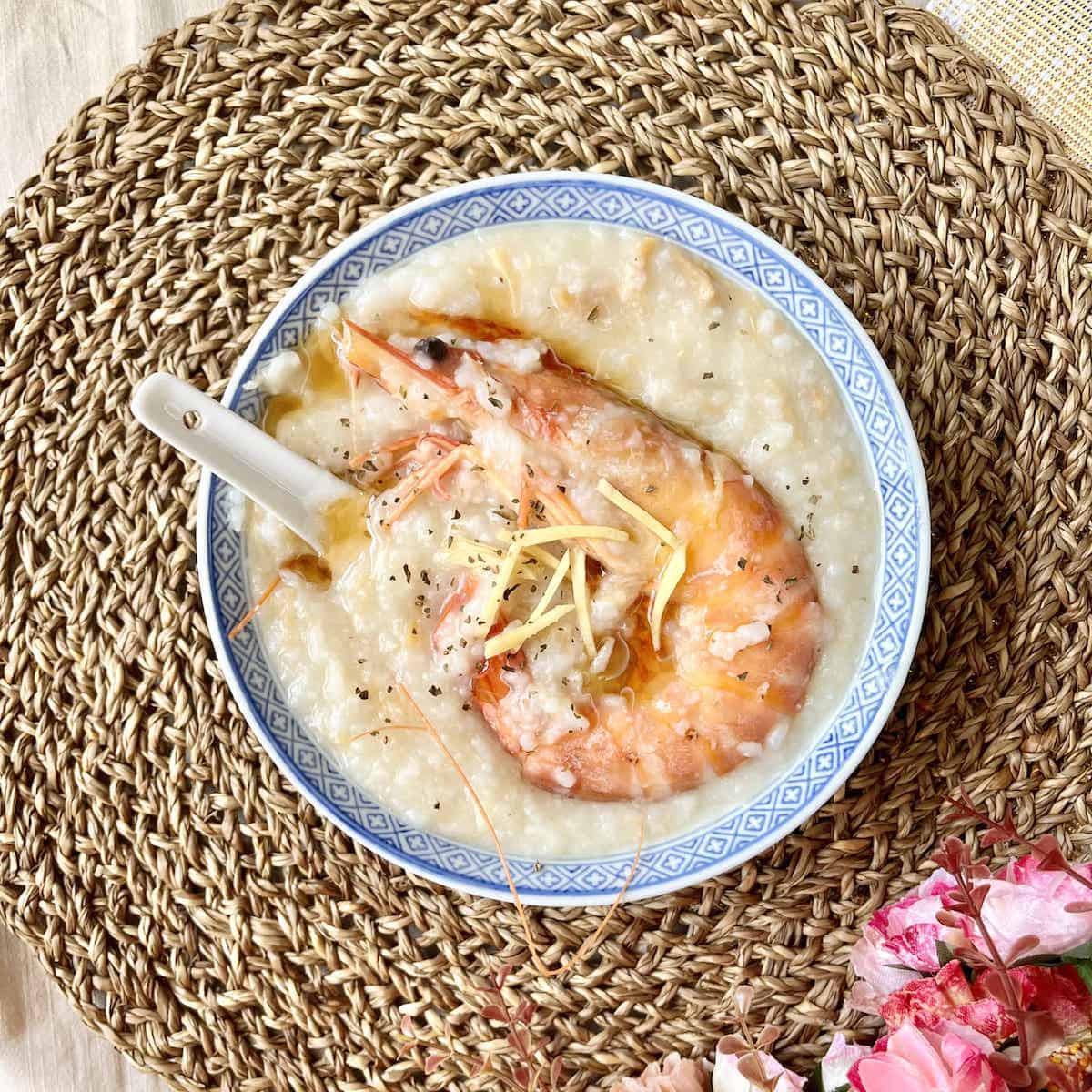 Note: Chinese porridge goes really well with a drizzle of sesame oil and green onions! You can also match it with toppings, such as pickled vegetables, and side dishes such as braised peanuts.
Easy Chinese Seafood congee with shrimp/ prawn
This Easy Chinese Seafood congee with shrimps or prawns is a delicious seafood rice porridge that is easy to cook but still silky and rich. Chicken stock/ broth optional!
Click here for the prawn congee recipe.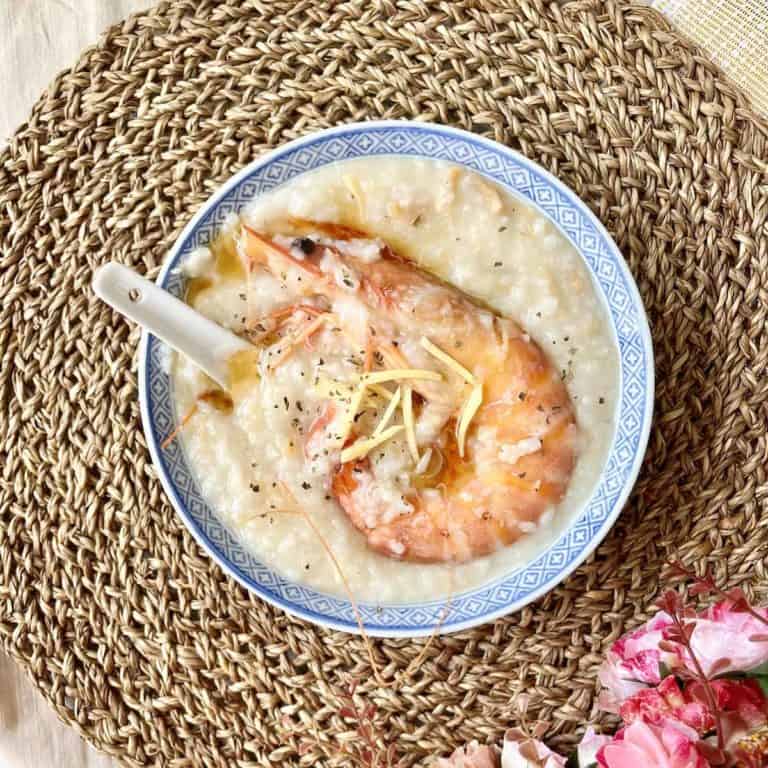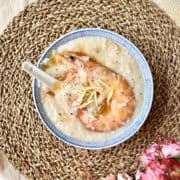 Lo Mein
Shrimp Lo Mein is a take-out classic made in 15 minutes, and always a crowd pleaser with its succulent shrimp. Perfect for those who don't have a lot of time to spend in the kitchen!
Note: Chinese people love drinking tea with meals to wash down the oil. Try this floral osmanthus tea, this dried longan ginger tea or this sour plum tea for digestion!
Dried Shrimp Rice with Pumpkin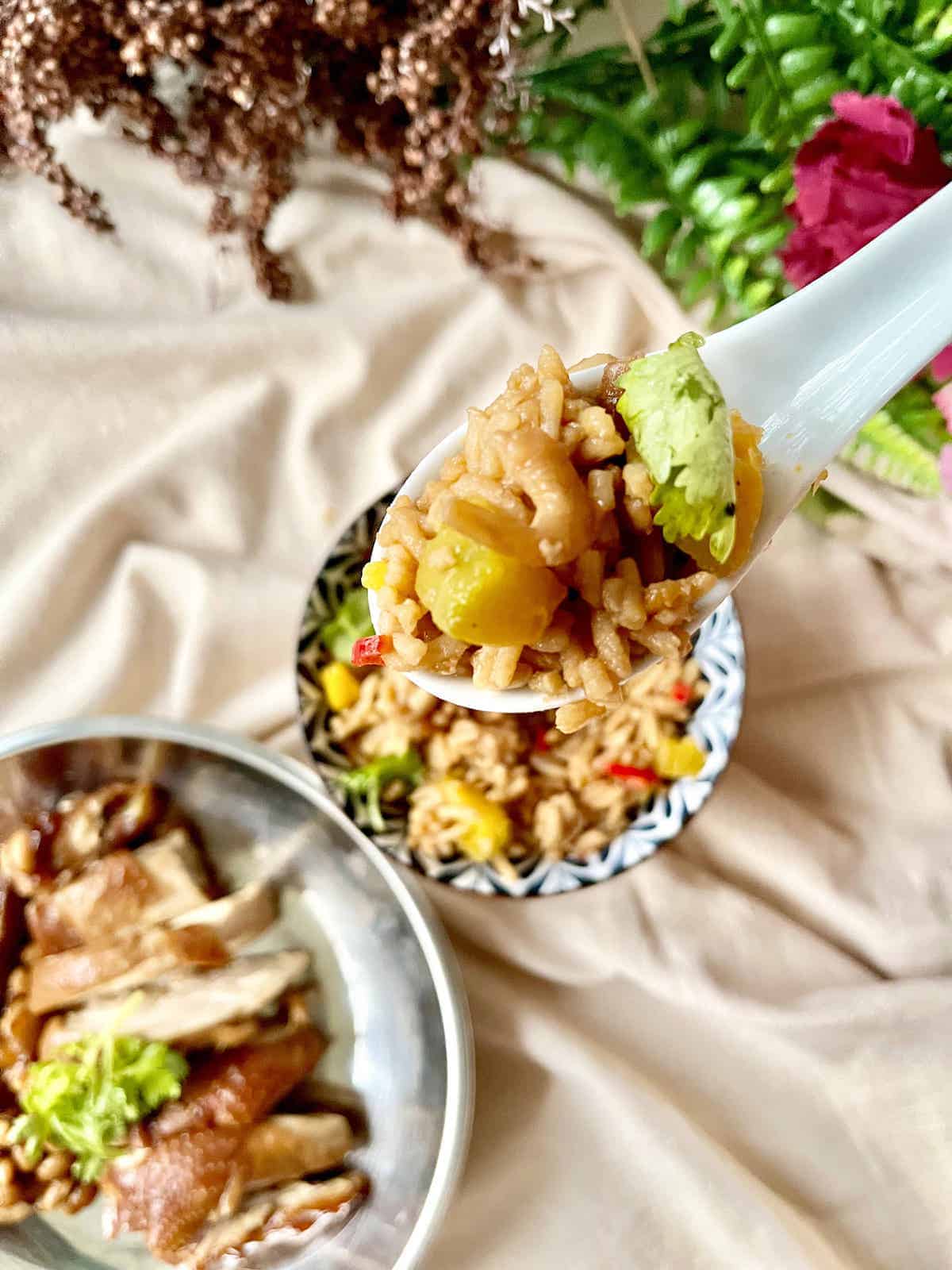 Unless you're cooking for a crowd (or have a very small pumpkin), odds are you'll have a ton left after this recipe. Use them in 1 of these Asian pumpkin recipes, such as Pumpkin Bing!
Chinese Pumpkin Rice
This Chinese Pumpkin rice is a super easy and flavorful rice cooker recipe: the soft pumpkin cubes melt in your mouth, contrasting with the firm bite of the white rice grains. Moreover, it only takes 10 minutes to prepare and the rest of the work is up to your rice cooker!
Click here for the dried shrimp recipe.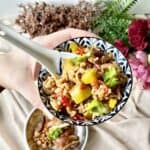 Sesame Toast
A Dim Sum classic that is super easy to recreate at home, this prawn toast is covered in sesame seeds and can be on the table in 20 minutes! Serve with some Green Scallion Pancakes for a complete feast!
Tip: if you know how to make these, you can make 2 of the other Asian shrimp recipes on this list, Menbosha and Vietnamese Juicy Shrimp sticks, as the recipes all require making shrimp paste! (Don't forget to let them drain on a paper towel to remove the excess oil.)
Kung Pao
This Kung Pao Shrimp shrimp recipe will delight your taste buds and is cooked in 20 minutes- quicker than getting Chinese takeout!
Hunan
Fresh shrimp are cooked with chicken broth, oyster sauce, Chinese beans sauce and other ingredients to create a savory, spicy sauce.
Sichuan
These spicy prawns are simple to make if you can get Sichuan peppercorns.
Sri Lankan
Devil Prawns
The "devil" in the recipe name refers to the fact that this is a spicy seafood dish, but you can adjust the sugar and spice in the yummy sauce to your taste. With tomatoes, onions and peppers, this is a delicious recipe that'll having you finishing all the rice in your bowl!
Korean
As you can see, there are a lot of Chinese prawn recipes, but shrimps are a common ingredient in Asian cuisine, such as Korean and Japanese.
Gochujang
This Korean prawns recipe is crunchy from the cornstarch coating and sweet and spicy from the honey Gochujang sauce. Done in under 30 minutes, you can also bulk it up with bell peppers or carrots. If you don't have Gochujang seasoning, click through for 1 of the alternative sauces that you can use.
The recipe goes really well with Korean barley tea, plum tea or makgeolli and plum wine if you want something for Happy Hour!
Note: If you enjoy this fermented Korean paste, you would love this Gochujang Salmon. (Gochujang is also great in cream based sauces such as Gochujang Mayo Aioli and this Easy Gochujang Spaghetti!
Menbosha
Popularised by Seoul celebrity chef Lee Yeon Bok, this Korean-Chinese prawn toast is crisp yet soft and juicy. (They're fluffier than the original Chinese sesame toast they were inspired by.)
Apparently, there's quite a queue to get into his restaurant, so why not skip the wait by making your own and impress your friends? Serve it with some of these easy Korean banchan sides!
Fusion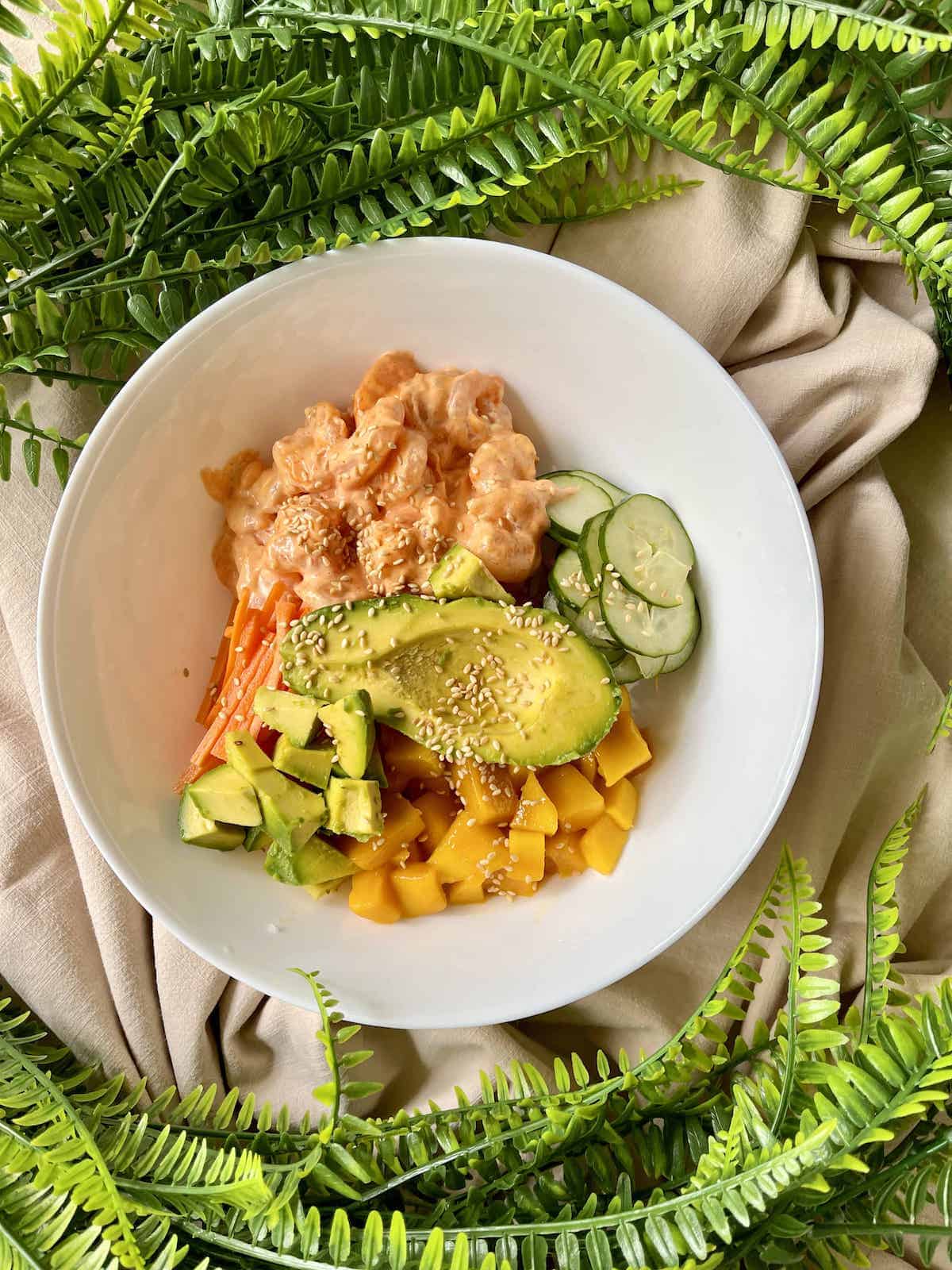 Easy Shrimp Poke Bowl
Shrimp Poke Bowl is a simple and delicious Hawaiian-inspired recipe that's on the table in under 30 minutes. You can also easily customise it to different diets (e.g. vegetarian), making for a great family weeknight dinner. Full of fresh ingredients which are readily available, so no need to trek down to the Asian grocery store!
Click here for the rainbow poke bowl recipe.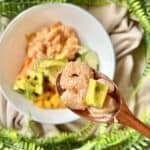 Singaporean
Assam
This Nyonya recipe uses simple ingredients, such as brown sugar, tamarind and dark soy sauce to create a mouthwatering glaze. You can use the same sticky Asian sauce for fish too! (Tamarind is used in a lot of South East Asian recipes, such as this coconut fish curry and these Peranakan noodles.)
Note: Finish the meal with this sweet pandan coconut kueh (looks like a rolled up and stuffed crepe) which is 1 of the most popular Singaporean desserts!
Mee Siam
Singapore Mee Siam Recipe (with Soup)
This Singapore Mee Siam Recipe (with Soup) is sweet, spicy, tangy and altogether delicious! No wonder it is such a popular noodle dish in Singapore and Malaysia!
Click here for the wet Mee Siam recipe.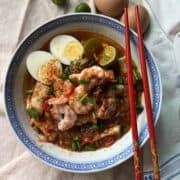 Shrimp lovers would really enjoy this noodle dish, as you not only served it with poached prawns, but the sauce is also made from dried shrimps (hei bi!) So lots of briny, prawn-y flavor here.
Note: if you don't like soupy noodles, there's also a stir-fried version of this Singapore noodles here.
Japanese
Shrimp Tempura
Tips and tricks from a Japanese person on how to get that light and crispy tempura batter. You don't have to limit yourself to prawns- abalone and vegetables work too!
Note: If you feel guilty about the deep-frying, follow it with a low-calorie yuzu jelly dessert!
Vietnamese
Tom Rim
Tom Rim prawns are caramelised in a thick, sweet and salty sauce. Traditionally, the shells are left on so use large shrimp to make it less of a pain. (Small ones mean a lot of work for very little meat!)
Alternatively, you can remove the shells before cooking too. If you do, save them to make shrimp congee or shrimp broth!
Goes perfectly with a bowl of white rice or pandan rice!
Shrimp Sticks
Chao Tom is 1 of my favorite Vietnamese recipes.
Prawns are mixed to form a bouncy paste and then wrapped around sugar cane sticks or lemongrass and fried to create the ultimate starter. Follow them with these baked-but-as-crispy-as-fried-wings that are coated in a fingerlicking fish sauce and brown sugar glaze and this pandan latte!
Indian
In Ghee
This Mangalorean prawn recipe has tamarind for tang and fresh curry leaves to add a complex, earthy flavor. Easy and spicy, it goes with anything from Asian breads such as chapati or brown rice and cauliflower rice!
Tandoori
This Indian appetizer can be made in the oven, stove or air-fryer in 15 minutes!
Note: For a complete Indian feast, serve them with some samosas (don't forget the dipping sauces!) and some of these easy side dishes.
Thai
Spicy Fried Rice with Thai Basil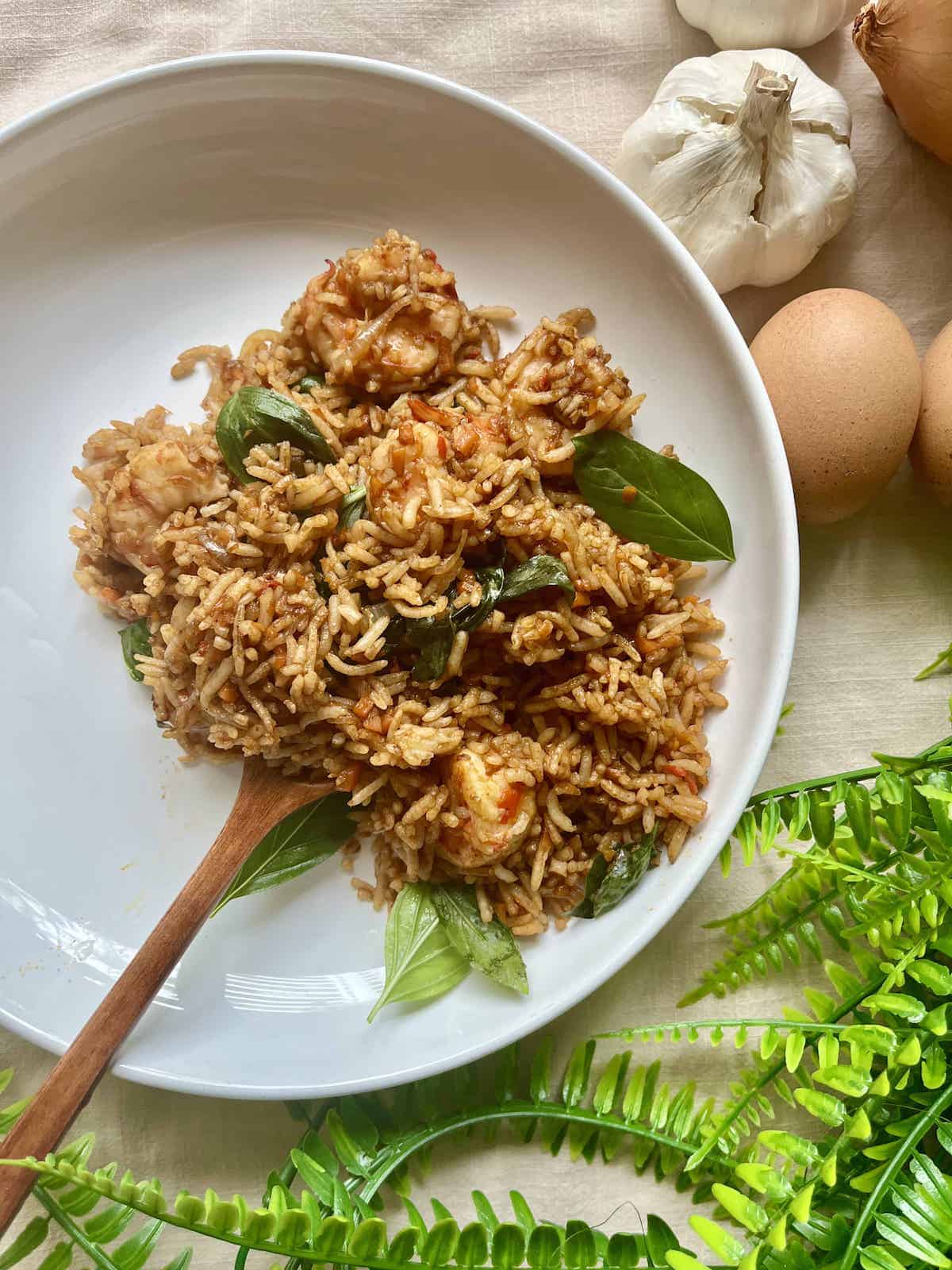 Thai Basil Fried Rice with Shrimp (Khao Pad Goong)
This Thai Basil Fried Rice with Shrimp (Khao Pad Goong) is quick easy and delicious: it's on the table in under 30 minutes if you have leftover rice. Plus making it at home means you can save money and custmise it to your desired spice level!
Click here for the Spicy Thai Fried Rice recipe.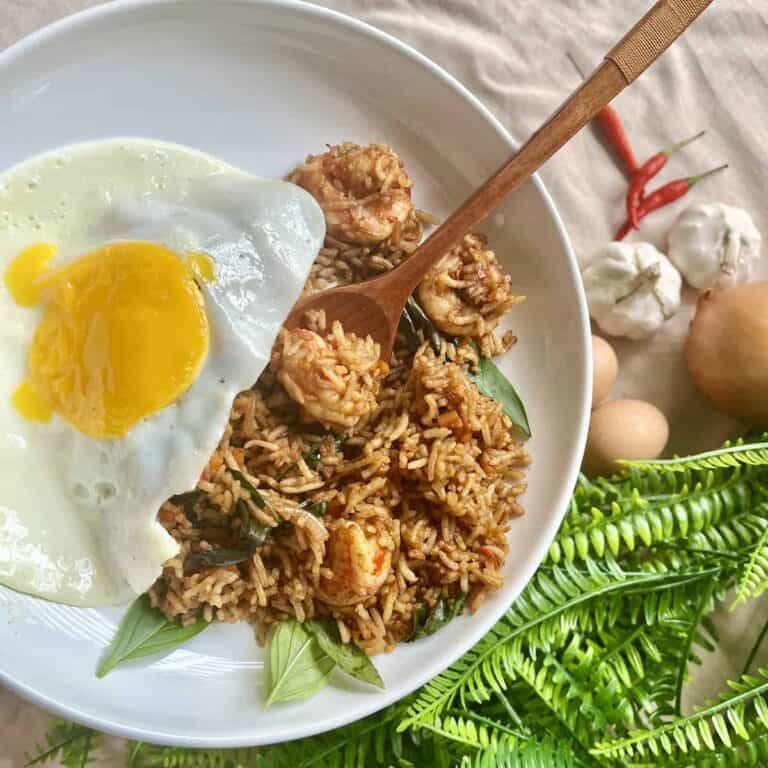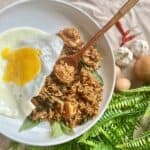 Pad Thai
Did you know this is the National Dish of Thailand? (Usually without the butter though!) The sauce is a bit tangy, a bit savory and a bit spicy, the way Thai people like their food.
Note: Don't forget to serve with some red pepper flakes, sugar, fish sauce and peanuts on the side though, the way they do it in Thailand! (My father lived there for over 20 years so eaten maaaaaany Pad Thais.)
Filipino
Shrimp Sinigang
With lots of vegetables such as fresh ginger and radish, this Filipino soup is light, refreshing and easy to make!
Did you find any new recipes to add to your weekly menu rotation? If this list of Asian shrimp recipes was helpful, maybe you'd like to sign up for my Asian recipes' newsletter!