An ancient Chinese drink that is still popular today, Dried Chinese Sour Plum Tea Drink (SuanMeiTang) is very refreshing when drunk with ice on a hot day. As some of the ingredients can be difficult to find outside of an Asian Traditional Chinese Medicine Shop, I've boiled this Plum Tea recipe down to its basic components to make an easy, 3-ingredient version!
Jump to Recipe
Jump to:
In my red date and longan tea post, I shared about the concept of heaty and cooling in Chinese food which, according to traditional chinese medicine (TCM), leads to sickness if not balanced properly. Well, thanks to eating lots of fried nut (fried = heaty), chocolate (also heaty but my favourite) and not getting enough sleep, I promptly developed a sore throat. (Did a COVID test twice, negative, thankfully.) To combat the heatiness, I decided to make myself some sour plum juice 酸梅湯, 1 of my favourite Asian drinks! This Dried Chinese Sour Plum Tea Drink with ice (SuanMeiTang) is similar but not the same as Korean plum tea (maesil-cha) and perfect drinking with ice on hot summer days- it's also easier to make as the Chinese preserved plums used are easier to find than Korean plum syrup, which you can either make yourself in May-July (recipe in the link), or have to buy from a Korean supermarket.
What is suanmei tang?
Made from smoked Chinese plums (烏梅, pronounced wu mei), a Traditional Chinese Medicine ingredient, suanmei tang (translated into sour plum soup in English) is a very popular Chinese drink. It is a whole burst of flavours, predominantly sweet and sour, with salty and some smokey undertones! Due to its refreshing and cooling nature, suanmeitang is usually chilled and drunk on hot days as iced plum tea. (We call it tea but it's not literally one!)
This beverage is so popular amongst the Chinese that there have even been sour plum beers brewed. (Singapore's Tiger Beer has their own version of sour plum and calamansi alcohol, inspired by the popular Assam Boi lime juice drink.)
Note: this suanmei drink is not to be confused with the Assam Boi Calamansi Lime Juice that is popular in Singapore and Malaysia.
History
Suanmeitang has been around for over 1000 years (dating to the Song Dyansty) and was commonplace in the imperial courts during the Qing Dyanasty. It was so popular that it started being mass produced in Chinese factories from the 80s. As we all know, making food at home is always better than buying factory-made, as the latter adds preservatives and what not. This sour plum "tea" is also very easy to brew, so why not learn to make it yourself?
In Chinese Culture
Plums are a huge part of Chinese culture. Some interesting trivia about plums include:
In the era of the 3 Kingdoms (AD 220-280), Cao Cao, a very famous and important figure in Chinese history, led his army under the burning sun with little water- to raise the soldier's morale, he told them about a plum tree grove ahead, which motivated them to continue forward. This led to the Chinese proverb 望梅止渴 (wang mei zhi ke, literally looking at plums quenching thirst) which means consoling oneself with false illusions.
Plums can represent many things to the Chinese, from perseverance (the flowers bloom in the harsh winter), to renewal (they're the 1st flowers seen in the year) and success (thanks to their 5 petals 5 being a good number to the Chinese).

Trivia: if you watch Chinese historical dramas, the female lead always ends up buying a street snack called "bing tang hu lu" which is like a kebab but with shiny red balls. Those sweet and sour treats are made from Chinese hawthorn, a key ingredient in this recipe!
Benefits
Suanmeitang is traditionally believed to be cooling (helps reduce the body's heatiness) and good for digestion, but I always like to reference my health claims with research journals, so I'll update this section as I find more info.
Note: this isn't meant as medical or nutritional advice but as trivia info only.
Is it healthy?
Some sites claim so but keep in mind that Chinese preserved plums are made with a ton of sugar. I love these salty, sweet and sour treats and drinks, but it's best not to overindulge!
Caffeine?
There is no caffeine in this recipe or in traditional Chinese preserved plum tea. Other Asian caffeine-free teas on my blog include Korean plum tea (which is a pure plum tea), roasted barley tea, red date longan tea and osmanthus tea.
Ingredients & Substitutes
The main ingredients of suanmeitang are:
Dried smoked plums (Wumei 烏梅) - hero of this Chinese sour plum drink
Chinese dried hawthorn (Shanzha 山楂) - gives the drink its tanginess and tart nature. Use more if you want a more mouth-puckering drink!
Chinese dried liquorice (Gancao 甘草) – traditionally used as a sweetener, and also adds an "authentic" flavour. I don't know how to describe it but if you have 2 glasses of suanmeitang, 1 with and 1 without licorice, the 1st will make you think "Ah yes that's the way Chinese sour plum tea should taste like." It has a slightly herbal but still very pleasant taste (and I'm someone not fond of herbal cuisine) but newbies to Chinese food may want to give it a miss.
Golden Osmanthus flowers (Gui Hua 桂花)
Chinese rock sugar - as rock sugar is a pain to break down (it comes in huge chunks), sometimes I substitute this with homemade osmanthus sugar or regular granulated sugar. You can use less sweetener but if you leave it out entirely, the drink may not be tasty! To make a Chinese sour plum drink without sugar, use a neutral honey instead.
If you can go organic

Other additions include dried tangerine peel (used in TCM for coughs), jujubes and flower teas such as rose and hibiscus roselle. Dried tangerine peel can be expensive and difficult to find so I sometimes substitute with fresh orange peel- make sure all the white pith is removed and that you only add it in the alst few minutes of brewing, if not the suanmeitang will be bitter!
Personally, I find the most basic suanmeitang only requires wumei (key ingredient!), Chinese hawthorn (for tartness) and a sweetener. As for the other ingredients, I include them when I have them and skip when I don't- the flavour they add to the drink is more subtle and you still get a thirst-quenching, delicious drink without them. Having some of the golden osmanthus flowers floating on the drink does make for a pretty sight, so if you're entertaining, you may want to add some in right before you serve. (The ones that have been boiled will be too soggy to look good in the tea.)
Other Osmanthus recipes include:
Don't substitute Chinese hawthorns with haw flakes. Whilst I grew up eating that Chinese candy, certain brands been banned in countries such as Denmark due to unapproved food colouring.
Note: according to Wikipedia, Gancao can have side effects, especially for pregnant women so, if in doubt, leave the gan cao out of this suanmeitang recipe and always consult your doctor first!
Types of Chinese preserved plums
There are many varieties of Chinese sour plums, from wumei to jiayingzi and huamei, which all taste slightly different. They're all made from plums, salt and sugar/ honey, and some may have other ingredients to the preservation such as licorice, cloves, tangerine peel.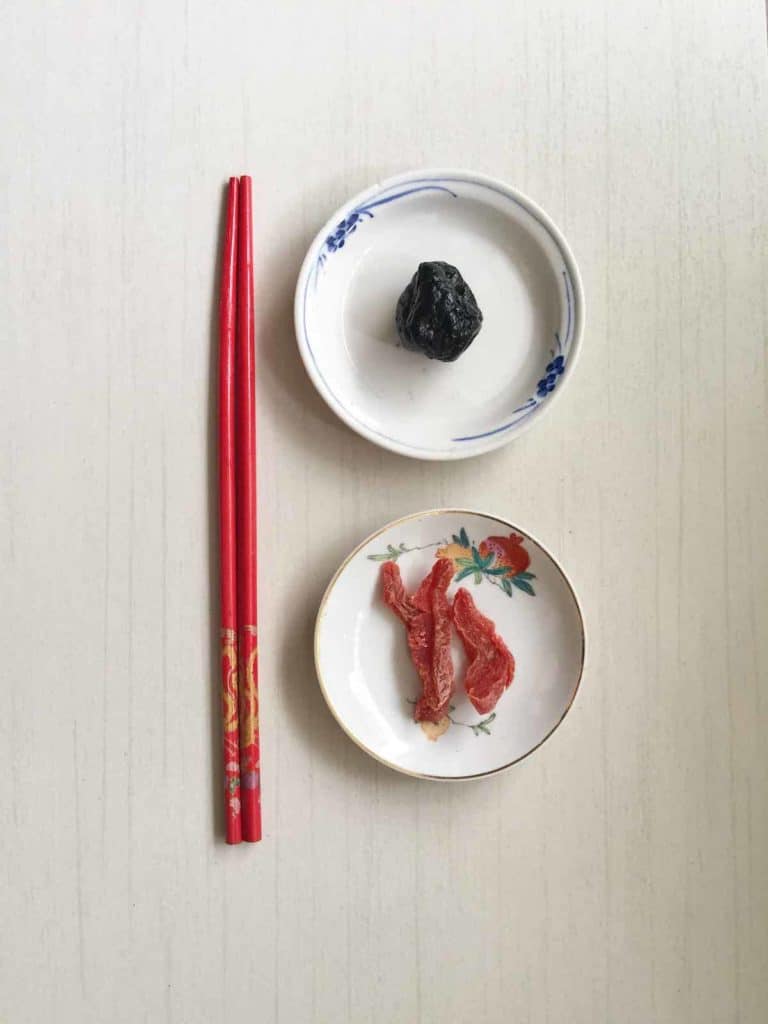 Huamei 话梅 or li ming hui 旅行梅
Huamei 话梅, also called li ming hui 旅行梅, is usually the most sour- it is very dried and speckled with white powder and looks like a mummified wumei. Made from green plums, it has a licorice flavour. The saltiness and astringency makes your mouth water and your lips pucker, mimicking this preserved fruit's puckered appearance! It's good as an appetiser to wake up your taste buds or as a snack. In Singapore and Malaysia, huamei is used to make a very refreshing drink with lime juice (Assam Boi Lime Juice).
I used to eat huamei in place of candy as a child, after meals to help digest my food or whenever I got 1 of my infamous bouts of car sickness. Some women use it to help pregnancy nausea but note this is not medical or nutritional advice (in fact, some people say to avoid these preserved plum if pregnant so please always check with a medical doctor first!)
Huamei is also available in powder form (suanmei fen) and tastes great sprinkled on fruits! It's used to make plum sauce, and is a great meat marinade (together with ginger, sugar, soy sauce and chilli if you like spice. For a sour plum pork trotter recipe, click the link.) In Hawaii, they even use li ming hui powder on gummies!
Wumei 烏梅
Wumei 烏梅- the hero of this Chinese suanmeitang drink- is black and usually has more, softer flesh. The taste is not as strong as huamei and there are some smokey undertones. It's typically consumed in Chinese plum tea and not so much as a candy.
Note: Koreans and Japanese have similar preserved plums made from maesil and ume respectively.
Where to buy
Unfortunately, Chinese hawthorn is not currently available at mainstream supermarkets like Trader's Joe or Wholefoods at the market. You may be able to get it on Amazon or Asian supermarket but your best bet is Chinese TCM shop. (The same goes for Chinese licorice, tangerine peel and osmanthus tea.)
Chinese suan mei, thankfully, are easier to find and should be available at most Chinese supermarkets.
How to choose suan mei
Traditionally, Chinese people preserved fruit by boiling in honey. Today, to cut costs, many factories use sugar. If possible, try to find wu mei with honey listed in its ingredients, as that's healthier.
Always buy from a reputable brand as, in 2012, the US recalled some suanmei brands due to the presence of lead.
Note: if you're buying pre-made sour plum drinks, always check to see if it's made from the dried ingredients or sour plum paste and flavourings. (Obviously, the former is better but the latter usually cheaper!)
Storage
Suanmeitang will go bad so, after cooling, keep it in the fridge for no more than 2-3 days. The colour of the juice may even become cloudy/ opaque- toss it!
Tips
You can cook suanmeitang in a slow cooker or pressure cooker if you want to reduce the cooking time
Freeze some Chinese plum tea in ice cubes and use those to chill the suanmei tang without watering them down.
The ingredients can be used to make a 2nd batch of sour plum drink- the ingredients won't be as potent now so either use less water, boil for longer or do both!
After straining out the ingredients, they can still be eaten but they'll taste mushy (the plum almost expands back to being a regular plum but sometimes it breaks down). Alternatively, you could blend the leftovers and turn into puree or jam.
Don't leave at room temperature as this Chinese sour plum drink goes bad- keep it in the chiller.
Chinese plum tea is not just delicious on a hot day but also after hot pot or other strong flavoured foods! (Sour plums are considered by Chinese people to be good for digestion.)
The taste changes after chilling: the cold somehow brings the flavours more into focus, and I find it becomes a bit more tart and a bit less sweet, so factor this in depending on whether you're making a hot or cold plum drink!
If you have a carbonator at home, try making a fizzy version of Chinese plum tea! Iced + fizzy plum tea = extra refreshing + delicious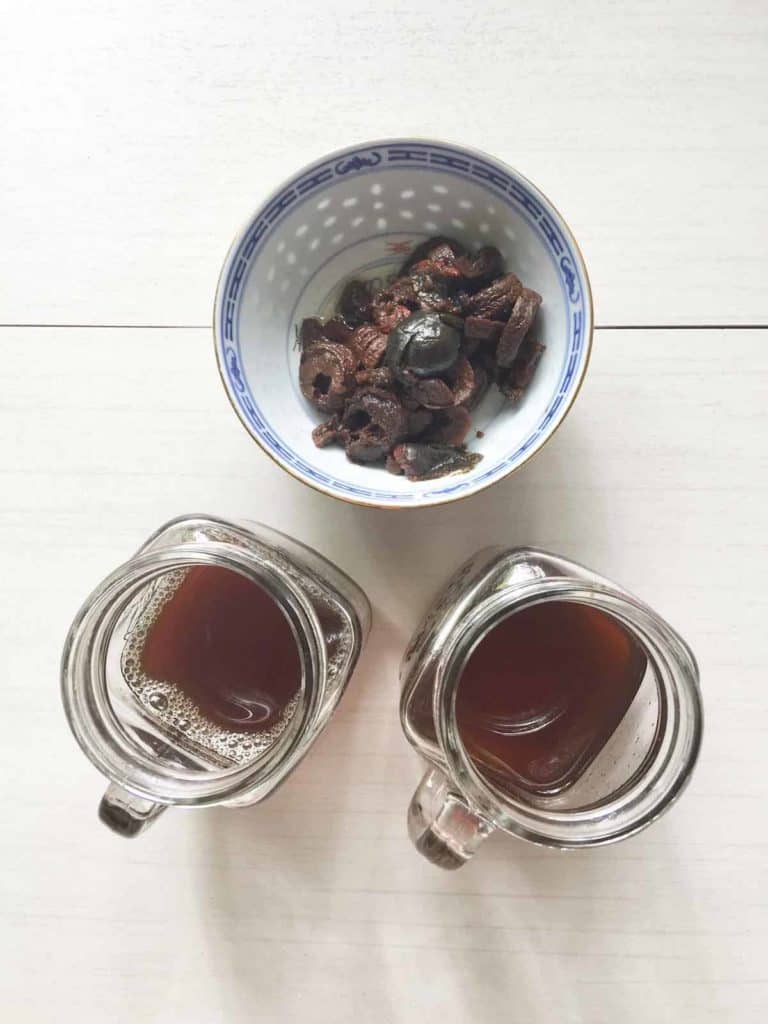 Dried Chinese Sour Plum Tea Drink with ice (SuanMeiTang)
An ancient Chinese drink drunk by royalty, this classic summer beverage remains popular even today thanks to its sweet-sour-salty-smokey taste! Reduced to its 3 most basic ingredients whilst keeping a great flavour so that everyone can make Chinese plum tea easily at home!
Ingredients
1.4

oz

Black Chinese preserved plum (wumei) (40g- for me this was 3 plums)

This is just a guide- as each plum is quite big, you will probably not be able to get exactly 1.4 oz. Don't stress about cutting the plum to get the exact quantity- just use the whole thing even if it means the weight is more than 1.4 oz!

1.4

oz

Dried Chinese hawthorn (40g)

As above. Rinse before adding to pot. If you like the drink more tart, add more hawthorn whilst keeping the other ingredients the same

1.4

oz

White Granulated sugar (40g)

Traditionally rock sugar is used, feel free to substitute with rock sugar if you have it. Rock sugar tastes less sweet than white so you may want to add a bit more. Alternatively, osmanthus sugar can also be used. If not, to make plum tea with no sugar, use a neutral honey instead.

4

Cups

Water (about 1 litre)

Optional Garnishes: Dried osmanthus tea, to sprinkle on the plum tea before serving and put a new black Chinese plum in each cup for some texture (don't use a plum that's been boiled as it'll be very soft)

Other optional ingredients: Chinese licorice (gan cao), Chinese dried tangerine peel (chen pi- can substitute with orange peel, making sure no white pith remains), hibiscus tea, osmanthus tea, roselle tea etc

Always check with your doctor before using Traditional Chinese Medicine ingredients, if you're not sure whether you can take them or pregnant
Instructions
Rinse the hawthorn, add to the pot with the water and Chinese plums. Bring to the boil

Reduce fire to medium (i use 5.5 on a Bosch induction stove which has a max of 9) so that the liquid is simmering. (You will see a few small bubbles.) Leave to simmer uncovered for 40 minutes.

At the 30 min mark, taste and see if the tartness is to your liking. If so, add the sugar and stir till dissolved. (If not, leave till 40 min and taste again. Repeat till you like the taste then add the sugar.) Note that if you're using rock sugar, it comes in clumps, so you may have to increase the fire to help it dissolve into the plum tea. Also, the flavour changes after chilling/ adding ice- to me, suan mei tang tastes tarter cold.

If drinking hot, sieve out the ingredientsportion out the tea then sprinkle some osmanthus flowers and add a new Chinese black plum to each cup (optional). If you prefer it cold, as I do, allow it to cool down with the ingredients steeping inside (this took me about 40 minutes) then sieve and pour the juice into a glass jar which goes into the fridge. As with the hot tea, add some osmanthus flowers and a fresh preserved plum to each cup before serving.

Store for no more than 2-3 days in the fridge. If you see it going cloudy, toss it.

Optional: you may want to freeze some of the plum tea juice in ice cube containers, so that you can use them to chill the plum tea. Using regular ice results in a diluted, watery drink

The sieved out ingredients can be used to make a 2nd batch of tea (see post for directions) or to make puree/ jam. They can also be eaten but they'll be mushy.
Notes
Some recipes soak the ingredients first (it's said to reduce the smoky flavour but I don't find the smoky taste overpowering). I skip this but if you choose to do so, don't throw away the soaking water (or you'll be throwing out a lot of flavour). Rinse the ingredients, soak them then bring the ingredients to boil in the soaking water.
I use the ingredients (excluding water) in a 1:1:1 ratio (i.e. the ingredients are all of equal weight). If you prefer a more mouth-puckering drink, increase the Chinese hawthorn. Obviously, for something sweeter, add more sweetener. (If you need a recipe for osmanthus sugar, here's the link.)
The simmering time is just a guide- I've used less time (30 min) and the tea tasted good but I prefer it stronger at 40 minutes. If you like the flavour even more in your face, increase the cooking time (or the ratio of ingredients to water)- you can even put this in a slow cooker, which is what a lot of street stalls which sell the drink do.
If you enjoyed this Chinese plum tea, let me know in the comments!