Nourishing yet simple to make, ginger, red dates and dried longan tea with goji berries will warm you from inside out, and only needs 3-5 pantry ingredients. It's a pretty flexible recipe!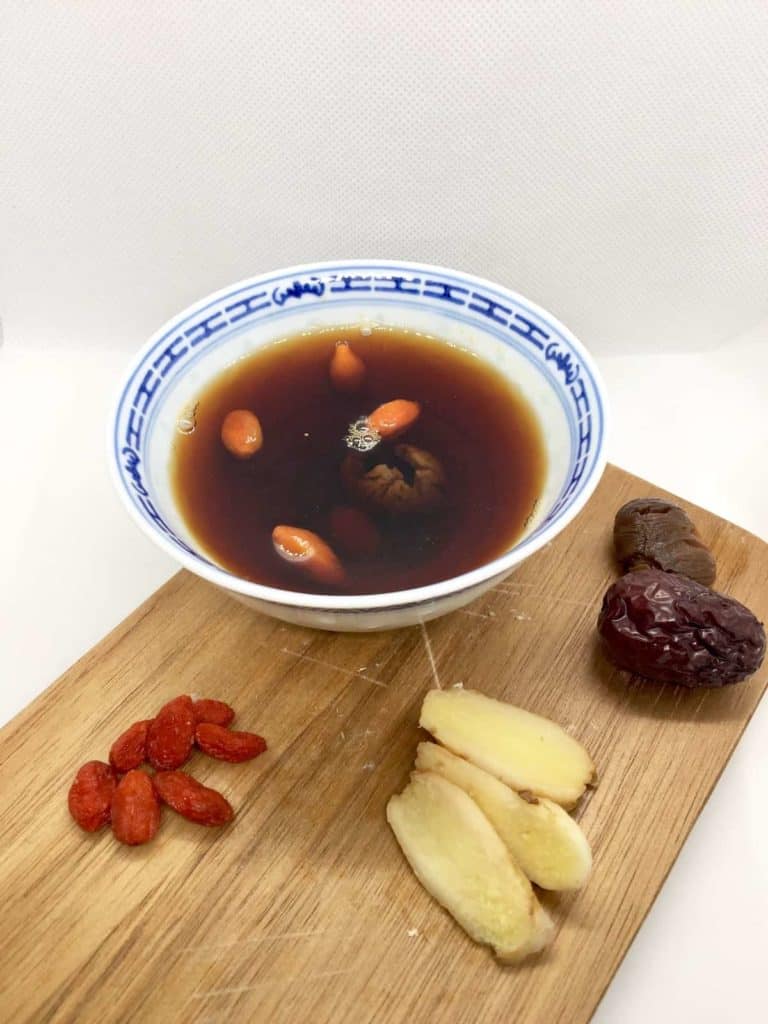 Jump to Recipe
Jump to:
Having grown up in a Westernised-ish household in Singapore (my Dad went to Boarding School in the UK at the age of 13- although he pretty much acts like an old Chinaman now- and my Mom immigrated to Perth, Australia before I was born), Traditional Chinese Medicine (TCM) wasn't a huge part of my childhood. I'd hear about some traditional food beliefs, but wasn't 100% sold on a lot of it, although I did drink this ginger, red dates and dried longan tea- all "warming" ingredients- after getting caught in the rain. (I believed in the concept of "heaty" and "cooling" foods as many of my friends and I have personally experienced its effects - for example, we would get sore throats or acne after taking too much "heaty" foods.)
I remember getting drenched with my classmates on our 1st trip to Taiwan (we were climbing Alishan)- our seniors made us ginger and brown sugar tea/ soup to drink and not 1 of us 40 students got sick after that. Another time, I was caught in the snow in UK and not wearing the right attire so my legs and feet were wet for hours- after a hot bath and tons of this tea, I was good as new again! (If you're attributing it to my stellar immune system, I can assure you I don't have one!)
Note: I'm not a medical professional so this post is for information only and not meant as health/ dietary/ nutritional advice!
Warming vs cooling foods
In TCM, food can be "warming", "cooling" or "neutral" and it's important to keep your diet in balance, if not you'll fall sick. (This also depends on your consitution- some people need more "heaty" food and others more "cooling" ones.) "Cooling" foods would be stuff like green beans and pears. Sadly, most delicious foods- or at least the ones I find delicious!- are warming and heaty when taken in excess, leading to sore throats, fever, zits... Examples include chocolate, potato chips, whiskey, brandy, fried foods, durian, mangoes, osmanthus etc. Anyone who's grown up in South East Asia will know that you're not supposed to drink alcohol when you eat durian, because they're both very "heaty" foods- scoff if you like, but someone has actually died after doing so. Of course, correlation is not causation but better safe than sorry!
The ingredients in this tea are all "warming" and, when taken in moderation, nourishing, so great during winter or the rainy season. (You can, of course, drink this tea even during summer if you like!)
Ingredients & substitutes
This warming dried longan tea calls for 4-5 ingredients:
red dates, also known as jujubes
ginger

dried longans (don't substitute with fresh if you want to make proper Chinese longan tea. Of course, if you're doing a fusion drink, feel free to experiment!)

sweetener (optional, to taste)
goji berries, also known as wolfberries
If you don't have enough/ some of the ingredients, you can still make this tea! I have a Thai friend who makes tea with only dried longans, a Chinese friend who makes 100% jujube tea etc so you can see that this is a very flexible recipe - the quantities below in the recipe card are based on the preferences of myself and my testers and are just a guide.
The only exception is the ginger: the more ginger you add, and the longer you steep the tea for (or the higher a temperature you steep it at), the "spicier" the tea is going to taste. Most people won't enjoy the tea if it's overly spiced, so I would recommend being cautious with your use of ginger. (Personally, I wouldn't leave the ginger out, as it helps to balance the sweetness of the red dates, goji berries and dried longans.)
Removing the red date/ jujube seed
We're traditionally told to remove the pit to reduce the heatiness of red date tea. I don't know how true that is, but removing the pit makes it easier to eat the jujube after drinking the tea! I find that the easiest way to remove the seed for red date tea is to use a kitchen scissors and snip around the pit- it takes about 3 snips lengthwise and then a small snip on the top and bottom of the seed and you'll have gotten most of the flesh! (If you're thinking that the flesh is not cut up, that's exactly what we want for jujube tea- it'd be too difficult to eat the red dates otherwise (Also, big pieces of red dates in a Chinese tea cup would look out of proportion and not attractive!)
Sweetener
All the ingredients, except ginger, is naturally sweet, so you don't have to add extra sugar. If you have a sweet tooth, add some brown sugar, to taste- if you don't have any on hand, rock sugar, honey, granulated sugar or even this homemade osmanthus sugar work too.
Trivia: Brown sugar tea- which is a brew of brown sugar and ginger) is recommended for cramps in TCM and even India.
What else can I add to dried longan tea?
Some people like to add dried tangerine, but it can be difficult to get outside of Asia (and expensive), so I haven't included it in this recipe. In South East Asia, pandan is a very common plant, so people sometimes toss it in when steeping the tea, although it's not 1 of the traditional ingredients used in longan tea.
How long should I steep the longan tea?
It's entirely up to your tastebuds but I usually bring it to the boil then simmer for at least 20 minutes before adding the goji berries. Another 5 minutes and the tea is done. Almost immediately after adding all the ingredients to the pot, the tea turns amber in color- don't be deceived as it's still pretty tasteless at this stage. I tried simmering the tea for 1, 10, 20 and 25 minutes and everyone unanimously preferred the 25-minute version.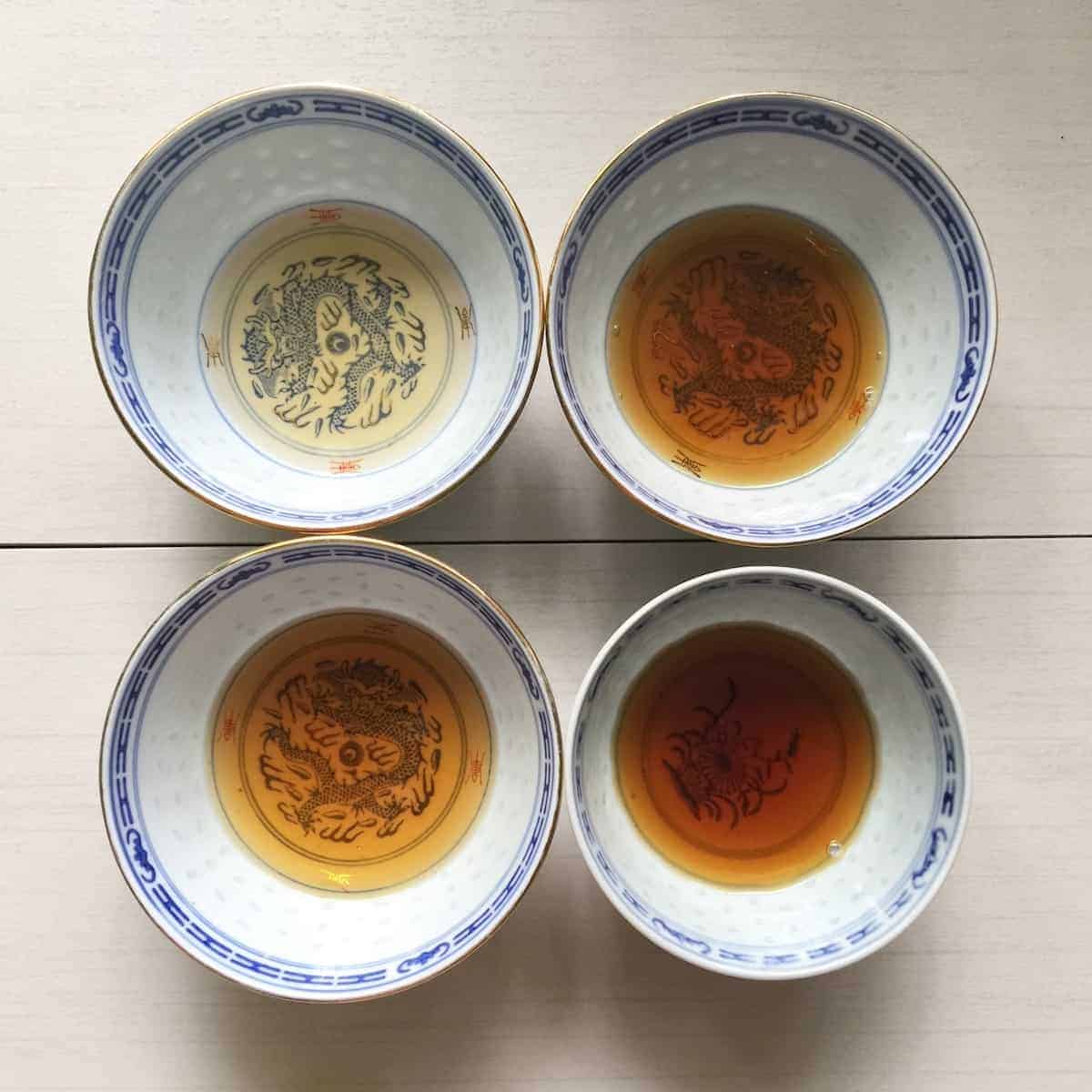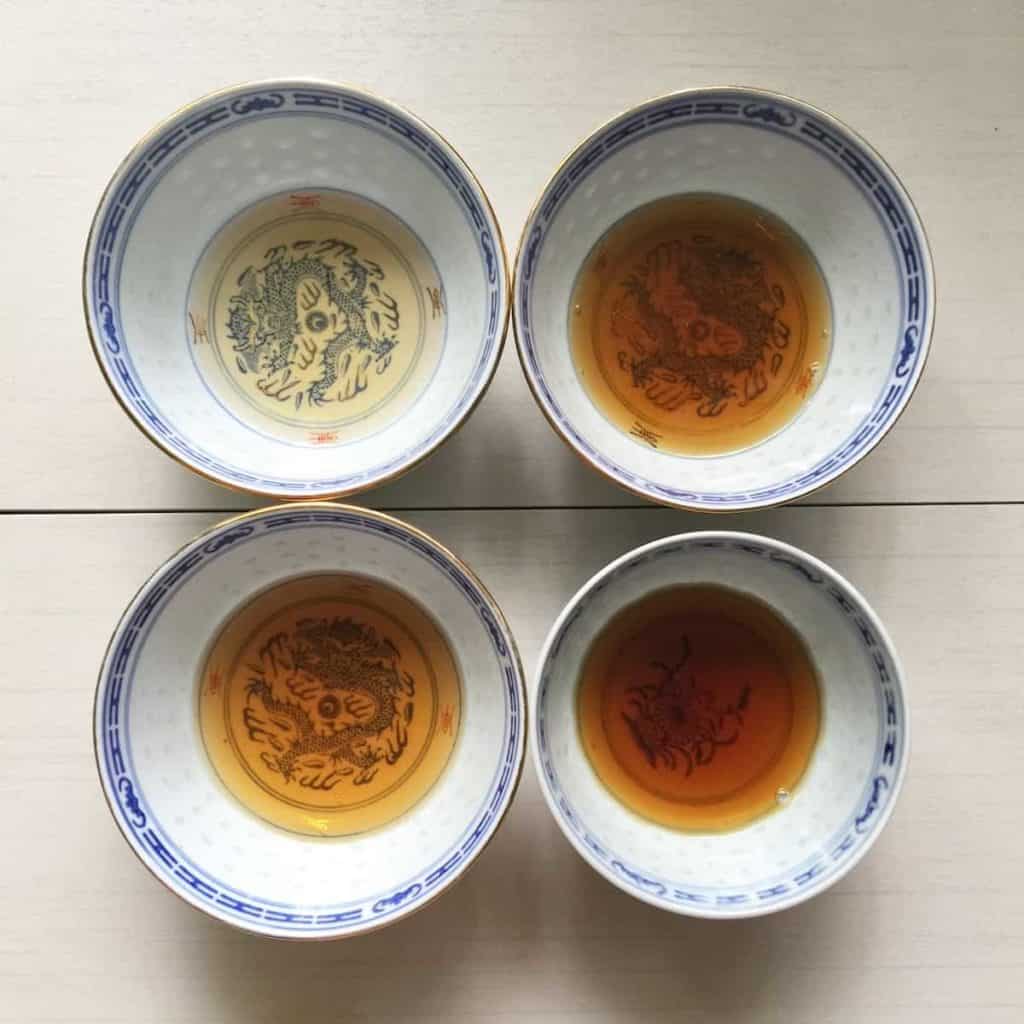 Does ginger, red dates and dried longan tea (with wolfberries) have caffeine?
Not unless you add other tea leaves to it! I love tea but can sometimes take forever to fall asleep, so I love no caffeine teas such as this. Other teas with no caffeine include golden osmanthus flower tea (gui hua cha), Korean plum tea (maesil cha) and barley tea.
Presenting the tea
If you're drinking from a Chinese tea cup (which is small), I'd add 3 goji berries and 1 longan or 1 red date slice to the tea. More than that and there'll be more fruit than liquid! For a Western sized mug, you can add more fruits, but odd numbers always look more attractive than even! (E.g. it looks nicer to have 5 goji berries than 4)
Ginger, red dates and Dried Longan tea recipe with goji berries
A nourishing, traditional Chinese tea that contains no caffeine and warms you right up.
Equipment
Knife and cutting board

Kitchen scissors

Pot
Ingredients
¼

Cup

dried longans, about 50-60g

⅛

Cup

Goji berries, or wolfberries, about 15g

½

Cup

Red dates (6-8 pieces), cut into strips, seed removed

I find it easiest to use a kitchen scissors to snip off the flesh but you can use a knife if you prefer

1

Thumb sized ginger, washed and sliced, Skin on

4

C

water, about 1 litre

Brown sugar, to taste, optional

Can substitute with other types of sugar if you don't find this sweet enough, but please taste first as most of the ingredients have a natural sweetness!
Instructions
Rinse all the ingredients- you never know where they were sitting whilst drying!

Add everything except the goji berries to the pot and bring to the boil.

Once boiling, reduce to a simmer (I used 4-5 on a Bosch induction cooker) and simmer uncovered for 20 minuets.

Add in the goji berries then switch off the fire after 5 minutes. Taste and, if necessary, add brown sugar (or substitute) and stir till dissolved.

Serve with a few goji berries, a longan and some red date slices in each cup.
Notes
If you're adding other optional ingredients such as pandan leaves or dried tangerine slices, add them right from the start along with the dried longans, red dates and ginger. Note that the more ginger you use, the longer you boil it for and/ or the higher a temperature you boil it at, the spicier this dried longan tea is going to taste
If you've made this ginger, red dates and longan tea, do show me a picture on social media! (@greedygirlgourmet)