Hojicha Latte is a delicious cafe-style drink with nutty, roasted flavors that only requires 3 ingredients and can be made in under 10 minutes! It tastes great iced or warm, but there's nothing more comforting than a hot cup of Hojicha Latte on chilly fall days!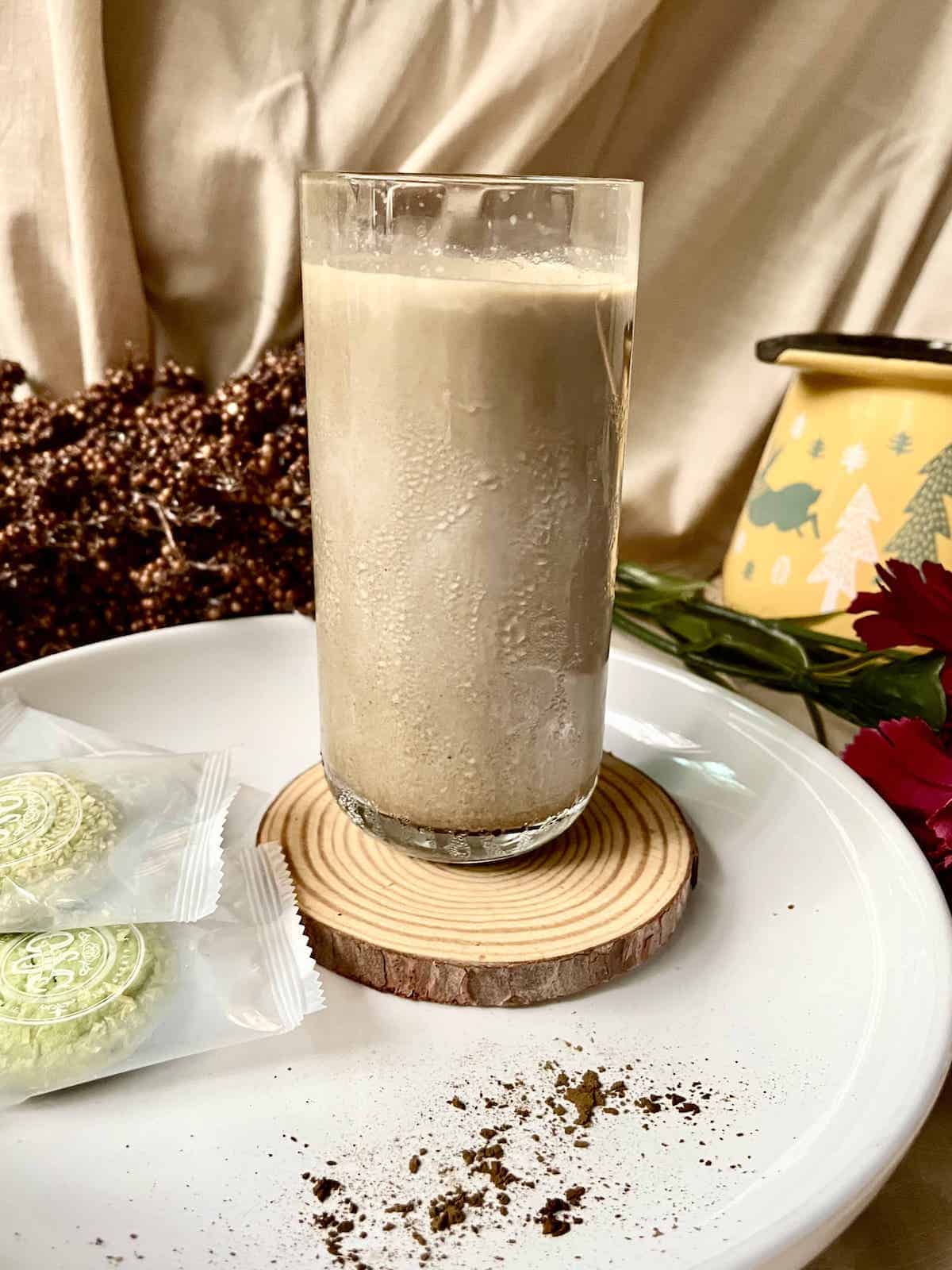 Jump to:
Why Make This
Hojicha latte is delicious: The smoky and nutty flavor of the roasted green tea leaves goes so well with the creaminess of the milk and the caramel notes of brown sugar. If you're confused by matcha and hojicha, click here to find out how they're different. For more unusual latte flavors, click here.
A refreshing pick-me-up that won't give you the jitters: It's perfect for people who need their daily cup of coffee but are trying to cut down their caffeine, as it has much less caffeine than coffee and matcha! (See FAQs.)
Cheap and easy: If you make this instead of doing your daily coffee store run, you're guaranteed to save money! And it's super simple and ready in under 10 minutes!
What is Hojicha?
Hojicha actually means "to roast" in Japanese.
It refers to a type of Japanese green tea that originated in Kyoto. Unlike most teas, Hojicha tea actually consists of tea leaves AND stems, which are roasted instead of the typical tea treatment of steaming-then-drying. It can come in the form of tea bags, tea leaves or finely milled powder.
Hojicha latte is simply Japanese Hojicha tea mixed with milk. You can find it in Starbucks Japan and Singapore but not the US unfortunately.
Fun fact: Hojicha tea made of 100% stems is actually pricier than the ones made of leaves!
Taste
The roasting process gives this green tea its brown color and hazelnut, toasted, almost smoky flavor. Some people have likened it to coffee or even dark chocolate, but minus the bitterness.
If you find tea astringent, you may like Hojicha, as the roasting process reduces the amounts of catechins, making it less astringent.
It's also a good option for people who don't like the vegetal flavor of matcha!
Ingredients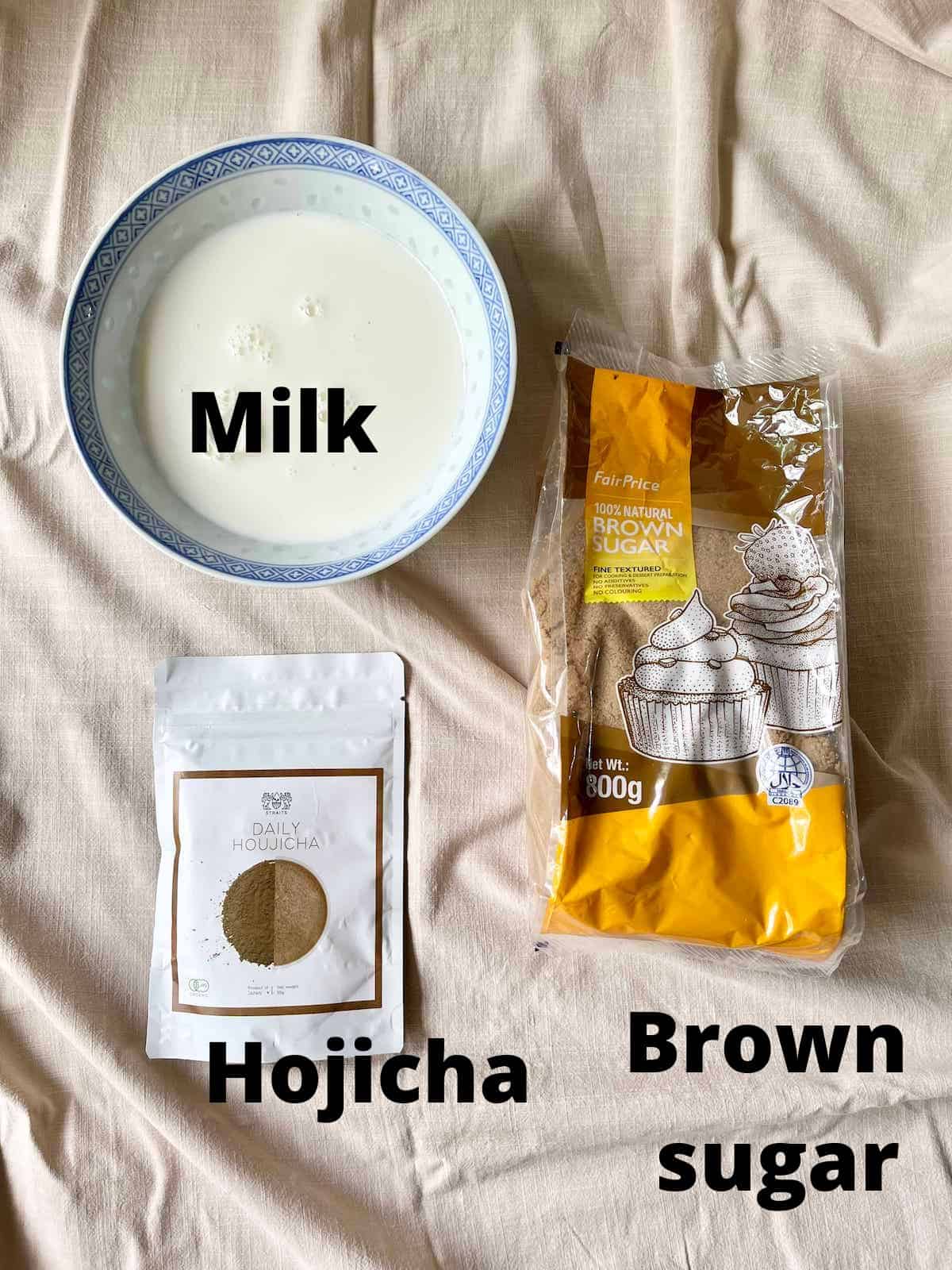 This simple latte recipe only requires 3 easy-to-find ingredients:
Hojicha: you can use Hojicha powder, tea bags or tea leaves. I prefer Hojicha powder as it's quicker and healthier to use. (Like matcha powder, you're consuming the entire leaf with Hojicha powder.) Hojicha powder has a stronger flavor so you'll only need ½ as much compared to Hojicha tea leaves. (I substitute 2 tea bags or 2 teaspoons of tea leaves per teaspoon of Hojicha tea powder.) (Starbucks, which inspired this recipe, uses a 5-tea Hojicha for their Latte and Frappuccino.)
Milk: the toasty, cocoa undertones of Hojicha are balanced really well by creamy flavors, so I recommend a whole milk or a fatter plant-based milk such as cashew milk or oat milk if vegan. For something extra creamy, you can add a bit of condensed milk or whipping cream.
Sweetener, optional: I prefer brown sugar to complement the earthy Hojicha flavor but white sugar works too. It's easier to dissolve liquid sweeteners (especially if making Iced Hojicha Tea Latte) so I recommend using this brown sugar syrup sauce. Alternatively, a neutral honey or maple syrup works well too. For ways to sweeten your latte without sugar, click here. (Some people leave the sugar out entirely as Hojicha is already a bit sweet.)
Note: you can also add tapioca pearls to turn it into Boba Tea.
Where to Buy
You can find Hojicha in Japanese supermarkets and some Asian grocery stores. If not, it's readily available online too.
Variations
Cinnamon Hojicha Latte: a pinch of cinnamon powder- I use about ⅛ teaspoon per cup and a cinnamon stick as garnish!- goes really well with Hojicha. Served warm and topped with whipped cream, it's a really cozy drink that is perfect for Thanksgiving and Christmas!
Hojicha

Vanilla

Latte: Vanilla complements the nutty Hojicha flavor really well- I recommend using ½-1 teaspoon per cup.
Cold Brew Hojicha Latte: Steep the Hojicha leaves in filtered water for a minimum of 8 hours (in the fridge) then pour it into the cream or milk.
Step-by-step Instructions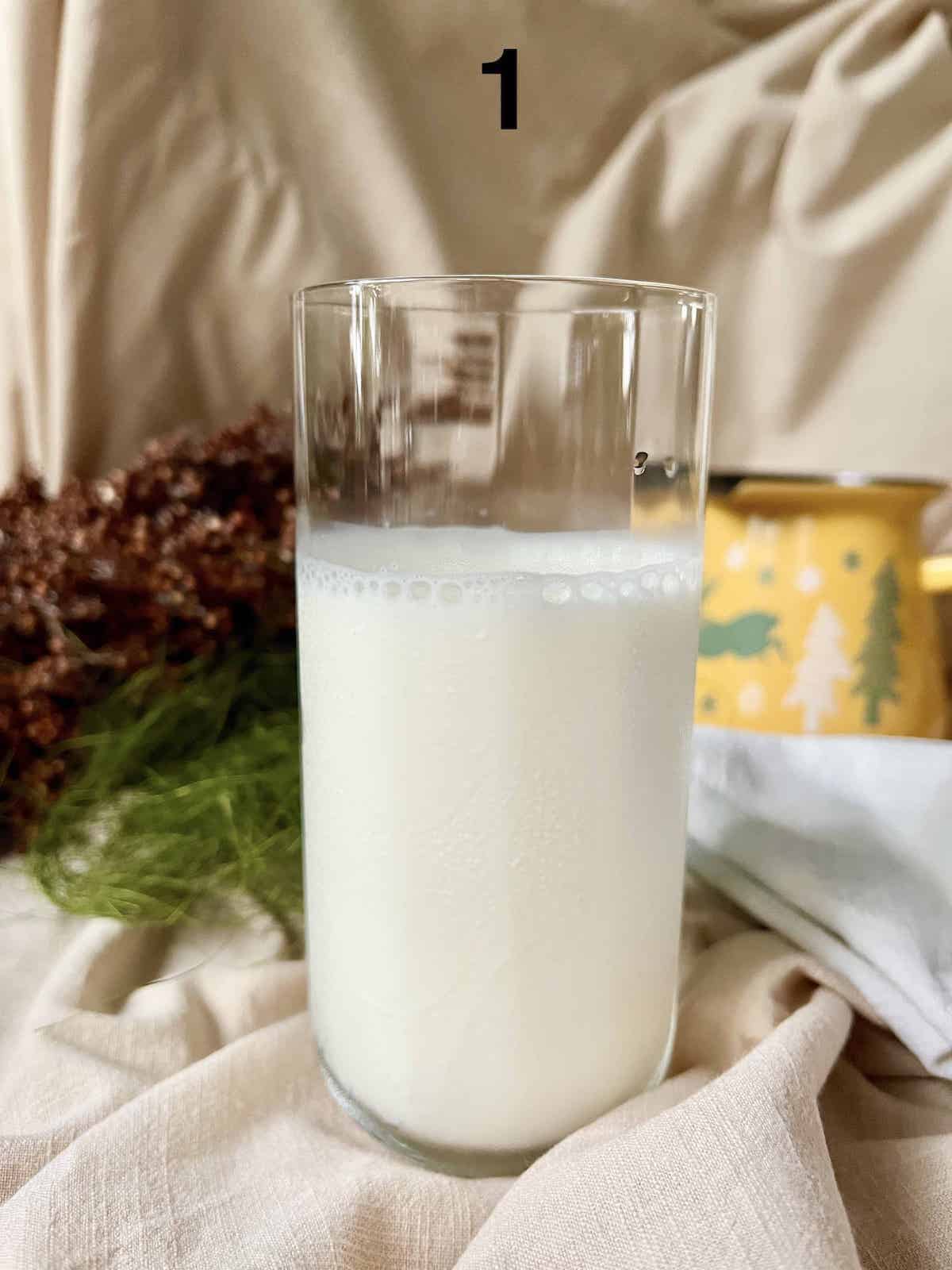 Pour the ¾ Cup of milk into your glass or mug.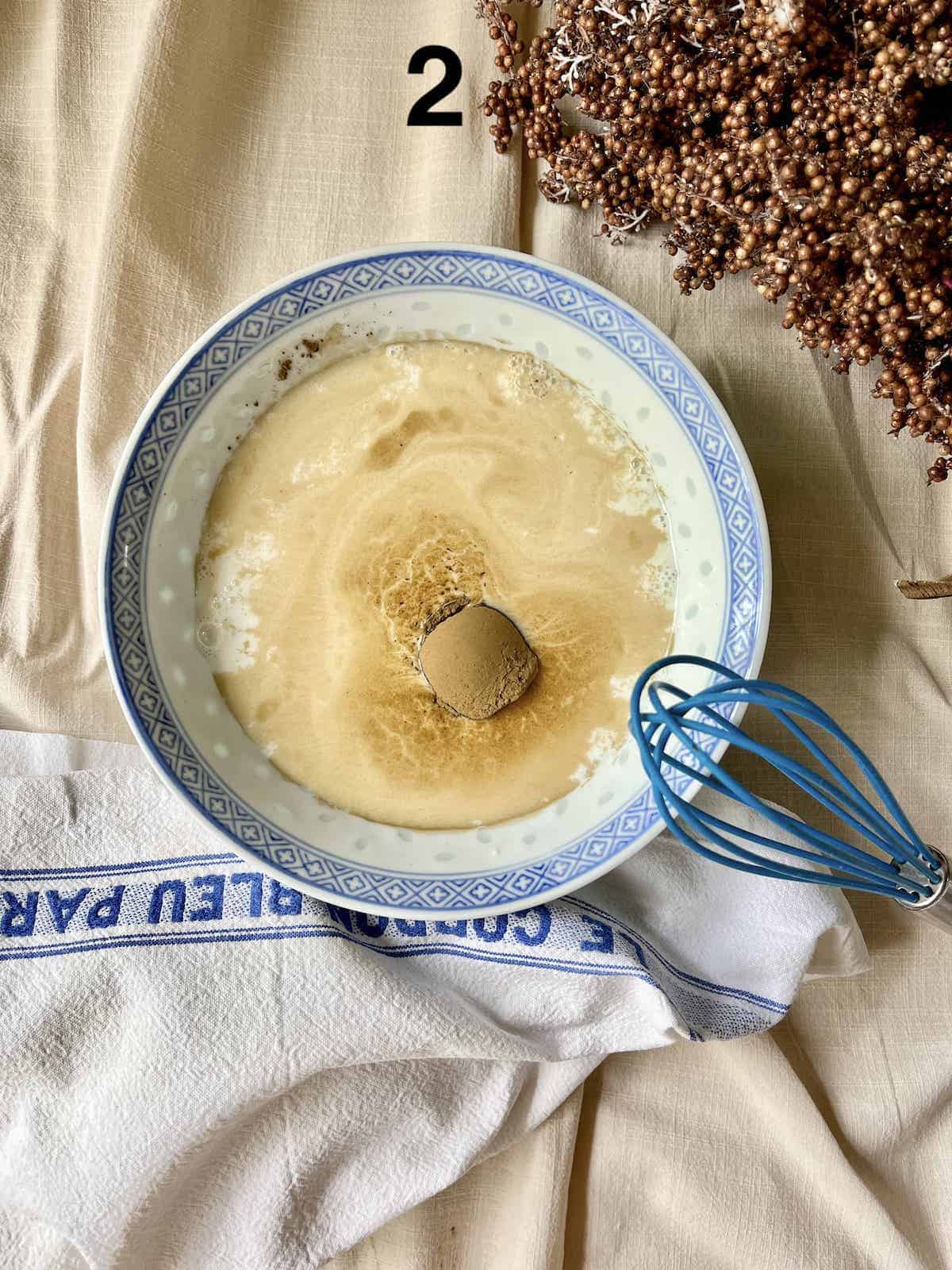 2. Whisk 1 teaspoon of Hojicha powder and ½ tablespoon of brown sugar (or to taste) into ⅛ Cup of milk.
Note: If you want to see distinct layers in your Roasted Green Tea latte, it's easier if you whisk the Hojicha into hot water instead of milk. See "How to get Layers" (below) for more info.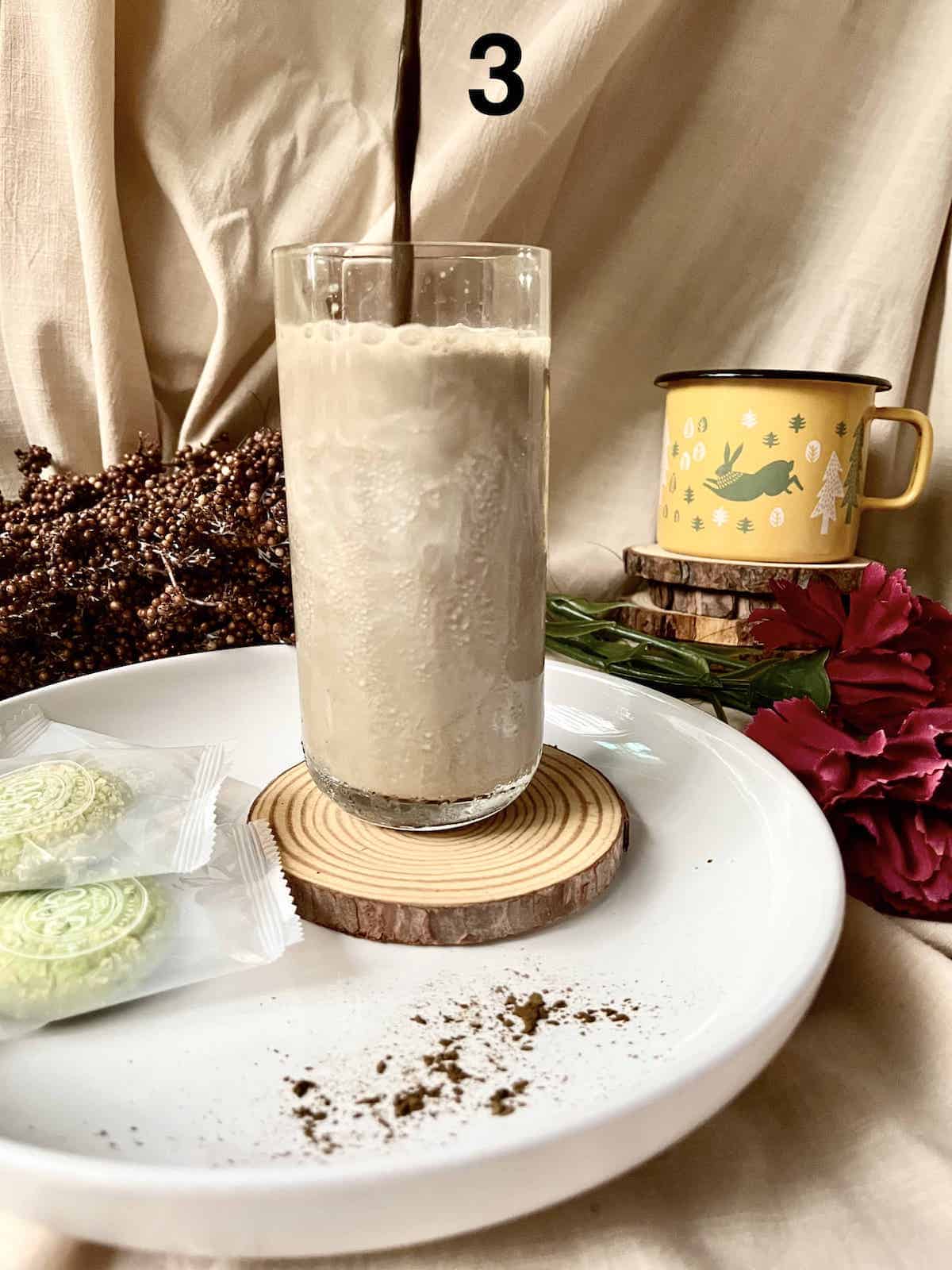 3. Pour the strong Hojicha tea from Step 2 into the glass of milk from Step 1.
Enjoy! Why not pair it with a Hojicha vegan mochi muffin?
Tip: If you want a Cold Hojicha latte, use milk from the fridge. Even if you mix your Hojicha powder with hot water, the resulting latte will still be cold (i.e. you don't need ice to chill your green tea latte.)
How to get layers
There are 2 ways you can create clear brown and white layers in your Hojicha Tea Latte:
Make a strong cup of Hojicha tea then pour the frothed milk over it.
Allow it to sit and you'll get 2 distinct layers (white and brown.)
As above, pour the milk into the glass first.
Next, pour the Hojicha tea into the glass, but let it hit a surface first: this can be ice cubes OR a spoon (instead of pouring it right into the milk.)
This allows clear layers too form.
Expert Tips
Tip #1: If you're making hot Hojicha tea latte, it'll be quicker to simmer the Hojicha directly in the milk. Top the cold Hojicha tea with cold whipping cream for an even more delicious drink! I especially recommend this if you're on a plant-based diet as some plant-based milks are thinner than cow's milk (and this way, you don't have any water to dilute the milk.)
Tip #2: Pay attention to the temperature of the water/ milk: like matcha, hojicha becomes bitter when you use boiling water. Only use water/ milk that is 80C/ 175F or lower.
Tip #3: To recreate the Starbucks Hojicha Frappuccino, mix with mocha syrup, brown sugar or caramel sauce and top with whipped cream, then dust with brown sugar.
Recipe FAQs
Does Hojicha Latte have caffeine?
Hojicha has very little caffeine: only 7.7mg per 250g. It also has  L-Theanine and pyrazines which have a calming effect. In comparison, matcha has more than twice the amount of caffeine, and coffee almost thrice.
What temperature to brew Hojicha?
Like matcha, Hojicha is too delicate to be brewed with boiling water- it will lead to a bitter brew. Ideally use filtered water at 80C/ 175F and steep for no more than 30 seconds.
Matcha vs Hojicha?
Hojicha has an aromatic toasted nut flavor that is slightly sweet whilst Matcha has a slightly bitter, almost vegetal flavor similar to seaweed. Both are types of green teas but matcha has a lot more caffeine. Unlike matcha, Hojicha powder doesn't need to be sifted before mixing as it doesn't clump as easily.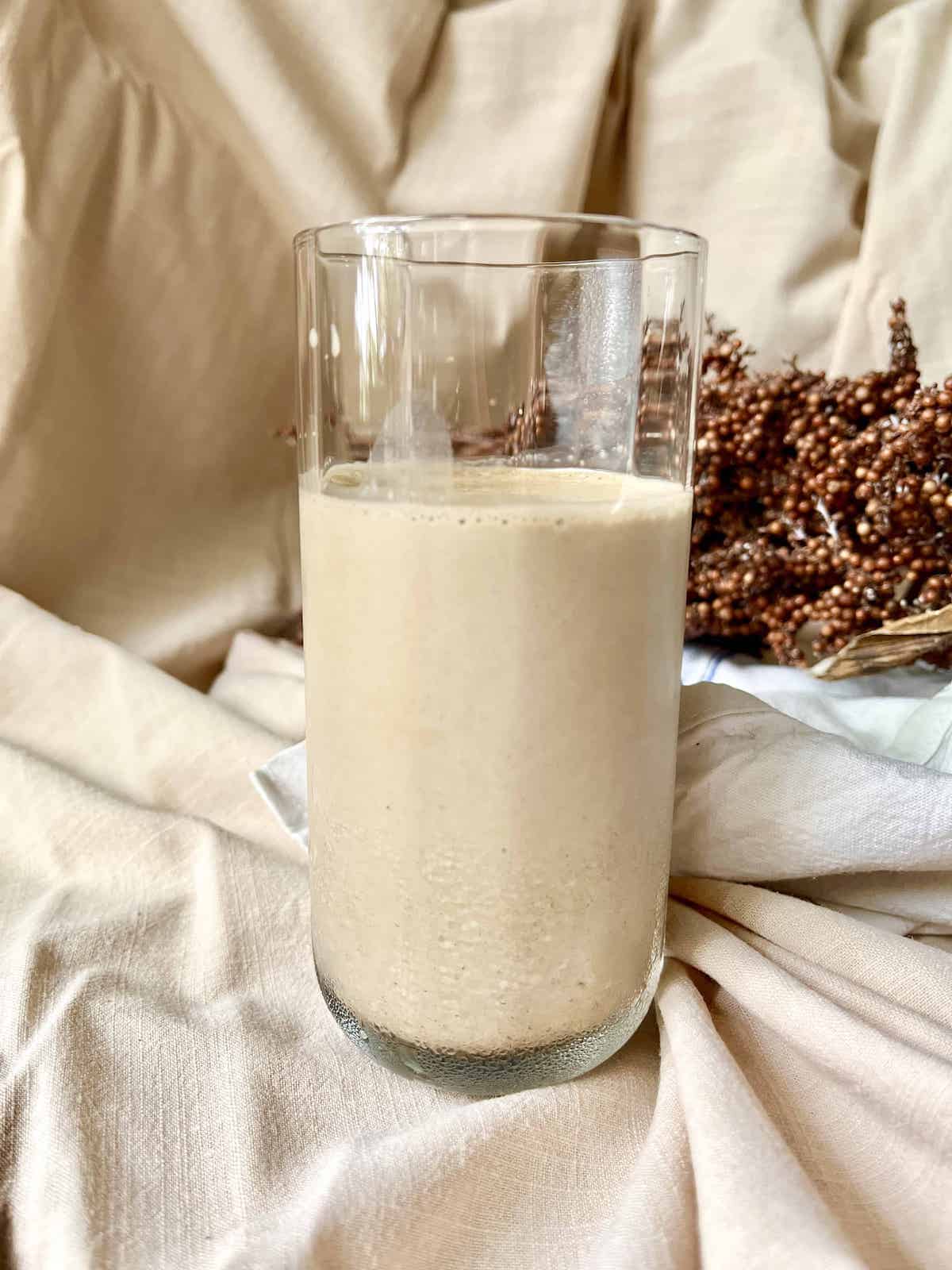 Other Tea Time Recipes
Enjoyed this creamy Hojicha Latte Recipe? Please leave a 5-star 🌟🌟🌟🌟🌟rating in the recipe card below & if you REALLY liked this cafe-style drink, a comment would make my week! Thank you and have a great day!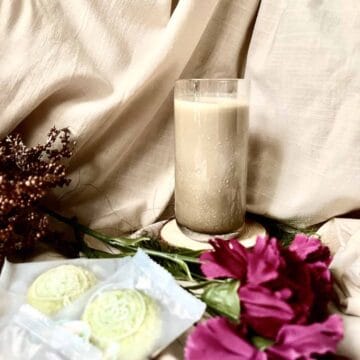 Hojicha Latte (Starbucks)
Hojicha Latte is a delicious cafe-style drink with nutty, roasted flavors that only requires 3 ingredients and can be made in under 10 minutes!
Ingredients
1½

Cups

Whole milk

Substitute: plant-based milk if vegan. Option to mix with whipping cream or condensed milk for a creamier base.

¼

Cup

Whole milk

For mixing with the Hojicha powder Substitute: hot water.

2

teaspoons

Hojicha Powder

Substitute: 4 teaspoons of Hojicha tea leaves of 4 Hojicha tea bags

1

Tablespoon

Brown sugar

or to taste. Substitute: brown sugar syrup, maple syrup, white sugar

Whipped cream

Optional. If using, you can dust the whipped cream with Hojicha Powder or brown sugar.

Ice cube

Optional, for iced Hojicha Latte (and to help create layers in the drink)
Instructions
Cold Hojicha Latte
Pour the 1½ Cups of milk (taken right from the fridge) into 2 glasses.

Mix the Hojicha powder and brown sugar into the ¼ Cup of milk (or hot water if substituting- the final drink will still be cold.) Pour into the plain milk from the previous step.

Optional: top with whipped cream if using. Serve and enjoy!

Iced hojicha latte: add ice cubes to the above. (Note that they will dilute your Roasted Green Tea Latte when they melt.)
Hot Hojicha Latte
Heat all the milk (i.e. 1¾ Cups). Once hot, but before it simmers, mix in the Hojicha powder (if you have a food thermometer, it should be at 80C/ 175F.)

If using Hojicha tea leaves or tea bags: steep them in the warm milk to taste.

Stir in the brown sugar. Top with whipped cream if using. Serve and enjoy!
Notes
You can make your own brown sugar with this easy recipe.
2 ways to get layers
Top the Hojicha Milk Tea with whipped cream and allow the drink to sit.
Pour the Hojicha Tea into the milk such that it hits the ice cube OR a spoon before entering the milk.
Variations
Cinnamon Hojicha Latte: add ⅛ teaspoon per cup
Hojicha Vanilla Latte: add ½-1 teaspoon per cup
Cold Brew Hojicha Latte: Steep the Hojicha leaves in filtered water for a minimum of 8 hours (in the fridge) then pour it into the cream or milk.
Note: the nutritional information is an estimate automatically calculated using the WPRM recipe maker and I am not responsible for its veracity.
Nutrition
Calories:
151
kcal
Carbohydrates:
16
g
Protein:
7
g
Fat:
7
g
Saturated Fat:
4
g
Polyunsaturated Fat:
0.2
g
Monounsaturated Fat:
1
g
Cholesterol:
26
mg
Sodium:
83
mg
Potassium:
328
mg
Sugar:
16
g
Vitamin A:
346
IU
Calcium:
268
mg
Iron:
0.04
mg
If you've enjoyed this roasted tea drink, I'd love it if you shared it on your social media!