A super easy, no-mixer Vegan Mochi Muffins recipe that is naturally gluten-free. These Hojicha Mochi Bites/ Mochi Cupcakes are the perfect sweet-but-not-too-sweet treat for those on a plant-based diet or GF diet. Once you've had them fresh from the oven, the crisp exterior and the soft, stretchy, chewy dough will leave you wanting more!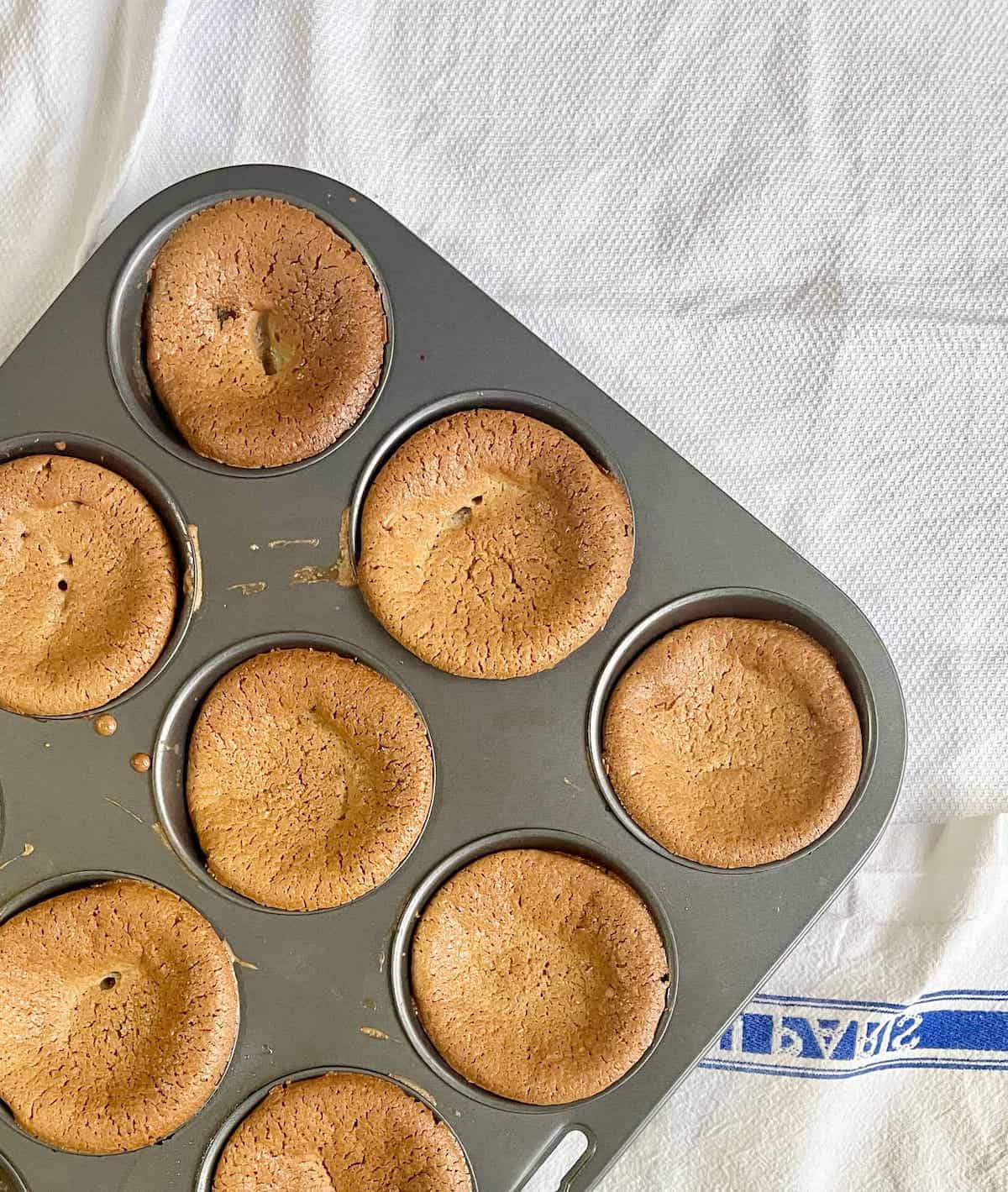 Why Make This
These vegan mochi muffins are delicious: the crisp exterior complements the soft, chewy dough super well, especially when eaten right after baking!
Easy to make: You only need simple ingredients that are easy to find, and no mixer. You don't even need to melt any butter since these mochi bites are vegan!
Perfect for celiacs: these mini mochi cakes are naturally gluten-free (and you don't need an expensive gluten-free flour to make them!)
What are Mochi?
Mochi are small Japanese sweet snacks made from glutinous rice flour (also known as sweet rice flour/ mochiko flour.)
This flour creates a dough with a very chewy and bouncy texture, and is thus a popular ingredient in Asian desserts, such as muah chee (Taiwanese mochi), Chinese tang yuan and other glutinous Asian desserts.
Note: Mochi is a bit of a cult product- not everyone loves it but those who do are life-long fans of the chewy texture. If you're not on a plant-based diet, I have a regular matcha tea mochi muffin recipe here.
Ingredients
For these vegan Hojicha Mochi Cupcakes, you will need:
For a full list of ingredients, please scroll down to the recipe card.
Where to Buy
The ingredients are all widely available so you shouldn't have to go specially to Asian grocery stores for them.
The only exception may be hojicha- which you can find at the Japanese grocer or online (through the link.)
Variations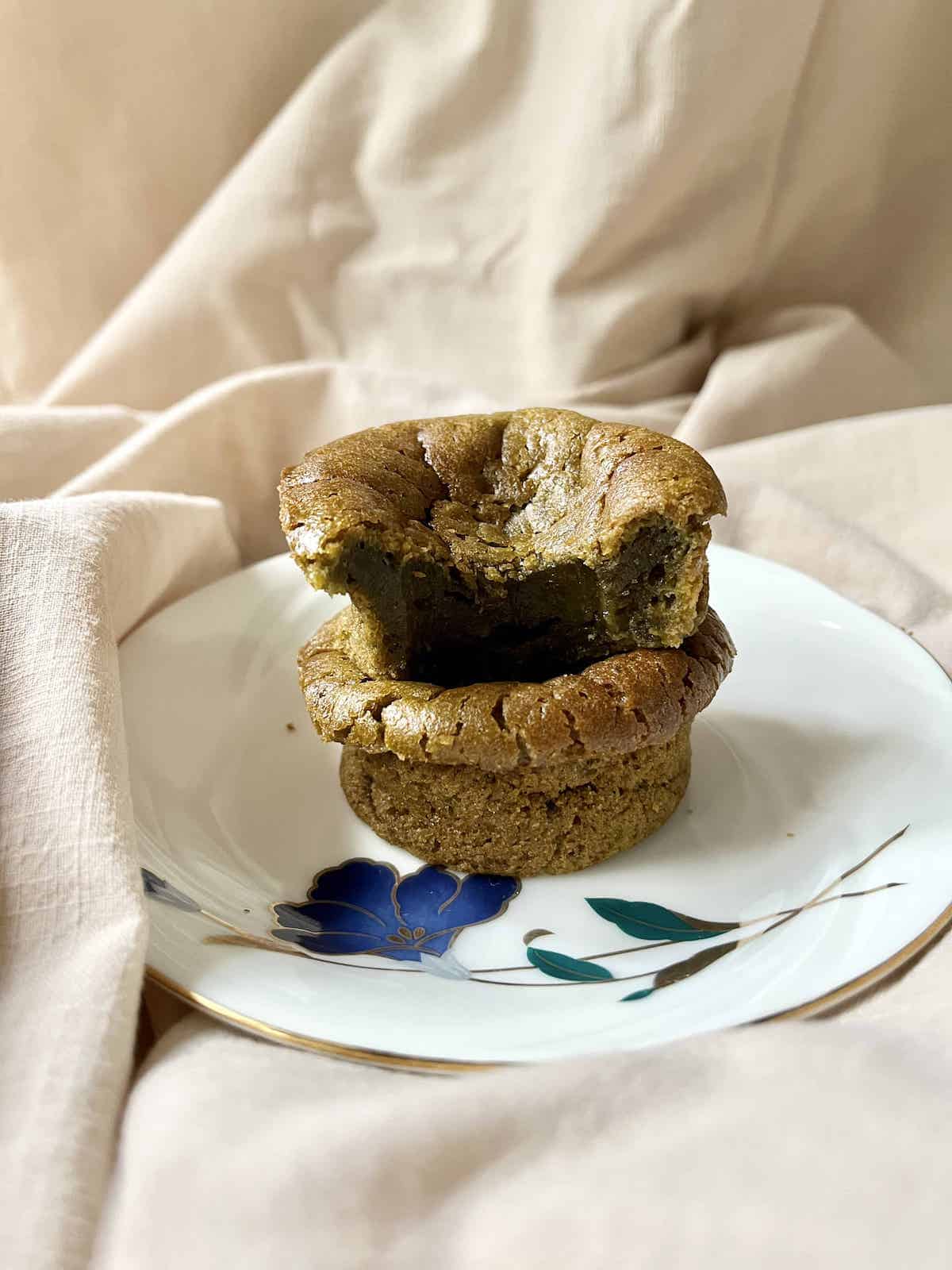 If you're not a fan of the roasted, almost smoky flavor of Hojicha, you can substitute the Hojicha powder with Matcha powder in a 1:1 ratio.
Other popular mochi cupcakes flavors are black sesame (use Asian black sesame powder or paste not tahini), ube and chocolate.
Equipment
If you don't have a muffin tin, you can also bake the batter in a cake pan. This will increase the baking time (the exact timing will depend on the proportions of the cake pan.)
Nonetheless, I recommend baking smaller muffins, where possible. The best part of these vegan mochi muffins is the contrast between the crispy "skin" and the soft gooey inside- you get more of the crispy exterior with a muffin than a cake!
Step-by-Step Instructions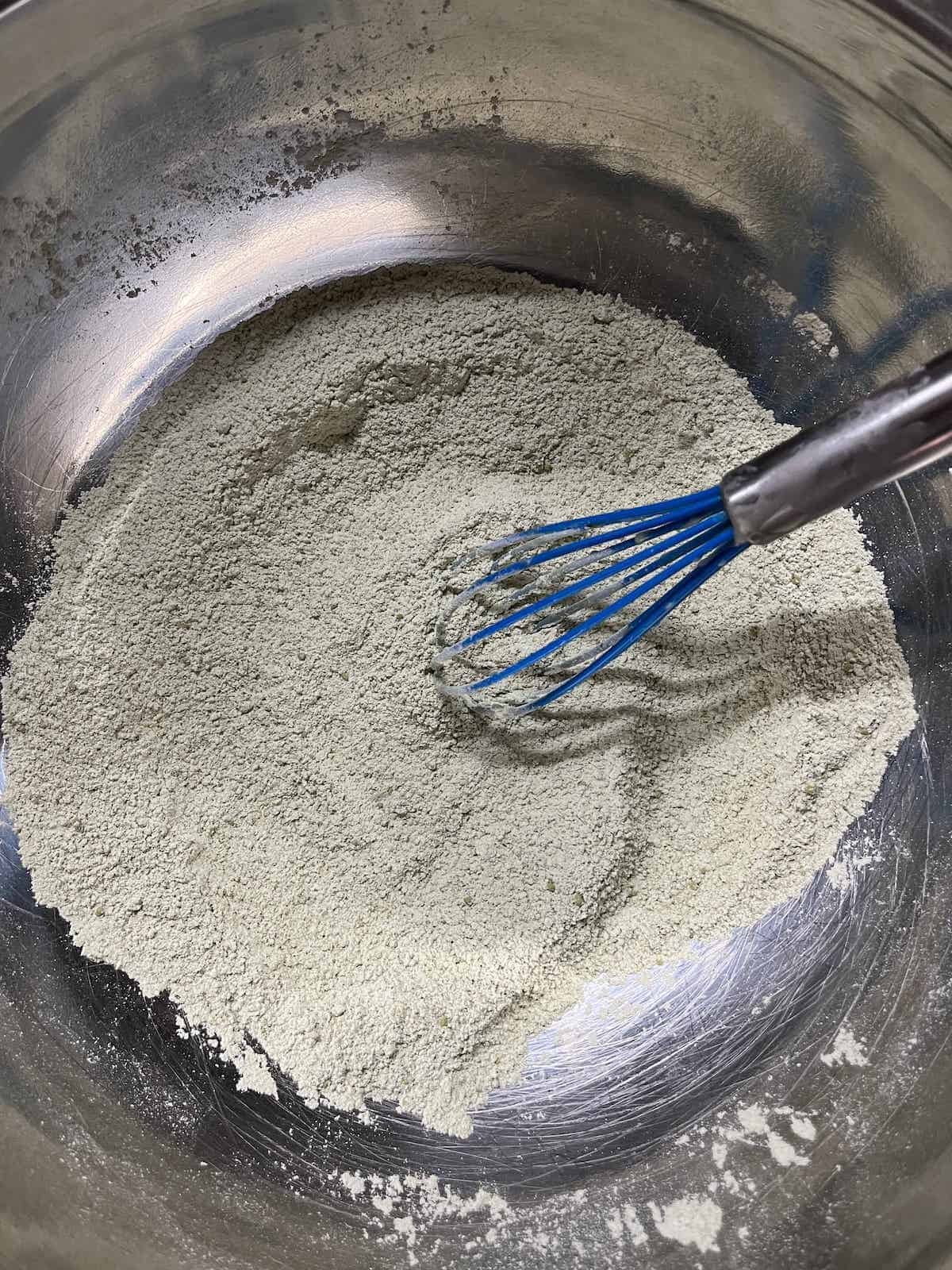 1. Mix the 3 cups of glutinous rice flour, 1-1.5 Tablespoons of hojicha powder, 1.5 teaspoon of baking powder, 0.25 teaspoon of salt and 1.25-1.5 cups of sugar. Whisk well till you don't see any brown lumps.
Note: I didn't sieve but if your dry ingredients are lumpy, go ahead.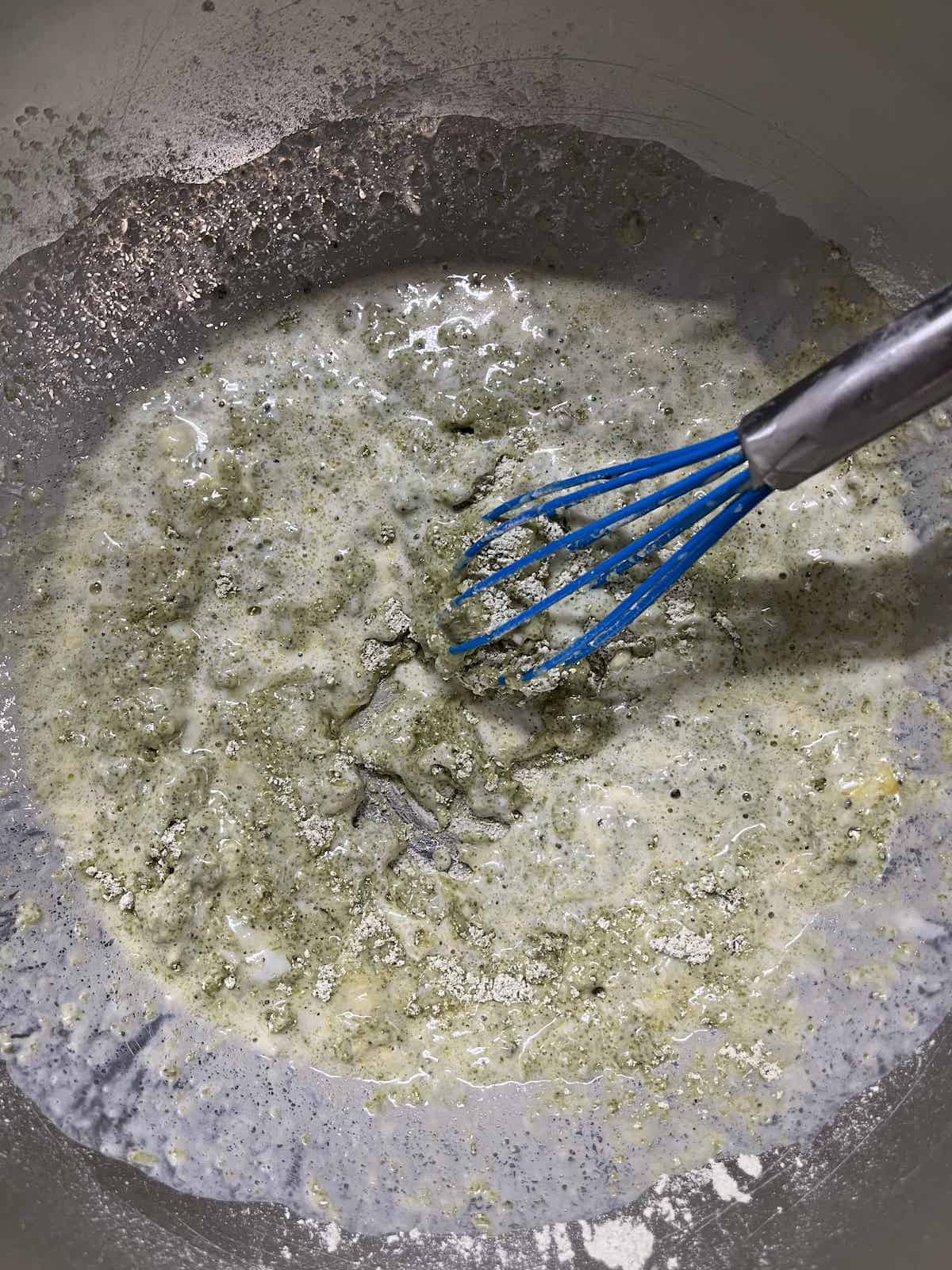 2. Pour the 2.5 Cups of coconut milk and 0.4 Cups of Water into the dry ingredients from Step 1. Whisk well.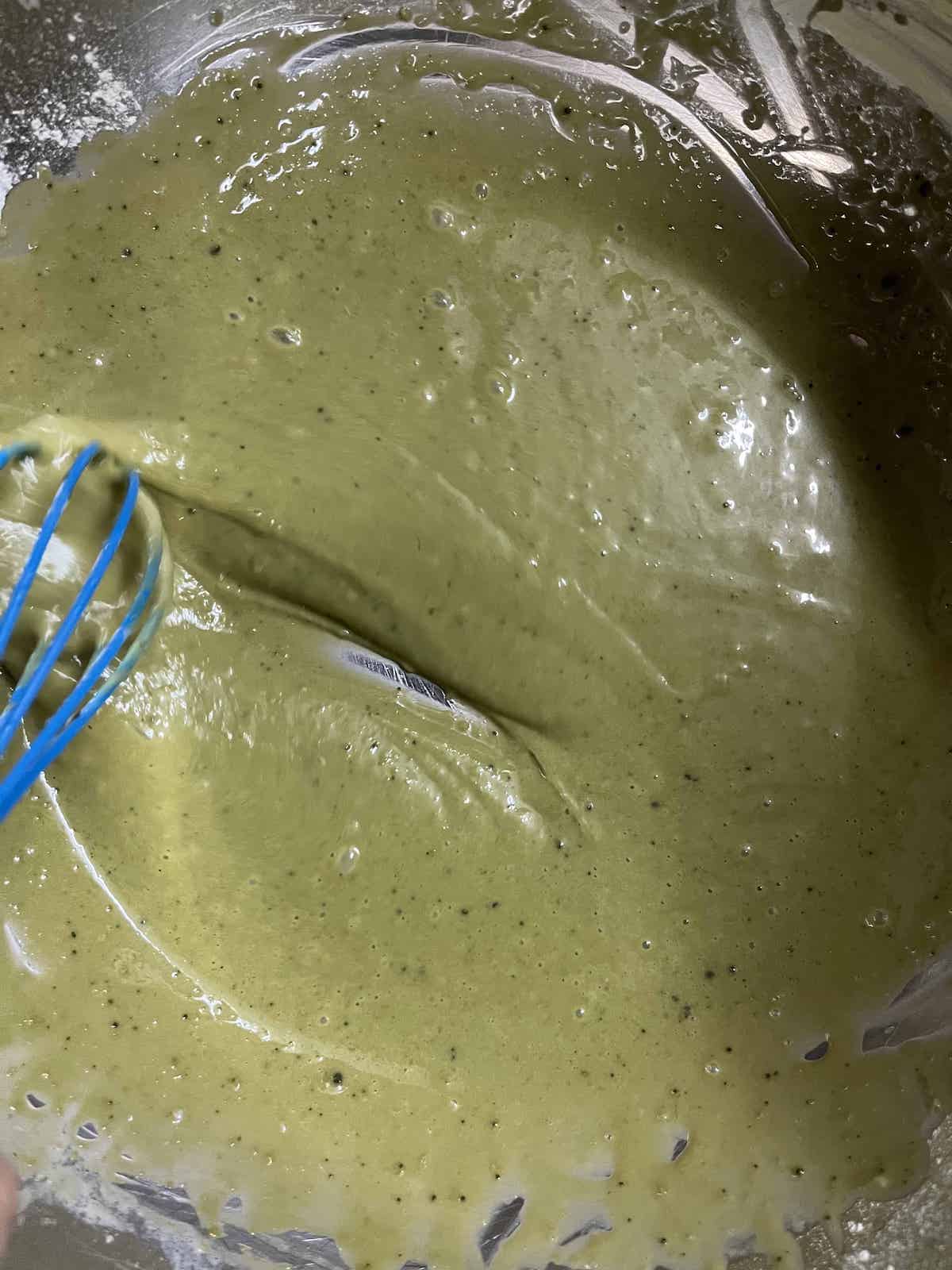 3. Glutinous rice flour has no gluten, so feel free to whisk till there are no clumps of powder, without worrying about overworking the batter. (The batter here is not quite mixed enough yet!)
Note: if you don't like the deep roasted Hojicha flavor, you can substitute with matcha powder ina 1:1 ratio and you'll get a green batter as shown above.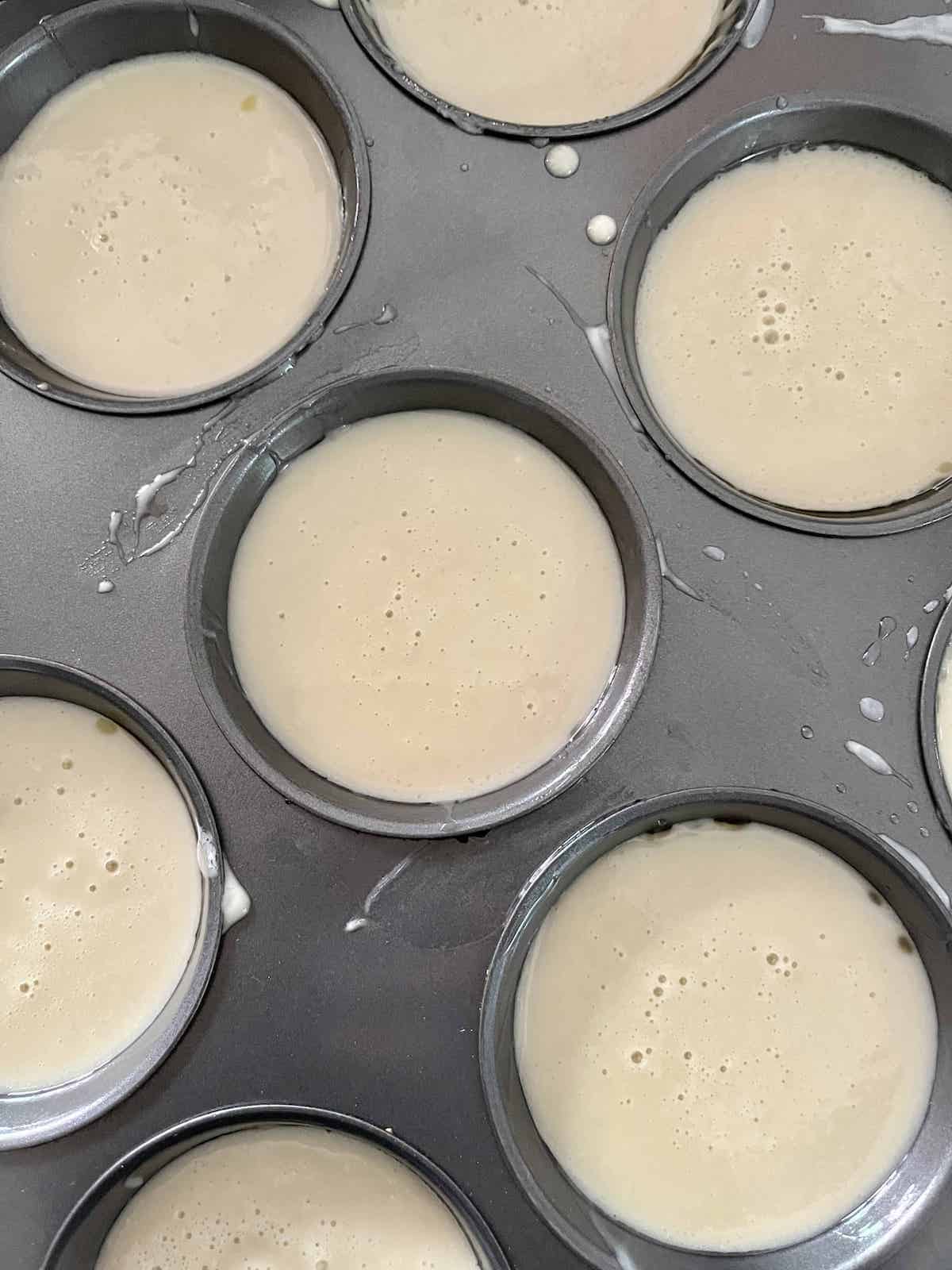 4. Once smooth, use an ice cream scoop to scoop the batter into an oiled muffin tray till ¾ full. (This helps to ensure that every muffin has the same amount of dough and thus they are all equally baked.)
5. Bake at 350F/ 157C fan/ 177C for 45-55 minutes, or till the exterior is crisp and golden/ a toothpick inserted in the middle comes out clean.
How to Serve
Mochi muffins, vegan or otherwise, taste best straight from the oven. Serve them with a scoop of ice cream, Hojicha Latte, Nutella Hazelnut Latte or a matcha drink such as:
How to Store
Room temperature
These mini mochi cakes taste best right after baking.
However, they can be kept in an airtight container at room temperature for 2-4 days. Reheat before serving, for best flavor!
In the Fridge
The vegan mochi bites last longer in the fridge but the dough will harden into an unappetising solid lump. Thus, you will need to reheat them before serving.
In the Freezer
You can freeze these vegan Hojicha muffins for up to a month. Space them out on a tray first to prevent sticking. Once frozen, they can be jumbled in a ziplock bag.
How to Reheat
Microwave: Blitz the mochi bites on low-medium in 10 second intervals.
Toaster oven: If you don't have 1, pop the vegan mochi muffins into the toaster oven.
Expert Tips
Tip #1: As glutinous rice flour has NO gluten, you don't have to worry about overmixing and getting a tough bake. Mix till you get a smooth batter to ensure with no pockets of flour, lumps or air bubbles.
Tip #2: Unlike traditional Japanese mochi, which are super soft, vegan mochi muffins are crisp on the outside but with a squishy center. The inside will look slightly translucent and "wet" even when fully baked (almost like what underbaked regular muffins (which use wheat flour) would look like.) Don't try to bake till 100% opaque or they'll end up overcooked!
Tip #3: Oil the muffin tin generously so that the muffins don't stick. (You can use an oil spray for easy coating.) To get the outside of each mochi bite even crisper, after oiling, dust each compartment with semolina or rice flour.
Recipe FAQs
Other Tea Time Recipes
Enjoyed this Vegan Mochi Muffin recipe? Please leave a 5-star 🌟🌟🌟🌟🌟rating in the recipe card below & if you REALLY like it, I'd love a comment. Thank you and have a great day!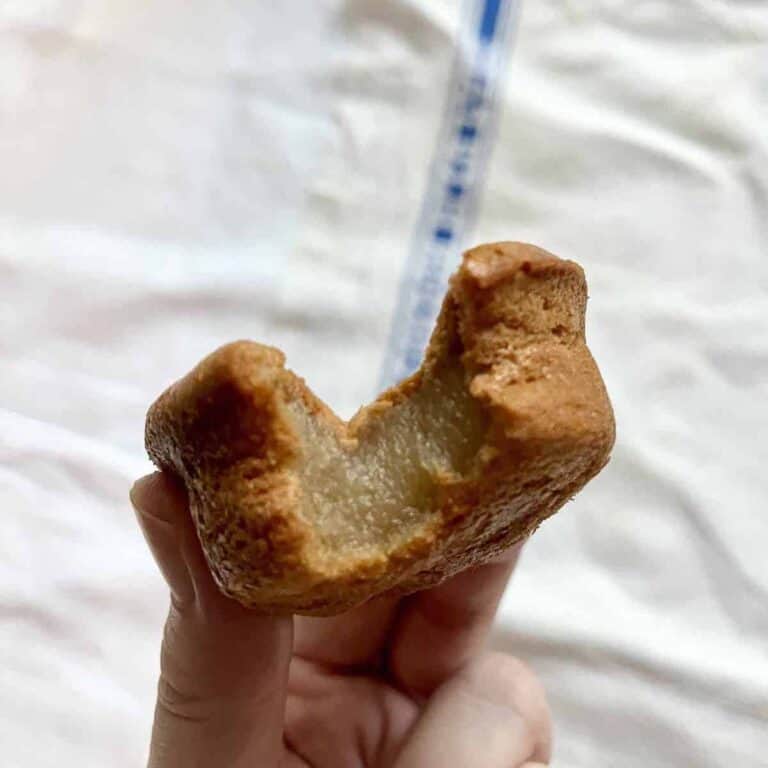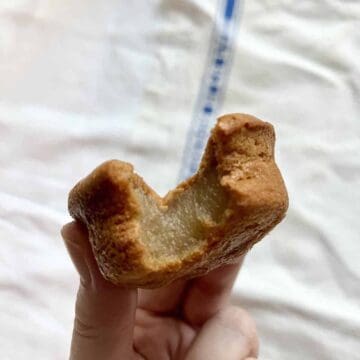 Vegan Mochi Muffins (Hojicha)
A super easy, no-mixer Vegan Mochi Muffins recipe that is naturally gluten-free. These Hojicha Mochi Bites are the perfect sweet-but-not-too-sweet treat for those on a plant-based diet or GF diet. Once you've had them fresh from the oven, the crisp exterior and the soft, stretchy, chewy dough will leave you wanting more!
Equipment
Muffin tin

Dust each muffin compartment with semolina, regular wheat flour or rice flour (after buttering them to ensure they don't stick!) Substitute with a cake pan: You can bake this as 1 large cake instead of mini mochi bites/ muffins but I prefer the latter as there is more crispy "skin" to contrast with the soft chewy inside.

Whisk

Large bowl

Sieve (optional)

Ice cream scoop
Ingredients
Wet ingredients
2½

Cup

coconut milk, unsweetened (600g/ 21.2 oz) Substitute: 1 part/ 120g/ 4.24 oz coconut cream to 4 parts/ 480g/ 16.96 oz water

⅖

Cups

water
Dry ingredients
3

Cups

glutinous rice flour

Substitute: mochiko flour etc. See notes for other varieties of glutinous rice flour

1¼- 1½

Cups

white sugar

 I use 1¼ Cups of sugar but if you have a sweeter tooth, you can go up to 1½ Cups without the hojicha mochi bites becoming too sweet. Some brands of Hojicha are more bitter, in which case you would have to use more sugar i.e. 1½ Cups.

1- 1½

Tablespoons

Hojicha powder f you only have Hojicha tea leaves, steep them in hot coconut milk till very fragrant before using in this recipe

1½

teaspoon

baking powder

¼

teaspoon

salt

Hojicha powder + icing sugar mixed in a 1:1 ratio 

Optional, for dusting
Instructions
Preheat the oven to 350F/ 177C (157 fan.)

Combine the dry ingredients in a large bowl. If your flour is clumpy, sieve before mixing well. (I never need to sieve for this recipe though!)

Pour the coconut milk into the dry ingredients. Mix till there are no lumps, bits of flour, or air pockets in the batter. Don't stress about over-mixing as the glutinous rice flour has no gluten and can't be overworked/ become tough.

Use an ice-cream scoop to scoop the batter into the muffin tin- this helps to ensure that every muffin is approximately the same weight and thus takes the same amount of time to bake. Fill each muffin compartment up to ¾ of the way (you want to give the vegan mochi muffins space to rise up)

Tap the filled muffin tin gently to remove air bubbles in the dough before placing it in the hot oven.

Bake for 45-55 minutes or till the edges have turned crisp and golden/ toothpick inserted into the centre comes out clean. The finished vegan mochi bites will still have a slightly translucent, gooey interior but a crisp golden exterior. The inside will look a little wet even when it's done!

Optional: for a nice finish, you can dust the muffins with a light sprinkling of Hojicha powder mixed with icing sugar.
Notes
There are several types of glutinous rice flours, which I've summarised in this post. Thai glutinous rice flour is usually the cheapesst, but Japanese and Korean sweet rice flours can be used for vegan mochi bites too.
If you want to bake 2 flavours, simply reduce this recipe by half. You can make another batch using matcha powder (just substitute Matcha powder for Hojicha powder.) See this matcha mochi bites post for alternative flavors.
Storage
Keep these vegan muffins in an airtight container at room temperature for 2-4 days (or in the fridge/ freezer if you need them to last longer.) Reheat before serving, if possible!
Note: the nutritional information is an estimate automatically calculated using the WPRM recipe maker and I am not responsible for its veracity.
Nutrition
Calories:
378
kcal
Carbohydrates:
67
g
Protein:
3
g
Fat:
11
g
Saturated Fat:
9
g
Polyunsaturated Fat:
0.3
g
Monounsaturated Fat:
1
g
Sodium:
1827
mg
Potassium:
134
mg
Fiber:
1
g
Sugar:
0.05
g
Vitamin C:
0.5
mg
Calcium:
42
mg
Iron:
2
mg
If you've liked this Vegan Mochi Muffin recipe, please do share it on social media. I'd love to see what new flavors you guys experiment with so don't forget to tag me on Instagram @greedygirlgourmet !