Tang yuan, or Chinese glutinous rice balls, are a 2 to 3-ingredient chewy snack that can be served in soup (sweet or savoury) or fried. Served at Chinese family gatherings, especially the Winter Solstice, they also come plain or with filling inside so, as you can see, this is a very versatile and easy dish!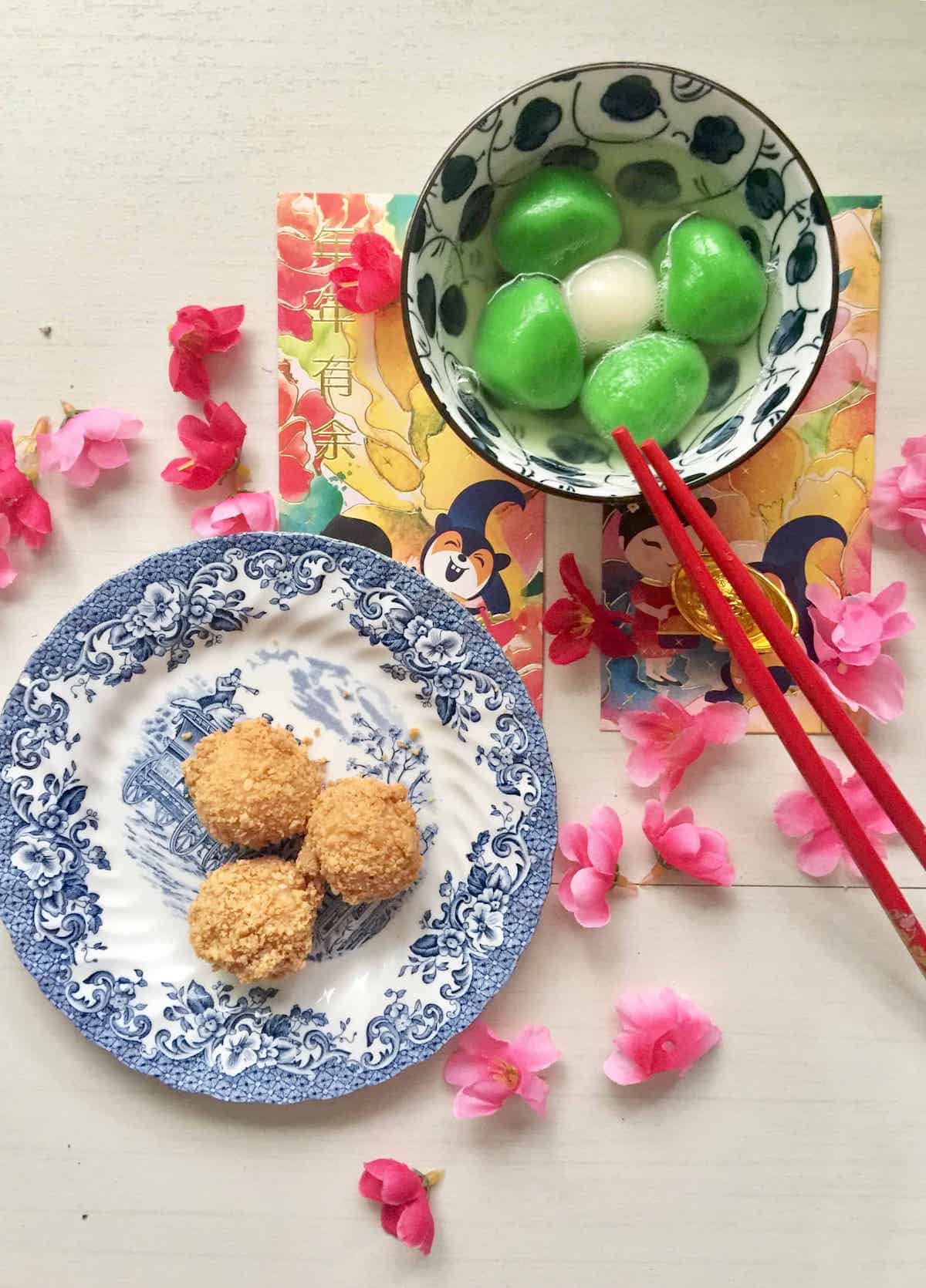 Jump to:
🥣 What is Tang Yuan?
Tang Yuan (汤圆) is a traditional Chinese food made of glutinous rice flour balls. It comes in the form of a sticky round ball and is most commonly boiled then eaten in a sweet soup. Sometimes, it is served in a savoury soup or even deep fried.
Thanks to the glutinous rice flour, the round dough ball has a chewy texture, similar to that of mochi. However, mochi is light whilst tang yuan has a denser texture. If you like boba, you'll love this tang yuan recipe!
Another traditional Chinese snack similar to dry tang yuan is muah chee.
Note: Glutinous rice contains no gluten so glutinous rice desserts, such as chewy matcha mochi muffins, glutinous pumpkin cakes, and traditional tang yuan are naturally gluten free. (Some modern variations might have weird things added so check before eating.)
Types
These sweet dumplings come in a few forms:
plain (no filling, the easiest and quickest to make in literally minutes!)
with a sweet filling

traditional fillings include sesame paste (黑芝麻汤圆 hei zhi ma tang yuan), red bean paste, lotus paste or peanuts inside
modern fillings range from jam and taro to chocolate
when you bite into the tang yuan, the filling oozes out like a lava cake!

coated, fried till crunchy and served dry
floating in a small bowl of ginger syrup, red bean soup, black sesame soup etc
savory (usually with a meat and mushroom filling)
Note: There is a variation of this traditional Chinese dessert in almost every South East Asian country. In Singapore, tang yuan are called ahballing.
The Filipino (Bilo Bilo) and Thai versions (Bua Loy) come in a coconut milk soup, sometimes mixed with yam whilst the Vietnamese version is filled with mung bean and in ginger soup.
🥢 In Chinese Culture
Tang yuan is actually a modern, 20th century name for this Chinese dish.
Originally, these glutinous rice ball dumplings were called "yuan xiao" (元宵) which means first evening. This reflects the fact that there is always a new moon on Yuan Xiao jie (the Lantern Festival, which is when these glutinous rice dumplings are traditionally eaten.)
However, it is said that in the early 1900s, Yuan Shikai ordered the name to be changed as "yuan xiao" sounded like "removal of Yuan (袁消)." Hence, this Chinese snack is now called "tang yuan"- literally "soup round!"
Some people also believe that the different coloured tang yuan have different auspicious meanings.
Fun fact: some people use the 2 names- tang yuan vs yuan xiao- to distinguish whether the sweet rice balls are prepared in the Southern (former) or Northern style (latter).
When to Eat
I enjoy eating tang yuan- especially black sesame tang yuan- at any time of the year. However, these glutinous rice ball dumplings are actually associated with specific festivals.
The most traditional would be the Lantern festival (Yuan Xiao Jie, which is the last day of the Spring Festival.)
The name of this Asian dessert sounds like "reunion" in Chinese (glutinous rice balls are "tang yuan" and reunion is "tuan yuan" and the round shape symbolises reunion. Thus, this dessert is also served at weddings, family gatherings, the winter solstice festival (冬至 dongzhi) and over Chinese New Year. (Usually on the eve (family reunion dinner), the 7th day (RenRi or everyone's birthday) or the last day (the 15th day of CNY, which is tomorrow!)
Note: For a traditional meal, have tang yuan with this Chicken Feet Soup!
IMPORTANT: Glutinous rice flour dishes are so sticky, they can get stuck in one's throat if not chewed well (and suffocate you) so CHEW CAREFULLY.
In Japan, people are rushed to hospital (and even die) from eating mochi every year so care should be taken, especially for the very young or old.
📋 Ingredients
Plain With No Filling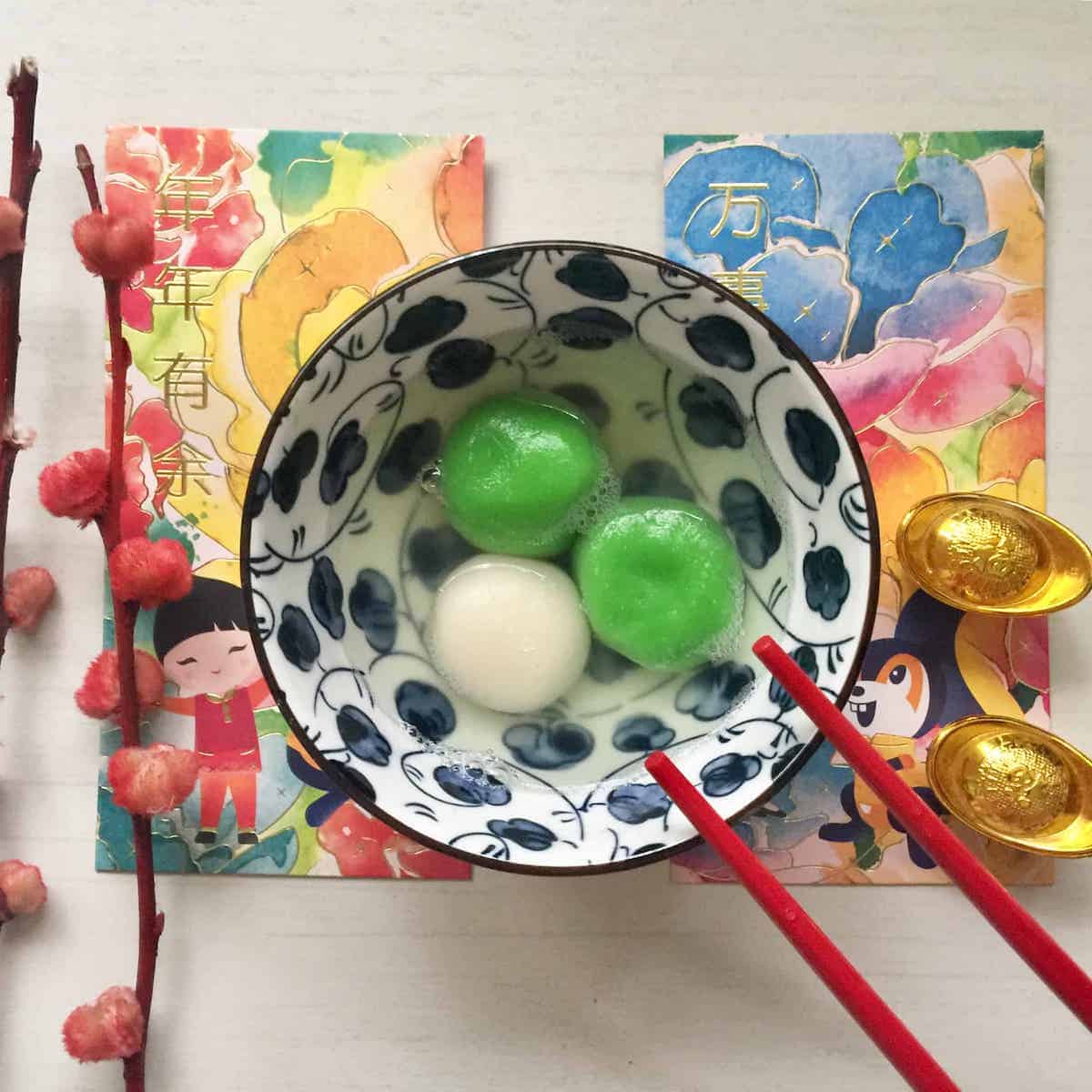 You only need 2 ingredients for the most basic version of tang yuan. (3, if you want to make a colored version):
glutinous rice flour: do not use regular rice flour, AP flour, cake flour or anything else! They're not the same thing!
water
optional, food colouring or flavouring such as pandan (green), pumpkin puree (orange), sweet potato (orange or purple), matcha powder (green), beetroot (red), purple cabbage (pink), butterfly blue pea (blue) etc. Note that using different flavourings will affect the pliability of the dough.
Note: Some people add some sugar to this glutinous rice dough, but as we are serving the tang yuan in a sweet soup, I find it overkill. Too much sugar is bad!
For Filled Tang Yuan
In addition to the ingredients above, you will also need whatever you want to put inside. This could be:
peanuts (hua sheng)
sweet red bean paste (hong dou)
chocolate (my favorite!)
Note: I hate to make you buy ingredients that you only use once so click here for more pumpkin recipes, matcha recipes and pandan food ideas.
For the Sweet Soup Base
The basic ingredients for the ginger soup are:
water
brown sugar or rock sugar
slices of ginger
For something fancier, especially if you're serving this on a special occasion e.g. Chinese New Year dessert, other variations of the sweet syrup for tang yuan include:
dried osmanthus flowers (which is used to make gui hua cha osmanthus tea) or osmanthus sugar
gula melaka and pandan (this is obviously a South east Asian version as these 2 ingredients are abundant in the region.)
longan soup (You can use the longan tea recipe here but remember to add sugar!)
Note: if you like the taste of osmanthus, you may enjoy this gui hua gao recipe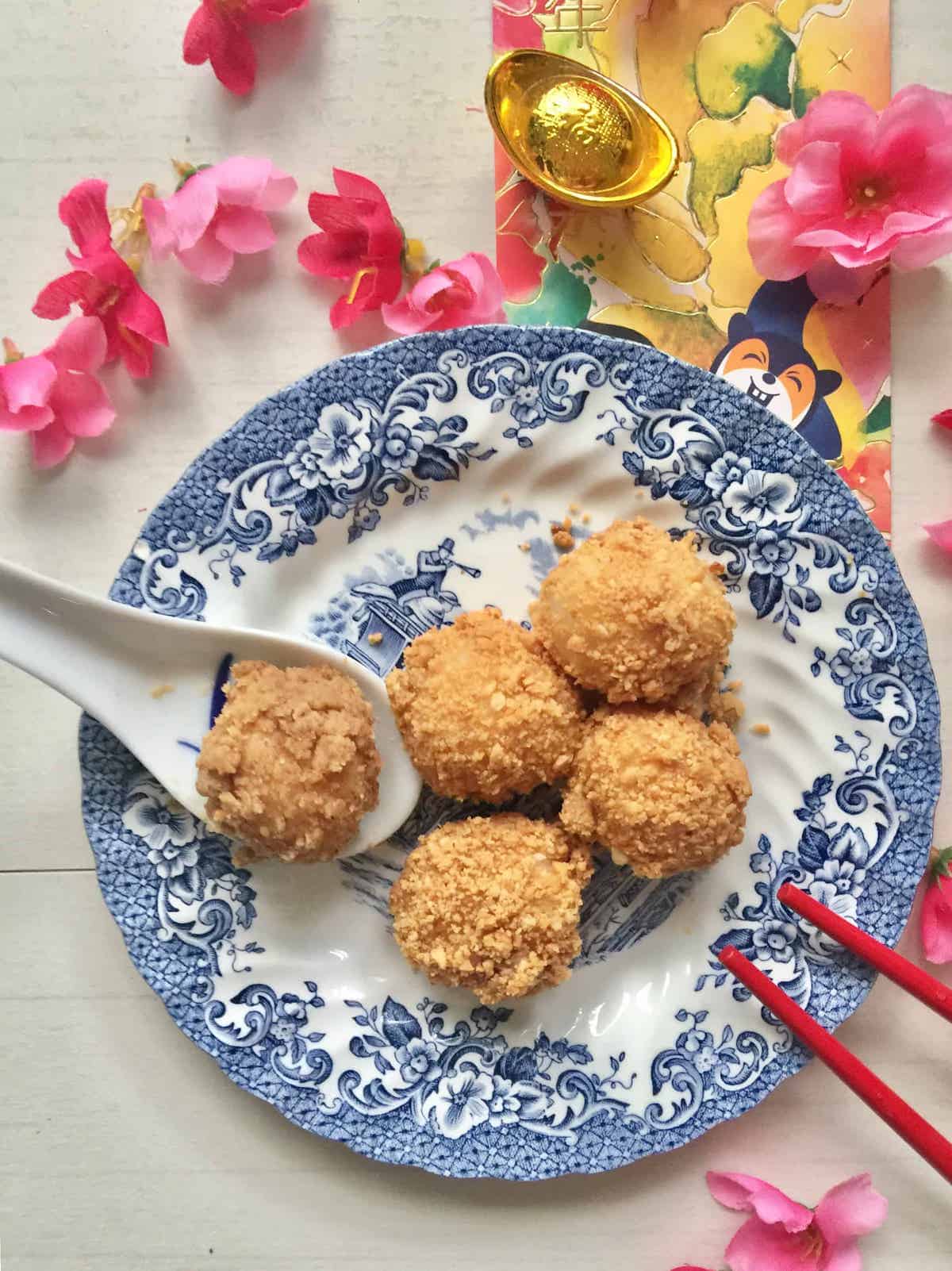 🍳 How to Shape
If you want to make glutinous rice balls with filling (e.g. black sesame tang yuan), I recommend making the filling before working on the dough.
Chilling the filling in the freezer helps it to harden and makes it easier for you to work with.
Plain
The soupy tang yuan are super easy to make - simple pop them into boiling water and cook till they float.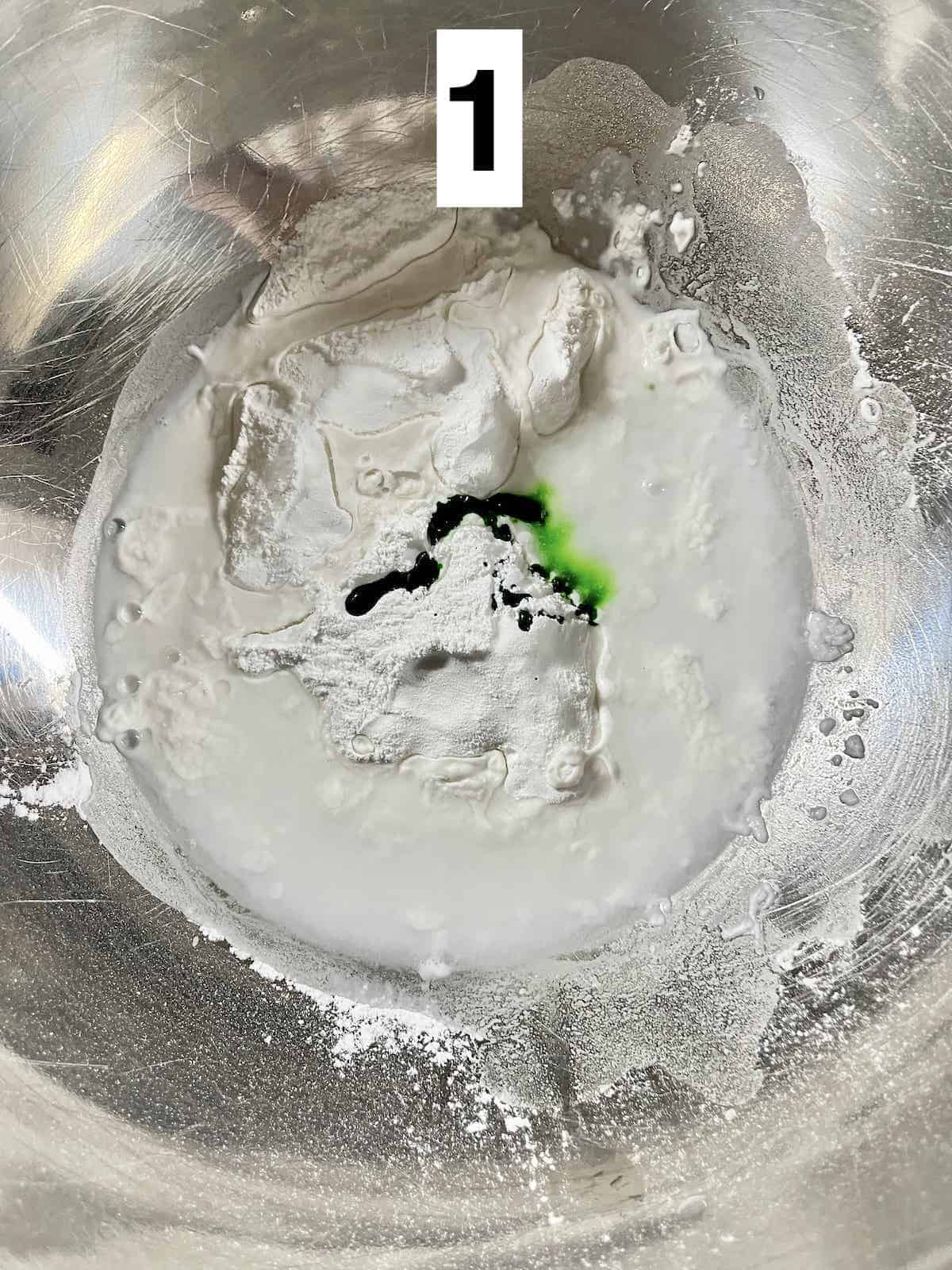 Add the glutinous rice flour, food colouring (if using) and warm water to a large stainless steel bowl.
Tip: keep a small bowl of water near you so you can use it to wet your hands if necessary.
Note: As there's no gluten in the glutinous rice flour, don't worry about over-working the dough.
On Quantities: With Western desserts, you have to keep the proportions exact. To be honest, I barely bother to measure the water when I make tang yuan! If the dough is too dry, I add more hot water and, if it's sticky, I knead more glutinous rice flour in! Never failed me to date!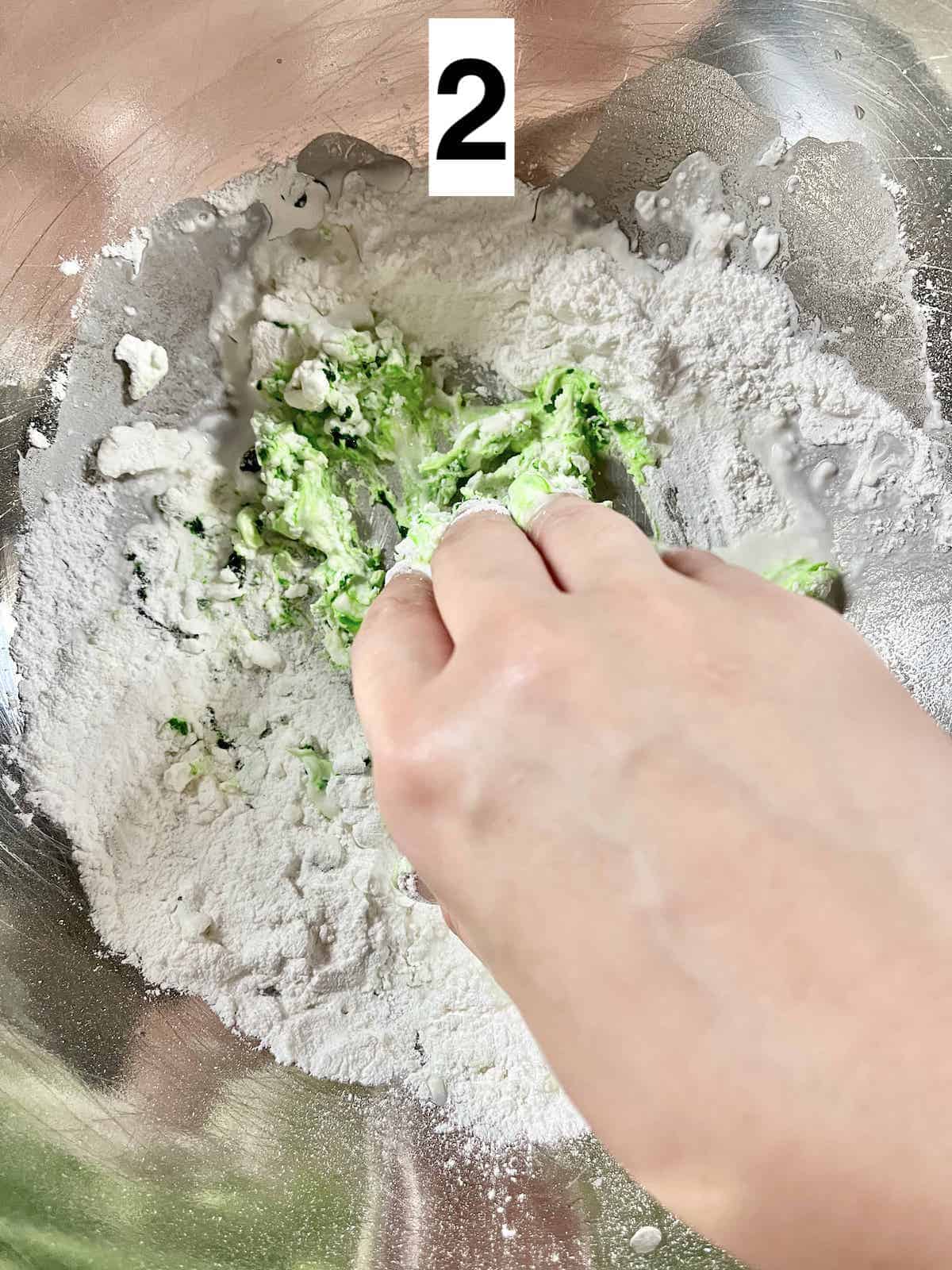 2. Mix well with your hands. At this point, the dough will be sticky.
If you find that your dough tears easily, just wet your hand lightly in the bowl of water and use the wet fingers to pinch the dough back together.
Boiled Dough Method: Alternatively, a 2nd method is to grab a small piece of dough (about 1 inch in diameter), flatten it then boil it. Once cooked (the color has changed), add it back to the raw flour mixture and knead everything together. This will help make your dough more pliable although I've never had to do this myself.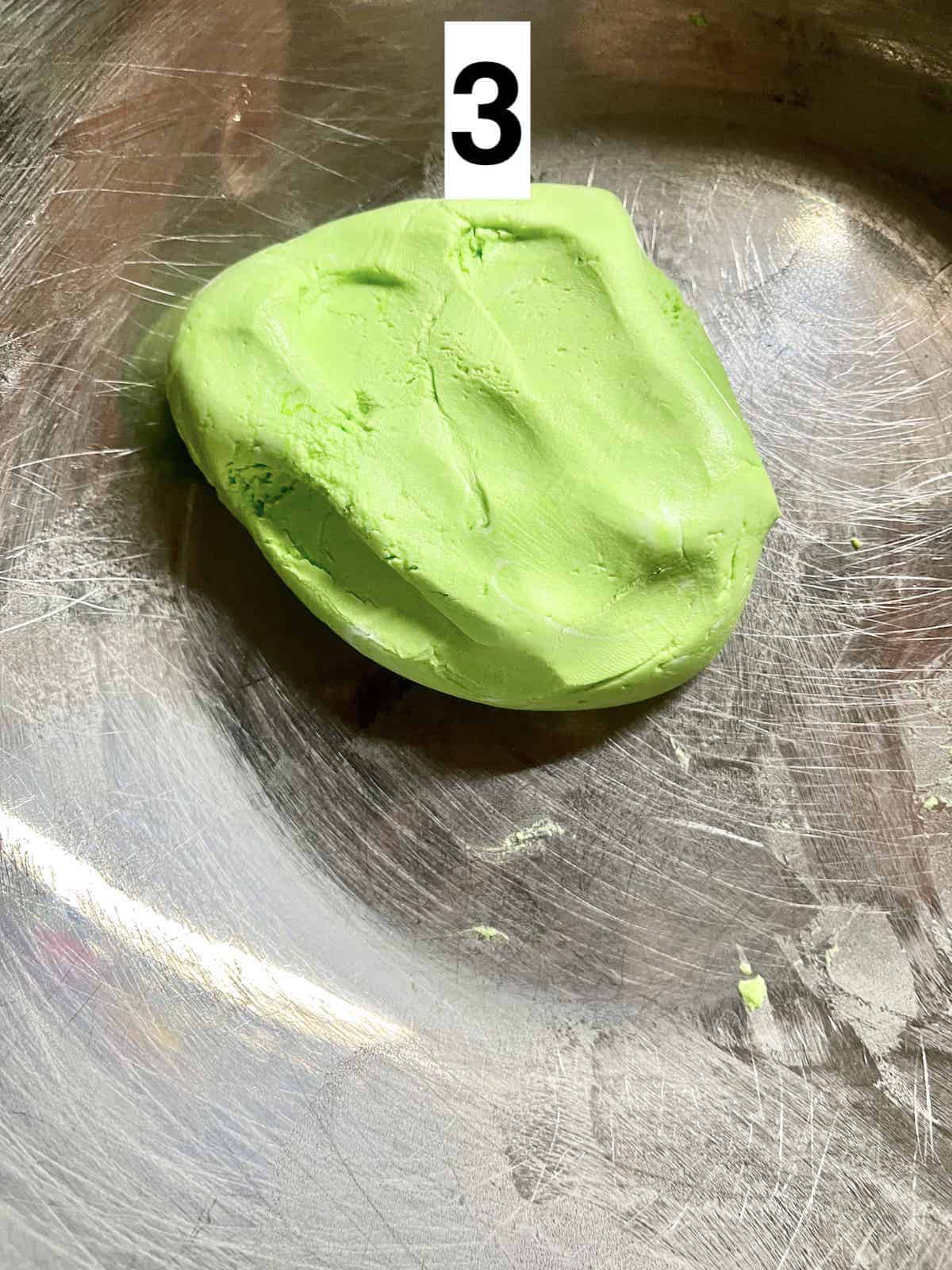 3. Knead everything together till the dough is well-mixed and soft.
Note: You know the dough is done when it no longer sticks to your hands and can form a nice, smooth shape.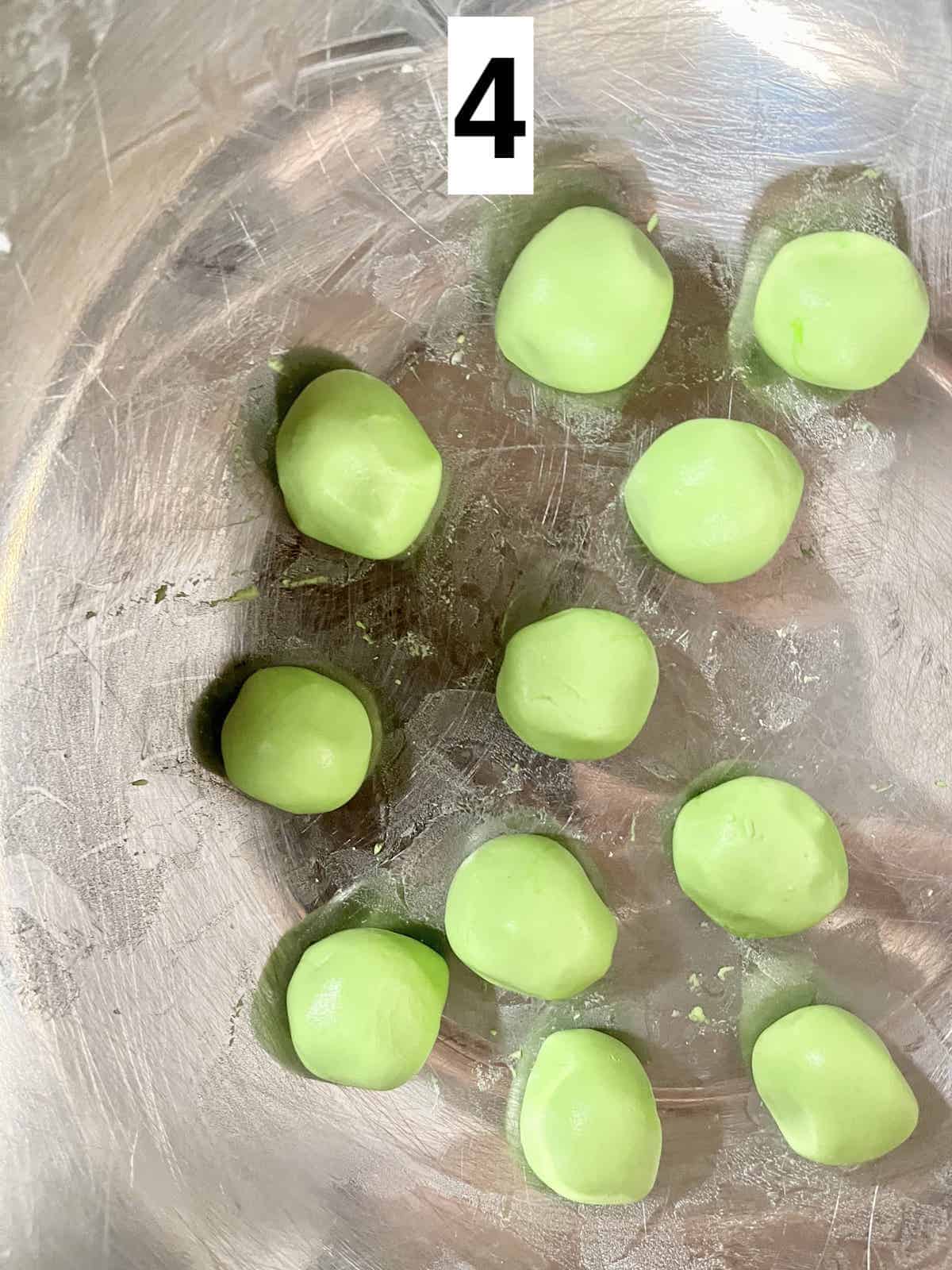 4. Divide the dough into equal small pieces then rough into round balls.
Scroll down to the "How to Cook" section below.
Tip: it helps to roll the dough into a long log then cut into equal-sized shapes before rolling.
With Filling
If adding a filling, you'll need the dough to be more pliable and stretchy, so consider using the boiled dough method I mentioned in Step 2 above.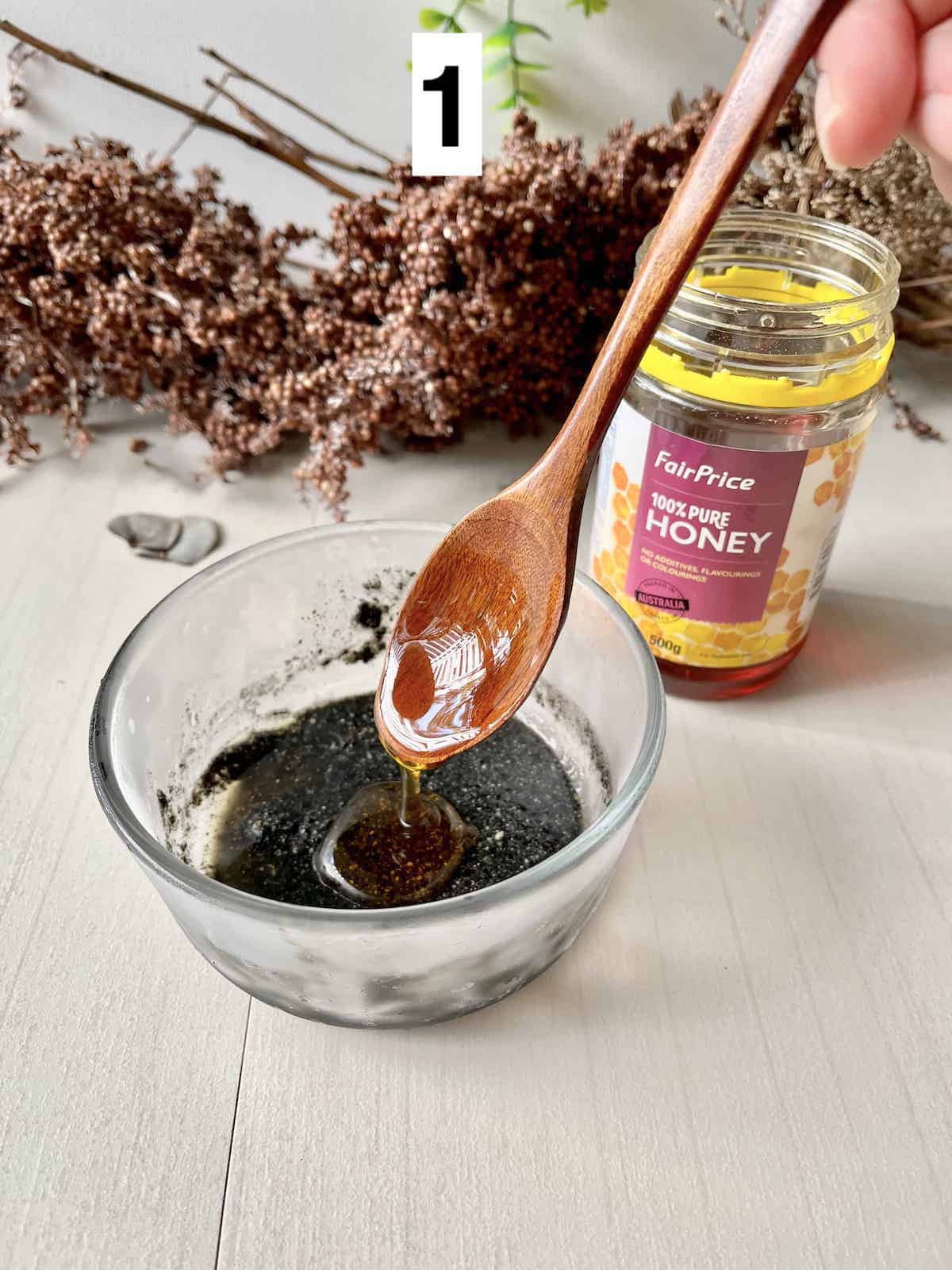 Gently toast the black sesame seeds in a dry pan till fragrant. Blend and mix with sugar or honey. (For detailed instructions on making sweet sesame paste, click here.)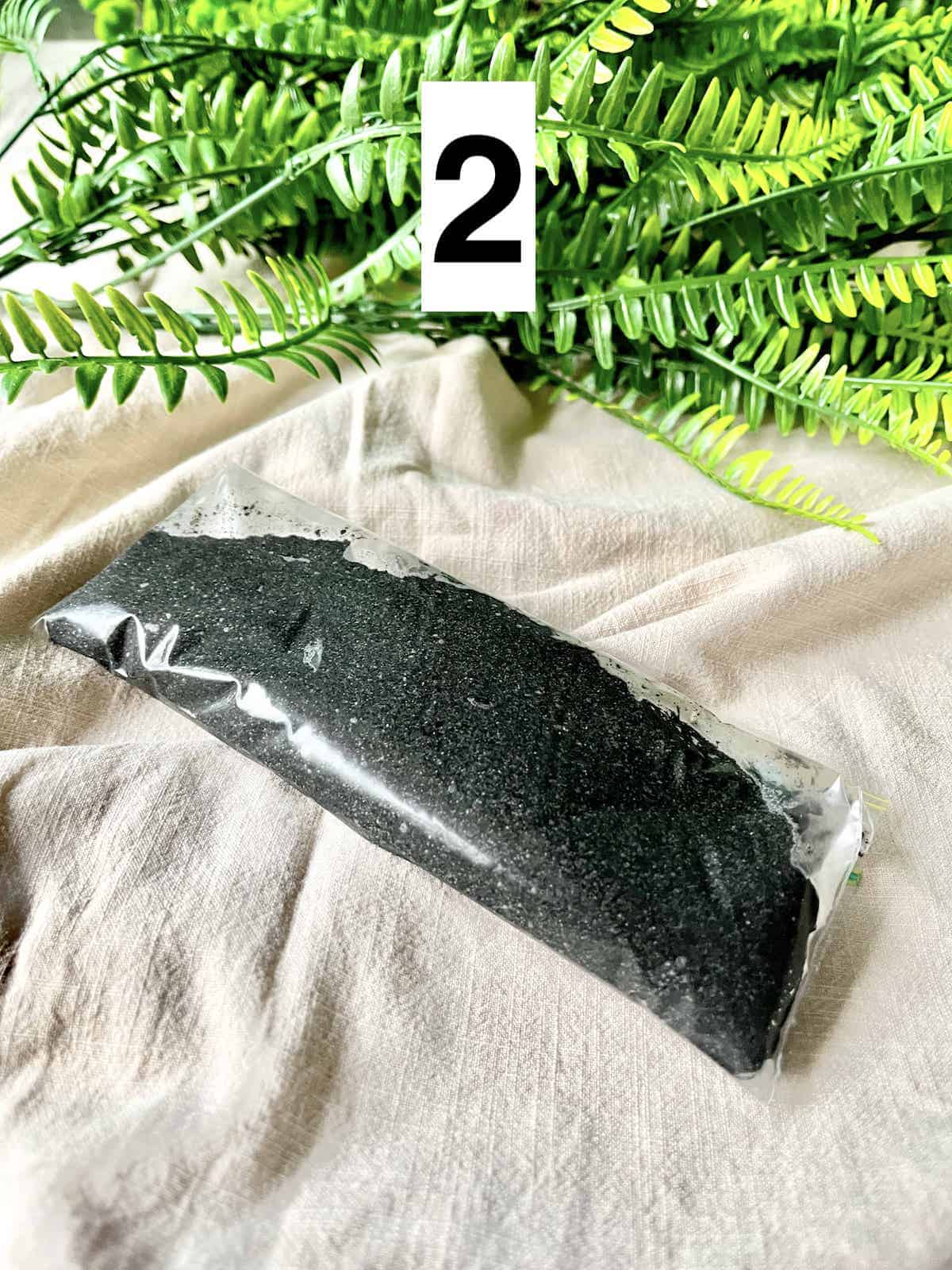 2a. Scoop everything into a Ziplock bag and flatten it so that it forms a nice thin 3D rectangular shape. Squeeze out the air, then seal the bag.
2b. Leave in the freezer to harden for a few hours at least.
3a. Remove the black sesame paste from the ziplock- the easiest is to use a kitchen scissors to snip the base of the bag.
3b. Cut the paste into small rectangular blocks of the same size. These blocks should be smaller the glutinous rice flour balls, so that they can fit inside!
3c. Wash your hands- the black sesame gets all over them!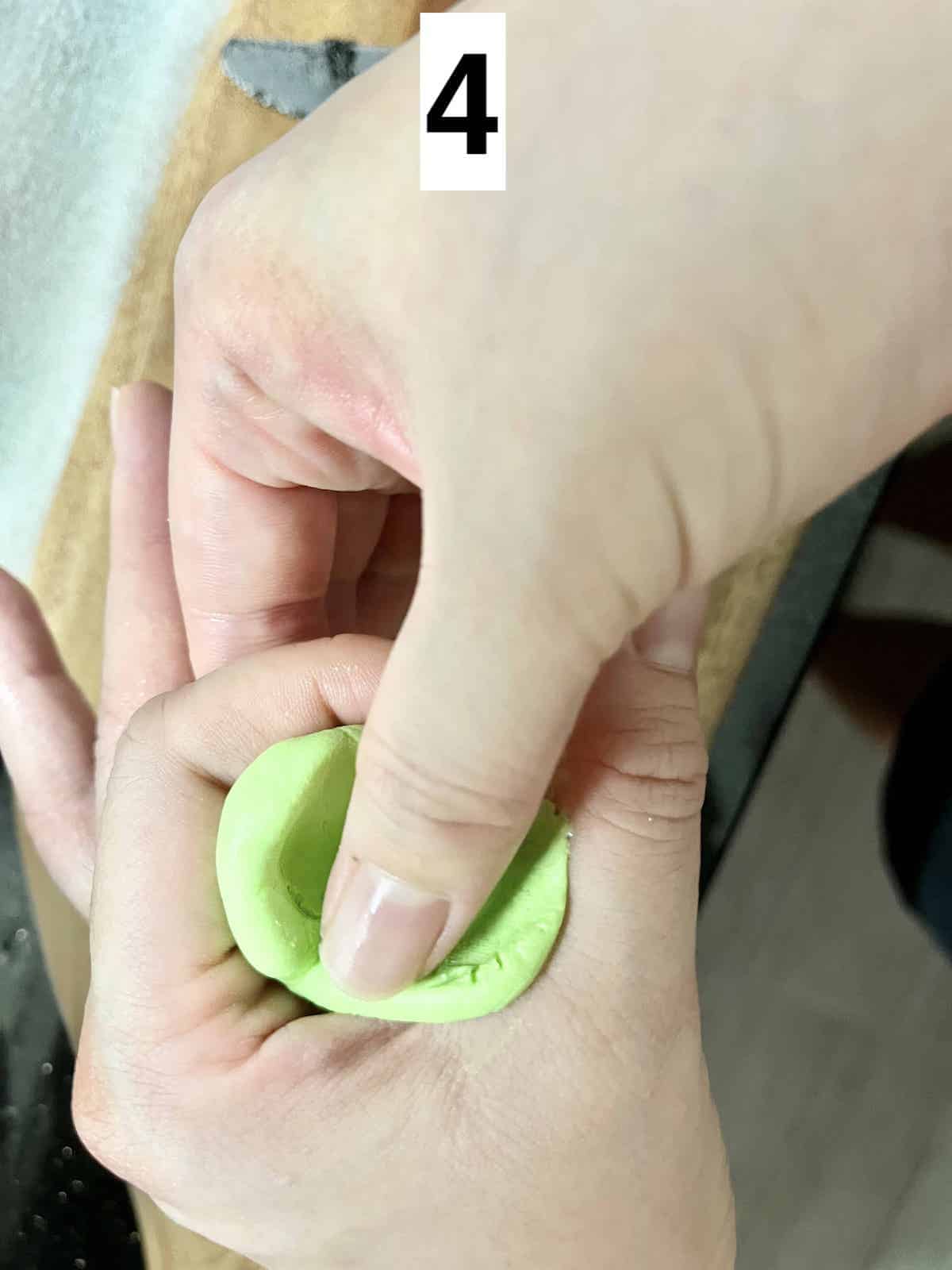 4a. With clean dry hands, hold the glutinous rice ball between 2 fingers and poke a hole in the ball using the thumb of the other hand.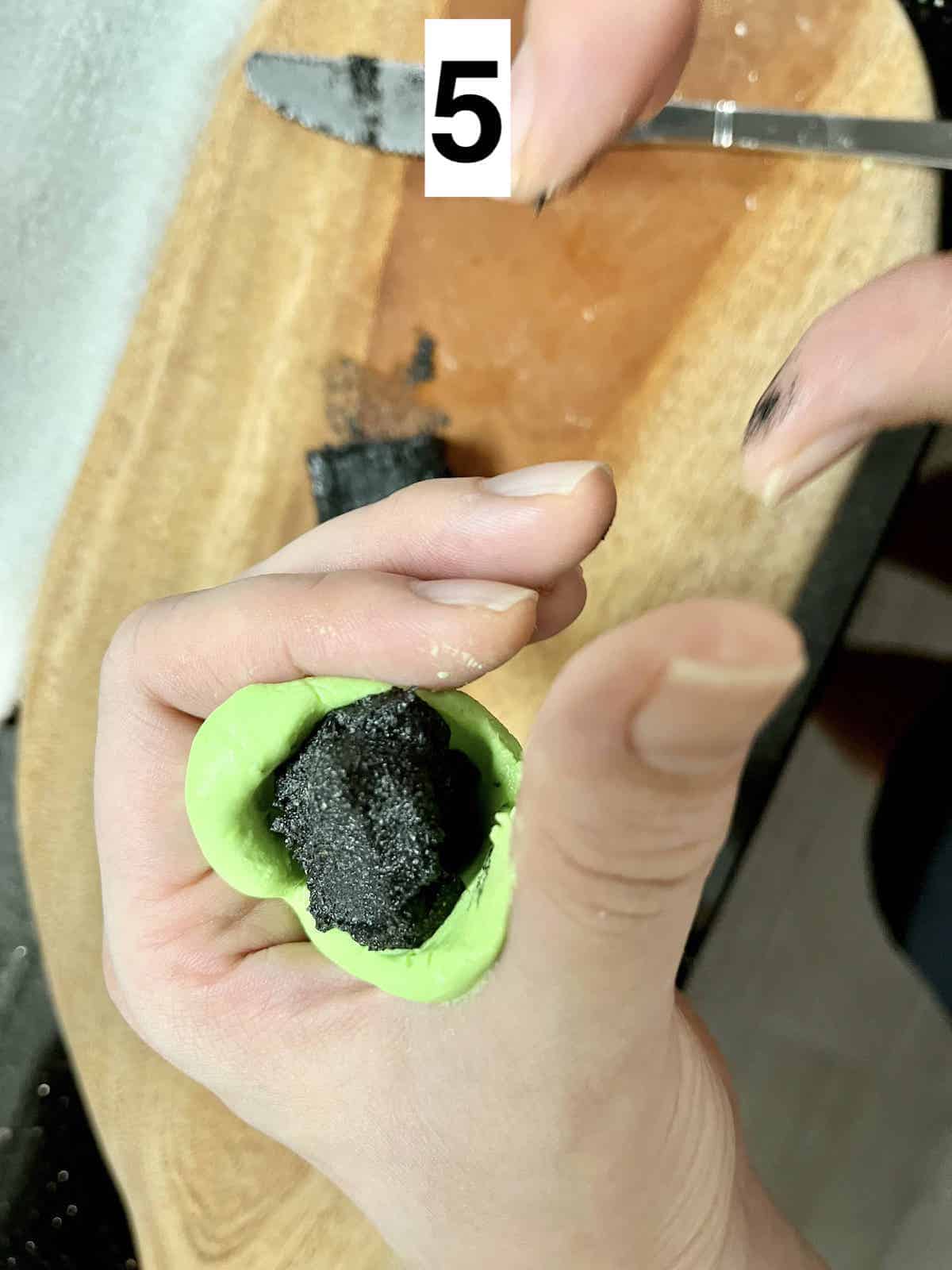 5. Place the black sesame paste in the hole formed, then use the 2 fingers surrounding the dough to squeeze the dough close.
Note: It's easier to pick up the sesame with chopsticks so you don't dirty your hands. If you use your hands, remember not to get the black sesame all over the outside of the dough!
Tip: make sure the dough is firmly closed. If not, the filling will float out when boiling!
♨️ How to Cook
Cooking the Sweet Glutinous Balls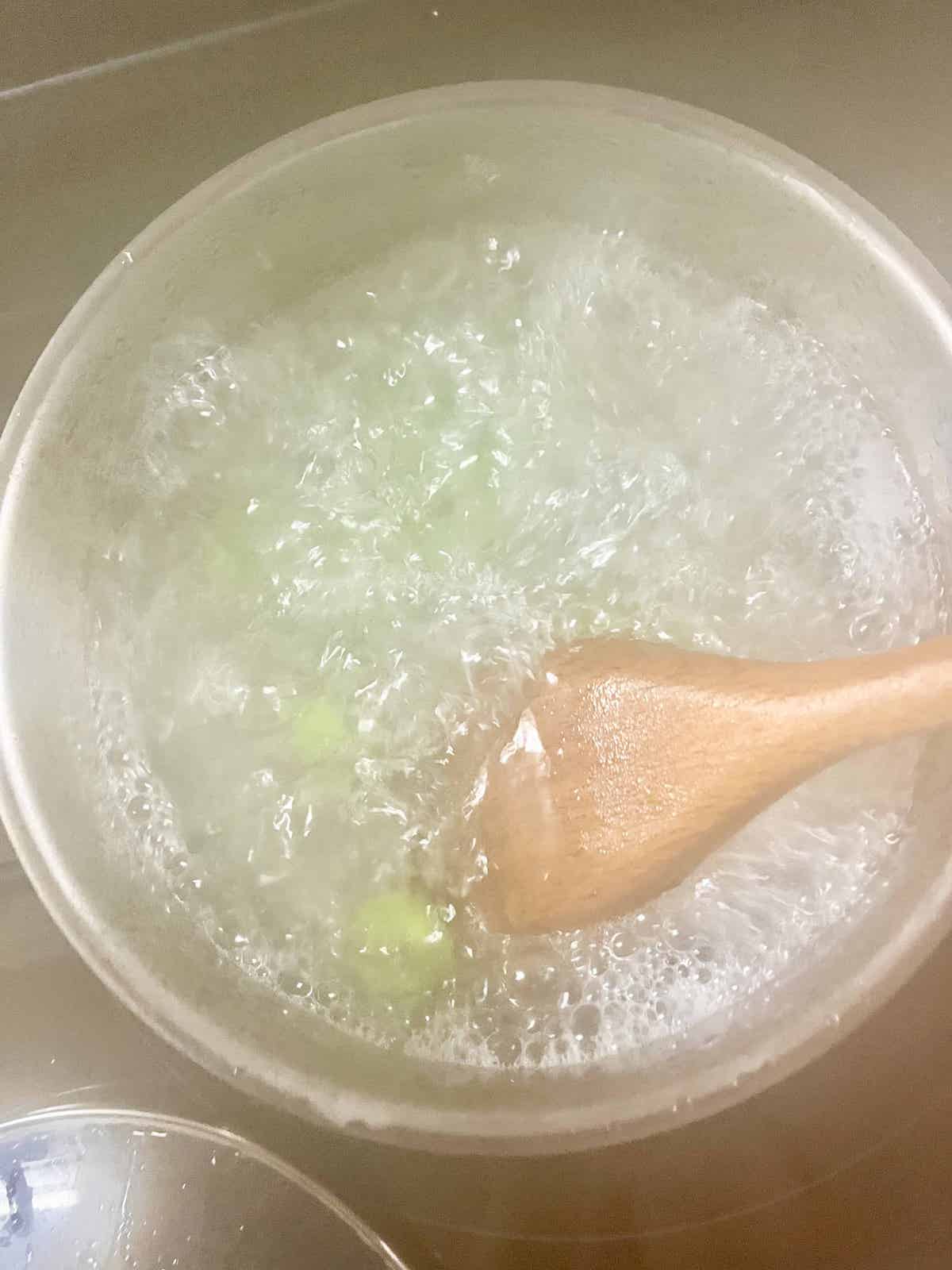 Cover a large pot, half filled with water, and bring it to boil. Once boiling, uncover and add the glutinous rice balls (do not overfill.)
It'll just take a few minutes for the balls to cook. You know they're done when they float. It can be hard to tell with all the steam etc, but the color also changes after cooking.
For unflavoured tang yuan, the white color becomes less matt when it's cooked. For pandan tang yuan, the green becomes deeper and less light in color after cooking.
Note: leave the tang yuan in the pot of hot (but not boiling) water whilst you make the soup. Best is to make the sweet soup and let it simmer whilst you make the dough, so that the balls don't overcook. (They may fall apart!)
In Soup
Bring a fresh pot of water and some ginger slices to boil. Once the ginger taste is strong enough for you, sweeten with rock or brown sugar.
Drain the cooked tang yuan using a sieve or colander- or remove with a slotted spoon- then portion out the soup and tang yuan into bowls.
Note: Do not add sugar to the water used to cook the glutinous rice balls as it will have bled starches into the water, making it cloudy and too thick.
Deep-fried
However, the coated dry ones are usually deep fried to make them crispy. (This style is more popular in Southern China and South East Asia. Remember to drain the tang yuan before coating (or frying!), if not the coating will not be crunchy! (And if you put a wet tang yuan into hot oil, it may splatter like crazy and burn you badly.) I will experiment with cooking them in an air fryer and update you soon.)
🥡 How to Store
The tang yuan dough will harden in the fridge.
Make sure to keep any extra tang yuan in liquid, stored in an airtight container in the fridge for no more than 1-2 days. The tang yuan should not be touching the container and should float in the water.
Freezing
Glutinous rice balls last for a few months in the freezer. (Freeze it in the raw, uncooked form.)
If you're worried about the glutinous rice balls sticking to each other, freeze them with space in between each for 10-20 minutes after which they can be jumbled up in a ziplock bag.
Alternatively, you can lightly dust them with some cornstarch.
To cook, boil without thawing.
Note: you can also buy the frozen version at Asian grocery stores, but it's not as healthy , not as budget-friendly and not as fun!
👩🏻 Expert Tips
Tip #1: When making plain tang yuan, I recommend making each ball smaller- if not it will be a big mouthful of plain flour which can be bland. (They expand after cooking too!)
Tip #2: The fillings can be prepared the day before so you don't have to rush when making tang yuan.
Tip #3: Some people cheat with the peanut filling by using peanut butter- I won't judge but, if you do, remember to use a pure nut butter that doesn't contain shortening and what-not!

💭 Recipe FAQs
How to cook frozen tang yuan?
The same way you do regular tang yuan- there's no need to defrost. You may need a few minutes more to fully cook them (they're done when they float.) Don't forget to keep stirring so they don't stick to the pot, as well as to not add too many (as they will expand.)
🐇 Other Chinese New Year Recipes
Enjoyed this Chinese Glutinous Rice Tang Yuan Recipe? Please leave a 5-star 🌟🌟🌟🌟🌟rating in the recipe card below! If you REALLY liked this traditional Chinese dessert, please consider supporting my work by buying me a coffee! 🙂 (No obligation though!) Thank you and have a great day!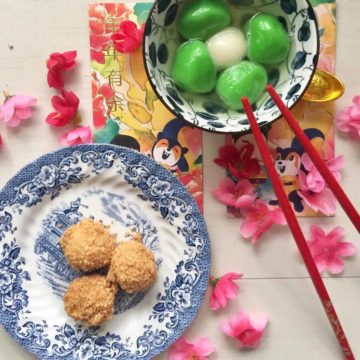 Tang Yuan (With Filling and Plain)
Tang yuan, or Chinese glutinous rice balls, are a 2 to 3-ingredient chewy snack that can be served in soup (sweet or savoury) or fried. Served at Chinese family gatherings, especially the Winter Solstice, they also come plain or with filling inside so, as you can see, this is a very versatile and easy dish! 
Equipment
Pot

Large Stainless Steel Bowl
Ingredients
Plain tang yuan
1

C

glutinous rice flour

do not substitute with all purpose or rice flour! You will not get the same texture. You could try mochiko flour as an alternative.

½

C

WARM water

The water has to be warm or the dough will be dry and hard and crack. If the dough is too dry, add more warm water teaspoon by teaspoon. If it's sticky, add more glutinous rice flour. For a green pandan flavoured version, replace warm water with warm pandan juice. If you don't have pandan juice, add a few drops of pandan extract to the warm water above BEFORE mixing it with the glutinous rice flour. If you add the pandan extract to the dough (after mixing the flour and water, you may end up with a marbled green glutinous dumpling.)
Coloured tang yuan: add these to glutinous rice flour and warm water (not pandan juice!)
⅛

teaspoon

tumeric powder (golden)

Substitute: turmeric paste. Use sparingly as turmeric is strong

½

teaspoon

pure cocoa powder (brown)

½

teaspoon

beetroot powder (pink)

Substitute: beetroot juice

½

teaspoon

matcha powder (green)

½

teaspoon

charcoal powder (black)

Maybe only for non-Chinese New Year days, or if you want a contrarian CNY party!
Tang yuan with filling (Black Sesame or peanut)
Tang yuan with Ginger Soup
3

C

Water

2

thumb sized

Ginger, sliced

Don't bother peeling if you're lazy. if you don't have enough ginger, cut your slices more thinly to make the flavour come out more.

Brown sugar, to taste
Tang yuan with Osmanthus soup
3

C

Water

Dried Osmanthus Flowers, to taste

I usually go for 7-8g as I like the flavour strong. You can use less if adding osmanthus sugar.

Rock sugar or osmanthus sugar

Substitute: brown sugar, white sugar or osmanthus syrup
Instructions
For the plain tang yuan
Mix the glutinous rice flour with the warm water. Keep a bowl of water by your side so it's easy to add water/ wet your fingers.

Note: If you're making flavoured/ coloured tang yuan, add some of the suggested natural colourings in the ingredients list above.

Make sure it's not too hot (so you don't burn yourself) then knead with your hands.

Note: If the dough is too sticky, add more glutinous rice flour. If too dry and hard, add more warm water teaspoon by teaspoon.

Alternatively if you are having problems with your dough, a 2nd method is to grab a small piece of dough (about 1 inch in diameter), flatten it then boil it. Once cooked (the color has changed), add it back to the raw flour mixture and knead everything together. This will help make your dough more pliable. I've never had to do this myself but it creates a stretchier dough, which makes it easier to fill tang yuan.

Separate the dough into equal sized pieces, then roll between the palms of your hands to form balls. Don't place them too close to each other or they'll stick.
1b. For black sesame filled tang yuan
Place in a ziplock bag, flatten to form a ½ inch thick rectangular disk, squeeze out the air, seal and freeze for a few hours.

Once solid, remove from the bag (easiest to cut the base of the ziplock bag) and cut into equal sized blocks smaller than the dough balls from Step 1.

Note: These taste best when you have just the right amount of filling to dough However, for the first try,.don't be too ambitious and make the black sesame filling too big!

Wash your hands and dry them, then press a hole in the ball using your thumb. (The dough becomes shaped like a deep bowl.)

Pick up the black sesame and place it in the hole- use chopsticks or the black sesame will stain your fingers, which will in turn stain the outside of the tang yuan, making it look less attractive.

Use the thumb and 2nd finger of 1 hand to form a circle, place the open tang yuan in the circle, and slowly make the circle smaller. This will squeeze the dough of the tang yuan to close it.

Note: make sure it is firmly sealed- if it looks cracked, wet your finger lightly and pinch it together. If not well sealed, everything will open up when boiling later!

Place the filled and closed tang yuan to the side. Make sure the tang yuan don't touch each other or they will stick and maybe tear.

Repeat for all the dough balls then proceed to Step 2.
2. Cooking the tang yuan (Plain or filled)
Bring water to the boil in a covered pot.

When at a rolling boil, add the glutinous rice balls. Don't overcrowd the pot as they expand in the boiling water! Keep stirring or they'll stick to the bottom of the pot.

They're cooked when they float (took me 3-4 minutes.)

Note: If you can't see because of the steam and bubbles, note that the color also changes after cooking. A plain ball becomes less of a matt white and a pandan ball becomes a darker and brighter shade.

Leave the balls in the hot pot of water whilst you make the soup.
3. Making the sweet ginger soup
Add the cooked tang yuan in and serve.
Notes
This recipe makes 15 medium sized plain tang yuan. Cook time is based on plain tang yuan. It will increase if you're making filled ones!
You can make your own pandan juice and osmanthus sugar.
Storage
If keeping cooked tang yuan in the fridge, store it in liquid for 1-2 days max.
To freeze, space the glutinous rice balls apart for 10-20 minutes in the freezer. After this they will no longer stick and you can jumble them together.
Note: the nutritional information is an estimate automatically calculated using the WPRM recipe maker and I am not responsible for its accuracy.
Nutrition
Calories:
149
kcal
Carbohydrates:
32
g
Protein:
3
g
Fat:
1
g
Saturated Fat:
0.2
g
Polyunsaturated Fat:
0.2
g
Monounsaturated Fat:
0.2
g
Sodium:
20
mg
Potassium:
38
mg
Fiber:
1
g
Sugar:
0.1
g
Vitamin A:
25
IU
Vitamin C:
0.1
mg
Calcium:
16
mg
Iron:
0.3
mg
If you've enjoyed this Chinese tang yuan recipe, please do sign up for my Asian recipes mailing list here!