The best sweet treats, from traditional Chinese New Year desserts to modern ones, for the Year of the Rabbit 2023 to bring you good luck in the new year.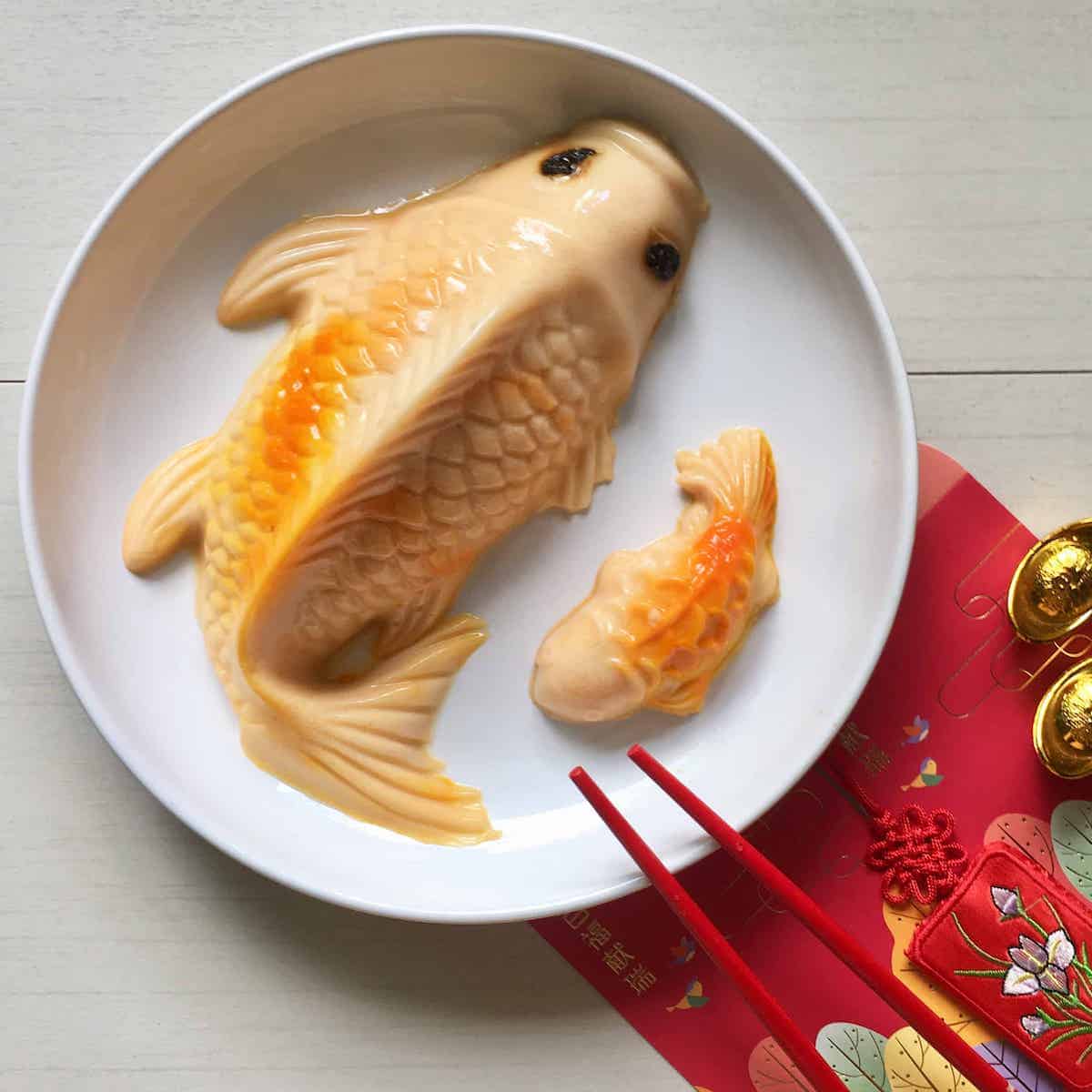 Jump to:
In Chinese culture, desserts are eaten during Reunion Dinner (團圓飯/ 团圆饭 Tuan Yuan Fan) to usher in a sweet life in the year ahead. (If you're wondering why, it's because desserts are sweet- Chinese people are big on symbolism, which is why we love the number 8 (homonym for striking it rich) but dislike the number 4 (homonym for death)!
When it comes to Lunar New Year: the golden brown pineapple tart represents Prosperity (as its name in the Hokkien dialect, "Ong Lai", sounds similar to the word), Chinese New Year Cake is eaten in hopes of a better year ahead (Its name"Nian Gao" literally means "A Higher Year"), uncut noodles for long life... and so on, and so on!
Here are some easy, popular and meaningful recipes for your New Year celebrations. (They're all Chinese sweets, ranging from Hong Kong to Singapore and Shanghai- whilst I enjoy other Asian cuisines, I find it weird to serve Japanese desserts for Chinese New Year!)
Note: click here for savory Chinese New Year dishes!
Or, if you're looking for cookies such as Chinese almond cookies (I must point out that fortune cookies aren't really traditional Chinese New Year (CNY) cookies), click here!) For those looking to venture beyond Chinese food, here's where you click for popular Asian desserts.
🍡 Glutinous Rice Flour Desserts
Tang Yuan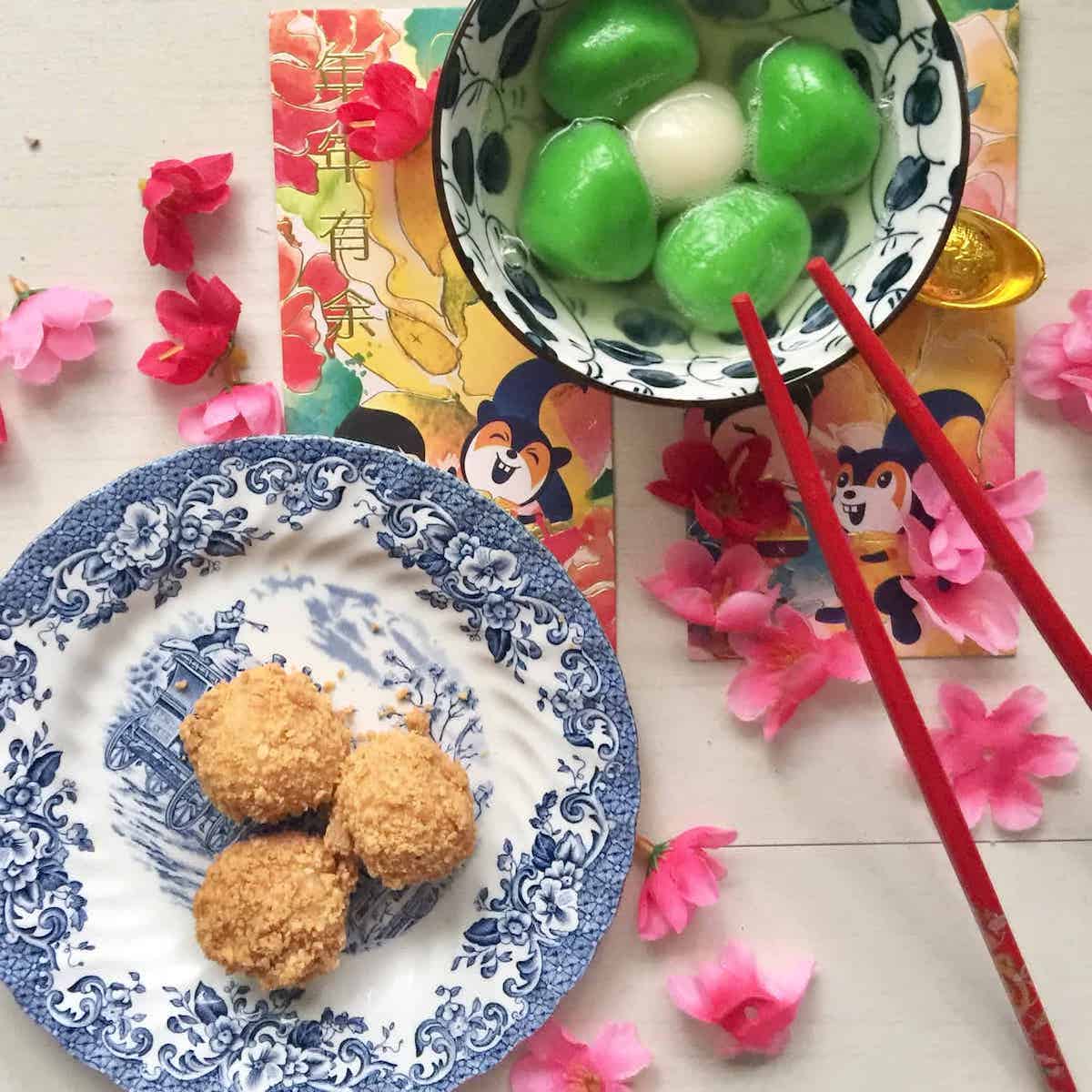 These sticky rice balls are 1 of my favorite Chinese desserts, and super easy to make at home too. The round shape signifies reunion, so they're a popular traditional Chinese dessert for family gatherings.
They can be served dry, coated in nuts or served in sweet syrup. Served either plain or stuffed with a filling, such as peanut paste, black sesame paste or red bean paste.
Tang Yuan (With Filling and Plain)
Tang yuan, or Chinese glutinous rice balls, are a 2 to 3-ingredient chewy snack that can be served in soup (sweet or savoury) or fried. Served at Chinese family gatherings, especially the Winter Solstice, they also come plain or with filling inside so, as you can see, this is a very versatile and easy dish! 
Click here for the traditional Chinese New Year Reunion Dinner dessert recipe.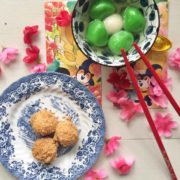 You can also serve these sweet rice balls in a thicker soup, such as Red Bean Soup.
Muah Chee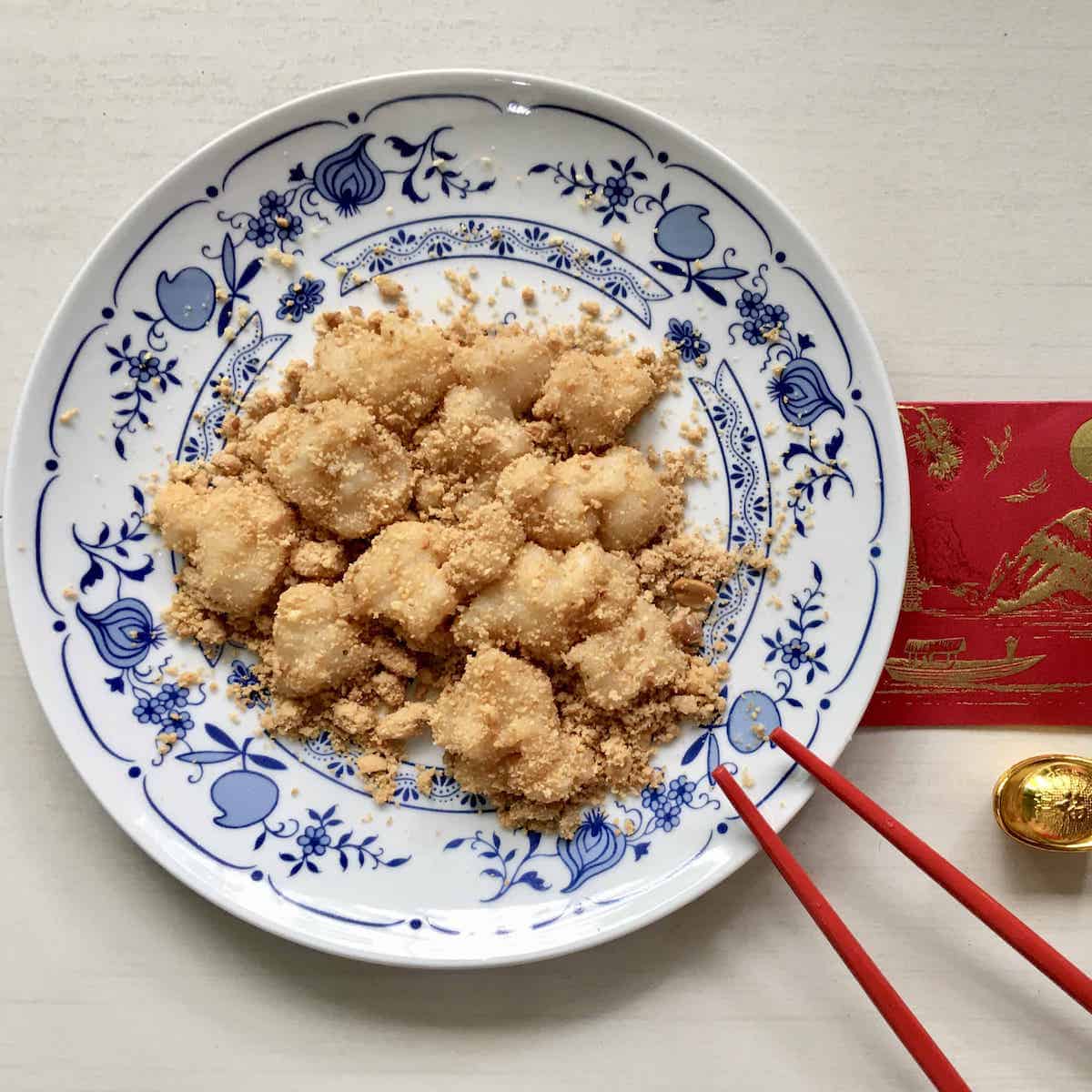 If you're a fan of mochi, you'll enjoy this stretchy, chewy bite! Alternatively, you may want to try these Third-Bakery inspired matcha mochi muffins. (Vegan Hojicha version here.)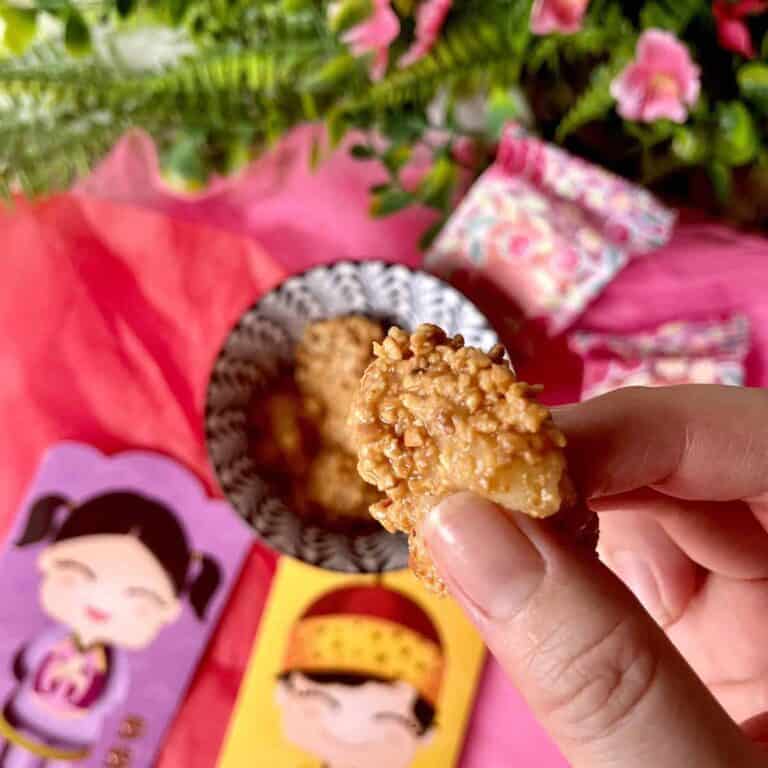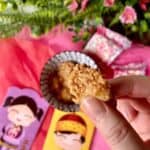 Nian Gao
This Chinese New Year Sticky Cake recipe is by Health Nibbles and Bits.
It is usually made by Chinese people the week before the start of the Spring Festival, as an offering to the Kitchen God. To bribe him to make a good report for their family to the Jade Emperor!
Sesame Balls (Jian Dui)
These sesame seed balls are a popular dim sum dessert made of glutinous rice flour and filled with red bean paste.
Pumpkin Cake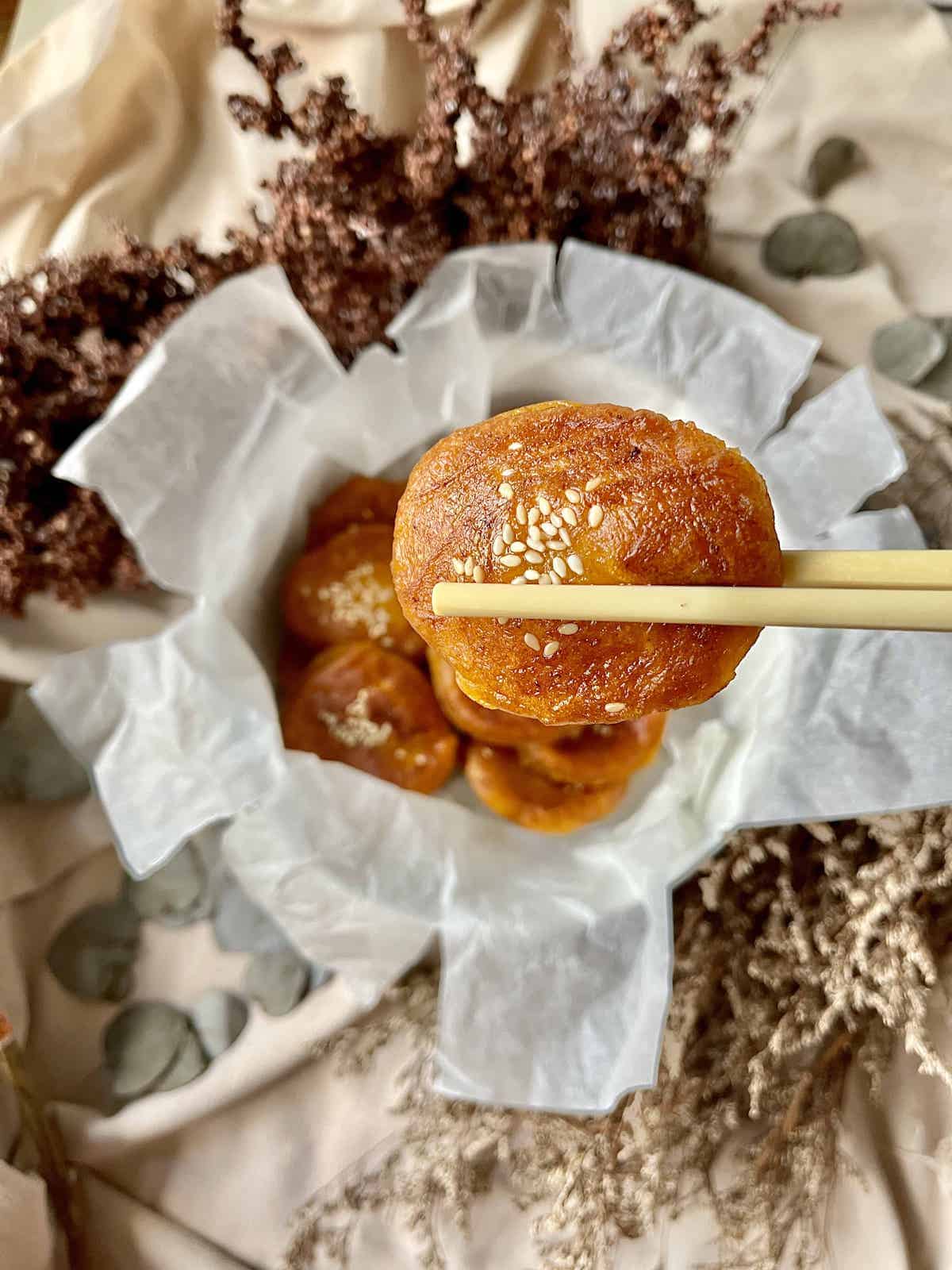 Chinese Pumpkin Cake
Crisp on the outside but soft, gooey and chewy on the inside, Chinese Pumpkin Cake or Nan Gua Bing is a must-make dessert in fall! If you've ever felt intimidated by the thought of making your own Asian street snacks, try this easy Chinese recipe to give you confidence! It's simple enough to make perfectly the very 1st time!
Click here for the Chinese Nan Gua Bing recipe.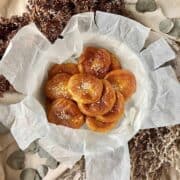 🍰 Cakes
Mandarin Orange Bake
This citrus cake is not traditional but it's a terrific way to use up all those extra oranges! (I hate to waste food so have several recipes which use up extra food on my site.)
Delicious with some ice cream on the side.
Fa Gao
Literally translated as Fortune Cake or Prosperity Cake, this is served not just for CNY but also during other celebrations such as weddings.
Chinese Sponge Cake
Unlike their Western counterparts, Chinese cakes aren't rich and creamy but usually light, fluffy and soft.
These are traditionally made in tall metal molds, but you can use a muffin tray if you can't find them!
Ma Lai Gao
The name actually means "Malay cake" but, besides Malaysia and Singapore, it can also be found in Hong Kong! I included this recipe, as it uses sourdough discard and, as mentioned, I like to minimise food waste!
P.S. Elegant Inn restaurant in Kuala Lumpur, Malaysia, does a terrific Ma Lai Gao. They're cut into thin slices, steamed and then gently pan fried, giving the cake a deliciously crisp exterior which contrasts perfectly with the cloud-like interior.
🍧 Jellies
Jellies are a great dessert for New Year's Eve dinner as:
they last for a few days and can be made in advance (less party stress!)
the main ingredients are good for you (if you don't add too much sugar or coconut milk, jellies are filling and not high in calories, so that you don't feel bad about festive overeating!)
Note: for more healthy sweets, try this no sugar jelly fruit salad or these no flour or sugar desserts!
Chinese Jelly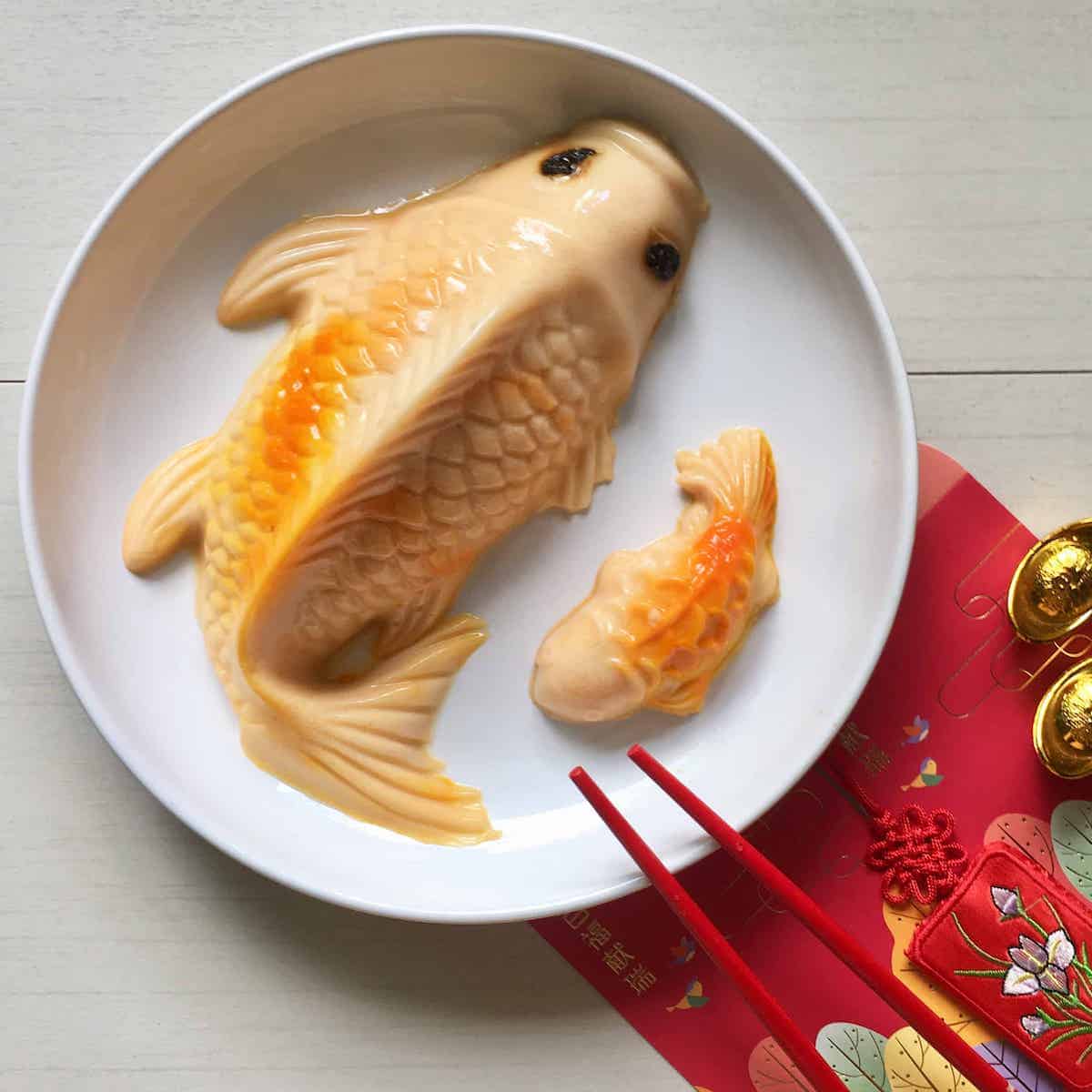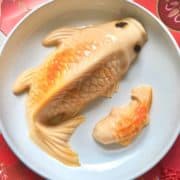 Chinese Osmanthus Jelly Cake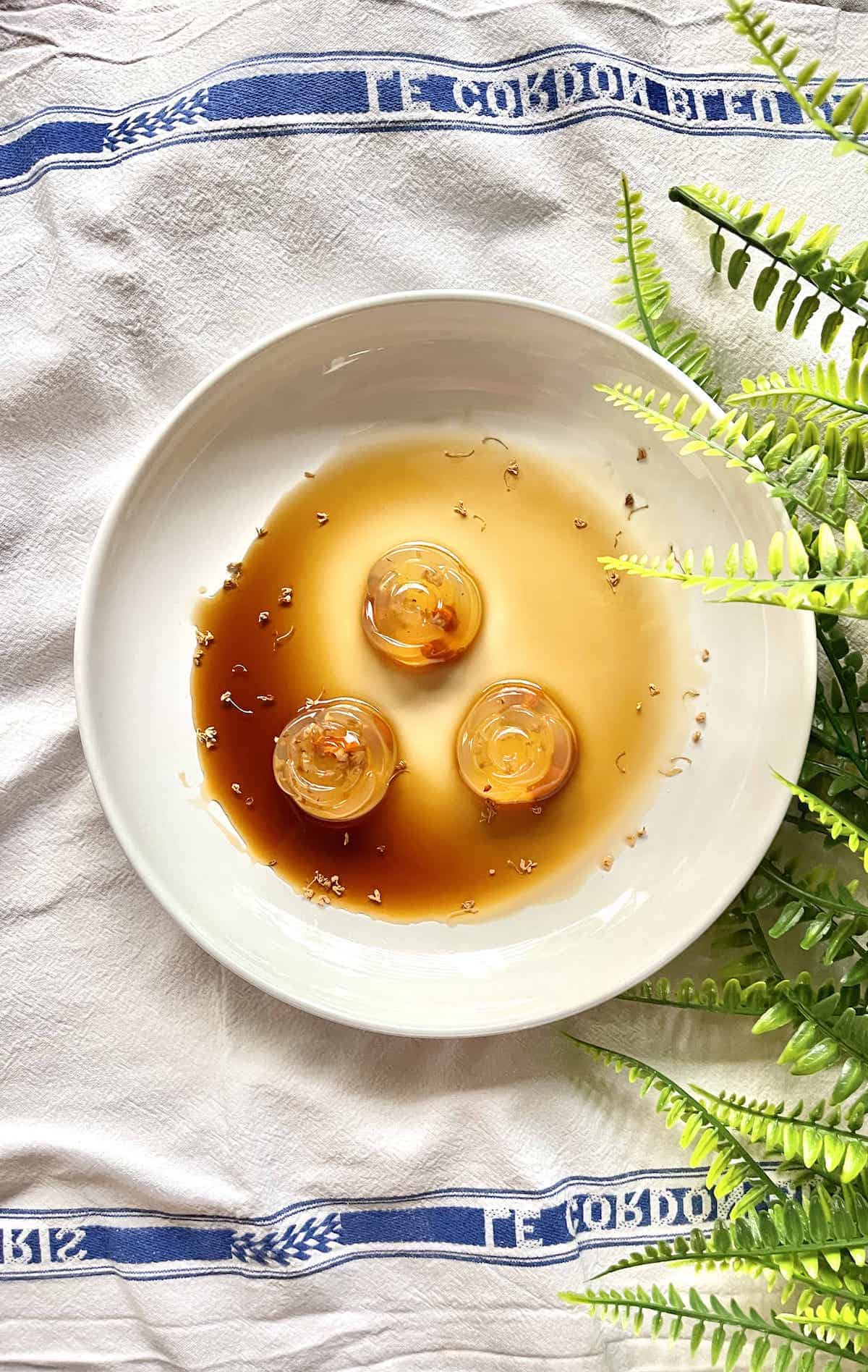 Osmanthus jelly recipe
This osmanthus jelly recipe (Gui Hua Gao) is a refreshing, delicious, quick and easy Chinese dessert made from edible sweet osmanthus flowers. Its shimmering gold color and floral fragrance have kept it popular through the years- you can even find it at Michelin-star Chinese restaurants today!
Click here for the Chinese Gui Hua Gao recipe.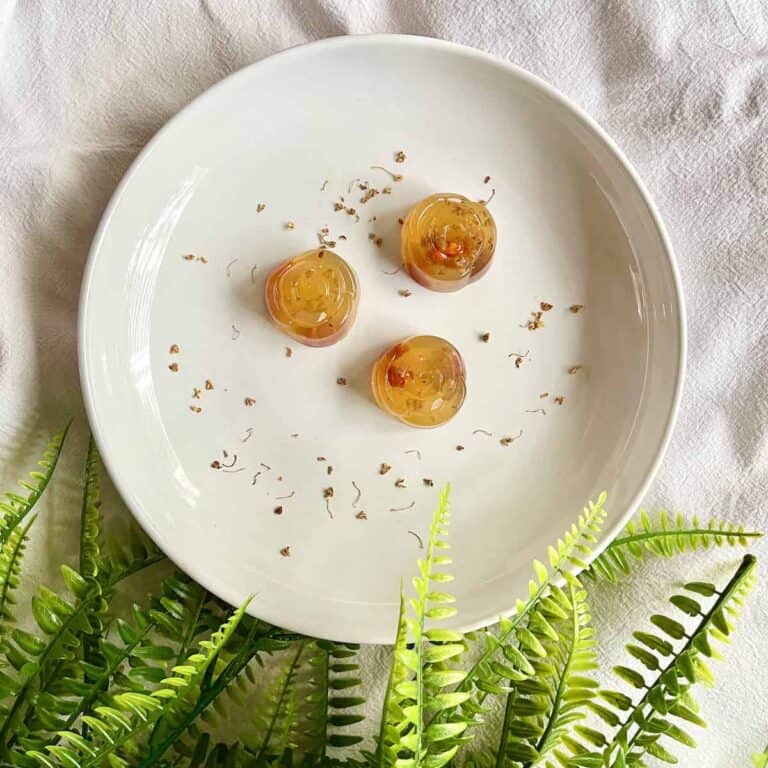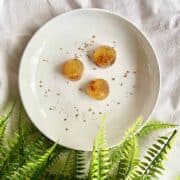 Gui Ling Gao
Also known as grass jelly or cincau, this is traditionally made by boiling Mesona Chinensis leaves to make a refreshing dessert that's sad to be good for your skin. However, they're not easy to find so luckily we have grass jelly powder available these days!
🍯 Tong Sui (Cantonese Sweet Soups)
Black Sesame Soup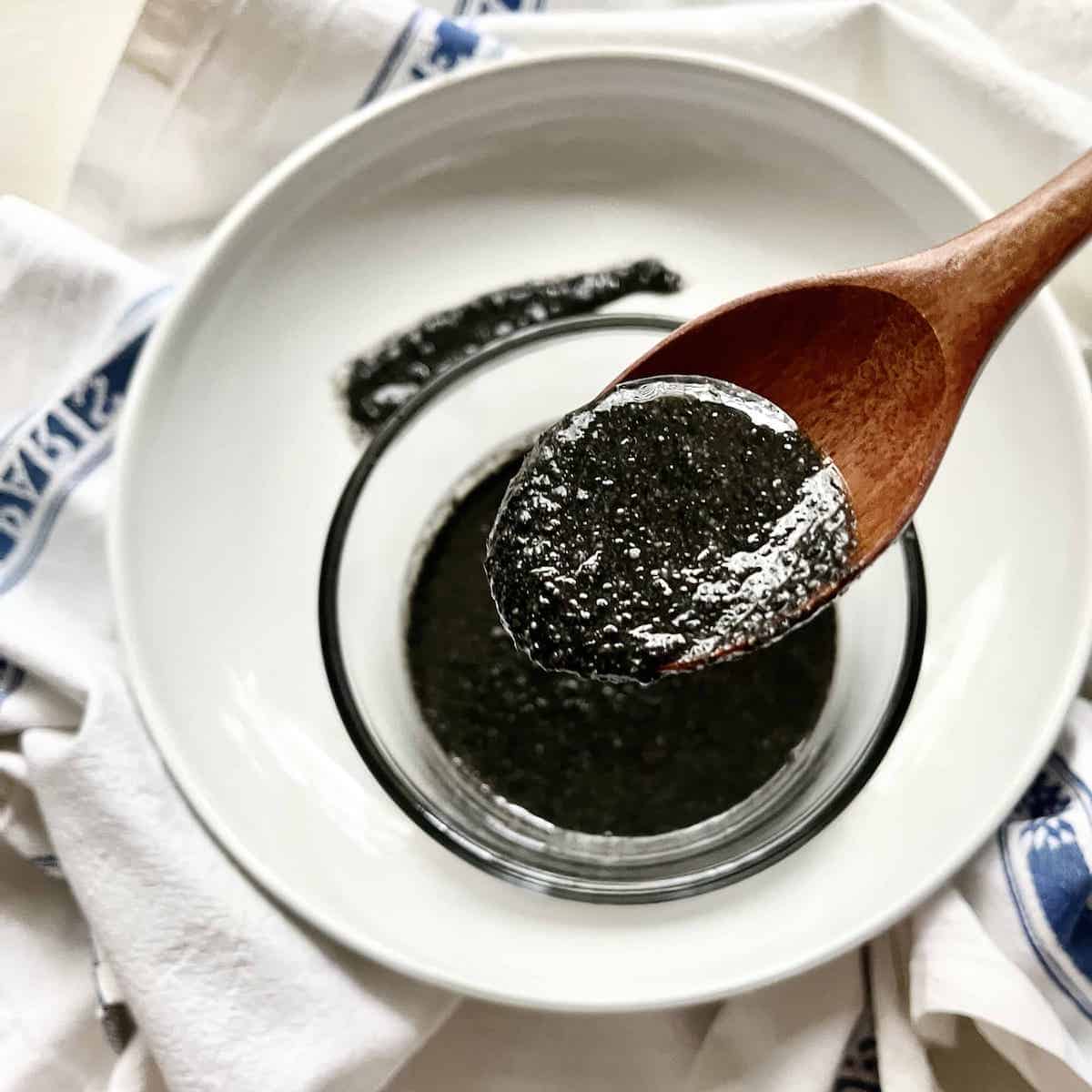 If you're not fond of something overly sweet, try Black Sesame Soup which has a grown-up, earthy and nutty flavor.
Easy Black Sesame Soup Dessert
A sweet and creamy Chinese recipe, with nutty overtones giving this easy black sesame soup dessert a complex depth of flavour. Moreover, this 3-ingredient traditional Chinese Tong Sui is naturally vegan, gluten-free, delicious & very nutritious!
Click here for the black sesame Cantonese tong Sui recipe.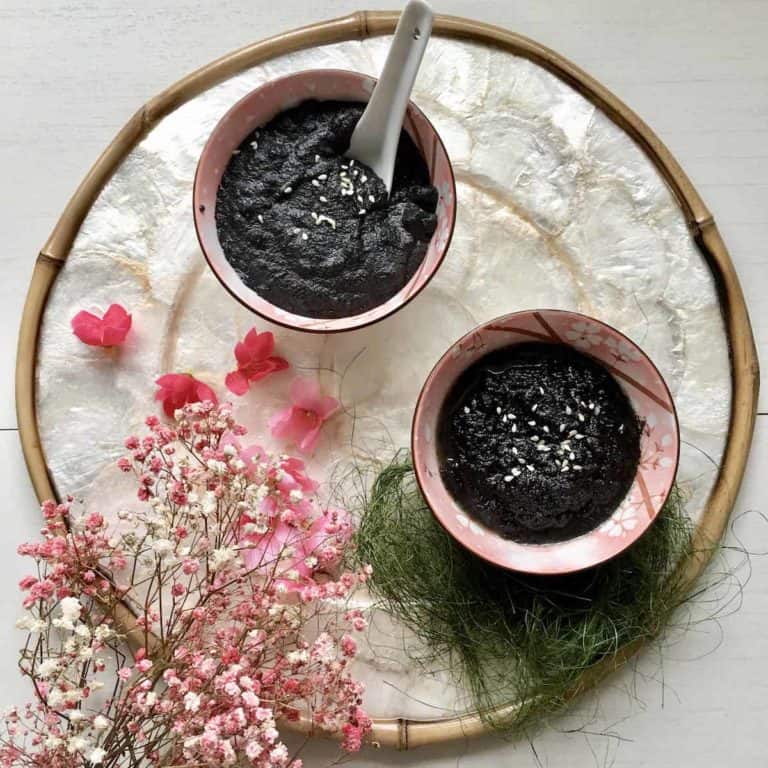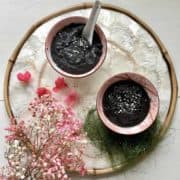 Birds' Nest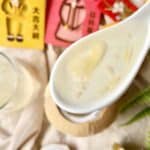 Peach Gum and Lotus Seed Soup
For a dessert which is reportedly good for your skin, like bird's nest, but much less pricey, try this Peach Gum Soup that is sweetened with red dates, goji berries and dried longans.
Chinese Sea Coconut Soup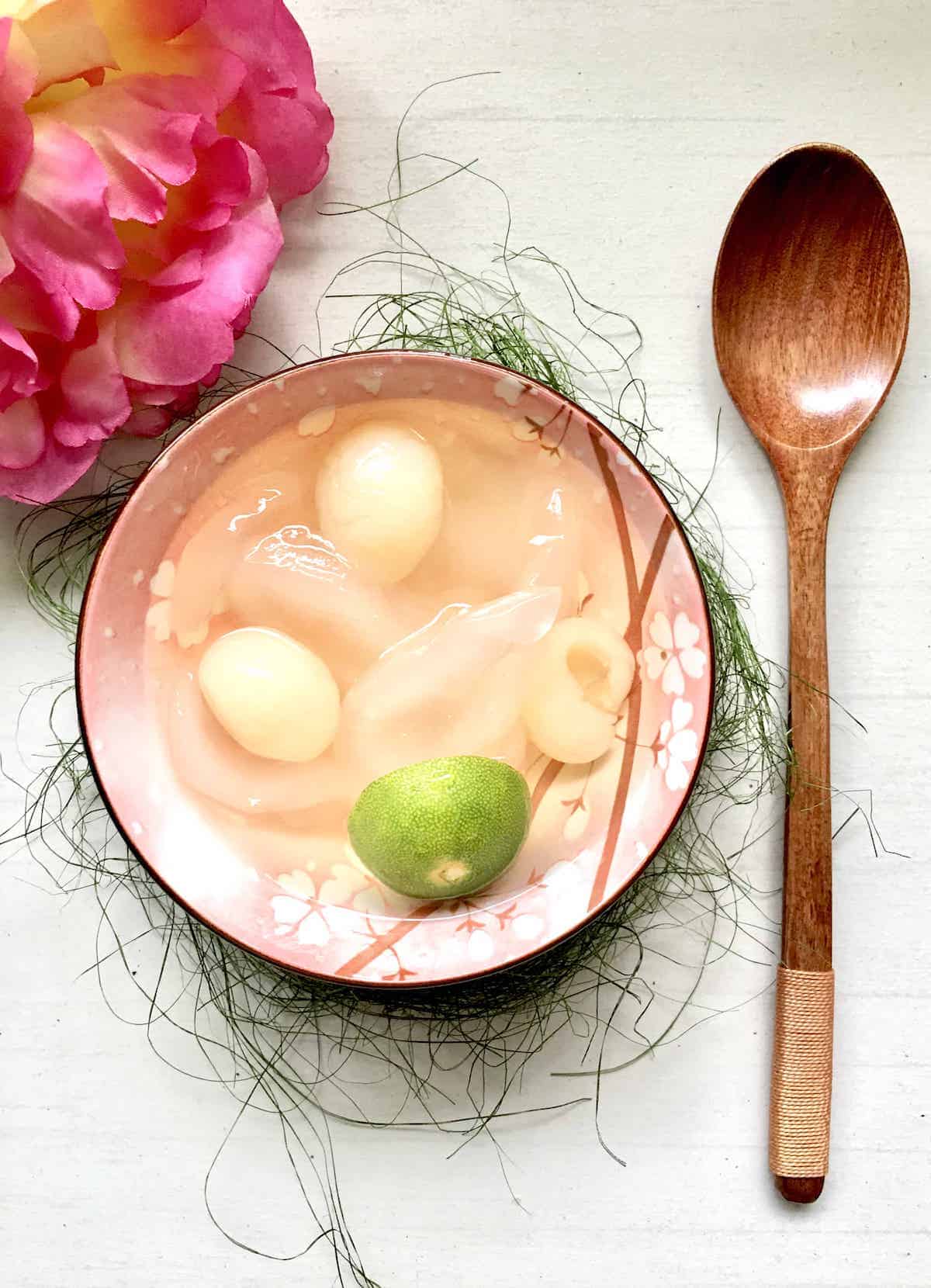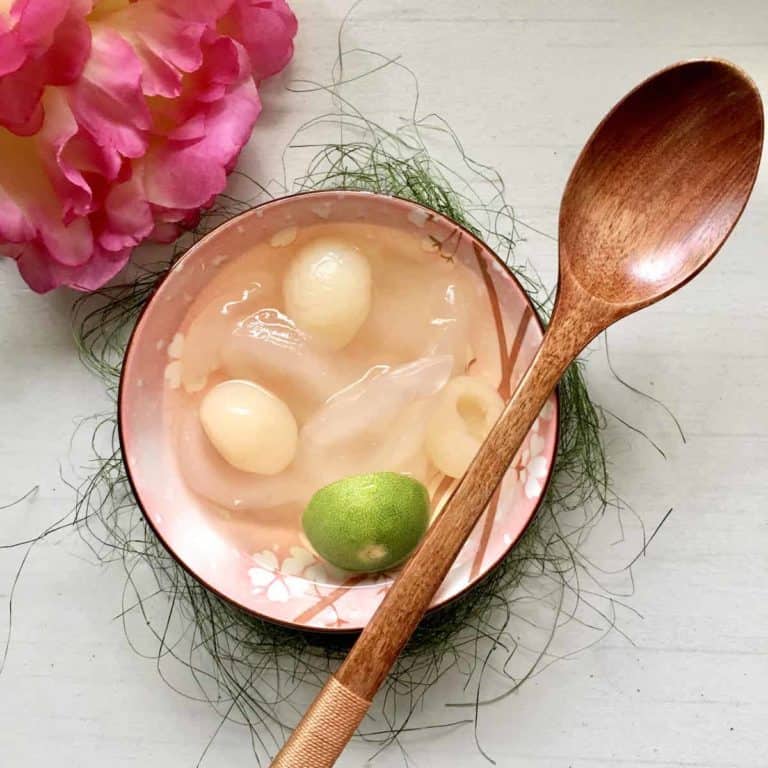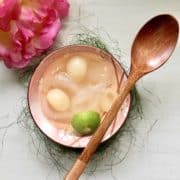 Papaya and Snow Fungus
This snow fungus tong sui is light and refreshing, and only requires 6 ingredients: papaya, Chinese almonds, rock sugar, snow fungus, jujubes and pandan leaves (optional, really.)
P.S. Papaya recipes, such as Taiwanese papaya milk, are popular with Chinese people, as they're believed (erroneously) to help in the development of a buxom figure!
Others
Tofu Pudding
Chinese people love tofu, whether it's savory salted egg tofu, or silky soft tofu pudding (豆花 Dou Hua)
It's actually a tofu jelly as you add a gelling agent to soy bean milk to make tofu pudding, then serve it in a sweet soup such as brown sugar syrup!
Bing Tang Hu Lu
If you've ever watched a Chinese historical drama, you will have heard of this sweet and sour Chinese street snack, Bing Tang Hu Lu. Usually made of hawthorns, you will also need sugar, water and corn syrup (or golden syrup.)
All in all, a very simple street food to recreate at home!
Mango Pudding
It can be hard to eat Chinese food if you have allergies, so here's a gluten-free, dairy-free, vegan, paleo AND refined-sugar free dessert for you!
Shanghainese Red Bean Pancake
Also known as Wo Paeng, this crispy and delicious pancake is an old-school Dim Sum dessert that only uses 6-7 ingredients. When deep-frying the pancakes, remember not to overfill the pan, to ensure the oil temperature doesn't fall.
Nut Brittle
This sweet and crunchy snack is made of only 4 ingredients, including sesame seeds and peanuts. Personally, I love nut recipes, which is why Chinese peanut cookies were 1 of the 1st recipes on Greedygirlgourmet!
Egg Tart
Egg tarts are a popular dessert at Hong Kong Dim Sum restaurants. Try this recipe by someone who did a stint at an Asian culinary school!
If you've enjoyed these Chinese traditional desserts, would you like to subscribe for my Chinese recipes' newsletter?