A Cooling Asian Sea Coconut dessert with longan soup, the perfect tong sui for hot days. There are 2 versions: 1 that is made in under 5 minutes and another in another 30 minutes, depending on how much effort you want to put in!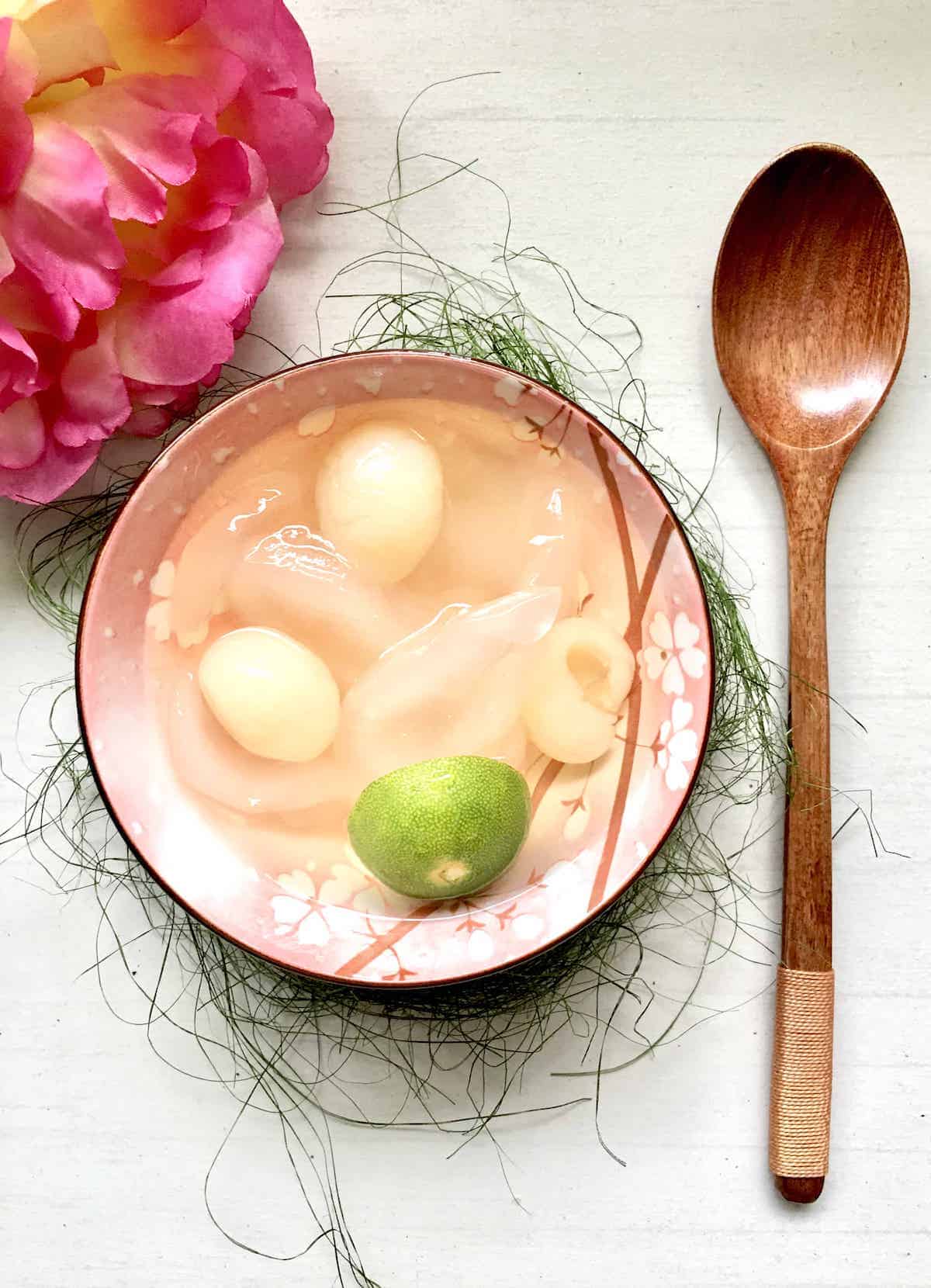 Jump to Recipe
Jump to:
What is sea coconut?
What we know as sea coconut in Asia is not real sea coconut at all. In fact, it's not even a coconut but actually the fruit of the Palmyra palm or toddy palm. (Also known as Tah, Tai, Talouriksha Palm, Lontar, Wine Palm, Tala Palm, Doub Palm, Sugar Palm, Sea Coconut, Fan Palm and 糖棕.) Traditionally, many parts of the Toddy Palm are consumed as food: the fruits have been eaten boiled, roasted and even raw- they're often made into sea coconut jellies in South East Asia. The pulp is often pickled and the sap can be drunk or made into a type of sugar.
The "real" sea coconut is known as Lodoicea, Maldive coconut, coco de mer, and double coconut- it is an endangered and protected species endemic to only 2 of the Seychelles islands.
If you're wondering why the confusing name, Chinese myths say that the toddy palm arrived on the shores of Southern China a long time ago. As they looked like coconuts and tasted sweet, the locals believed that they were a type of coconut that grew under the sea, and gave it its now-confusing name.

Health Benefits
In Traditional Chinese Medicine, Sea coconut is believed to be a cooling food that is good for phlegm and coughs. It is also thought to help with nausea and stomach upsets. However, I have not been able to find any scientific studies to prove these claims.
Note: This information is for entertainment only- for health and nutrition advice, please consult a qualified medical professional.
Fresh vs dried vs frozen vs canned
Sea coconut comes fresh, dried, frozen and canned. Dried sea coconut is common at Chinese Medicine shops, and the canned form is easy to find in supermarkets in Asia. Frozen and fresh sea coconuts are a little rarer though- particular fresh as it goes bad quickly, especially in hot weather.
Where to buy
If you live outside of Asia, your best bet is going online to find Asian sea coconut. if not, as mentioned above, a Chinese prescription shop should stock the dried type. As Thailand is the largest producer of sea coconut, try the Thai grocery stores for the fresh, frozen and canned versions.
Ingredients
The ingredients you need depend on whether you're making the super quick, super easy sea coconut dessert which uses canned sea coconuts and canned longans or the more traditional tong sui version, which requires some simmering, and is supposed to be better for one's health.

For the easy, no cook version, you will need:
canned sea coconut
canned longans

You can also add other canned fruits such as pineapple, rambutan etc

Calamansi lime
Optional: honey or sugar
For the stewed tong sui, you will require:
sea coconuts

Canned is the easiest to use, but since you're simmering the dried longans anyway, if you only have dried sea coconuts, you can cook those with the dried longans.

dried longans

If you have too many, use the rest to make longan tea or add it to your pot when making soup stock.

Optional: pandan leaves, red dates (jujubes) and honey or sugar

If you're into TCM, you may want to add other cooling foods such as luohan guo or pear.

Tips
If you are lucky enough to get fresh sea coconut, you will need to prepare it by separating it into its firm and tender parts when cutting. This is because the 2 need to be cooked for different periods of time, to ensure that the tender sea coconut doesn't become a gooey mass!
FAQ
How do we cook sea coconut?
Sea coconut is popular in Chinese and South East Asian cooking. It can be eaten with longans (as per the recipe in this post), stewed with white fungus as a tong sui, simmered with pork or chicken to make a savoury soup or mixed with chilled jelly and consumed a refreshing dessert.
Other cooling Asian recipes
Other recipes that are popular when the weather is blazingly hot include:
Traditional Chinese Medicine (TCM) believes that food can be divided into 3 types: heaty, cooling and neutral. If you're looking for warming foods, you may be interested in these recipes: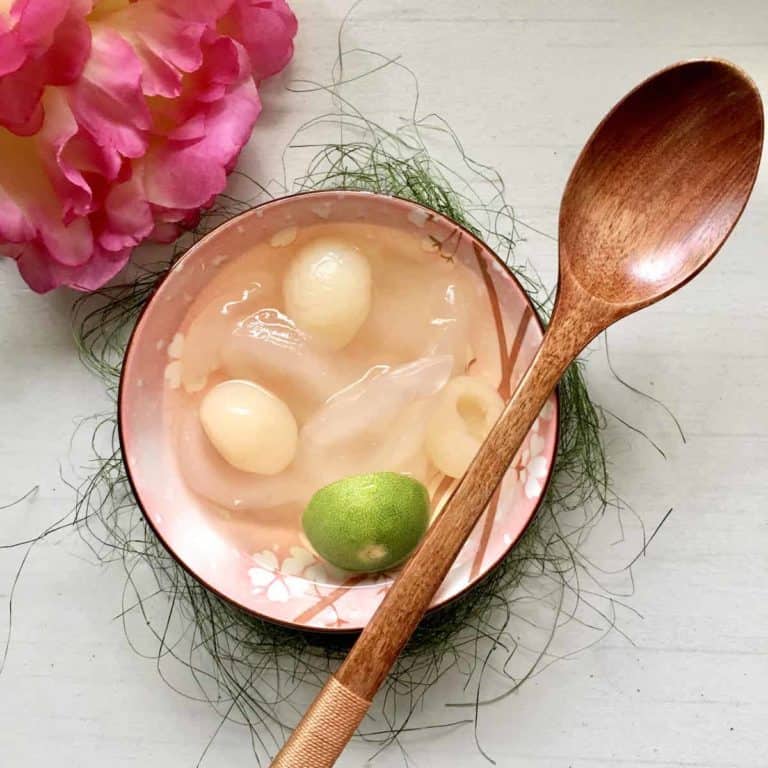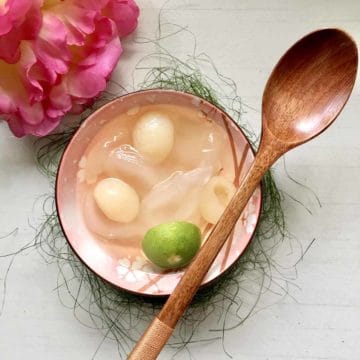 Sea Coconut dessert with longan sweet soup recipe
A Cooling Sea Coconut dessert with longan sweet soup, the perfect tong sui for hot days.
Ingredients
Easy no cook version
1

Can

Sea coconut

1

Can

longan

2-3

Calamansi lime

Substitute: lemon or lime

Honey, optional

Substitute: brown sugar or granulated sugar
Traditional tong sui version (with dried longans)
½

Cup

Dried Longans (about 50-60g)

A few pandan leaves, washed and knotted, optional

4-5

Red dates/ jujubes, optional (deseeded)

4

Cups

Water

1

Can

Sea coconut
Instructions
Easy no-cook version
Open the 2 cans and mix the sea coconut with the longans, pouring the syrup from both cans into the bowl, then leave to chill in the fridge.

Once cold, taste to see if the syrup is sweet enough. If not, add some honey or sugar. (If using sugar, you'll need to stir till it's dissolved.)

Squeeze the lime over it and portion into bowls accordingly.
More traditional tong sui version (with dried longans)
Rinse the dried longans, then add to a pot with the 4 cups of water (and other optional ingredients if using.) Bring to a boil.

Simmer uncovered for 20-25 minutes, then switch off the fire. Remove the knotted pandan leaves and throw it away.

After the longan tea has cooled, add the canned sea coconut to it then chill in the fridge. (You may add the sea coconut syrup to it, or not, depending on how comfortable you feel with using canned juice- some people are concerned about chemicals and preservatives.)

Once cold, taste to check that the syrup is sweet enough (dried longans are naturally sweet.) If not add more honey, or sugar.
Notes
Note: we sweeten the dessert after chilling as the sea coconut dessert will taste different at different temperatures (i.e. it may taste sweet enough at room temperature but too sweet/ not sweet enough once cold.)
Note: rock sugar is traditional in Chinese tong sui, but it is difficult to dissolve, especially since we're adding the sweetener after the dessert has cooled, which is why I use honey. brown sugar or regular sugar instead.
Some people like to add white fungus to their sea coconut and dried longan tong sui.