Scrumptious Asian Potato Recipes, including baked, fried, boiled and stewed dishes from India, Pakistan, China, Taiwan, Singapore and more!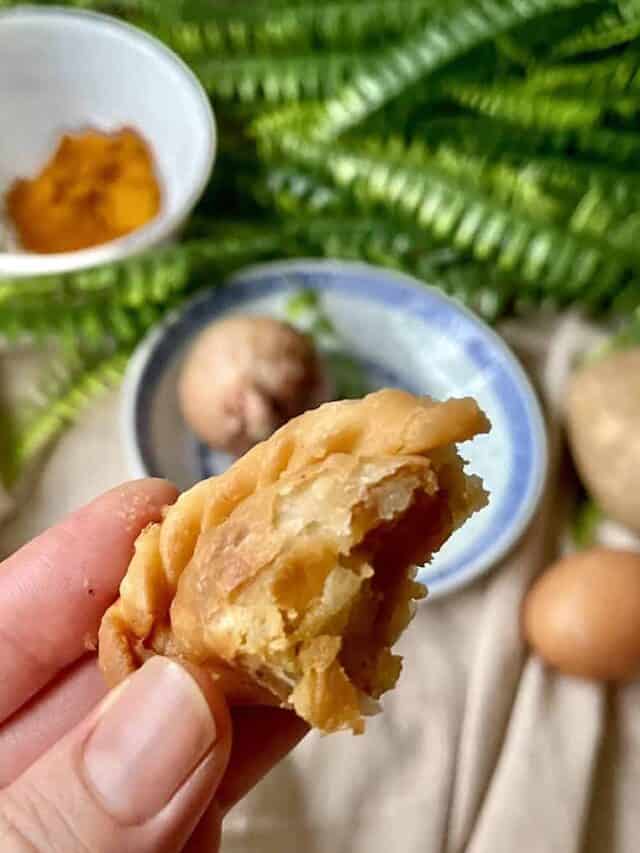 Jump to:
Potatoes are a starchy vegetable and staple food in many Asian countries, used in everything from potato curry to stir-fries. Being versatile, inexpensive and easy to cook, they're beloved by many Asian home cooks and go really well with many dishes such as these date night chicken recipes!
Scroll down for the best Asian potato recipes!
Expert Tips
Before we dive into the delicious recipes, here are some tips and tricks to cooking up the best potatoes!
Tip #1: Choose the right potato! As potatoes can be roasted, fried, boiled or used in soups and stews as thickeners, there are specific types of potatoes that work best for each type of recipes, depending on the variety's texture and flavor. For example, russet potatoes are great for frying, while Yukon Gold potatoes are better for mashing. Waxy potatoes, on the other hand, don't suit recipes such as these turmeric potatoes.
Tip #2: Use olive oil selectively as the flavor is often incongruous in Asian food. (Makes it not taste authentic!)
Tip #3: Add flavor with seasonings. Potatoes alone are relatively bland, so make sure to add generous amounts of spices and aromatics such as garlic, ginger, and chili peppers!
Fried
Curry Puff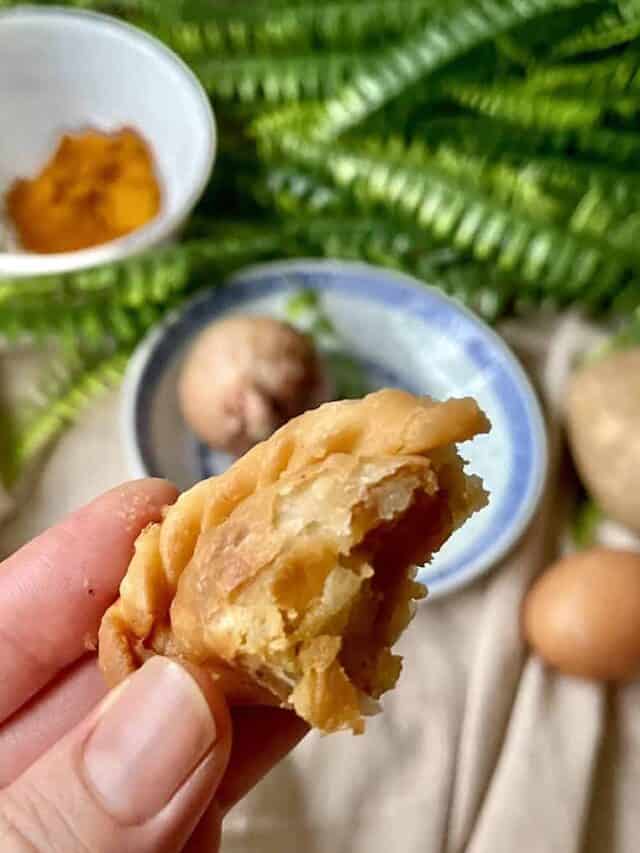 Curry Puff Recipe (Potato)
A savory, flaky and crispy curry puff recipe with potato filling- easily made vegan or vegetarian- that uses cupboard staples. Delicious and perfect for meal prep as it tastes good hot and cold!
Click here for the popular Singaporean street snack!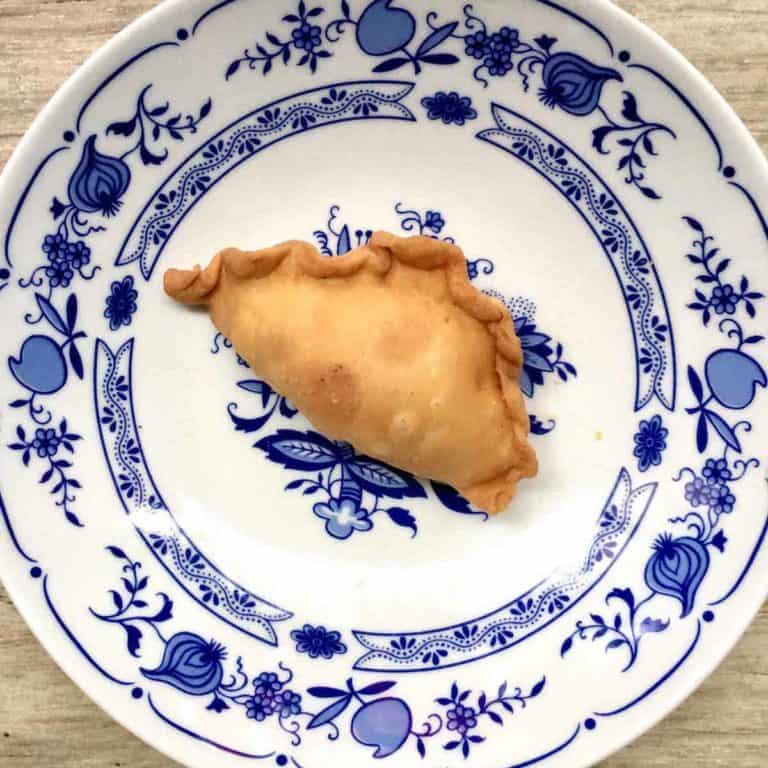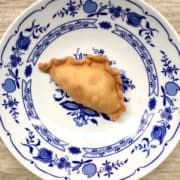 Samosa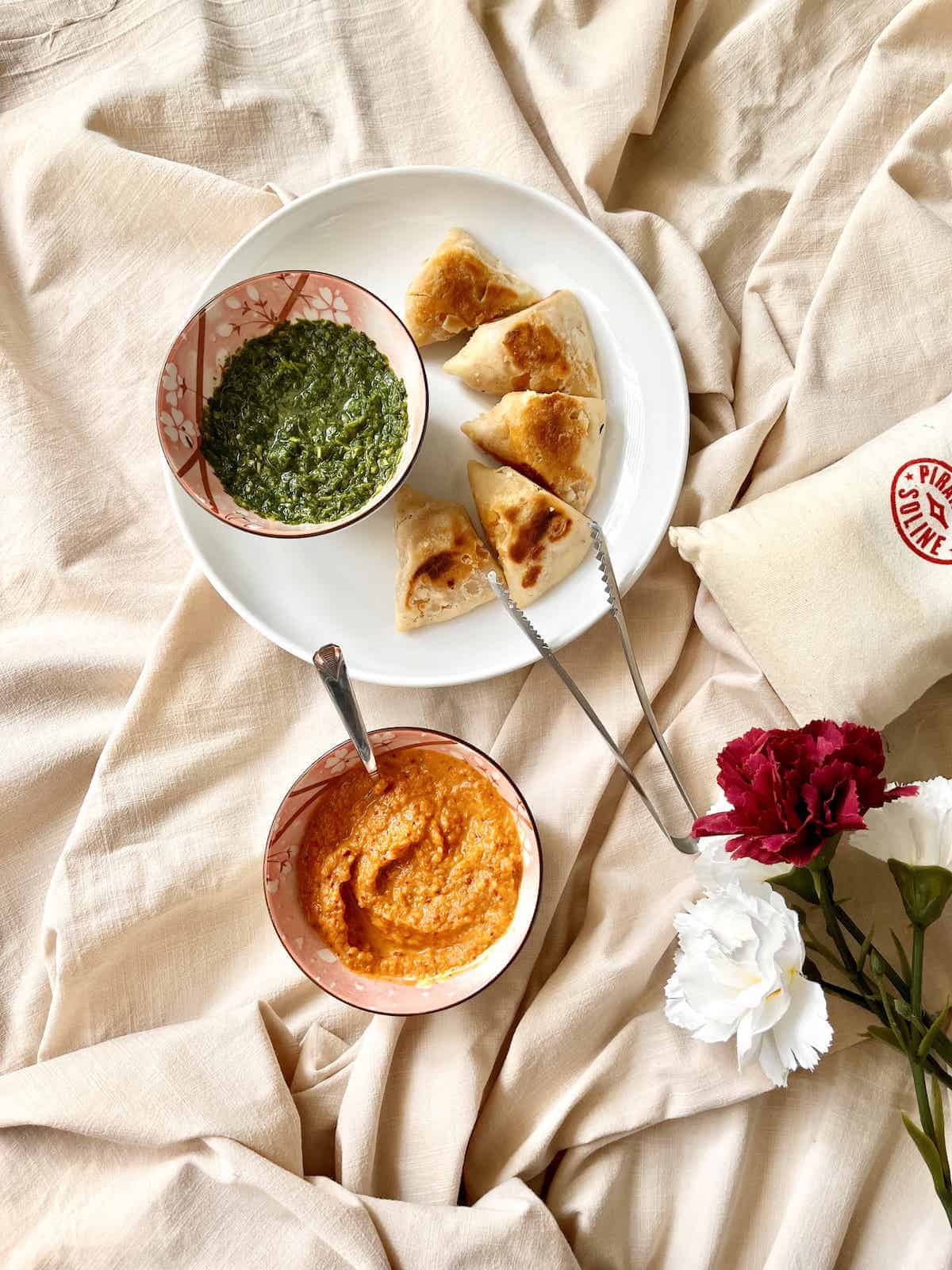 A popular snack in India and other parts of South Asia, some people credit these savory pastries as being the inspiration for the South East Asian curry puffs above!
Samosas often come with a spiced potato and pea filling, although you can, of course, switch up the ingredients and stuff it with tuna curry, chicken curry or whatever takes your fancy!
Just don't forget to pair it with some of this delicious tomato and cilantro samosa sauce or tamarind chutney!
Easy Baked Samosa Recipe
This Easy Baked Samosa Recipe can be made with both puff pastry and phyllo pastry. (I also show you how to make homemade dough, but I don't recommend it for baking, as it won't taste as good without all the oil and fat of deep-frying!) 
Click here for the puff pastry samosa recipe.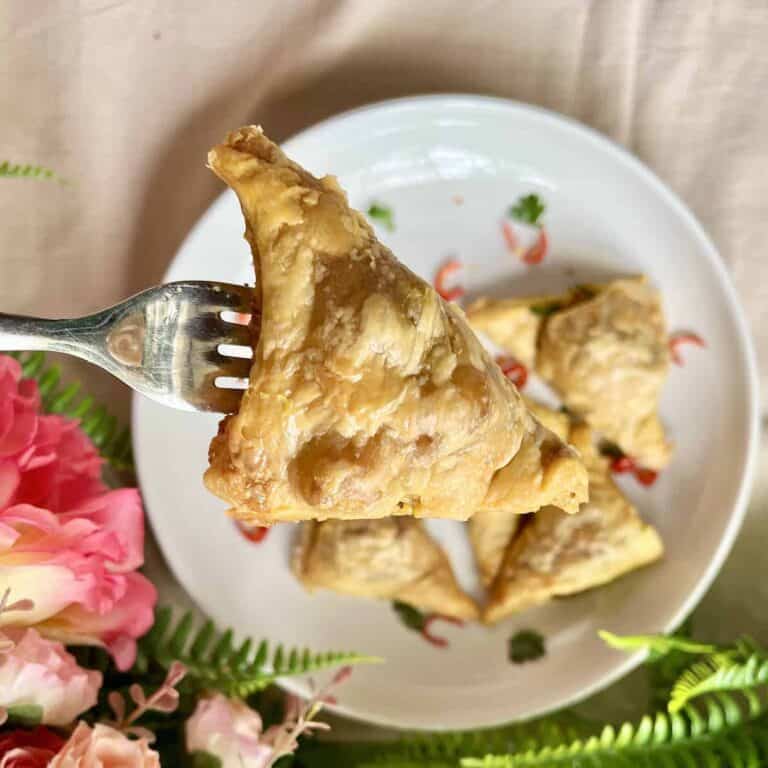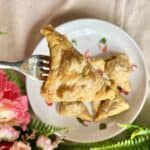 Fritters
Indonesian Onion and Potato Fritters, also known as Bergedil, are a popular street food in Singapore too. The best bit is when you bite into the bits of dried shrimp heibi in the fritter!
Note: serve it with a spicy dipping sauce such as sambal oelek.
Aloo Tikki
These fried spicy Indian fritters are a popular Indian snack and street food.
Goes well with a dollop of cooling yoghurt- I like to mix in some green onions- or Indian dipping sauce on the side!
Baked
Asian Roasted Potatoes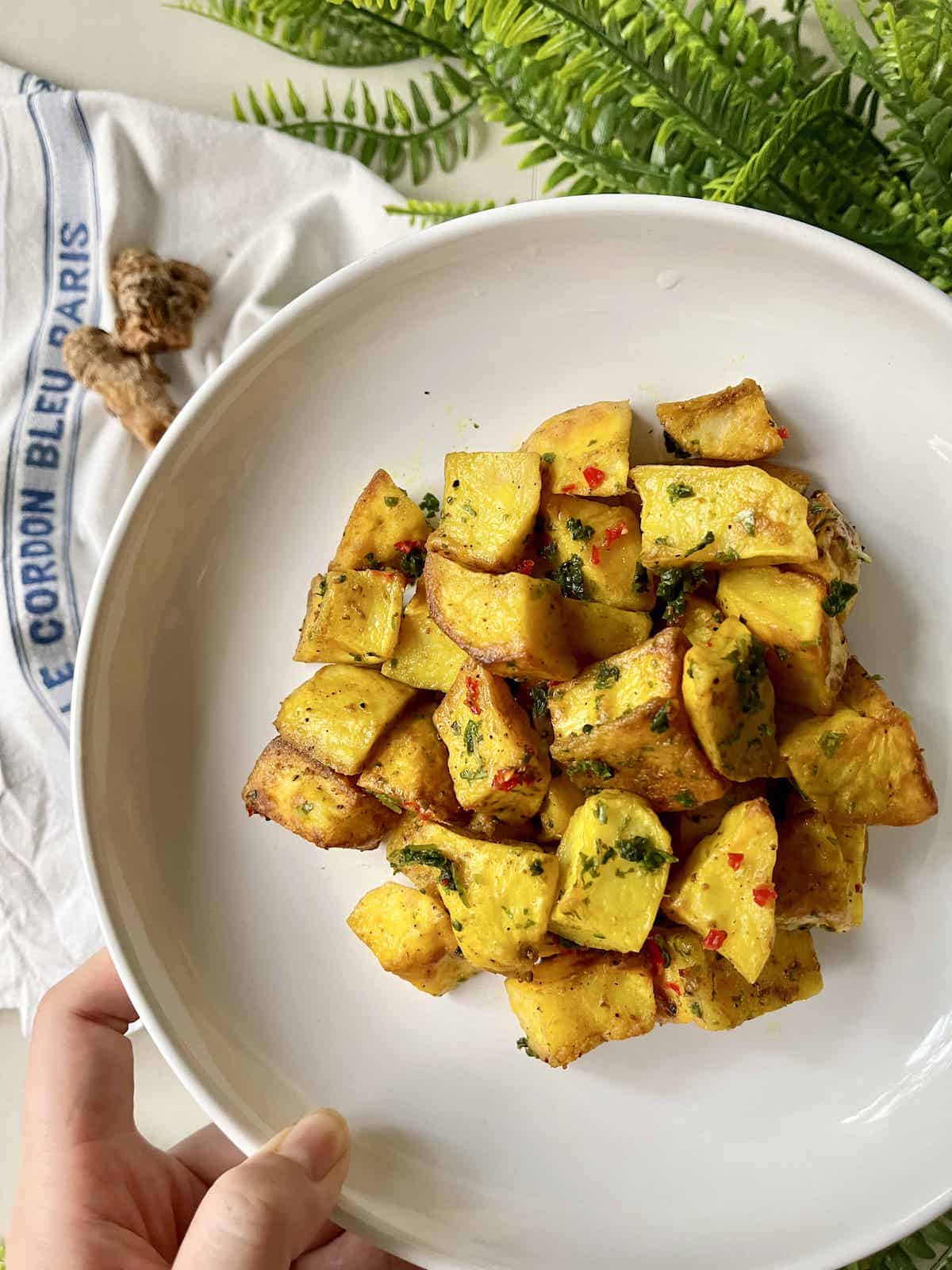 The turmeric gives the potatoes a beautiful golden hue but also a nice, warming flavor! Delicious paired with a glass of turmeric tea! If you don't have turmeric on hand, try 1 of these alternatives.
Although you really only need a couple of ingredients, you can vary it up by adding other flavors such as cumin powder and coriander powder!
Tip: don't place them too close on the baking sheet or they'll steam not roast!
📋 Quick & Easy Turmeric Potatoes
These roasted turmeric potatoes are super quick and easy as the potatoes aren't parboiled before baking. Golden and spiced from the turmeric, they're nonetheless delicious- firm outside but warm and melt-in-your-mouth inside! (I also show you how to parboil them for a super crispy turmeric roast potatoes, if that's what you're looking for!)
Click here for the golden Asian roast potatoes.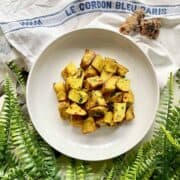 Pan-fried
This is a flavorful Sichuan potato recipe which uses soy sauce, Doubanjiang etc. Unlike most Chinese recipes, no sesame oil or sesame seeds are used.
Chinese Potato Pancake
Not as well known as Chinese scallion pancakes, these potato pancakes are a delicious and easy-to-make snack that require only 5 ingredients!
Tip: shredding the potatoes first makes them crispier!
Salad
Japanese
Japanese potato salad (ポテトサラダ) is a creamy and flavorful side dish that has extra flavor thanks to the Kewpie mayonnaise- so much better than the regular mayo- as well as a nice crunch from the cucumber and ham.
Pair it with these Japanese small dishes and a cup of creamy Japanese tea!
Korean
However, my favorite is still Korean potato salad! It's creamy, tangy and sweet from the apples, which I highly recommend not omitting! The bounciness of the hard-boiled eggs also make a nice contrast to the soft mash!
Serve it with Gochujang Roast chicken, some Korean side dishes and cooling Bori-cha or sweet maesil-cha!
Filipino
I almost made this for a Filipino friend for Christmas but must admit I got scared off by the copious amounts of condensed milk, mayo and cream that the Filipino recipe called for!
But if you're looking for an indulgent Asian potatoes recipe, this is definitely it! The tanginess added by the pineapples is simply delish!
Tip: the salad is a great way to use up leftover rotisserie chicken!
Burmese
If you're tired of potato salads by now, I promise you the Burmese version is different! It uses boiled little potatoes that are not mashed, fried onions and delicious tamarind dressing.
Stew
Potato Curry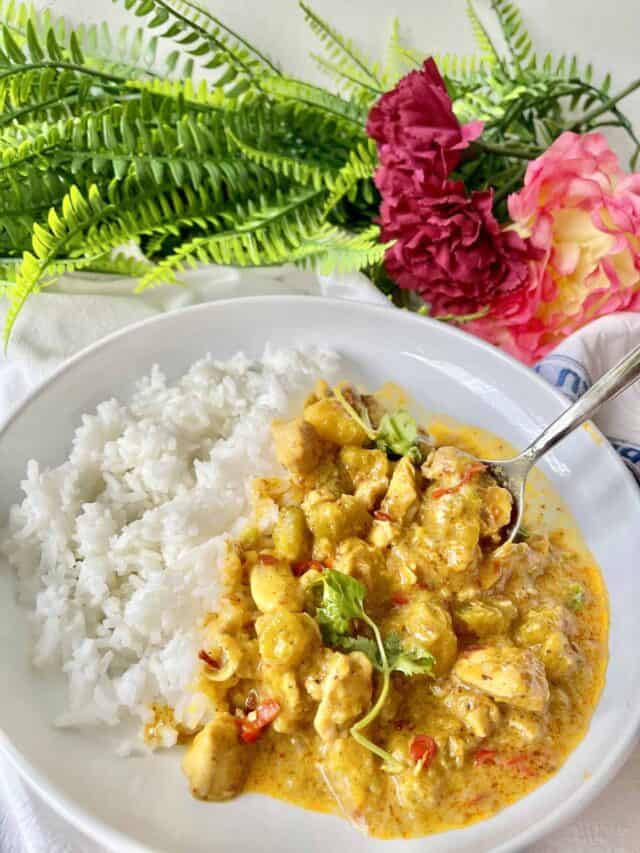 The original coconut cream curry calls for pumpkin but you can easily substitute it with potato, sweet potato or use a mix of all 3!
Easy Pumpkin Chicken Curry from Scratch
This easy pumpkin chicken curry is made of juicy, tender chicken morsels simmered in a deliciously aromatic sauce that is full of warm spiced flavor. It's well- spiced but not spicy and can be bulked up with healthy veggies, all in one pot. Plus it's super flexible: it can be made with coconut cream, regular cream, pumpkin puree or none of the above!
Click here for the Asian curry recipe.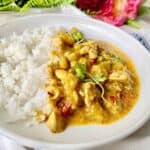 Potato Masala
Potato masala is a South Indian side dish made with boiled potatoes and onions. Often served with dosas or other types of Indian flatbread, this crispy smashed potatoes version is a great way to introduce texture to the dish.
Added to the flavor from the garam masala and paprika, this Indian side dish will be a sure hit at your dinner party!
Aloo Gobi
This Aloo Gobi is a healthy Indian vegetarian dish.
A classic Indian dish made with potatoes and cauliflower, it'll require regular spices like cumin, as well as a couple of special ingredients such as Kasuri methi and Asafetida, but it's definitely worth it!
Aloo Bhaji
You may have guessed by now that Aloo means potato! Because this Aloo Bhaji recipe calls for no onion or garlic, it's cooked much more quickly than other Indian recipes!
Honey Garlic
These savory honey garlic potatoes are made in 1 pot!
If these Asian potato dishes were helpful, would you like to sign up for my Asian food newsletter?