A list of the best turmeric substitutes, depending on whether you are using it for its beautiful golden colour or its warm flavour.
Jump to:
What is turmeric?
Like ginger, turmeric is a rhizome- a bulb that grows underground, with green leaves that grow above the surface of the soil. The bulb is used in a lot of South East Asian and Indian dishes.
It is usually pounded into a orangish paste before using, or used in its dried powder form (in small amounts), and has an earthy flavor that is almost peppery. It is a key ingredient in a lot of curries such as this Assam fish curry, and gives many Asian dishes their vibrant color and unique flavor. For more simple turmeric recipes, click here.
Fun fact: turmeric leaves are edible too- we use it in Nasi Ulam, a Malay rice salad. (If you want to learn how to make it and are in Singapore, check out the Pulau Ubin Cooking tour, 1 of the top activities for foodies in Singapore (in my opinion that is).)
If you have fresh turmeric, cut off a few knobs which have eyes on them and bury them in the soil- you'll soon find leaves sprouting from a turmeric plant, which you can add to your dishes. For other recipes made using easy to grow Asian herbs and vegetables, click the link.
Fresh vs Dried vs Paste
You can use fresh, dried and turmeric paste interchangeably, as long as you pay attention to the quantities, as they have different concentrations. The various forms actually make the best substitutes for each other but, if you can't get any of them, I have a list of other good turmeric alternatives.
As with most herbs, dried turmeric is more potent than fresh, as the water content has been removed, so do remember to use 2-4x more if replacing dried turmeric with fresh.
Benefits
In Southeast Asia, the region turmeric root is native to, it is not just used in the kitchen but also in traditional medicine. My Grandmother used to make us eat curry almost every day because it had turmeric which is good for you. (I love curry, but not every day! And yes, the herb may have health benefits but too much coconut cream isn't very healthy!)
Turmeric was used in Ayurvedic as well as Traditional Chinese Medicine. In India, turmeric was a medicinal herb used to treat skin disorders as well as joints, respiratory and digestive issues. Turmeric ginger and cinnamon tea is thus a popular anti-inflammatory drink in the region.
These days, turmeric is used in a variety of supplements for anything from allergies to depression. However, medical research has not been able to definitively prove whether there are any actual health benefits of turmeric as the curcumin in it is unstable and easily converts to other substances. (Curcumin has strong anti-inflammatory properties and is a potential treatment for osteoporosis and other conditions. 1 study claims that taking turmeric thrice a day is comparable to a daily 1200 mg dose of ibuprofen, but more research is necessary to confirm this. (Click the link for more details about turmeric's possible health benefits.)
Do consult with a medical professional for more information, especially if pregnant, if you have gallbladder issues or are on chemotherapy or anti-clotting medication as it may worsen the condition/ interfere with the treatment.
Where to buy
In South East Asia, you can find fresh turmeric root, turmeric paste and turmeric powder in many grocery stores. Outside of Asia, especially in Europe and the States, fresh turmeric is harder to find, even in Asian markets, so you'll have to stick with dried turmeric.
How to store
Fresh turmeric and ground turmeric powder can be stored in a cool, dark place. A jar of turmeric paste, on the other hand, should be refrigerated once opened.
Tips
Turmeric can be used as a natural dye- the curcumin in it gives it its orange color- and it stains things very, very easily, so you may want to be careful if you have a white countertop or like wearing white clothing!
It goes very well with other warm spices such as black pepper, chili powder and ginger root.
For a super simple turmeric recipe, add a bit of it when cooking rice to get a beautiful yellow rice. You can also add some coconut milk when cooking to complement the flavor.
Recipes which use turmeric
Substitutes
For flavour
Ginger
Both fresh ginger and dried (usually in the form of ground ginger powder) can be a good substitute for turmeric, as the 2 rhizomes are from the same family and have a similar earthy taste. However, do keep in mind that ginger has a stronger flavor, so use less of it when substituting.
Moreover, it won't give the same golden colour as turmeric, so you may want to use 1 of the following natural yellow food colourings in the list below.
Galanagal
Galangal powder (or fresh) is another great alternative to turmeric, and both plants are commonly used in Asian cuisines.
Dry mustard
Although not a perfect replacement, yellow mustard seeds (or yellow mustard powder) produce a similar colour and flavor to turmeric. As with ginger, use less as the taste of mustard is quite strong.
Madras curry powder
It contains turmeric so can work as a replacement in a pinch. However, do note that the colour will be different with madras curry powder producing more of a red than yellow hue.
Note: most curry powders contain turmeric, although garam masala usually does not.
As a natural golden food colouring
Pumpkin puree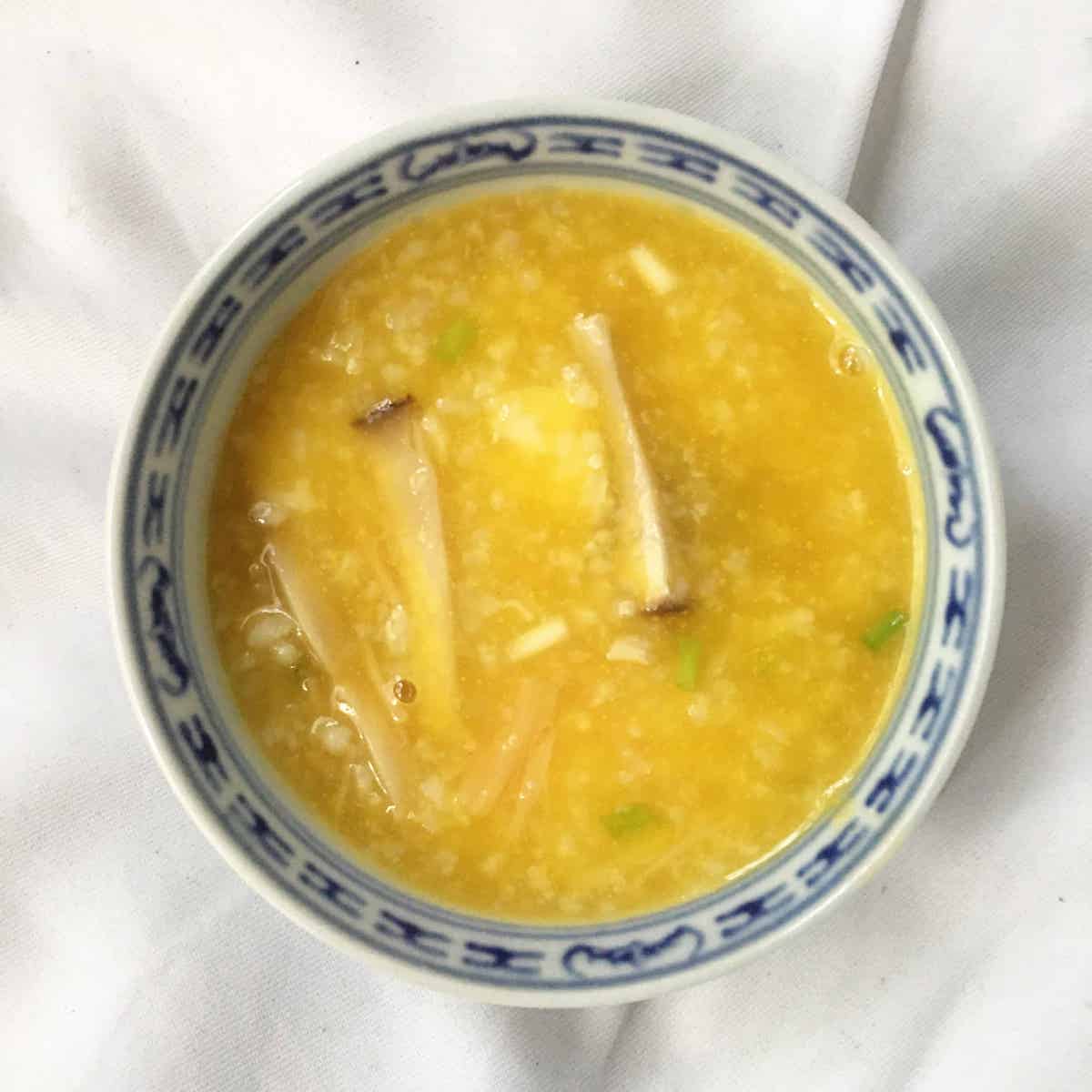 This porridge works very well with prawns in place of the fish too. Prawns cook very quickly so add them at the very end.
Pumpkin will product a similar golden tinge to turmeric, as can be seen in the pumpkin porridge photo above. Note that the flavours are nothing alike, so pumpkin should only be used when you want to re-create the color of mustard, with no constraints as regards to taste.
For more pumpkin recipes, click this link.
Saffron
Turmeric is actually also known as Indian saffron, and the real saffron is a good alternative to turmeric. Saffron is super expensive though, so it may raise the cost of the dish you're making quite a bit. Saffron also has its own characteristic flavor, so do check that it doesn't clash with the rest of the recipe first.

Not recommended
Some sites cite cumin seeds, paprika powder and annatto seeds as good substitutes but I personally don't think so. Annatto, for example, is often used to produce a red colour in Vietnamese cooking, which is different from the golden turmeric hue.
Do you have a favourite turmeric substitute that I've not included in this list? I'd love to hear about it in the comments!