A quick and easy 1-rise steamed Fluffy Spiral Pandan Mantou recipe, with tips on getting a smooth mantou skin and how to create the beautiful whirl pattern in a rainbow of colors!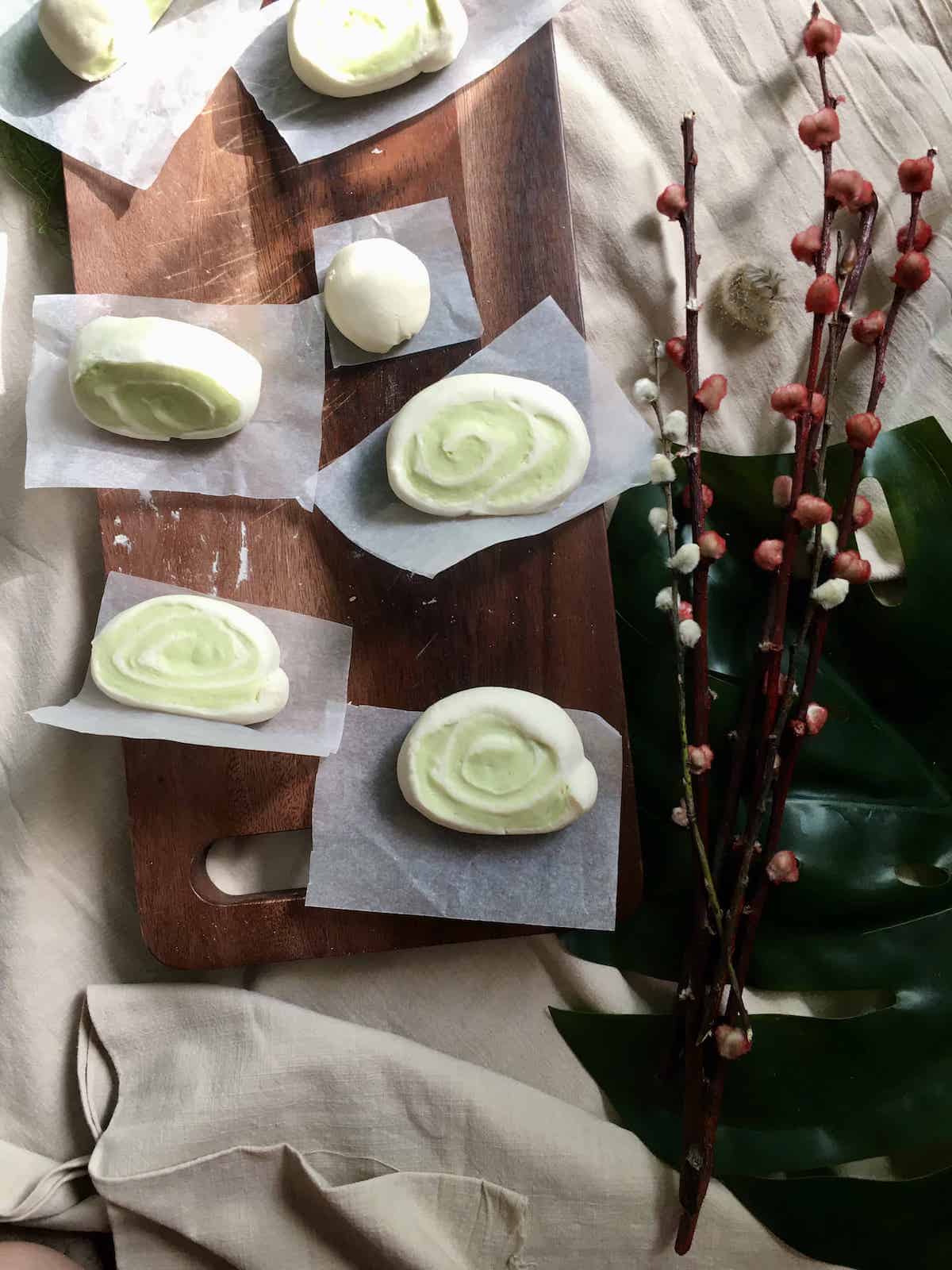 Jump to:
Why Make This
It is a super efficient & easy mantou recipe as there is only 1 rise thanks to the yeast and baking powder (the traditional yeast-only dough recipe has 2 rises). It's so easy that you should have no problem with the recipe even if it's your first time making a Chinese steamed bun.
It's very pretty- you can make a whole variety of coloured spirals and have a platter of rainbow mantous!
It's a great make ahead recipe: it freezes easily and can be reheated from frozen!
History
Apparently we have human sacrifice to thank for this delicious fluffy bun, which is a little gory.
A popular chinese legend about the origin of mantous is linked to Zhu Ge Liang, a very famous Chinese strategist, hero/anti-hero of many Chinese TV dramas and an important character in the Chinese classic novel "The Romance of the 3 Kingdoms".
According to Lang Ying of the Ming Dynasty in Qi Xiu Lei Gao, mantou used to be spelt as "barbarian's head" before changing over time to its currently spelling (which is a homonym).
The story is that when Zhu Ge Liang was waging war in Southwestern China, as important historical male figures did, he was advised that he had to throw human heads into the river to obtain the help of the Gods. (The area was steeped in witchcraft.) Some sources say that he would be sent magic troops if he did so whilst others said it would allow him to cross an important river.
Nonetheless, out stalwart hero stuck to his principles, said no to barbarism and decided to make human head-shaped bread with meat fillings instead.
Thus was the mantou born! (If you find this story gross, wait till you hear about the origins of popiah (spring rolls) and you tiao!)
Creating the Whirls
You create the spiral mantou pattern using dough of different colours, with the minimum being 2 different coloured mantou doughs.
Natural Food Colorings
Green: pandan juice (used water here but think it would be interesting to mix the pandan with coconut milk), matcha green tea powder, spinach powder
Blue: butterfly blue pea (note this does not have flavour)
Red: beetroot, tomato powder/ paste, red yeast rice
Purple: purple sweet potato, acai
Orange: pumpkin, sweet potato, salted egg (would be umami-licious with milk and butter instead of water), turmeric (use sparingly or the flavour will be overpowering)
Brown: cocoa powder (8g to 250g of flour- I would use milk rather than water to hydrate this dough), milo powder
Black: charcoal
Note: you will need to steam the sweet potato and pumpkin before adding it to the dough. For another recipe that uses pumpkin, check out this golden pumpkin fish porridge recipe and this collection of Asian pumpkin recipes.
Expert Tips
Tip #1: Make sure your active dry yeast is alive before making the dough! (Add some yeast and honey to warm water- it should start bubbling and smelling yeasty in a few minutes. If not, toss it and get new yeast.)
Tip #2: Let the dough rest as per the instructions in the recipe card!
Tip #3: Homemade spiral mantou is all about planning and practice. Some things to look out for when making these fluffy steamed buns are:
Dough
Shake the pandan juice before pouring it into the dough- if not, only the lighter water at the top of the pandan juice will be added to your dough and your green dough may be too light in colour as well as not fragrant enough.
Overproof-ing is the devil if you want nice and smooth steamed pandan mantou buns so make sure you have space in the fridge to chill the doughs to prevent this:
The plain white dough should be chilled whilst you are making the green pandan dough (and not left at room temperature or it will rise too much)
Knead the plain white dough before you knead the green pandan dough- if you knead the green dough first, it may "contaminate" the white dough later and the spiral layers won't be as distinct.
Shaping
You need to roll out equal portions of the different doughs into logs of the same size. After that, you need to roll each dough into a rectangular shape- and thinly- to make the maximum number of spiral mantous with many whirls: if not, the ends of the dough (when rolled into a log) will not have a spiral pattern. (You can just roll those into a ball and keep them away from people you want to impress 😛 )
The dough whose colour you want the mantous to be should be on the bottom e.g. if you want the steamed pandan mantou buns to be white outside, make sure the plain dough is placed on the rolling surface first then place the green pandan dough on it
Don't cut the mantous too thin- if they are too thin and high, they'll be unstable and may fall over during the steaming process.
Never use a dough scraper to cut the dough as this will ruin your spiral pattern (the dull edge presses the different doughs into each other and you don't get a clear spiral mantou). For best results, use a serrated knife or, at the very least, a sharp cutting knife. (I don't have a serrated knife and it shows in my photos!)
Steaming
If you are unable to steam all the buns at 1 go, refrigerate the extra mantou buns and take them out once you have space in the steamer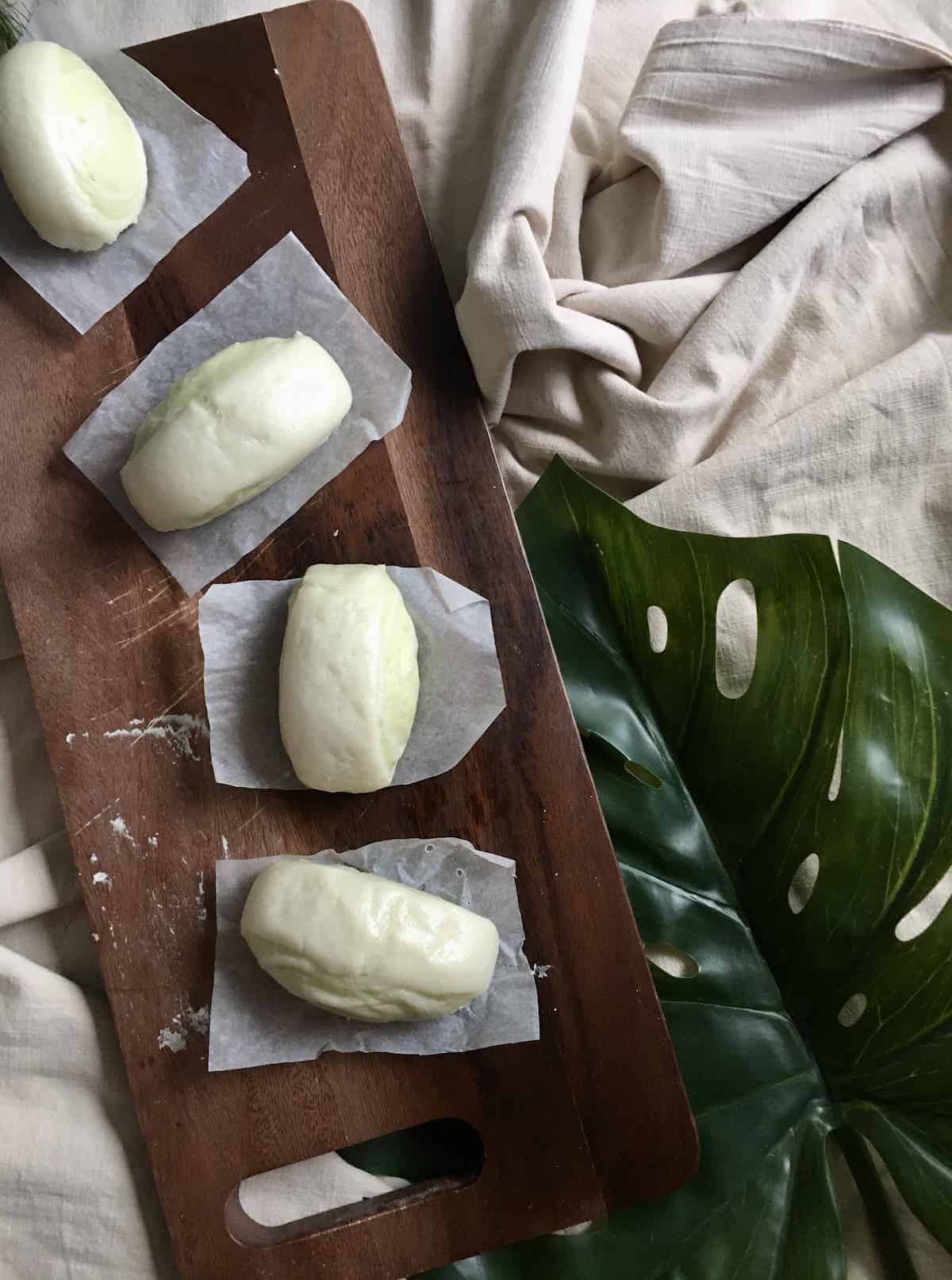 How to Get Smooth Mantou
Use a bamboo steamer basket if you can. If not, read on to learn what to avoid with metal/ plastic steamers.
In my matcha mantou post, I went into detail on how to get a smooth skin on these bao buns (as well as how to eat and store mantou), but if you're too lazy to refer to it, here are the key points:
do not overproof the dough (bottom most mantou in the photo below- it was the last to be steamed and I did not refrigerate it. You can see how the over-proofing has created lots of air bubbles in the dough, which results in collapsed mantous/ non-smooth mantous.)
do not steam over high heat- start steaming using cold water, then reduce the heat to medium once the water is at a full boil (2nd mantou from the top: you can see where the mantou collapsed due to the too-rapid expansion of the dough!)
if using a metal steamer, wrap the glass lid in cloth and leave it a little ajar (be careful if you're steaming over a live fire!) (3rd mantou from the top: the mantou is pockmarked due to the water (from the steam condensing on the lid) dripping onto the bun)
make sure the dough is rolled smooth: if your dough isn't smooth pre-steaming, it's not going to miraculously become smooth post-steaming. To this end, make sure the seam of the buns is facing downwards/ the parchment paper.
Note: The mantou at the top of the photo has perfectly smooth skin after correcting for all the above mistakes, in comparison to the wrinkled ones below.
How to Get White Mantou
For the whitest bao skin possible, you need to use Hong Kong flour which has been bleached. I usually just use whatever I have in the pantry though (all-purpose or cake flour- it comes out just as fluffy and soft!)
This may be obvious but do not use brown sugar in place of the white sugar if you want white mantou!
Some people add milk or a touch of vinegar to whiten their buns but I don't.
Variations
If you don't want to make spiral buns, you could make a single dough mantou but include a sweet or savory filling inside the soft buns instead. (i.e. you can use this recipe to make the outer bread for char siew bao)
How to Serve
In China, people eat mantou with condensed milk for breakfast. Why not have yours with a cup of strong pandan coffee on the side?
However, in Singapore, we prefer to use it to dip into curries such as this delicious pumpkin chicken curry! (It's also a staple in Northern china over Chinese New Year.) It'd go really well with Pandan Milk Drink.
Dip into calamansi lime curd!
How to Store
You can keep the unfilled buns in an airtight container in the fridge for 3-4 days or freeze them.
Reheating
However, they won't be soft when cold, so always steam them before serving! (Appproximately 3-4 minutes for chilled buns and 2 minutes more for unthawed, frozen ones- larger buns will of course need more steaming time.)
FAQ
What is inside mantou?
They're usually unfilled. If you're looking for a Chinese steamed bread with something inside (sweet and savoury fillings), you might be thinking about bao, which is very similar.
Other Chinese Snack Recipes
Enjoyed this Green Pandan Mantou Recipe? Please leave a 5-star 🌟🌟🌟🌟🌟rating in the recipe card below & if you REALLY found it useful, a comment would make my week! Thank you and have a great day!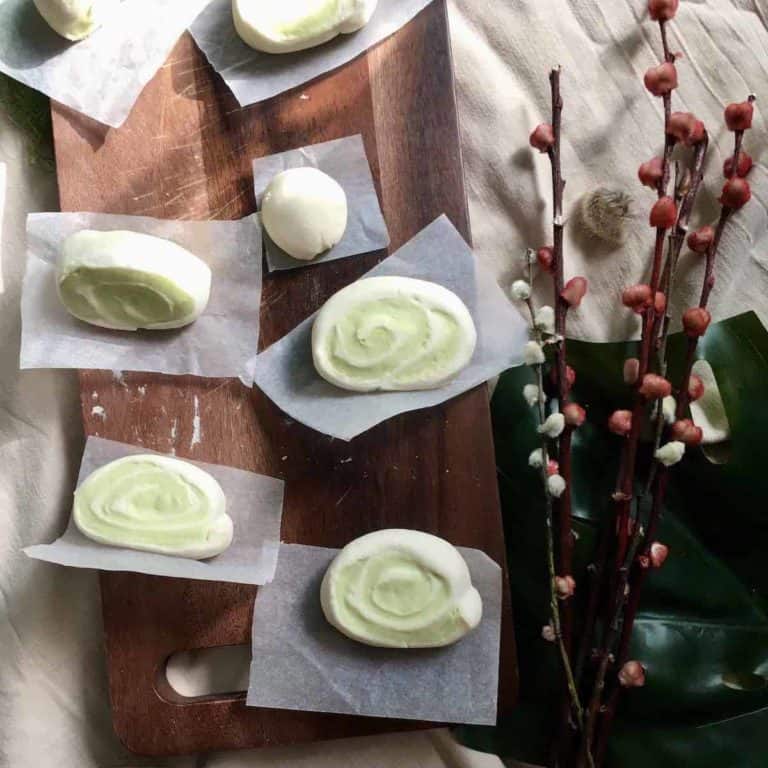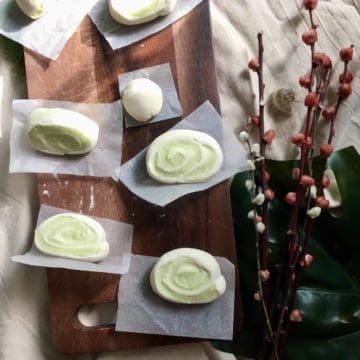 Spiral Pandan Mantou (Steamed Chinese Buns)
Equipment
stand mixer with dough hook

Ideally a bamboo steamer- if not, a metal steamer with cloth to wrap the lid

Rolling Pin

parchment paper or Silpat
Ingredients
For plain white mantou dough
0.55

lb

Hong Kong flour (250g)

Substitute: all-purpose flour or cake flour

1

tablespoon

white sugar, or to taste

Use vegan sugar with no bone char for a vegan mantou

1

teaspoon

instant yeast

If working with fresh yeast, multiply by 4 i.e. use 4 teaspoons of fresh yeast. If you don't use your yeast regularly, test a bit in warm water to make sure it's still active before making this recipe!

¾

teaspoon

baking powder

0.275- 0.31

lb

warm water (125-140g)

Substitute: milk or soy milk but the hydration will be slightly different

Oil (Optional)

To oil the metal steamer if you don't have parchment paper/ cupcake wrappers
For green pandan mantou dough (essentially the same ingredients as above but substituting pandan juice for water)
0.55

lb

all-purpose/ plain flour (250g)

The dough is going to be coloured green anyway so you don't have to waste your Hong Kong dough here (It's more expensive and harder to find in some countries.)

1

tablespoon

white sugar, or to taste

Use vegan sugar with no bone char if making a vegan mantou

1

teaspoon

instant yeast

As above

¾

teaspoon

baking powder

0.275- 0.31

lb

pandan juice (125-140g)

Nothing beats homemade pandan juice- see the notes for a recipe. Make sure you shake the bottle of pandan juice well before portioning out the 125g (or more). If not, you will only get the lighter green pandan juice at the top of the bottle and it won't be as attractive or as fragrant.
Instructions
Fill the steamer with tap water.

Make the white mantou dough first to avoid colour contamination. Mix the dry ingredients for the white dough well, then add the water. Using a dough hook attachment, knead in a stand mixer on low for approximately 8 minutes. Different brands of flours have different hydration levels so you may need more water to get a smooth dough: start with 125g of water then gradually add more, 1 teaspoon at a time, if necessary.

You will know that the dough has been sufficiently kneaded once it becomes a smooth ball that does not stick to the mixing bowl or to your hands. After stopping the stand mixer, knead with your hands for another minute or so. (Alternatively, if you've missed your gym workout, you can do the kneading by hand- just remember to rest the dough for 10-15 minutes after the ingredients have combined to form a rough mixture.)

Roll the dough into a ball, put it in a bowl (covered) then refrigerate to stop the proofing process whilst you work on the green pandan mantou dough.

Repeat Steps 2-3 using the green pandan dough ingredients (where pandan juice is substituted for water).

Roll the green pandan dough on a well-floured surface, parchment paper or Silpat, using a well-floured rolling pin, to make sure the dough doesn't stick. You want to achieve a thin rectangle shape. (The thinner the dough, the more swirls there will be in your pandan spiral mantou buns.) If you're still having problems with the dough, sandwich the dough between 2 layers of parchment paper (1 above the dough and 1 below) before rolling. (If the dough still sticks, your dough is under-kneaded or over hydrated.)

Once you've rolled out the green dough, take out the white dough from the fridge and roll it out, also on a well-floured surface/ parchment paper/ Silpat. Make sure it's rolled to a rectangle of the same size as the green dough then place the green dough on top of the white dough. (This will give swirled pandan mantou buns with a white exterior. For buns with a green exterior, place the green dough underneath the white dough.)

With the green dough on top of the white dough other, lightly roll them with the rolling pin to get thinner spiral layers.

Roll the doughs into a log, like a Swiss roll. When rolling the doughs into a log, start from the uglier edge (the edge which is less straight) and make everything is held together tightly.

Use a serrated knife and cut the long log into 16 pieces, placing each 1 on a small piece of parchment paper/ cupcake wrapper.

Place the mantous into the steamer, ensuring that there is at least 1.5 inches in between each mantou if you don't want to stick to each other after steaming. Allow to rest for 20 (tropical weather of 30C/ 86F) to 30 minutes (25C/ 77F weather). You will know the dough is sufficiently rested when the buns are very smooth, have increased about 40-50% in size (they will not double in size) and spring back after being pressed. If you're unable to steam all the mantou buns at 1 go, store them in the fridge after the 20-30 minutes to stop them from overproofing- this is particularly important in warm countries as heat expedites the proofing process.

Turn on the fire to high, then reduce to medium-low once the water is at a rolling boil. After 10 minutes, switch off the fire. The mantous are best enjoyed warm. If the mantous aren't as smooth as you'd like, scroll back up my mantou troubleshooting section which identifies common mantou making mistakes. (More details are provided in my matcha mantou post.)
Notes
Cook time is based on the assumption that all the mantous are steamed in 1 go- which would require a large plastic steamer. I don't think it's possible to do it all at once if you're using a pot to steam.
Note: the nutritional info is an estimated based on WPRM values and should be taken only as a guide.
Nutrition
Calories:
330
kcal
Carbohydrates:
68
g
Protein:
11
g
Fat:
1
g
Saturated Fat:
0.2
g
Polyunsaturated Fat:
0.5
g
Monounsaturated Fat:
0.3
g
Sodium:
112
mg
Potassium:
125
mg
Fiber:
3
g
Sugar:
4
g
Vitamin A:
2
IU
Vitamin C:
0.01
mg
Calcium:
74
mg
Iron:
3
mg
If you find these Spiral Mantou pretty, let me know in the comments!