A Matcha Bun (Vegan Chinese Mantou) recipe which only requires 1 proof (1 rise), along with tips on how to use a metal steamer (instead of the traditional bamboo steamer) and how to get smooth-as-baby-bums buns!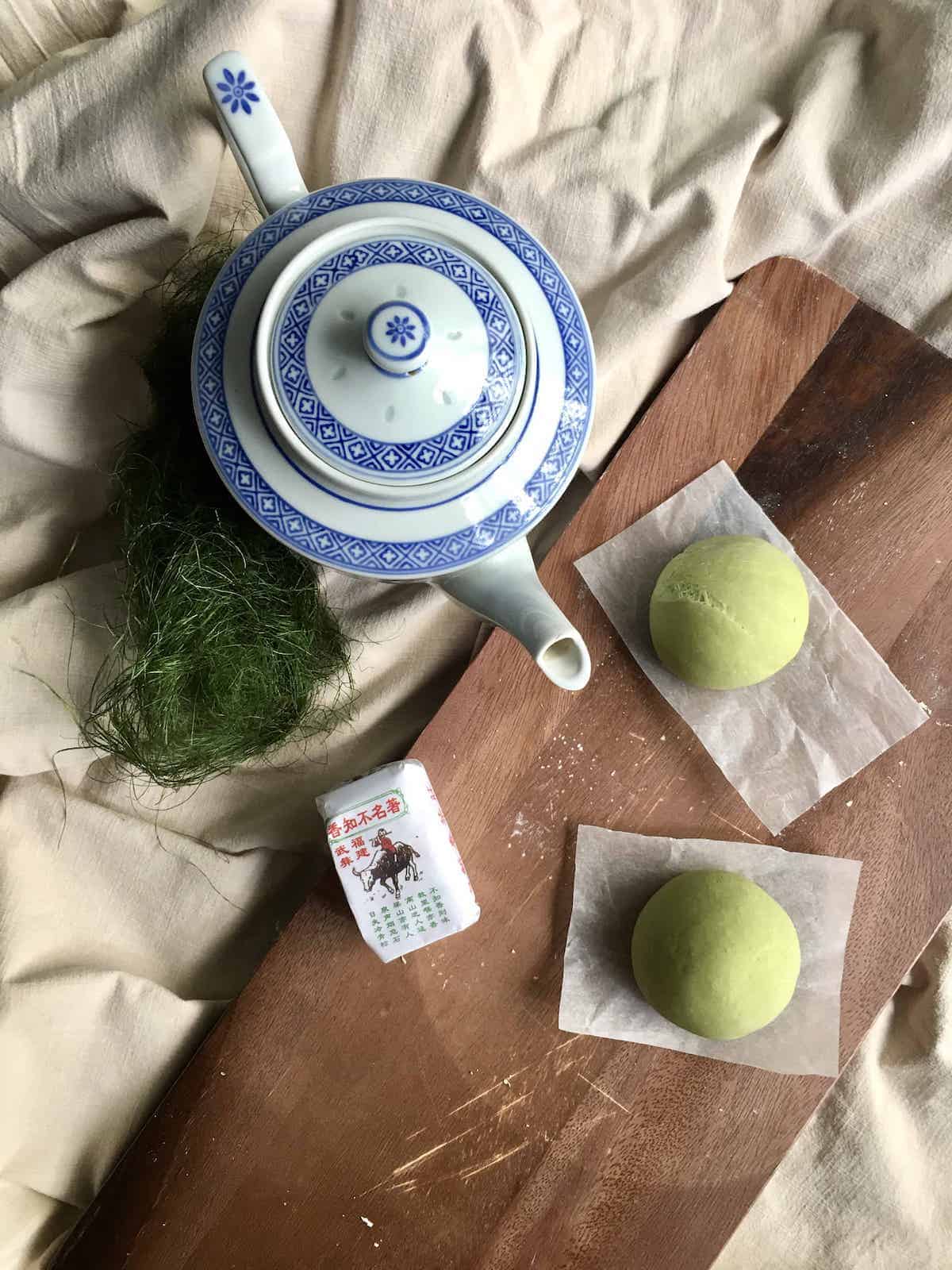 Jump to:
Traditional mantou bao recipes use only yeast and require 2 rises for the dough, which can be quite annoying for people who like to get their breadmaking done in 1 go instead of having to come back to it.
I was intrigued by a Red House Spice mantou recipe that used baking powder and yeast, thus calling for only 1 short 30-minute rise. It was so quick and easy that I decided to make it with different mantou flavours, such as a golden brown pumpkin mantou, a chocolate dough mantou, a pandan mantou (using my homemade pandan juice- these go really well with curries) and, since I'm a matcha lover, this easy matcha bun recipe. (It goes really well with this Dunkin' inspired blueberry matcha latte recipe!)
If you're feeling ambitious and want something that looks a little more fancy, try this steamed spiral pandan mantou recipe or check out this collection of Asian bread recipes.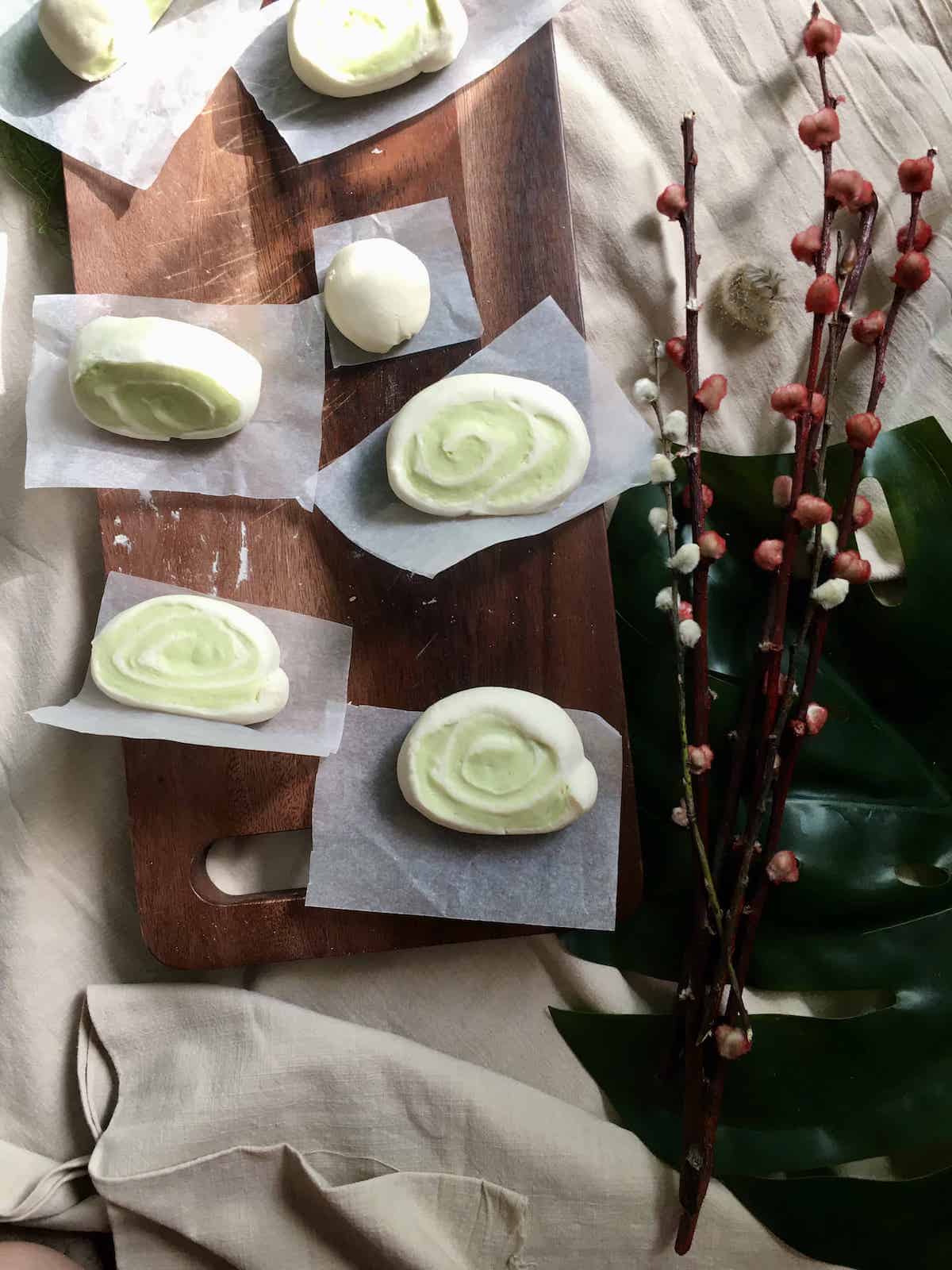 Why Make It
It's an easy way to add matcha powder, which is great for your health, to your diet. If you need more ideas on how to use this Japanese green tea powder, try my sweet and savoury matcha recipes round-up.
One first eats with one's eyes and the green buns are not only gorgeous, they taste amazing with a glass of warm milk.
You don't have to worry about not being able to buy Hong Kong/ bao/ super bleached flour. Those flours are necessary to get the traditional white mantou finish, but since these will end up green, who'll know and you can just use regular all purpose flour
It only needs 1 rise in a warm place, so your daily routine won't be interrupted too many times. (You can knead the soft dough by hand, but if not, leave the dough in the bowl of a stand mixer when proofing. (Cover the bowl with a wet tea towel or cling wrap.)
Matcha buns is an easy recipe- you can make it perfectly your first time!
It freezes well, so is the perfect make-ahead recipe. Just make a big batch and freeze the extra for the next time you want to eat steamed bread.
Troubleshoooting
1. How to steam Asian buns without a bamboo steamer
I use a Western metal steamer with a glass lid. Ideally, a bamboo steamer in a wok would work better as you can steam more matcha buns each time and water won't drop onto them because of the porous nature of the bamboo steamer.
Sadly I don't have a bamboo steamer so I've had to optimise the usage of a metal steamer to make mantou baos! When using a metal steamer, it's vital that you wrap the glass lid with a clean dish towel before steaming and do not cover the steamer fully (leave a gap of about 2 cm/ ¾ inch)- this can be tricky if you're cooking over a live flame- please don't set your kitchen on fire!
If you think this is not possible, I'll have you know that 1 of my friends actually set the pan ablaze during our time at the University of St. Andrews in Scotland! (To be fair, we'd both never cooked before University and hence took "heat up the oil in the pan" a bit too far.)
If you don't wrap the glass lid with cloth, even if you use a high quality steamer with a domed glass lid and hole for steam to escape - my metal steamer is from Le Creuset and it still needs wrapping- the steam will condense on the lid and drip back down onto the green tea buns, giving them a less-than-ideal wrinkly finish, as shown below.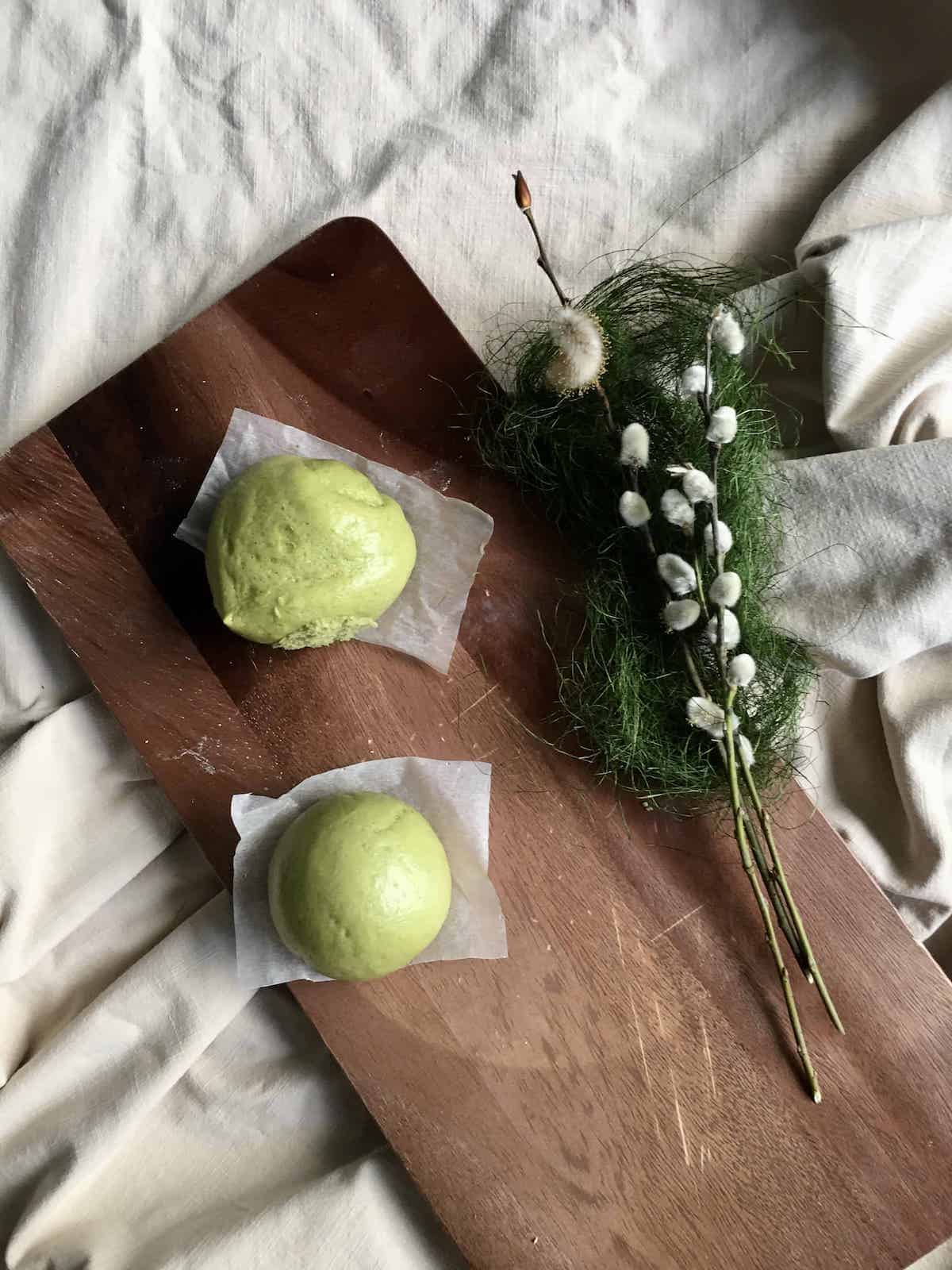 2. How to get smooth-as-baby-bum skin
A. Do not over-proof the dough
When the matcha dough has been proofed for too long, there will be too much air inside each bun, resulting in a wrinkled surface
B. Do not steam over high heat
Steaming over high heat makes the little bun expand too quickly, causing it to collapse and wrinkle. Use medium-low heat instead for consistently smooth mantou.
Roll out your mantous well before steaming
If your mantous are not smooth before you steam them, they're not going to magically become smooth after steaming, so make sure you roll the dough well, using a rolling pin and a floured surface. Tuck the seams into the base of the bun (where it sits on the parchment paper) so that any unsightly lines are out of sight.
C. Do not allow the water from steam condensation to drip onto the buns during steaming.
As mentioned above, this can be prevented by:
using a bamboo steamer to make these matcha buns
if using a metal steamer, wrap the lid in cloth to absorb the steam, and a leave a small gap when covering
Do not uncover the steamer too quickly- FICTION
Most of the blogs say that uncovering your steamer once you turn off the heat will make the mantous collapse (i.e. wrinkly steamed mantous) because of the sudden change in temperature. I have tested this in Singapore in both normal temperature (over 30C/ over 86F) and with the airconditioning on (about 22C/ 72F) and have not observed a significant difference in the mantou skins. Wei from RedHouseSpice is based in England and also notes that she has not found rapid uncovering of mantou buns to be an issue.
Perhaps it is only a cause of wrinkly mantous in places with very cold temperatures, such as Northern China? Do leave a comment if you know!
For a photo that shows how the mantou skin wrinkles when you do any of the above, check out this pandan mantou post.
How to eat
In Singapore, we like to steam mantou and have them plain for breakfast. It seems to be quite common in China to dip mantou baos in condensed milk, but here we prefer more savoury options such as curry.
Fried mantous also go very well with Singapore Chilli Crab or any dish that has a lot of sauce! (To make fried mantous, you still need to steam the mantous first before frying them.)
You can also stuff them with these Chinese pork dishes, hamburger style!
How to store
Store the matcha buns in the fridge for 3 days or, if you won't be able to finish them so soon, in the freezer.
Make sure they are not touching each other when you first freeze them- line them up, with a space between each dough piece, on a baking tray then cover with plastic wrap and put in the freezer. If not, they will stick. Once frozen, you can then store them higgledy-piggledy in a big bag or box.
Mantous harden when cold so you need to steam them before eating if you want them to turn back into fluffy bread rolls. (They do not need to be defrosted first- just add a few minutes to the steaming time.)
Expert Tips
Tip #1: Once you've mastered this matcha recipe, you can add sweet red bean paste inside to make red bean buns, or custard cream to make sweet matcha buns.
Tip #2: If you want to garnish your work, sprinkle a couple of toasted black sesame seeds on each piece and press them down (before steaming, so that they can stick to the dough.)
FAQ
What is matcha?
It is a traditional type of Japanese green tea that has gained popularity outside of Japan in recent decades, especially for its health benefits. To find out how it differs from the usual green tea, click the link.
Asian Tea Recipes
You may also be interested in these delicious recipes, which use tea:
Enjoyed this Steamed Matcha Bun recipe? Please leave a 5-star 🌟🌟🌟🌟🌟rating in the recipe card below & if you REALLY liked this Green Mantou recipe, a comment would make my week! Thank you and have a great day!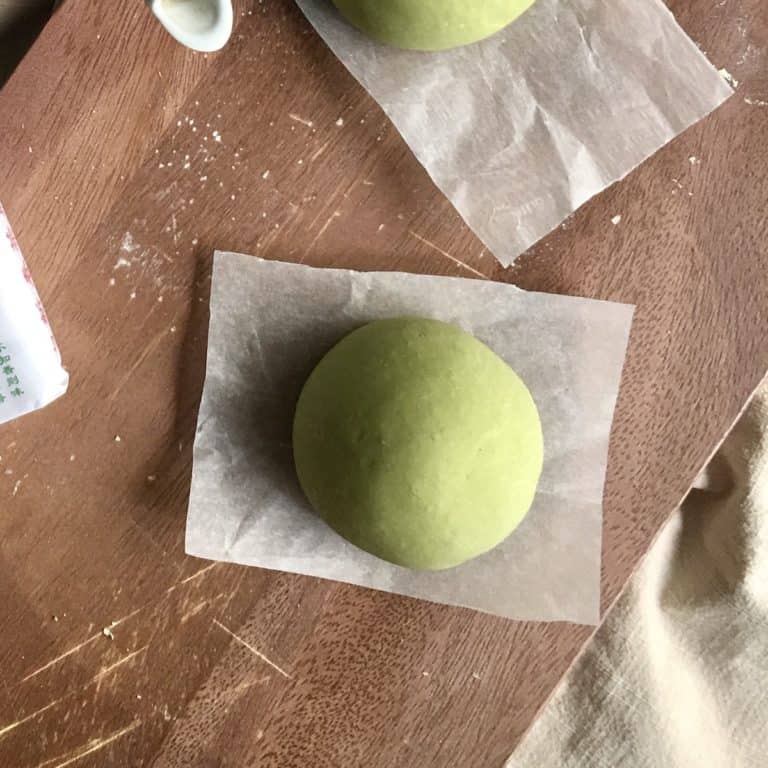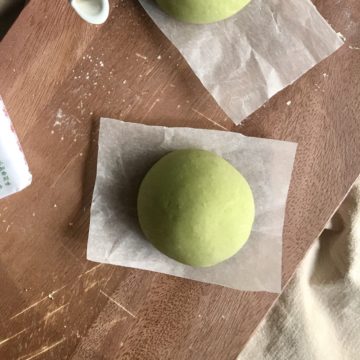 Easy Matcha Buns (1-rise Mantou)
An easy matcha bun (Chinese mantou bao) recipe which only requires 1 proof (1 rise), along with a mantou FAQ section on how to use a metal steamer (instead of the traditional bamboo steamer) and why your naturally vegan matcha buns aren't smooth.
Equipment
stand mixer with dough hook

metal steamer with cloth to wrap the lid

parchment paper
Ingredients
1

Cup + 1 Tablespoon

all-purpose/plain flour (250g/ 8.81 oz)

Weighing is obviously more accurate than using cups!

1

tablespoon

white sugar, or to taste

Use vegan sugar with no bone char if making a vegan mantou

5

t

matcha powder (10g/ 0.35 oz)

Note: As your matcha ages, it will become less flavourful, so if your matcha is old you may need to add more to the buns.

1

teaspoon

instant yeast

If working with fresh yeast, multiply by 4 i.e. use 4 teaspoons of fresh yeast. If you don't use your yeast regularly, test a bit in warm water to make sure it's still active before making this recipe!

¾

teaspoon

baking powder

½-⅝

g

warm water (125-140g/ 4.4- 4.9 oz)

you can substitute this with milk or soy milk but the hydration will be slightly different

Oil (Optional)

To oil the metal steamer if you don't have parchment paper/ cupcake wrappers
Instructions
Fill the steamer with tap water.

Mix the dry ingredients well, then add the water. Using a dough hook attachment, knead in a stand mixer on low for approximately 8 minutes. Different brands of flours have different hydration levels so you may need more water to get a smooth dough: start with 125g of water then gradually add more, 1 teaspoon at a time, if necessary.

You will know that the dough has been sufficiently kneaded once it becomes a smooth ball that does not stick to the mixing bowl or to your hands. After stopping the stand mixer, knead with your hands for another minute or so. (Alternatively, if you've missed your gym workout, you can do the kneading by hand- just remember to rest the dough for 10-15 minutes after the ingredients have combined to form a rough mixture.)

After mixing, you can move on straight to shaping the dough. For this post, we'll just focus on the simple mantou shapes: oblong and round. Divide the log of dough into 2, then cut each log into 6 pieces, giving you 12 in total. You can steam the oblong dough pieces as they are or roll them into round balls before steaming. To get round mantou buns, pull and tuck the ends of the dough so that the seams are all facing downwards- you will get a round-ish top and just roll each bun (on a floured surface, parchment paper or Silpat mat to prevent sticking) till smooth. Note: if you don't have a smooth ball of dough here, your mantou won't miraculously become smooth post steaming!

To prevent the dough from sticking to the steamer, either place the dough onto small pieces of parchment paper (you can substitute with cupcake wrappers if lazy to cut up parchment paper) or oil the steamer- you will need to re-oil every time you add new mantous to the steamer. Personally, I find using parchment paper makes it easier to remove the mantous after steaming.

Place the buns into the steamer, ensuring that there is at least 1.5 inches in between each mantou if you don't want to stick to each other after steaming. Allow to rest for 20 (tropical weather of 30C/ 86F) to 30 minutes (25C/ 77F weather). You will know the dough is sufficiently rested when the buns are very smooth, have increased about 40-50% in size (they will not double in size) and spring back after being pressed. If you're unable to steam all the mantou buns at 1 go, store them in the fridge to stop them from overproofing- this is particularly important in warm countries as heat expedites the proofing process.

Turn on the fire to high, then reduce to medium-low once the water is at a rolling boil. After 10 minutes, switch off the fire. The steamed green tea bread is best enjoyed warm. If the mantous aren't as smooth as you'd like, scroll back up my mantou troubleshooting section which identifies common mantou making mistakes.

The steamed matcha buns are ready to be enjoyed!
Notes
Cook time is based on the assumption that all the mantous are steamed in 1 go.
If freezing, remember to freeze them individually (non-touching) so they don't stick. To reheat, there's no need to defrost- just add a few minutes to the steaming time.
Note: the nutritional information is an estimate automatically calculated using the WPRM recipe maker and I am not responsible for its veracity.
Nutrition
Calories:
88
kcal
Carbohydrates:
17
g
Protein:
3
g
Fat:
0.3
g
Saturated Fat:
0.04
g
Polyunsaturated Fat:
0.1
g
Monounsaturated Fat:
0.1
g
Sodium:
27
mg
Potassium:
32
mg
Fiber:
1
g
Sugar:
1
g
Vitamin A:
83
IU
Vitamin C:
0.003
mg
Calcium:
18
mg
Iron:
1
mg
If you've enjoyed these Matcha Mantou Buns, please do share on your social media accounts!