Easy, delicious and authentic Chinese pork recipes that I grew up eating in a Chinese household. You have to try these pork dishes that are better than takeout!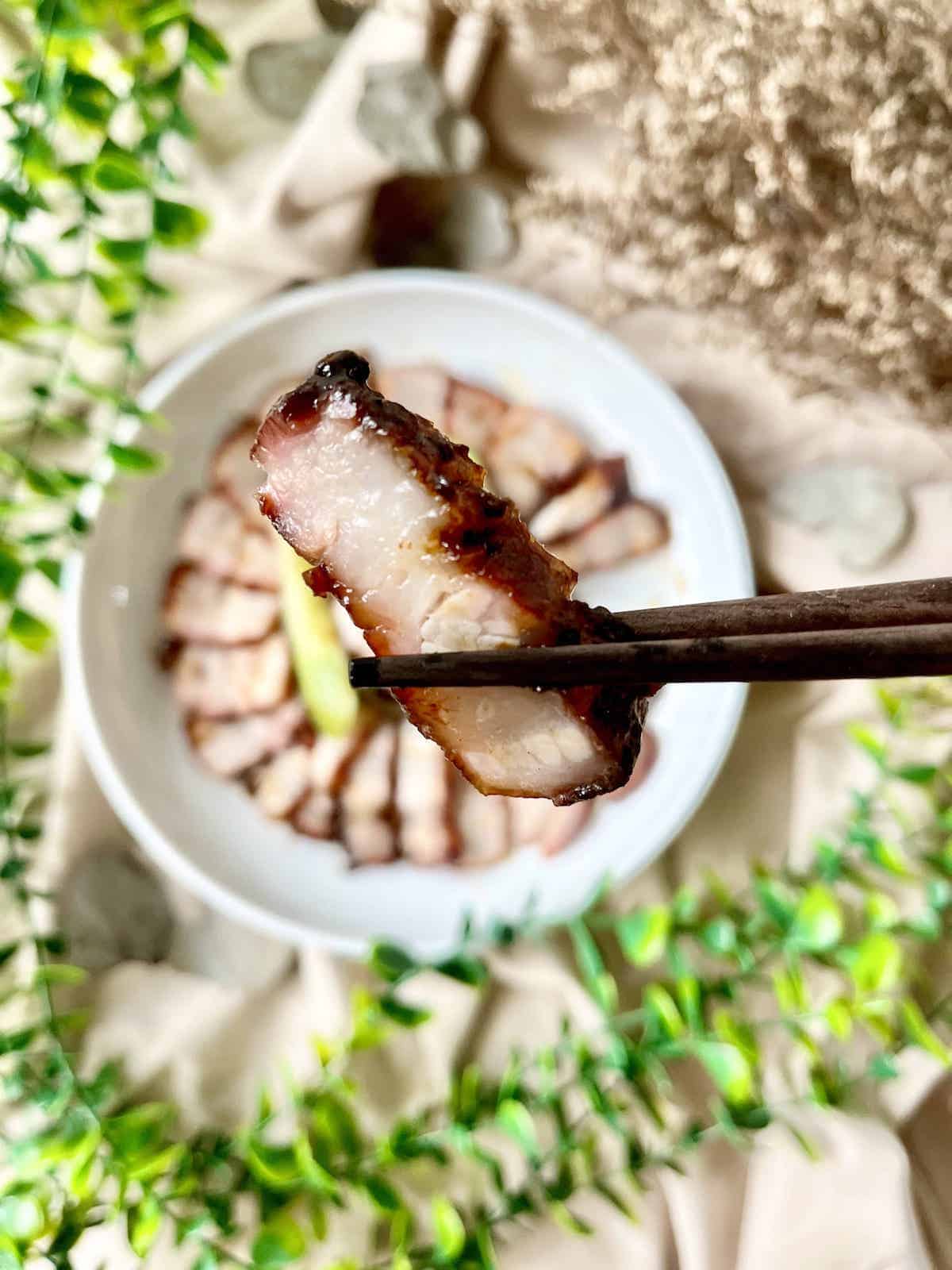 Jump to:
Chinese cuisine is known for its bold flavors and diverse range of ingredients. (Think chicken feet soup and bird spit dessert!) Pork is 1 of the more mainstream ingredients that is super popular in Chinese cooking.
Whether it's stir-fried, deep-fried, braised, or roasted, this collection of Chinese pork dishes encompasses a range of delicious flavors and textures that are sure to satisfy your taste buds! They go really well with fried rice and stir-fried noodles!
Expert Tips
Tip #1: Use authentic Chinese ingredients to get the right flavor. Chinese cooking often uses specific seasonings, such as soy sauce, oyster sauce, and five-spice powder. Using real Chinese ingredients makes your dishes taste more authentic. (For example, did you know there is Chinese soy sauce, Japanese soy sauce and Korean soy sauce, all of which have subtle differences in taste?)
Tip #2: Texture. Many Chinese pork dishes have a crispy, crunchy texture or a smooth, tender mouthfeel. To achieve the crisp, you need to coat the pork in cornstarch or potato starch before cooking to create a crunchy crust. (As in this spam fries recipe, regular white flour just isn't as crisp!) For the juicy, smooth texture, you need to use a technique called velveting. This involves blanching the pork in hot water or oil before stir-frying.
Tip #3: Garnish before serving. In Chinese food culture, we always talk about 色香味具全 "Se Xiang Wei Ju Quan." In other words, the dishes must have color, aroma and flavor. Colorful garnishes such as chopped spring onions, cilantro, or lightly toasted sesame seeds add both flavor and visual appeal!
Braised
FINGERLICKING Good Chinese Braised Pork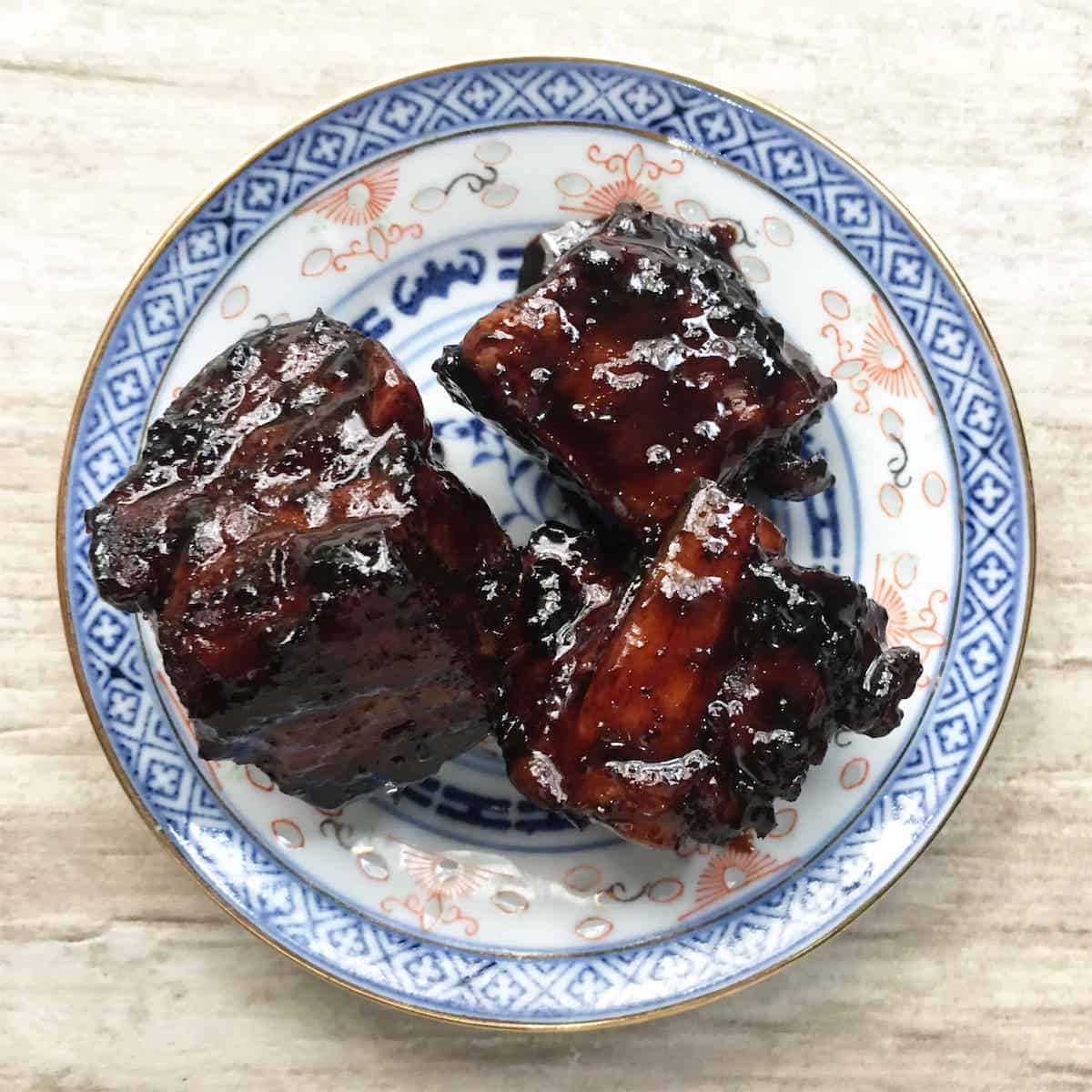 This is my all-time favorite Asian pork recipe as it's so easy to make but still super savory, juicy and flavorful!
12345 Chinese Spare Ribs (5-ingredients)
These Chinese Spare Ribs are delicious, finger-licking Asian-style pork spare ribs that are as simple to cook as 12345 (a mnemonic device that will also help you recall the recipe.) Using only the Asian pantry staples of wine, dark soy sauce, vinegar and sugar to braise the meat, with only a few minutes of active cooking, this is the best easy sticky Chinese Spare Ribs for a lazy food lover.
Click here for the easy braised pork recipe.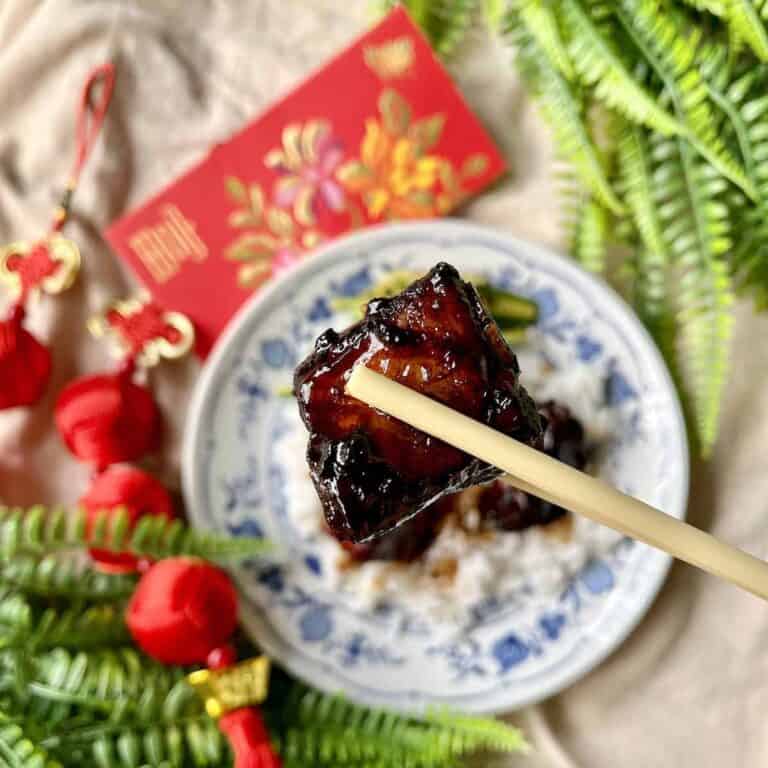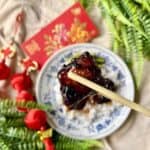 Soy Sauce Pork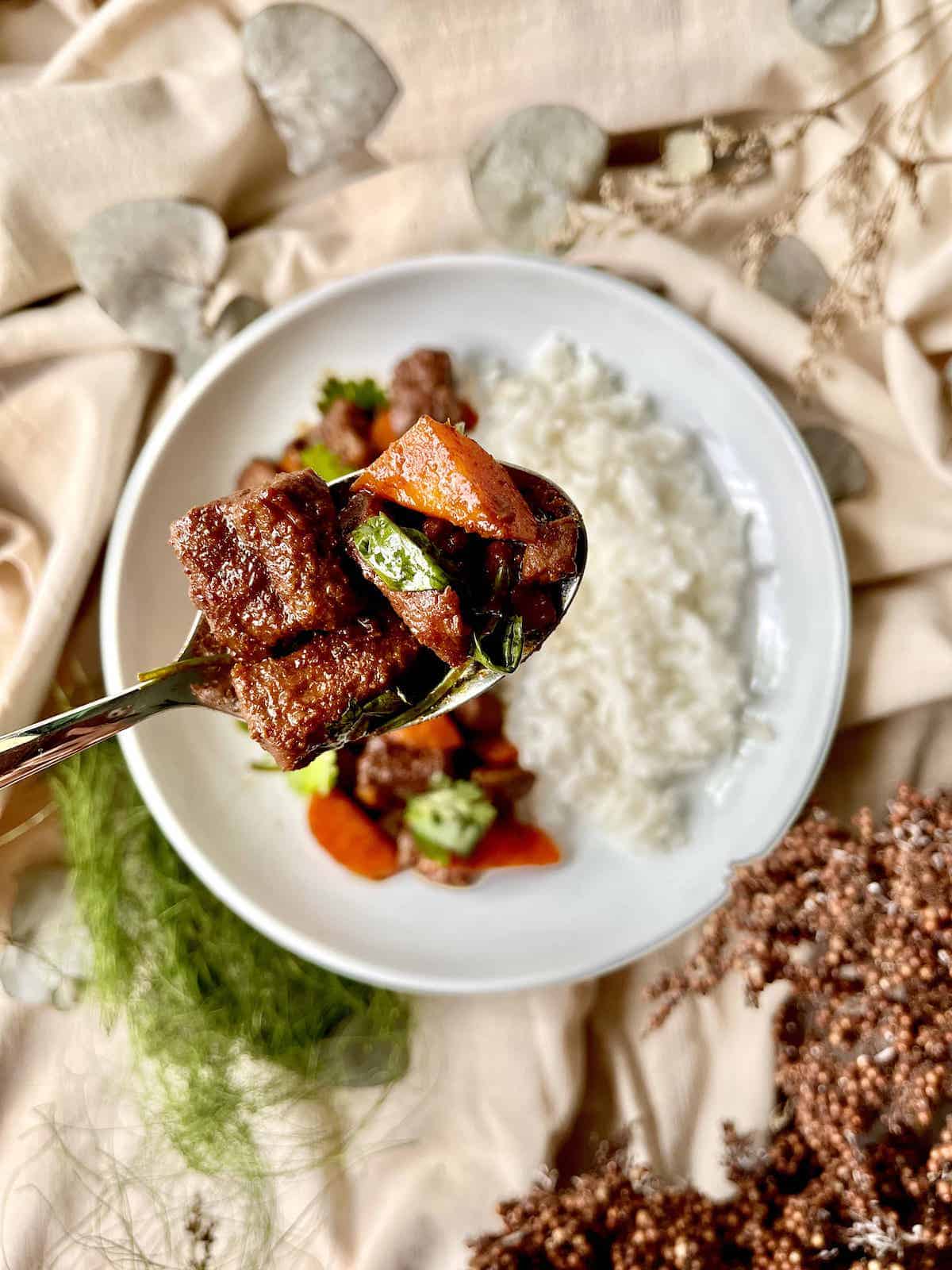 Tip: Usually served with sambal chili and rice, but you can also stuff mantou buns with this pork and lettuce to make a Chinese hamburger!
Tau Yew Bak (Braised Pork in Soy Sauce)
A super easy recipe to make for a weekday dinner after work, this braised pork dish is a delicious comfort food that doesn't require much prep time.
Click here for the Soy Sauce Pork Recipe.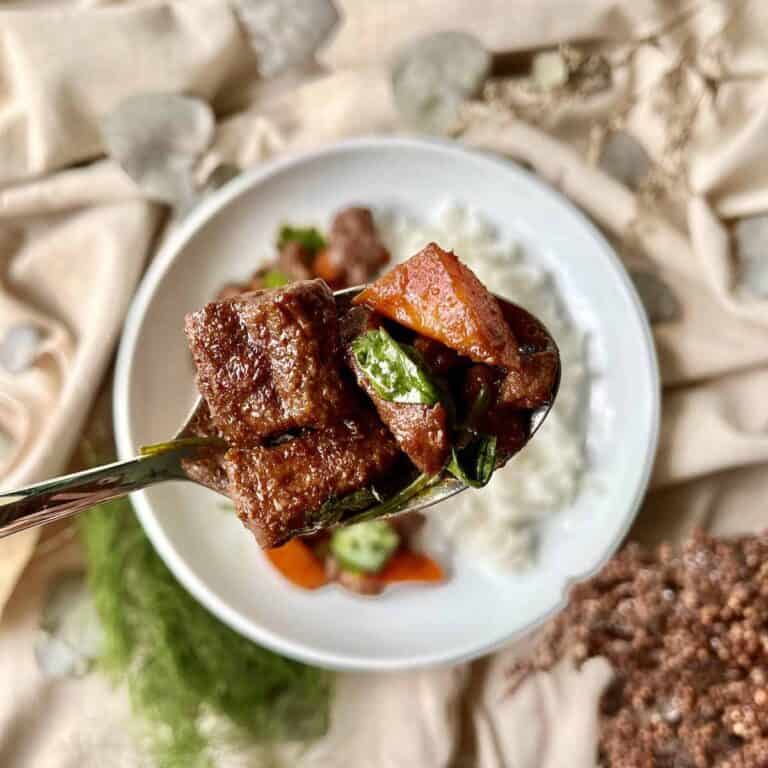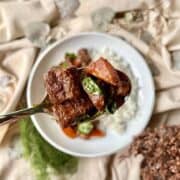 Ma Po Tofu
Despite having tofu in its name, this Sichuan-style dish also features ground pork and a spicy chili bean sauce (Doubanjiang.)
Note: remember to use silken tofu, not firm tofu! (The right texture is important in Chinese food, remember? (See Expert Tips above.))
Roasted
Char Siew
This is a barbecue pork that is marinated in a sweet and savory sauce, usually made with hoisin sauce, honey, soy sauce, and Chinese five-spice powder (which is really easy to make at home, but the way!)
It's 1 of the most popular Cantonese recipes, often served with Soy Sauce Chicken and goes really well with plain white rice or congee, as well as these Chinese BBQ pork sides.
You can even add it to stir-fried noodles, such as in this Shrimp Chow Mein!
Fried
Sweet and Sour Pork
This Cantonese pork dish is made with crispy deep-fried pork that is then stir-fried with bell peppers and a sweet and sour sauce made from vinegar, sugar, tomato paste (a lot of recipes use ketchup as a substitute), and soy sauce.
Takeout, fakeout!
Moo Shu Pork
These pork wraps are a classic Chinese restaurant dish featuring tender pork, crunchy vegetables, and savory hoisin sauce, all wrapped in a thin pancake. (You can use tortillas as a quick substitute!)
Lion's Head Meatball
Mince your own pork for the best texture for these Chinese meatballs 红烧狮子头 but, to be honest, on a weekday night, I just use regular shopmarket ground pork! The chopped up water chestnuts gives the meat a delicious crunch!
Boiled
Twice Cooked Pork
Also known as 回锅肉 Hui Guo Rou (literally return wok meat), this dish is made by boiling slices of pork belly, then stir-frying them with garlic in a spicy bean paste sauce.. You can also add leeks and more vegetables if you like!
Note: the recipe calls for Tianmianjiang which can be hard to find outside Asia- you can use Doubanjiang as a substitute.
Preserved
Bak Kwa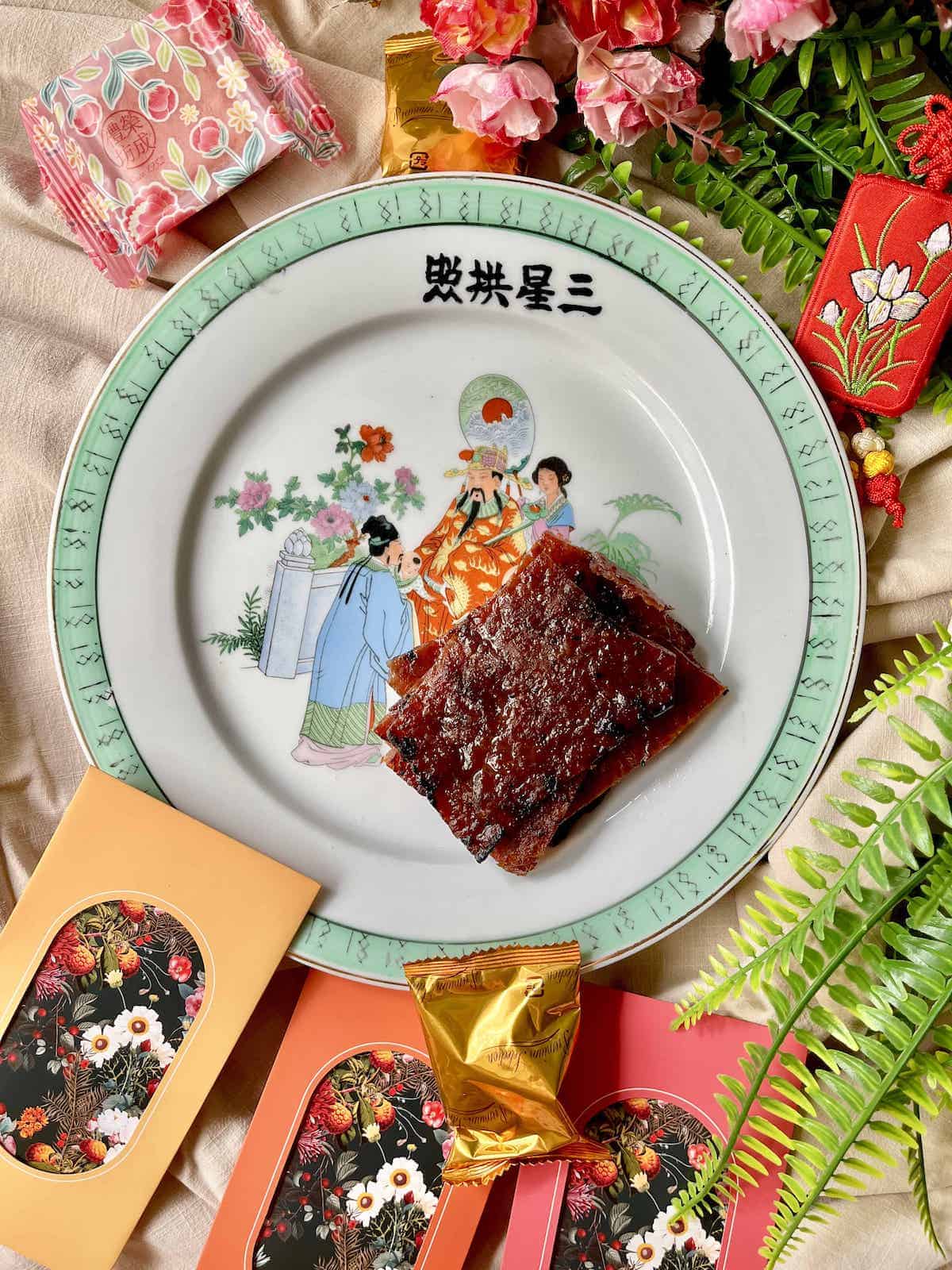 Bak kwa/ Chinese pork jerky used to be a luxury item but is now eaten all year round, though never more than during Chinese New Year!
In fact, people buy and gift it so much during the lunar new year that it's common to have leftovers. (Here are some delicious ideas on how to use up extra bak kwa!)
However, it's really simple to DIY: you just need to mix the minced pork with the sauces, marinate and bake in the oven till dry!
Bak Kwa (Chinese Pork Jerky)
Bak Kwa, or Chinese Pork Jerky, is 1 of the most popular Chinese New Year snacks in Singapore & Malaysia. Save yourself time and money by making your own using this super simple recipe with easy-to-find ingredients! It's tender, savory and delicious!
Click here for the Singaporean pork recipe.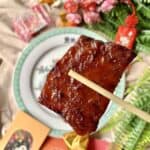 One-wok Meal
Pork Fried Rice
This classic Chinese takeaway dish can be with diced pork, minced pork or even char siu! The pork is then stir-fried with rice, vegetables, and soy sauce.
Tip: fried rice is best made with leftover rice! (Freshly cooked rice is too wet and will result in a mushy dish.)
If these Chinese pork recipes were helpful, maybe you'd like to sign up for my Asian food newsletter?