Traditionally one of the most sought after ingredients in Chinese cuisine, traditional birds' nests soup is a pain to cook. However, this steamed Chinese bird's nest soup dessert with goji berries in a coconut recipe is so easy, I couldn't not share it!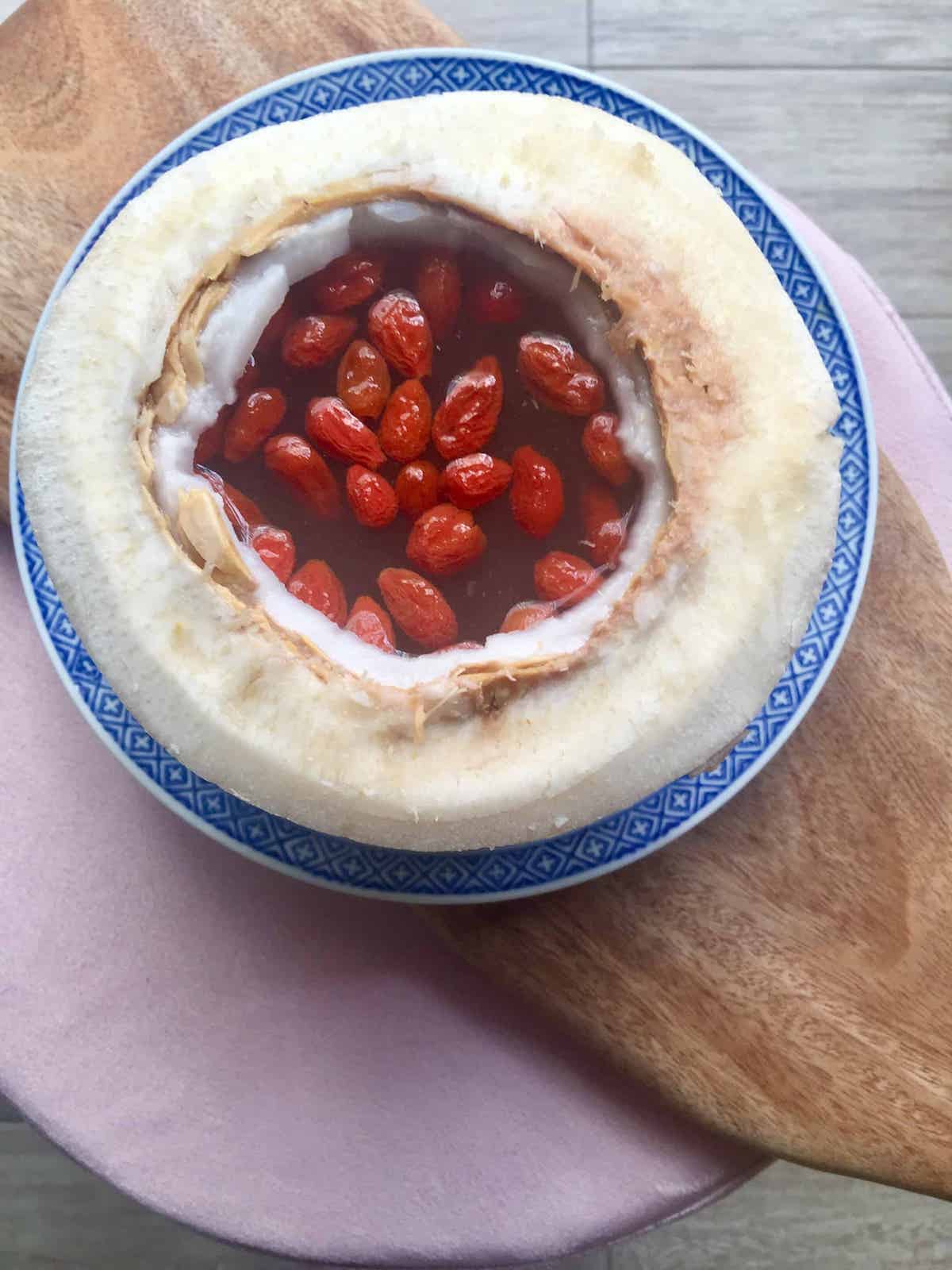 Jump to:
What is bird's nest?
Birds' nests are a traditional Chinese ingredient that has been prized for over 1000 years- not for the taste (it's tasteless) or texture (the gelatinous texture can be confused with that of noodles or even plastic!) but rather for the health and beauty benefits.
According to traditional Chinese medicine, bird's nest soup 燕窝 is said to be good for your immune system and skin (it promotes collagen production).
If you watch Chinese historical dramas, birds' nests are an expensive delicacy and often the favourite dessert of the concubines in the palace- only the royalty and uber rich had access to it then- as they all wanted to be as beautiful as possible.
High quality bird's nest can go for thousands of dollars so bird's nest used to be indispensable at Chinese banquets and other special occasions. It is also considered a good gift for Chinese elders (think in-laws and the like). (The jarred version that I use in this recipe is the cheapest form of bird's nests.) 
How is it gathered?
To be more exact, bird's nest is basically the saliva of male swiftlets (a type of bird) which used to be found in very inaccessible areas such as high clifts and deep caves. Hence, collecting bird's nest used to be quite dangerous.
Today, there is so much demand for this Chinese delicacy (especially in mainland China) that concrete houses are being built for them, complete with bird song!
The cleaning process for the bird's saliva is also very tedious: it takes 1 person 8 hours to clean only 10 nests! (Being the nest of a bird, you would obviously find feathers and what not in it, and it is traditional to clean the bird's nest again at home, using tweezers.) 
Note: bird's nest can cause an allergic reaction in some people
Where to find
Bird's nest is produced in many parts of South East Asia, primarily Indonesia (the largest exporter) and Thailand.
Outside of these countries, you can find it at Chinese pharmacies and some Asian supermarkets.
Health Benefits
You will hear a lot of anecdotal evidence from Chinese people about the health benefits of this sweet soup, but does it really have any nutritional value?
In recent years, there's been an effort to back up Grandmother's stories with scientific research:
Note: this is meant for information/ entertainment only and not meant as medical/ health advice.
Controversy
A few years ago, consuming bird's nest was considered unethical as they were being harvested more quickly than the birds could produce them. Moreover, scaling the high cliffs to collect them is dangerous and some people would die in the attempt.
Thanks to the bird nest's industry's boom (estimated to be worth $5 billion in 2015), the swiftlet has been rapidly domesticated and most bird's nests today come from farms, where collection is no longer a problem. In fact, some environmentalists say that the popularity of bird's nest is actually good for this type of swiftlet! (However, only 3 of over 30 types of swiftlets produce edible bird's nest so there is concern that the swiftlets which produce inedible bird's nest will be threatened.)
Blood nest
There was even an urban legend saying that red bird's nest, which is the most premium form of bird's nest and more than 3x the price of the white nests, is cruel- the red colour stems from the blood coughed up by the swiftlet after it is exhausted by all the saliva production.
That is not true!
The red colour is actually due to the minerals in the bird's nest reacting with the environment.
History
It's more legend than fact, but 1 of the most common "origin stories" is that the Chinese Admiral Zheng He was stranded in SouthEast Asia during the 15th century (Ming Dynasty), due to bad weather. (Random fact: some scholars think that Zheng He reached America before Columbus.) Left with no food, he and his crew consumed the delicate bird's nest that they found on the cliffs, and found that themselves invigorated after.
Hence, Zheng He brought bird's nest back for the Chinese Emperor, sparking the birth of this culinary practice in Chinese culture.
How to choose
Due to how lucrative the bird nest industry is, reports of fake bird nest often surface- some say that the fake bird nest is plastic and others say it is tang hoon (bean vermicelli). (As the bird's saliva has little flavor, it can be hard to differentiate from other ingredients.)
In addition, some farms are unscrupulous in their farming and cleaning practices, which result in harmful chemicals, such as bleach and lead, being added to the bird's nest so always buy your bird nest from a reputable dealer.
The traditional and "better" type of bird's nest is the dried form, which is super tedious to prepare for cooking (more on that below). As more Asian women started entering the workforce resulting in them having less time to spend hours in the kitchen, a jarred version which can be consumed directly (it is pre-cooked) has since been invented.
Tip: Do note that the jarred versions often include copious amounts of sweeteners, so that can be bad for you, especially if you have diabetes.
How to prepare
Dried birds' nests need to be cleaned before cooking- use a pair of tweezers to gently pluck out any dirt or impurities from the bird's nest and avoid breaking it. After that, soak in warm water for a few hours/ overnight to rehydrate. The rehydrated bird's nest is then ready to be cooked. (Scroll down for more ideas on how to cook the bird's nest.)
Jarred bird's nest, as mentioned above, has already been sweetened and cooked, so you can drink it right after opening the bottle. They come in a variety of flavours, such as bird's nest with stevia, bird's nest with ginseng etc
How to cook
Traditionally consumed as a dessert, bird's nest is now being used in some premium skincare lines as well.
Alternative ways of cooking this nest of a swiftlet bird are:
In a slow cooker
Steamed or double boiled with rich chicken stock to make soup
Or add it to congee or chicken broth
For a modern twist, pop it in your bubble tea
Wrap in dumplings - since bird's nest dumplings are a luxury food, it's common to flick some edible gold leaf (another expensive ingredient) on top to amp up the luxe factor.
Ingredients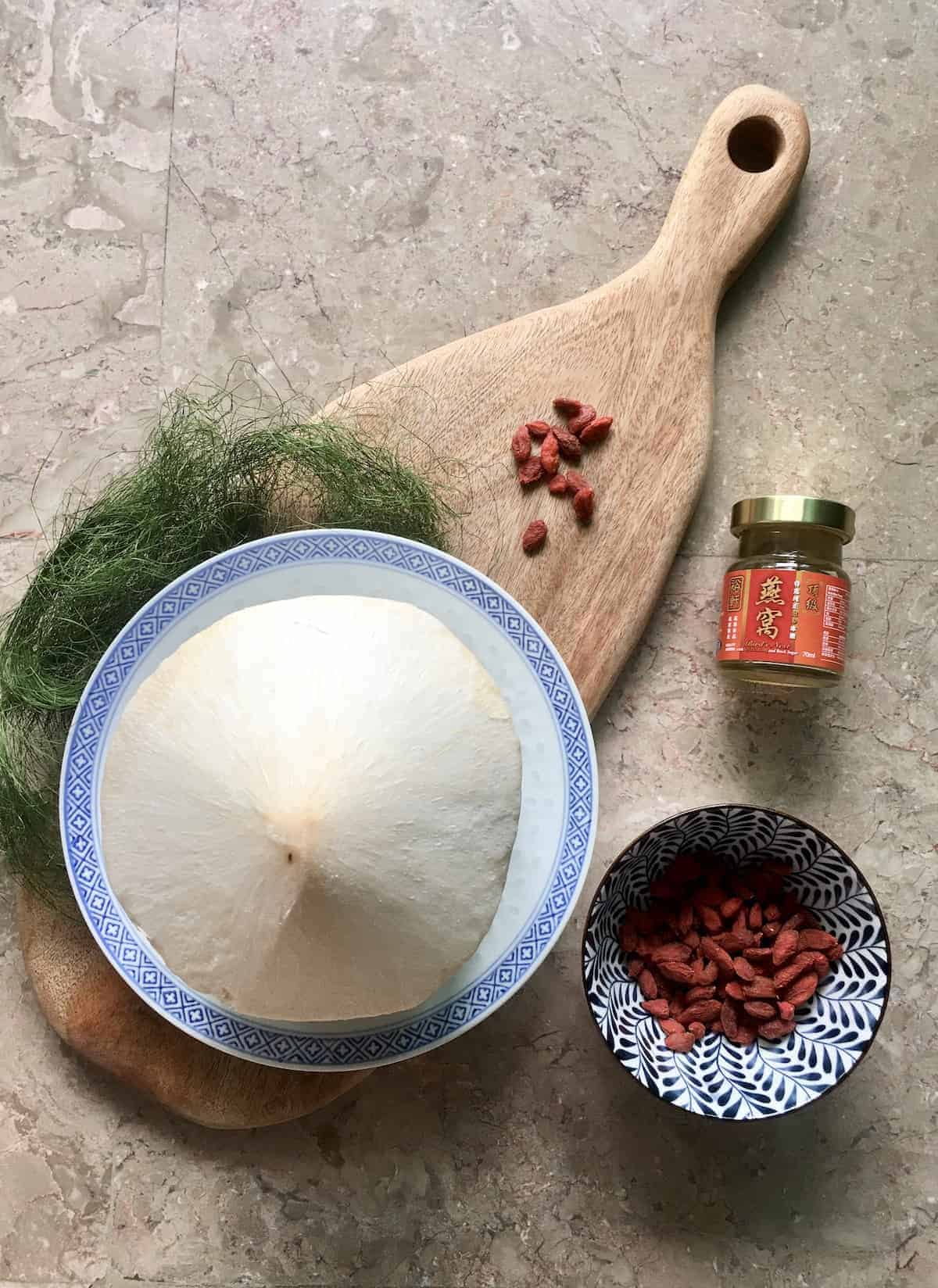 If you don't have goji berries, don't fret, you can still make this easy dessert- it just won't be as pretty or as good for your eyes.
You only need 3 ingredients:
edible bird's nests
Fresh coconut

Because coconut water is naturally sweet, you don't need to add sugar. But if you like your food super sweet, you can include some rock sugar, which is more mellow than white sugar.

Goji berries
Expert Tips
Choose a smaller coconut, as it takes less time to steam and also leaves you wanting more. A big coconut can feel like too much to eat.

You will need to remove some of the coconut water to make space for the bird's nest and wolfberries- you can either steam a 2nd bowl of bird's nest with wolfberries in coconut water in a bowl (so no fancy coconut shell presentation) or use the coconut water to make naturally sweet agar agar jelly or lemongrass coconut chicken soup.

Always buy your bird's nest from a reputable seller (or brand) to ensure that it is real bird's nest (sadly fakes have become quite common.)
For best results, cook your bird's nest over a low fire- never more than medium heat!
FAQ
Is Chinese bird's nest soup good for your health?
Traditionally, Chinese people have always associated bird's nest with good skin and healthy lungs. In the last few decades, there's been an attempt to prove these sayings with science and I've included some links to Scientific Research Journals in my post which document bird's nest health benefits.
Other Chinese desserts
Other easy Asian sweet recipes include:
Love this Chinese dessert recipe? I'd be really grateful if you leave a 5-star 🌟🌟🌟🌟🌟rating in the recipe card below. If you REALLY like it, it'd make my day if you leave a comment. Thank you!
Easy Chinese Bird's Nest Soup Dessert
The easiest Chinese bird's nest dessert you could ever make!
Ingredients
1

Small coconut

Top sliced off. Avoid the bigger ones as they can be a bit too much for a dessert. Try to get pre-cut ones to make your life easier.

1

teaspoon

Goji berries

Soak in hot water.

1

jar

Ready-to-drink bird's nest

Do not confuse this with the dried bird's nest which would require

Sugar

Optional. The coconut water is naturally sweet so I don't like to add sugar. If you have a very sweet tooth, rock sugar is the traditional type of sugar used for Chinese desserts but regular (caster/ granulated) sugar can do as well. Do check if your ready-to-drink bird's nest is sweetened before adding any sugar!
Instructions
Open the coconut and keep the coconut "hat" on the side. Remove some of the coconut water from the coconut (to make space for the goji berries and ready-to-drink bird's nest). I suggest removing at least 1C of the water first to avoid any spillage. Do not throw the coconut water away as it can be drunk or used to make soups!

Open the bird's nest jar and add all the contents into the coconut followed by the goji berries. If there is empty space in the coconut, add some of the removed coconut water back to the coconut.

Recover the coconut with its "hat" then steam. The ingredients are all ready-to-eat so steaming is merely to heat up the coconut water as well as to soften the coconut flesh. The steaming time thus depends on the size of your coconut, how hot you want your dessert to be and how soft you like your coconut flesh. I prefer mine my desserts either cold or hot (not in between!) and I like the texture of soft coconut flesh, so I usually steam mine for 20 minutes if the coconut is small and 30 minutes for a bigger coconut.
Notes
If you don't have a steamer, you can use a pasta pot with strainer to steam the coconut. (Add water to the pasta pot till it reaches just below the strainer, then place the coconut in the strainer, lower into the pot, cover and steam.)
However, you will only be able to steam 1 coconut at a time, which isn't very convenient for entertaining!
Note:
the nutritional information is an
estimate
automatically calculated using the WPRM recipe maker as well as a
NTUC
listing (based on a 70g Eu Yan sang bottle of birds' nest.) I am not responsible for its veracity.
Nutrition
Calories:
176
kcal
Carbohydrates:
11
g
Protein:
2
g
Fat:
15
g
Saturated Fat:
13
g
Polyunsaturated Fat:
0.2
g
Monounsaturated Fat:
1
g
Sodium:
10
mg
Potassium:
160
mg
Fiber:
4
g
Sugar:
5
g
Vitamin C:
1
mg
Calcium:
6
mg
Iron:
1
mg
Have you eaten Chinese bird's nest soup before and, if so, how did you find it?