This delicious coconut water chicken soup has a natural sweetness from the coconut (without needing to add sugar), and bright notes from the lemongrass and ginger, making it the perfect light and refreshing soup for a rainy day or when down with a flu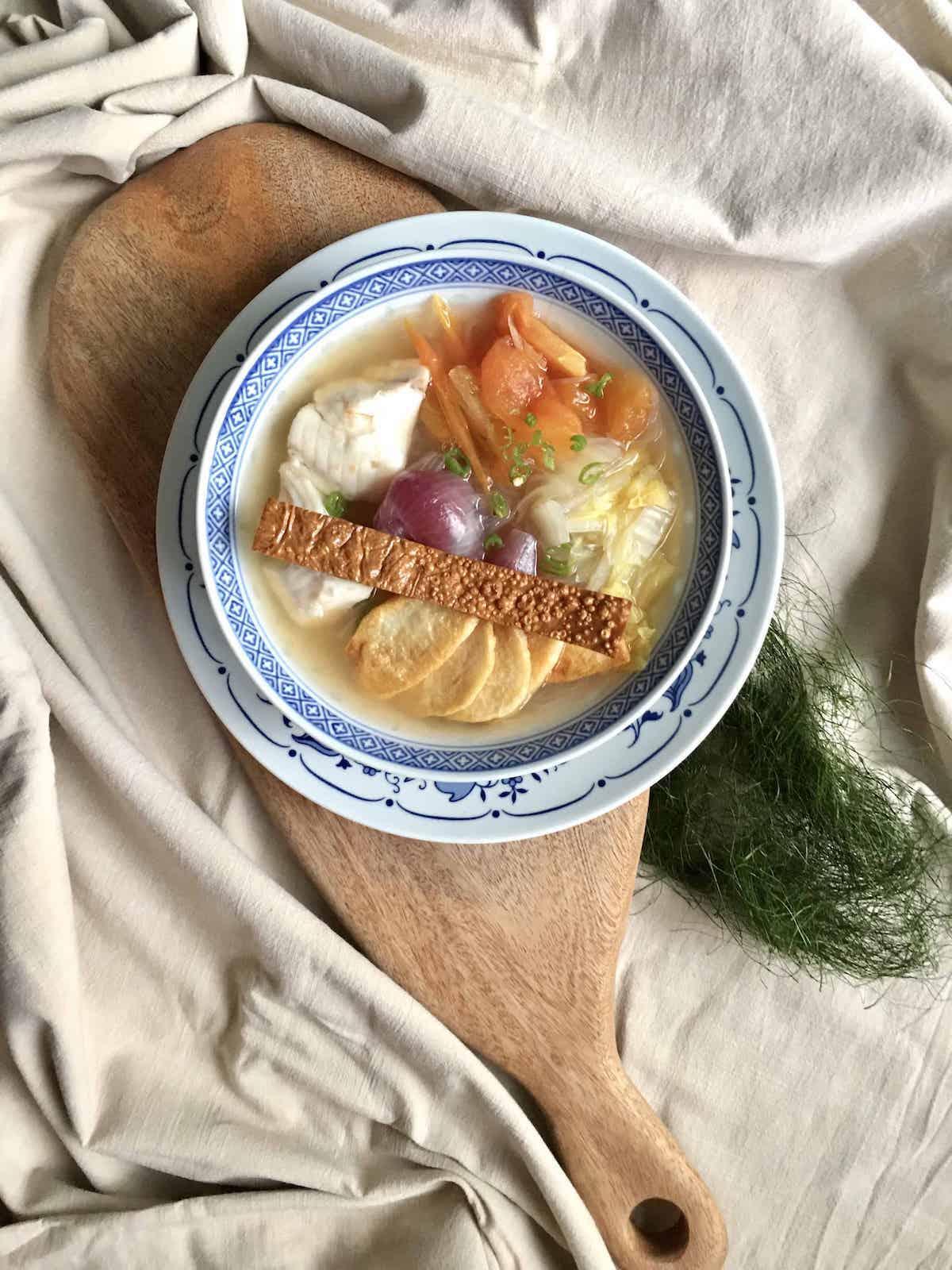 Jump to Recipe
Jump to:
Any Chinese person worth her- or his- salt will know that ginger warms the body and so, when the weather is chilly or after getting caught in snow or rain, one should drink some ginger tea or chicken soup to avoid catching a cold. (Conversely, one can also fall ill when one is too heaty and should then eat "cooling" foods.) This Chinese coconut water chicken soup with ginger and lemongrass is a delicious union of 2 flu-busting and healthy ingredients!
The first time I drank ginger soup was on a school trip to Taiwan: we had gotten drenched walking up Taiwan's famous Alishan (Mountain). Our concerned seniors promptly made us ginger soup and not one of us fell sick, which I attribute to the soul-warming soup! Although Traditional Chinese Medicine doesn't always have the best reputation, the warming properties of ginger are real- I say this based on extensive personal experience 😛 as well as actual scientific research. Other warming recipes include ginger red date and longan tea as well as osmanthus tea.
Note: this information is not meant as dietary or nutritional advice, but FYI only!
Why make this
This coconut water & ginger chicken soup recipe is something my family has made many times and is very versatile:
- it's good as a side dish of soup (Chinese people like to have soup with every meal)
- OR as a main with noodles

- OR as a main dish with rice in it. (Submerged rice, or pao fan, is different from porridge/congee in that the rice is cooked before being added to the soup as in this golden Chinese pumpkin rice with soup. The rice in pao fan is not cooked in the broth, unlike congee such as this Singapore Hainanese Chicken Rice Porridge. This point may seem trivial but it affects the clarify of the soup as cooking the rice in the soup releases starches into the soup which makes it thicker and less clear.)
- It's healthy: unlike the usual chicken coconut soup, this Chinese recipe uses coconut water instead of coconut milk or cream, so it has less fat.
- Best of all, it's a super easy recipe!
Tip: If you like soupy noodles, you may also be interested in this quick and easy Chinese vegan wonton soup recipe that's ready in 20 minutes but doesn't need shop bought stock/ stock powder/ bouillon cubes etc.
Ingredients
The main ingredients in this light Chinese lemongrass chicken soup are:
a young coconut

Substitute: bottled coconut water
If you have extra coconut water to use up, you can also use it in desserts such as this coconut water agar agar jelly.

chicken stock

Substitute: chicken stock powder (dissolve it in the coconut juice)

lemon grass

In UK and Singapore, you can't buy 1 or 2 stalks of lemongrass but need a whole bunch. Pop them in a glass of water to keep them fresh for a long time- they'll grow roots, and when you cut off the tops, you can plant the bottom 2-3 inches to get yourself a new lemongrass! If you've problems using up your lemongrass stash, try these Asian lemongrass recipes.

fresh ginger slices
fish sauce

Substitute: soy sauce (please use fish sauce if you can find it- it is much better with the tropical aromas of this recipe)

lime juice
Optional: green onion or toasted dried shrimp as garnish
If you've never used coconut water in your cooking before, I promise that this coconut chicken soup recipe will be revelatory: it brings a natural sweetness to your cooking, eliminating the need for any additional refined sugar- healthy and delicious!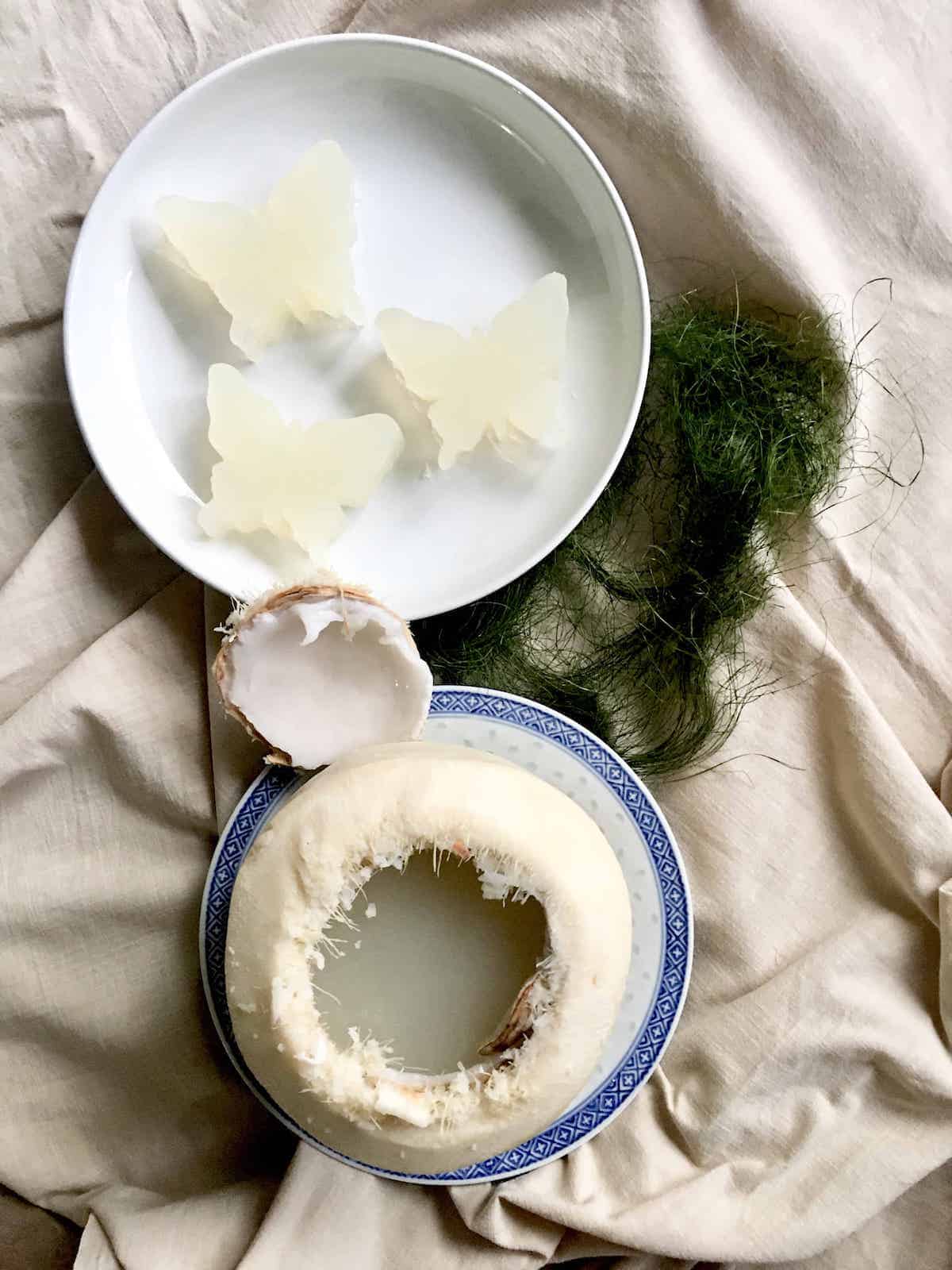 Tips
To up your game, so to speak, you can skip the shop-bought chicken broth and make this soup by double boiling chicken meat in the fresh coconuts directly (along with all the other ingredients in this recipe.) This slow cooking will help the chicken release its natural flavours directly into the coconut- just make sure you pour out the coconut juice before adding the chicken, then adding the liquid back into the shell (if not it will spill everywhere.) People are also always very impressed when they see the soup being served in the coconut shells!
If getting your coconut from a fruit seller ask them to help you cut the top of the coconut off to make your life easier. (Alternatively, choose pre-cut coconuts at the supermarket. If living outside Asia, these will most likely only be available at the Asian supermarket.)
The coconut flesh (white part) can be eaten after you have drunk the soup- it will be soft and tender after being double boiled.
Variations
If you add galangal and Kaffir Lime leaf to the soup pot, you get something very similar to the Thai flavours in Tom Yum Soup.
Add chilli paste and some light coconut milk to the above, and it's Tom Kha Gai.
FAQ
Why use fresh coconut water in cooking?
It adds a hint of sweetness to the food, without the need for a pinch of sugar. (Too much refined sugar isn't good.) Some recipes which use coconut water include agar agar jelly, thit kho (Vietnamese braised pork) and Chinese coconut water chicken soup.
Other Asian chicken recipes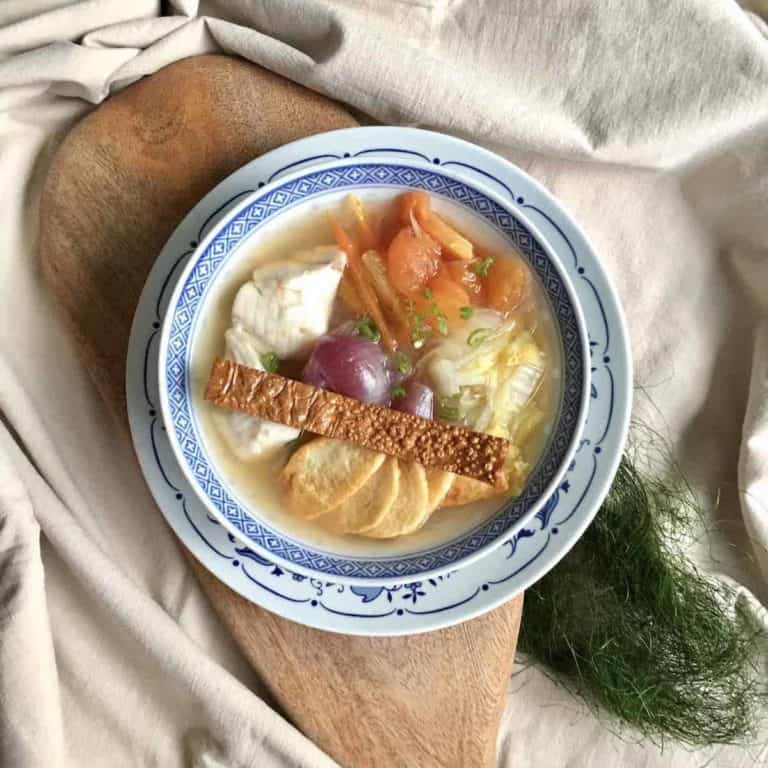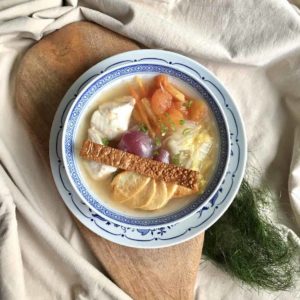 Chinese Coconut water chicken soup with lemongrass & ginger recipe
A light but warming chicken soup that makes one feel better when sick or when it's raining. No sugar necessary thanks to the natural sweetness of the young coconut.
Ingredients
2

cups

chicken stock

Can be substituted with vegetable or seafood stock

2

cups

coconut water

I've used both fresh and bottled but, if the latter, make sure it's pure coconut water. If using fresh, try to get a young coconut.

1

big shallot

halved and peeledn (Substiute: onion, preferably red)

2

lemongrass

Root ends cut off and bashed with the back of a knife to release the fragrance. Pop the root ends into water- leave at least 1 inch on the root- to grow yourself a new lemongrass!

3

thinly sliced pieces of ginger

3

tomatoes (Cut into 6 pieces- 4 is too chunky)

Don't add too many or the soup will be toosweet. Likewise, if you use cherry tomatoes instead, you will need to increase the amount of lime juice as cherry tomatoes are sweeter than regular ones.

 1-2

tablespoons

lime juice

The acidity is necessary to lift the taste as well as to balance the sweetness of the coconut water. Substitute: lemon juice

Fish sauce to taste

Can be substituted with salt- the flavour will have slightly less depth but will still be tasty
Instructions
Add the chicken stock, coconut water, lemongrass, ginger and shallot to a pot. Cover and bring to a boil.

Once the mixture is boiling, reduce the heat and let the soup simmer. You should be able to smell the fragrance of the herbs after 5 minutes, if not increase the heat slightly . Allow the soup to simmer for another 10-15 minutes to extract all the fragrance of the herbs.

Add the tomatoes and lime juice & allow the soup to return to the boil.

Season with fish sauce, or salt, to your taste.

The above makes the basic soup base which can be drunk as it is. You can also add prawns,chicken, fish, abalone, Chinese cabbage, mushrooms and chilli to the soup for a heartier dish.

To bulk the dish into a main, add either noodles or rice. I like to add tang hoon (mung/ greenbean vermicelli) which is first soaked in hot water. Once the noodles have softened, they are then added to the soup. Give everything a stir for 1-2minutes then serve.

Alternatively, you could add cooked rice to the soup once the soup has finished simmering to make "paofan" or submerged rice.
Notes
This serves 4 people as a side dish of soup or 2 people as a main (with noodles or rice)
Remove the lemongrass and ginger before serving as they're not easy to bite/eat. The shallots can be eaten but the texture isn't great after simmering (it's mushy), so you may want to remove it from the soup as well.
You can pimp up the dish by adding various toppings such as: tau kee (fried beancurd), fried dried prawns (hae bee), spring onions etc
If you really want to impress, you can make this soup by double boiling chicken meat in coconut water inside a coconut shell (you will need to remove some of the coconut liquid or it will overflow) along with the rest of the ingredients! 
If you already use coconut water in your cooking, I'd love to hear about your recipe and to see photos of your Chinese coconut water chicken soup on social media- to tag me at @greedygirlgourmet!