This recipe is a simplified but still delicious version of the most popular recipe on my website (Chinatown soya sauce chicken): made in one-pot, this easy Chinese braised soy sauce chicken thighs recipe is simple to make. It's mostly passive cooking as the chicken thighs are left to simmer on the stove and done in ⅓ the time!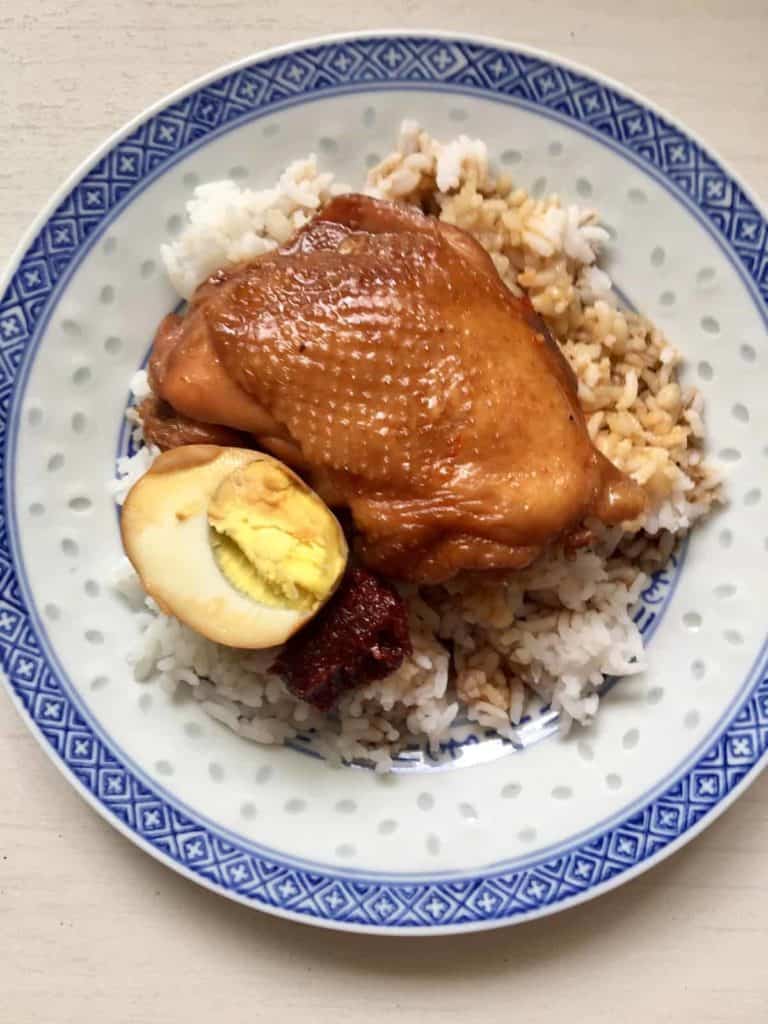 Jump to Recipe
Jump to:
My Cantonese Chinatown soy sauce whole chicken recipe- developed after eating soy sauce chicken for weeks and dissecting 4 other recipes in a test kitchen approach- was so popular it became the top visited post on my blot after just ONE DAY! As most of us- myself included- don't often have the time to prepare a dish 2.5 or so hours (1.5 hour cooking time + 1 hour just leaving the chicken in the hot soya sauce) in advance, I decided to make this easy Cantonese Soy Sauce Chicken Thighs recipe for busy weekday dinners!
Note: this cooking method was inspired by Red House Spice (but my ingredient ratios and the final taste is totally different- the final dish is SUPER fragrant thanks to the liberal usage of Chinese rose wine. I'm normally not a huge fan of chicken skin if it's not fried but I couldn't help downing this one as it was so smooth and aromatic!)
Why make this
Fuss free: made in one-pot and no need to constantly fiddle with the stove setting
No risk of burns: gets rid of the need to lift the bird in and out of the boiling sauce, so no risk of the pieces falling and splashing you
Relatively quick: only takes 50 minutes in comparison to the 2.5 hours my traditional soy sauce chicken recipe does (i.e. ⅓ the time!)
Delicious: the higher concentration of Chinese wine makes it more fragrant than the usual soy sauce chicken
Note: the texture can never compare to a properly poached chicken as done in my original recipe but these chicken thighs are nonetheless very silky and tender!
Ingredients & Substitutes
Ginger
Star anise and bay leaves

If you don't have star anise, use a pinch of 5-spice powder instead (not too much as the key flavour is the rose wine and we don't want to overwhelm it- for keen cooks, here's a recipe for homemade 5 spice powder)
Don't use Indian bay leaf- it's not the same thing! If you shop at an ethnic grocery, Indian bay leaf is sometimes simply labelled bay leaf so it's easy to get confused. Check the veins on the leaf- regular bay leaves have their veins running to the main central vein, forming a Y-shape whilst Indian bay leaves have all the veins parallel to the central one

Light and dark soy sauce

Use good brands such as Lee Kum Kee
You may have noticed that the color of my whole soy sauce chicken and these chicken thighs are different. It's because slightly less dark soy was used here and also because I used different brands (they don't have the same formulation and thus are different in color/ taste -> so remember to taste first!)

Granulated white sugar: if you want, you can use rock sugar instead but that takes more time as you have to pound down the huge clumps
Chinese rose wine (meikweilu)

you can use Shaoxing wine instead but it won't give that beautiful aromatic fragrance to the chicken that this rose wine does!
I've made this recipe with a mix of rose and shaoxing wines (in the ratio of 7:1 and it worked very well)

Chicken thighs: fresh tastes better than frozen (better texture) but I'll be the 1st to own up and say 99.9% of the time, I cook with frozen (what with COVID, I make much fewer trips to the grocery store!)
For more recipes where soy sauce is the star, try these butter and soy king oyster mushrooms.
How to tell if cooked
To test if the chicken is done, insert a thermometer into the thickest part, near the bone and it should measure 74C (165F). However, to be honest, most Asian families don't keep cooking thermometer! Instead, as slice into the thickest part and check the colour of the juices- they should be clear and not pink. If pin, return the thighs to the pot for a bit longer as you don't want food poisoning!
Other cuts
I've made this with a small whole chicken before (700g) and it was done in the 45-minute time frame.
Red House Spice has also kindly provided timings for other parts, though note I've not tested them:
Wings: 25 mins
Drumsticks: 35 mins
Whole legs or leg quarters: 45-50 mins
How to eat
The sauce is so good, it's terrific eaten with rice or noodles, and maybe some stir-fried kailan or bok choy on the side. Note that the sauce is a little salty- the chicken is perfect though- so taste first and drizzle sparingly.

If you don't want such a salty sauce, add some water, stir and bring to a boil AFTER you take the chicken out. (Taste and see before you add water as everyone has a different salt tolerance.)
It's quite a thin sauce and totally reminded me of eating Cantonese Soy Sauce Chicken with rice at hawker centres
If you want a thicker sauce, add in chicken feet/ wings to simmer with the sauce (they add gelatin) OR add a bit of cornstarch at the end.
Depending on how fat your meat is, there may be quite a bit of oil floating on the sauce so give it a stir before spooning it out. (Fat is a flavour carrier, so don't hate it!)

Soy Sauce Chicken Thighs can also be eaten with some baked or grilled vegetables at the side. (aka Western style)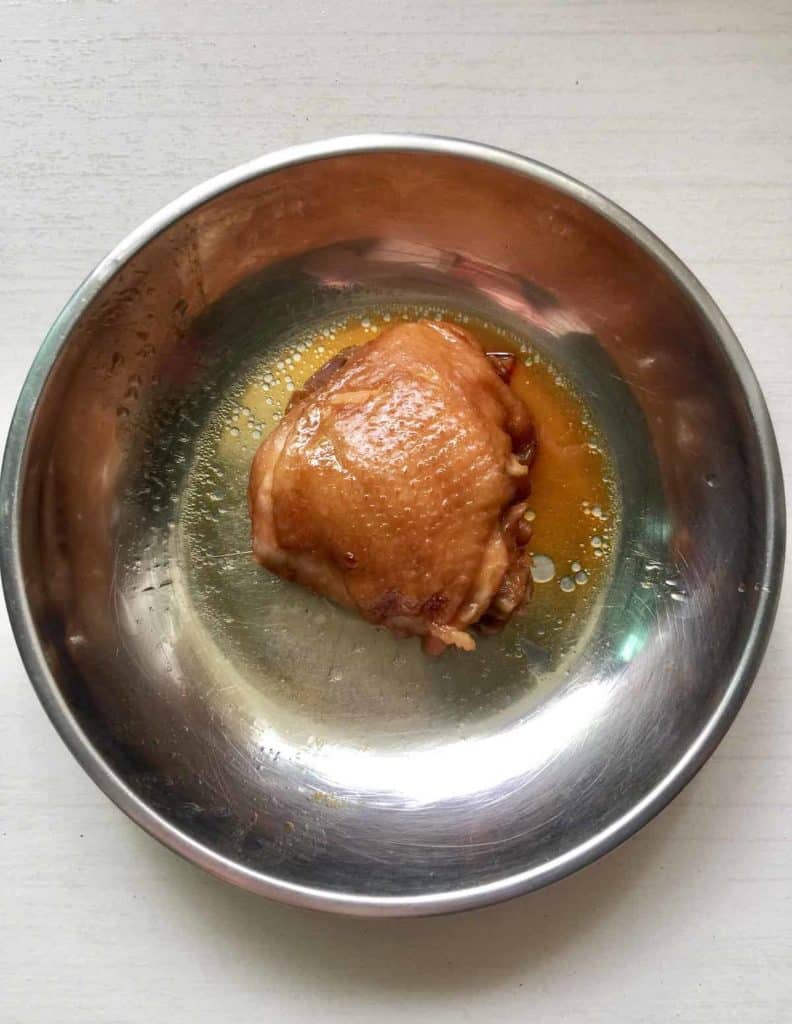 Tips
Let your chicken come to room temperature (about 15-30 minutes) and don't cook it right out of the fridge! (This improves the texture of the final dish.)
If you're picky about meat texture, don't leave extra thighs in the hot soy sauce mixture after you switch off the fire, as they'll continue cooking and become less tender.
If possible, use thighs that are about the same size, if not they'll cook at different rates and the meat of some will be a bit less moist than the others. (Mine weighed about 125g-175g per thigh)
Glazing: if you want an extra attractive chicken, you can glaze the cooked thigh with some neutral vegetable oil to make the skin glossier, but I honestly don't think it needs it!
You can add some extras to braise in the sauce, such as hard boiled eggs and tofu. Just don't add too much and overcrowd the pot. Also remember that the chickens should be immersed in the sauce, so these extra ingredients should be on top of the chicken and not below!
How to reheat
The Unique Selling Point of Chinese soy sauce chicken is its smooth and silky texture so you never want to cook it with harsh high heat. When reheating, steaming is the best way to keep the meat tender.
Leftover sauce = master stock
Sieve the leftover sauce and store it in the fridge for 3 days. If you want to store it longer, freeze it (it freezes well.) This sauce can then be used to:
stir fry vegetables or other meats
fry noodles or rice
to simmer or poach a 2nd round of chicken legs- they'll only taste better! (Add fresh aromatics and spices though)
thickened into gravy
to poach fish or vegetables (carrots would taste great)
stirred into a risotto- you may need to add some butter or cream here
Melt some butter, stir in some of this sauce, then thicken to make a meat sauce- great with roast potatoes!
Add a bit to stock to make ramen soup!
Note: remember to taste for saltiness before doing the above- you may need to water down in some cases
Other Chicken Recipes

If you're a poultry fan, other chicken recipes that you may be interested in include:
Easy Chinese Braised Soy Sauce Chicken Thighs
A simplified but still delicious version of the most popular recipe on my website (Chinatown soya sauce chicken): this easy Chinese braised soy sauce chicken thighs recipe is simple to make in one pot and done in ⅓ the time!
Equipment
Pot

I used a Le Creuset stainless steel pasta pot

sieve

Optional, only if you plan to store the leftover sauce for future use
Ingredients
2.2

lb

chicken thighs (1kg)

Try to use ones that are about the same weight so all the thighs will poach at the same rate. Take out 15-30 min before cooking so it's at room temperature.

2

thumbs

ginger, slice but no need to peel

3

star anise

Substitute with a pinch of 5 spice powder if you're out. Don't over do it.

2

bay leaves

Don't use Indian bay leaves- not the same thing!

1⅓

C

light soy sauce

Not to be confused with sweet soy sauce or kicap manis

¾

C

Chinese rose wine, meikweilu

Sub with Chinese shaoxing, sake or dry sherry but note the final chicken will be nowhere as fragrant (still tasty though!) The rose wine notes are really the star of this recipe- if you prefer to have the light soy sauce dominant, reduce the wine used to ⅜C instead. I highly recommend trying the recipe as it is first though. I don't even drink much and I love this sauce!)

¾

C

granulated white sugar

Feel free to use rock sugar instead but pounding it down to size isn't quick

2

T

dark soy sauce

Not to be confused with sweet soy sauce or kicap manis

1.5

C

Water

I add the water last to wash out any of the sauces that are stuck to the cups- dark soy sauce is particularly sticky!

Neutral oil to glaze

Very optional- I personally don't think it needs it.

Sambal chilli, to serve

Optional: this is South East Asian style not traditional Cantonese Hong Kong style

Rice or noodles, to serve

Optional. See post above on how to eat this dish.
Instructions
Add all the ingredients to the pot. Make sure that at least ¾ of each chicken thigh is submerged in the sauce. If not, your pot is too large.

Bring to the boil on medium or medium-high heat, stirring for the sugar to dissolve. Don't use high heat as you don't want to shock your chicken and make the meat contract and be tough. (I used heat of 7 on a Bosch induction stove with a maximum fire of 9)

Once it's boiling, turn down to medium or low heat so that the sauce is at a simmer, uncovered i.e. you see tiny bubbles rising to the top of the sauce. Let it simmer for 35 minutes. Note after some time, the sauce may end up hot enough and start boiling, so you may want to adjust the heat down. I started with the fire at 5 (Bosch induction stove, maximum 9) and eventually reduced to 2.5-3.

After 35 minutes have passed, flip the chicken and simmer for 10 minutes more then test for doneness- juices should run clear when the thickest part is sliced. I like to slice from underneath so the skin isn't cut and the thighs remain presentable.

If not done, return to the pot to simmer a bit more.

If done, remove all the thighs from the pot even if you're not eating them immediately (you don't want them to continue cooking in the pot). Optional glazing with a little oil if you want a glossier skin. Serve with rice or noodles. Stir the sauce before ladling a bit over the rice or noodles. (Taste first as the sauce can be salty though the chicken is perfectly seasoned.)

I recommend keeping the braising sauce as master sauce- sieve and store in fridge for 3 days or freeze it. There are recipes ideas in the post regarding what to do with the sauce!
Notes
The star of the recipe is the soft and fragrant chicken skin, so don't discard it!
If you want a thicker sauce, add some chicken wings or feet to braise with the thighs OR add some cornstarch at the end. (Mix 1T of corn starch with 3-4T of the braising sauce so that no clumps remain, then add little by little into the sauce, stirring and tasting after each addition. It's VERY easy for cornstarch to turn everything into a gooey mess, which is not nice. Personally I find the sauce perfect with rice but thicken it a bit when eaten with noodles.
You can add hard boiled eggs and tofu to braise with the chicken legs but don't add too much and overcrowd the pot. Also remember that the chicken should be immersed in the sauce, so these extras should be on top of the thighs and not below (they'll end up pushing the chicken out of the sauce and they won't cook properly).
If you made this, do tag me on social media (@greedygirlgourmet) and let me know what you think! In the meantime, why not follow this with some dessert (the yuzu jelly was the most popular post on my blog pre-soya sauce chicken recipe!):