A quick and easy Chinese 5 Spice Powder Recipe, so you always have the freshest and most powerful spices on hand to make Chinese food that is better than takeout! (Only takes 15 minutes to make ½ a Cup of this spice mix!)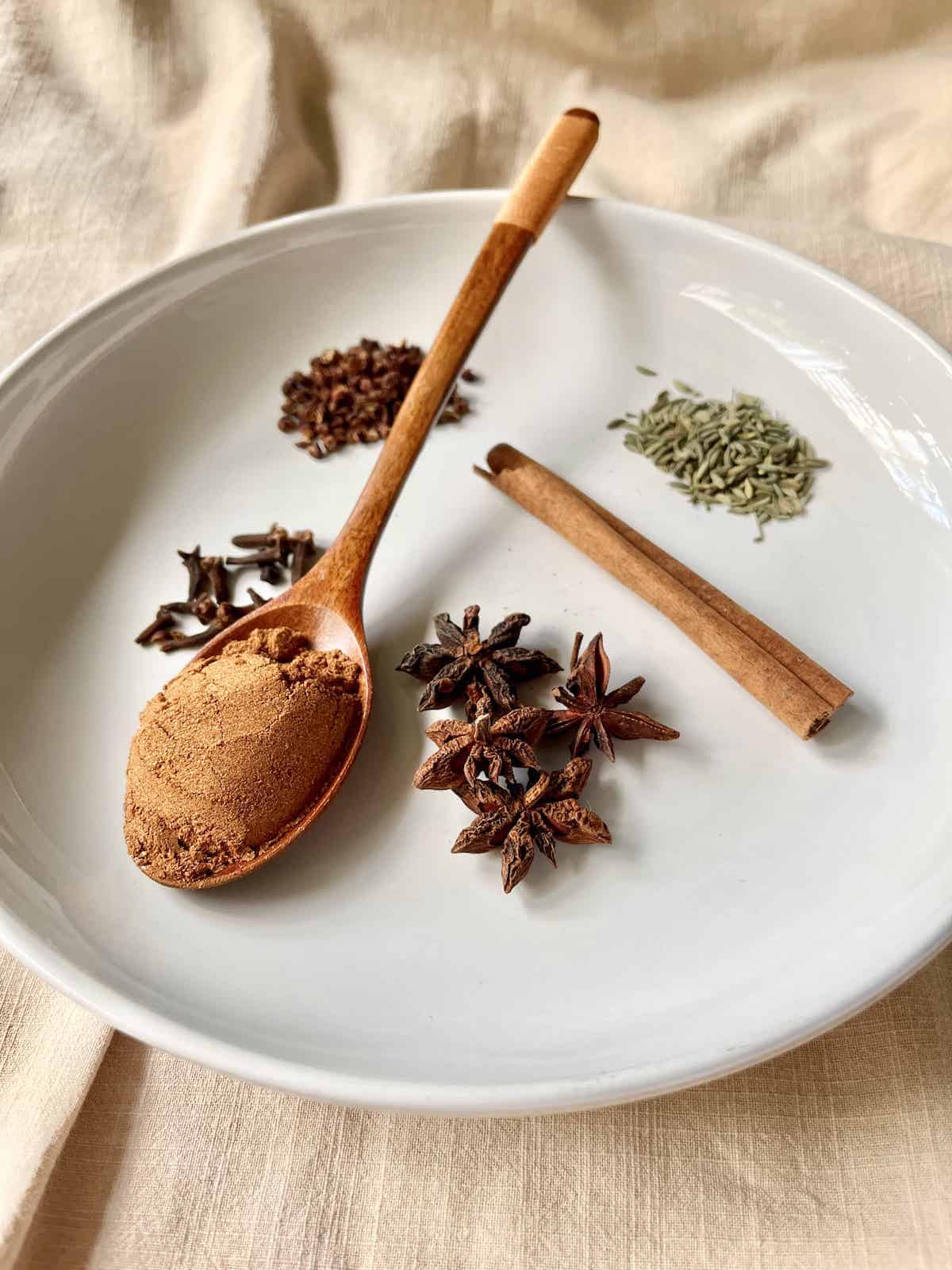 Jump to:
Why Make It
It's good to make your own Chinese 5 spice powder because:
The spices are fresher so the Chinese dishes you cook will be more aromatic. (Old spices lose their taste and this only needs to be used sparingly. Its pungent flavor means a little goes a long way, so a bottle can last a long time.)
You can tailor the spice mix to your taste. (See "Ingredients" for substitute spices.) For example, commercial mixes won't use the more expensive ingredients such as dried orange peel.
This is a really easy Chinese 5 spice powder recipe is really easy: only 3 steps, 5 ingredients and ready in under 15 minutes!
Note: There's also a lesser-known Chinese 13-spice powder- I'll share the recipe for that soon- it's slightly more complicated to make as some of the ingredients are quite difficult to find.
What is 5 Spice Powder?
Also known as 五香粉 (Wu Xiang Fen), 5 spice powder is a ground mixture of various spices that is used in Chinese cuisine, and even Vietnamese and Hawaiian food. My favourite Chinese recipe that uses it is this Singaporean home cooked classic, soya sauce braised pork.
If you want to recreate the dishes you've had at a Chinese restaurant, then this spice mix is a must-have in your spice rack, especially if you like Chinese roasted meat! (See FAQs for potential health benefits.)
Ingredients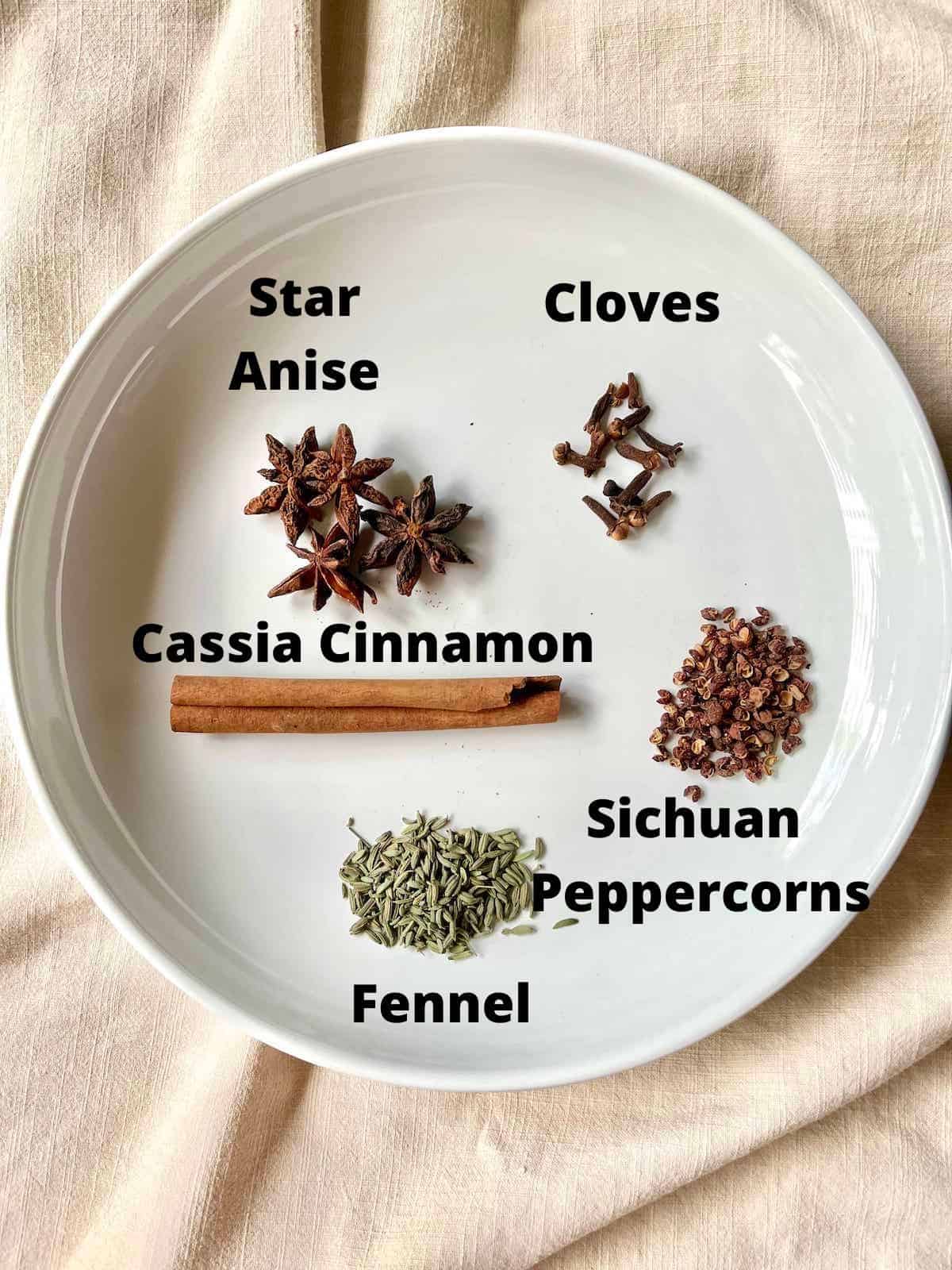 I use these spices in my Chinese 5 spice powder recipe:
cassia cinnamon: you can substitute with Ceylon cinnamon sticks which are more readily available outside of Asian supermarkets. (There are also some side effects associated with eating too much cassia cinnamon- click the link to find out more (under the "cinnamon" section.)
whole cloves: be careful not to use too much. It's a strong spice and can be overpowering
star anise: use your broken pieces of star anise- there are some in every packet- to speed up the grinding process.
fennel seeds: this give the spice mix a licorice flavor. They look a little like cumin seeds but are green in color, so don't mix the 2 up!
Sichuan pepercorns: some people use white peppercorns or sand ginger root instead.
Fun fact: Szechuan pepper isn't really a pepper- it's part of the citrus family!
Where to Buy
You can get most of the spices at a regular grocery store. For more "exotic" spices such as dried tangerine peel, go online or to a Chinese store.
Step-by-Step Instructions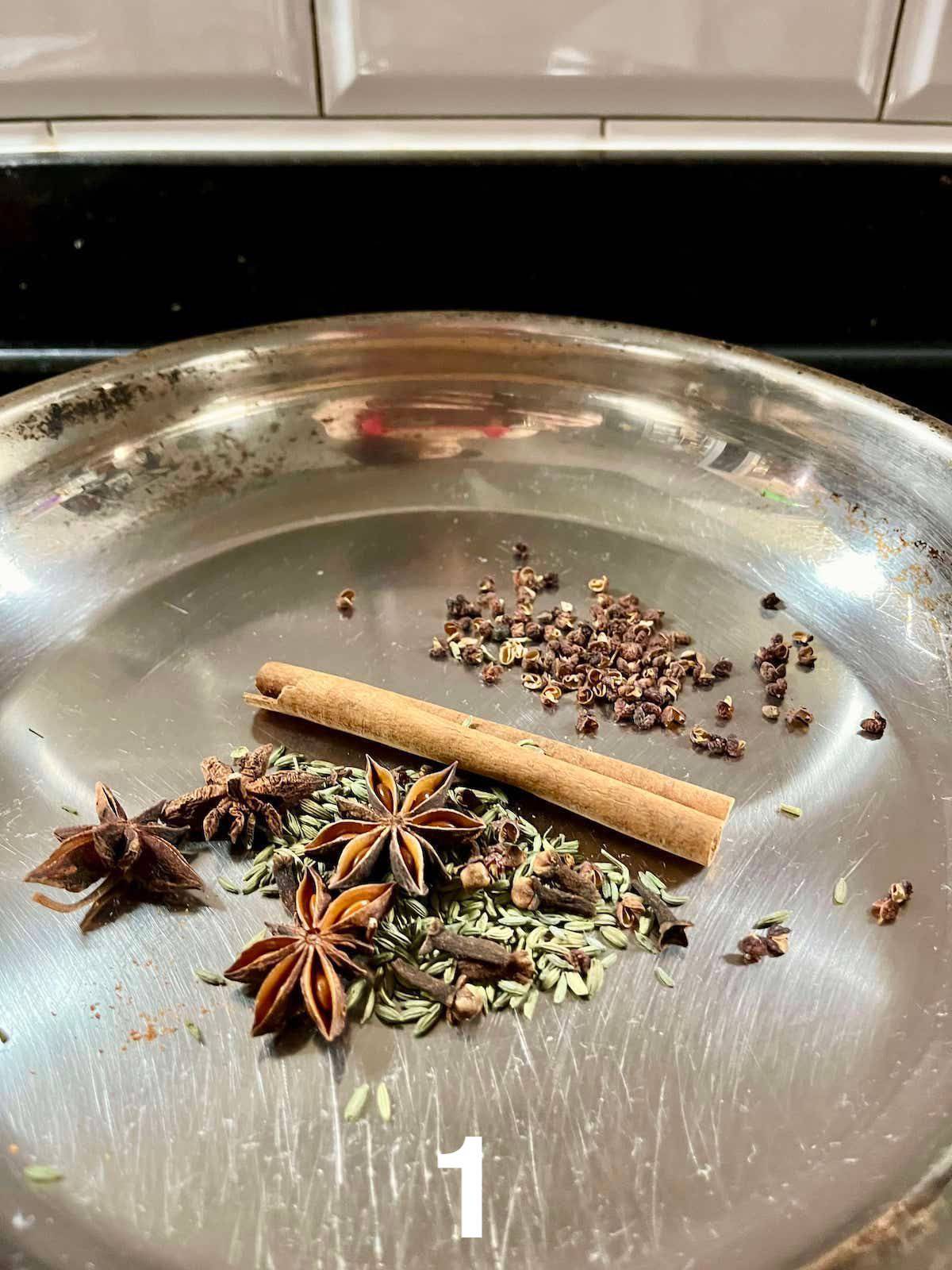 Lightly toast the spices in a dry pan till fragrant.
Method 1 (Easy): you can also blitz everything in a spice grinder or coffee grinder.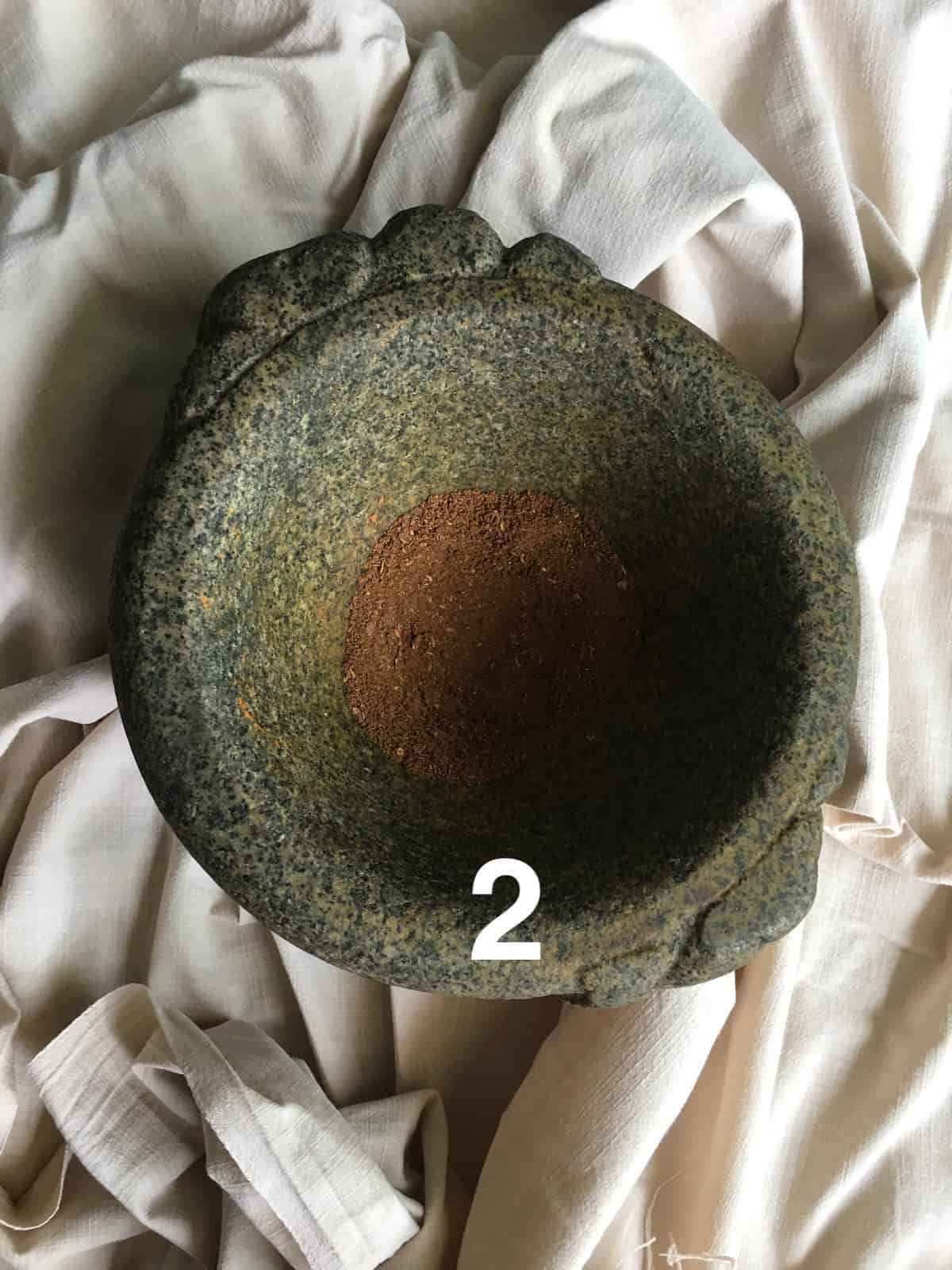 2. Method 2 (Slow): Pound the spices in a mortar and pestle. (It took me about 10 minutes.)
Next, sieve the pounded spice mix to remove larger pieces. If not, your mix will be gritty!
Tip: You can't turn the spices into powder with a blender- it will give you uneven, chunky bits AND will ruin the blades of most blenders.
How to Use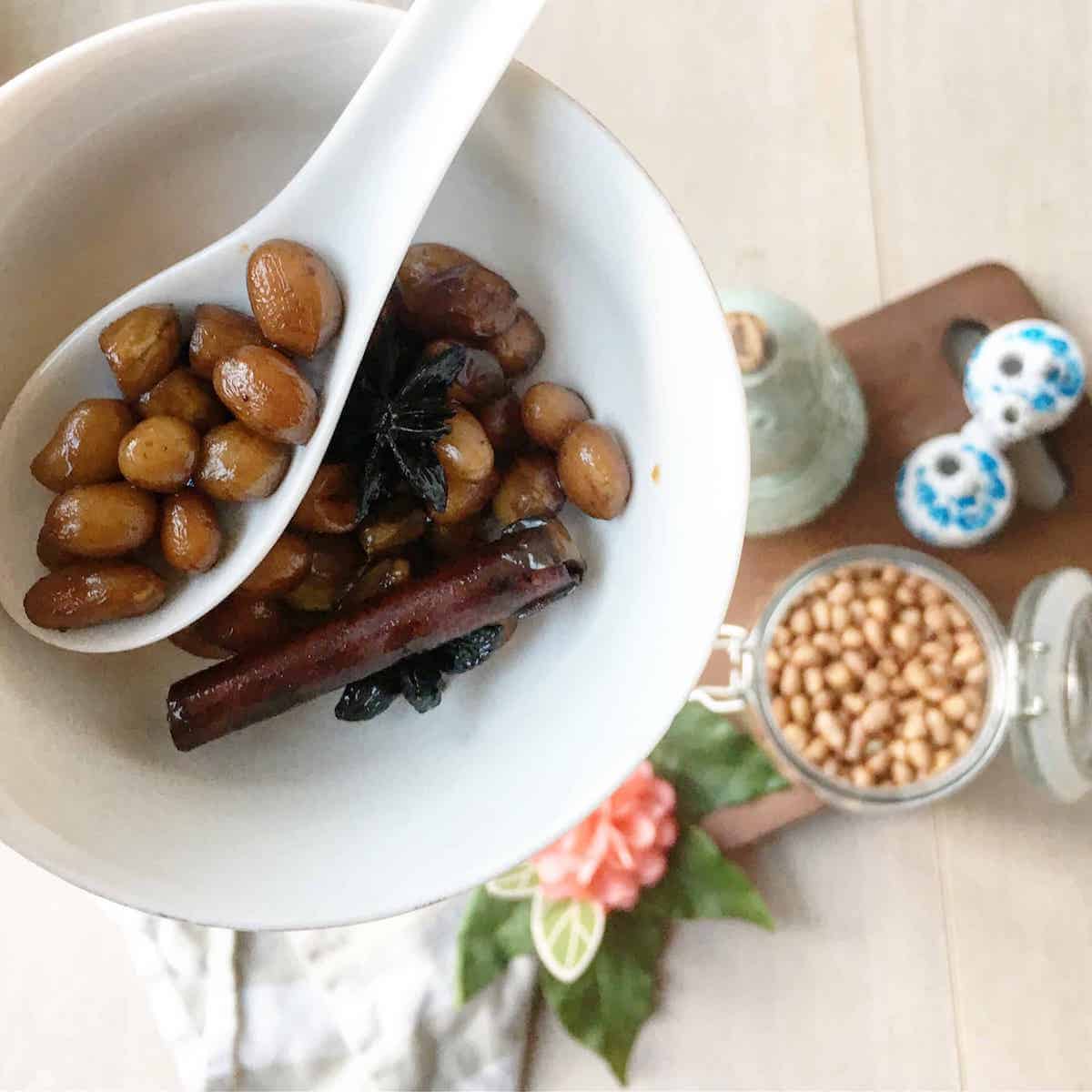 How to Store
Keep the aromatic spice blend in an airtight container in a cool and dark place. Try not to make too much at a go for best flavor.
Recipe FAQs
What can I substitute for 5 spice powder?
In a pinch, you can use allspice. A better substitute would be to add the spices in 5-spice powder, such as ground star anise or ground ginger, to your allspice mixture.
Why is it called 5 spice powder?
The number 5 doesn't actually refer to the number of spices in the recipe- some feature 6 or more- but rather the 5 flavours (salty, spicy, bitter, sweet and savoury.) These flavors represent the traditional 5 elements, which have roots in Traditional Chinese Medicine.
Expert Tips
Tip #1: I've given exact proportions for the spices in the recipe card below but it's more of a guideline- feel free to experiment with the amount of spices you used.
Tip #2: You can even switch up the spices used. I would say cinnamon, cloves and star anise are the key ones but you have some leeway with fennel and Sichuan peppercorns. Other spices that are sometimes found in this spice rub include dried tangerine peel, turmeric, nutmeg, Chinese cardamom, licorice etc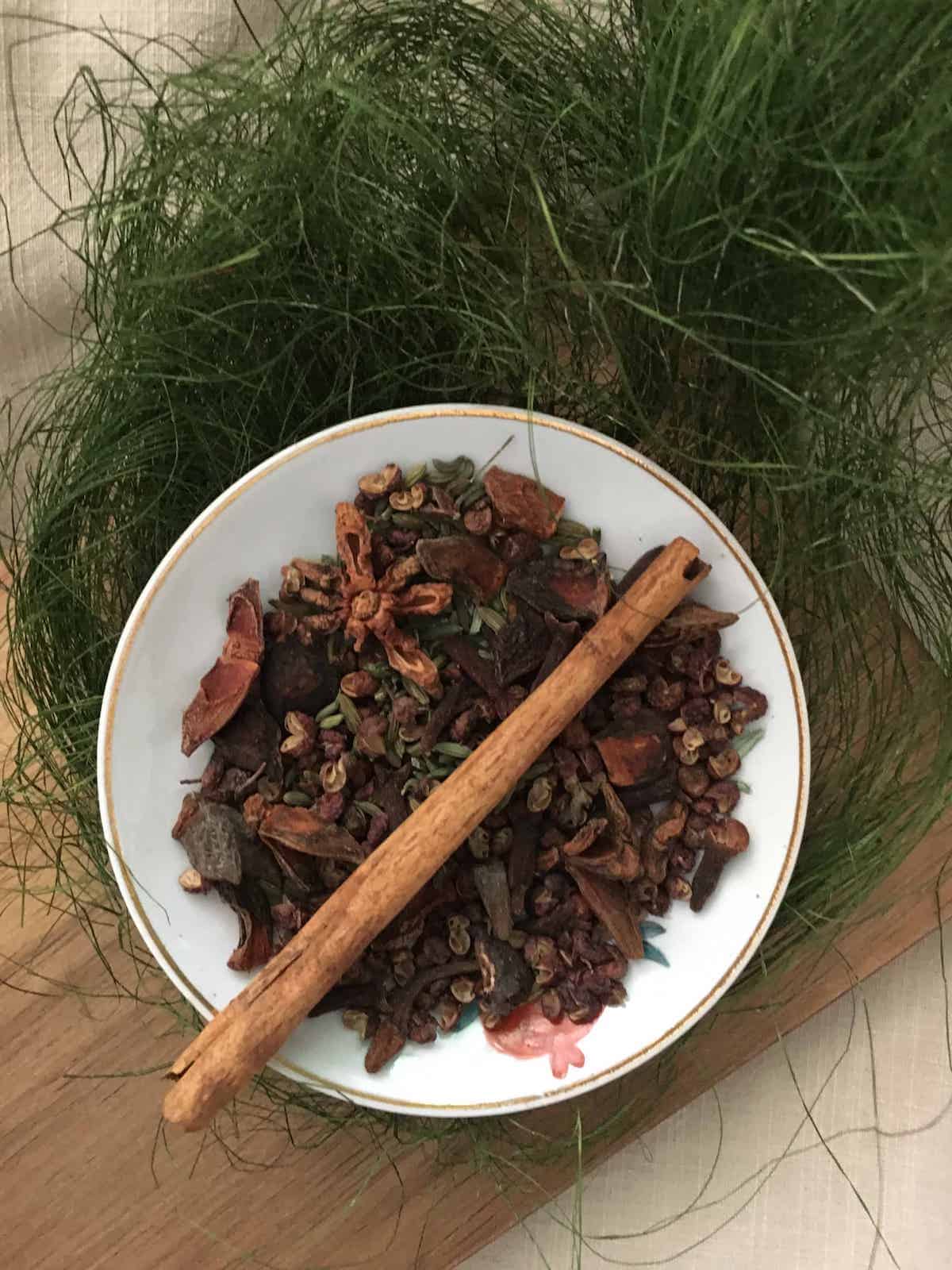 Other Chinese Recipes
Enjoyed this 5-spice powder recipe? Please leave a 5-star 🌟🌟🌟🌟🌟rating in the recipe card below & if you REALLY like it, a comment would make my week! Thank you and have a great day!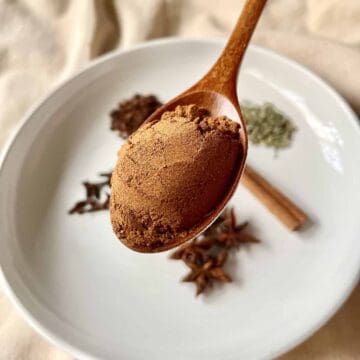 Easy Chinese 5 Spice Powder Recipe
A quick and easy Chinese 5 Spice Powder Recipe, so you always have the freshest and most powerful spices on hand to make Chinese food!
Equipment
mortar and pestle

OR coffee/ spice blender

Thin bottom pan and heat-proof spatula

Don't use a heavy bottom pan or it will take a long time to toast the spices.

sieve
Ingredients
4

Star anise

Look for broken pieces as it makes the pounding easier

1.5

teaspoon

sichuan peppercorns

Substitute: white peppcorns

1

casssia stick (Chinese cinnamon)

(about 1-2g) Substitute: Ceylon cinnamon

1

teaspoon

fennel seeds

½

teaspoon

cloves
Instructions
Over low-medium heat, dry fry the spices in a pan till their fragrance is released.

Blitz the spices in a coffee or spice grinder. If you don't have one, you can also pound them by hand in a mortar and pestle. (This took me 9 minutes 52 seconds so it's not too time consuming.)

Sieve the powder to remove any bigger bits

Store in an airtight container in a cool, dark place till you want to use it.
Notes
5 spice powder isn't strictly a 5 spice powder- some recipes use more than 5 spices actually. You can experiment with other variations by adding other ingredients such as anise seed, ginger root, nutmeg, sand ginger, turmeric, Amomum villosum pods (shārén

砂仁

), Amomum cardamomum pods (báidòukòu

白豆蔻

), licorice, Chinese dry tangerine peel or galangal.
Do not use a blender- unless there is a special spice blade, it'll damage your blender and the result will be uneven and gritty.
Note: the nutritional information is an estimate automatically calculated using the WPRM recipe maker and I am not responsible for its veracity.
Nutrition
Calories:
30
kcal
Carbohydrates:
6
g
Protein:
1
g
Fat:
1
g
Saturated Fat:
0.1
g
Polyunsaturated Fat:
0.2
g
Monounsaturated Fat:
1
g
Sodium:
4
mg
Potassium:
112
mg
Fiber:
3
g
Sugar:
0.1
g
Vitamin A:
26
IU
Vitamin C:
1
mg
Calcium:
88
mg
Iron:
2
mg
What are your favourite recipes that use 5 spice powder? Let me know in the comments!