13 authentic Taiwanese side dishes recipes that everyone will love. (OK maybe not the Smelly Tofu!)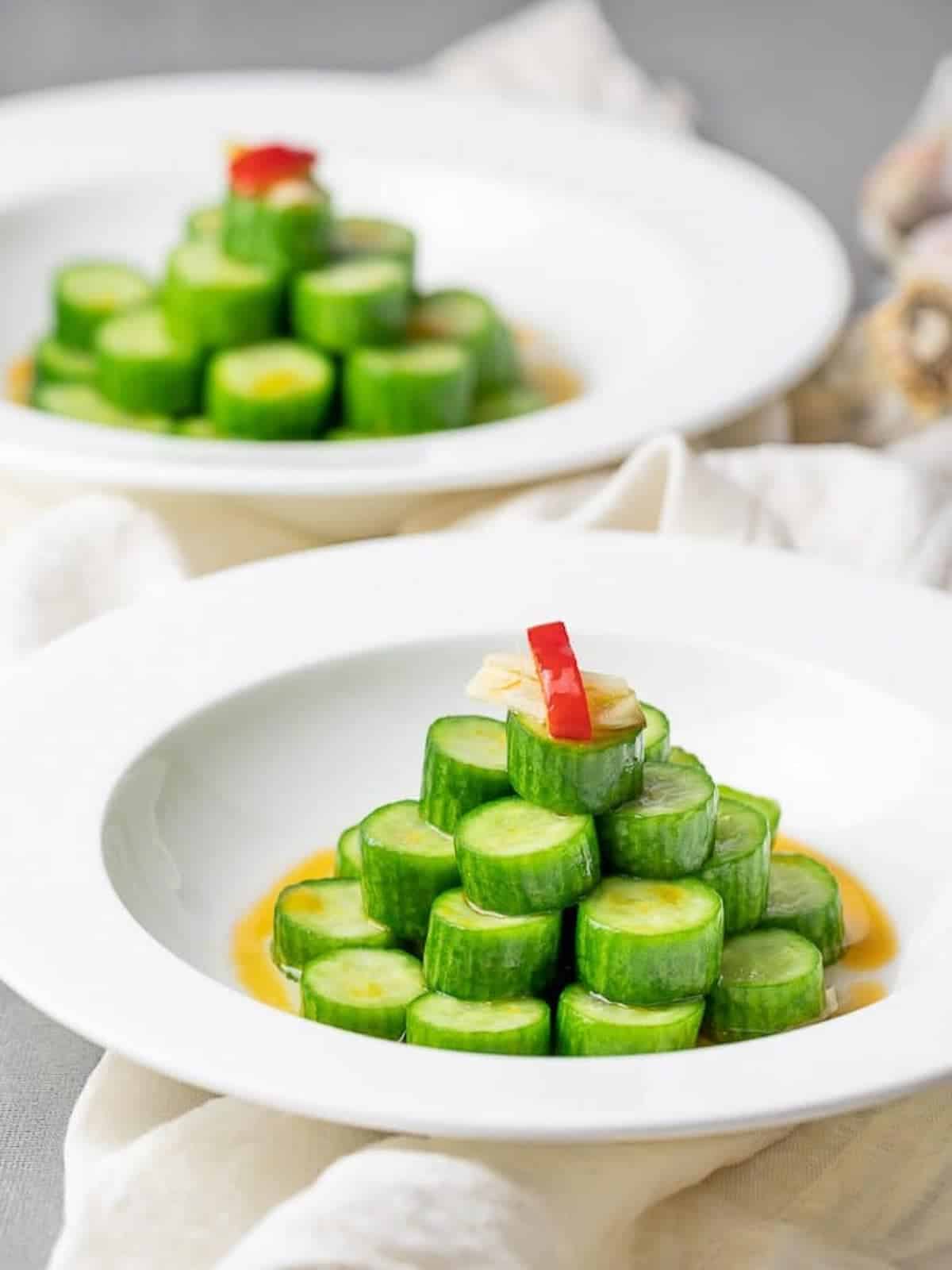 Jump to:
What is Taiwanese food?
Taiwanese food is a fusion cuisine that has strong flavours: it's sweet and has lots of umami.
It has been influenced by:
its aboriginal food

salting, slow smoking and millet are some legacies of the Taiwanese aborigines

Hokkien food (food from Fujian (South China), also known as Min cuisine)

If you like Gua Bao (Taiwanese "hamburger"), you'll love Kong Bak Bao (Pork Belly Buns), the Hokkien equivalent!
If you're curious about Hokkien food, try this Tau Yew Bak (Soy Sauce Braised Pork) recipe, which is a Singaporean Hokkien family favourite!

Hakka food

Common ingredients include basil, peanuts, mint, sesame and mung beans

Japanese cooking

Think mochi, pickles and seafood
If you have the fortune to travel to Taiwan, it has very good, inexpensive Japanese food!
Read on for the best Taiwanese side dishes to go with your hot pot, beef noodle soup, oyster vermicelli or Lu Rou Fan (Braised Pork Rice.)
Fun fact: you know about light soy sauce, dark soy sauce and sweet soy sauce, but did you know that Taiwanese also have a thick soy sauce? Click through for an easy DIY recipe!
Taiwanese porridge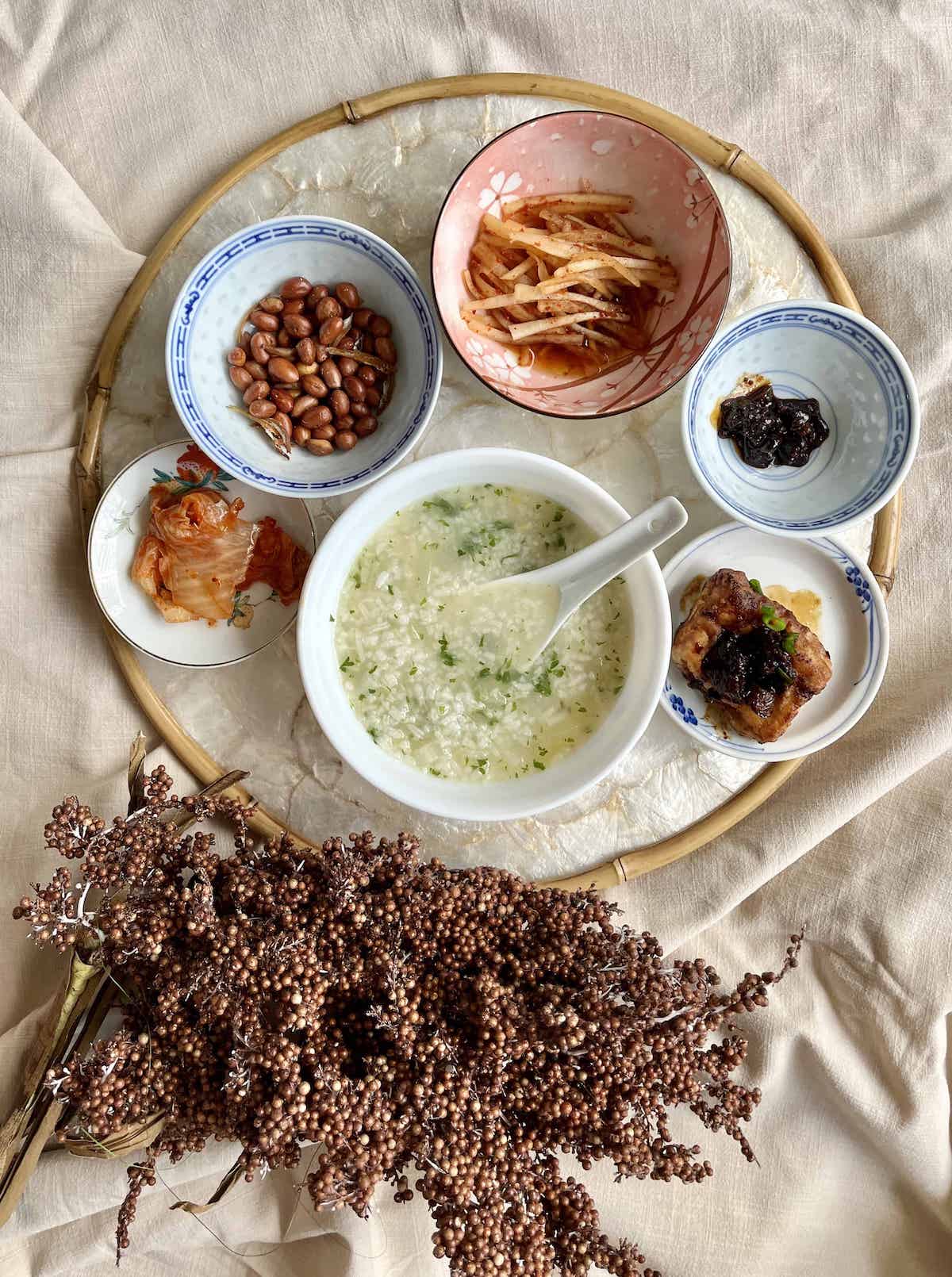 If you're looking specifically for side dishes to go with Taiwanese xi fan, click here.
FAQ
What are some of the most popular Taiwanese dishes?
Although not a dish per se, the most famous Taiwanese food is probably bubble tea, or milk tea with boba. For foods that one eats, famous Taiwanese dishes include Smelly Tofu, Gua Bao (Pork belly "burgers"), oyster omelette, beef noodles (toted as the National Dish), minced pork rice and more!
What are some must-try Taiwanese fruits?
Because of the subtropical climate, there are many fruits that grow in Taiwan, from bananas to strawberries. In fact, it's even the world's largest supplier of custard apples! That's why you see fruits in so many Taiwanese foods, such as papaya milk.
Other side dish recipes
Vegetables
Cucumber salad
If the Din Tai Fung salad is too much work for you, here is a 5 minute, 3 ingredient cucumber salad recipe!
Din Tai Fung inspired cucumber salad
Whilst cucumber salad isn't unique to Taiwan, Din Tai Fung is 1 of its most famous culinary exports. This Din Tai Fung inspired cucumber salad is healthy, crunchy and refreshing. Easy to make and works well as an appetiser too.
Click here for the Taiwanse salad recipe.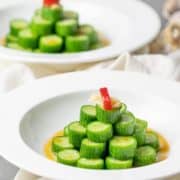 Cabbage stew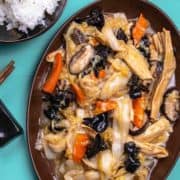 Tomato with preserved plums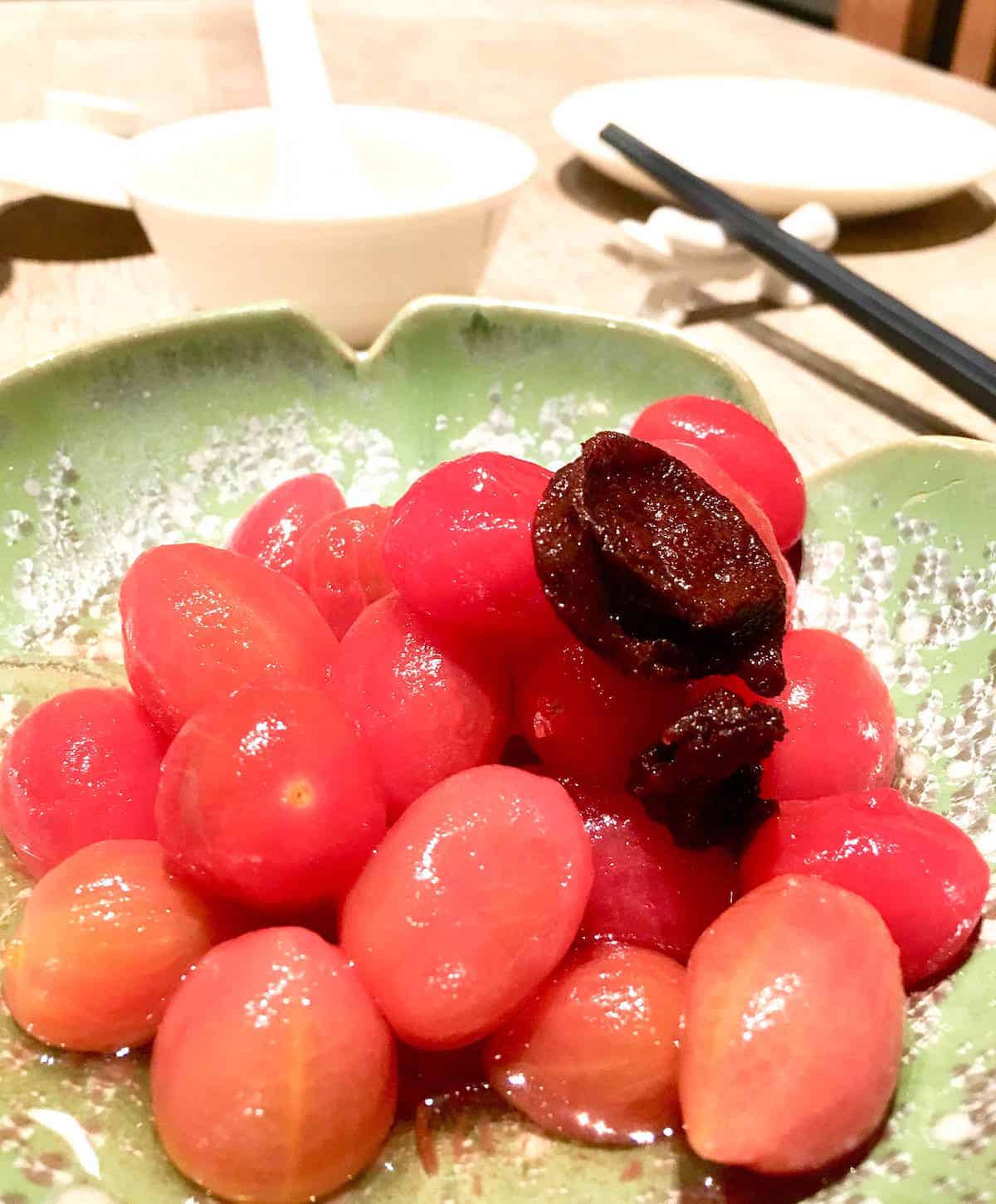 This mouthwatering, tangy appetiser meets side dish was introduced to me by a Taiwanese friend when we studied together at the University of St. Andrews in Scotland.
There weren't many- well actually there weren't ANY- Asian shops in town so this was 1 of the few dishes we could make!
Ingredients
250g/ 8.8 oz Cherry tomatoes

Get vine ripened ones so that they'll be sweet! If not you may want to add a pinch of sugar to the recipe

10 Chinese Preserved plums (Hua Mei)
Optional: ¼ Cup lime juice
Optional: 1 Tablespoon of sugar (or to taste)
Optional: 3 Cups of water
How to Make: Easy Version
Make sure your Hua Mei are seedless. If not, remove the seeds, and slice into smaller pieces that can fit into a cherry tomato.
Make a slit in the cherry tomato but don't cut all the way through (think of the opening of a Gua Bao Bun)
Insert the plums into the cherry tomatoes and serve
The taste of the plums go really well with the cherry tomatoes but as this is a quick version, the taste hasn't truly infused into the tomatoes yet. If you have time, make the following overnight version. (It's also very simple!)
How to Make: Overnight Version
Pour the water, plums (with seeds removed) and lime juice into a pot then bring to a boil.
Simmer till the liquid is about halved, then allow to cool.
Whilst the brine is simmering, remove the skins of the cherry tomatoes. You can do this easily by making a cross at the top of the tomato, quickly blanching them then chilling in ice-cold water. The skins should be ready to fall off!

Skinless tomatoes absorb the flavors more readily

Once cooled, pour the brine and tomatoes into an air-tight container and marinate for 1-2 days, after which the tomatoes are ready to eat!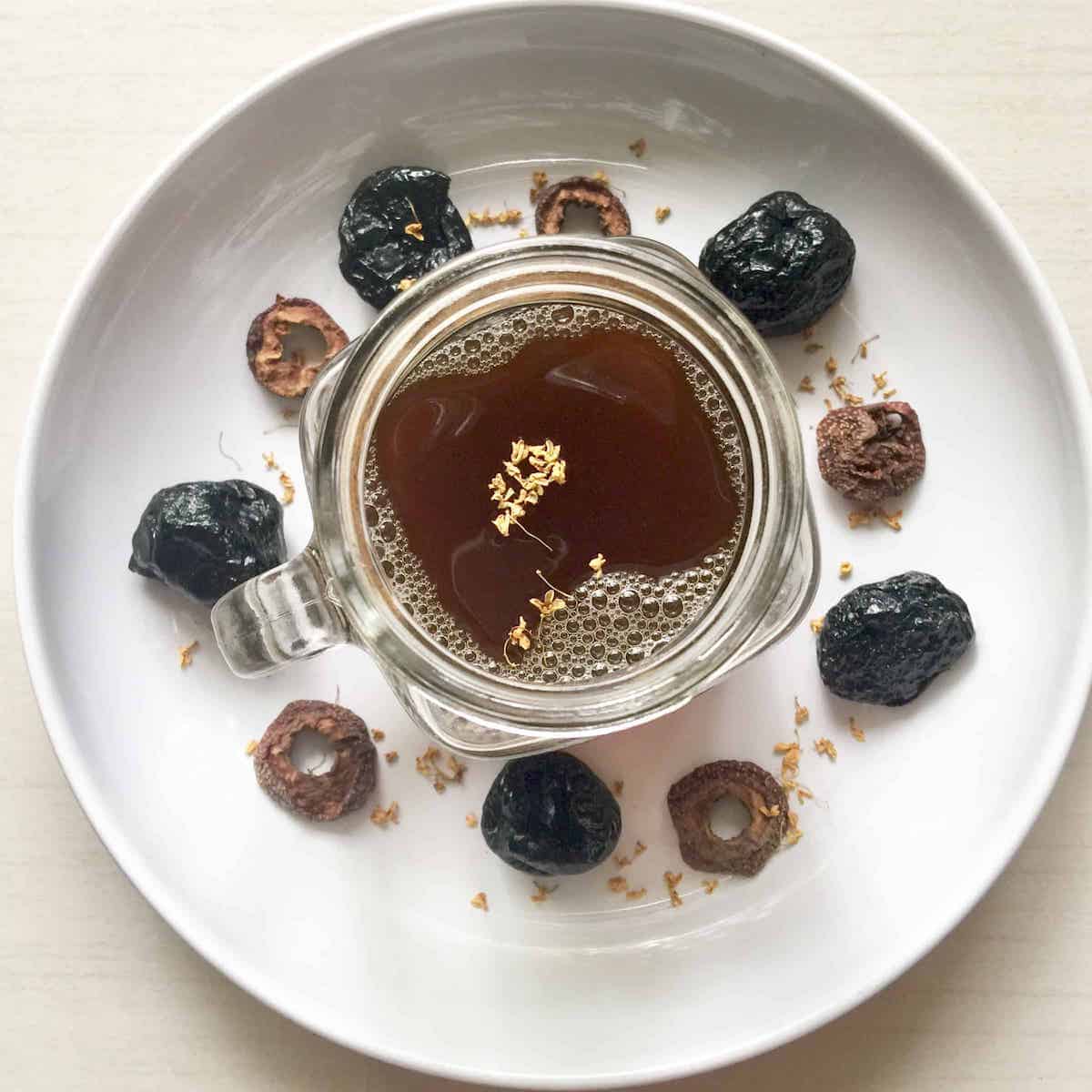 Note: if you don't know what to do with the rest of the plums, why not make Chinese Suan Mei Tang, or sour plum tea?
Scallion pancake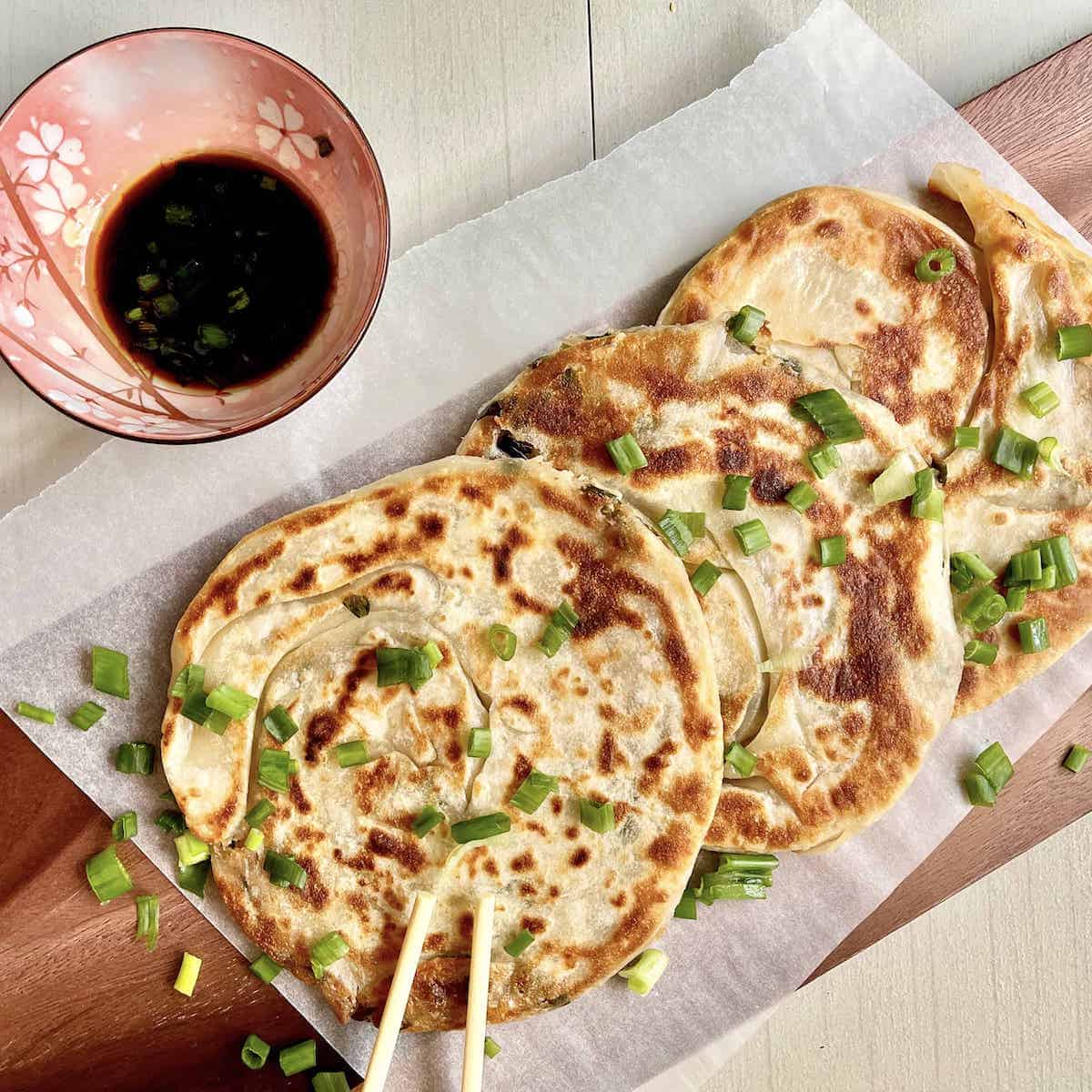 If you've run out of spring onions, here are some readily available green onion substitutes.
Taiwanese green onion pancake recipe (Cong you bing)
Taiwanese green onion pancake (Cong you bing), also known as Chinese scallion pancake, is a delicious savoury street snack that is easy to batch make and freeze.
Click here for the scallion pancake recipe.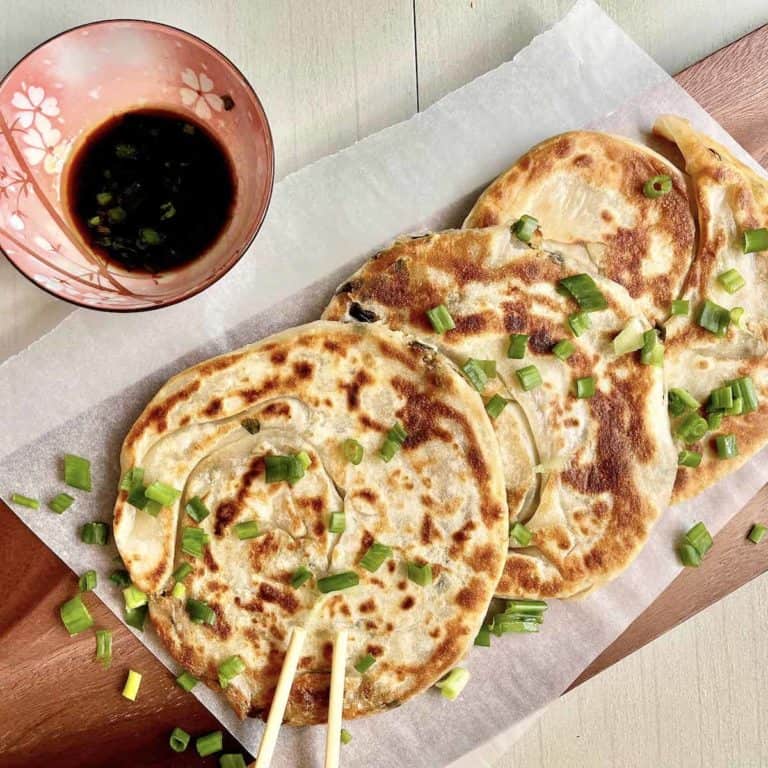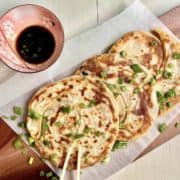 Seafood
Tian Bu La
Similar to Japanese oden, this is a fried fishcake which is later boiled.
White fish have their bones removed then are mixed with eggs and potato or tapioca flour. This fish paste is directly piped into the hot oil and fried. The fried fishcakes are then simmered in a soy sauce broth.
You'll see this in many Taiwanese street stalls. If the above sounds like too much work, you can get fried fish cake at most Asian grocery stores then cook them in broth for a quick hack!
Chicken
Taiwanese popcorn chicken
This twice-fried chicken is tossed with basil, salt and pepper, then dusted with five-spice powder. It comes in small bite-sized "popcorn" or as larger cutlets but, either way, is a must-have at Taiwan's infamous night markets.
Click here for a recipe form Eatthelove.
Three Cup Chicken (San Bei Zi)
Literally translated into Three Cup Chicken, you do not actually use 1 Cup of soy sauce, 1 Cup of sesame oil and 1 Cup of shao xing wine for this Taiwanese recipe! The chicken is caramelised with ginger & garlic in a syrupy and sweet sauce, then mixed with Thai basil. This mouthwatering dish will leave you wanting more and is perfect with a bowl of white rice!
Click here for the Pupswithchopsticks recipe.
Others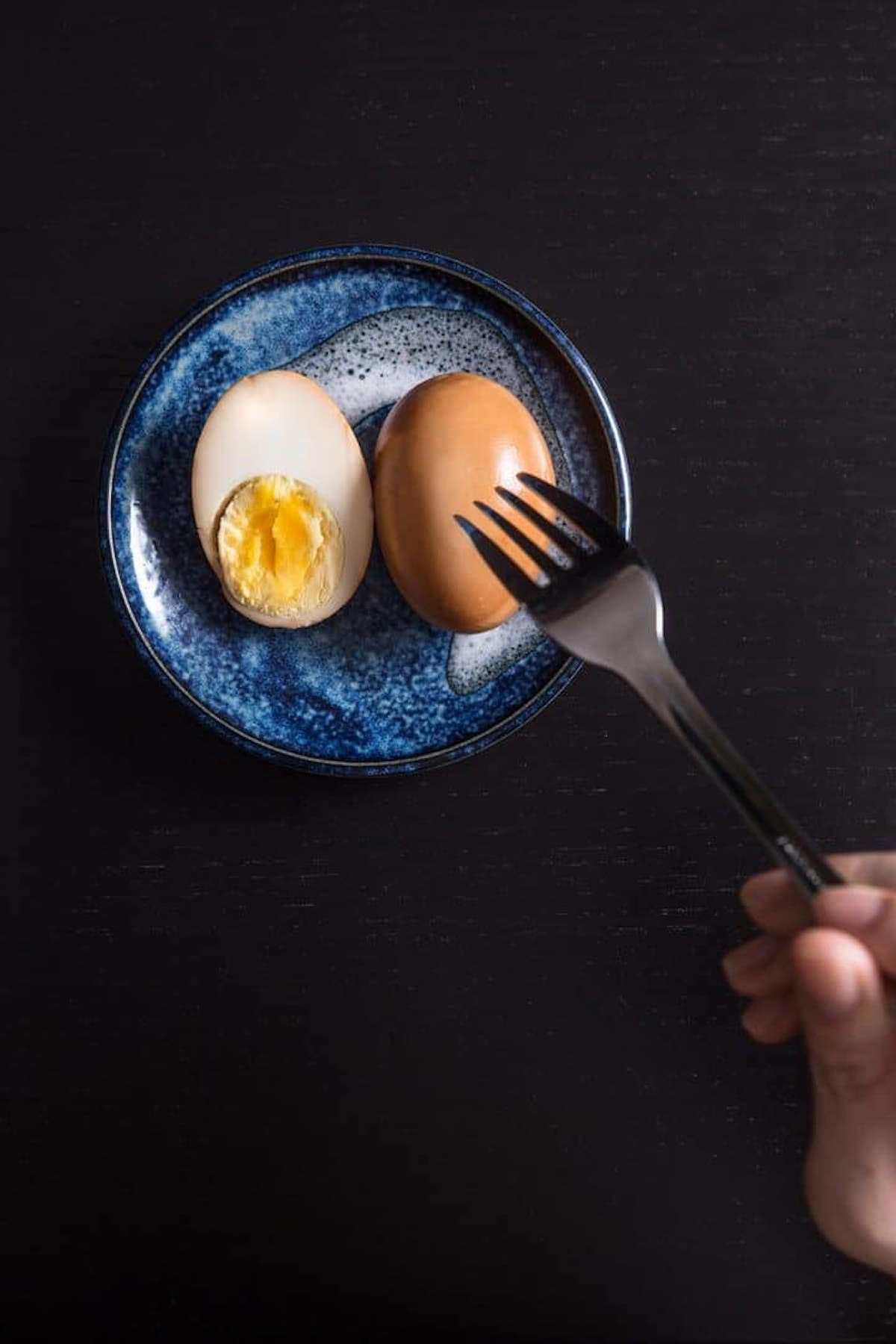 Tea Eggs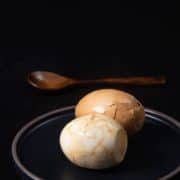 Braised eggs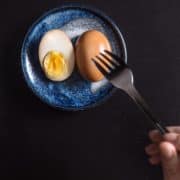 Iron eggs (Tie Dan)
If you love eggs, you can't miss out on Iron Eggs, a Taiwanese street snack usually made with quail eggs. It needs to be boiled many times to get the signature rubbery and "QQ" mouthfeel, so it's probably easier to buy it than make it!
Click here for a HongKongCookery recipe.
These 3 recipes were used to semi-preserve eggs- they keep for several days in the marinade in the fridge. If you're interested in Chinese food preservation, click here for a salted egg recipe.
Smelly Tofu
Also known as chou dou fu, this is a love-it-or-hate-it dish. Some think it smells like garbage and other's can't live without it. Either way, you'll definitely smell it before you see it at these Taiwanese street markets!
Click here for a Yumofchina recipe.
Drinks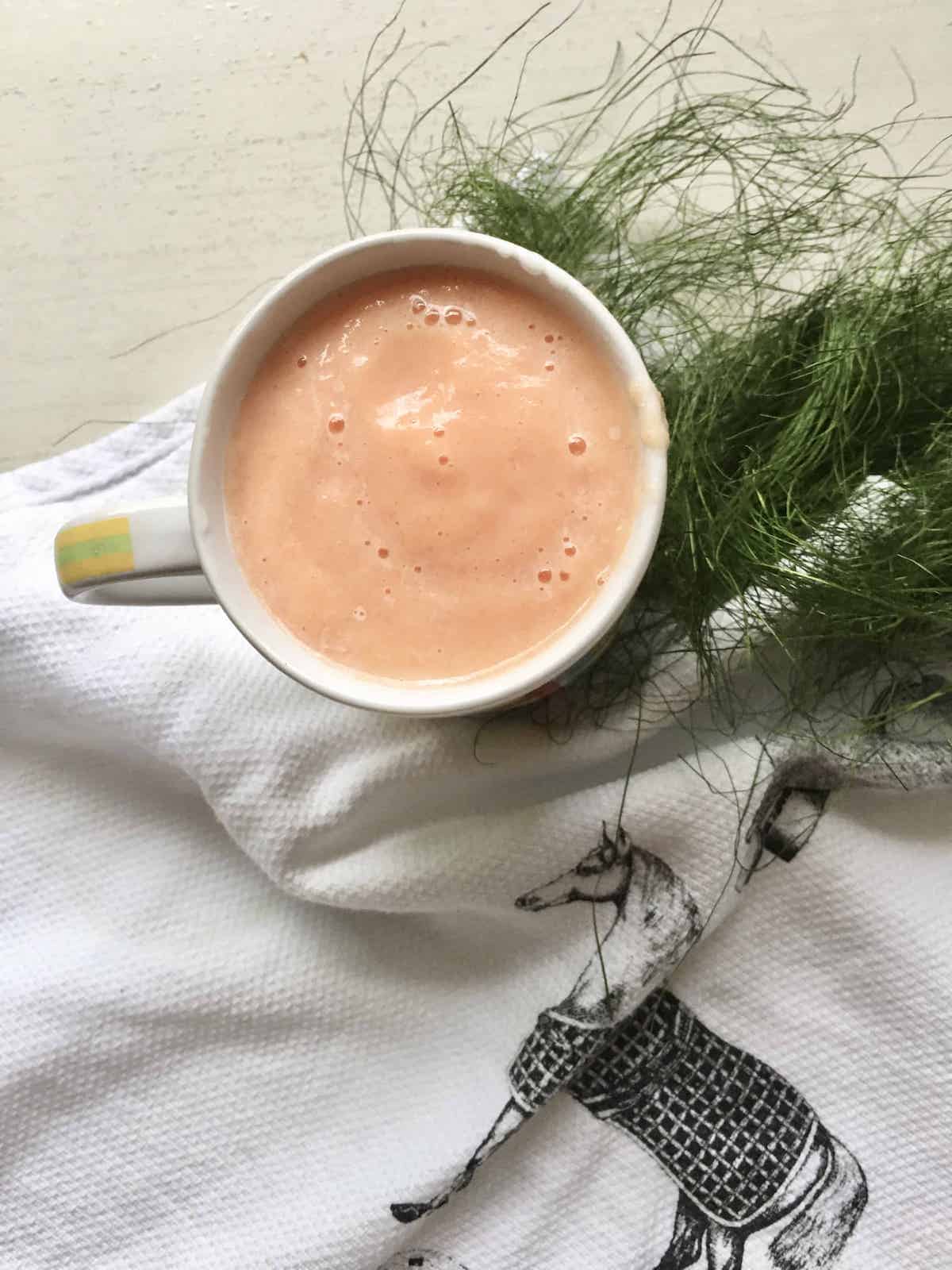 Papaya milk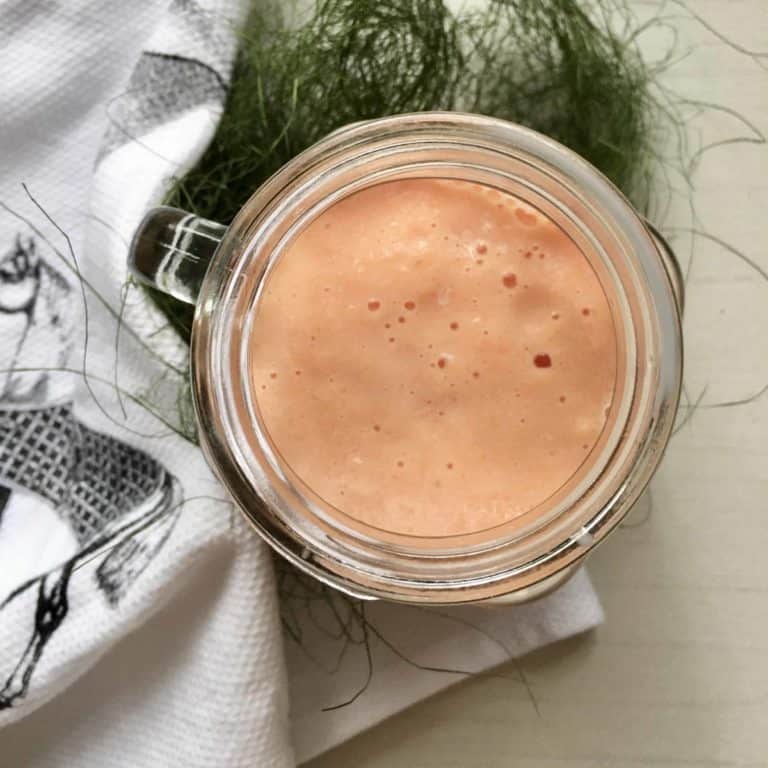 Boba milk tea
And how could I forget Taiwan's national drink, bubble tea?! Best sweetened with this brown syrup recipe. (Pair it with brown sugar tapioca pearls and milk to make Tiger Tea.)
Tiger Milk Tea
Tiger Milk Tea Boba, also known as Brown Sugar Bubble Tea, is a super popular beverage in many Asian countries thanks to its creamy, deep toffee-like flavor. Like most bubble tea recipes, it's not difficult to recreate at home- cheaper too! Plus, it's done in under 20 minutes and requires only 3 ingredients!
Click here for the Taiwanese bubble tea recipe.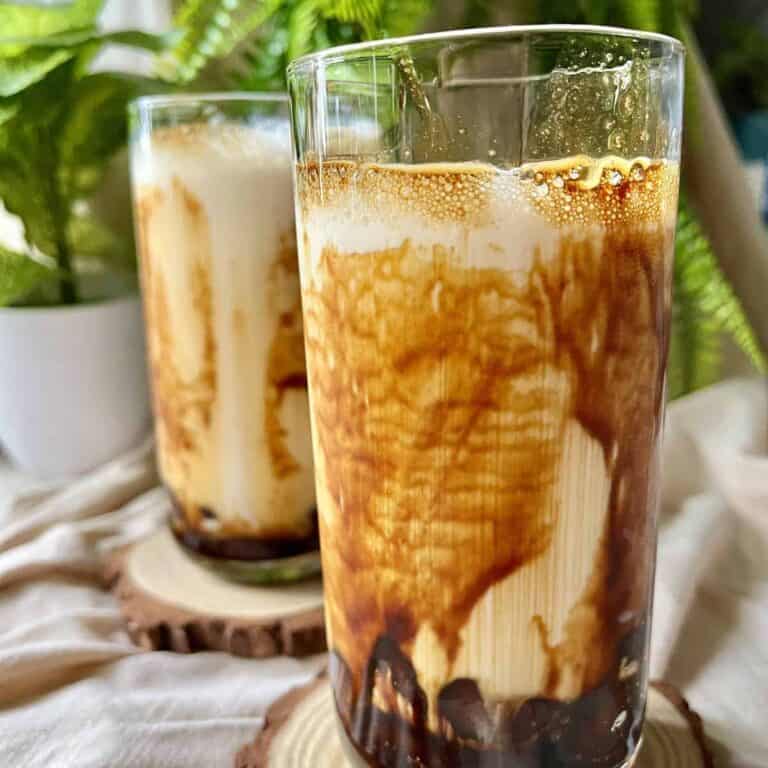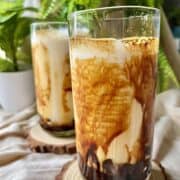 Desserts
Finish the meal with some Pineapple Cake (Sunny Hills does a great version), Aiyu Jelly or Bao Bing, a refreshing Taiwanese shaved ice dessert.
If you've found this list of Taiwanese side dishes useful, please do share it on your social media! Alternatively, if I've missed out on your favourite Taiwanese dish, let me know in the comments!