Sweet soy sauce, also called Kecap Manis/ Kicap Manis, is an essential sauce if you cook Indonesian and South East Asian food. It's less common outside of Asia, compared to the typical light soy sauce, so if you don't have it, here are the 11 best sweet soy sauce substitutes, as well as a DIY kecap manis recipe.
What is Kecap Manis?
Kecap manis, also known as kicap manis in Singapore or sweet soy sauce, is a soy sauce that is (obviously) sweet and thick. It is made from fermented soy beans. Basically, kicap is the Indonesian/ Bahasa word for sauce whilst manis means sweet!
It is a little similar to dark soy sauce and sometimes used as a substitute for dark soy. (Click here for other alternatives to dark soy.)
However, it is sweeter thanks to the addition of palm sugar or Gula Melaka. (Some of the Indonesian sauces have as much as 50% palm sugar, so you may not need additional sweetener if you cook with kecap manis.) 
This Asian sauce also has an almost smoky undertone as well as hints of spice in it, as it is often brewed with the popular Asian spices. These include anything from cinnamon and black peppercorns to clove, star anise, coriander, garlic cloves etc.
Hence, kecap manis cannot be used interchangeably with regular soy sauce (light soy sauce)!
Note: if you love Gula Melaka as much as I do, you may be interested in this Gula Melaka caramel and this Gula Melaka & pandan kueh dadar recipe. 
How to Use
If you cook Indonesian food often, kicap manis is a must-have in your pantry as it's an important ingredient in Indonesian cuisine!
It is used in most of their recipes, from braising meat, to marinades for grilled food and stir-frying noodles such as bihun goreng. There is even a sambal kicap (i.e. a chilli paste mixed with sweet soy sauce and other ingredients.) 
Adding kecap manis to food serves 3 purposes:
to add a sweet, slightly salty taste with an overtone of molasses and sometimes smoke
to add a rich umami flavor (thanks to the fermented soy beans)
to create a dark color, to make the dish look more appetising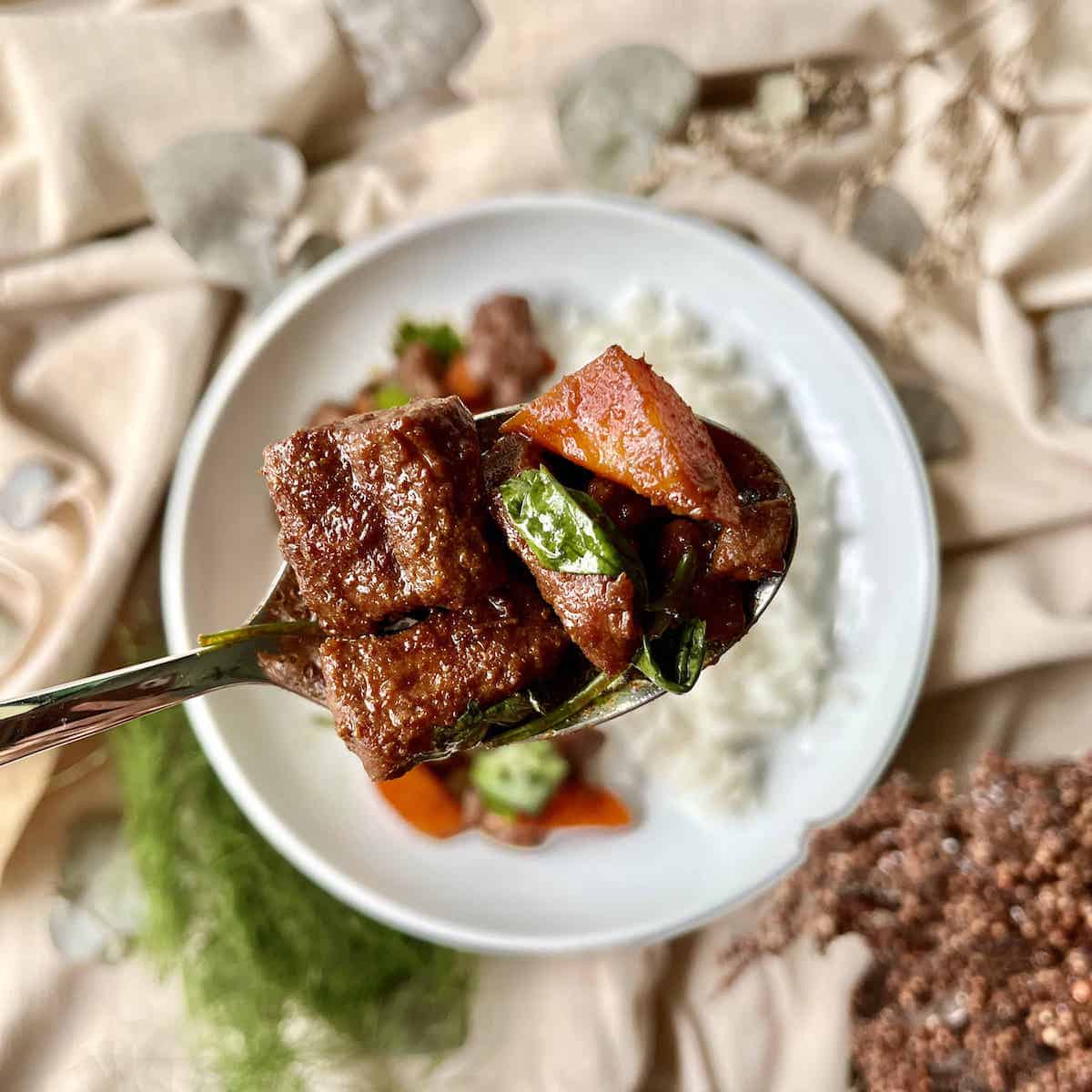 In fact, sweet soy sauce is more common than light soy sauce in Indonesia, and it comprises almost 90% of the country's soy sauce production!
Some famous Indonesian/ Malay recipes which call for kecap manis:
Where to Buy
In Singapore, you can get kecap manis in any regular supermarket but outside of Asia, you may need to go online orvisit your local Asian market/ Asian grocery store.
Note: in the UK, kecap manis is available at Ocado as "kicap manis" and at Waitrose as "ketjap manis." Unfortunately, I don't think it's sold at Wholefoods in the US, but if I'm wrong let me know in the comments!
Popular Brands
Popular sweet soy sauce brands include:
Kecap Bango
Kecap Manis ABC
Sedaap
FAQ
What's the difference between soy sauce and kecap manis?
There are many types of soy sauce but as light soy sauce is the most commonly used internationally, people usually refer to light soy sauce when they say "soy sauce." Kecap manis is thicker and sweeter than light soy sauce with a flavour reminiscent of molasses (kicap manis also tastes less salty and often has overtones of spices)- it is more commonly used in Indonesian and Malay cooking, whilst light soy sauce is more common in Eastern Asian cuisines such as Chinese, Korean and Japanese.
Substitutes
Homemade sweet soy sauce/ DIY kecap manis recipe: Soy sauce & palm sugar (Gula Melaka)

This is 1 of the best replacements for sweet soy sauce. You can use either Chinese normal soy sauce or Japanese soy sauce/ shoyu for this and the other 2 alternatives below.

Simply mix an equal amount of soy sauce, water and palm sugar in a small saucepan, then bring it to a boil.
Reduce the fire to a low heat- this is important as the sugar burns very easily. Keep stirring as the liquid simmers and switch off the fire when the mixture has thickened to a syrupy consistency. (It can happen quite fast so keep an eye on it.)
Note: if your usual kecap manis is more aromatic, you can add some garlic powder and 5 spice-powder (click the link for a homemade recipe) to the liquid mixture. (You can also use whole cinnamon and star anise etc, but it's more troublesome to strain these out later, which is why I recommend using the powder version.)

Use an equal amount of this homemade sweet soy sauce when replacing kicap manis.

Soy sauce & dark brown sugar

If you're not South East Asian, you may not have palm sugar or jaggery in your pantry. In that case, simply use brown sugar as a substitute. If you don't have brown sugar either, here is an easy 2-ingredient homemade brown sugar hack.
The process & replacement ratio are exactly the same as the above.

Soy sauce & honey

Make sure to use a neutral tasting honey as some honeys taste very strong and the resulting syrup won't be anything like sweet soy sauce (e.g. a thyme flavoured honey isn't a great idea)
Use 1 Cup of honey to 2 Cups of Water and 2 Cups of light soy sauce (or shoyu), bring to the boil, stir whilst allowing the liquid to simmer and turn off when at the desired consistency.
You can use an equal amount to substitute for sweet soy sauce.

Soy sauce & maple syrup

Follow the above directions, replacing honey with maple syrup.

Tamari and palm sugar/ brown sugar/ honey/ maple syrup

If you're on a Gluten-free diet, follow the above 3 recipes exactly, but replace the light soy or shoyu with Tamari sauce.

Coconut aminos and palm sugar/ brown sugar/ honey/ maple syrup

Another gluten-free option or for those with a soy allergy: follow the above 3 recipes exactly, but replace the light soy or shoyu with Coconut Aminos.

Teriyaki sauce and palm sugar/ brown sugar/ honey/ maple syrup

Follow the 1st 3 recipes exactly but use teriyaki sauce in place of regular soy sauce.

Regular dark soy sauce

Dark soy sauce is a sweet and caramel-ly thick soy sauce, like kecap manis, but it usually doesn't have spices in it.
This is the best substitute if you don't want to make your own kecap manis.
To get a closer approximation of sweet soy sauce, add some ginger powder, garlic powder and/or 5-spice powder to the dark soy.

Double black soy sauce

A Thai soy sauce that is relatively uncommon, this is also a good replacement for sweet soy.

Tianmian jiang

Tianmian sauce (Jiang) is a dark brown sauce used in Chinese food.
To be honest, it's even less common than kecap manis outside of Asia, so I'd be surprised if you use it as a substitute!
It is made from wheat flour, salt, sugar, and fermented soybeans, and has a sweet and salty flavour, somewhat similar to kecap manis, which is why it's an excellent replacement.

Hoisin sauce

Different brands of hoisin sauce have different ingredients but most consist of fermented soybeans, sesame oil, garlic, vinegar, sweetener, 5-spice powder etc
I don't recommend hoisin sauce as a replacement for dark soy due to its garlic and spices (which dark soy sauce doesn't have) but these spices are what make it a good alternative to kecap manis, which is often made with aromatics such as ginger and garlic and spices as well.
Hoisin sauce isn't as sweet as kecap manis, so you may want to add some sweetener if using it as a replacement.
The replacement ratio would depend on the recipe in question (you generally don't need that much hoisin sauce so replace in a 1:1 ratio if the recipe calls for small amounts of kecap manis, but use less if more is stated as hoisin sauce can be salty.)
Note: Some people recommend Worcestershire sauce, fish sauce or oyster sauce as a great substitute for sweet soy sauce, but personally I don't find that they work well.
For example, kecap manis has no seafood flavour, but oyster sauce does!
Recipes Which Use Kecap Manis