Dark soy sauce is a staple in an Asian household but may not be so common elsewhere. If your recipe requires it and you don't have any, here are 16 of the best substitutes for dark soy sauce (+ worst substitutes and a quick and easy DIY version.)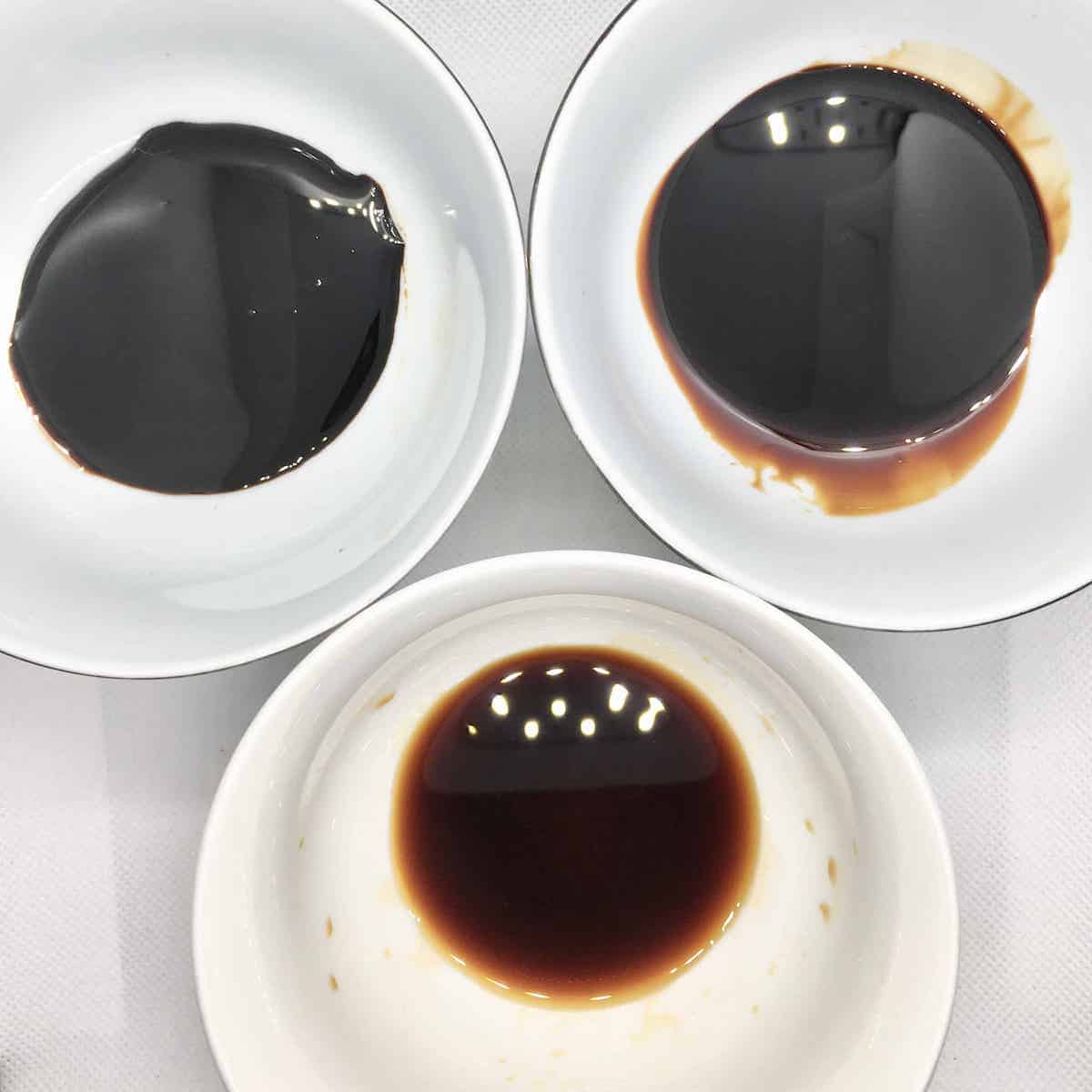 What is Dark Soy Sauce?
Dark soy sauce (also known as see ew dam (Thai)) is different from light soy sauce (or regular soy sauce.)
Dark soy is a thick, dark sauce made from fermented soybeans and often used in Chinese cooking (and other Asian cuisine.) Having been around for 1000s of years, it is 1 of the oldest condiments in the world.
It is thick, dark, has a slightly sweet flavor and adds a savoury, umami note to Chinese food, often with a hint of a caramel or molasses. 
You can find it in Asian grocery stores or Whole Foods Market.
Light vs Dark
Like light soy sauce (the regular soy sauce most people are more familiar with), it is made by fermenting soy beans and wheat mixed with brine.
The main difference is that dark soy sauce is thicker, sweeter and has a less salty flavor than light. (Ironically, it has a higher sodium content!)
Although dark soy is not as ubiquitous as light soy sauce in Asian recipes, it is still a commonly used staple in Asian households. Since it keeps for a long time, I recommend getting a bottle if you can, especially if you're a fan of Chinese cuisine. (It's widely available in Asian markets, and even some mainstream groceries.)
If not, don't worry, as there are some pantry staples that you can use in its place! You can also easily make a great substitute with just 2-3 cupboard ingredients.
Note: dark soy should not be confused with sweet soy sauce, thick soy sauce, black soy sauce and kicap manis/ kecap manis! (They are all different things.)
Why Use It?
To find the best substitutes for dark soy sauce, we first need to know why it is used in cooking.
The simplest Chinese explanation is that we add:
light soy for taste (to season food)
dark soy for its dark color
However, that is an oversimplification: a good bottle of dark soy would also make the food look silkier/ richer (thanks to dark soy's thick texture) and gives the dish a umami flavor with a tinge of sweetness. The flavor profile is deeper than light as it is fermented for longer.
A good substitute should thus:
turn food a darker color
increase the savouriness of the dish with a tinge of sweetness.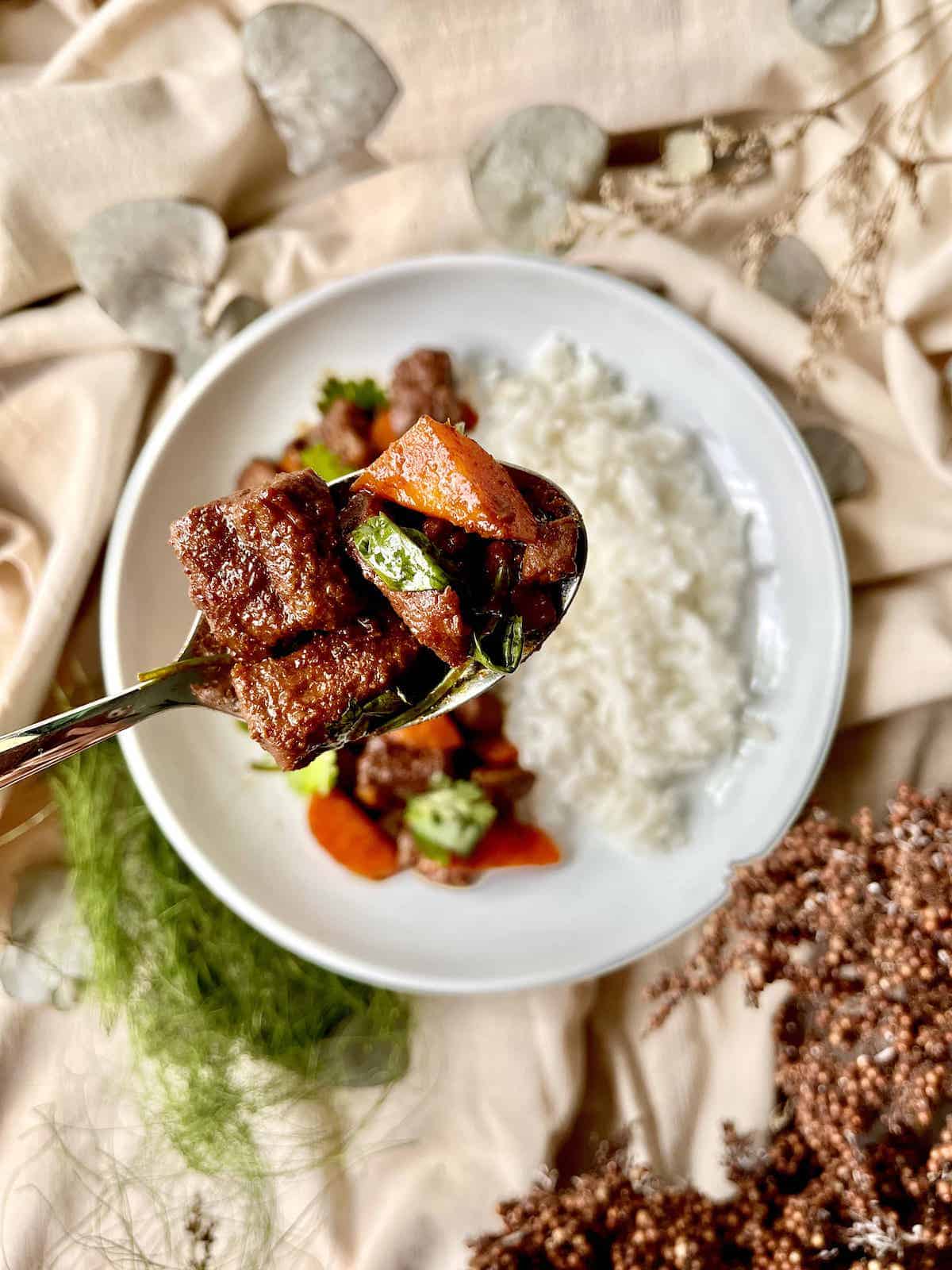 How to Use
Dark soy sauce is almost always used with light soy sauce and is common in meat dishes and stir-fries.
Here are some classic Chinese recipes in which it has a starring role: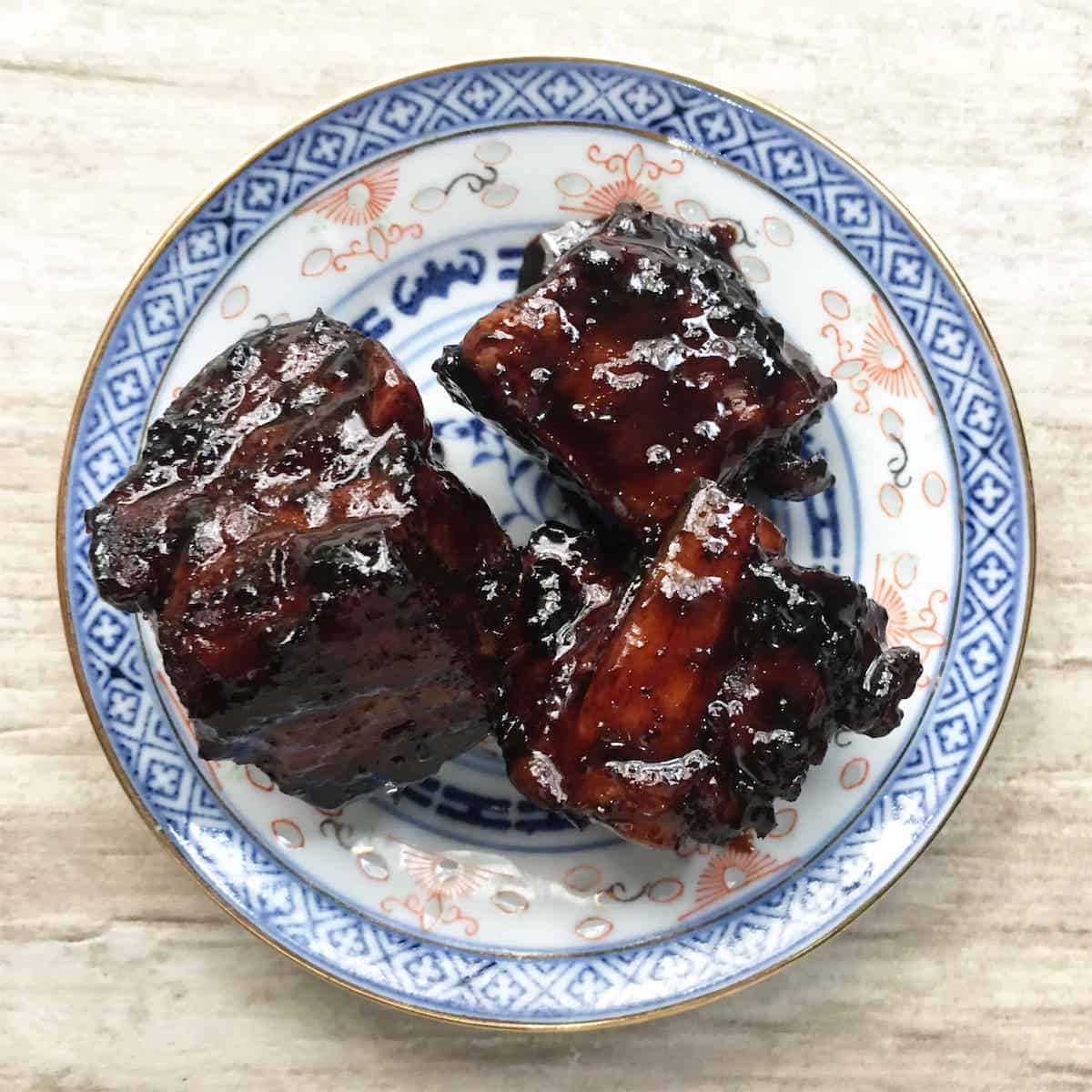 Substitutes
Light soy sauce + brown sugar (+DIY Recipe)

Light traditional soy sauce (Jiang you) has the same savoury notes as dark soy, but its consistency is much thinner and it tastes a lot saltier.
I recommend mixing it with brown sugar or palm sugar to make your own dark soy sauce. Some people just stir them together, but that wouldn't thicken the soya sauce, so I like to bring the 2 to a brief simmer. (You have to be careful and keep stirring as it burns easily due to high sugar content. )
Either light or dark brown sugar would work, depending on how you strong you want your dark soy to be (personally, I prefer using light brown sugar.)
Every brand of dark soy tastes slightly different, so there is no right or wrong here- use whichever you feel tastes best to you!
In my opinion, this is 1 of the best dark soy sauce substitutes.
2. Light soy sauce + white sugar + molasses
If you don't have brown sugar, you can use white sugar and molasses instead.
Alternatively, instead of molasses, you can also use black treacle instead.
3. Black soy sauce
This Thai sauce, also known as siew dam, is made by fermenting light soy sauce with molasses of sugar.
It is very similar to dark soy in colour & texture but has a sweeter taste, so remember not to add sugar when using this as an alternative to dark soy sauce.
It is also more difficult to find than dark soy- you would need to go to the Thai supermarket- and also contains gluten.
4. Double black soy sauce (雙老頭抽 / 双老头抽)
This is very similar to dark soy sauce but less commonly found.
It's basically dark soy with molasses or, as I like to call it "dark soy sauce on steroids."
It has a darker colour, thicker consistency and stronger flavour that isn't to everyone's taste.
It's not necessary to stock up on this, but if you have a bottle, it can be used as a replacement for dark soy in a pinch!
5. Tamari + white sugar + molasses (gluten-free) OR Tamari + brown sugar
For people with celiac disease who are gluten intolerant, you can use Tamari instead of soy sauce (or coconut aminos. More on this below.)
Like dark soy, teriyaki is brown, sweet and salty but usually contains additional flavours such as hints of garlic etc.
Teriyaki sauce is actually made with light soy sauce, so it's no surprise it's a good substitute!
The resulting dish will not look as glossy though, as teriyaki is much thinner in consistency.
7. Mushroom flavoured light soy sauce + white sugar + molasses OR mushroom flavoured soy sauce + brown sugar
8. Mushroom flavoured dark soy sauce
Use this and the above only if you're comfortable with a slight mushroom flavor in the dishes.
9. Miso paste/ doenjjang/ taucheo + sugar + water
Unfortunately, this won't give food the same amber glaze that dark soy sauce does, although the fermented soybean paste will help boost the savouriness and give it a similar flavour.
You only need a bit (i.e. do not replace 1:1.)
10. Light soy sauce + Vietnamese caramel sauce
Like dark soy, Vietnamese caramel sauce is used to darken the colour of food. It also has the same syrupy thick consistency.
However, as it is only made from sugar and water, it lacks the umami of dark soy, which is why I recommend mixing the 2 to form the perfect dark soy replacement.
Note that Vietnamese caramel can have slight bitter undertones, but it's nothing too overpowering that will get in the way of the flavour.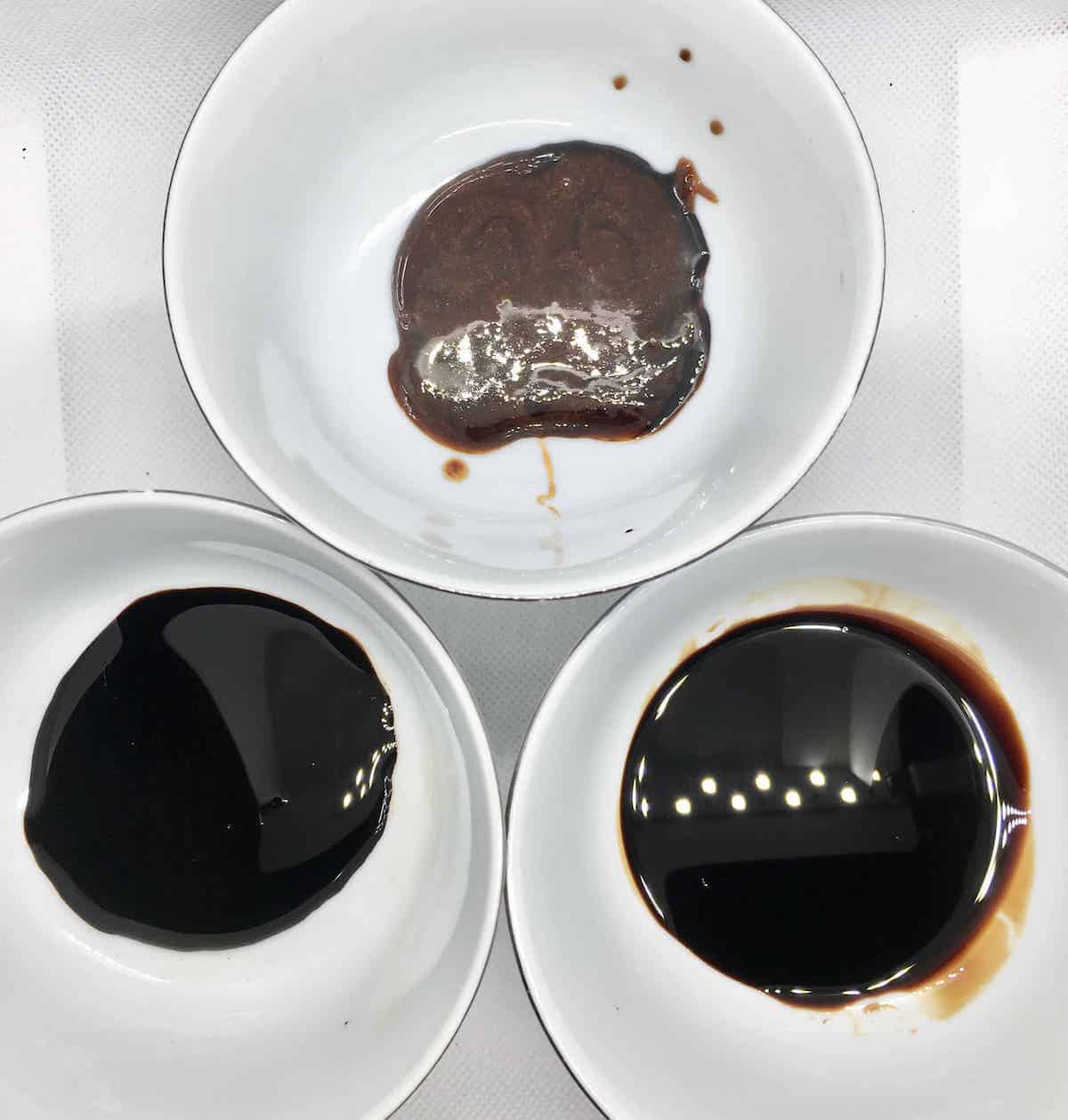 Soy-free Substitutes
For those with a soy allergy and on a Gluten-free diet, besides the tamari sauce mix mentioned above, you can also try:
Coconut aminos + brown sugar OR coconut aminos + white sugar + molasses
Coconut aminos are made from fermented coconuts and sea salt- they have a similar flavor profile to soy sauce as both are fermented and salty. Some brands may have a coconut-y taste (most don't) so always taste first!
This great alternative usually contains less sodium than soy sauce, so are good for people looking to lower their sodium intake. (You may need to season with some salt o make the recipe work.)
Use the same proportions as light soy sauce (see recipe card below.)
2. Oyster sauce
Like dark soy, oyster sauce has a thick texture, rich flavor and deep color. However, it is MUCH more savoury, so you may not need to use as much when using it as a substitute.
Some cheaper oyster sauces add soy to them, so check the ingredients on the label first.
Not So Good Substitutes
Worcestershire sauce (Gluten-free)
You could use this to take the place of dark soy in a marinade but it has an additional tangy flavor. It's also much thinner in texture, although it would darken your food slightly and increase the depth of flavour, as dark soy does.
2. Fish sauce
This is much saltier than dark soy, so you will need to use much less.
Moreover, some people are very sensitive to the pungent, slightly fishy flavor.
Tip: Fish sauce makes for great Vietnamese chicken wings!
3. Hoisin sauce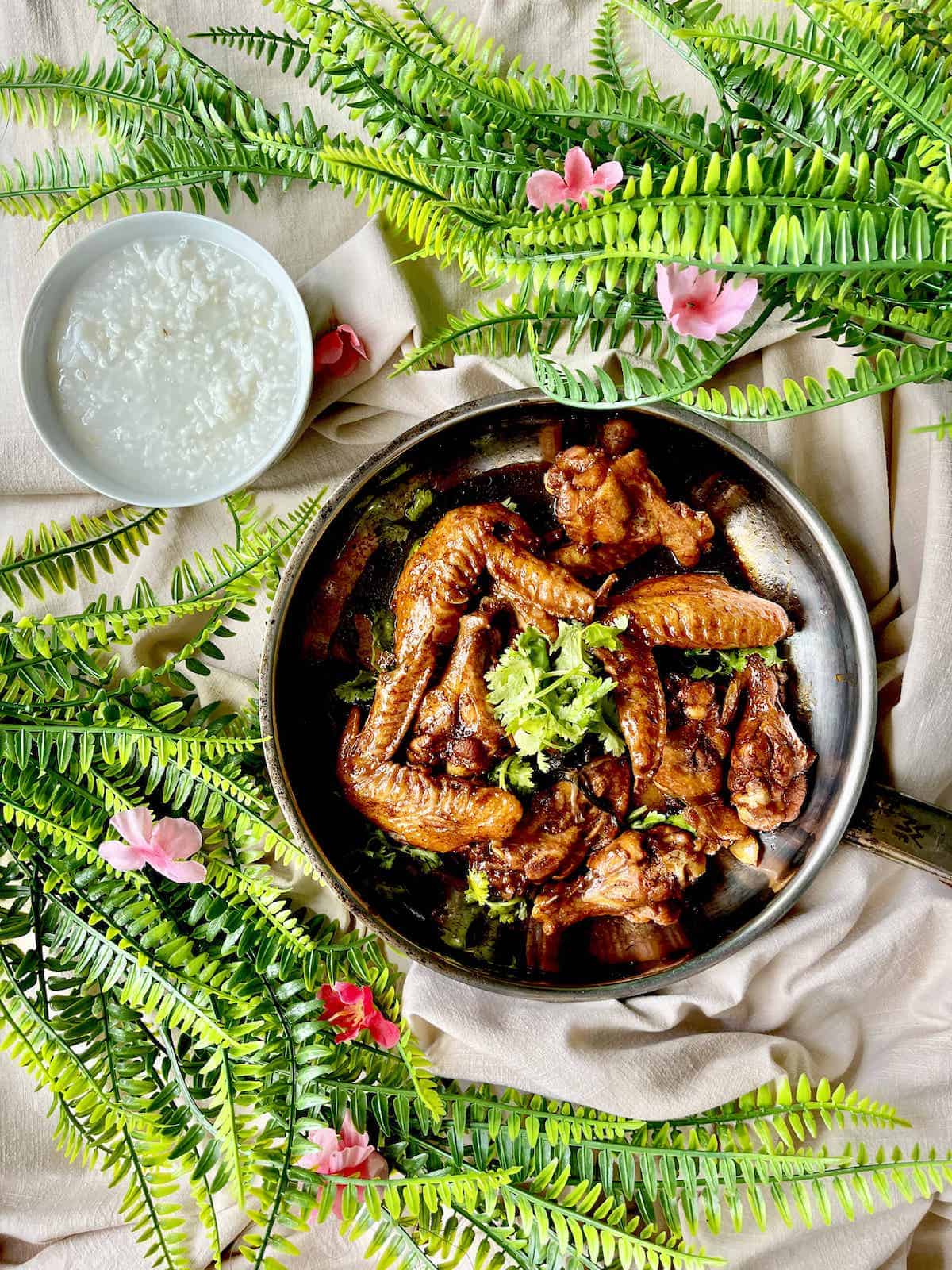 A popular Asian marinade, Hoisin is a thick sauce that tends to be much sweeter than dark soy.
It won't make your food taste bad- it might even improve it!- but won't replicate the results of dark soy when cooking. (For example, hoisin will have sesame overtones than dark soy doesn't- not an issue since sesame goes well with most Chinese dishes!)
Not always gluten-free or soy-free.
4. Balsamic vinegar
Not to be rude, but I suspect this was a substitute invented by non- Asians! I love Balsamic vinegar- and it's a decent replacement for Chinese black vinegar (chinkiang vinegar) but you'd have to be pretty desperate to use it as a replacement for dark soy!
It may help to colour the food in the way dark soy does but the taste would totally change thanks to the sourness of the balsamic- it may still be delicious, but it definitely won't taste the same!
If you've tried any of these substitutes for dark soy sauce, which is your favourite? If you're looking for more information on Asian foods and recipes, consider signing up for my newsletter here!