If you've run out of thick soy sauce, have no fear, as this versatile Chinese condiment is super easy to make- no soy beans or fermentation process involved! Here is my quick and easy thick soy sauce recipe which only requires 2-5 ingredients and a few minutes. (There are 3 DIY versions, so the ingredients depends on which 1 you are making.)
What is it?
Thick soy sauce means different things in different countries: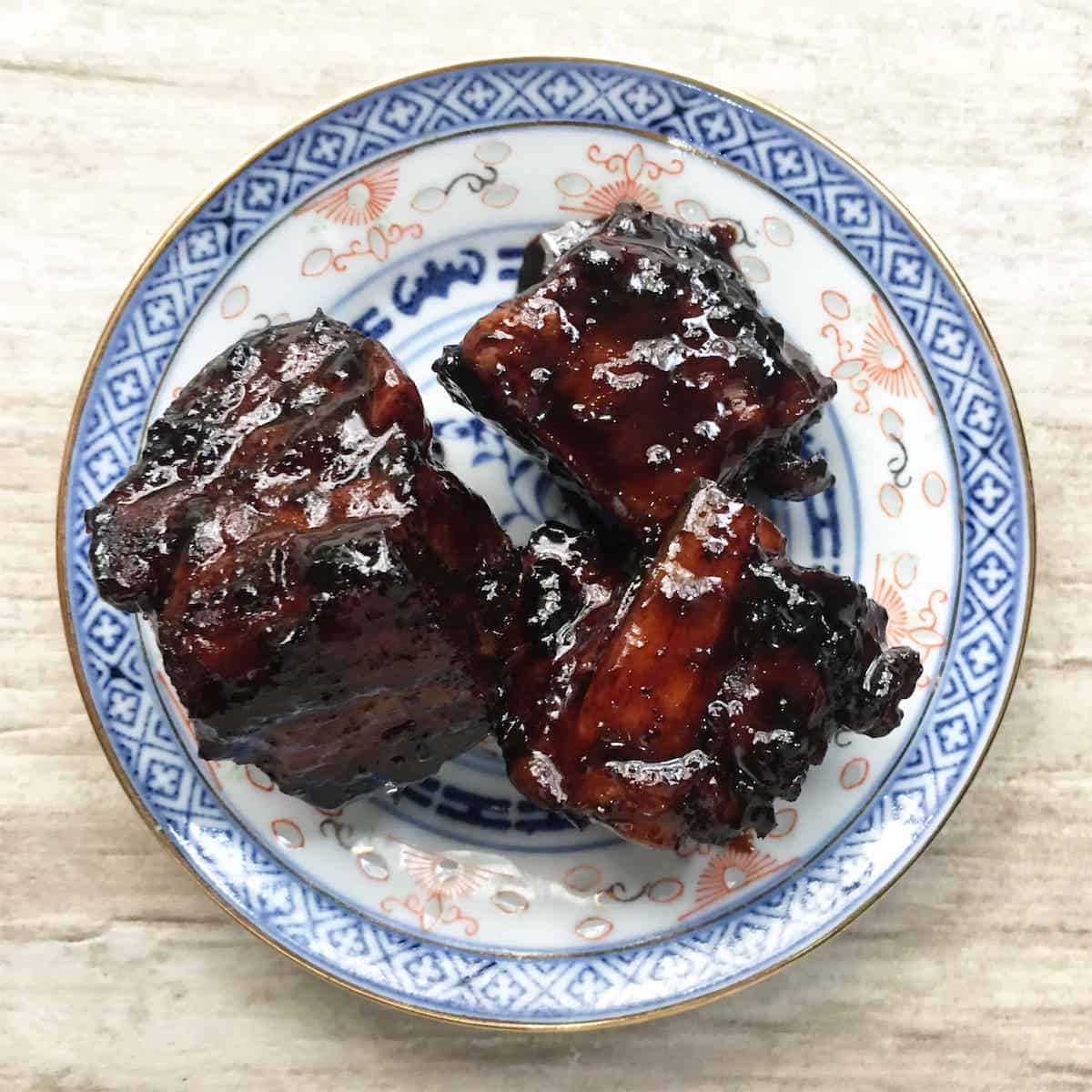 In Chinese cuisine, it's most likely dark soy sauce, a thicker soy sauce (compared to light soy) that has a tinge of caramel and dark molasses

This is the most common thick soy sauce- it is a popular condiment in all the Asian countries where you can find Chinese people, usually to add a dark color and umami flavor to food.
Sometimes it is used to make a tangy sticky soy glaze such as with these 12345 pork ribs- the easiest and most delicious Chinese pork ribs ever!
It can also be used as a dip. For example, we serve it with sliced red chillies with bak kut teh (a Singaporean pork soup with garlic and pepper)
If you like Chinese food, you won't go wrong keeping a bottle of this regular dark soy sauce in your pantry (it can last a long time without going bad.)
Popular brands include Lee Kum Kee and Pearl River Bridge. For good quality soy sauce, make sure it's made using the slower, traditional methods (and not the quicker, chemical fermentation.)
2. In Southeast Asia, it could refer to either dark soy sauce or Kecap Manis (a thick and sweet sticky sauce)
Kecap Manis is sweeter than dark soy sauce, and often cooked with spices and aromatics.
It is characteristic of Malay and Indonesian food, such as mie goreng and Tahu goreng.
Palm sugar gives it its characteristic sweet and syrupy flavor. If you can't get it (or jaggery), use dark brown sugar instead.
ABC is a popular brand.
3. For Taiwanese people, it's soy sauce paste or "Jiang you gao" (醬油膏)
This is a thick and sweet soy sauce that isn't absorbed by food. Instead, it tends to linger on the surface areas of the ingredients. 
You'll need a bit of cornstarch or glutinous rice flour to thicken your homemade version up.
This dark sauce can be used as a sauce for cooking, or as a dipping sauce (for example, with cong you bing pancakes)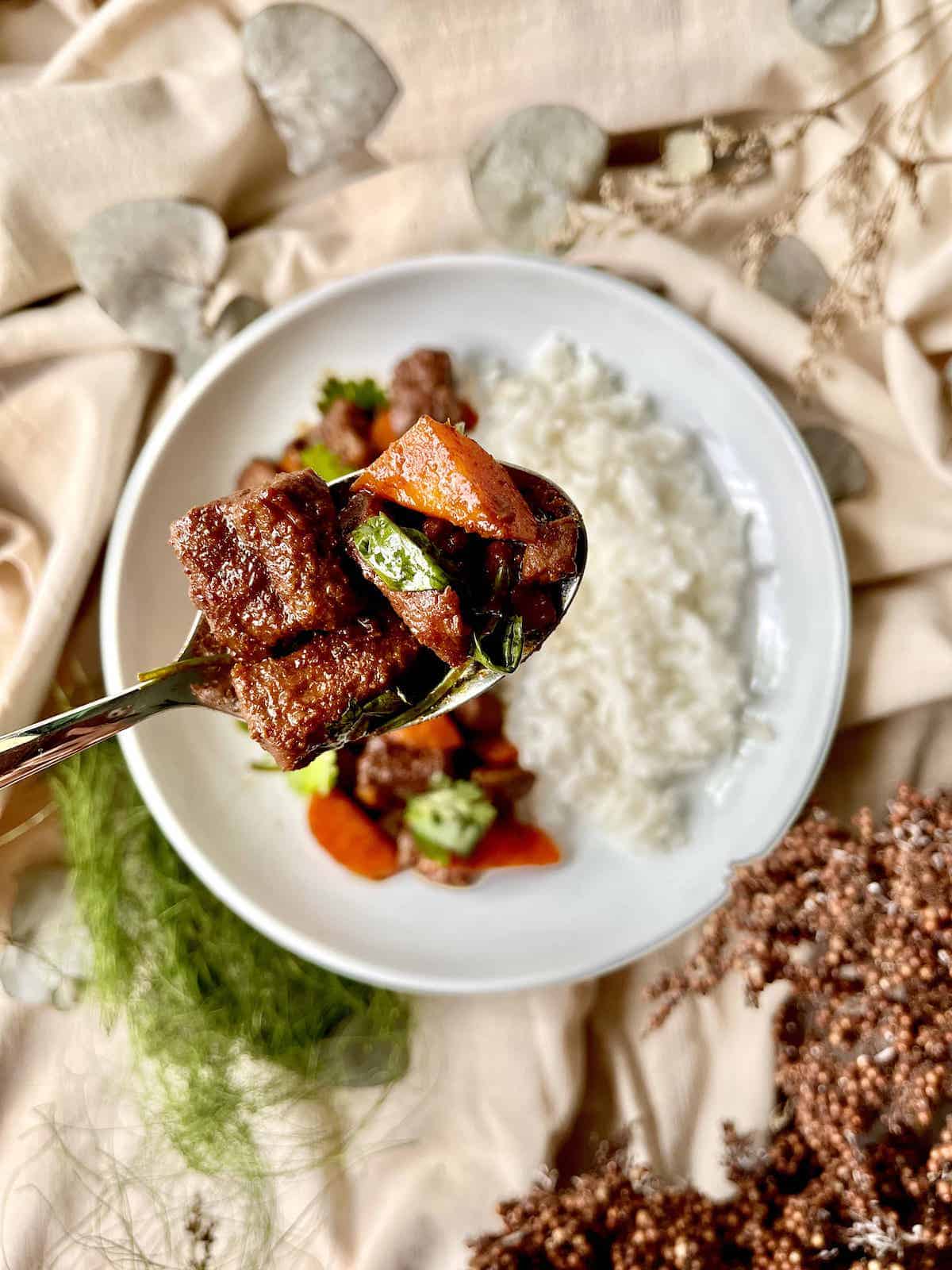 As I'm not sure which one you're looking for, I've provided some information on all 3, as well as instructions on how to make the 3 different thick soy sauces below.
Note: if you're not in a DIY mood- although I promise you these recipes are super simple- check links to find a good dark soy sauce substitute and a great sweet soy sauce replacement respectively.
vs Light Soy Sauce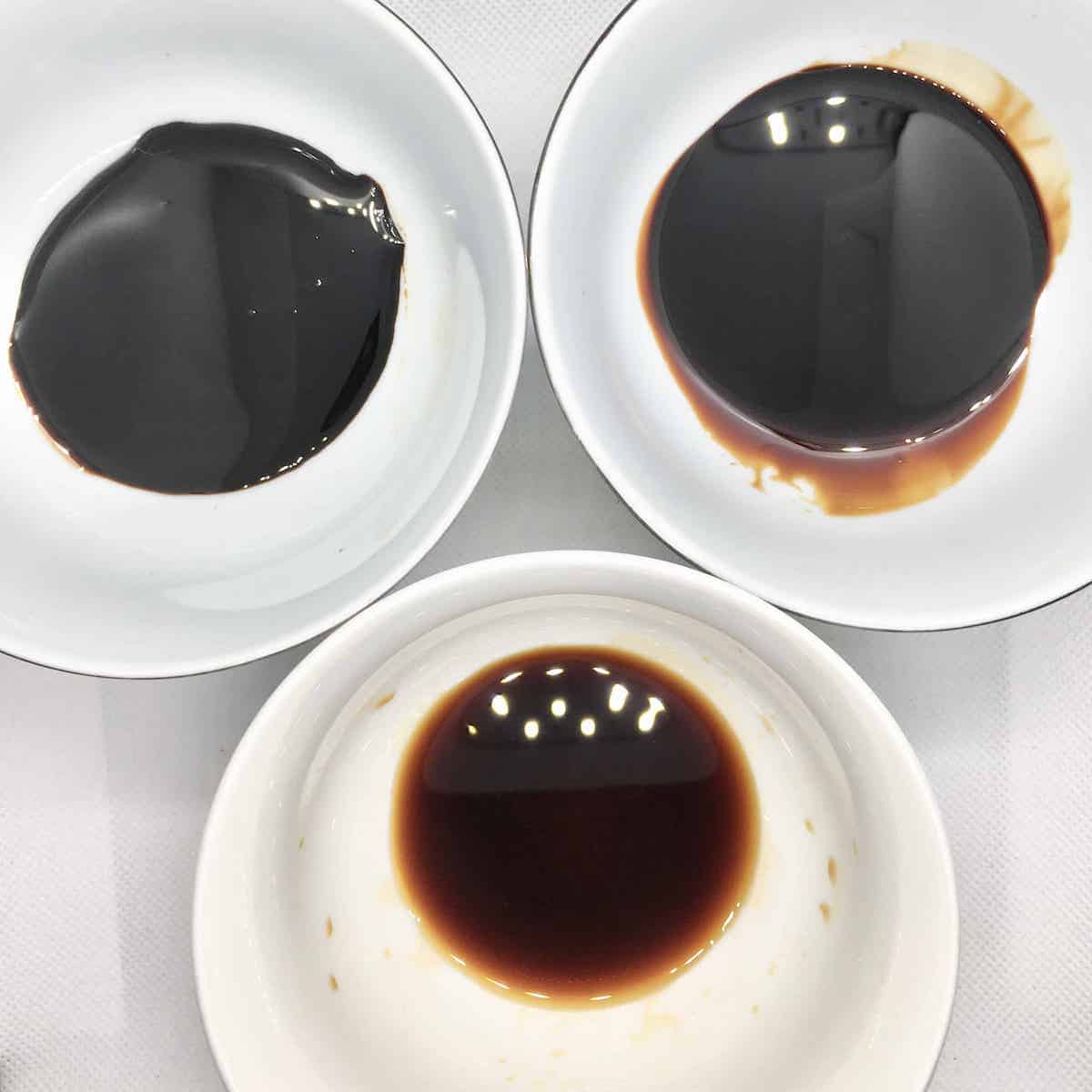 Light soy sauce (bowl on the bottom) is a thin soy sauce- it's more watery then any of these 3 thick soy sauces. (2 different brands of dark soy sauce in the bowls in the 1st row.)
There are many different kinds of soy sauce.
First things first, don't confuse any of these 3 types of thick soy sauce with the most common soy sauce that is used in almost every Asian cuisine- light soy sauce (sometimes just referred to as "soy sauce" or "regular soy sauce.")
Light soy is thinner and more watery in texture. It isn't as sweet as any of the thick soy sauces and often tastes saltier.
How to Use
(All 3 types of) Thick soy sauce is often used to cook food and also as a dipping sauce.
It can also be mixed with other sauces such as oyster sauce, fish sauce, sesame oil or rice vinegar to make a stir fry sauce.
Where to Buy
You can find dark soy sauce and Kecap Manis in any Asian grocery store but Taiwanese thick soy sauce is a little more obscure. I can't even get it in my local supermarket in Singapore let alone outside of Asia!
Hence, you would most likely have to go to a larger Asian store, venture online or go to a Taiwanese specialty store to buy it.
Thankfully, I have a recipe here for you, if you can't find it where you are. And, there are no preservatives in homemade thick soy sauce!
How to Store
Home-made thick soy sauce should be kept in the fridge for 3-5 days, but commercially bought ones can be kept in the pantry (for much longer.)
FAQ
Does thick soy sauce go bad?
Homemade thick soy sauce doesn't last for very long but store bought thick soy sauce does.
Enjoyed this easy Thick Soy Sauce Recipe? Please leave a 5-star 🌟🌟🌟🌟🌟rating in the recipe card below! If you REALLY liked this Asian sauce recipe, please consider supporting it by buying me a coffee! 🙂 (No obligation though!) Thank you and have a great day!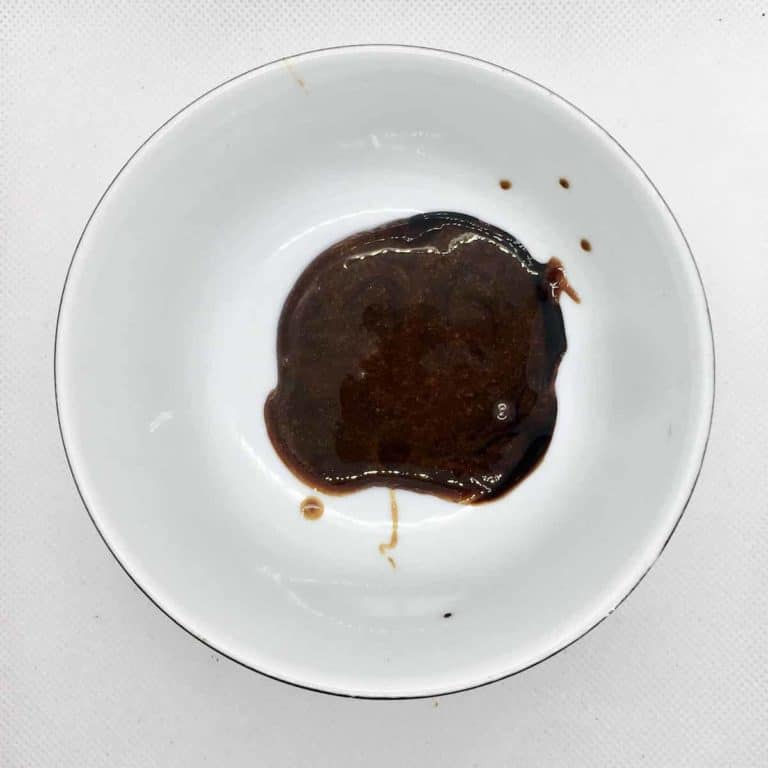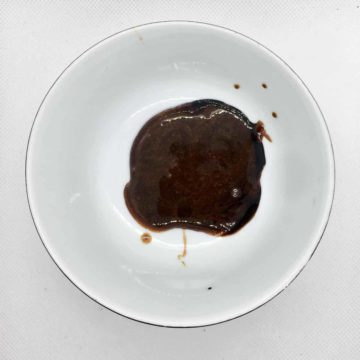 Quick & easy thick soy sauce recipe
3 quick & easy DIY recipes using 2-5 pantry ingredients that only take a few minutes for Chinese dark soy sauce, Indonesian sweet soy sauce and Taiwanese soy sauce paste.
Ingredients
1. Chinese dark thick soy sauce. See Note A
4

Tablespoons

light soy sauce

Note: Chinese light soy & Japanese light soy don't taste the same. Use Chinese light soy if possible but, if not, using a different light soy will still work (I used regular Lee Kum Kee light soy sauce but you can substitute with other brands.)

1

Tablespoon

light brown sugar

You can make your own light brown sugar from white sugar and molasses

Optional: water

The light soy and sugar will VERY quickly thicken into dark soy- it will literally take seconds and may burn if you're not careful. If you're not confident add some water to the soy sauce to slow the process down.
2. Indonesian sweet thick soy sauce (Kecap manis). See Note A
3. Taiwanese thick soy sauce paste. See Note A.
⅓

Cup

Water

5

Tablespoons

light soy sauce

1

Tablespoons

granulated white sugar

1

Tablespoon

glutinous rice flour, or Japanese mochiko flour

Substitute: corn starch

½

Tablespoon

light brown sugar

See Notes on how to make your own

garlic powder, optional
Instructions
1a. Chinese soy sauce: quick, 1-step version
Add the dark soy and sugar to the pan and over medium heat, bring it to a boil. KEEP STIRRING as it burns very quickly because of the sugar content. (Be careful as the mixture is very hot.)

If you are concerned about burning, add a bit of water (1-2 tablespoons) to the dark soy and sugar. The increased liquid content will give you more leeway before the mixture burns.

You only need to let it boil for a few seconds before it becomes thick, then switch off the fire, stirring a few more times to ensure it doesn't burn.

Remove from heat/ switch off the fire, let it cool then store in an air-tight container in the fridge.
1b. Chinese soy sauce: Slower way
You will be making the caramel first: combine equal amounts of the water and sugar in a pan over high heat. Stir till the sugar has dissolved, then reduce the heat to medium-low. (The mixture is super hot, so be careful)

Let the syrup (caramel) boil till it darkens like molasses.

Add the soy sauce when the syrup is dark- BE VERY CAREFUL as caramel is super hot and it may splatter and splash everywhere when the soy is poured in! (To be honest, I don't bother with this method as I don't like risking burns and the quick method tastes authenticate me!) Keep stirring till it thickens.

Remove from heat/ switch off the fire, let it cool then store in an air-tight container in the fridge for 3-5 days.
2. Indonesian thick soy sauce (Kecap manis)
Mix the light soy, palm sugar and water in a pot and bring to the boil. (If using optional spices and aromatics, add them from the start.)

Once boiling, reduce to a simmer and turn off the fire when at the desired syrupy consistency.

Cool and store in an airtight box in the fridge for 3-5 days.
3. Taiwanese thick soy sauce paste
Add the water and rice flour to the pot and stir well till mixed.

Add the rest of the ingredients and bring to the boil.

Lower to a simmer and simmer till thick and syrupy, whisking continuously to prevent the starch from clumping in the sauce.

Once thick enough, switch off the fire, cool and keep in the fridge in an airtight container for 3-5 days.
Notes
Note A
All 3 recipes uses the minimum quantity recommended. To make more, simply increase the ingredients proportionately. For example, the recipe for Chinese dark soy sauce will give you about 1.5 Tablespoons of dark soy sauce.
If you want to make more, just increase the quantities using the 4:1 (light soy: sugar) ratio. You can also play around with the proportions and use more sugar if you wish.
Click here for instructions on making your own light brown sugar, which will only take a few minutes.
BE VERY CAREFUL when making the caramel or pouring soy in, as it may splash and burn you. Caramel is super duper hot. For safety, I prefer using the quick way, with no water added.
Some recipes recommend adding the soy and sugar, without heating the solution up: this won't produce the thick texture and caramel-y taste of a good dark soy.
Note: the nutritional information is an estimate automatically calculated using the WPRM recipe maker and I am not responsible for its veracity.
Nutrition
Calories:
34
kcal
Carbohydrates:
7
g
Protein:
2
g
Fat:
0.04
g
Saturated Fat:
0.01
g
Polyunsaturated Fat:
0.01
g
Monounsaturated Fat:
0.01
g
Sodium:
1112
mg
Potassium:
45
mg
Fiber:
0.2
g
Sugar:
5
g
Calcium:
6
mg
Iron:
0.5
mg
If you've enjoyed this Asian sauce recipe, click here to sign up for my weekly newsletter!