The best glutinous rice flour substitutes- sometimes called sweet rice flour- to create a chewy and bouncy dough, or to thicken foods.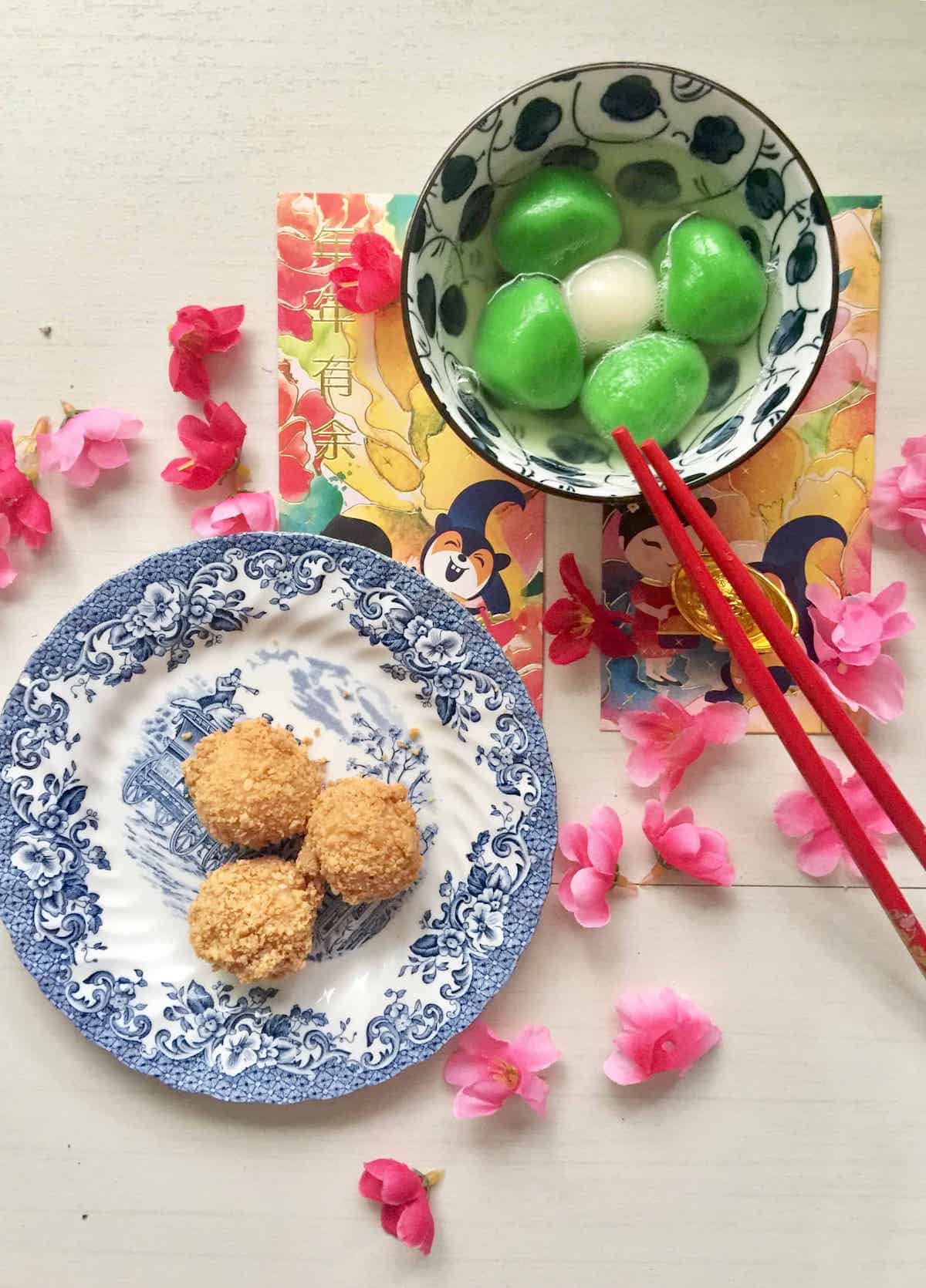 Jump to:
What is glutinous rice flour?
Sometimes called sweet rice flour, glutinous rice flour is made by milling glutinous rice. Despite the name, it isn't actually sweet. Instead, it becomes very sticky when mixed with water, producing a unique chewy texture in foods (think Japanese mochi or Chinese tang yuan.) To be honest, the texture is quite divisive- it can be quite difficult for non-Asians to accept but there are many who LOVE it.
It's commonly used in Asian cuisine and Asian desserts- besides mochi, glutinous rice flour is often used to make Chinese dumplings and desserts, but can also be used to coat food for frying, or to thicken sauces, gravies, stews or tong sui such as this Cantonese black sesame dessert.) Lately, it has also been getting attention in the West as it is 1 of the gluten-free flours that's widely available.
Like regular rice, glutinous rice can also be steamed and eaten as whole grains, though you'll need to soak the grains first as they take longer to cook. It is used in Thai mango sticky rice ( ข้าวเหนียวมะม่วง Khao (= rice) neuw mamuang (=mango)), Chinese Bak Zhang (meat dumplings traditionally cooked during the Dragon Boat Festival) and these glutinous rice flour dishes.
Vs Rice Flour
First things first, glutinous rice flour IS NOT rice flour- they're made by milling 2 different types of rice! Regular rice flour is processed from long-grain Japonica rice whilst glutinous rice flour is milled from glutinous sticky rice, which comes in both the long-grain and short-grain form.
Using regular rice flour won't produce the same chewy texture that sticky rice flour does, although both can thicken soups and stews. Now that we've gotten that out of the way, we can go on to find out what are the best glutinous rice flour substitutes! 🙂
A cup of glutinous rice flour weighs about 130g or 4.6 oz, the same as a cup of regular rice flour.
How to use
Some sweet rice flour recipes include:
Tang Yuan, or glutinous rice dumplings 
muah chee, sometimes called Chinese mochi
Japanese dango dumplings
 Filipino palitaw/ sweet rice cakes
as a gluten-free substitute in baking
IMPORTANT NOTE: foods made with glutinous rice flour are so sticky, they can get stuck in the throat if not chewed well and suffocate you so CHEW CAREFULLY. In Japan, a few people are rushed to hospital (and even die) from eating mochi so care should be taken, especially for the young or elderly.
Where to buy
You can buy glutinous rice flour in almost all Asian markets- most stock the Thai brand Erawan (but be careful not to get regular rice flour instead as the packaging is the same with just a different colouring! One's red (regular rice flour), and the other's green (sweet flour).)
If you don't have an ethnic grocer near you, you can also find it in some grocery stores as Bob's Red Mill also has a line of rice flour (but it's obviously more expensive than Erawan!)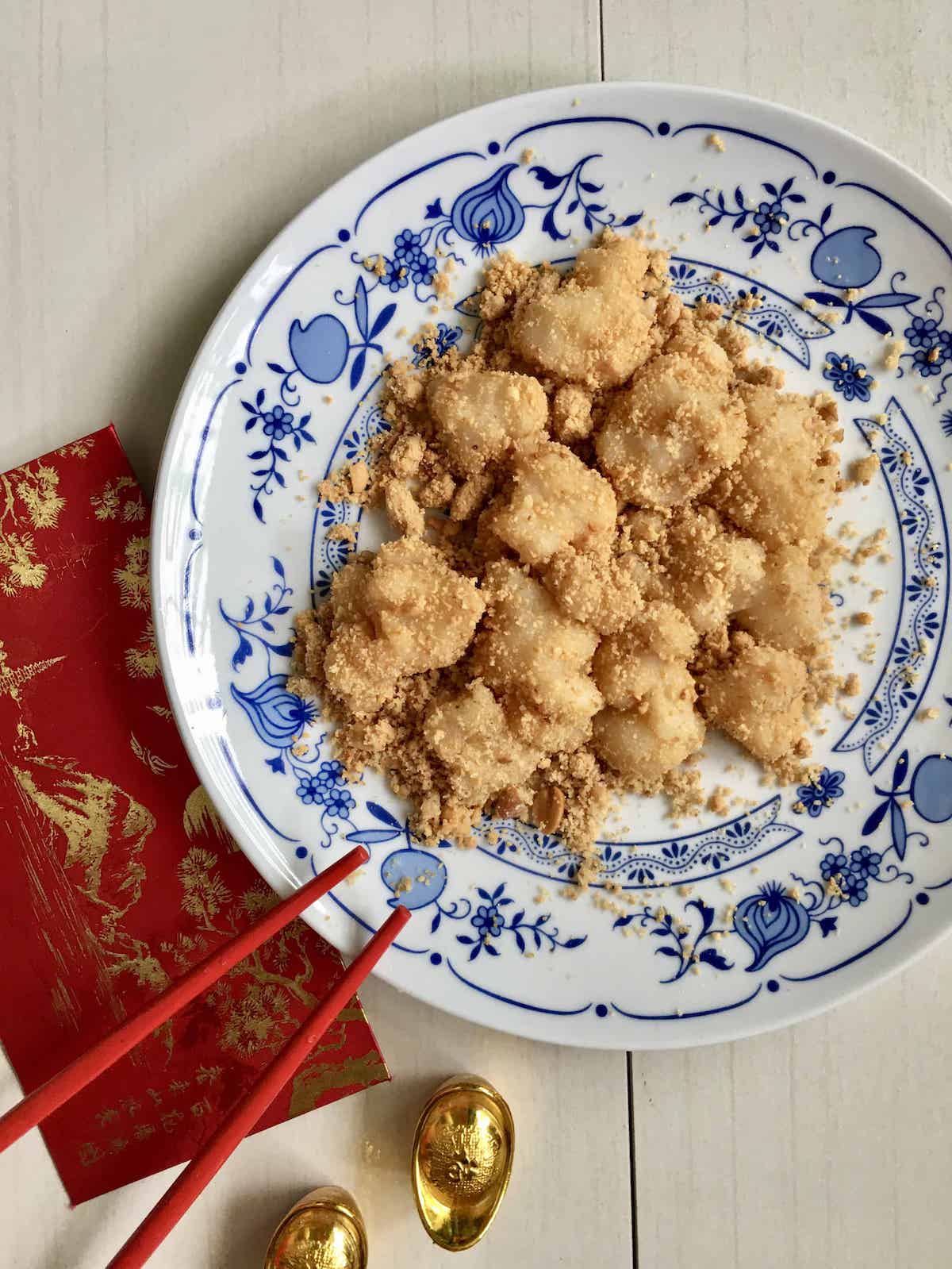 Expert Tips
Like rice flour, when mixed with water, glutinous rice flour sometimes separates from the liquid if left for a while, so remember to stir the well before using.
FAQ
Is glutinous rice flour gluten-free?
Despite its name, yes, glutinous rice flour is gluten-free, like all other rices. The "glutinous" in the name is actually describing the sticky texture of the starch.
Gluten-free Substitutes
Mochiko flour
Strictly speaking, mochiko flour (もち粉), also known as Gyuhiko 求肥粉 or Daifukuko 大福粉, is actually a type of glutinous rice flour, so it's almost a perfect replacement! I've included it on this list as not everyone knows that the 2 flours are so similar (Glutinous rice flour is labelled as "glutinous rice flour" on the packet whilst mochiko flour is labelled as "mochiko flour" thus people not familiar with Asian cooking may not realise they're the same thing.)
However, mochiko is made specifically from a cooked Japanese sweet, glutinous rice (mochigome) whilst regular glutinous rice is usually made from a different glutinous rice cultivar (e.g. Filipino malagkit.)
This short-grain white rice is made in a 3-step process:
it's washed in water to remove the outer layer
then dehydrated
before being milled into a fine flour
A popular brand is the Californian Blue Star Brand from Koda Farms.
Shiratamako flour
Like mochiko flour, shiratamako flour is also a short-grain glutinous rice flour- in fact both are made from the same mochigome rice. However, shiratamako has a slightly different texture as the rice has been processed differently:
after washing, the grains are soaked again
they are then ground whilst wet.
The resulting paste is pressed, dehydrated and ground
Hence, shiratamako flour usually comes in bigger pieces than mochiko flour, but forms a chewier and less doughy batter, making it an excellent substitute for sweet rice flour.
Chapssal flour
Chapssal flour is glutinous rice flour made from the Korean variety of glutinous rice, chapssal. It's often labelled as "sweet rice flour" or "찹쌀가루 (chapssalgaru)" in Korean.
Tapioca Flour
Mochiko flour, shiratamako flour and chaphsal flour are pretty much the only glutinous rice flour substitutes on this list that can create the same chewy and bouncy texture in foods as sweet rice flour and are thus the best substitutes.
However, if you really, really want to make mochi etc but can't get any of the above, you can try tapioca flour, sometimes called tapioca starch. It is a fine, flavourless flour that works very well as a thickening agent in gravies etc (better than potato starch actually) but can also create a chewy dough, similar but not identical to that of glutinous rice flour. (Think the boba in bubble tea.)
Like rice flour, tapioca flour is often used in gluten-free baking. (For example, in my best peanut cookies recipe, rice flour is used as an alternative to all-purpose flour for those on gluten-free diets.) You can also use it to coat foods to get a nice and crispy crust.
Tip: Made from crushing the pulp of a cassava root, which is native to South America and the Carribbean, tapioca flour is not the same as cassava flour! (Cassava flour is made from the entire root whilst tapioca flour is made only from the starchy pulp of the root.)
Less ideal
Many types of flours can be used instead of glutinous rice flour when looking for a coating for frying or for thickening stews, sauces and soups. However, they will not give you the same chewy texture so can't be used to make mochi, dango or tang yuan.
Some of these include:
Rice flour
OK although I did start by saying glutinous rice flour and normal rice flour are 2 totally different types of flour.
However, in a few instances, rice flour can be used as a substitute for glutinous rice flour. If you're on a gluten-free diet and require a binding agent or thickener, for example, this starchy flour will also do the trick.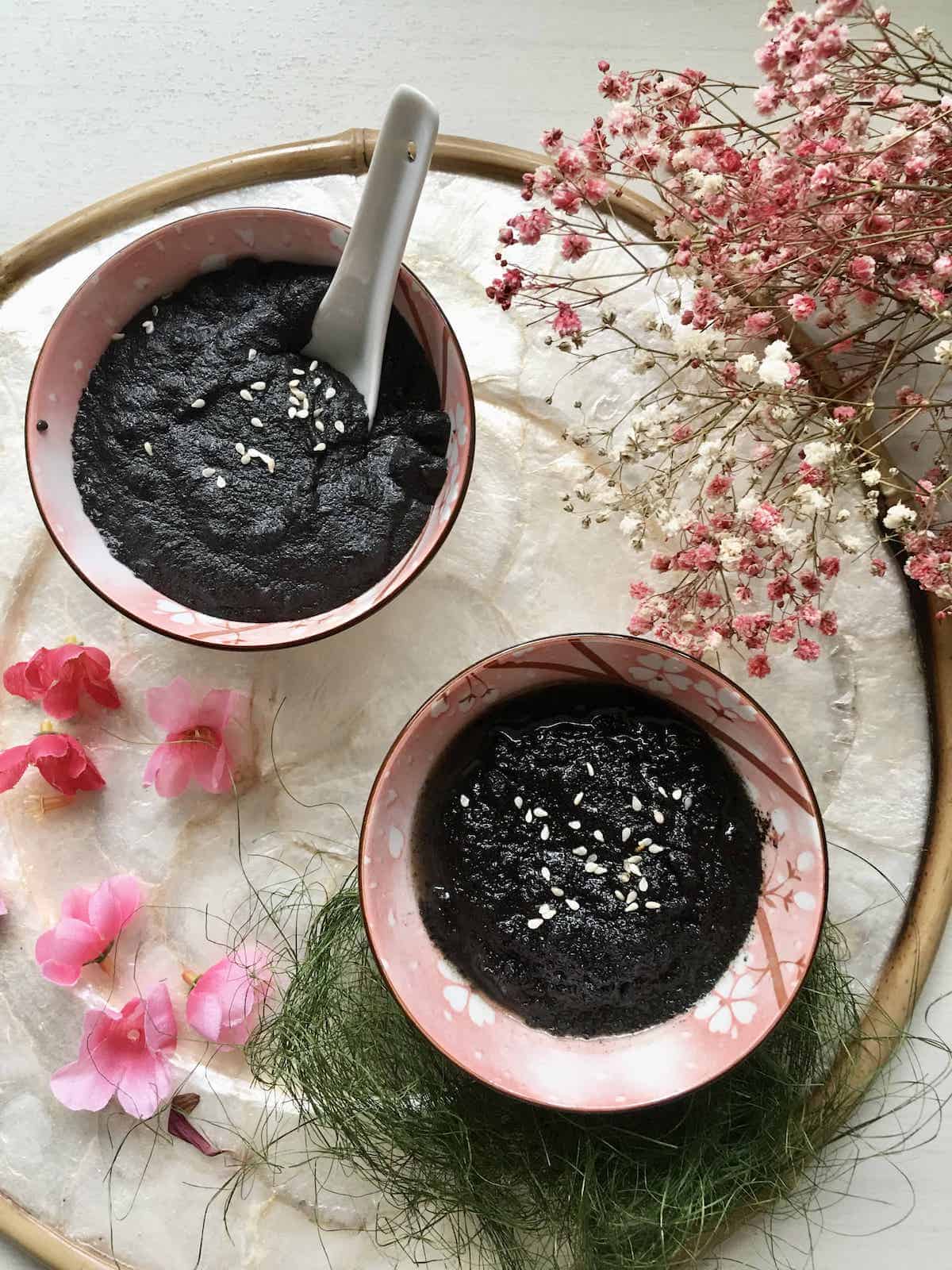 For example, glutinous rice flour is used to thicken Cantonese black sesame tong sui (shown above), but rice flour can also be used.
Potato Starch
Potato starch, a fine powder extracted from potatoes, is another popular ingredient for those on a gluten-free diet. Note that it is not the same as potato flour- the latter has a distinctive potato flavor and an off-white colour whilst potato starch has a more neutral flavor, making it a good substitute for sweet white rice flour when you need a gluten-free thickener.
Corn Starch
In the UK, corn flour is also known as corn starch but in the US, they are 2 different things. Corn starch (US) is a great sweet rice flour substitute when you need a thickening agent. However, corn flour in the US actually refers to finely ground cornmeal and is more commonly used in gluten-free baking or breading.
To use corn starch to increase viscosity, mix well with a liquid (usually water or stock) to form a slurry. Once you've whisked out any lumps, add it to the hot liquid to thicken it.
Arrowroot flour
Also known as arrowroot starch or arrowroot powder, this white and flavorless ingredient is most commonly used as a thickener in savory dishes and even in fruit pie fillings! Like corn starch, it has a long shelf life but it also creates a nice and glossy finish on foods.
Tip: add it at the end of the cooking process as cooking it for too long will make it break down and reduce its thickening properties (usually 2x that of wheat flour.) It is also a good choice for foods that you want to preserve by freezing as, unlike corn starch, it doesn't break down after freezing and thawing.
Least preferred
The following ingredients are my least preferred substitutes for glutinous rice flour as they are not neutral in flavor.
Brown rice flour
Although a popular option for gluten-free baking, breading and thickening, brown rice flour has a slightly nutty flavor.
Chickpea flour
Naturally gluten-free, this is another option for those with celiac disease. It's much more nutritious than wheat flour too! Although it's quite dense, it actually makes a very light batter for frying!
Tip: you can make your own chickpea flour by processing dried chickpeas in a high powered blender till they're reduced to a fine powder.
Sorghum flour
Another gluten-free alternative, sorghum flour has a similar texture to all-purpose flour. However, it is slightly less ideal as a subsitute for glutinous flour as:
1. It has a slightly sweet flavor (i.e. it's not neutral in flavor, although it tastes relatively mild.)
2. It's not the most common ingredient around!
3. It has a short shelf life- about 4-6 months. If you live somwhere hot, as I do, you may need to refrigerate it.
If you can find it though, it works well as a crispy coating for fried foods.
Tip: as sorghum flour is gluten-free, you will need something to bind it into a dough, usually xanthan gum.
Others
I know some people like to use oat flour, coconut flour, almond flour and millet flour but their flavors are quite strong so I don't recommend them as sweet rice flour alternatives.
Non-gluten free substitutes
Wheat flour
If you don't need a gluten-free option, regular flour can also be used to replace glutinous rice flour to thicken or bread foods, but not to make chewy foods like mochi.
What do you use in place of glutinous rice flour? I'd love to hear in the comments if I've missed something out. If you're enjoyed this post, please do share it on your social media!