The worst and best Black Vinegar Substitutes, whether you need to replace Chinese Chinkiang vinegar or Taiwanese vinegar. I even show you how to make your own substitute with a white vinegar base!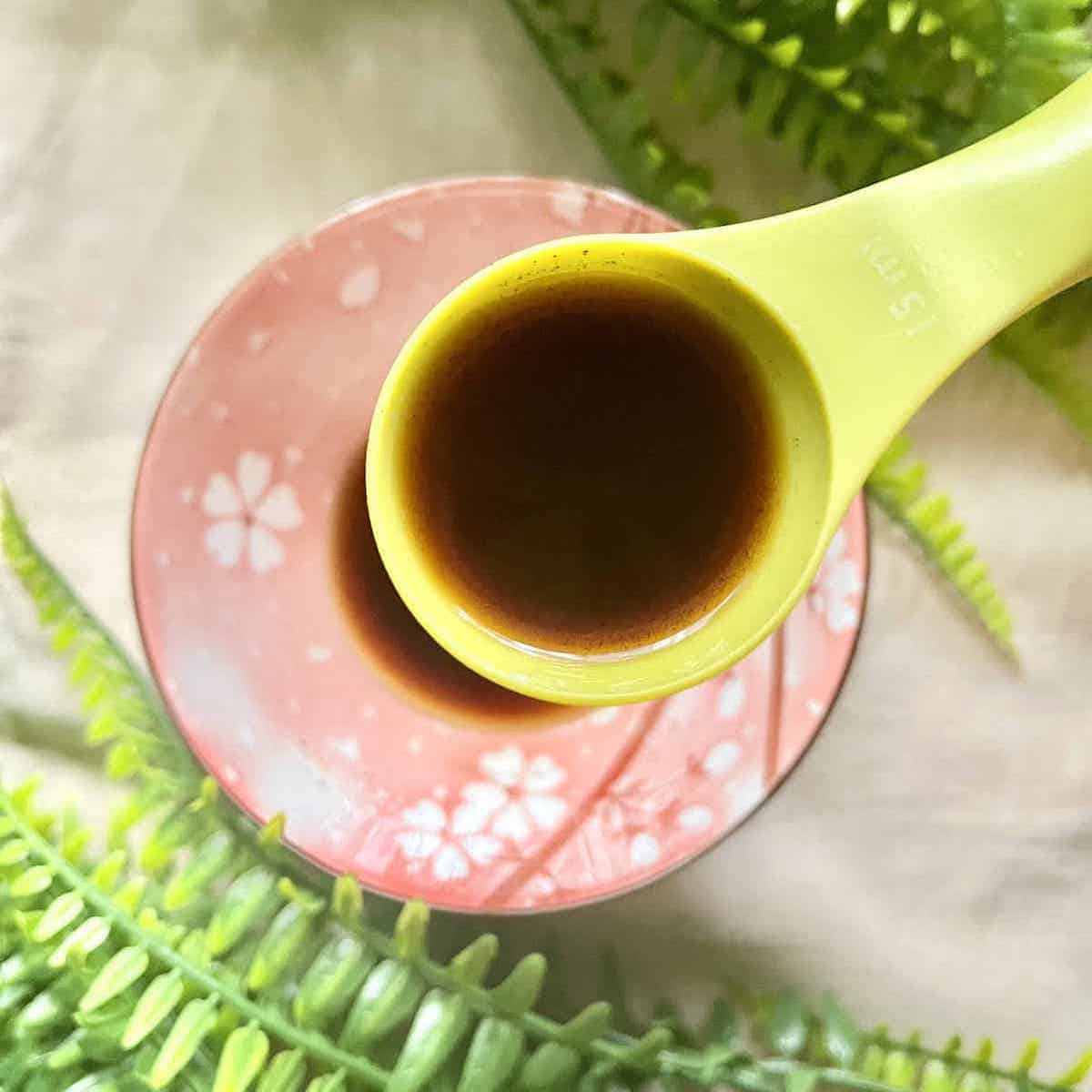 Jump to:
What is Black Vinegar?
Black vinegar 香醋  and white rice vinegar 白醋/米醋 are the 2 most popular vinegars in Asian cuisine. Rice vinegar is more popular in USA but if you're thinking you've never tried Chinese Black Vinegar, just look to your dumpling sauce!
Black vinegar has a sweeter and more complex umami flavor as well as, obviously, a dark color. It actually doesn't taste very sour! (When I used it to replace rice vinegar in my fingerlicking Chinese braised ribs, the ribs were so black they looked burnt!) Whilst black vinegar tastes rich, deep and aromatic, rice vinegar is flatter and mainly just tastes sour.
Moreover, black vinegar has a different aging process from other vinegars. It is aged for several years in clay pots, creating its deep color and robust flavor. Other vinegars, such as white wine vinegar and apple cider vinegar, are usually aged for a shorter period of time.
Types
There are 4 main types of Chinese black vinegar:
Chinkiang vinegar or Zhe Jiang Vinegar 镇江香醋 (Southern China) is made from sticky rice. This is the most commonly used black vinegar in Chinese cooking and the one usually used with dumplings.
Shanxi vinegar 山西老陈醋 (Northern China) is made from sorghum, wheat, and barley and often used with noodles
Sichuan vinegar is made from wheat bran and seasoned with Chinese spices
Fujian vinegar is made from glutinous rice, and is more red than black thanks to a special fungus.
Note: Besides China, Japan, Korea and Taiwan also make their own varieties of black vinegar. Korean and Japanese black vinegars (kurozu 黒酢) are actually brown rice vinegars and taste a little lighter.
How to Use
Black vinegar is used in Chinese cuisine from dishes such as smashed cucumber salad and wood ear salad to braised fish.
The most basic way to use it is to mix it with light soy sauce and sesame oil to form a dipping sauce- this works for anything from Chinese scallion pancakes to dumplings!
Scroll down for my list of the best substitutes for black vinegar. However, do note that all vinegars have slightly different flavors: for example, when I replaced rice vinegar with apple cider vinegar when pickling green chilies, the Asian chili pickles tasted a bit sweeter.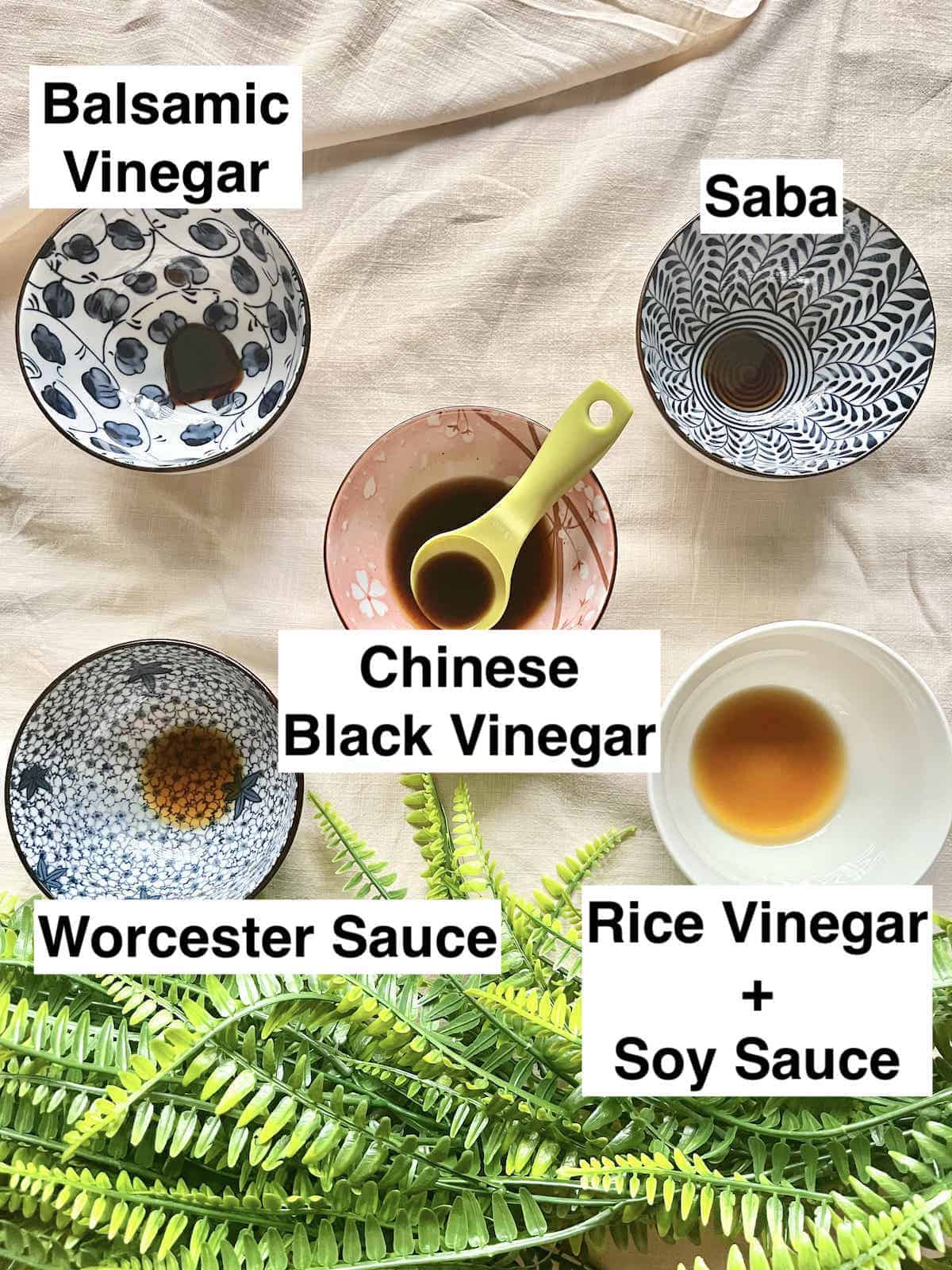 Balsamic Vinegar
The most common substitute listed in Western editions of Chinese cookbooks is Balsamic Vinegar. I would say it is pretty much the best Chinese black vinegar substitute, as the 2 have a similar color as well as sweet and deep flavors and are aromatic. (However, Balsamic is made from grapes whilst Chinese black vinegar is made from whole steamed grains.)
Use it as a substitute in salad dressings and marinades- it goes particularly well with soy sauce to glaze venison! It can be more syrupy and sweeter than Asian black vinegar- if so, simply dilute it with some white rice vinegar!
However, I must confess that my Cantonese friends still turn up their nose at any Chinese cookbook advising the use of Balsamic Vinegar! Moreover, even fake Balsamic Vinegar can cost a pretty penny.
Saba Vinegar
Another alternative is Saba, or Mosto Cotto, which is a bit of an Italian specialty product. Like basalmic vinegar, it's made from grape must- you could call it a cooked grape juice- but is not aged in wooden barrels and thus less expensive.
However, it is less acidic, so do mix in some white vinegar in the ratio 1:4 (i.e. use 1 tablespoon of vinegar to 4 tablespoons of Saba.)
Sherry Vinegar
Made from sherry wine, sherry vinegar also has a rich, complex flavor, reminiscent of nuts and raisins. Moreover, it's much more affordable than Balsamic! It ranges in color from a pale yellow to a richer brown, so choose the darker one when substituting.
It can be used to replace black vinegar in salad dressings and marinades.
Date Vinegar
Date vinegar is a fruit-based vinegar made from dates, that can be a great substitute for black vinegar in some dishes
Similar to black flavor, it has a sweet flavor and dark color. However, it obviously carries the aroma of dates, which is not a common flavor in Chinese food (apart from jujubes), so you'll need to be prepared for the final dish to taste more like a fusion dish than an authentic Chinese recipe.
Use it in Chinese salad dressings and Asian marinades.
Red Wine Vinegar
Red wine vinegar also has a tangy flavor.
It's a great substitute as it is easy to find in most grocery stores and can be used in salad dressings, marinades, and dipping sauces. However, it has a lighter color and flavor, lacking the complexity and sweetness of black vinegar.
Malt Vinegar
Malt vinegar is another good substitute for black vinegar, especially in meat dishes, thanks to its strong and slightly smoky flavor. Made from malted barley and typical of British cuisine, it adds depth to food and is a readily available condiment!
Next up are the white vinegars, which only work as an alternative if the color of the dish is not issue (as they obviously won't darken the dishes the way black vinegar does.)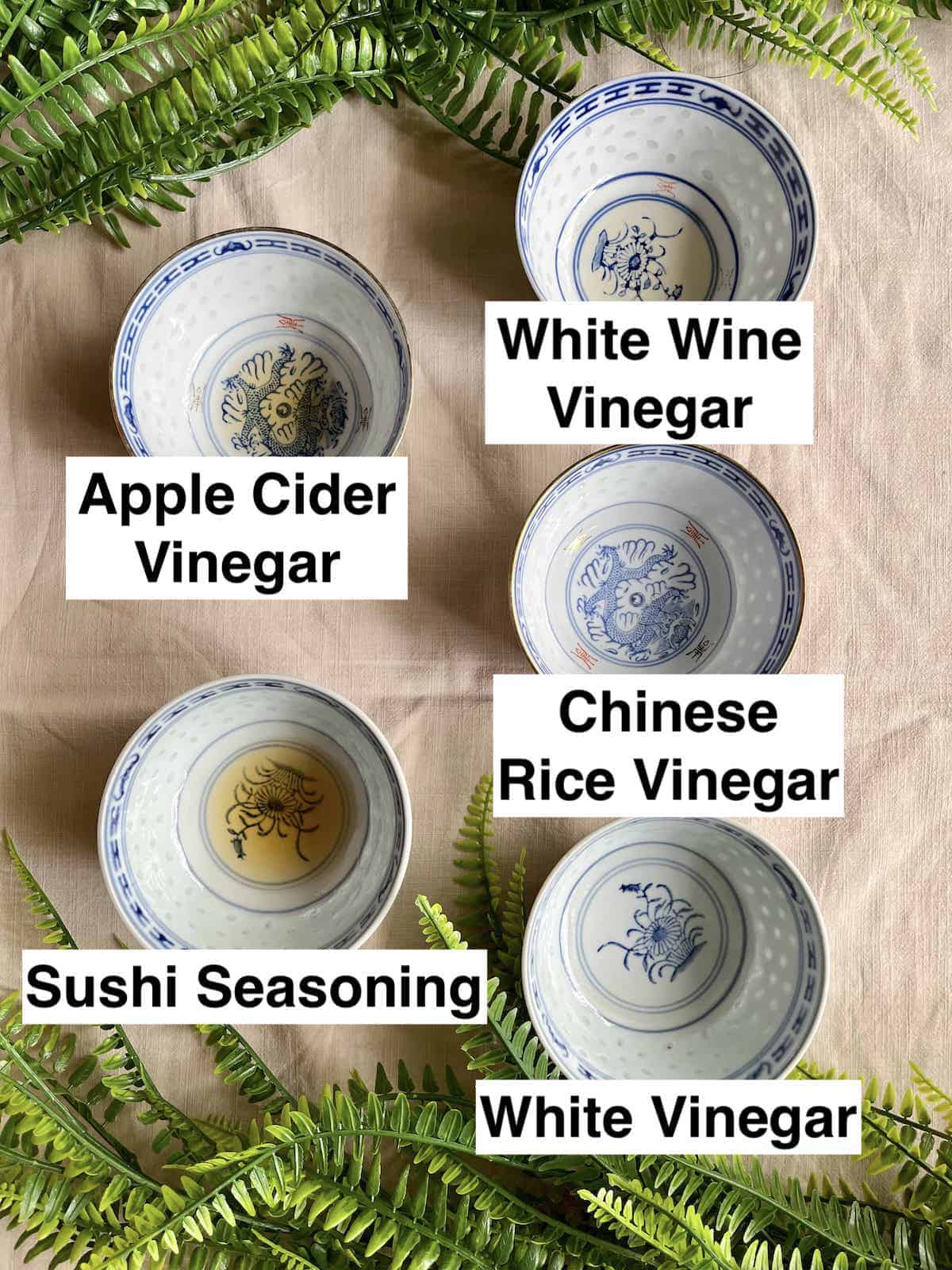 White Rice Vinegar
White rice vinegar is another Chinese vinegar that can be used in place of Chinkiang vinegar, but to make it a better substitute, you will need to mix with some dark soy sauce or light soy sauce and sugar.
I mix it in the ratio of 4 Tablespoons of white rice vinegar to 1 Tablespoon of dark soy sauce (or 1 Tablespoon of light soy sauce and 1.5 teaspoons of white sugar.)
Apple Cider Vinegar
This popular vinegar can be used to replace black vinegar in salad dressing, dips and marinades. Besides its delicious sweet and sour taste, it also has been linked to many health benefits, such as helping with weight loss and lowering blood sugar.
Like rice vinegar, you'll need to add some light soy and sugar to make it a better replacement for black vinegar.
White Wine Vinegar
White wine vinegar has a milder flavor and is 1 of the less expensive types of vinegar around. Its tangy flavor goes well in salad dressings, marinades and dips.
White Vinegar
White vinegar is a mild vinegar that can be used as a substitute for black vinegar. It has a sour flavor and can be used in salad dressings, marinades, and dipping sauces.
Worcestershire Sauce
Worcestershire sauce is a popular British condiment. Made from molasses, vinegar and fish sauce, it is often used in sauces and meat marinades.
It has a tangy, salty and caramel taste and.can be used to replace Taiwanese black vinegar. To substitute for black vinegar, I would add a pinch of sugar to tone down the sharpness.
Citrus Juice
In my opinion, this is the worst substitute. However, if you really, really need a touch of acidity in your recipe to lift the flavors, you can use lime juice and lemon juice as a substitute.
However, do note that the taste of the final dish will be totally different as though they're tangy, they taste light and bright, unlike black vinegar's depth of flavor!
Note: Although I love calamansi lime, I wouldn't use it here unless you want a floral flavor in the dish.
The best black vinegar substitute is Balsamic Vinegar but if you can't get it, other substitutes work too depending on what Chinese dish you're cooking. For example, Chinese rice vinegar and soy is often used as an alternative for dipping sauce. However, when mixing up a marinade for meat, a stronger vinegar such as malt vinegar may work better.
If you found this list of substitutes useful, would you like to sign up for my newsletter in which I send you more authentic Asian cooking tips?