Using only 3 ingredients, this easy thick salted gula melaka coconut caramel sauce (naturally vegan too) is scrumptious and perfect for drizzling on ice-cream, cupcakes or other desserts!
Jump to Recipe
Jump to:
An old friend is allergic to dairy and eggs, so I started experimenting with vegan desserts for her. When she heard about my coconut pandan cupcakes, she asked me to make a dairy-free version for her, which is how this no dairy easy thick salted gula melaka coconut caramel sauce came about. Even though I'm not vegan (flexitarian), gula melaka and coconut are such a marriage made in heaven that I actually prefer this to regular caramel! I love scooping it over my pandan makes and bakes, such as this vegan kueh dadar! (OK maybe sweetness overkill here...)
What is gula melaka?
Gula Melaka is a very popular sugar in South East Asian and used in many South East Asian recipes, such as these Vietnamese baked fish sauce chicken wings. It's made from the sap of a palm tree (date, coconut or sago palm) which is boiled till thick then poured into bamboo tubes to solidify. Hence, you buy it in huge cylindrical blocks and not grains like regular sugar. To use it, you usually chop it up or grate it, which makes it a little less convenient then regular sugar. (FYI The substitution ratio for gula melaka and sugar is 1:1)
Different brands differ in taste (generally butterscotch notes) and colour- varying shades of amber to dark brown- as well as consistency! In fact, depending on the time of the year the sap is extracted, even gula melaka from the same brand can be of different sweetness.
Trivia: Old Asian Grandmas say the way to differentiate sugar and palm sugar is the latter doesn't attract ants, but I've never tried!
Why make this sauce?
It's delicious!
Pantry cupboard ingredients only- and a mere 3 at that!
All the ingredients go into the pot at the beginning, so you don't have to worry about pouring anything into hot sugar and risking a very nasty burn
Substitutes
Although salt, gula melaka & coconut milk are South East Asian pantry staples, if you happen to run out, here are some alternatives you can use. Also, I find it easier to use recipes if they're in ratios, so the ratio of ingredients here is 7 (gula melaka): 3 (coconut milk): 2 (water) + a pinch of salt! Scale up or down depending on how much you need- it could be 7 tablespoons or 7 cups!
Sugar instead of Gula Melaka
If you don't have gula melaka (palm sugar) on hand, feel free to use sugar. Brown sugar is recommended, but if you want something that is of a lighter hue, go for white sugar instead. (You can also use coconut sugar.) It won't taste quite the same as a caramel made from palm sugar- gula melaka and coconut are very complementary flavours- but it'll still make for a decadently rich vegan dessert topping.
Note: to make your own brown sugar, check out this recipe that uses only 2 ingredients.
Can you make salted caramel sauce with coconut cream?
Yes, simply add water to the coconut cream in the ratio 2:1 (so for 1T coconut cream, add 2T water), and stir well.
Conversely, to make coconut cream, leave canned coconut milk in the chiller overnight. The cold will cause the fat to separate, forming a solid layer at the top. Simply skim this thick layer off, then whisk it till creamy to get coconut cream from coconut milk!
Why add water?
Classic caramel can be made by the wet method or the dry method. Obviously, we're using the wet method since we're adding water! Why? The water helps make the caramel brown more evenly and it also increases the time required for the sugars to caramelise, resulting in a tastier vegan caramel sauce.
Can I speed up the process? Yes:
- Use a wide pot or skillet
To get a nice, thick, syrupy coconut caramel, you need to cook this over low heat for some time. The longer you cook it for, the thicker it will be (do keep stirring to make sure the bottom doesn't burn!) This time also helps to caramelize the gula melaka and the sugars in the coconut, giving the gula melaka caramel a deeper and more complex flavour. (People think the flavour in caramel is from the butter, but actually a lot of it is from the Maillard Reaction and the breakdown of the sugar molecule, and all that takes time!)
Using a wide pot or skillet, however, will increase the surface area and allow the water to evaporate more quickly.
Note: The dairy-free coconut caramel sauce gets very hot and can burn you badly so make sure you're very careful when you make this saucel!
Always use a bigger pot than you think you need as you don't want the caramel to overflow and try not to leave it unattended towards the end as it will only take a minute to burn.

Remember not to taste the caramel syrup till it's cooled!
- add a thickener & it only takes 5 min!
However, if you're really rushed for time, use coconut cream instead of coconut milk. Add it to the pot with the gula melaka, bring to a boil and add a thickening agent, such as arrowroot or cornstarch, to the pot. (If you're after a vegan salted caramel, throw in a pinch of salt too.) Reduce the heat to low (you want the mixture to simmer not boil) and stir continuously with a heat-proof whisk for 4-5 minutes. After switching off the heat, the sauce will come together and you'll get a thick caramel.
Note that whilst this quick and easy 5-minute no-dairy coconut caramel tastes good (there is a truckload of sugar and fat in it, after all) the quick version will never taste as good as the previous version, as there's no substitute for time.
How to use this
This is not meant to be a vegan version of butterscotch/ caramel, as it's meant to taste like coconut and regular caramel is not coconut-ty! (Which is why I'm not adding vanilla extract.) (Pet peeve: I've tried previous vegan versions of classic recipes which, though tasty, tasted nothing like the original as the coconut was so strong! Don't try to pretend it's something it's not!) However, you can use it in the same way you use a regular caramel:
Poured on ice cream
Drizzled on agar agar jelly, panna cotta, brownies and cheesecake
Stirred into your coffee, vegan latte or hot chocolate
I've even used it in frosting: simply add some to your regular buttercream recipe, instead of vanilla flavour
On top of pancakes! Make them pandan ones!
Added to popcorn
As a spread for bread (you want a really nice thick sauce for this so leave the vegan coconut caramel on the stove for longer), or maybe a coconut caramel dip for pandan mantou bao buns? (pandan is another flavour that's meant to be with gula melaka and coconut)
Gula melaka caramel apples anyone? (Don't cook the vegan caramel syrup for so long as you want it runny!)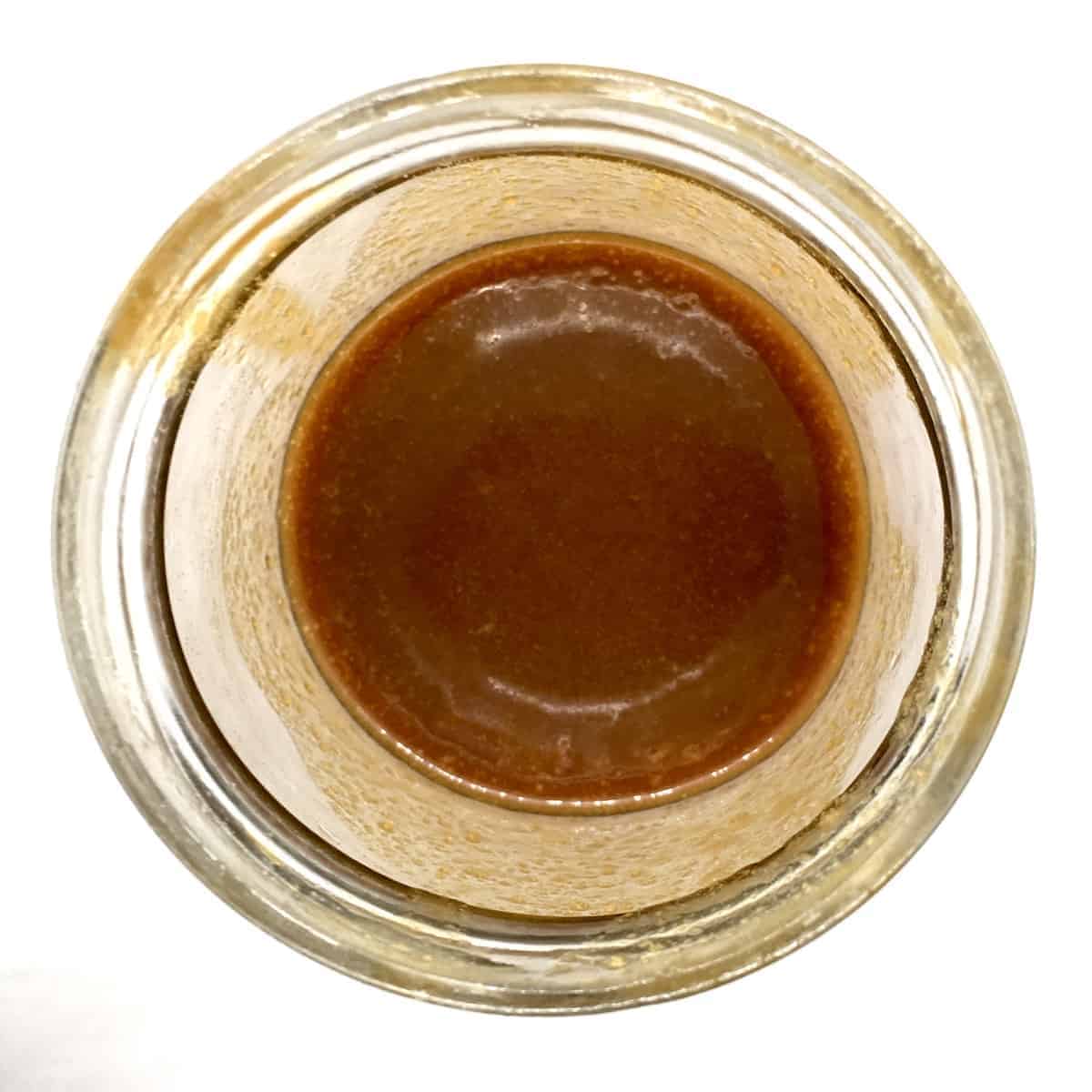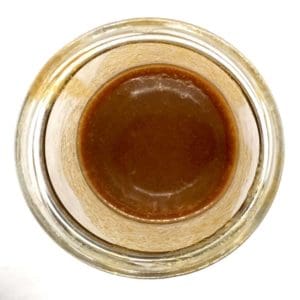 Vegan Salted Gula Melaka Coconut Caramel Sauce Recipe
Deliciously thick and creamy, this vegan sauce makes a great caramel or butterscotch substitute, and goes particularly well with coconut or pandan flavoured desserts!
Equipment
Grater (or knife and cutting board)

Deep and wide pot

Heat proof whisk

Air tight jar
Ingredients
7

Units

Gula Melaka

This recipe is in ratio form, so you could make this 7 spoonfuls or 7 cups of gula melaka, just adjust the rest of the ingredients accordingly!

3

Units

Coconut Milk

If you only have coconut cream, see the recipe post for how to turn it into coconut milk

2

Units

Water

Salt, to taste

Optional: pandan
Instructions
Break the gula melaka into smaller pieces. You can cut it or grate it. Sometimes when I'm lazy I just briefly pound it so it breaks into 2-3 smaller pieces. Obviously they're not as small as if I had cut or grated, so you need to work extra hard stirring here!

Add all the ingredients to the pot except the salt. If using pandan leaves, bruise and tie into a knot (to make it easier to fish out later)

Turn the heat to medium and bring the pot to a boil- do use a pot that is much bigger than you need so the vegan coconut caramel sauce won't overflow and burn you!

Once it reaches a boil, turn the heat down low so the sauce is at a simmer and stir till everything is dissolved. After that, add the salt and stir every now and then to make sure no palm sugar sticks to the bottom of the pot and burns.

The time you leave the syrup simmering for depends on how thick a coconut caramel syrup you want as well as your palm sugar (as each batch differs) and how fat your coconut milk is! The thicker you want it, the longer you leave it on for but you will need to stir continuously towards the end as the coconut caramel burns easily once it thickens up. (For a point of reference, I leave mine for 1-1.5 hours)

Once happy, fish out the pandan (toss it), switch off the stove, remove the pot from the heat, stir the coconut caramel and let it cool down. (If you're tasting, remember to let the sauce cool before trying! Keep out of reach of pets and children so they don't hurt themselves!) After cooling, pour it into an air-tight glass jar and put it in the chiller.

Make sure to stir this dairy-free caramel before each use! I keep it for 10-14 days in the fridge
Notes
Remember that the coconut caramel sauce gets very hot so make sure not to burn yourself!