This easy Black Sesame Mochi Cupcake recipe is naturally gluten-free and requires no special equipment, not even a mixer! With its crisp exterior and soft chewy interior, it's a great mini cake recipe for those with celiac disease. So easy you can make it perfectly the first time!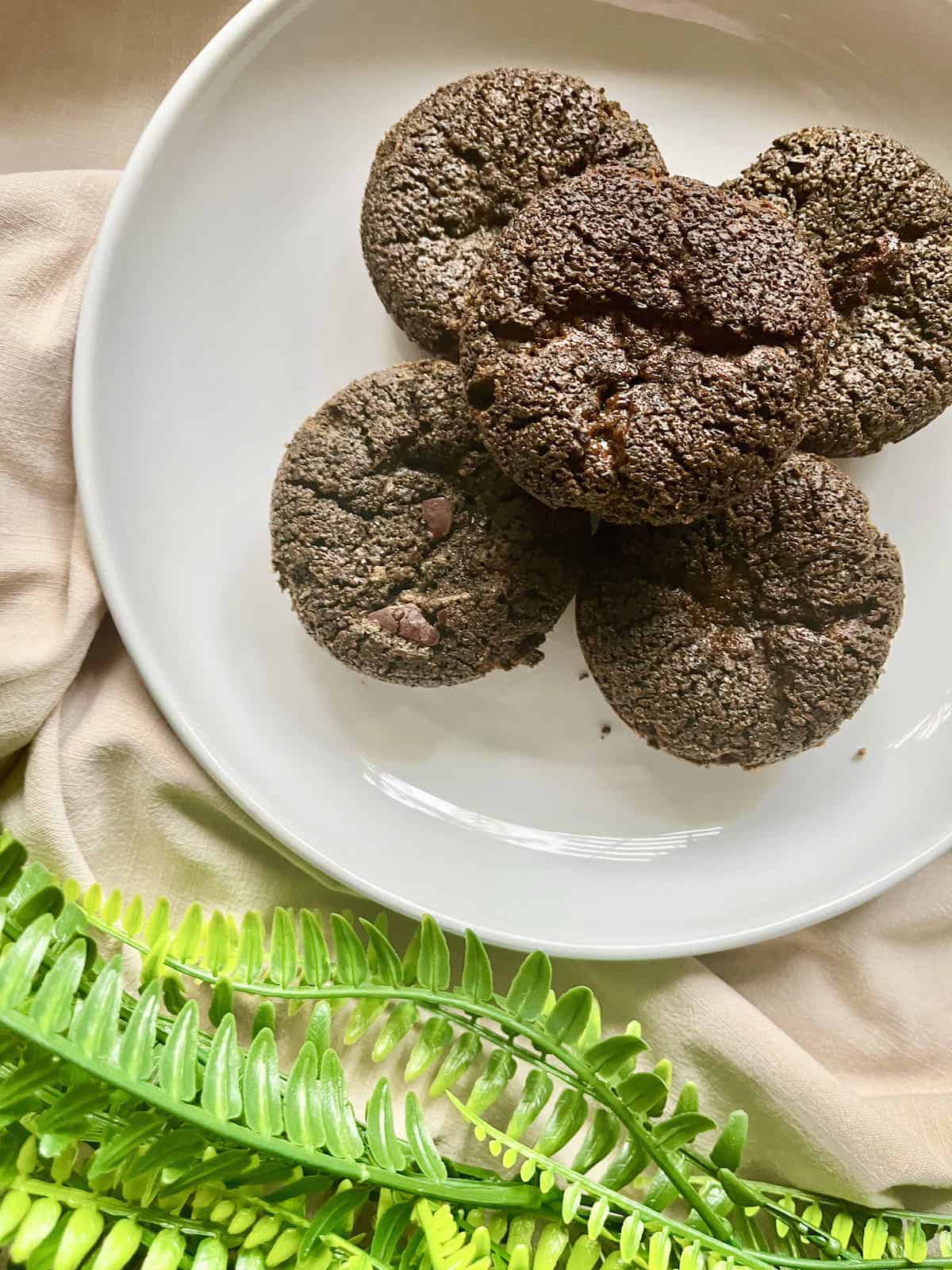 Jump to:
Why Make This?
These Black Sesame Mochi Cupcakes are delicious: if you like Chinese glutinous rice balls/ tang yuan, you'll love these chewy muffins with a nutty flavor. They are soft inside but crisp outside when fresh out of the oven.
Easy to make: Like my soft black sesame cookies, you don't need any special equipment and everything can be mixed by hand. It's basically a 2-step recipe: mix the dry ingredients, melt the butter and combine everything!
Gluten-free: Glutinous rice flour is a gluten-free flour that is easy to find and inexpensive!
Word of Warning: the gooey texture of mochi is not for everyone. Asians and some people LOVE it- hence the proliferation of mochi doughnuts, mochi bread, mochi waffles, mocha brownies and mocha cookies- but some hate it!
What are Mochi?
Mochi are small Japanese sweet treats made from glutinous rice flour, which is also known as sticky rice or sweet rice flour/ mochiko flour. They are very similar to Chinese muah chee, as they both have the chewy texture characteristic of glutinous rice flour. (For more sweet rice flour recipes, click here.)
Like traditional Japanese mochi, these mochi cupcakes are soft and chewy but with a crisp exterior.
Ingredients
The key ingredients for these black sesame mochi muffins are:
Glutinous rice flour: You can use regular Thai glutinous rice flour or the more expensive Mochiko flour for these black sesame treats. However, plain rice flour and glutinous rice flour are NOT the same thing so don't substitute mochiko flour with regular rice flour!
Black Sesame Powder: You can get this from Asian grocery stores or use homemade. I provide instructions on how to make powder from black sesame seeds here. All the other ingredients are readily available in mainstream grocery stores. Leftovers can be used in these black sesame recipes!
Sugar: Both white sugar and brown sugar work. Unfortunately, you will need more sugar than you do in the matcha mochi cupcakes recipe because of the earthy flavor of black sesame. Do not use dark brown sugar as the molasses flavor will overpower the black sesame! (Brown sugar lumps easily, so please weigh if you can. 1 Cup of brown sugar weighs 7 oz/ 200g. I find the taste with brown sugar is actually better BUT the black sesame flavor is less strong.)
Baking Powder: NOT baking soda!
Milk: Make sure you use whole milk or regular milk and not semi-skimmed! Do NOT omit the milk or the muffins will come out as hard as rock cakes. (I once did so when in a hurry.)
Butter: I use unsalted. If you only have salted butter, omit the salt the recipe calls for! Some people substitute butter with a neutral oil but I find the resulting muffins don't taste as good.
Coconut milk: use unsweetened. If you don't have coconut milk, you can dilute coconut cream with water. (Dilution ratio in recipe card.)
Egg: use a large sized egg at room temperature
optional garnish: white sesame seeds (If you use black sesame, they won't show. Moreover, mixing white and black sesame makes the bake more fragrant.)
optional filling: I love black sesame chocolate mochi muffins so I add 2-3 dark chocolate fevres or dark chocolate chips to each muffin. It does slightly overwhelm the black sesame, but the combination is heavenly!
Note: If you're trying to recreate the Third Culture Bakery original mochi muffins, note that they use mochiko flour from Koda Farms and organic French-style butter.
Variations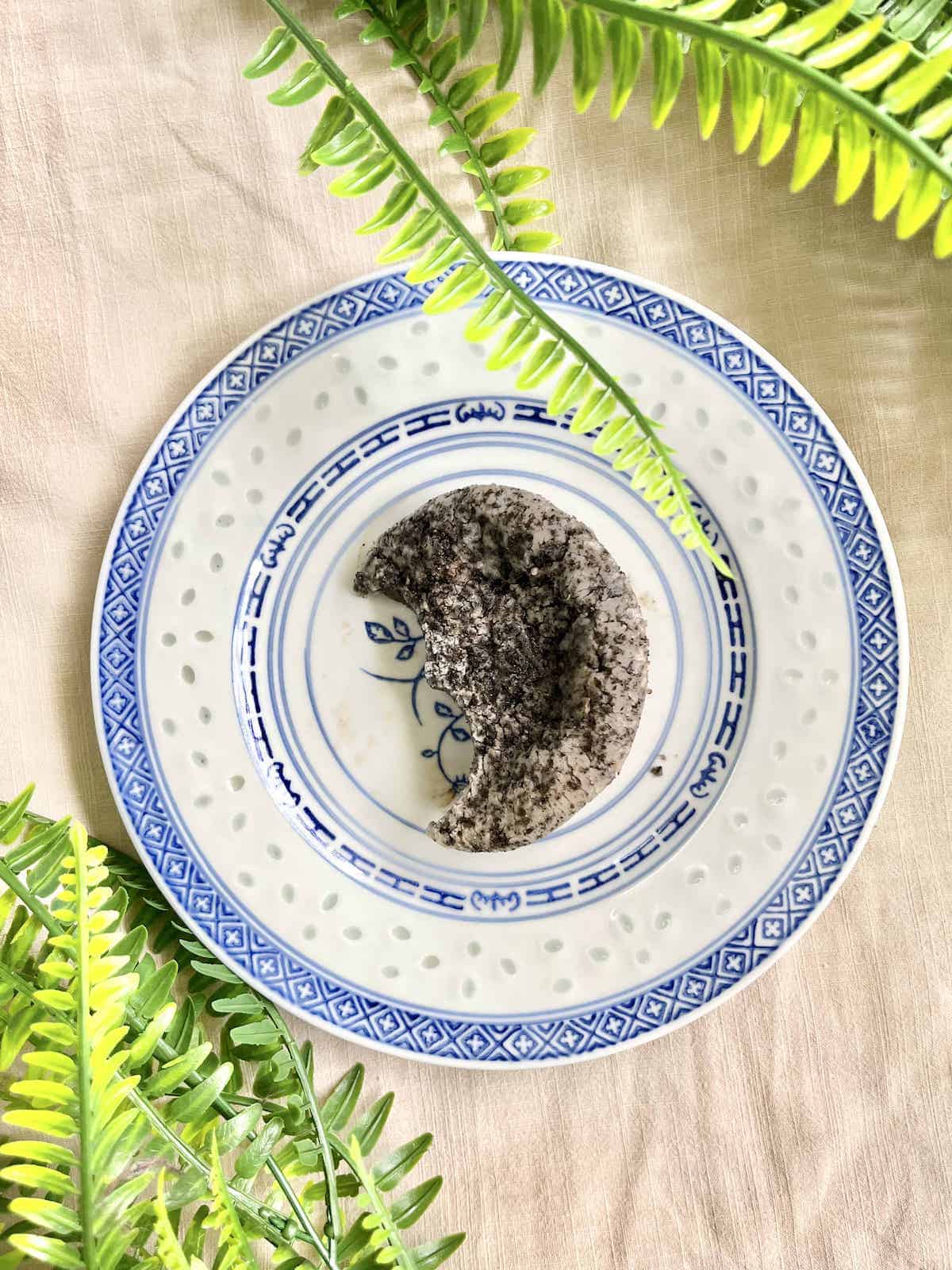 Vegan sesame mochi cupcakes: You can't just follow the instructions for these vegan mochi muffins (Hojicha) as the mini mochi will come out grey, too soft and not very appetising (see above.) I'm still working on the right quantities for the ingredients and will update ASAP.
Red bean: you can add a scoop of red bean paste to the centre of each cupcake before baking. Tastes delicious with vanilla ice cream!
Equipment
I use a 3-inch mini muffin pan. The size of the muffin matters as smaller muffins will bake more quickly- overbaked muffins will have a thick hard crust and won't taste as good!
If you don't have a muffin tin, you can use a larger cake pan. Remember to increase the baking time (Exact time will depend on the size of the cake pan.)
Note: I do not use muffin cups or paper liners when baking the cupcakes as I want the entire cupcake to develop a nice crisp crust.
Step by Step Instructions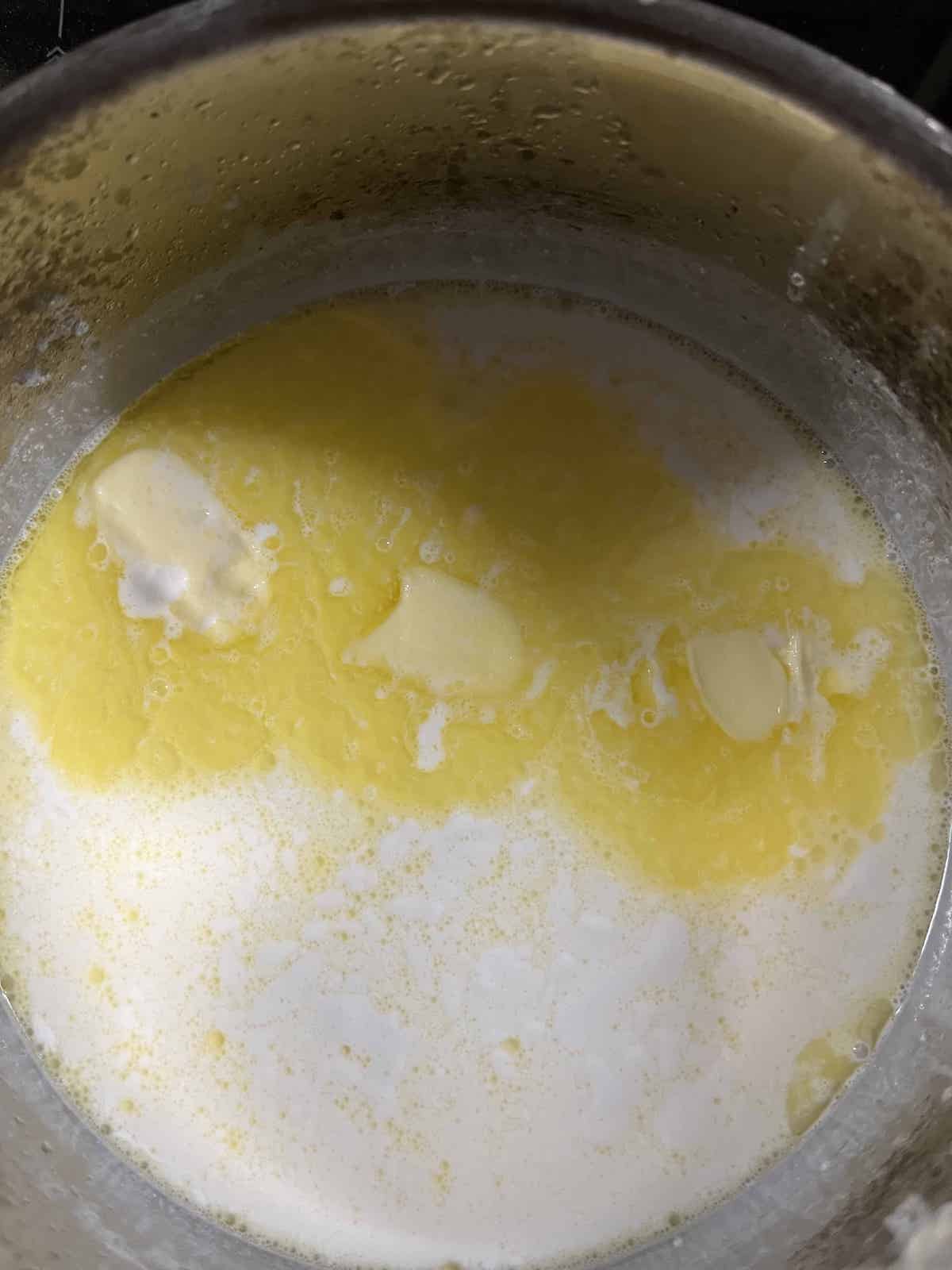 Preheat the oven to 350F/ 157C fan/ 177C.
1a. Melt the butter in a small pot with the whole milk and coconut milk over low heat.
1b. Whilst melting the butter, whisk the eggs till well-combined.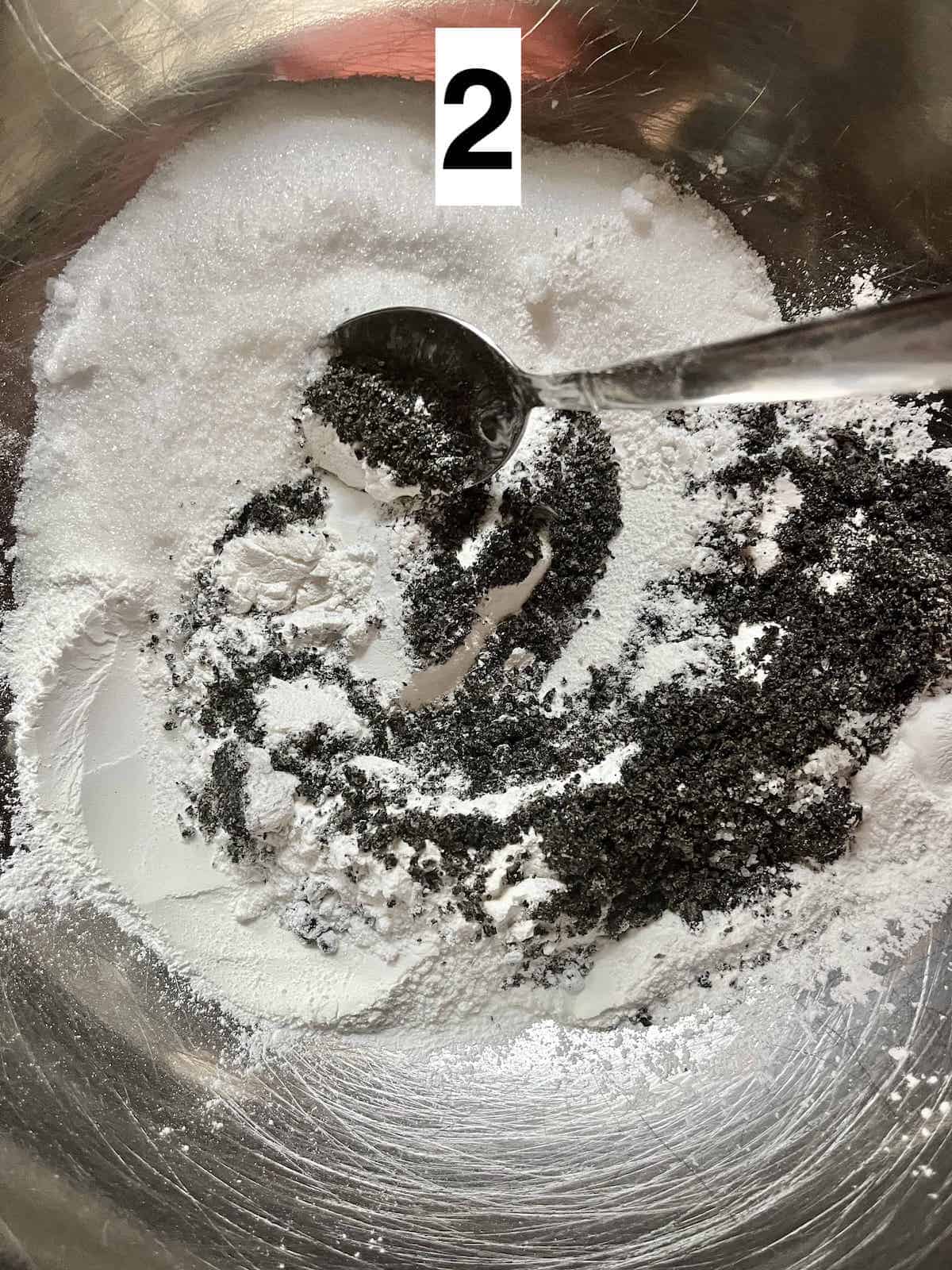 2. Mix the mochi flour, black sesame powder, baking powder, salt and sugar in a large mixing bowl till the dry mixture is well-combined.
Note: You do not need to sieve the dry ingredients. The mochi flour is a fine powder, so mix slowly or it'll fly everywhere.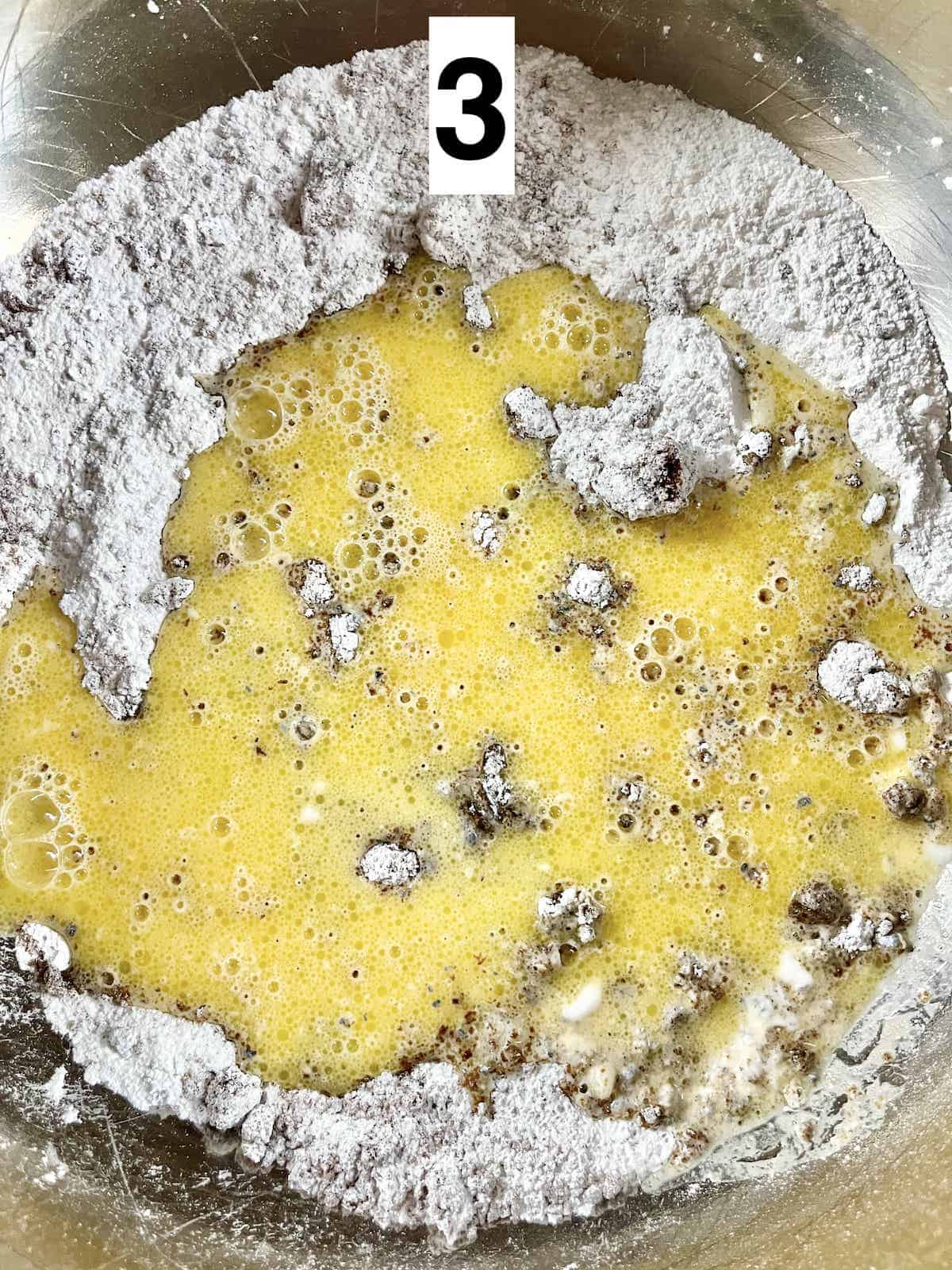 3. Pour the melted butter then the rest of the wet ingredients into the dry ingredients then stir well till no lumps remain.
Note: You will see air bubbles forming and get a thin, runny batter. There is no gluten in the flour so don't working about over-mixing. We want to whisk till no lumps remain.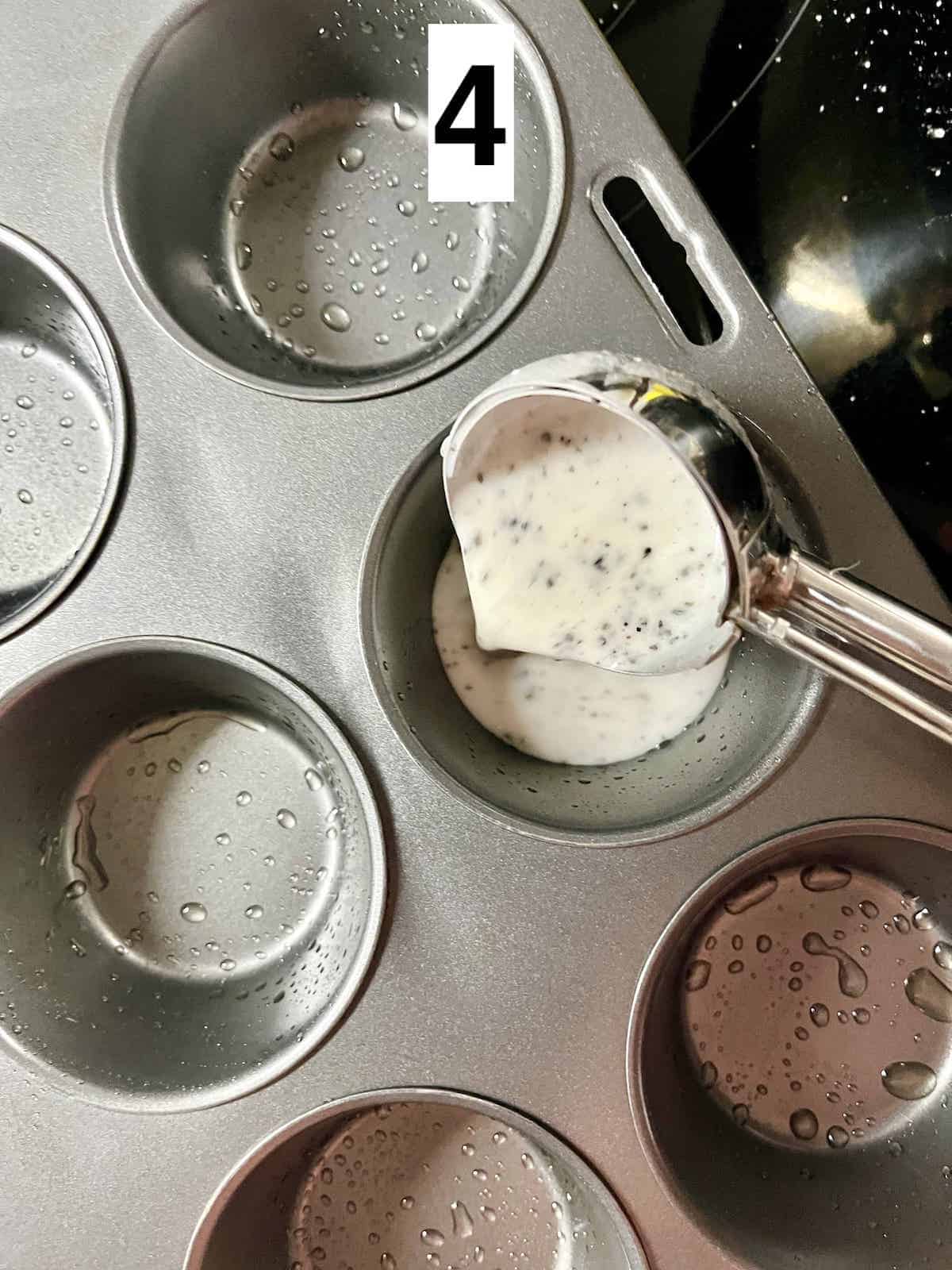 4a. Once the batter is smooth, scoop into an oiled/ buttered muffin tray. Use an ice-cream scoop or ¼ Cup scoop for best results. (To help you get an equal amount of batter in each muffin.)
Garnish with the sesame seeds if using.
4b. Bake for 45-55 minutes, or till the exterior is crisp and golden.
Note: Do not overbake or the muffins will not be soft! Allow to cool for a while then transfer to a wire rack, if not the heat from the muffin tray may cause the muffins to overbake.
How to Store
At Room Temperature
The mini mochi cake tastes best eaten warm from the oven.
However, it can be kept in an airtight container at room temperature for 2-4 days. If eating the next day, reheat before serving, as per the insutructions below.
In the Fridge
The cupcakes last longer in the fridge.
However, the dough will harden and become an unappetising lump. You HAVE to reheat them before eating to get the chewy center.
In the Freezer
The chewy mochi cupcakes can be frozen for up to a month.
Make sure there is space between each cupcake when freezing (to prevent sticking.) Once frozen, they can be mixed up in a ziplock bag.
Thaw and reheat before eating.
How to Reheat
Microwave: Heat on low-medium in 10 second intervals till warmed through.
You can also re-heat the glutinous rice treat in a toaster oven.
Expert Tips
Tip #1: Butter or use a neutral vegetable oil to oil the muffin tin generously so that the muffins don't stick. To get a crisper crust, dust with semolina flour, all-purpose wheat flour or rice flour (after buttering to ensure they don't stick!)
Tip #2: The inside of the cupcakes will be a bit see-through and look "wet" even when fully baked (somewhat similar to what underbaked regular wheat flour muffins look like.)
FAQs
Can I make mochi muffins without eggs?
Yes you can- I add an extra teaspoon of baking powder to compensate- however the muffins will be denser and won't rise as much. I would suggest scooping the batter into 10 or 11 muffins (instead of 12 as the original recipe calls for) to make up for the loss in volume. (If not, the ratio of crisp exterior to soft interior is thrown off!)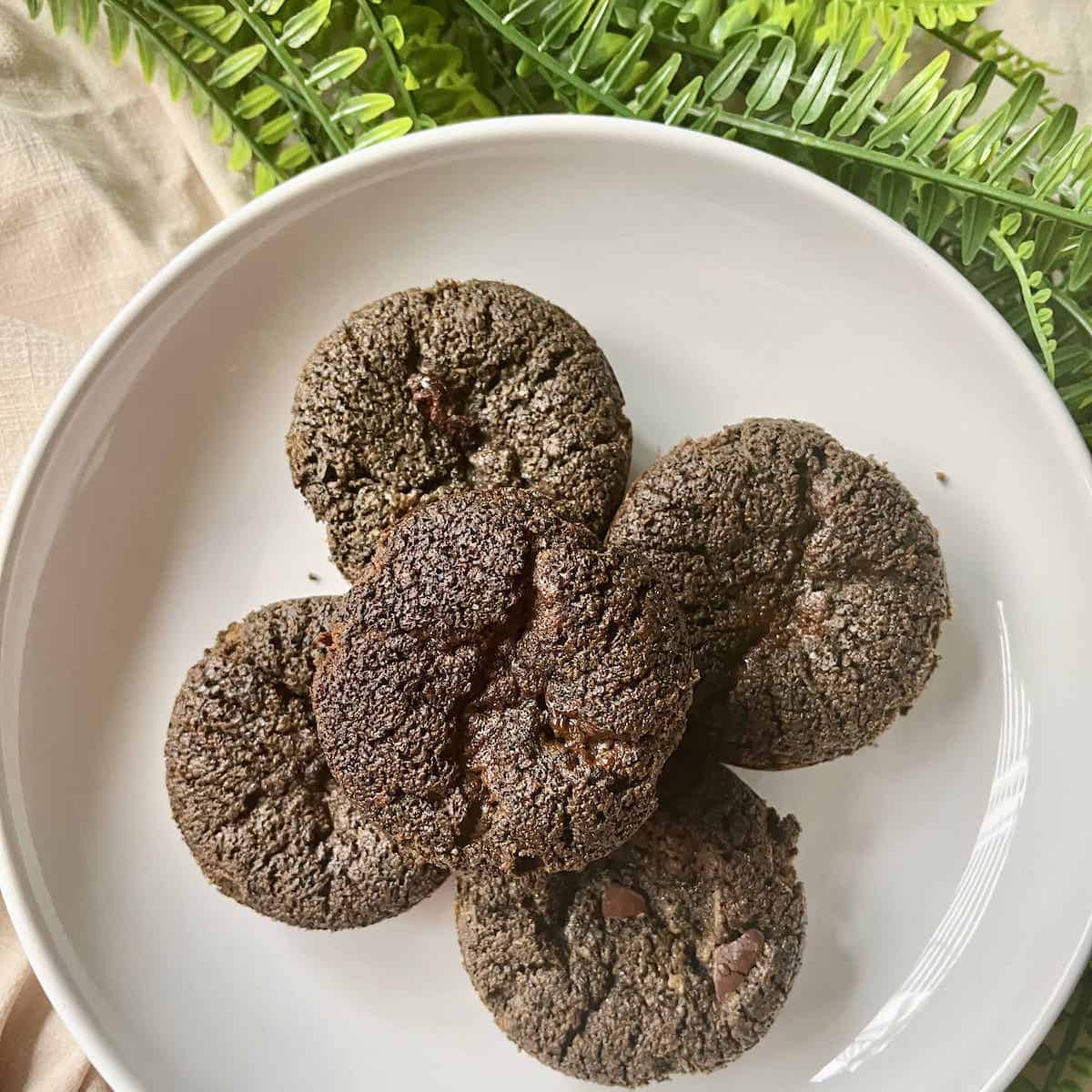 Other Asian Dessert Recipes
Enjoyed this Black Sesame Mochi Muffin recipe? Please leave a 5-star 🌟🌟🌟🌟🌟rating in the recipe card below & if you REALLY like these mochiko sweet rice flour bakes, I'd love a comment. Thank you and have a great day!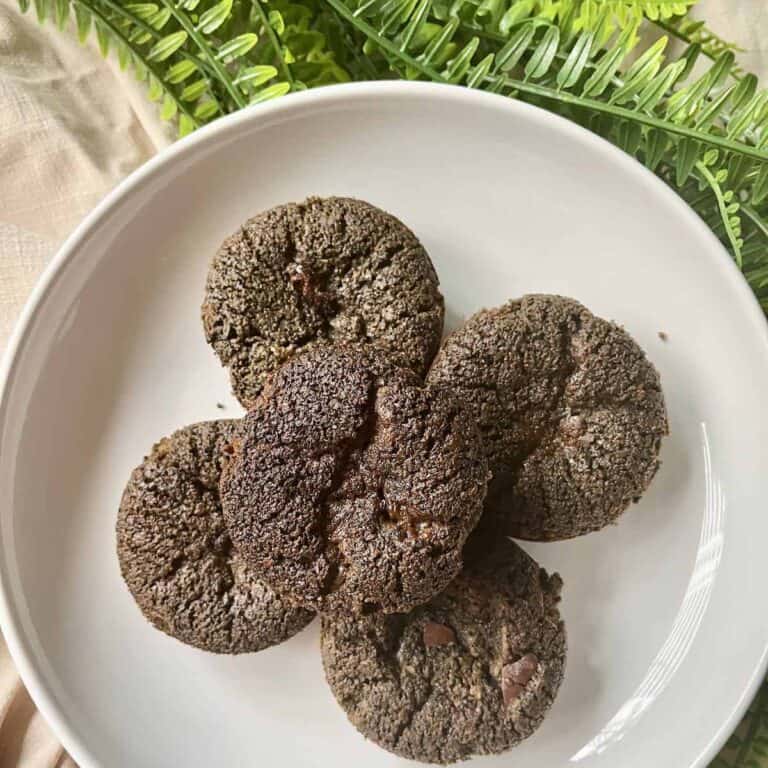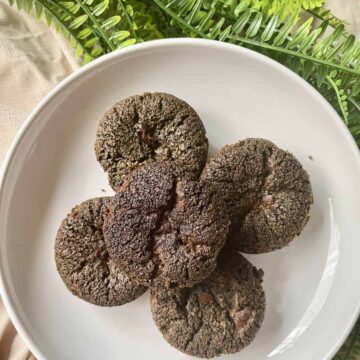 Black Sesame Mochi Muffin (NO MIXER)
This easy Black Sesame Mochi Cupcake recipe is naturally gluten-free and requires no special equipment, not even a mixer! With its crisp exterior and soft chewy interior, it's a great mini cake recipe for those with celiac disease. (Vegan version included.)
Equipment
1 Large bowl and whisk

1 Small pot

1 Muffin tray with 3-inch muffin holes
Ingredients
Wet ingredients
4

Tablespoons

unsalted butter

56.8g or 2 oz. If you use salted butter, omit the salt later

1

Cup

whole milk

UHT is OK. (240g/ 8.6 oz) This is crucial for soft muffins. If not, they'll be as hard as a rock!

⅝

Cups

coconut milk 150g/ 5.3 oz. Substitute: 30g/ 1.06 oz coconut cream to 120g/ 4.23 oz water

2

large eggs

beaten. If you omit the egg, add an extra teaspoon of baking flavor but note that the muffins will be flatter and denser. I suggest scooping into 10-11 muffins instead of 12 to compensate for the loss in volume.
Dry ingredients
2

Cups

glutinous rice flour

6-8

Tablespoons

black sesame powder Here's a recipe to make your own sesame powder. I use 3 Tablespoons if I make this without chocolate and 4 Tablespoons if I add the chocolate fevers. (Black sesame is nutty and earthy so if you use too much, without the sweetness of the chocolate, the mochi cupcakes will taste bitter. Too little and you won't taste the sesame!)

1½

Cups

white sugar

We're using more sugar than in the matcha mochi muffin recipe to counter the earthiness of the black sesame. You can use light brown sugar instead (but not dark brown.) I find the taste nicer but it detracts from the black sesame flavor. Remember to weigh it as brown sugar is notorious for clumping (You want 300g or 10.6 oz.)

1

teaspoon

baking powder

NOT Baking Soda!!

½

teaspoon

salt

Omit if you use salted butter
Optional Filling
24

dark chocolate fevres

You can omit this but, in my opinion, chocolate and black sesame go together beautifully!
Instructions
Notes
Note: the nutritional information is an estimate automatically calculated using the WPRM recipe maker and I am not responsible for its accuracy.
Nutrition
Calories:
631
kcal
Carbohydrates:
74
g
Protein:
9
g
Fat:
34
g
Saturated Fat:
19
g
Polyunsaturated Fat:
2
g
Monounsaturated Fat:
10
g
Trans Fat:
0.2
g
Cholesterol:
41
mg
Sodium:
164
mg
Potassium:
508
mg
Fiber:
7
g
Sugar:
39
g
Vitamin A:
211
IU
Vitamin C:
0.1
mg
Calcium:
135
mg
Iron:
8
mg
If this Black Sesame recipe was helpful, maybe you'd like to sign up for my newsletter in which I send you more Asian recipes?