Also known as Yuanyang, Yun Yeung or Yuenyueng tea, Hong Kong Coffee milk tea is a simple 4-ingredient, 3-step recipe that anyone can easily make at home. Tastes great both hot and cold- creamy & warming in winter whilst refreshing in summer!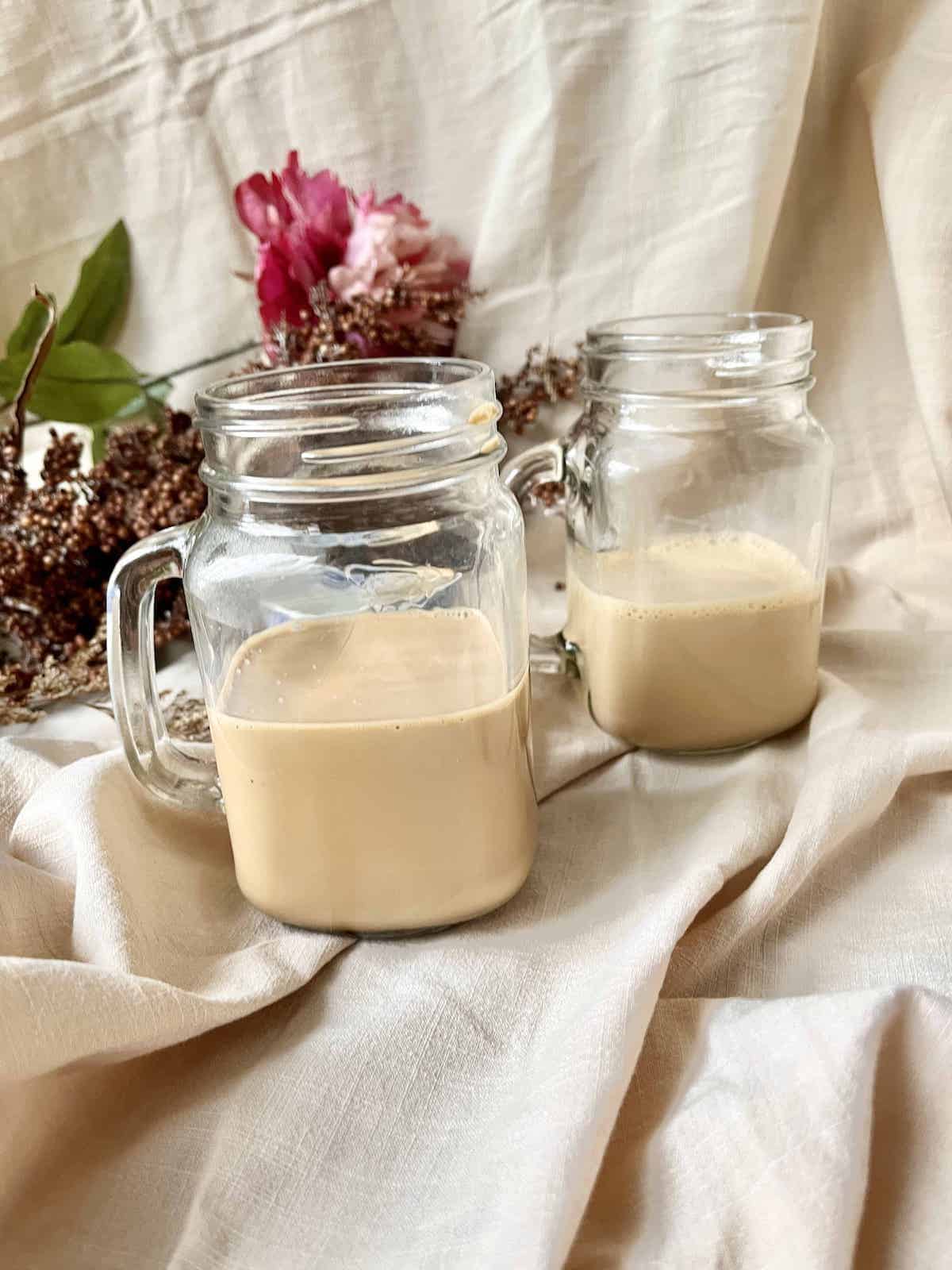 Jump to:
What is Yuanyang tea?
Hong Kong coffee milk tea, also known as Yuan Yang Cha (鸳鸯 in Mandarin), Yin Yang, Yun Yueng, Yin Yong, Yin Yeung or Yuenyueng tea (鴛鴦 has various Cantonese transliterations), is a popular drink in Hong Kong & many Asian countries.
In fact, this Cantonese classic drink is so beloved that Starbucks even released a Frappuccino version in Hong Kong & Macau in 2010!
A mix of coffee and Hong Kong milk tea (yeet lai cha), it was initially sold at cha chan tengs (cafes) and dai pai dongs (street stalls), but is now widely available. The Leisure & Cultural Services Department has even stipulated the composition of this rich & creamy drink: 3 parts coffee to 7 parts Hong Kong milk tea, although one can obviously vary this if making it at home!
Fun fact: Yuan Yang is actually the Chinese term for Mandarin Ducks, which is often used to symbolise a pair of lovers so, in this context, it refers to how coffee & milk tea are a match made in heaven! Other Yuan Yang foods include Yuan Yang hot pot, in which the steamboat pot is divided into 2- 1 side for a clear broth, and the other usually reserved for a spicy soup!
Another famous coffee-tea combination is Dirty Chai Tea.
Taste
Hong Kong Yuan Yang drink is earthy and rich- not quite as bitter as an iced coffee latte but with the same roasted, complex flavor.
Other Asian teas
Tea is a widely-enjoyed drink in China as well as Asia. Every Asian country has its own special tea.
Other popular Asian teas include:
Ingredients
You only need 4 ingredients, mainly:
coffee: If you want a very strong coffee flavor, use shots of espresso or cold brew coffee. However, instant ground coffee is great too (just use more coffee powder for a stronger brew.) No moka pot necessary!
tea: I recommend a strong black tea. See below for more detailed info about the type of tea to use.
Milk: Hong Kong milk tea is distinct for its creamy and strong flavour: it should pack a punch and you should taste the tea, the coffee and the creamy flavour all at once! To get the creamy taste, I steep the tea directly in whole milk and not water. (I do NOT recommend semi-skimmed or skimmed milk.) The secret to making the best Hong Kong coffee milk tea is adding a splash of evaporated milk or condensed milk. The creaminess goes so well with the bitterness of the tea. (If using condensed, remember to reduce the amount of sugar added!) See FAQ on how to make this plant-based.
Sweetener: I do not recommend skipping the sweetener as it won't taste as good or as authentic- the sweetness is meant to balance out the bitterness of the coffee & tea. Sugar is traditional but you can also use simple syrup if you want to avoid the hassle of dissolving the sugar. (I highly recommend brown sugar, which you can make from 2 ingredients or brown sugar syrup to give the Hong Kong drink a caramel aftertaste.) For those avoiding refined white sugar, use a neutral honey or 1 of these sugar substitutes.
P.S. Coffee lovers would also love this copycat Starbucks white chocolate mocha recipe. It is super creamy and delicious!
Types of tea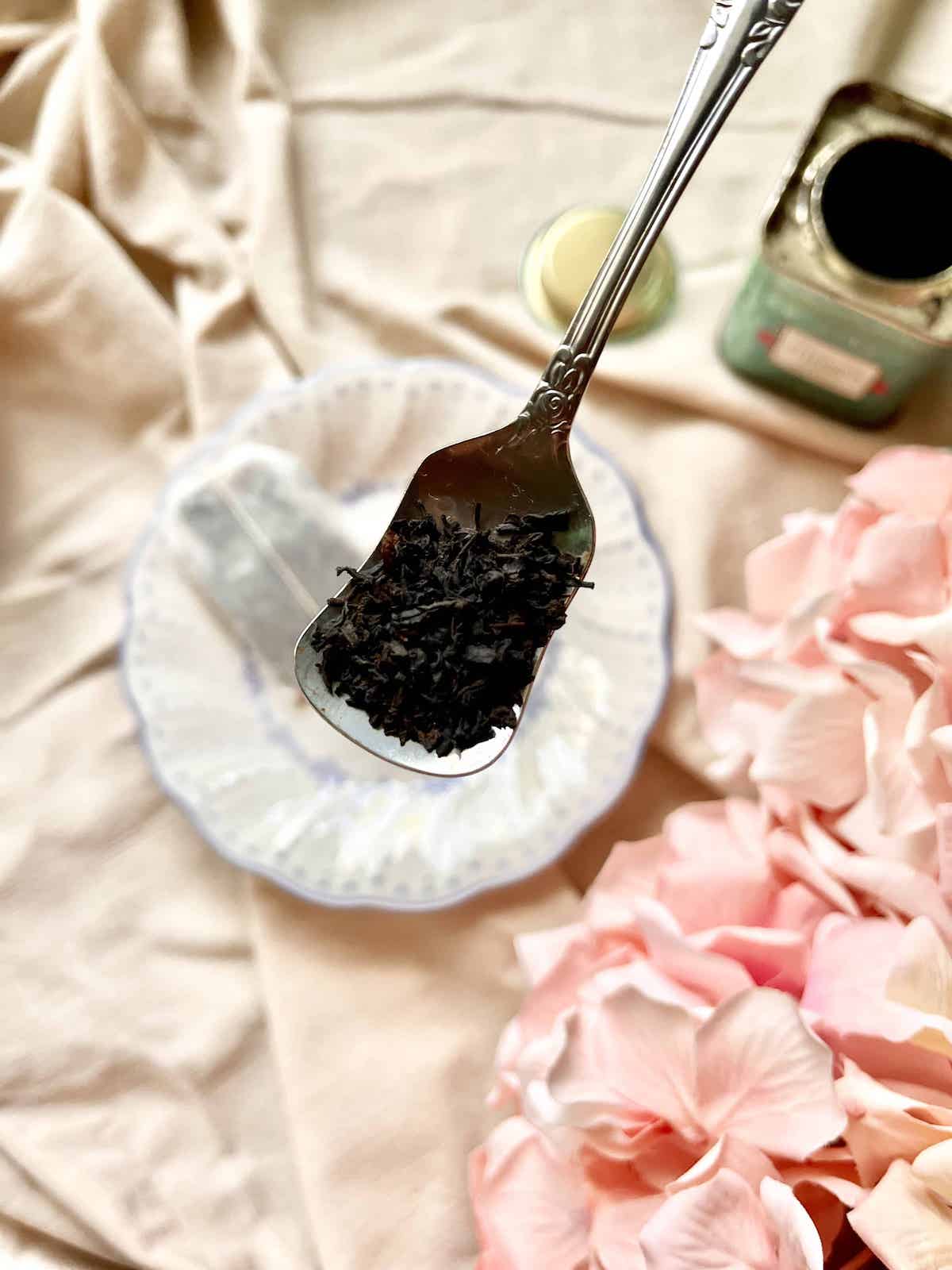 Hong Kong milk tea originally used very strong black teas that are robust enough to stand up to the coffee flavor- it was taken as an energising drink by labourers in 1940s Hong Kong. As Hong Kong gentrified, the flavor of the tea has lightened as well.
Although every Hong Kong cafe professes to have a secret blend of tea leaves, the standard mix is Broken Orange Pekoe (BOP) leaves, BOF Fannings, Dust and Lipton (BOP and Ceylon) tea in the ratio 3: 3: 3: 1. BOP tea gives the drink its aroma, BOF Fannings its deep color, Dust the strong taste and Lipton is an all-round enhancer.
For a simplified homemade version, I recommend using 1 or more types of tea leaves (or tea bags), such as Ceylon (HK milk tea uses Sri Lankan tea leaves), Assam and Darjeeling. You can also use white tea, red tea or green tea, but the flavours may be overpowered by the coffee.
Optional fillings
You can add chewy tapioca pearls, pudding or jellies (coffee jelly!!) to make boba coffee.
Variations
Iced Hong Kong Yuan Yang tea: add ice cubes

Always chill the drink before adding the ice cubes to avoid them melting and watering down your tea!

Use cold brew coffee for an easy chilled version of Yuan Yang cha.
Using 1 large ice cube instead of many small ones slows down the rate of dilution too.

Brown sugar Yuan Yang tea: Brown sugar gives this recipe an even better depth of flavour and an almost caramel taste.
Matcha Yuan Yang tea: Mixing matcha green tea and coffee is a delicious, modern take on the traditional version.
Coffee bubble tea: add tapioca starch pearls to your drink
Happy Hour: add a splash of Kahlua or Baileys!
Pimped up version: Spritz whipped cream on top, and drizzle some caramel syrup or chocolate sauce on the Hong Kong coffee tea!
Step-by-step Instructions
If you're wondering how to make this classic Hong Kong drink, it's actually very easy: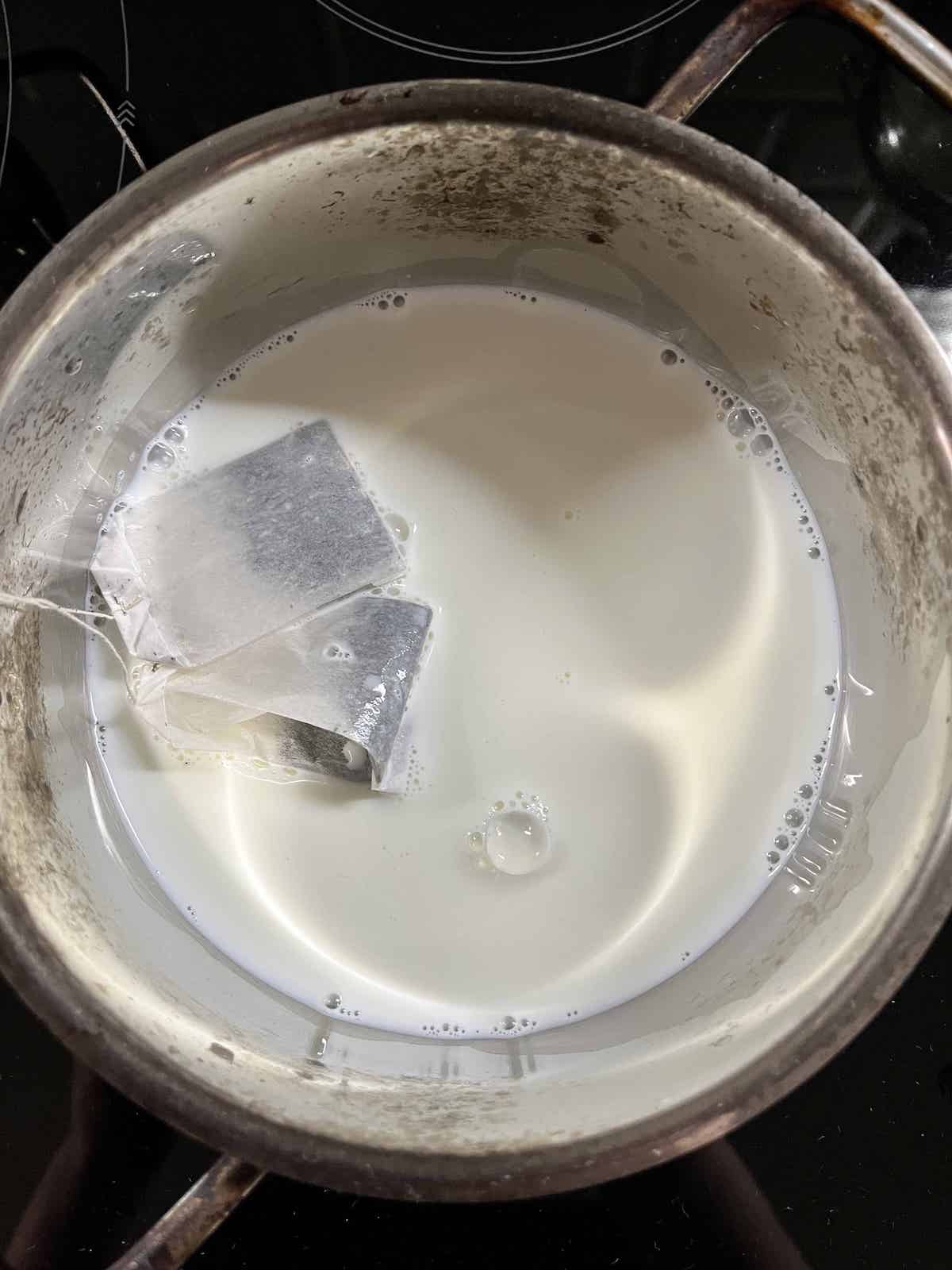 Steep the tea directly in the hot milk (not water) to get a creamier flavor.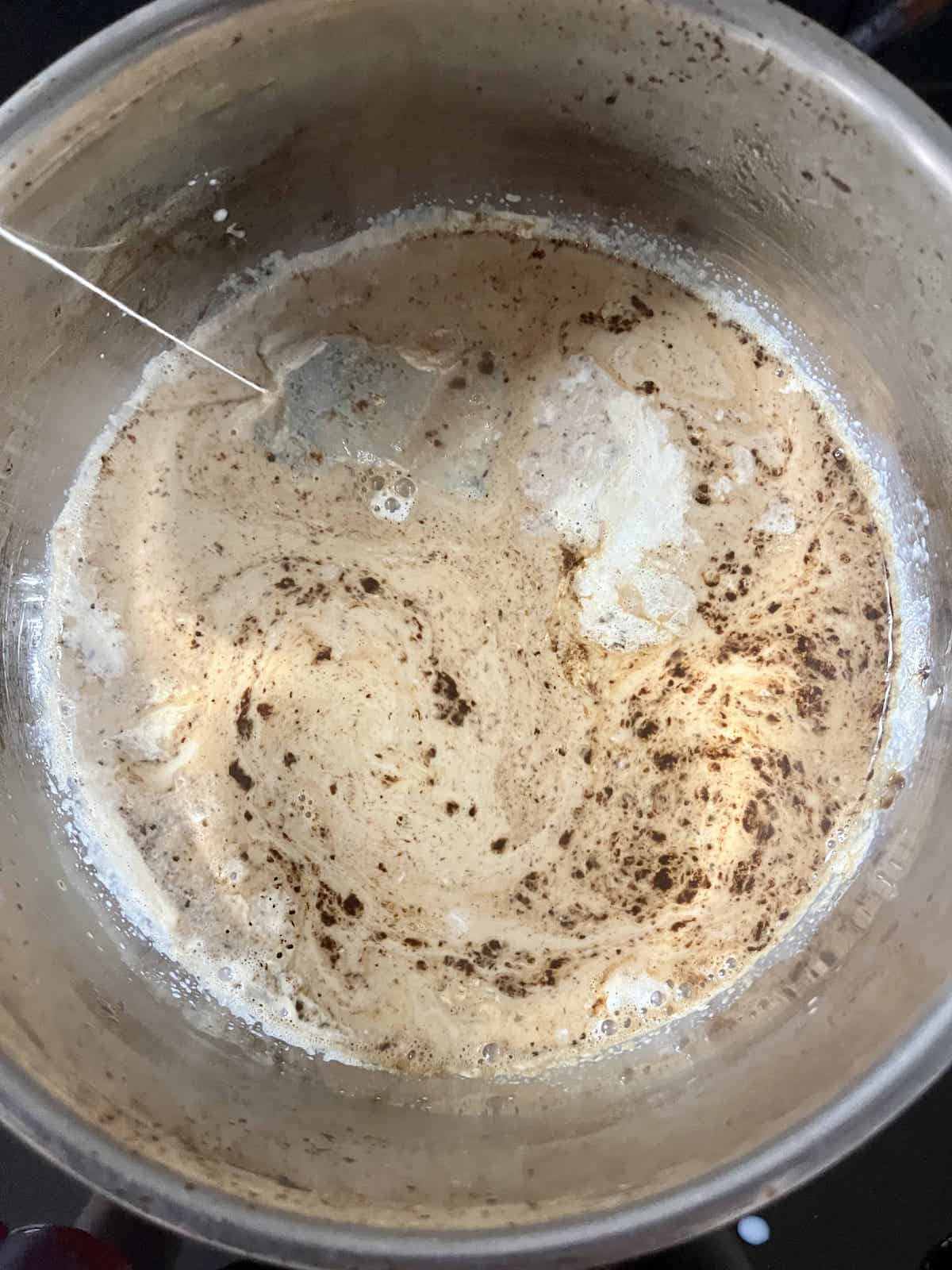 2. If using instant coffee granules, add it directly to the pot of milk tea, as shown above, before adding the hot water. If not, brew your coffee then add it to the pot. (You can also use espresso if you want something stronger.) Mix well.
Optional: sweeten to taste or add ice if you want to drink it cold. You can also add various fillings such as boba pearls to make it more fun!
How to Store
Coffee can be kept in the chiller in an airtight container for 2-3 days. Chinese people do not believe in drinking overnight tea, as it is thought to be harmful, so I recommend making the yuan yang tea on the day you want to drink this.
Moreover, tapioca pearls don't keep well, so don't keep store them for more than 1 day in the fridge!
Expert Tips
Tip #1: To make a caffeine-free yuanyang tea for children (兒童鴛鴦), mix Horlicks and Ovaltine.
Tip #2: You want the taste of the tea to be strong so that it isn't washed out by the coffee flavor. To do this, don't skimp not the tea bags/ leaves and steep the tea in the milk directly. If you use water, the drink becomes too diluted!
Tip #3: Heat up your cup before pouring in the hot drink, if you don't want it to cool down so quickly!
Recipe FAQ
How much caffeine is there in milk tea?
According to a Hong Kong government study, a litre of Hong Kong milk tea has, on average, 730mg of caffeine, which is more than double that of Taiwanese milk tea (320mg per litre.) Assuming 1 mug to be 250g (8.8 oz), that would be 183mg of caffeine per mug. Coffee milk tea, a popular Hong Kong drink, has even more caffeine, thanks to the addition of coffee. (Regular coffee has about 880mg of caffeine per 1 litre, whilst espresso has around 3700mg.)
Can I use dairy-free milks?
Vegans can use a plant-based non-dairy milk, such as almond milk or soy milk, but these are usually not quite as creamy. Note: coconut milk is rich but I don't recommend using it unless you are a fan of coconut flavor as the coconut taste is overwhelming.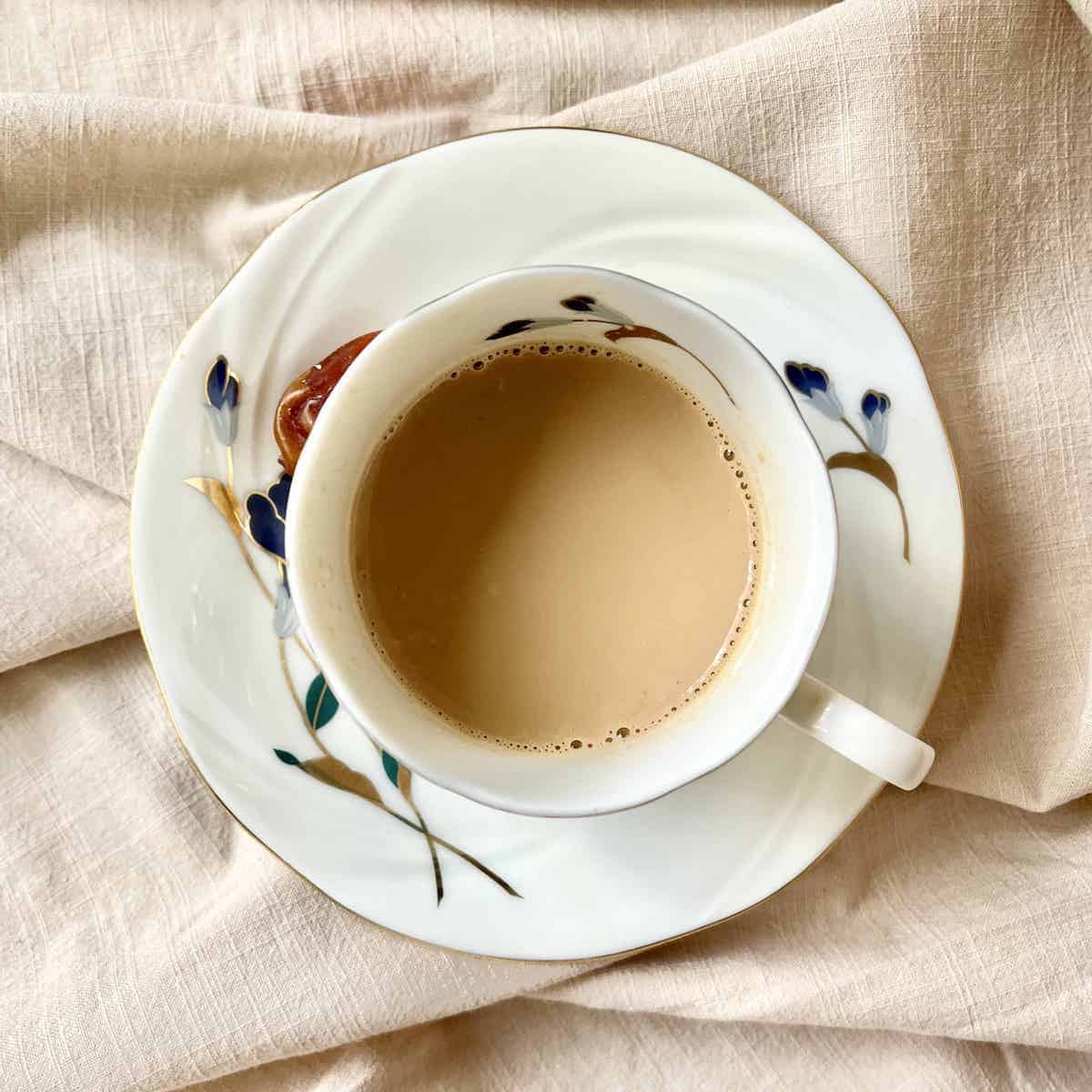 Other Tea Recipes
Enjoyed this Yuan Yang Tea recipe? Please leave a 5-star 🌟🌟🌟🌟🌟rating in the recipe card below & if it brought back happy memories of being in Hong Kong, I'd love a comment! Thank you and have a great day!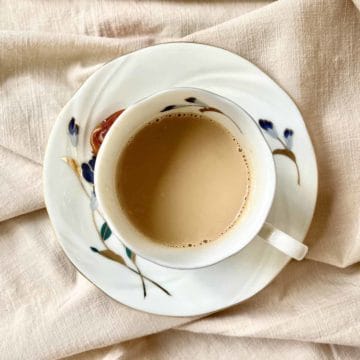 Hong Kong Coffee milk tea recipe
Also known as Yuanyang, Yun Yeung or Yuenyueng tea, Hong Kong Coffee milk tea is a simple 4-ingredient, 3-step recipe that anyone can easily make at home. Tastes great both as a hot drink or cold- warming in winter and refreshing in summer!
Equipment
Saucepan/ small pot OR microwave

Tea strainer

Only needed if using tea leaves
Ingredients
Hot coffee milk tea
½

Cup

Strong Coffee

Substitute: cold brew coffee or a shot of espresso. Instead of making the coffee in a separate mug, I added 4-6 teaspoons of instant coffee directly to the hot pot of milk, followed by ½ Cup of hot water then mixed well (to save on washing up!)

4-6

Black tea bags (preferably Ceylon, if not Assam and Darjeeling work too.)

If using tea leaves, use ⅓ Cup, loosely packed. See Notes on exact Hong Kong standard mix break-down if you're a tea aficionado.

1¾

Cups

Whole Milk

Substitute: plant-based milk if vegan or flexitarian (Avoid coconut milk if you don't want a coconut- flavoured drink!)

Evaporated milk, to taste, optional

Substitute: condensed milk (you can omit or reduce the sugar in this case)

Sugar or simple syrup (preferable if making an iced drink), to taste

I prefer to use brown sugar.

Optional fillings: boba pearls, pudding, coffee jelly etc
Iced coffee milk tea
1 or more

Ice cubes

In addition to all of the above. Use fewer, bigger ice cubes (instead of smaller ones) if you want your ice to melt more slowly.
Instructions
Hot Hong Kong Coffee milk tea (I have provided a simplified tea-making process here but if you want to follow the style of Hong Kong cha chan tengs, see Notes.)
Pour the milk into a small saucepan, and add the black tea leaves or tea bags. Make sure the tea bags are immersed in the milk and not floating on it! Heat over low fire till just about to boil, then switch off the fire and allow to steep. It will vary depending on the pot you use, but it took me about 12 minutes to bring the milk to steaming on a Bosch induction fire of 2.0 (where the maximum is 9.0) The milk should gradually turn light brown- if it doesn't, your tea is probably not immersed in the milk or you're not using a strong enough tea!

Alternatively, you can heat the milk (with the tea leaves/ bags) in a microwave - make sure you use a microwave-safe container and leave at least 1-2 inches from the top of the milk to the rim of the container. Heat on low for 10 seconds at a time, stirring well in between each 10 second blitz, till the milk is steaming and allow the tea to steep.

Whilst the tea is brewing/ steeping, make some strong coffee.

Once the tea has steeped, add the coffee (to the tea) followed by the condensed or evaporated milk (if using.)

Sweeten to taste then pour into the individual cups. (Some recipes sweeten the tea and coffee individually which I don't recommend as it's always best to sweeten the final drink.)

If using fillings, add after pouring into cups (this allows you to customise the fillings for each person.)
Iced Hong Kong Coffee milk tea
Chill the mixed beverage in the fridge, then sweeten right before serving- You would need to use a sugar syrup solution (or honey) here as sugar won't dissolve in a cold drink.

Alternatively, you can use sugar to sweeten right after mixing the coffee and tea (when they're still hot) - but note that how sweet something tastes changes with the temperature for the SAME drink, so it's always best to sweeten at the temperature you want to drink. (i.e. the same cup of tea may taste perfect when hot, then bland when cold.)

Once ready to drink, pour into cups, add ice and any filings you like.
Notes
Note: the nutritional information is an estimate automatically calculated using the WPRM recipe maker and I am not responsible for its veracity. It doesn't include the nutrition info for optional fillings such as boba.
Note: The Cultural Department of Hong Kong (HK) actually recommends a 3:7 ratio for making HK  coffee milk tea (3 parts coffee to 7 parts Hong Kong milk tea) but I've changed the ratio to make measurements easier! You can of course, change the ratio to your taste if you prefer a stronger coffee or tea flavor.
Authentic (but complicated) Hong Kong milk tea
The recipe card above is a simplified way to make Yuan Yang Tea, but if you want to go all-in, read on:
The standard tea mix for Hong Kong milk tea is Broken Orange Pekoe (BOP) leaves, BOF Fannings, Dust and Lipton (BOP and Ceylon) tea in the ratio 3: 3: 3: 1. BOP tea gives the drink its aroma, BOF Fannings its deep color, Dust the strong taste and Lipton is an all-round enhancer.
To make milk tea the way the Hong Kong eateries do, you need to place the tea leaves in a "silk stocking"- not a real stocking but so called because of its resemblance! (You can buy them in Singapore, Malaysia and Hong Kong- they're also called "coffee socks.") The silk stocking is placed in a kettle, and 95C/ 203F water is added to the kettle- don't fill it to the brim or it'll be difficult to "pull" later. 
Leave the tea to steep for 15 minutes then transfer the silk stocking (with tea leaves still inside) to a 2nd kettle/ teapot (that is at least as large as the 1st.) Pour the tea through the silk stocking from a height of about 60 cm (to ensure there is equal pressure on all the leaves and thus an even taste.) 
Do this 4 times. (This replaces the tea strainer as it filters out the tea leaves and makes the tea less bitter.) After the tea has been pulled, steep for another 5 minutes, then add evaporated milk in the ratio 3: 7 (3 parts evaporated milk to 7 parts tea.)
If this is too laborious, use my easy method above!
Nutrition
Calories:
129
kcal
Carbohydrates:
10
g
Protein:
7
g
Fat:
7
g
Saturated Fat:
4
g
Polyunsaturated Fat:
0.2
g
Monounsaturated Fat:
1
g
Cholesterol:
26
mg
Sodium:
82
mg
Potassium:
349
mg
Sugar:
10
g
Vitamin A:
346
IU
Calcium:
264
mg
Iron:
0.01
mg
If you've enjoyed this Hong Kong coffee milk tea recipe, I'd be super grateful if you shared it with your friends on social media! Thanks for stopping by and trying my recipe!