A cool and refreshing drink for a hot summer's day, this Starbucks iced guava black tea copycat recipe tastes exactly like the original drink but costs much less and is very easy to make.
Jump to:
We all know that we can save a ton of money by skipping our daily Starbucks cuppa, such as this iced guava black tea drink, and making it at home instead. For more money saving tips in the kitchen, click on the link or try 1 of these Starbucks copycat recipes:
What is guava?
It's a tropical fruit which contains Vitamin C (more than oranges actually- a 100g guava serving provides you with almost 7x the daily value you need)- although it is classified as a berry, the fruit is quite large- larger than some apples!- and fibrous.
Originating in South America, most commercial production is in India these days, although many Singaporeans and Malaysians who live in landed homes have guava trees in their backyards so fresh guava is always within easy reach.
For more recipes which feature common Asian garden produce, click here.
Fun fact: Mexico uses guava in the (non-alcoholic) drink Aqua Fresca as well as punch, and the wood of the tree is used in Hawaii, Cuba and Mexico for BBQs. In Taiwan (and old Singapore), slices of guava are sold by street hawkers, with a sour plum powder to dip into- very refreshing in hot weather! It is also made into fruit juice, along with other tropical fruits, such as papaya milk.
Starbucks variations
Starbucks actually has 3 different versions of this popular drink, which is 1 of the best Starbucks black tea drinks if you ask me! They are:
Iced Guava White Tea (discontinued)- if you want to make this original type of tea, follow my Starbucks guava black tea recipe below but use a white tea bag instead of black
which has now been replaced by Iced Guava Black Tea (the 2 taste pretty similar though)
Iced Guava White Tea Lemonade (discontinued)/ Iced Guava Black Tea Lemonade: simply replace half of the guava juice with lemonade (or lemon juice) to Iced Guava black tea lemonade version.
You can also add some pineapple juice or pineapple ginger syrup for a twist on your favorite drink.
If you don't know what to do with the rest of the guava juice, why not mix it with some passion fruit juice to make Starbucks iced guava passionfruit drink?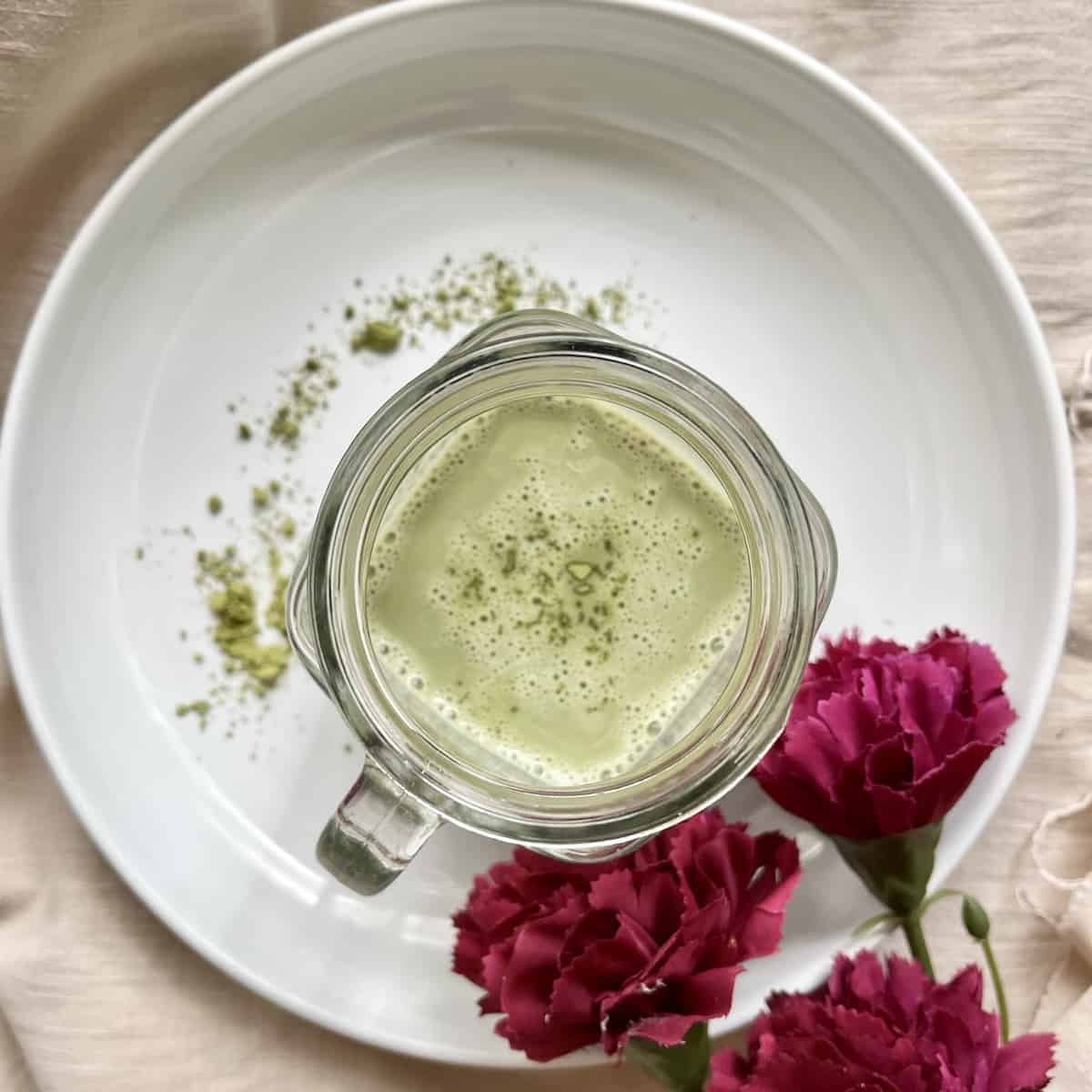 Tips
You can use any black tea that you like but make sure it's very concentrated i.e. steep it for a longer period of time (10 minutes or longer) or use more tea bags.

This is because we'll be adding more liquid- the guava- to it later. In addition, the flavour of iced black tea is not as strong as hot teas, so you need the flavour very strong.

If you really want your Starbucks DIY guava drink to be as close to the Starbucks version as possible, use Teavana black tea bags.

You can get them on Amazon, at Walmart, Target and some Starbucks coffee shops. There are 3 black tea flavours:

Royal English Breakfast
Earl Grey
Organic Chai
Starbucks aactually uses a blend of black teas but that is not for sale.

Use pure guava juice or pure guava nectar, and not a guava juice blend mixed with other fruit juices!

If not, the drink won't taste like the iced guava black tea you got at Starbucks!

If you want to skip the hassle of dissolving sugar, use a liquid cane sugar or simple syrup to sweeten the guava black tea instead.

Even better, skip the sweetener altogether and your health will thank you!
If not, make sure to add the sugar when the drink is hot so that it can dissolve. If adding the sweetener to a cold guava tea, you'll need to use simple sugar syrup (or another liquid sweetener such as honey or maple syrup.)
Click here to find out more about simple sugars (skip the lemongrass the recipe asks for!)

Chill the drink first then add the ice to avoid it from diluting the natural flavours of your guava black tea.

Alternatively, use a large piece of ice to make the best iced tea (or iced coffee) as larger ice cubes melt more slowly than small ones.

A grande black tea at Starbucks contains about 25g of caffeine so you may want to skip it if it's too close to bedtime. For no caffeine Asian teas, try:
FAQ
Does guava tea have caffeine?
Guava leaf tea doesn't have caffeine but the Starbucks guava tea, which is what my post is about, does. For other non-caffeinated Asian teas, do visit the Other recipes section of this post.
How to ripen guava?
If you are planning to make your own pure guava juice to get the real guava flavor in your homemade Starbucks iced guava black tea, make sure the fruit is ripe first. Guava continues ripening after being plucked (if stored at room temperature), and placing them in a paper bag with an apple or banana will help expedite the process.
How to tell when guava is ripe?
Ripe guava will be soft, and the colour of the skin will have changed from bright green to a lighter green with a tinge of yellow.
Other summer drinks
Love this recipe? Please leave a 5-star 🌟🌟🌟🌟🌟rating in the recipe card below & if you REALLY like this, I would be super happy if you leftleaving a comment. Thank you!
Starbucks Iced Guava Black Tea Copycat
A cool and refreshing drink for a hot summer's day, this Starbucks copycat recipe tastes exactly like the original Starbucks Iced Guava Black Tea but costs much less. (Also you don't have to leave the AC in this heat to grab your favourite drink! Simply use a white tea bag if you prefer the original white tea version.)
Equipment
1 Mug to steep and serve the tea

1 Spoon to stir
Ingredients
¾

Cup

Hot water

For steeping the tea

Black tea

Use the Teavana brand if you want it to be exactly like Starbucks. Substitute with a white tea if you want to make Starbucks guava white tea.

½

Cup

Pure guava nectar

Substitute: guava juice

½-1

T

white granulated sugar

Optional as the guava nectar is already sweet. Substitute: simple syrup, honey or maple syrup if you plan on adding the sweetener only when the drink is chilled (Flavours change with temperature so the guava black tea- or guava white tea- would taste different depending on whether you taste it hot or cold- most people would find the same drink less sweet when tasted cold versus when tasted hot. Ideally, taste after chilling then sweeten for best results.)

Ice cubes

Larger ice cubes melt more slowly than smaller ones, and will dilute your drink less rapidly.
Instructions
Steep the tea bag in the hot water for 10-15 minutes. Remove the tea bag and allow the tea to cool. If you're using sugar, you will need to add it now to ensure it dissolves- however, note that the guava black tea will taste different cold versus hot so ideally chill to your preferred temperature then sweeten to taste with a liquid sweetener. (Also, it's hard to gauge the right amount of sugar for your ideal sweetness now as the guava will also sweeten the drink later.)

Once cooled (about 20 minutes), stir in the guava nectar or juice. If using the liquid sweetener, add it now.

Ideally, chill in the fridge before serving with ice cubes to prevent the ice from melting too quickly (and diluting the drink.) Finish within 1-2 days (stored in the fridge.)
Notes
Ice can dilute your drink, so either:
chill the drink first then add the ice
OR make the tea super concentrated
OR freeze some of your guava tea into ice cubes, so that when they melt into your guava black tea, they won't dilute it!
Variation: substitute half the guava nectar for lemonade to make guava lemonade black tea.
Note: the nutritional information is an estimate automatically calculated using the WPRM recipe maker and I am not responsible for its veracity. It would also vary depending on the brand of guava nectar used.
Nutrition
Calories:
95
kcal
Carbohydrates:
25
g
Protein:
0.1
g
Fat:
0.1
g
Sodium:
18
mg
Potassium:
48
mg
Fiber:
1
g
Sugar:
22
g
Vitamin A:
44
IU
Vitamin C:
25
mg
Calcium:
19
mg
Let me know how you find this easy recipe for a refreshing black iced tea with a tropical guava twist! The best thing about making your own iced tea drinks is that you get to decide how much sugar you want to add, and enjoy the coffee house experience at a fraction of the cost!