This Starbucks Iced White Chocolate Mocha Copycat Recipe is a quick and easy 5-ingredient recipe. It saves you both time and money! It also tastes just like the original- creamy, rich and altogether delicious!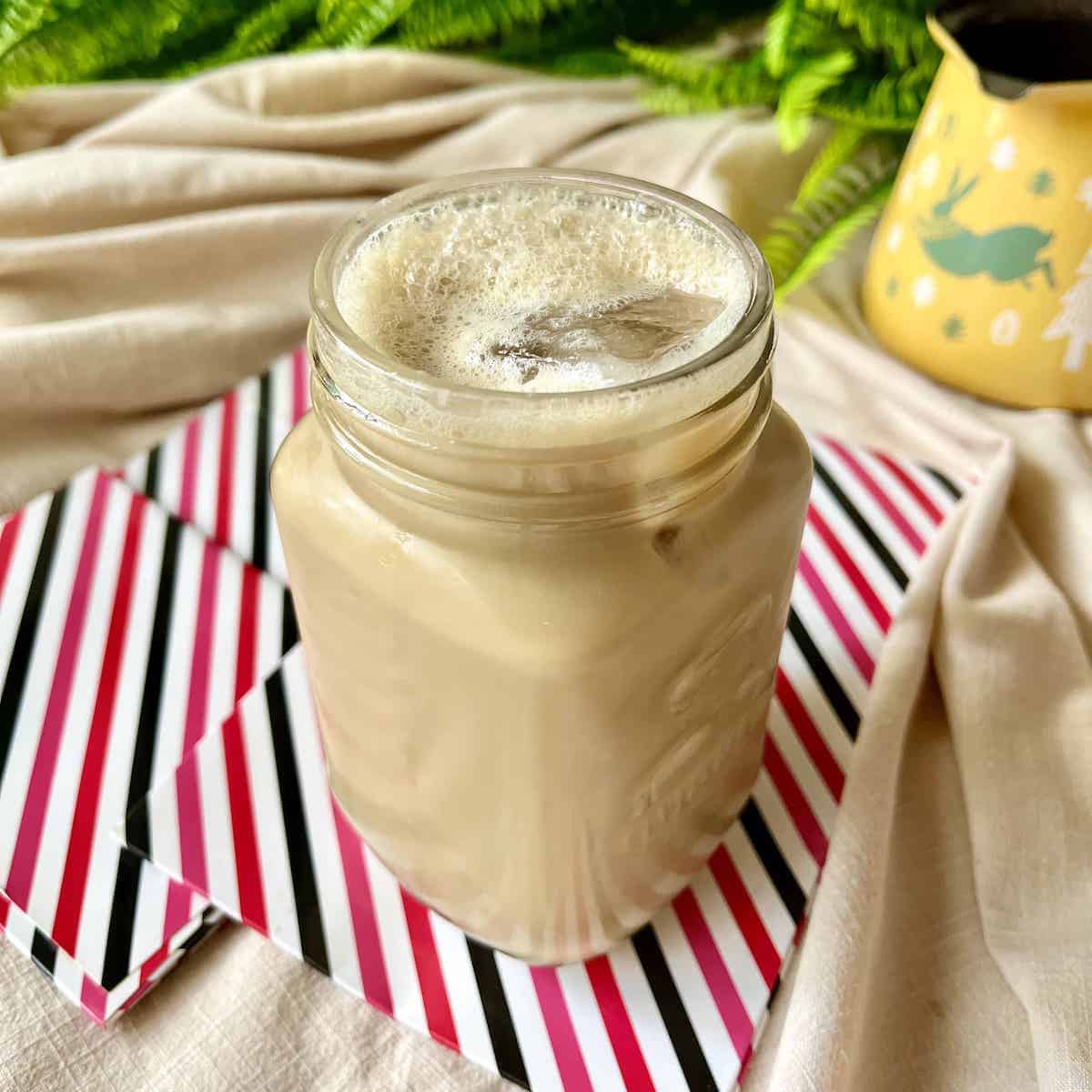 Jump to:
Why Make This
Easy and delicious: This Starbucks iced white chocolate mocha recipe is quick, easy and only requires 4 simple ingredients. Even a person who doesn't like to eat white chocolate or coffee will find it hard to say no- the sweetness of the white chocolate mocha sauce goes superbly with the bitterness of the coffee. Like cold brew iced latte, it's the perfect pick me up for a slow afternoon or a hot summer day!
Wallet-friendly: Making your own Starbucks copycat drinks is a great way to skip the daily trip to the coffee shop and save money!
Simple: Similar to making Nutella coffee, no special equipment, such as an espresso maker, is needed. You basically just need to mix strong coffee, white chocolate sauce, milk and ice!
Ingredients
You only need a few simple ingredients for this fewer-than-5 ingredients recipe. To get the right proportions, I checked the Starbucks page: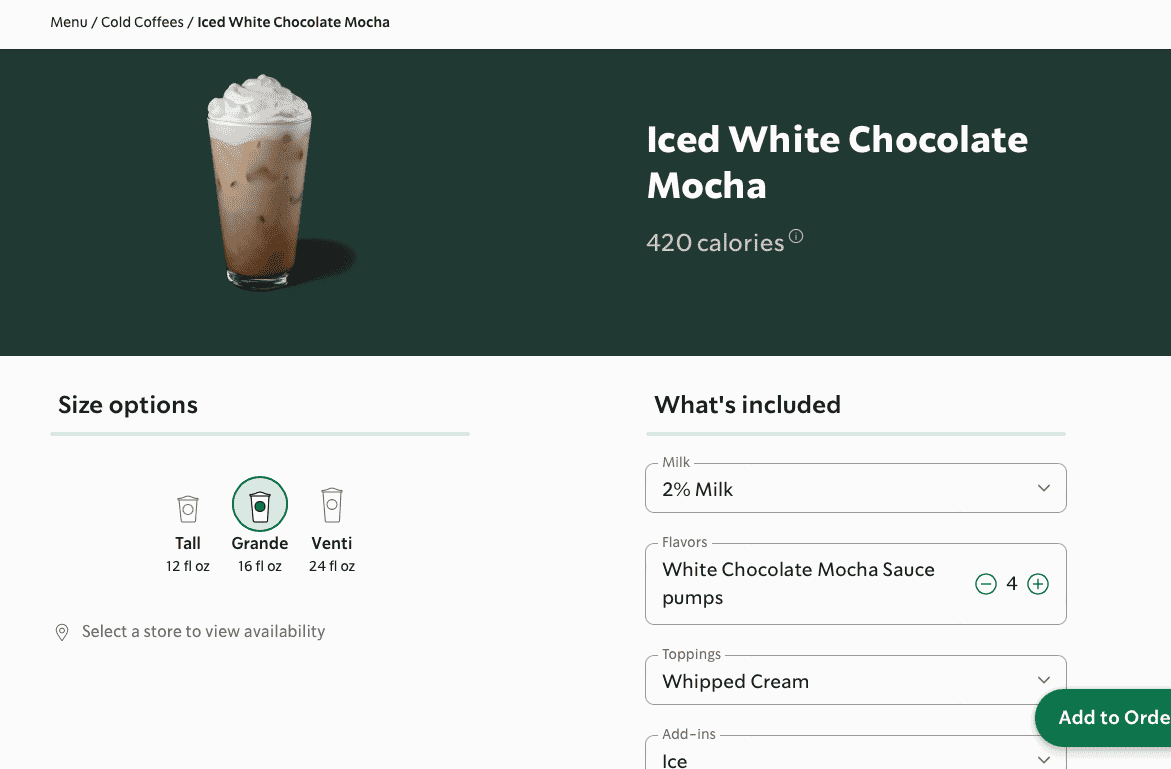 So what we will need is: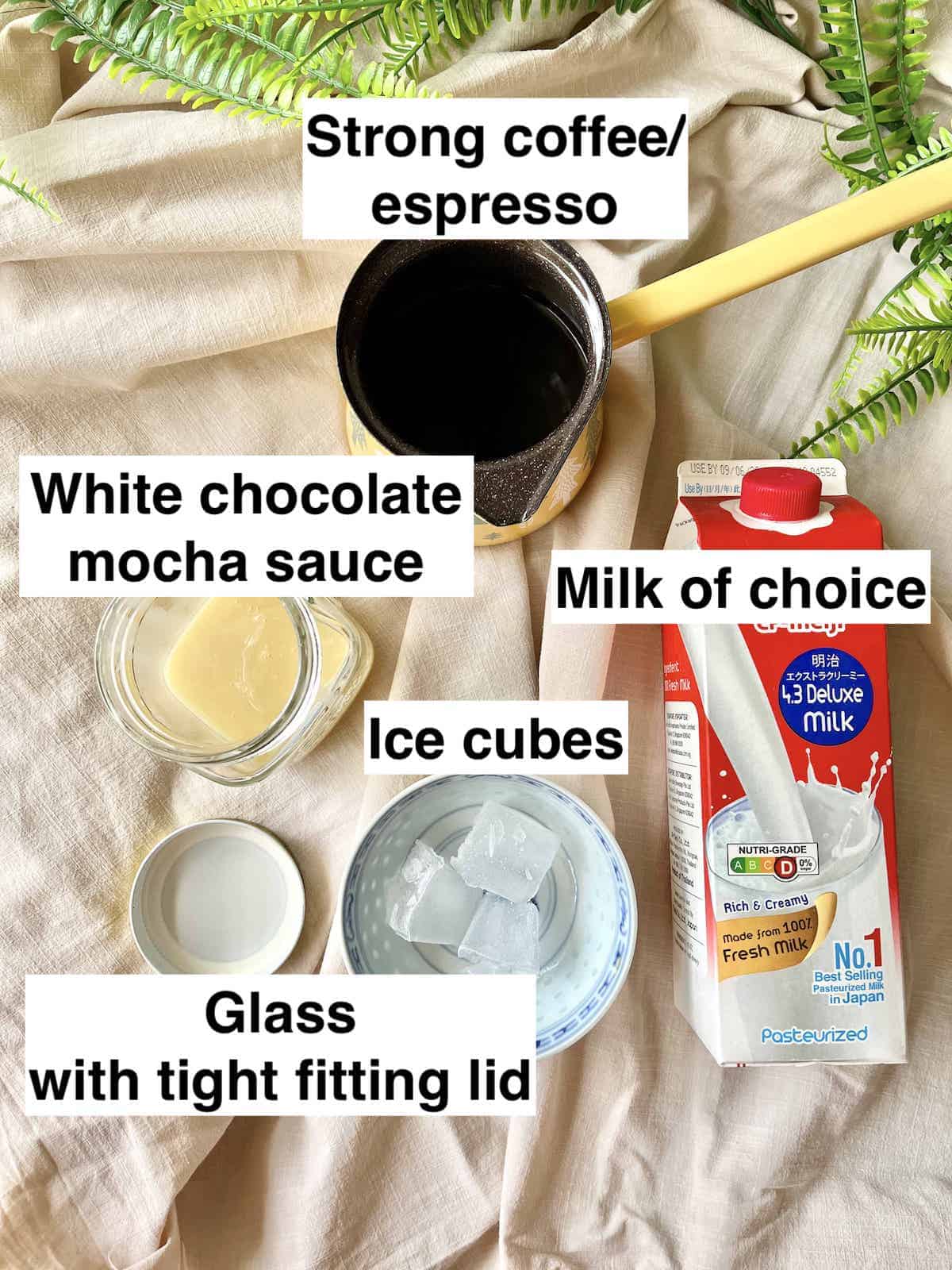 Espresso: You can get Starbucks Dark Roast Expresso beans from their coffee shops or certain grocery stores. If you have a Nespresso or espresso machine, by all means use it. However, I usually just use instant coffee to make cold brew coffee. (If you're making regular coffee, allow it cool first or it will melt the ice and dilute your drink. For extra strong coffee, use instant espresso coffee powder. Alternatively, you can substitute with decaffeinated espresso when trying to cut down on caffeine.)
Milk: I prefer whole milk but Starbucks actually uses 2% milk. For a skinny white chocolate mocha, you can use skim milk but, honestly, fat is a flavour carrier so I don't recommend it (taste-wise)!
White chocolate syrup: Ghiradelli has a great one or you can make your own white chocolate sauce by melting white chocolate bars or chunks. (See FAQ for more on the best way to melt white chocolate for your homemade white chocolate sauce.) Starbucks uses 4 pumps or about 2 oz in their 16 oz Grande drink.
And of course, ice cubes!
Optional: top with whipped cream. To make it just the way Starbucks does, whisk heavy cream with vanilla syrup.
Variations
Add a little bit of peppermint: If you like the peppermint hot chocolate at Starbucks, you'll love this! No more waiting for the holiday season to drink it!
Boozy mocha: a shot of Baileys, kahlua or rum make this iced chocolate mocha even more delicious!
Caramel iced mocha: Drizzle some caramel or brown sugar syrup on the sides of the glass and over the whipped cream (a TikTok fave!) This coconut caramel goes really well!
Starbucks Caffe Mocha: Use Dark Chocolate instead of white
Hong Kong coffee meets milk tea: add some strong black tea! (The white chocolate in this drink is a good replacement for the evaporated milk in the original Yuan Yang Coffee recipe.)
Step by Step Instructions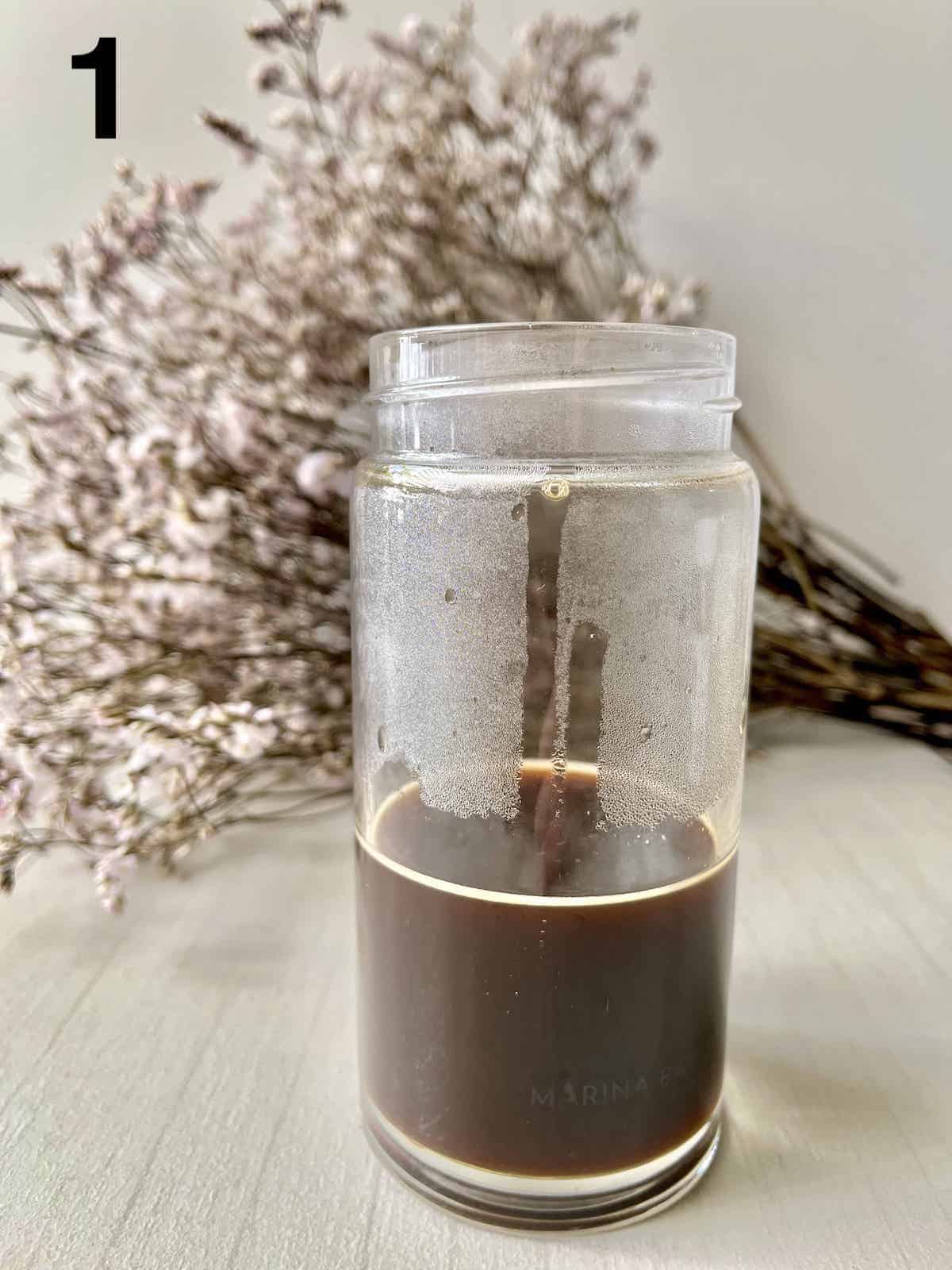 Brew the espresso. Let it cool
Note: if you're making your own white chocolate sauce, do it whilst you wait for the coffee to cool.
Melt the white chocolate in the microwave: blitz it at 20 seconds at a time, stirring after each session, till all have melted.
Alternatively, use a bain-marie.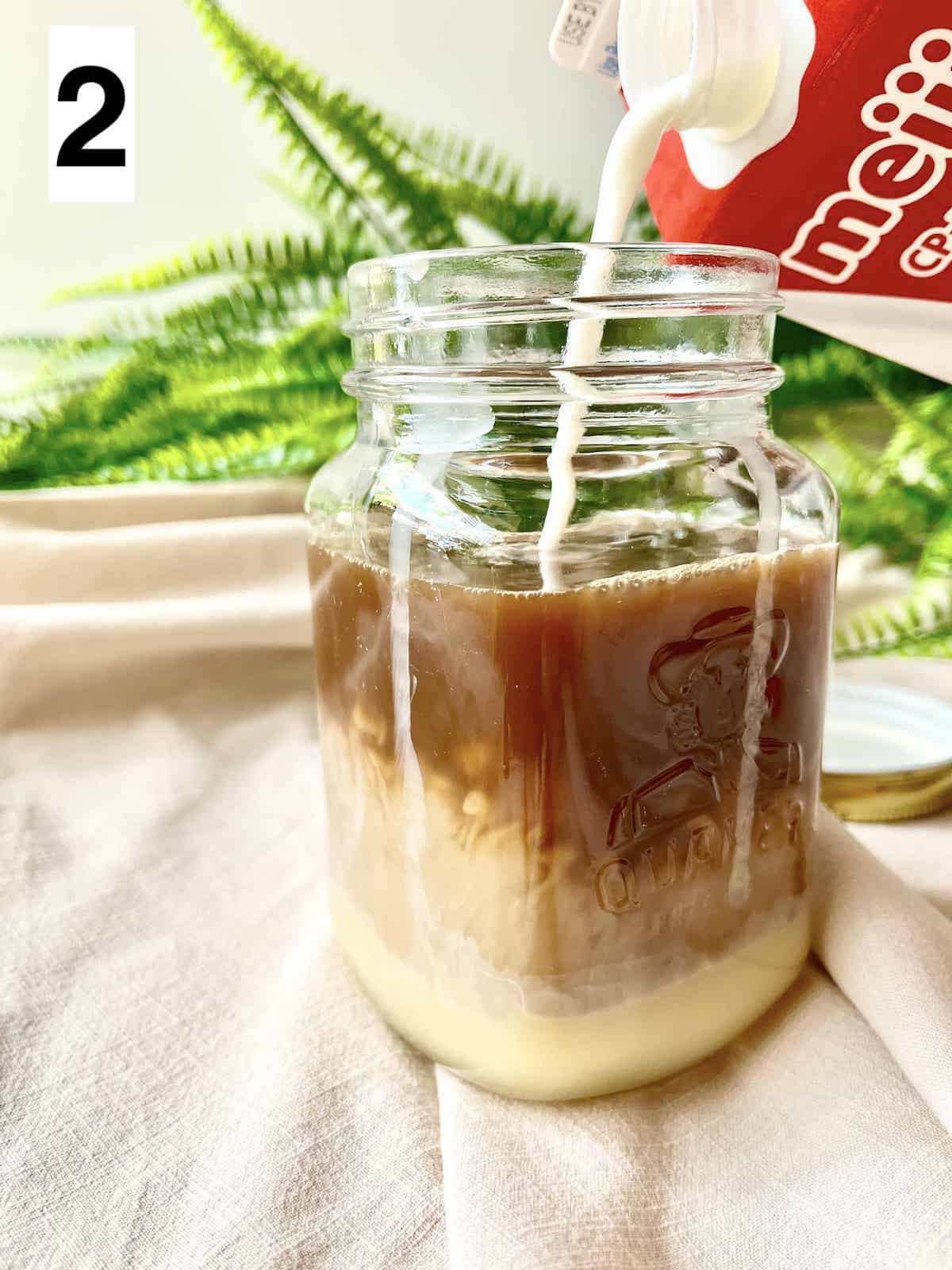 2a. Pour the white chocolate syrup, coffee and milk into an airtight drink container, then close tightly and shake vigorously.
Note: A cocktail shaker or a Mason Jar works well.
2b. Transfer the drink to your glass and add the ice.
Optional: top with whipped cream.
Starbucks whipped cream has a tinge of vanilla. You can make it at home by blending heavy cream and vanilla syrup. If you prefer less fuss, shop-bought whipped cream won't be exactly the same as what you get in-store but it's close enough.
How to Serve
Sprinkle white chocolate shavings on top of your drink. When you really want to impress your guests with your food presentation skills, drizzle the sides of the glass with white chocolate syrup!
Note: White chocolate goes really well with macadamia, so a macadamia cookie on the side wouldn't go amiss with this iced coffee drink. If you're not a nut fan, try 1 of these Asian cookie recipes such as Nutella 3-ingredient cookies!
Expert Tips
Tip #1: If you want to make a healthier version of this copycat Starbucks mocha with white chocolate, you can use a plant-based milk, such as oat milk or almond milk. Of course, skip the whipped cream topping in this case!
Tip #2: Make sure you use good-quality white chocolate for the white mocha sauce! Skip the cheap white chocolate chips that taste like plastic and don't melt well!
Tip #3: Use a tall glass (instead of a wide one) so that you have more surface area to splash the white chocolate drizzle all over the cup before adding the shot of espresso. Starbucks even sells reusable cups that have markings to guide you on how much of each ingredient to add to your cold coffee drinks.
Recipe FAQs
How to melt white chocolate?
The traditional way is to use indirect heat i.e. a double boiler as white chocolate burns easily. You need to use a white chocolate bar or chunks, not chips, as chocolate chips contain stabilisers which prevent smooth melting (you'll end up with lumps and clumps in your white chocolate sauce.) Also remember to keep stirring, without getting any water on the chocolate. (If you don't have a double boiler, you can DIY your own: place a heat-proof bowl (with the chocolate inside) on top of a small saucepan of boiling water, ensuring that the base of the bowl is above the surface of the water, so that the boiling water never touches the bowl.) An easier way is to melt it in the microwave- microwave for 20 seconds, remove and stir, then repeat till the white chocolate mocha sauce is completely melted.
What are the benefits of white chocolate?
Sad to say, white chocolate isn't the healthiest food- in fact, it usually has more calories than regular chocolate.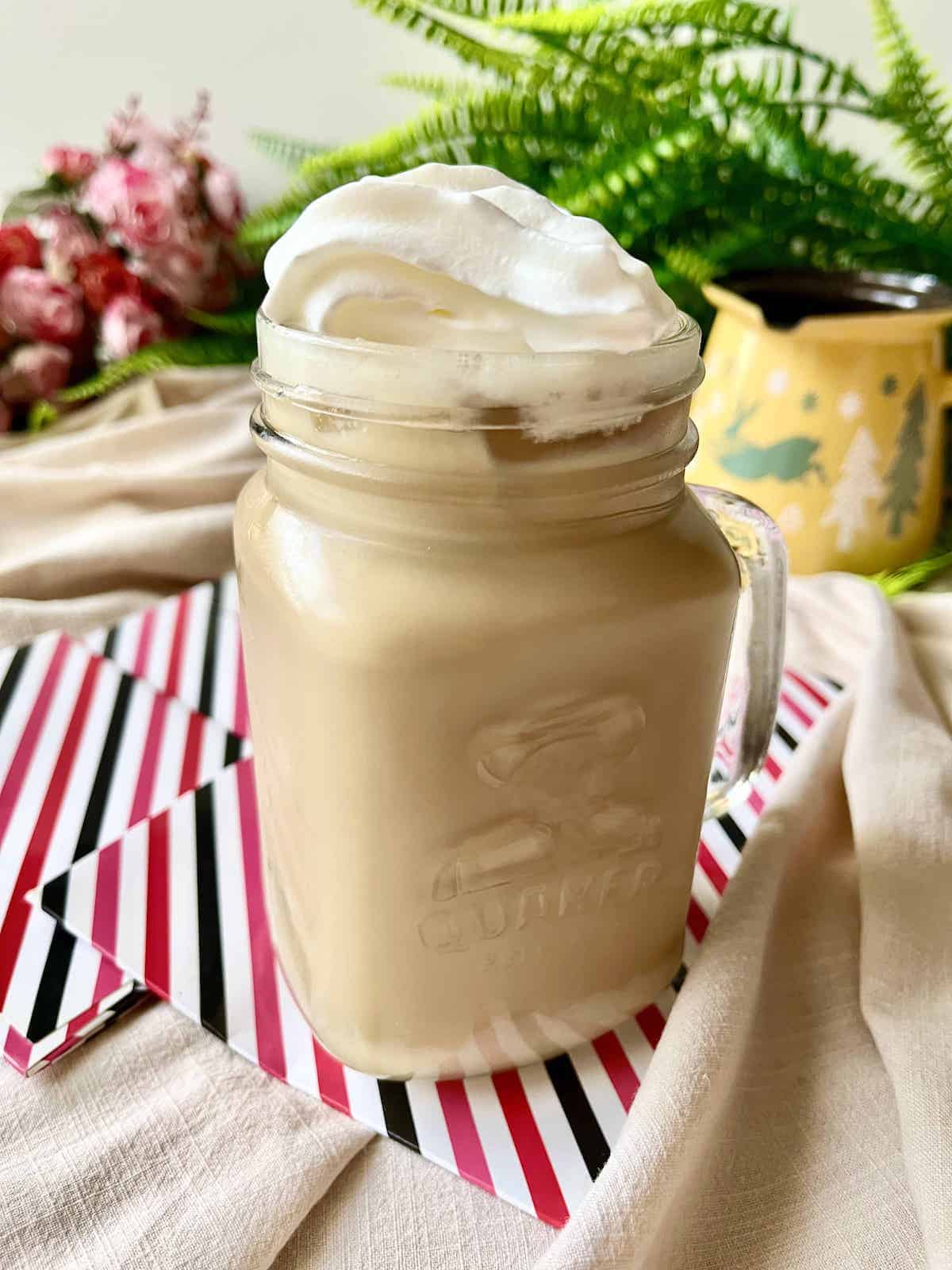 Other Starbuck Copycat Drinks
Enjoyed this Starbucks-inspired chocolate coffee recipe? Please leave a 5-star 🌟🌟🌟🌟🌟rating in the recipe card below & if you REALLY like this iced mocha, a comment would make my week! Thank you and have a great day!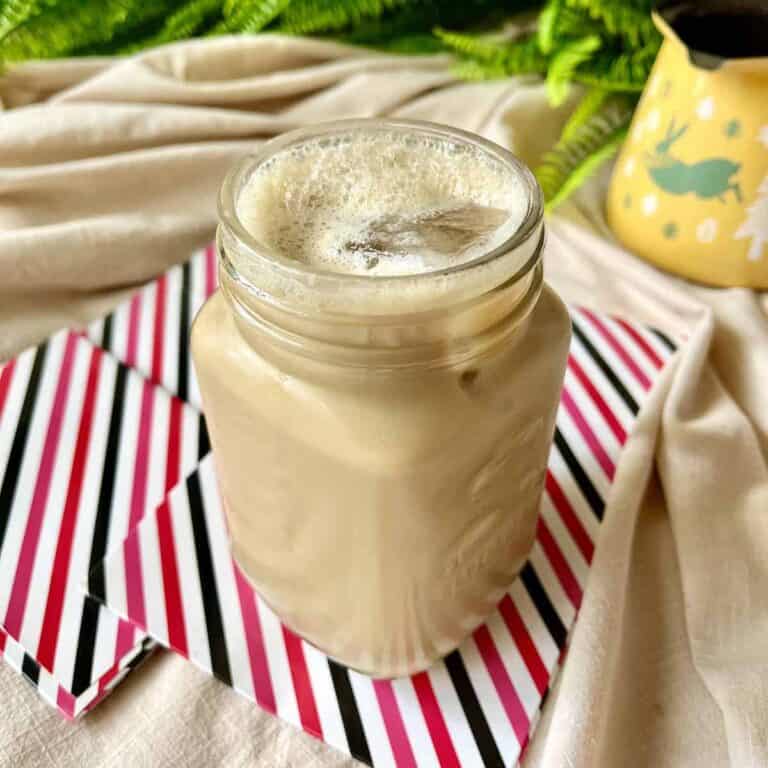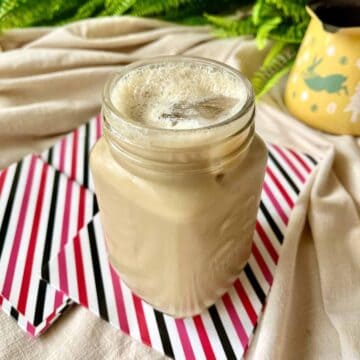 Starbucks Iced White Chocolate Mocha Copycat Recipe
This Starbucks Iced White Chocolate Mocha Copycat Recipe is a quick and easy 5-ingredient recipe that helps you save money and time. It's creamy, rich and delicious!
Equipment
Glass with lid that can fit tightly

Like a cocktail shaker or Mason jar

Starbucks reusable cup, optional

I don't have one but if you do, the black lines on the sides of the cup are markings to show you how much ingredients to add. (The ice is always added last.)

Microwave, optional

Substitute: bain marie (i.e. a heat-proof bowl and a pot)
Ingredients
2

shots

Espresso

Substitute: 2 ounces of strong dark coffee (1½ Tablespoons of instant coffee powder mixed with ¼ Cup of hot water.) Starbucks Dark Roast Espresso beans are available at many grocery stores and is what they use in-house for this drink. If you're using Nespresso, you'll need 2 capsules.

1

Cup

Whole milk

Starbucks uses 2% Milk but I like full-fat milk myself. (UHT milk from a carton is OK) Substitute: oat milk, almond milk or plant-based milk of choice

4

Tablespoons

white chocolate sauce

See below on how to make. Substitute: shop bought white chocolate sauce. Use a good one such as Ghiradelli's.

½

Cup

Ice

Use ice coffee cubes if you don't want your white chocolate mocha to be too diluted (if you us regular ice cubes, they'll water down your coffee when they melt.)

Spritz of whipped cream

Optional. Mix the whipped cream with vanilla syrup or sugar to make it like the one at Starbucks.
For the white chocolate sauce
4

Tablespoons

white chocolate chunks

Don't use chocolate chips as the stabilisers inside them prevent the chocolate from melting properly.
Instructions
Brew the espresso or strong dark coffee (Some coffee makers have a Concentrated Brew function.) If you don't have an expresso machine, you can use instant espresso powder. Allow to cool

If making your own chocolate sauce (see below), now is the time to do it whilst the coffee cools.

Pour the white chocolate mocha sauce into the glass (which must have a tight fitting lid.) If you want, you can drizzle it on the bottom of the glass.

Pour in the freshly made espresso, then the milk.

Note: If using a Starbucks reusable cup, add the milk till it hits the top black line.

Close the glass tightly. Shake vigorously, open the glass then add the ice.

Optional: Top with sweetened whipped cream and more white chocolate syrup. You can also sprinkle some white chocolate curls on top and dust with cocoa or coffee powder.
For the white chocolate syrup
If not using shop-bought white chocolate sauce, melt your white chocolate chunks in the microwave, blitzing it for 20 seconds at a time, then stirring, till all melted.

Alternatively, you can melt it slowly by double boiling in a Bain Marie, ensuring no water enters the bowl (Where you place the chocolate in a bowl that is set on top of a boiling pot of water- note that the bottom of the bowl should be above the water and not immersed in it!)
Notes
This decadent drink is also delicious on a winter's day- simply skip the ice and warm up the milk before pouring mixing with the espresso. (Make sure to heat the milk gently as you don't want it to curdle.)
In Starbucks, there are 3 drink sizes: Tall, Grande and Venti which are 12, 16 and 24 oz respectively. The baristas at Starbucks use:
Tall iced white chocolate mocha: 3 pumps of white chocolate sauce and 1 espresso
Grande: 4 pumps of sauce and 2 espressos
Venti: 6 pumps and 3 espressos
Note: the nutritional information is an estimate automatically calculated using the WPRM recipe maker and I am not responsible for its veracity.
Nutrition
Calories:
475
kcal
Carbohydrates:
48
g
Protein:
12
g
Fat:
27
g
Saturated Fat:
16
g
Polyunsaturated Fat:
1
g
Monounsaturated Fat:
7
g
Cholesterol:
42
mg
Sodium:
161
mg
Potassium:
607
mg
Fiber:
0.1
g
Sugar:
47
g
Vitamin A:
413
IU
Vitamin C:
0.4
mg
Calcium:
424
mg
Iron:
0.2
mg
How did you find this Starbucks Iced White Chocolate Mocha recipe? Let me know in the comments! If you found this copycat recipe helpful, maybe you'd like to sign up for my newsletter?