An easy 2-3 ingredients brown sugar syrup recipe for milk tea and Starbucks drinks that can be made with light brown, dark brown and even WHITE sugar! This recipe helps you save money and is naturally vegan and Gluten-Free.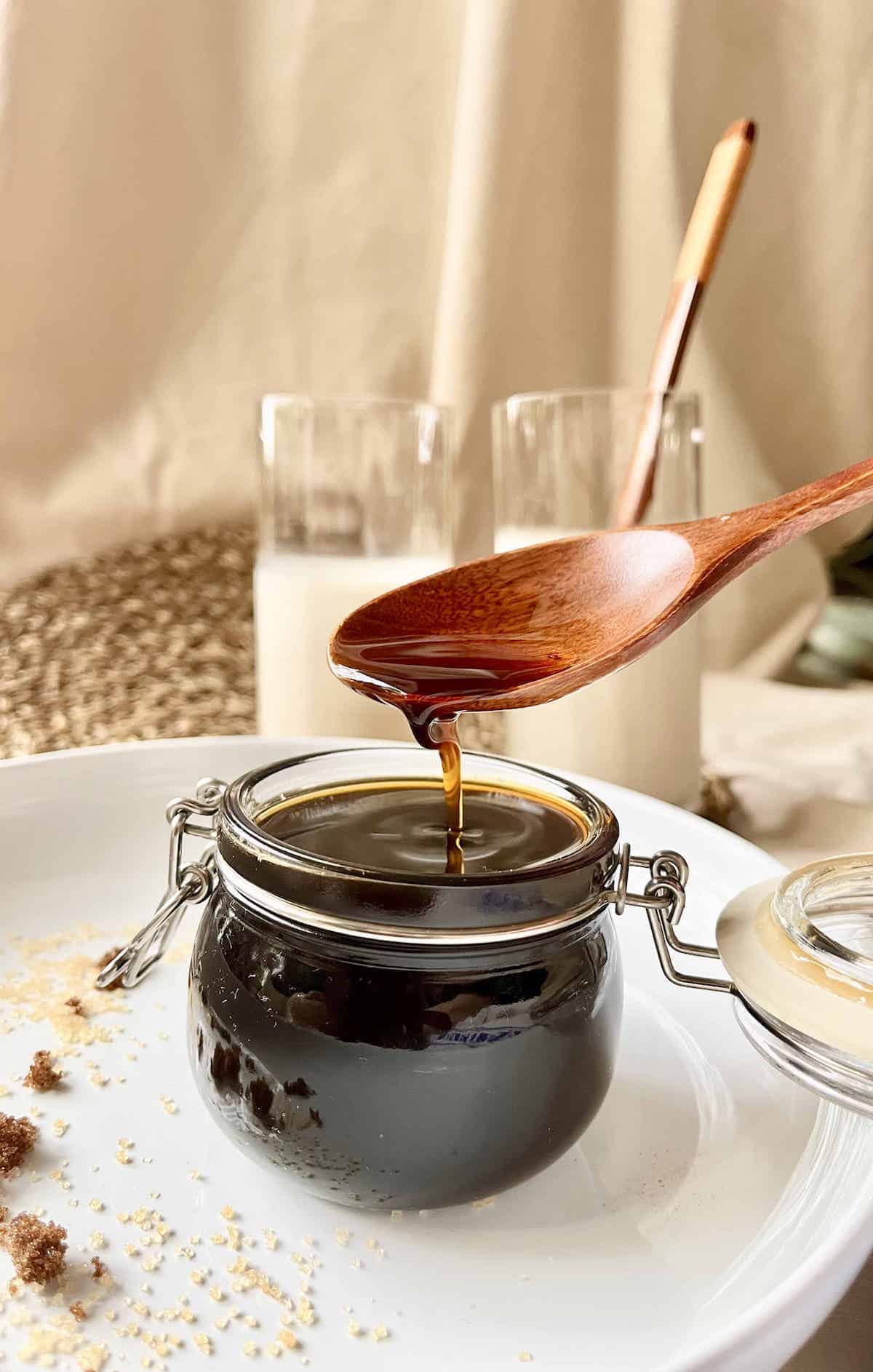 Jump to:
A rich caramel-like syrup that makes it easy to sweeten cold drinks- no more stirring for ages till the sugar dissolves. This delicious brown sugar syrup, with its notes of butterscotch and toffee, is perfect for sweetening beverages such as your Starbuck copycat drinks, Hong Kong Yuan Yang tea, Hojicha latte drink or cold Japanese milk tea.
I will show you how to make 2 types of this syrup:
thick syrup for milk tea
the thinner, flavoured brown sugar syrup that's a Starbucks copycat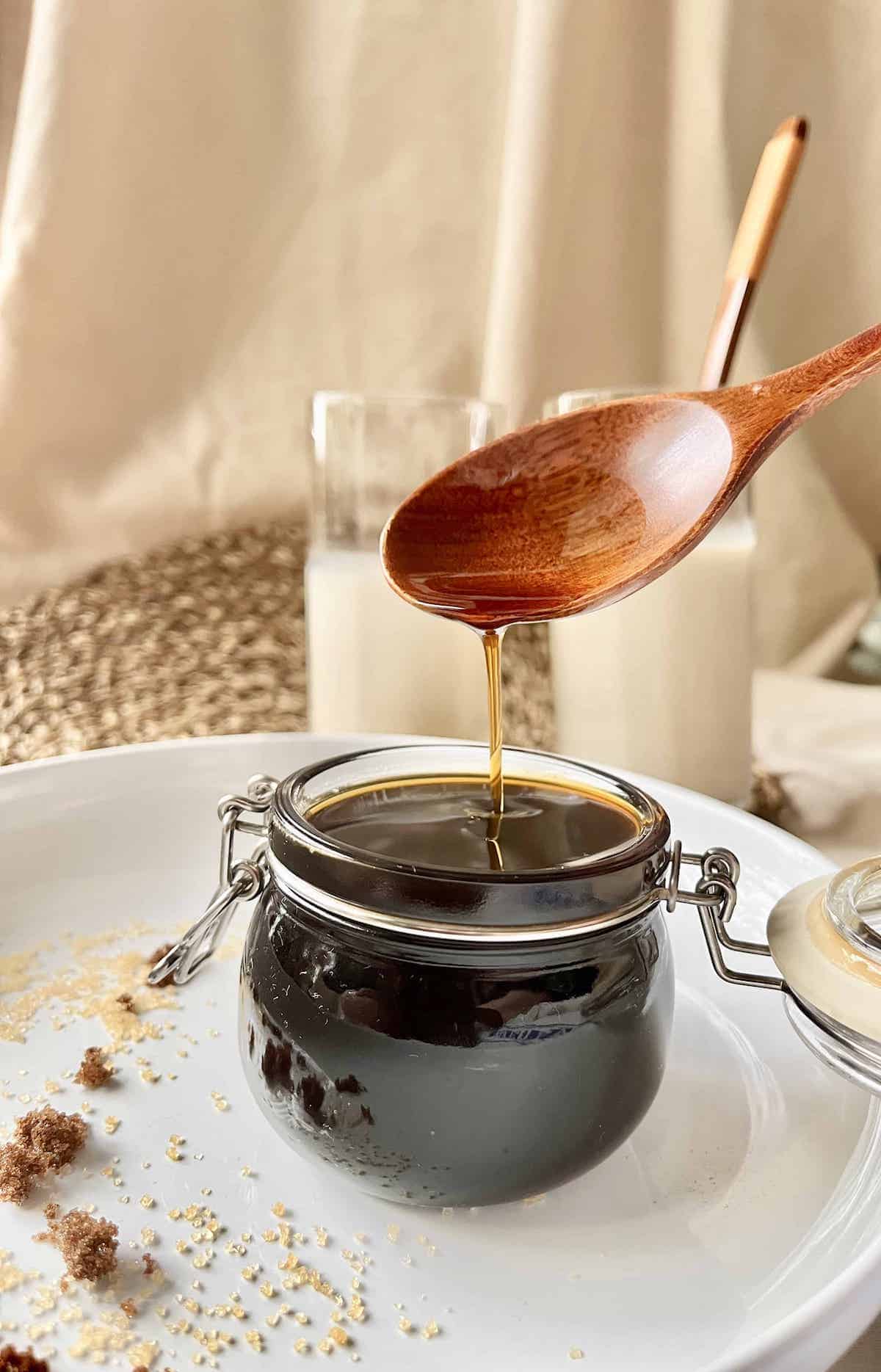 The difference between the 2 is that you switch off the fire earlier for the Starbucks syrup and use a bit more water. For the tiger tea syrup, cook the sauce down till it's almost as thick as molasses.
Why make this
It's delicious!

I gave it to someone who says it's so scrumptious, she eats it neat! (unmixed with anything)
Personally, I like mixing it with milk.

It's a super easy recipe

You only need 2-3 basic simple ingredients- no special skills or premium ingredients necessary

Saves money- instead of forking out a ton for commercial syrups or coffee house drinks, this makes it easy to make cafe-style drinks at home!
It is very versatile

See "Variations" & "Uses" below for ideas

It's a great make-ahead condiment that be made in large batches.

It lasts for 1-3 weeks in the fridge if stored properly.
The Starbucks brown sugary syrup version is more watery and thus will last for a shorter period of time.
Taste
It's rich, thick and has notes of butterscotch, caramel and toffee. The darker a sugar you use, the deeper the flavour will be. Personally, I like mixing a variety of brown sugars, such as gula Melaka and muscovado, to get my own unique flavour.
Ingredients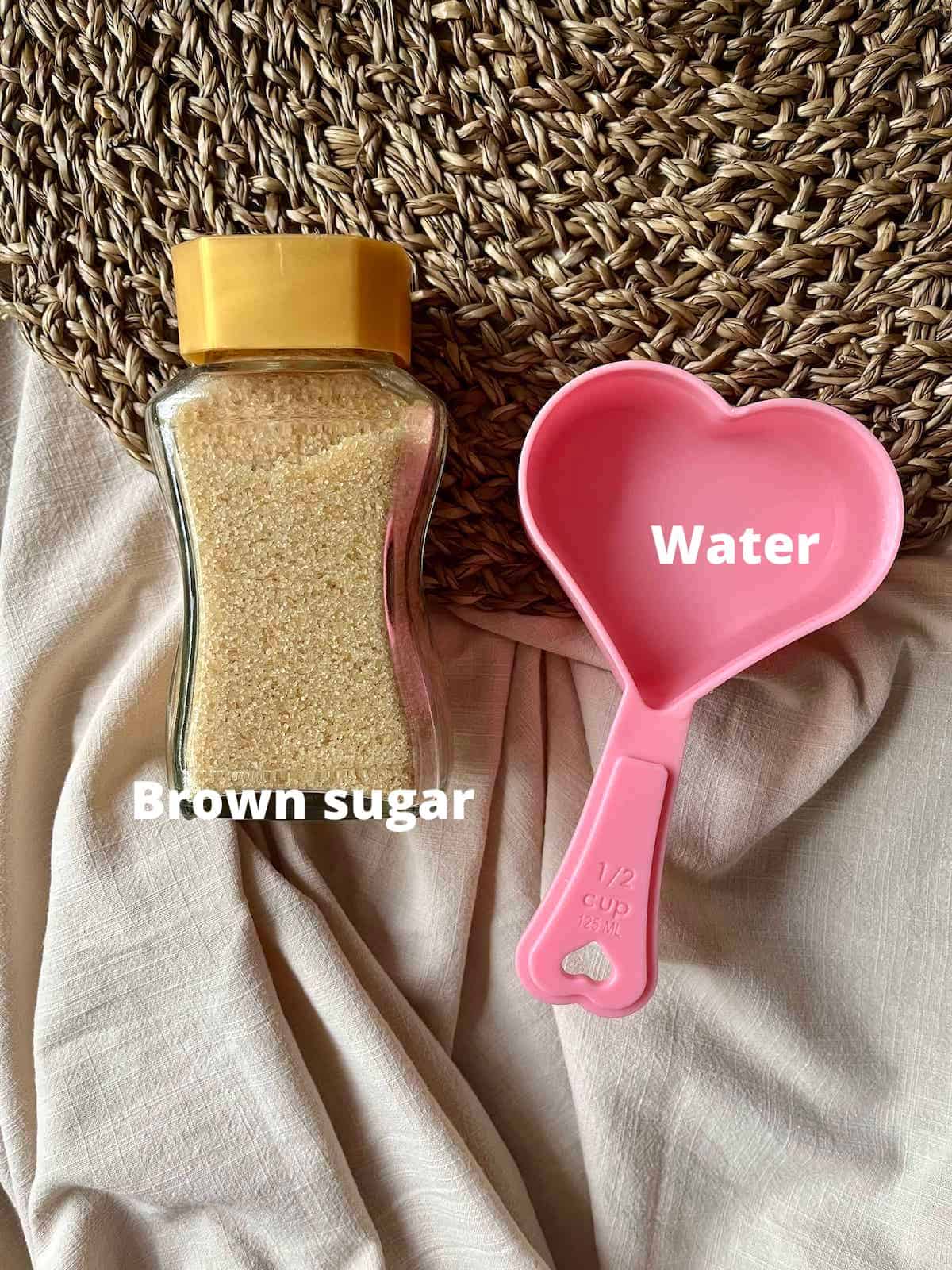 You only need 2-3 simple ingredients to make this scrumptious syrup:
brown sugar

Actually, you can make this thick syrup using white sugar!
Simply add the third ingredient: molasses (don't use blackstrap molasses)

water
Quantities
The ratio of the ingredients is very important as it affects the shelf life and texture: too thick a syrup is difficult to use! On the other hand, something too thin will slip down the walls of the cup without leaving marks, and you won't get your "stripes".
If you use a 1:1 ratio, you'll be making a simple syrup. A simple syrup doesn't keep as long and isn't as rich as the syrups used for bubble teas- it's a runny syrup that won't taste as flavourful - so I recommend using a 2:1 (sugar:water) ratio ((i.e. use 2 Cups sugar for 1 cup water to make a rich syrup.)
Tip: If you want to replicate the Starbucks brown syrup, you need to add maple syrup, cinnamon and a pinch of salt, which is a flavor enhancer even in sweets (think salted chocolate chip cookies.)
Types of brown sugar
The darker a sugar you use, the stronger the caramel taste. If you don't have a dark brown sugar on hand, you can also add some molasses to intensify the flavor. If you're on a plant-based diet, remember to check that the sugar is free of bone char.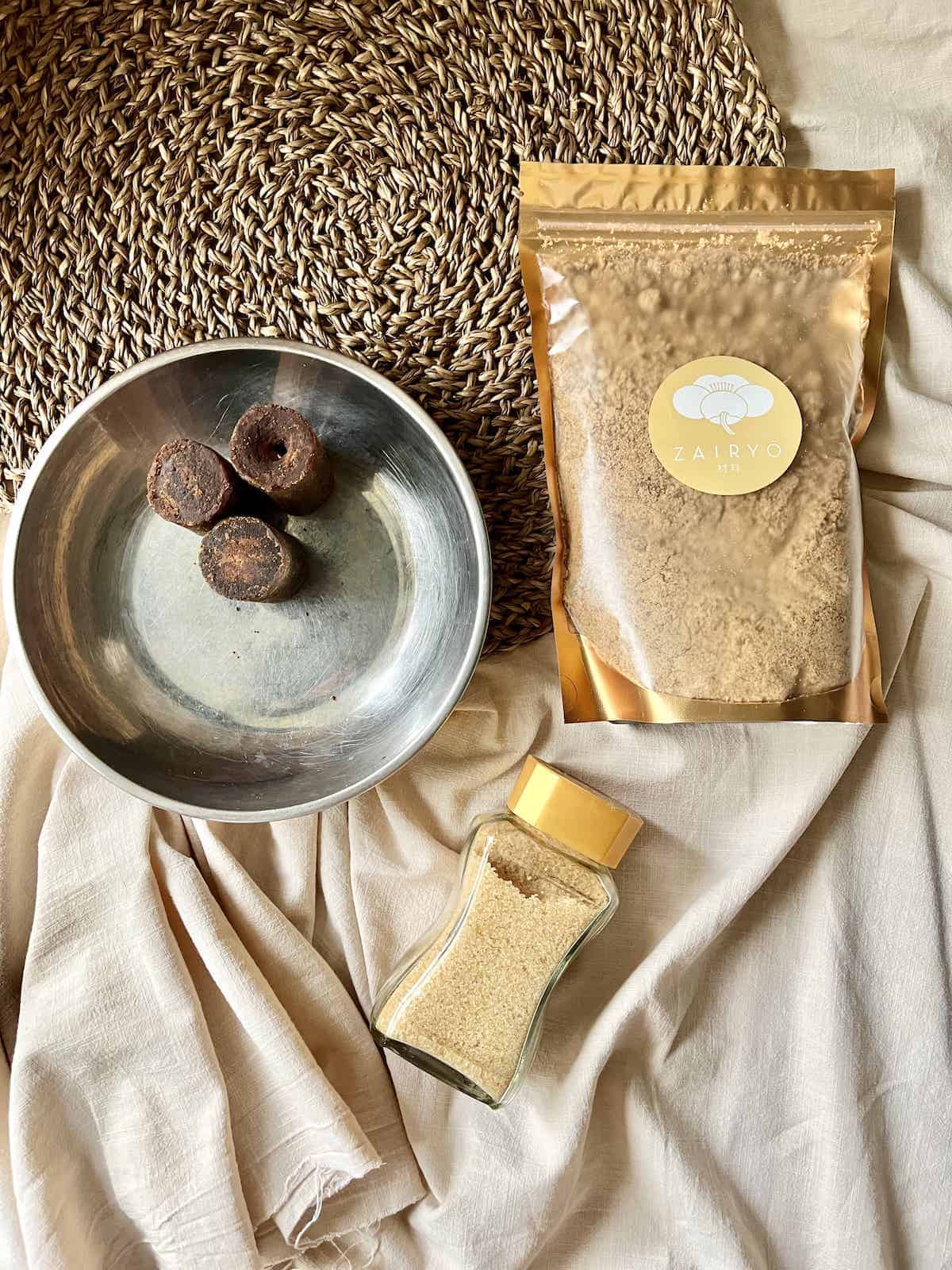 Some popular types of brown sugar that you can use for this recipe include:
Muscovado sugar

this is my top choice for making this toffee-like syrup.
Whilst Taiwanese and Japanese brown sugars are great too, they're more expensive and can be hard to find. Muscovado is inexpensive, easy to find and tastes great!

Demerara

a naturally golden sugar that is minimally processed and has large granules.
I recommend skipping this if you can get the other types of sugar as the big particles will be more difficult to dissolve in the water

Turbinado

Also known as raw sugar, this is commonly sprinkled on baked goods because of its large crunchy granules
As with Demerara, it will take more time to dissolve to form a syrup

Taiwanese brown sugar

It has more molasses but is less sweet than regular brown sugar

Japanese black sugar (Okinawan Kokuto sugar)

Cooked for a long time at low heat hence it turns black
Has a very rich flavor

Jaggery
Gula Melaka (Palm Sugar)

Commonly used in Singaporean, Malaysian and Indonesian cuisine
I love it but it usually comes in cylindrical blocks which you need to grate or chop into smaller pieces to use- so a lot of work!
I use it in this Gula Melaka caramel, which is very popular with guests!

Panela

a sugar from Central & Latin America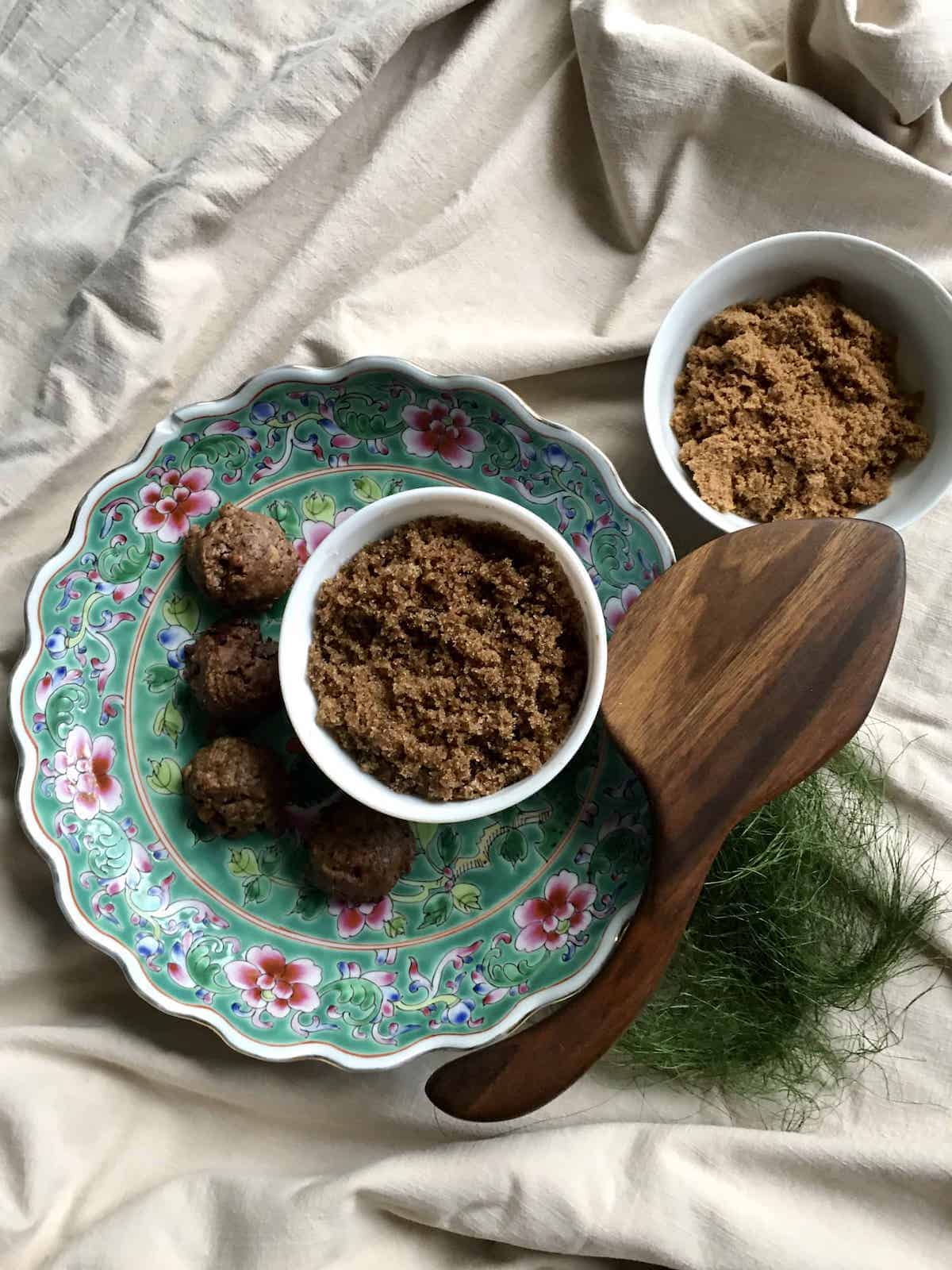 Water
If you have filtered water, you can use it (it's supposed to make the sauce taste better), but I actually use tap water. (Tap water is safe to drink in my country- Singapore- but if it's not potable in yours, don't use it!)
Uses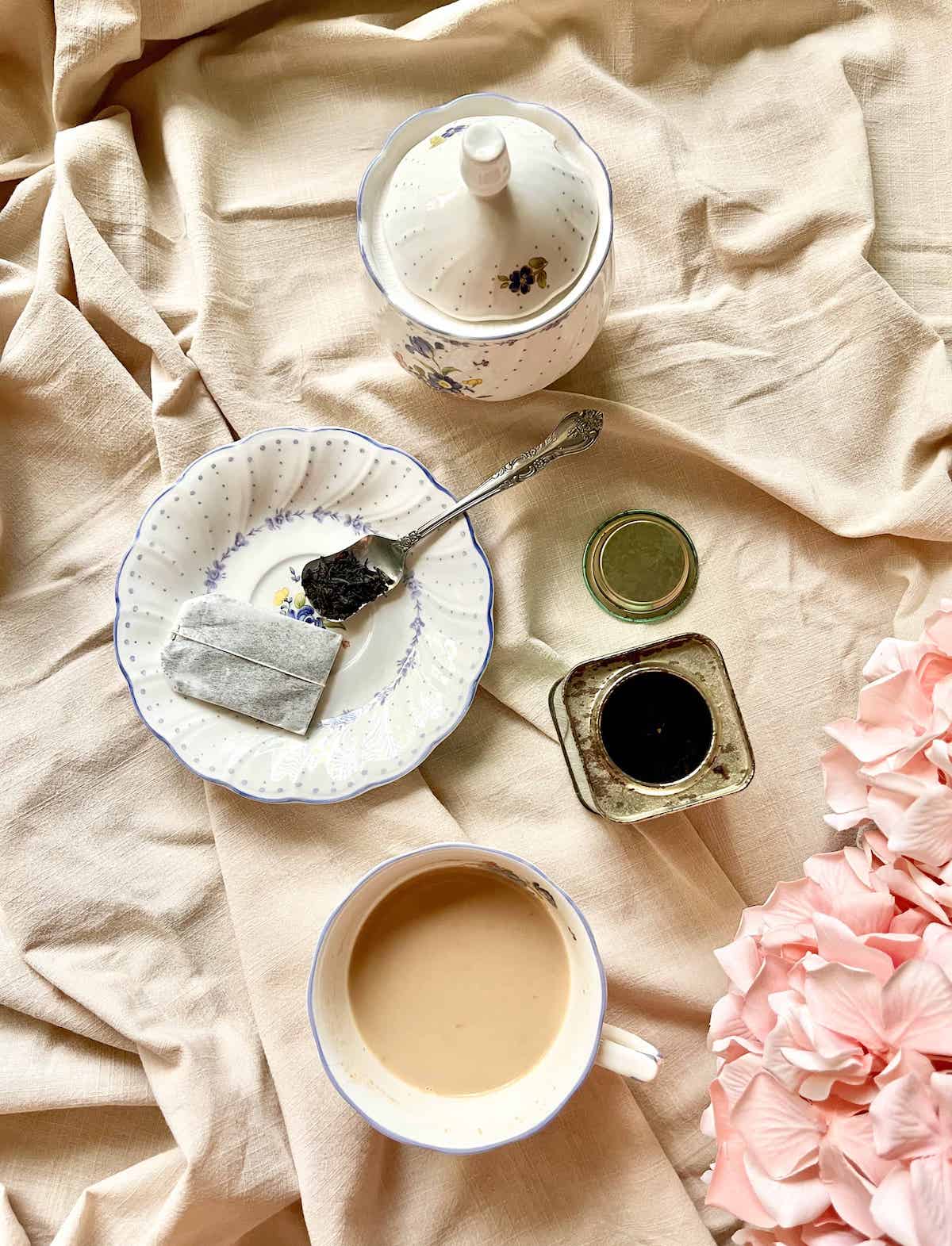 Sugar syrups have many culinary applications:
They are the perfect way to sweeten iced drinks such as

cold brew coffee
iced bubble tea drinks such as

tiger milk tea

so called thanks to the caramel "tiger stripes" along the edge of the cup, popularised by the company "Tiger Sugar"
Despite the name, this popular Taiwanese drink actually doesn't contain actual tea! It is simply a mix of brown sugar syrup, whole milk and boba pearls- perfect for people who don't take caffeine!
Remember, you need the syrup gooey to coat your cup!

brown sugar bubble tea

Xing Fu Tang, a popular boba shop, uses a non-dairy creamer with Taiwanese black tea for their version of brown sugar boba milk tea
If you're curious about how Xing Fu Tang makes their brown sugar bubble tea, check out this video. (Note: Xing Fu Tang is not Korean, it's Taiwanese! This is just 1 of their branches in Korea.)

taro milk tea

I suggest pairing brown sugar milk tea with brown sugar boba, a specific type of black tapioca pearls that's made using brown sugar. If you don't have time to make or buy them, you can soak regular boba in this brown sugar syrup to replicate the taste (and also prevent the tapioca starch balls from sticking to each other)
You can make your own boba balls using tapioca flour

stir into some fresh milk or hot chocolate for a kid-friendly drink!
You can blend some with butter to make a spread for Hokkaido milk bread!
Drizzle over cereal, mochi muffins, waffles, ice cream or pancakes instead of maple syrup or caramel sauce.

This only applies to the boba brown sugar syrup, not the Starbucks one, as the latter is too runny.

Or use it to replace sugar in some recipes- for example, it can replace the gula Melaka and sugar in the kueh dadar filling.
Variations
Vanilla sugar syrup: add ½ Tablespoon of vanilla essence or extract per cup of water
Spiced sugar syrup:

Cinnamon syrup: add a stick of cinnamon to the sugar and water. if you don't believe this is a heavenly combination, think of Korean hotteok!
Nutmeg syrup: add some grated nutmeg. I recommend ½ a teaspoon per cup of water
Chai syrup: Add ½ teaspoon of ground chai spices per cup of water
Pumpskin spice syrup: add 1 teaspoon of the following spice mix per cup of water

Mix of warming spices- 8:2:2:1 (cinnamon: ginger: nutmeg: cloves)
Storage
Store leftovers in the fridge in an airtight container where it will last for 1-3 weeks. The more sugar you use (whilst keeping the amount of water used constant), the longer the sugar syrup will last.
Expert Tips
Melted sugar is very, very hot so always be extremely careful when making sugar syrups such as this. Don't leave it unattentended on the stove!
Sugar can burn in the flash of an eye so pay attention to the cooking process & don't leave the pot unattended on the stove!

Use low or medium heat, not high.
How to prevent crystallisation
If you're concerned about your syrup crystallising (and thus becoming gritty):
add an invert sugar such as corn syrup (not to be confused with high-fructose corn syrup) or honey will help (but otherwise is not necessary.)

I recommend using 1 teaspoon of corn syrup for every cup of sugar used.
If vegan, obviously skip the honey and, if on a gluten-free diet, check that the corn syrup doesn't contain wheat!

Acid such as lime juice or lemon juice can also prevent crystallisation

Use ½ Tablespoon of lime/ lemon juice for every 1 Cup of Sugar used.

Do NOT stir!

Stirring promotes crystallisation- if there are sugar crystals on the sides of the pot, they'll lead the syrup to crystallise. It is best to mix only after every single sugar crystal has dissolved in the water.
The downside of not stirring is that your sugar may burn, so don't use too hot a fire, and always watch the edges of the sugar in the pot. If they look like they're burnt, use a slightly wet, heat-proof brush to carefully brush away the burnt bits.
FAQ
Why is my brown sugar syrup not thickening?
You may have used too much water or not cooked it for long enough. You can try adding more sugar or simply cook down the syrup for a longer period of time. Be careful not to use too hot a fire, as you don't want your sugar to burn.
Other syrup recipes
Loved the gooey brown syrup? Please leave a 5-star 🌟🌟🌟🌟🌟rating in the recipe card below & if you REALLY like it, a comment would make my day! Thank you!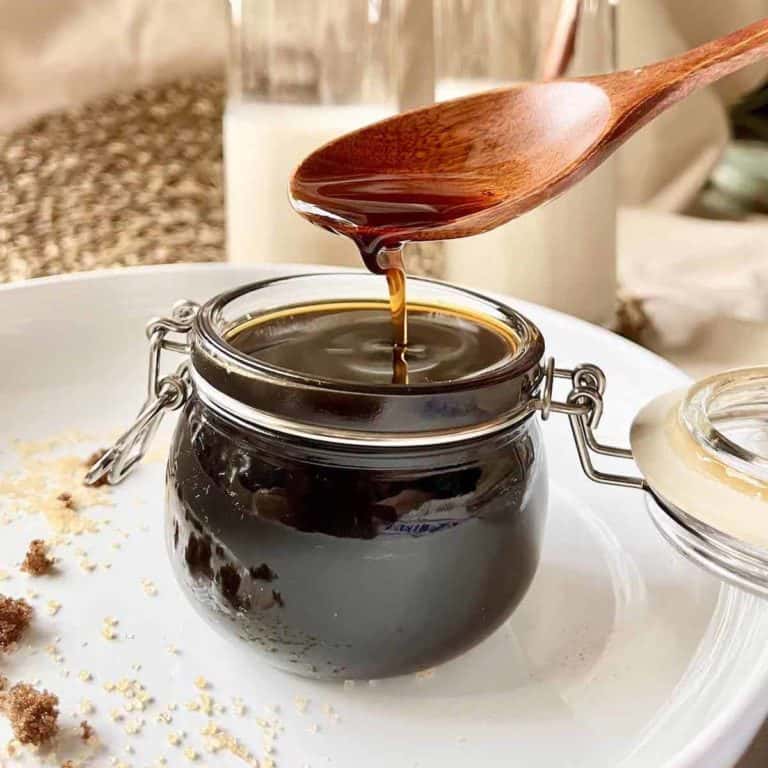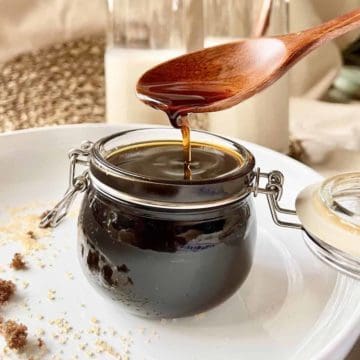 Easy brown sugar syrup for milk tea recipe
An easy 2-3 ingredients brown sugar syrup recipe for milk tea and Starbucks drinks that can be made with light brown, dark brown and even WHITE sugar! This recipe helps you save money and is naturally vegan and Gluten-Free. I'll be showing you how to make a flavoured, thinner version for Starbucks drinks and the thicker, caramel-like one to create "tiger stripes"for Taiwanese milk tea!
Equipment
Small saucepan

Heat-proof food brush

the type you use to glaze foods

Sterilised glass container

To store the extra syrup
Ingredients
Brown sugar rich syrup (for bubble tea)
1

Cup

brown sugar

You can use light brown, dark brown, gula Melaka, jaggery or even mix the types of sugars for a more complex flavor. Substitute: 1 Cup white sugar + 1 Tablespoon of molasses.

½

Cup

water

½

tablespoons

lime juice

optional: to prevent crystallisation. Substitute: lemon juice or 1 teaspoon of corn syrup or honey
Starbucks brown sugar syrup
1

Cup

light brown sugar

Substitute: 1 Cup white sugar + 1 Tablespoon of molasses.

⅔

Cup

maple syrup

10

Tablespoons

water

This is equal to ½ Cup of water + 2 Tablespoons

1

Cinnamon stick

Make sure it's true Ceylon cinnamon and not Cassia- Ceylon has thinner "quills"

Salt, pinch
Instructions
For thick brown sugar for milk tea.
Add the sugar to the pan and spread it out. Pour the water and lime juice onto the sugar- keep the rest by the side of the pot. Sugar can get very hot so be careful! (Note: DO NOT STIR if you don't want the syrup to crystallise.)

Carefully heat over medium fire- you want to see the sugar melting at this stage and it will be bubbling. Once bubbling, you can reduce the fire to low.

As we are not stirring, we need to pay attention and ensure the sugar doesn't burn- observe the sides of the sugar on the pot. if you see burning, use a damp heat-proof baking brush to brush off the burnt sugar.

Simmer for up to 5 minutes- if not, your sauce will be too thin for the "tiger stripes". (You can simmer for a shorter period of time if you are happy with the sauce's consistency. Don't simmer for any longer than 5 minutes or your sauce will be too thick to use- don't forget, it will continue thickening as it cools.)

Switch off the fire, allow to cool, then store in an airtight container. The syrup should be as thick as molasses now. (Sterilise the jar if you want to extend the shelf life of the syrup.)

The syrup should last 2-3 weeks in the fridge but make sure there's no mold/ weird smells before using.
Starbucks brown sugar syrup
Add all the ingredients to a small pot and cook over medium heat for 2-3 minutes, till the sugar dissolves.

Allow the syrup to cool then transfer everything (including the cinnamon stick) to an airtight glass bottle. (Sterilise if you want the syrup to last for longer.)

Refrigerate- remove the cinnamon stick after 24hours. The syrup should last 1-2 weeks in the fridge but make sure there's no mold/ weird smells before using.
Notes
Always handle the sugar syrup very carefully as sugar gets VERY hot and can cause an awful burn.
For brown sugar simple syrup: reduce the sugar: water ratio to 1:1.
How to thicken the syrup: Either add more sugar or increase the cooking time. You can also try refrigerating it.
Nutritional info: note this is an estimate only and it is for BOTH the Starbucks brown syrup and the milk tea brown sugar syrup.
Nutrition
Calories:
2262
kcal
Carbohydrates:
580
g
Protein:
1
g
Fat:
0.1
g
Saturated Fat:
0.01
g
Monounsaturated Fat:
0.01
g
Sodium:
156
mg
Potassium:
1092
mg
Fiber:
2
g
Sugar:
556
g
Vitamin A:
14
IU
Vitamin C:
2
mg
Calcium:
643
mg
Iron:
4
mg
Now that you've made this thick brown sugar syrup from scratch, how did you find it? If you've enjoyed the recipe, please do share it on your social media!