The 12 Best Substitutes for Maple Syrup, for pancakes, ice cream and marinades, that have a similar consistency and the same rich caramel flavor.
Jump to:
What is Maple Syrup?
You'd be surprised to know that not all Maple Syrups in the grocery store are real Maple Syrup- some are manufacture!
Pure Maple Syrup is made from the naturally sweet sap of the Sugar Maple Tree, cooked till most of the water has been removed. The result is a thick and rich, deliciously sticky pancake syrup that can also be poured on your bacon and waffles, or added into your baked treats.
It can also be used in lattes, marinades, salad dressings and food glazes!
Tip: To check if yours is the real deal (more expensive), read the label- real Maple Syrup has only 1 listed ingredient on its packaging (maple syrup.)
Fun Fact: There are 4 different grades of (real) maple syrup- generally, the darker ones have stronger maple flavor.
Nutrition
Some consider maple syrup to be a healthier alternative to sugar as it has a trace amount of minerals (but almost no vitamins.) However, this Harvard article states that, for most people, 1 type of sweetener (e.g. maple syrup) isn't better for you than another, unfortunately!
Maple Syrup is naturally sweet- its sweetness can range from 2-66% depending on how concentrated it is! It's high in calories and 1 Tablespoon alone can have 12g of sugar and 52 calories!
That tablespoon will also provide you with 43% of your daily manganese requirement as well as zinc, calcium, iron, potassium etc.
Substitutes
These are the best substitutes for Maple Syrup for use in pancakes, marinades, salad dressing etc.
However, when used in baked goods, you may need to experiment a little as baking is a science and switching sweeteners will change the final texture of your baked good.
Brown Sugar Syrup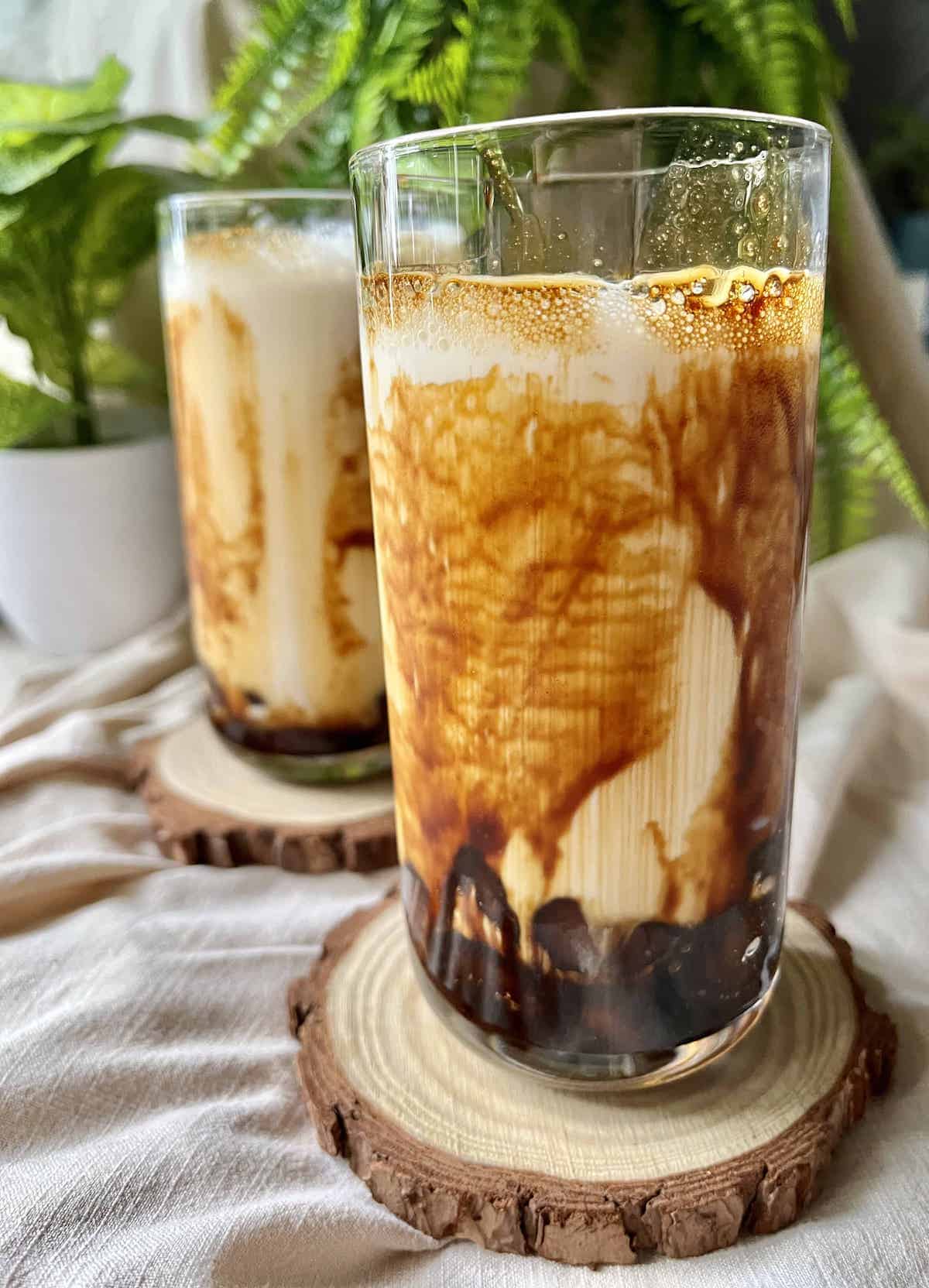 Brown sugar syrup has the same caramel flavor and a similar texture to maple syrup. Use 1 to 4/3 Cups of sugar syrup to replace 1 Cup of Maple Syrup.
If you don't have brown sugar syrup, you can use regular white sugar simple syrup in your bakes or to sweeten drinks but add a touch of vanilla extract to give it more flavor. (If not it will taste a bit flat.)
Simple syrup is super simple to make (pun intended)- simply heat equal amounts of sugar and water over medium heat till the sugar is all dissolved. You can even add different flavors such as with this lemongrass simple brown sugar syrup or this earthy green tea simple syrup!
Tip: you can make your own brown sugar using just 2 pantry ingredients!
Honey
Honey is a healthy(ish) and good substitute for maple syrup (if not vegan) as it has the same consistency. There are so many types of honey and choosing the right one can add the same luxurious taste as maple syrup.
Whilst honey is a great replacement for maple syrup when drizzling over pancakes, waffles or oatmeal, I wouldn't use it for baked goods as heating honey may destroy its health benefits!
Replace in a 1:1 ratio i.e. a cup of honey replaces a cup of maple syrup.
Agave Nectar
Agave syrup is often used as a way to sweeten tea without adding refined sugar (also Margaritas.)
Like maple syrup, it is thick and rich so can be used as a maple syrup substitute. It's a little sweeter so, when replacing, start with less (say ¾ the amount of maple syrup) then work your way up, to taste. (Note that this substitute may change the final consistency of your baked goods.)
Brown Rice Syrup
This thick syrup has a nutty flavor. Made from fermented brown rice, it is somewhat similar in color and flavor and is a decent Maple Syrup substitute for Pancakes.
As it's only mildly sweet, you will need to use more in comparison to the original amount of maple syrup. Try using about 30% more, as a start.
Molasses
Light molasses has the same toffee flavor that maple syrup has. However, it is not as sweet and also slightly darker in color.
Mix with sugar (to taste) then replace in a 1:1 ratio with Maple Syrup.
Note: I do not recommend using dark molasses or blackstrap molasses as a substitute for maple syrup. The distinct flavor is an acquired taste. I can sometimes taste almost bitter-sour!
Golden Syrup
This liquid sweetener adds a thick, rich and almost buttery flavor to bakes. It's an inverted sugar syrup that is very popular in the UK- think treacle tart and the like!
It can similarly be drizzled over crepes or French Toast and makes for a great substitute for maple syrup. Replace in a 1:1 ratio or to taste. (Some people may want to mix in some sugar.)
Tip: I recommend the Lyle's brand.
Corn Syrup
This is an inexpensive sweetener that is used in a lot of commercial baking applications and candy.
There is a light and dark version- the latter has more butterscotch notes and is a better maple syrup substitute(as light corn syrup only has a neutral, flat sweetnesss.)
Replace in a 1:1 ratio.
Note: I do not recommend High Fructose Corn Syrup which is bad for one's health. Check your packet to make sure the manufacturer didn't add any HFCS to your corn syrup!
Yacon Syrup
Another great alternative to refined sugar, this natural sweetener is thick and rich- great for pouring over a stack of pancakes!
Note that it has a slightly different flavor to maple syrup though.
Caramel Sauce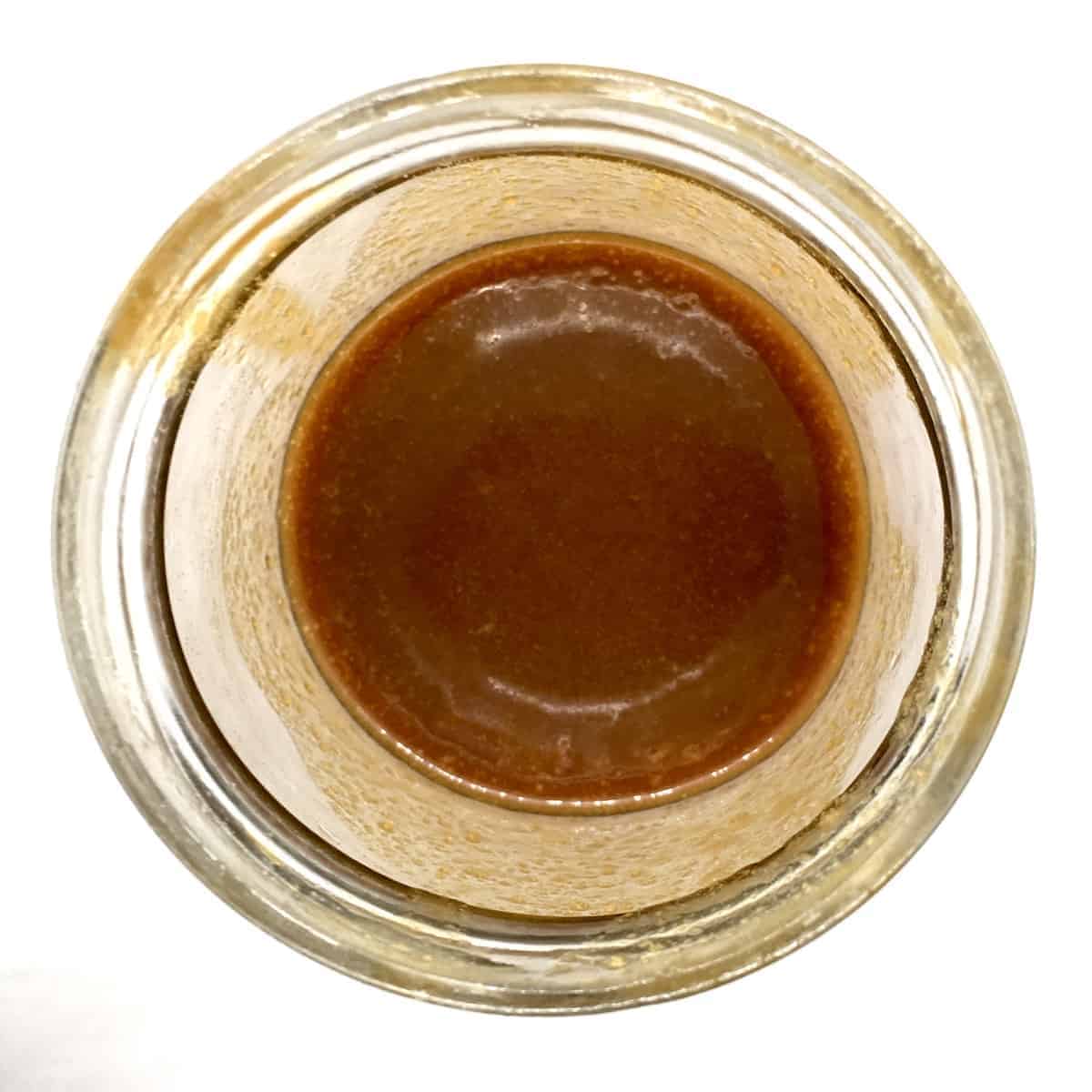 Caramel sauce can be used over pancakes, waffles and ice cream, like maple syrup. If you're vegan, try this Gula Melaka Coconut Caramel which is a really easy sticky syrup to make at home.
Buttermilk Syrup
If you've never heard of this pancake topping, you're in luck! It's rich, creamy and has a caramel flavor.
How to make
2 Cups of white sugar
1 Cup of Buttermilk
1 Cup butter
2 teaspoons baking soda
2 teaspoons vanilla extract
Heat the sugar, buttermilk and butter over medium heat till it boils (about 5 minutes.)
Stir in the baking soda and vanilla extract- use a deep pan as it will foam up!
Serve immediately before the foam disappears!
Note: to intensify the caramel notes, you can brown the butter before adding the sugar and buttermilk. Alternatively, heat the 3 ingredients for a longer period of time till the sauce is nice and dark. (Keep stirring so that it doesn't burn.)
Coconut Nectar
Another good option if you're looking for a natural sweetener. Although it comes from the coconut plant, it doesn't have that strong coconut flavor that you get with coconut cream or milk.
Instead, it tastes almost like caramel!
Replace in a 1:1 ratio.
Sugar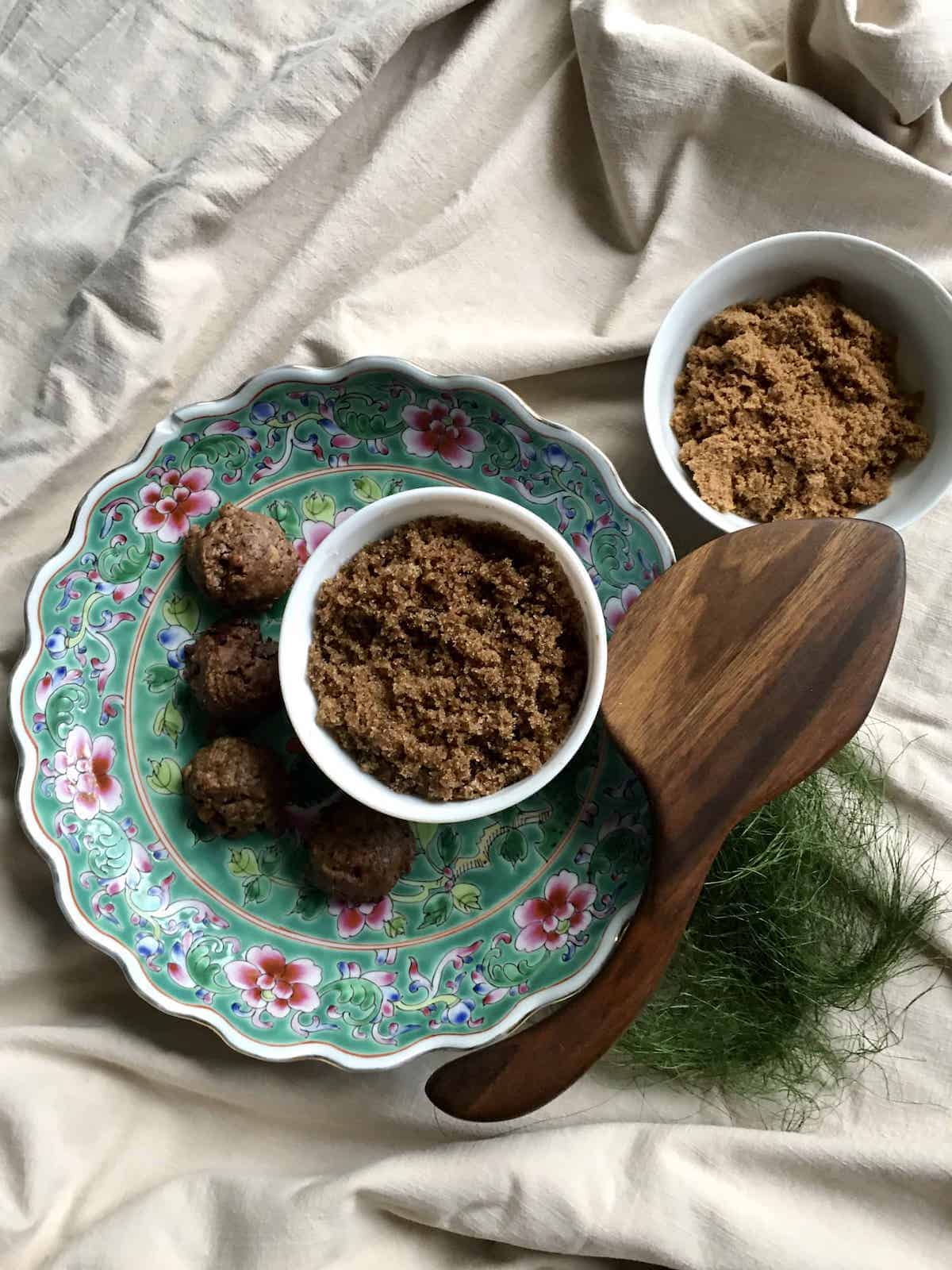 When really in a pinch, brown sugar (preferred due to its caramel flavor), coconut sugar or even white sugar can do as a substitute- simply sprinkle it on top of your waffles and pancakes!
However, as sugar is a dry ingredient vs maple syrup being liquid, this will have an impact on the texture and flavor when added into baked goods. Sugar will also caramelize more quickly in the oven, so you will need to reduce the temperature slightly or cover your bake with an aluminium foil for part of the baking process.
Note: if you have molasses and white sugar, you can make your own light or even dark brown sugar!
Homemade maple syrup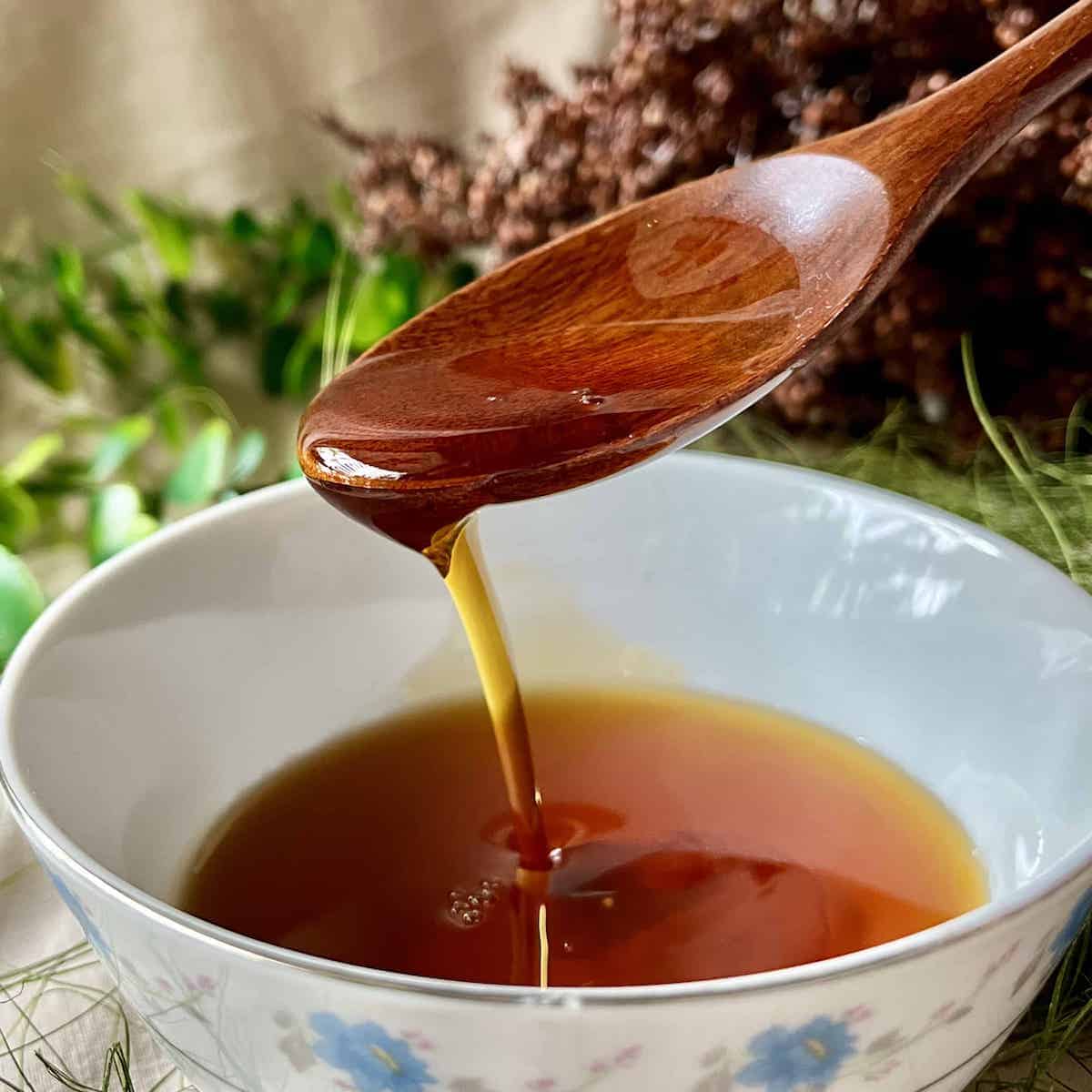 Last but not least is homemade maple syrup. This sounds icky- how could there be fake maple syrup?!- but is actually very similar to what a lot of the cheaper commercial maple syrup brands are selling!
Ingredients
1.5 Cups Brown sugar
1 Cup White Sugar
1 Cup Water
1 Tablespoon Maple Flavoring
1 teaspoon Vanilla Extract
How to Make
Add the water and sugar to a pan.
Heat on medium till boiling and let simmer for about 4-5 minutes, or till the desired consistency.
Add the vanilla and maple flavor, stir then switch off.
This can be stored in a dry, airtight container in the fridge for 2-3 weeks.
FAQs
How to get maple syrup out of carpet?
If the syrup is fresh, use a spoon or knife to scoop off the excess. After that blot with a mixture of 1 Tablespoon of dishwashing liquid and 2 Cups of warm water. Keep sponging till the stain disappears. For old stains, soak it with warm water till it's soft then repeat the blotting process mentioned above.
Is maple syrup gluten free?
Pure maple syrup is made from only the sap of maple trees so nothing else is added. Thus it is gluten-free and OK for those on a celiac diet. However, supermarket brands often blend ingredients to make a cheaper alternative so check the label!
Is maple syrup vegan?
All 4 grades of pure Canadian maple syrup are vegan but be careful when purchasing from the supermarket as they often sell blended versions of maple syrup. These could be mixed with sugar which contains bone char or honey.
Suggested Recipes